This post may contain affiliate sales links. Please see my full disclosure policy for details
These lightly sweetened and delicious Christmas Pinwheel Cookies put a merry, festive spin on a classic! This easy recipe for pinwheel sugar cookies instantly brightens up any holiday cookie platter.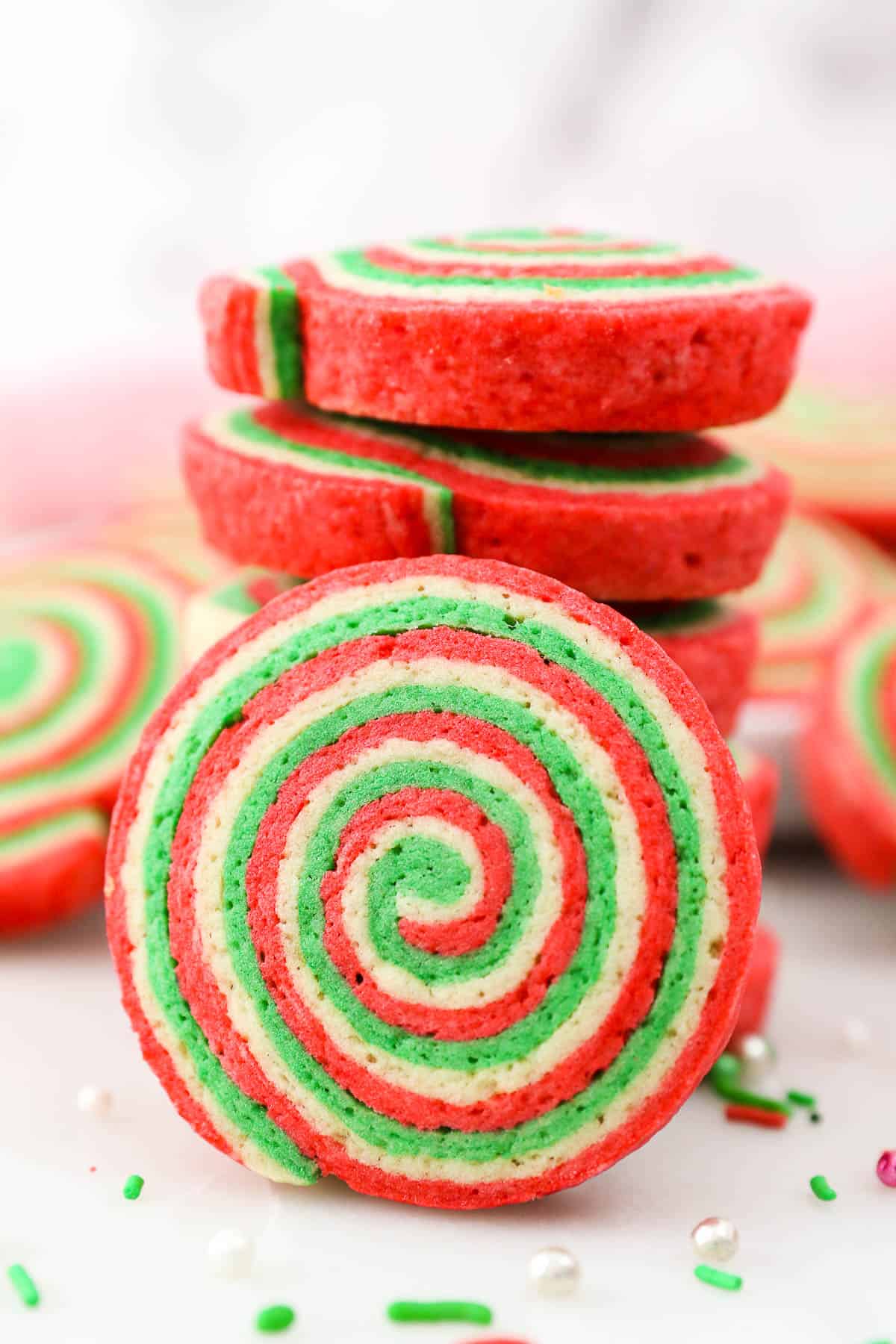 Today, I'm taking my Rainbow Sugar Cookies and infusing them with the holiday spirit! These Christmas pinwheel cookies put a bright, festive spin on a classic cookie recipe. You're going to love it!
These cookies are made from my cut out sugar cookie base but dyed merry red and green for Christmas, then rolled up into perfect pinwheels. They're easy and fun to make and never fail to zhoosh up any cookie plate with a pop of color.
One bite and you're hit with all the beloved flavor of a classic sugar cookie. These have crunchy, buttery edges with soft, subtle flavor, and that lovely melting feeling that comes as the crumb dissolves in your mouth.
Want to see a chocolate vanilla version of these cookies? Try my Nana's classic pinwheel cookie recipe!
Why You'll Love This Recipe
What makes this one of my best Christmas cookie recipes? These pinwheel cookies are:
Festive. You can't find a more perfect cookie for the holidays than these easy pinwheel sugar cookies! The red and green swirls give off serious North Pole/Whoville vibes.
Easy to make. This is a fuss-free recipe for Christmas sugar cookies with a (literal) twist. Just prep the dough, roll it out, slice, and bake.
Perfect for gifting. These fun Christmas cookies are made with love and are the best for spreading Christmas cheer to friends and family. Who doesn't love a bright and colorful batch of cookies?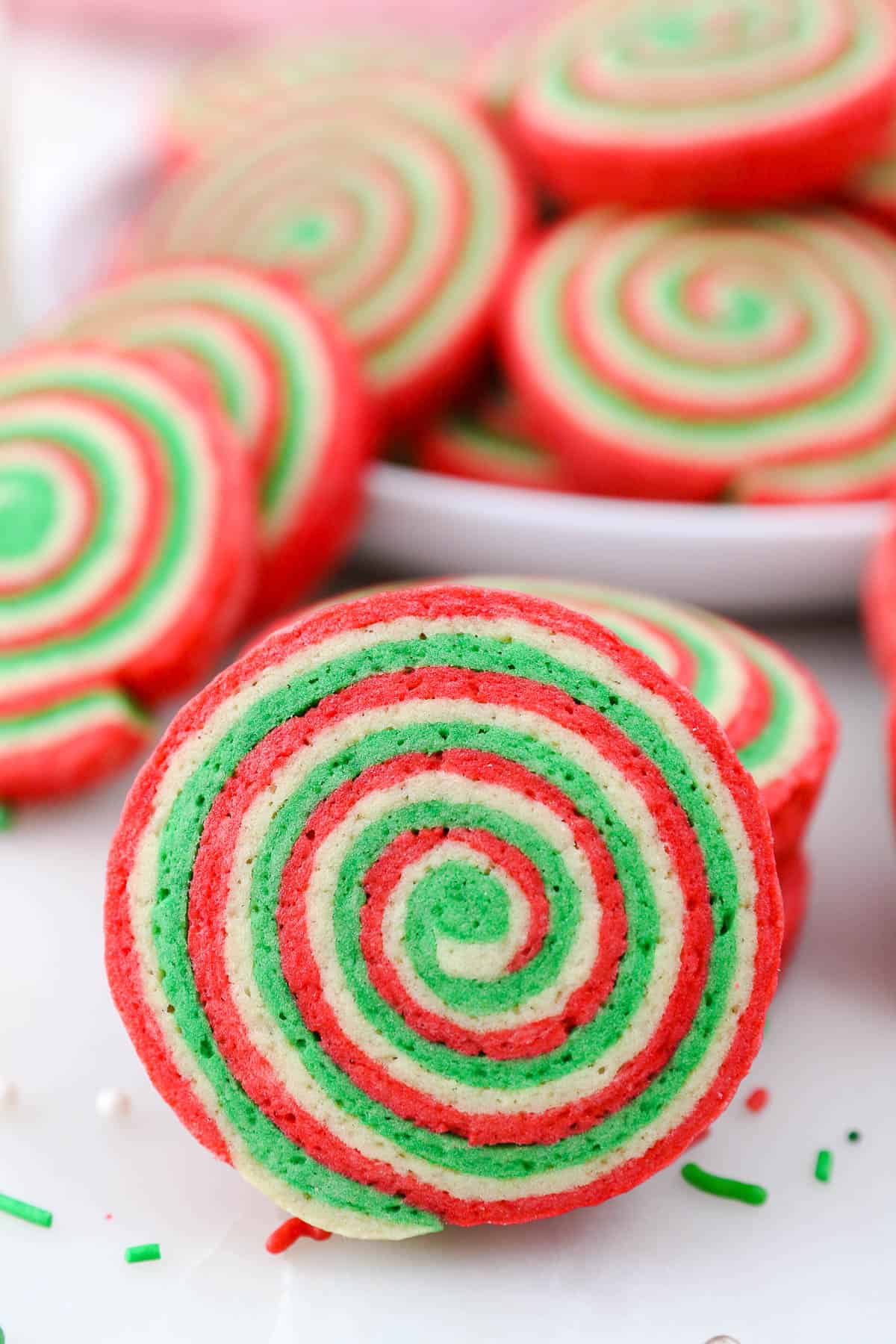 Ingredient Notes
Below is an overview of the main ingredients you'll need when making your Christmas pinwheel cookies. Please refer to the recipe card for the full list and details! It's a really basic dough.
Unsalted Butter – For the best results, this should be at room temperature
Milk – You can use whole milk or 2% milk when making the cookie dough. The milk is added last to help bring the dough together.
Flavoring – You can flavor your sugar cookie dough with your choice of almond extract or vanilla extract. For the best flavor, I recommend using real extracts and not the imitation kind.
Food Coloring – For dying your cookie dough Christmassy colors.
What Kind of Food Coloring Do You Use for Cookies?
Gel food coloring yields the brightest and most vibrant colored cookie dough. Americolor, Chef Mate, and Wilton are all great brands and my go-to's for cookie recipes like this one.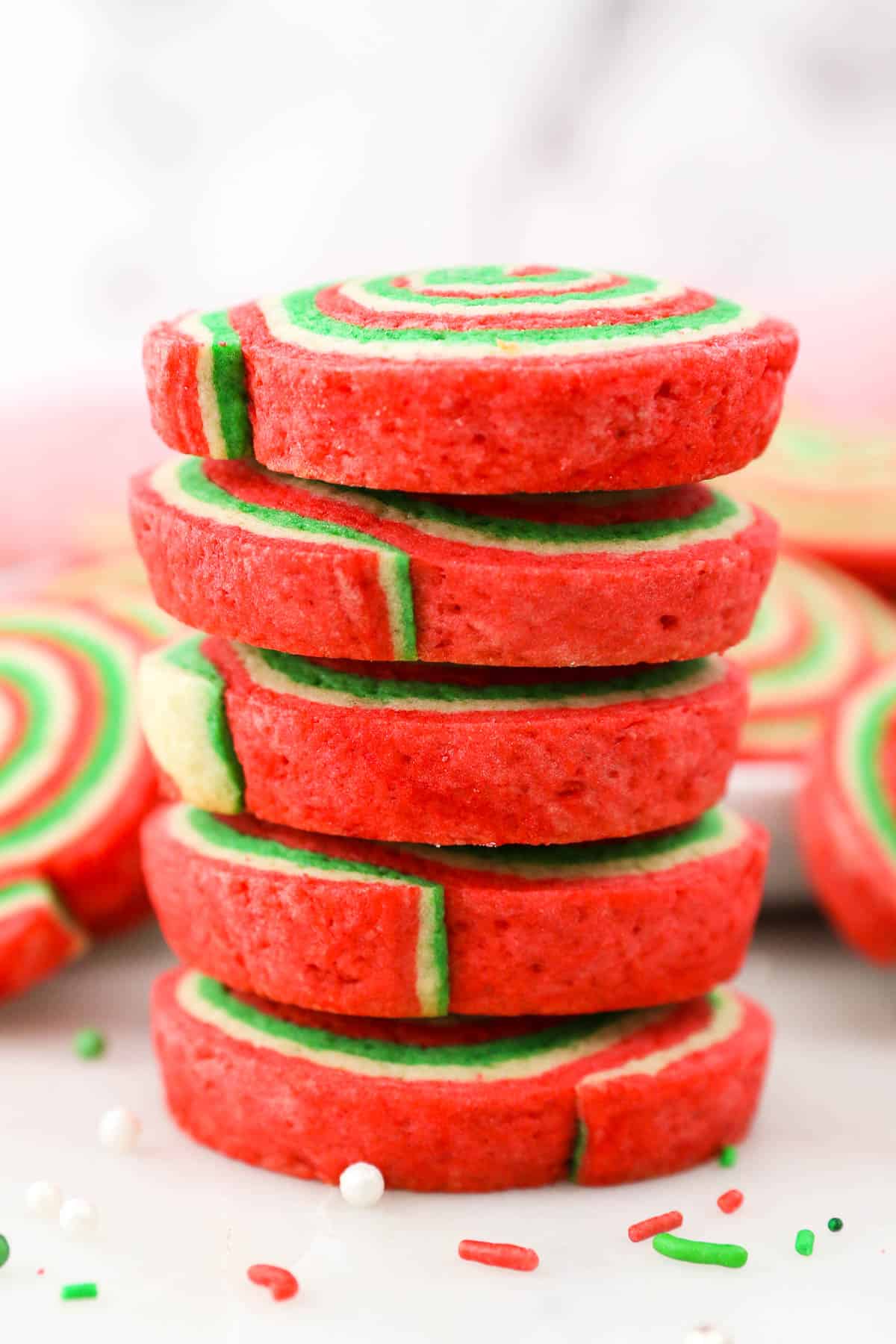 Let's go over how to make these Christmas pinwheel cookies from scratch:
Step 1: Make the cookie dough. First, prepare the cookie dough. Beat together butter and sugar, then mix in the eggs as well as your flavoring extract of choice. Next, whisk together baking soda and milk, then add this mixture to the other wet ingredients. Lastly, you'll mix in the salt, followed by the flour, and two additional spoonfuls of milk. The dough should be stiff yet pliable.
Step 2: Color the dough. Divide the dough evenly into three balls. If using a scale, it's around 420 grams per color.
Then, using your hands or a mixer, color the first dough ball red and the second ball green. The third dough ball can be left uncolored. See the tips section later on for added guidance on dying your cookie dough!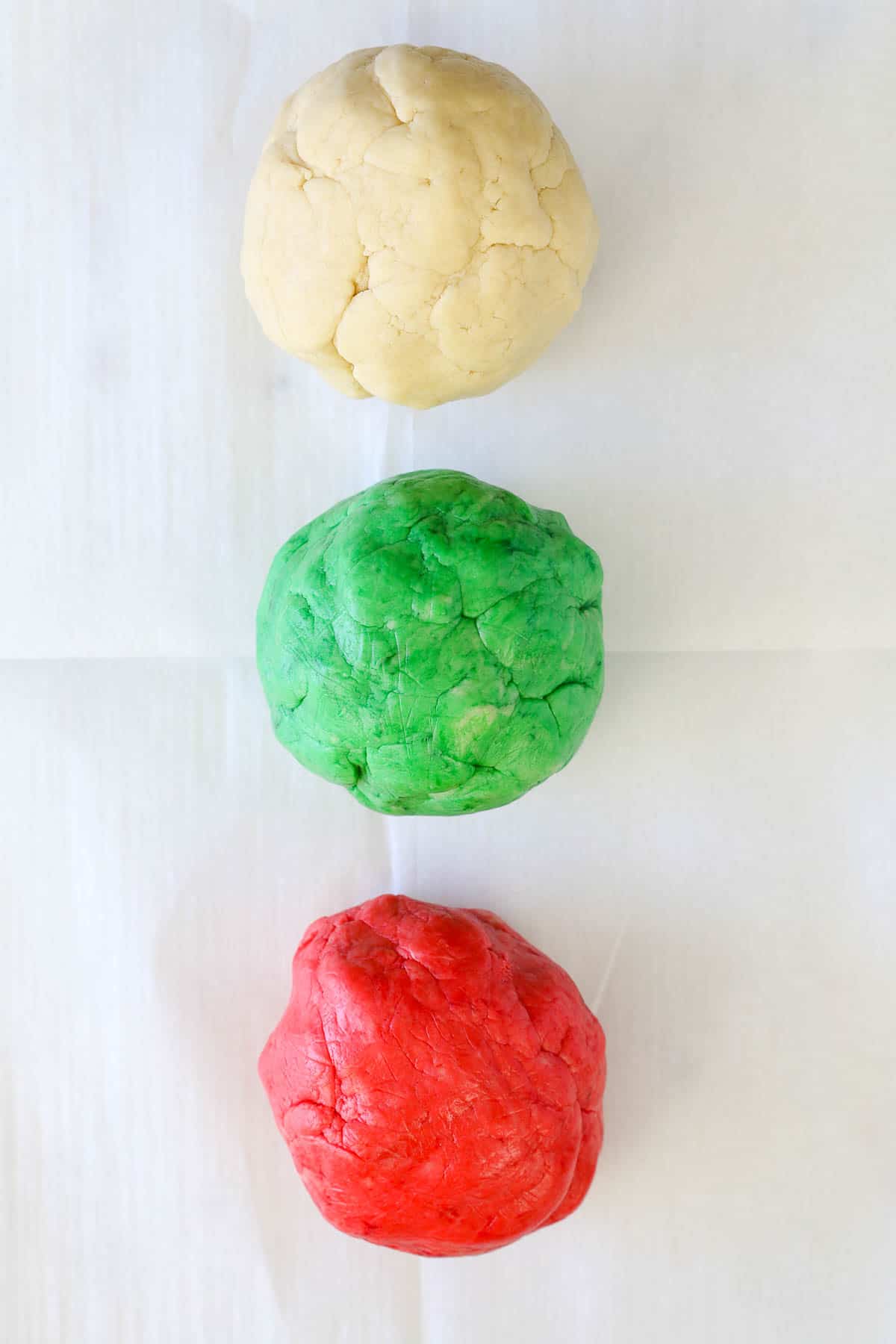 Step 3: Roll the dough I find this is easiest to do if I divide the three dough colors in half first, the smaller amounts are easier to work with and helps prevent cracking. Once divided, begin with a red piece and roll the dough into a longish rectangle, about 10-11 inches long by 6-inches wide or until it's about a quarter-inch thick.
Next, roll out the white/uncolored dough into a second rectangle and lay this overtop of the red. Afterward, roll out the green dough and add this to the stack.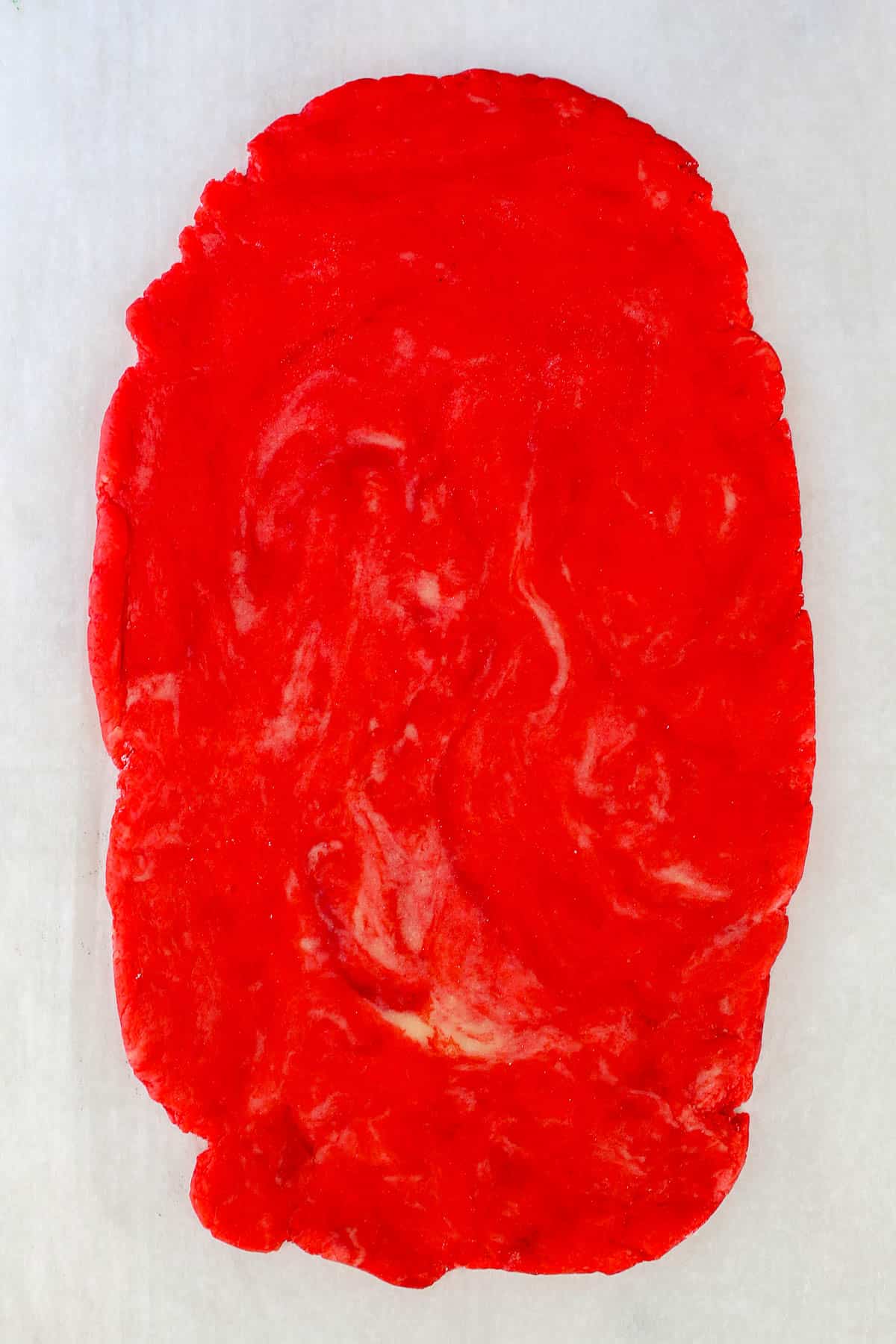 Step 4: Assemble. Once all the layers are stacked, place a layer of parchment paper overtop and roll the cookie dough to about ⅜ of an inch thick. Use a knife or a pizza cutter to trim away the uneven edges.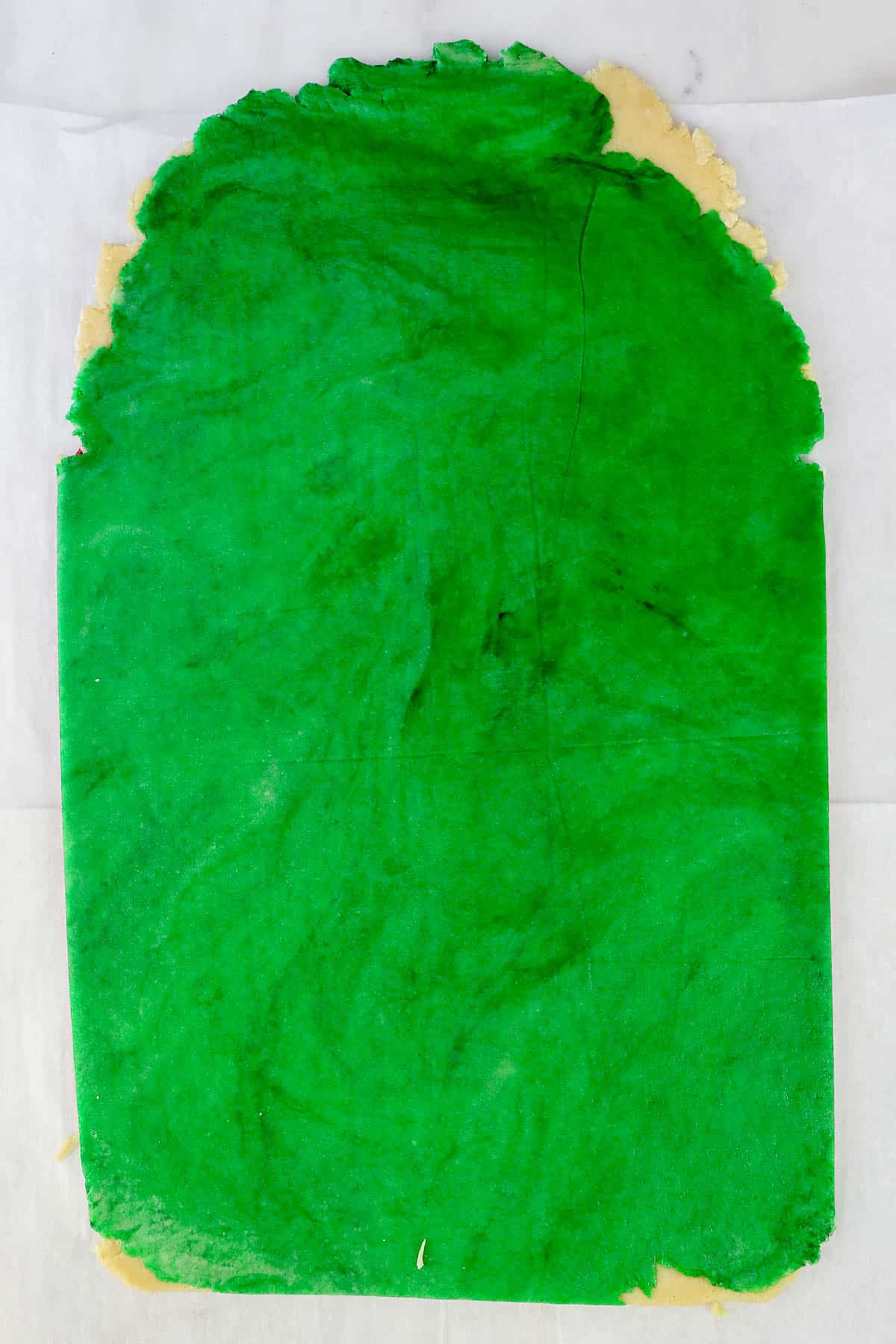 Step 5: Roll. Now, you'll roll up the cookie dough into a tight log. Continue to roll and elongate the dough log with your hands. Finally, wrap the dough log in plastic wrap and place it into the fridge to chill. Place the log with the seam side down.
Step 6: Cut the cookies. After about an hour, preheat the oven. Get your cookie dough out of the fridge and unwrap it on a clean surface. Next, cut the log into even-sized slices, mine are 3/8 inches thick. Lay the pinwheels out on a baking sheet lined with a silicone baking mat.
Step 7: Bake. Bake the pinwheel cookies in a 350ºF oven for 9-11 minutes, until slightly browned on the bottom. Be careful you don't overbake them! Once they're out of the oven, leave the cookies to rest on the baking sheet for a few minutes before transferring them to a wire rack.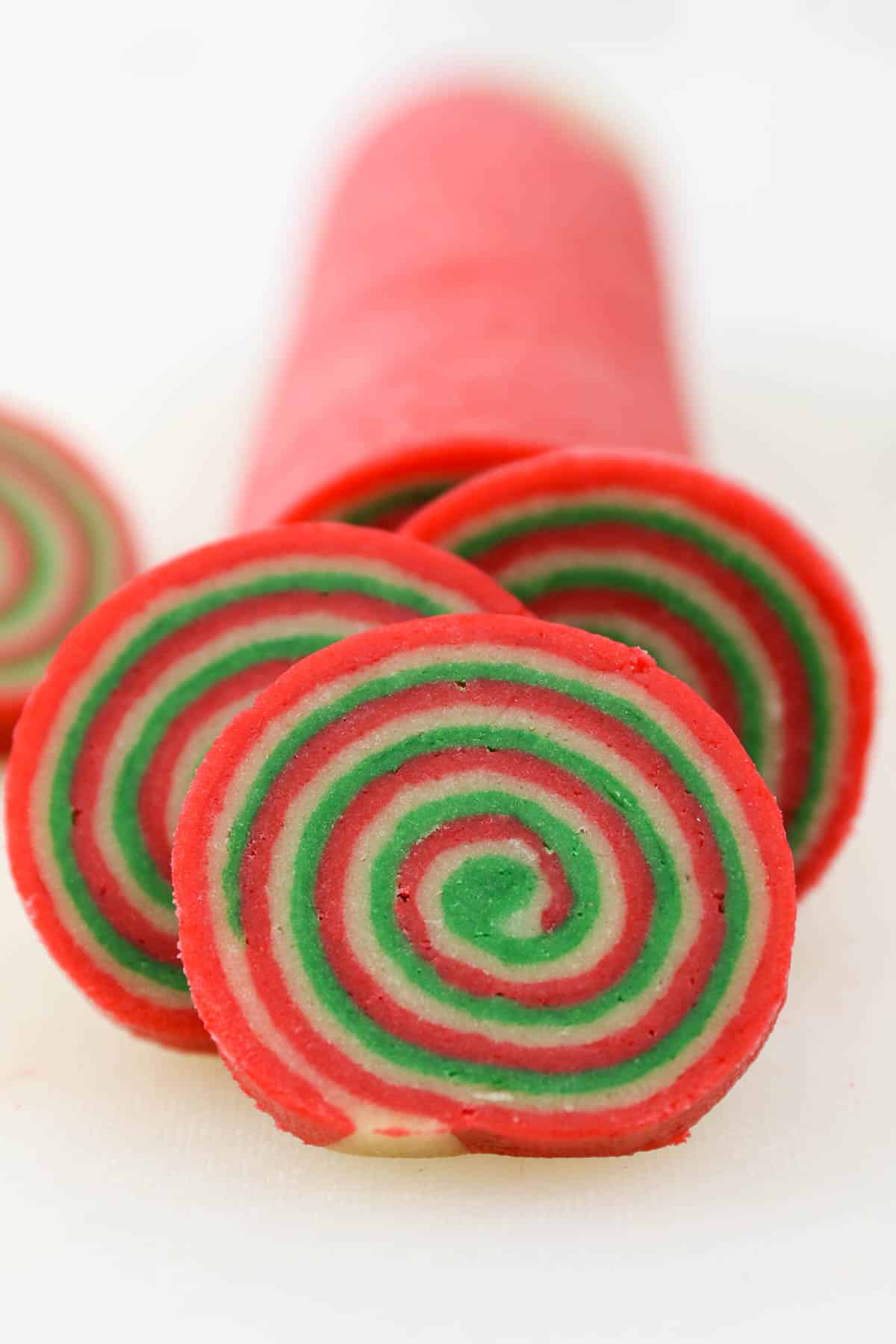 Can I Make the Dough In Advance?
Yes! You can prepare the sugar cookie dough up to 2 days ahead. I recommend following the recipe right up until you've rolled the dough logs. Then, store the plastic-wrapped dough in the fridge until you're ready to bake it. You can also freeze the rolled and wrapped dough for up to 1 month.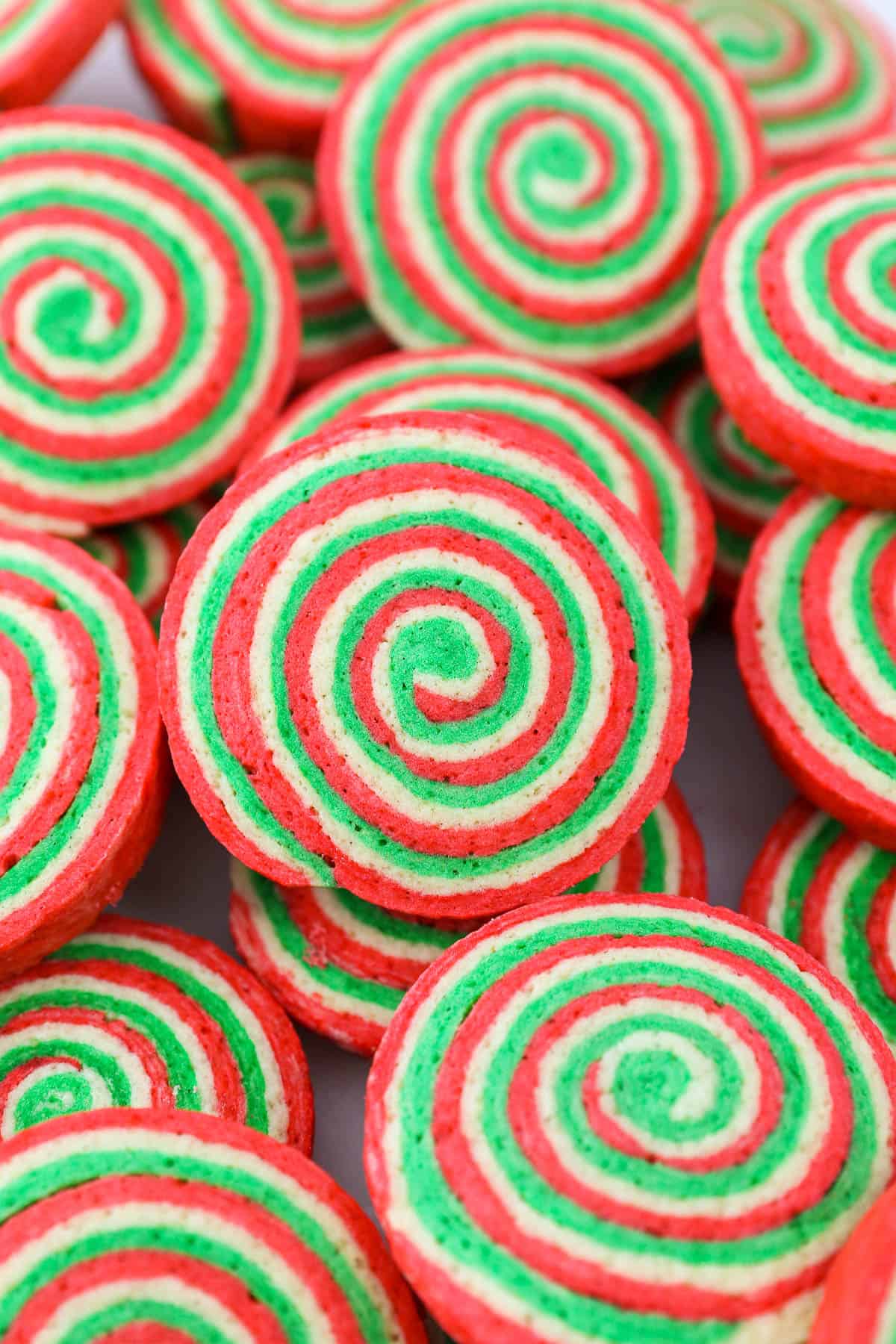 Tips for Success
Some additional tips to follow when baking up the perfect Christmas pinwheel cookies:
To help with sticking, roll the cookie dough out between two pieces of parchment paper. You can also give the dough a light dusting with flour if needed.
When dying the cookie dough, use a mixer until combined, and then finish working the gel color in with your hands. It's fine if there are some minor streaks. You won't notice them once the dough is rolled out.
Gel colors tend to stain skin. So, be sure to use food-safe gloves when coloring your dough, to avoid red and green fingers!
Use a food scale to divide the dough. This way, you'll wind up with an even amount of dough for each color.
Work in smaller amounts. Dividing the three dough colors in half before rolling and layering will make it easier to work with, for less cracking and breakage.
White in the middle. These look best when the undyed color is in the middle.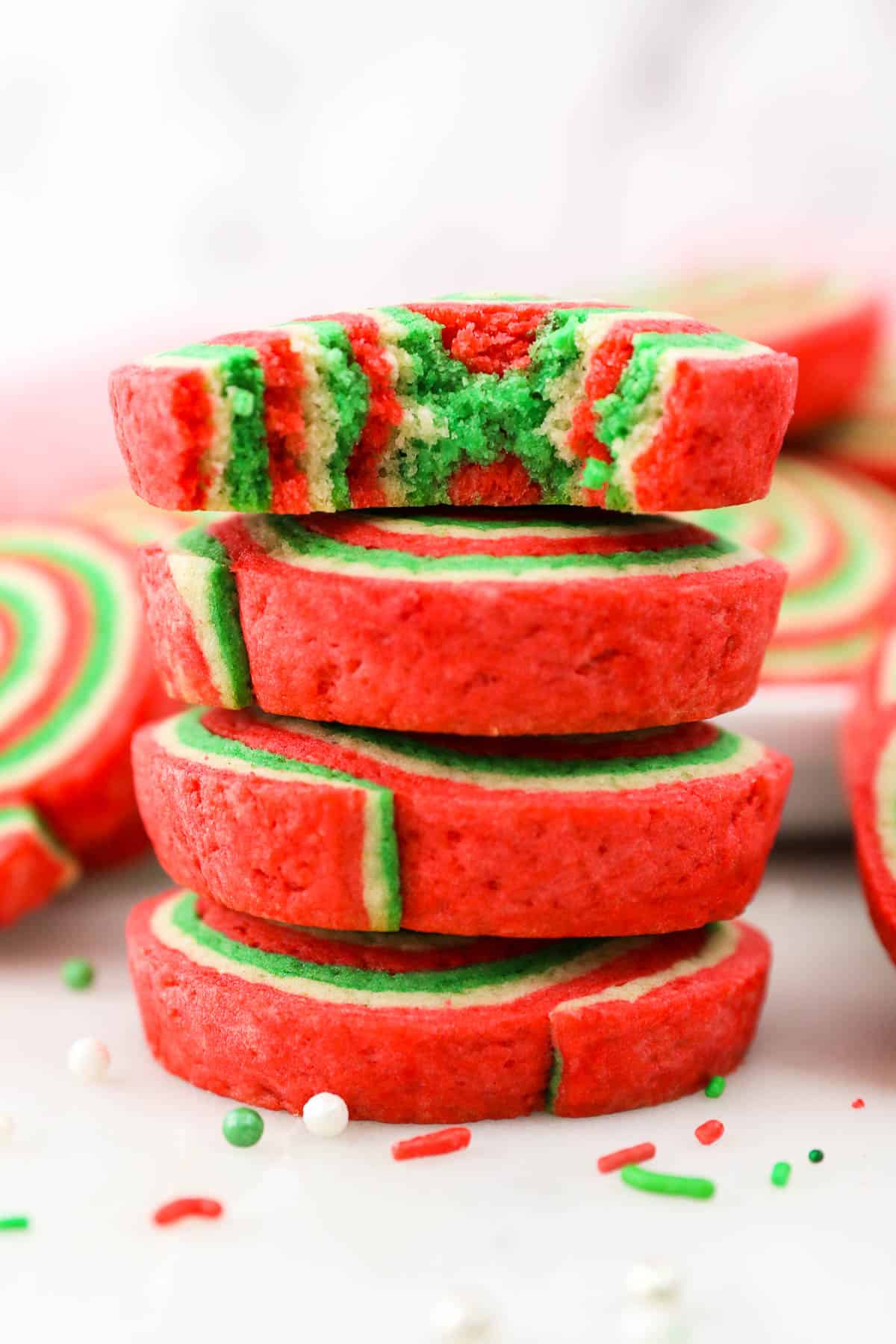 How to Store
Store your Christmas cookies airtight on the counter for up to 5 days. These are great to portion into mason jars for easy decorating and gifting!
Absolutely! Store the baked pinwheel cookies in a freezer-safe container or resealable freezer bag, then freeze them for up to one month. I recommend storing them with parchment paper between layers to prevent sticking.
Thaw the cookies at room temperature before serving.
Print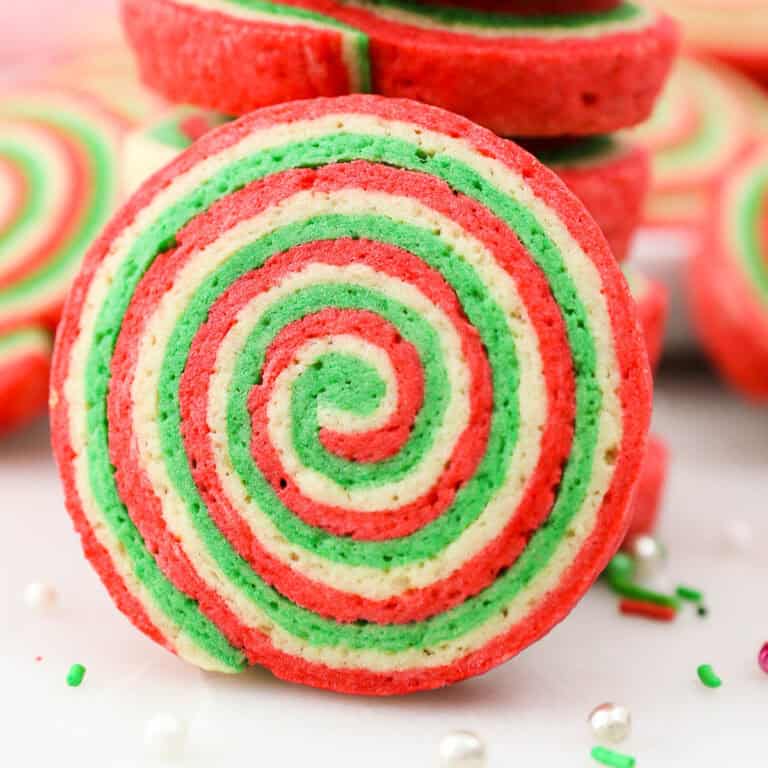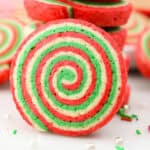 Author:

Prep Time:

60 minutes

Cook Time:

11 minutes

Total Time:

1 hour 11 minutes

Yield:

36-40 cookies
Description
These festive Christmas Pinwheel Cookies are dyed vibrant red and green for the ultimate holly jolly treat! Instantly brighten up a holiday cookie platter with this easy sugar cookie recipe.
Ingredients
1 cup

(

226g

) unsalted butter, at room temperature

1 cup

(

190g

) granulated sugar

1 teaspoon

baking soda

6 tablespoons

(60m) milk, divided

2

–

3

teaspoons (5-10ml) almond or vanilla extract

2

large eggs

½ teaspoon

salt

5 cups

(

700 g

) all-purpose flour
Gel colors for dying (see notes)
Instructions
Beat the butter and sugar on medium-high speed until the sugar is dissolved and creamy.
Add the eggs and flavored extract to the butter and beat until all ingredients are well incorporated. Then, in a small glass dish, dissolve the baking soda in 4 tablespoons of milk and add to the mixture, beating until combined.
Finally, add the salt followed by the flour 1 cup at a time, then 2 tablespoons of milk, and mix until a stiff dough forms.
Divide the dough into 3 equal-sized balls. Dye one red, and one green and leave one undyed using either your mixer or your hands (see notes for additional tips). Then divide each ball in half (it's easier to work with smaller portions)
Starting with the red, roll each individual color into a rectangular shape, about 10 inches long and 6 inches wide, and ¼ inch thick. Roll between two pieces of parchment paper and lightly dust with flour if needed to prevent sticking.
Proceed to roll out the undyed color, and then place it directly on top of the red. It's helpful to use a rolling pin to transfer the dough. Next, do the green.
Once all the colors are stacked, cover with a second piece of parchment paper and proceed to roll out the cookie dough again until it's about 3/8 inch thick. Trim off the excess sides with a knife or pizza cutter.
Starting with the narrow edge, roll tightly into a log. Once rolled, use your hands to roll again, to expand the log. Wrap tightly with plastic wrap and place seam side down and chill for at least 30-60 minutes.
Preheat oven to 350°F. Line a baking sheet with a silicone baking mat.
Remove the dough from the fridge. Using a sharp knife, cut them into 3/8-inch wide slices. If they are misshaped, gently roll them between your hands to shape them into a circle. Place about 1-inch apart on the baking sheet.
Bake at 350° for 9-11 minutes just until the bottoms turn slightly brown. Allow to cool for 5 minutes before transferring to a wire rack to cool completely.
Notes
Flavor: These are not a very sweet cookie. Don't skimp on the extract. To make them sweeter you can add a vanilla glaze or dip them in chocolate.
Gel colors: I recommend using gel colors to dye the dough so it's bright and vibrant. Americolor, Chef Mate, and Wilton are my go-to's.
If using a stand mixer to color the dough, mix just until the color comes together, and then work in your hands until it's well mixed. I recommend using food-safe gloves as the gel colors will color the skin. If you have some streaky dough, that's fine you won't even notice when it rolled out.
If you have a food scale, weighing the dough into equal sizes is best. My dough weighed 1260g, so 420 grams of each color. Then divide in half again after dyed.
It's easier to work with this in smaller amounts, to get the dough to the proper thickness. If the dough is too thick, it will tear once you roll it, which causes uneven baking and cracks in the cookies.
Make-ahead: Sugar cookie dough can be made up to 2 days in advance, but I recommend rolling to logs and then storing, as the dough is easiest to work with right after it's mixed. The prepared dough logs can be wrapped in plastic wrap and frozen for one month.
Storing: Baked cookies can be stored at room temperature in an airtight container for up to 5 days or frozen for 1 month.
Category:

Cookies

Method:

Oven

Cuisine:

American
Keywords: christmas cookie recipes, easy christmas cookies, pinwheel cookies
More Christmas Cookie Recipes