This post may contain affiliate sales links. Please see my full disclosure policy for details
These spiralized Pinwheel Cookies are soft-baked layered vanilla and chocolate dough. Try these easy festive Christmas Cookies for your cookie baskets.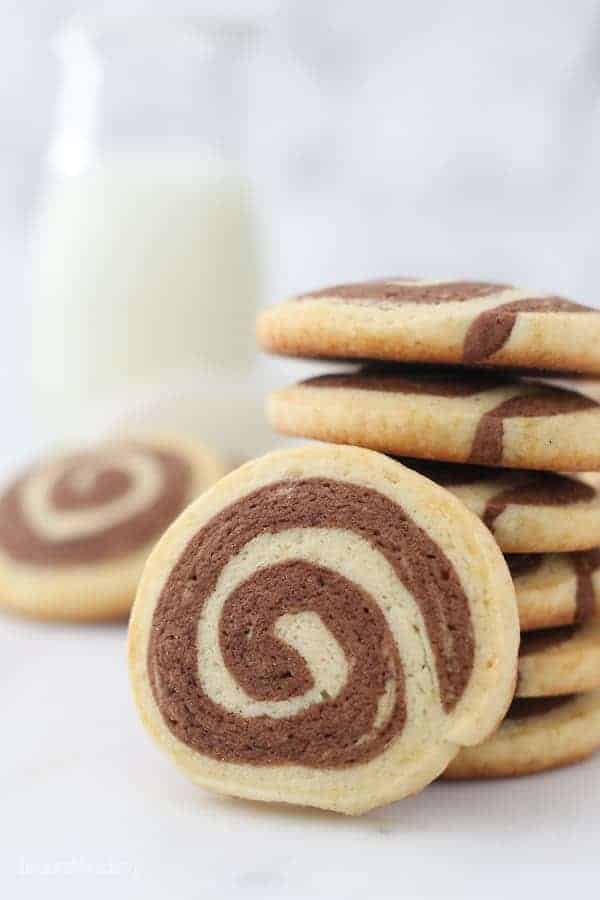 I can't believe we've made it to cookie week-day 4! Today's recipe is brought to you from my Grandma (my dad's mom) aka Nana.This is another vintage recipe I pulled from the collection my mom left for me, and it's my first-time making Pinwheel Cookies! They were much easier than I thought they would be,
These classic Christmas cookies are layers of vanilla and chocolate dough, similar to a sugar cookie dough, that is rolled together creating a gorgeous spiralized look.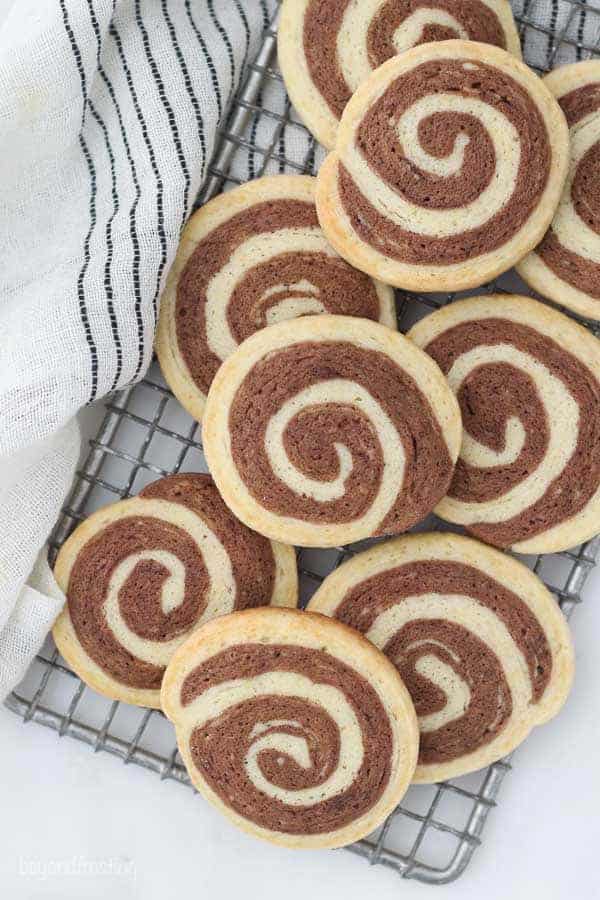 I've definitely seen these cookies before and in a few different variations and festive colors. We'll dive into that shortly.
The thing about these recipe cards is that they seriously lacking instructions. Luckily, I have done quite a bit of baking, so I can piece it together, but I learned a lot about making these as I was going, and I am sharing all my tips with you so you can be successful to!
A Whole batch of dough weighs about 17oz, so if you have a food scale, you can measure about 8-8.5 oz for each the vanilla and chocolate dough. Remove what you need for the vanilla dough and then mix the chocolate dough in your mixing bowl.
The dough is a little soft and tacky when you first mix it up, just use a little bit of flour on your hands to form the ball of dough to roll out and it will be a lot more workable.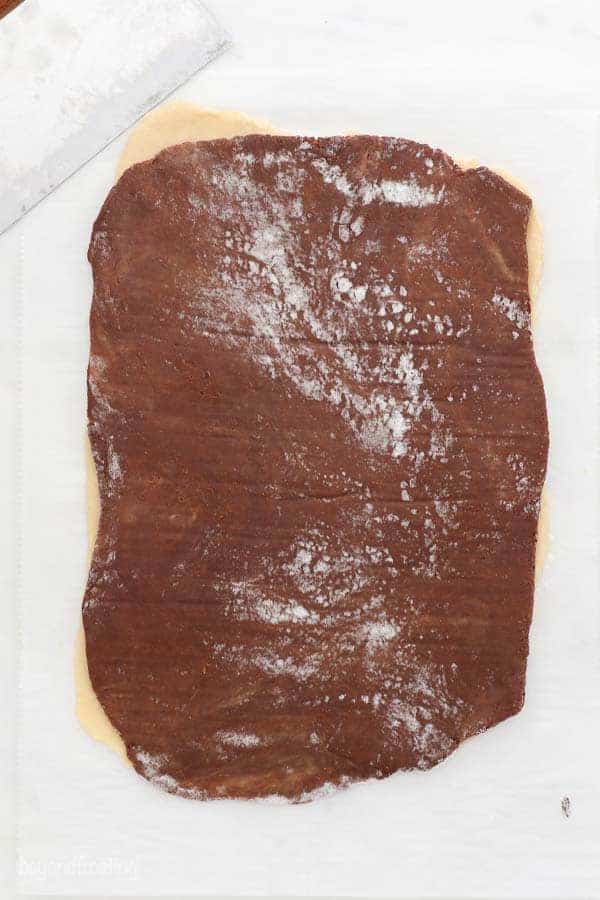 Rolling out the dough:
Roll out the dough on parchment paper, it will be much easier to work with and transfer one dough on top of one another.
Lightly flour the rolling pin, the dough or the parchment paper to prevent it from sticking. Brush away any extra flour prior to placing the chocolate dough on top of the vanilla dough.
A bench scraper or flat angled spatula will help you to get underneath the dough and make sure it doesn't stick when transferring it off your parchment paper.
Try to roll each dough out to be around the same size, a ruler can be helpful for this. Use your hands to reshape the outside edges as needed. You can also use a knife to trim away the extra edges. What you see here is 12" by 8" inch.
Roll them as tightly as possible. You could roll length wise or width wise which will affect the over yield, but also how many swirls are in your pinwheel. If you do have small cracks or spaces, they will fill in after baking.
Cutting the dough
Make sure the dough is nice and cold when you cut it so that it will hold it's shape and doesn't get too flat on one side.
Try and cut them evenly, at least 1/4- inch thick.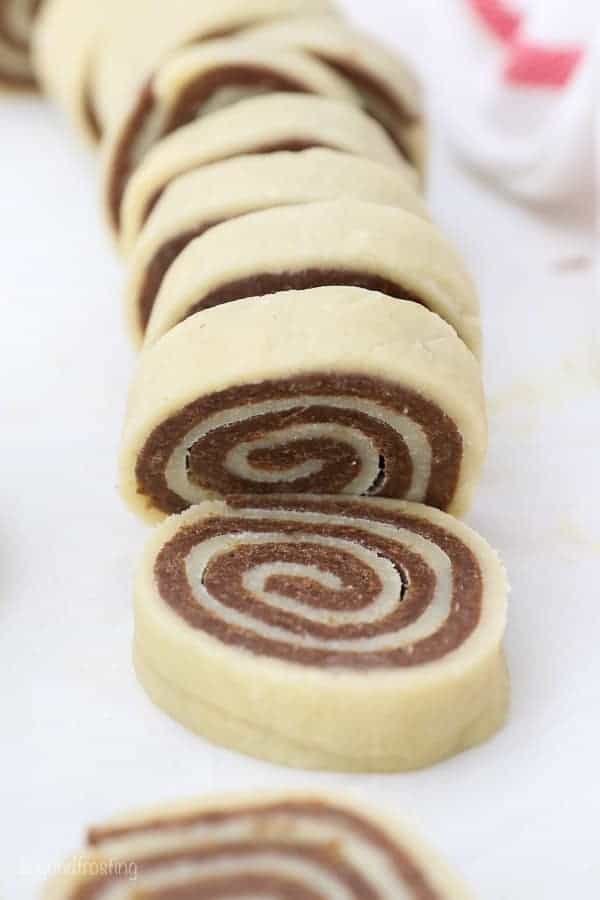 I also want to talk about baking these Pinwheel Cookies. The original recipe calls for 10-12 minutes at 425°F. However, this was far too long in my oven. Also, once my oven gets over 400°F, it tends to run 15-25 degrees too hot. This is why it's important to have an oven thermometer, so you can make the adjustments you needed.
Once I baked the first batch for 10 minutes and the bottom were quite burned, I started testing in smaller batches until I found the perfect amount of time. In my oven, it was exactly 6 minutes. At 5 minutes these were slightly too doughy in the middle and at 7 minutes, they were a little bit too crisp on the bottom. To test in your own oven, try baking just a couple at a time.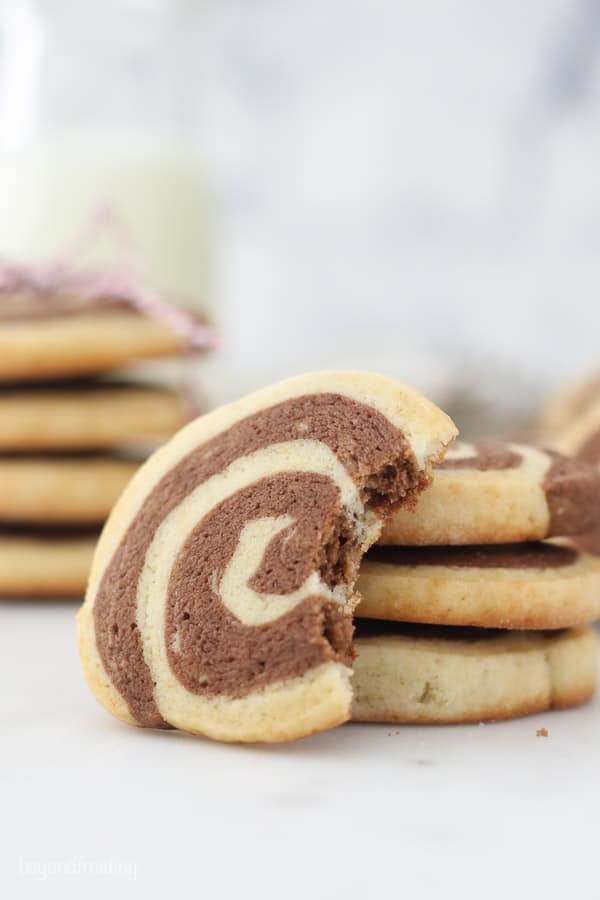 I also tried using both parchment paper and a silicone baking mat. Of course, I'd recommend a silicone baking mat because it gives you that added buffer between the sheet pan and the bottom of the cookie. I recommend moving these to a wire rack immediately when I pull them out of the oven to prevent the bottom from browning any further.
The last thing I tested was baking these cold vs letting them sit at room temperature for 10-15 minutes prior to baking. If you bake them cold, they will not spread as much, and I think this also helps prevent the bottom from browning too quickly.
If you do bake them at room temperature, I would expect them to spread a bit more. So, place them 2-inches apart on your baking sheet.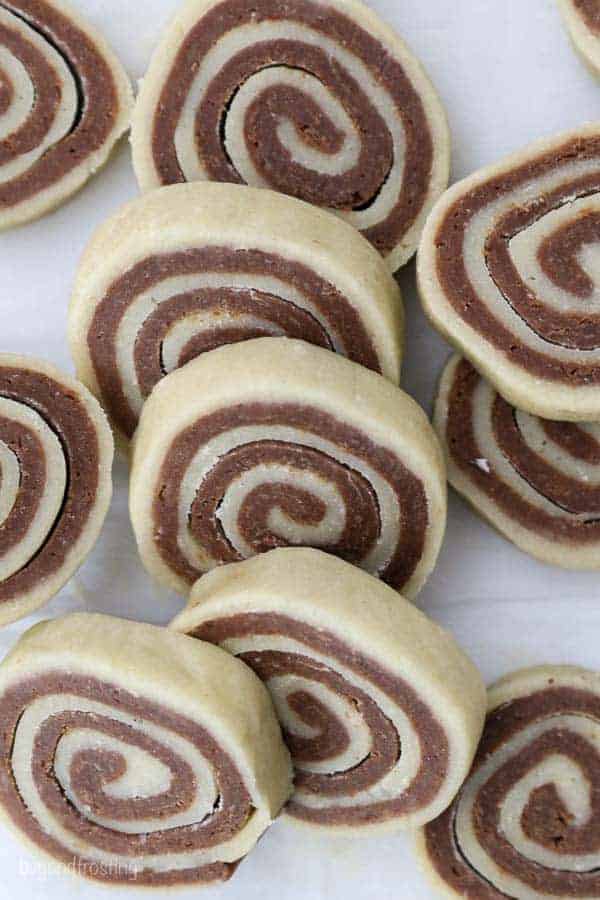 If you'd like to make these a little more festive whether it's for Christmas or even Valentine's day, you can totally do that. Instead of adding the chocolate to one half of the dough, you can use gel coloring to dye half of the dough- whether it's red, green or pink. Any color you want! You can also roll the outside edge in sprinkles like sanding sugar or nonpareils to add some more color.

You can freeze the dough in advance. Double wrap the dough in plastic wrap. If you place the dough in the freezer, place it on a plate or small cookie sheet until it starts to freeze, because the dough is very soft, and the edges will "shape" if placed on a wire rack. Or you can freeze the baked cookies. Cool them completely and then store in an airtight container.
Want more Christmas Recipes ? Here are a few of my favorite cookies
Follow Beyond Frosting:
Facebook | Twitter | Pinterest | Instagram
Print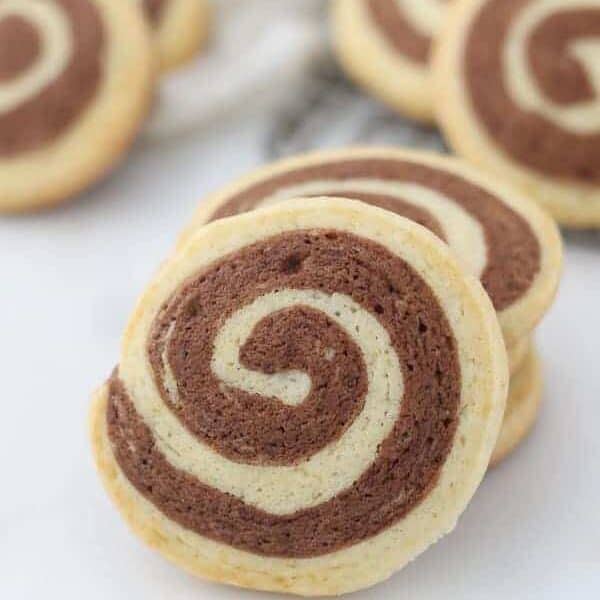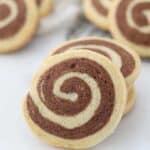 Author:

Prep Time:

2 hour, 5 minutes

Cook Time:

6 minutes

Total Time:

2 hours 11 minutes

Yield:

25-28 cookies
Description
These spiralized Pinwheel Cookies are soft-baked layered vanilla and chocolate dough. Try these festive Christmas Cookies for your cookie baskets.
Ingredients
½ cup

(

113g

) unsalted butter

½ cup

(

95g

) granulated sugar

3 tablespoons

(44ml) milk

1

large egg

1 teaspoon

(5ml) pure vanilla extract

1 ½ cups

(

210g

) all-purpose flour

1 ½ teaspoons

(

5g

) baking powder

1/8 teaspoon

salt

2 ounces

chocolate (bar or chips), melted
Instructions
Soften the butter to room temperature or microwave for 15-20 seconds until softened but not melted.
Combine the butter with the sugar and beat on medium speed until well creamed together.
Add the milk, egg, and vanilla extract. Mix until it's well combined.
In a separate bowl, combine the remaining dry ingredients. Slowly add into batter and beat on medium low speed until well combined and dough forms.
Melt the chocolate in the microwave in 30 second increments, stirring occasionally until melted and smooth.
Divide the dough in half (about 8.5 oz each) and mix the chocolate into one half of the dough.
Turn each dough out onto a lightly floured surface and roll out until is 1/8 inch thick into a rectangle shape. The shapes should be similar in size.
Place the chocolate dough over the regular dough and gently press together with the rolling pin. Trim excess edges.
Roll the dough into a log, tightly wrap in plastic wrap. Chill the dough for at least 2 hours in the refrigerator or 1 hour in the freezer.
Slice the dough into ¼ inch thick slices. Bake cold, placing on a baking sheet lined with parchment paper or a silicone baking mat. Bake at 425°F for 5-7 minutes.
Notes
The dough will be tacky, turn out onto a lightly floured surface and flour your hands, gently turn the dough to coat in the flour, which will make it much easier to work with.
In my oven 6 minutes was the sweet spot. 7 minutes was too long. I recommend baking on a silicone baking mat to prevent the bottoms from burning, and transfer them immediately to a wire rack to cool.
Make sure the dough is plenty cold when you slice into it and I also recommend baking these cold. See more tips in this blog post.
If you want to change the flavor, substitute the vanilla extract for another flavor such as almond or peppermint.
Category:

Cookies

Method:

Baked

Cuisine:

American
Keywords: Pinwheel Cookies, Christmas Cookie, Christmas Pinwheel Cookies, Easy Cookie Recipe