This post may contain affiliate sales links. Please see my full disclosure policy for details
Soft and buttery sugar cookies with a peppermint crunch. These white chocolate dipped Peppermint Crunch Sugar Cookies are perfect for the holidays.
Looking for more Christmas cookie recipes? Try my old fashioned Snowball Cookies, these Frosted Sugar Cookies or these Chewy Sugar Cookies!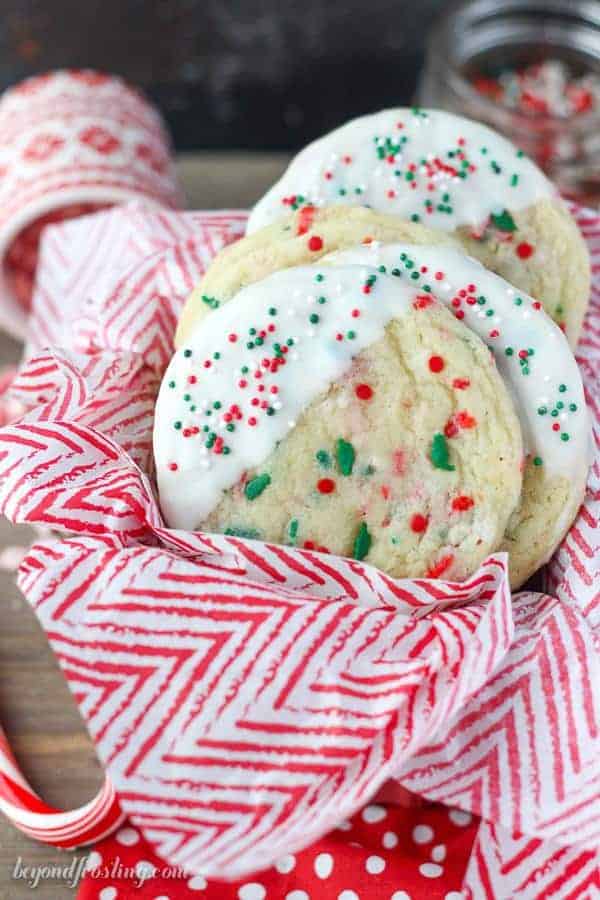 Are you a peppermint fan? I find you either love it or hate it. I love peppermint, but I need it in small doses. Sometimes if I make these and throw them in the freezer so I can enjoy them for a few weeks when the craving it.
Everyone needs a Peppermint Crunch Sugar Cookie in his or her life!
I am gunna share a little secret with you. I actually made this recipe a whole year ago, but I ran out of time to share it. So I remade them this year and added the sprinkles and white chocolate. I wanted to make sure these were on point before I actually shared them with you. All is takes with these cookies is some Andes Peppermint Crunch baking chips.
These were the perfect addition to my cookie baskets too!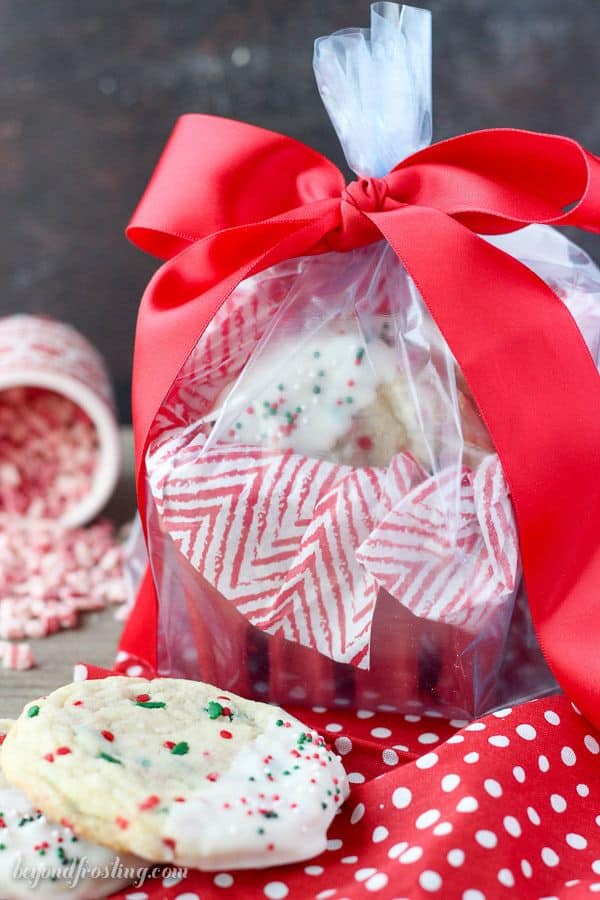 Today at work, I had to skip lunch, and I instead broke into one of my leftover cookie baskets and ate half of them. I am really sucking at dieting lately, but mostly it has to do with my workout falling off track. I feel like everyone sort of expects that to happen this time of year, but I am in a place where I thought I could keep up with it. Between my full-time job and blogging, this month is just slipping out of my hands.
That being said, I am just counting down the days till Christmas break! I am taking off the week between Christmas and New Years and looking forward to some quality down time with my beau.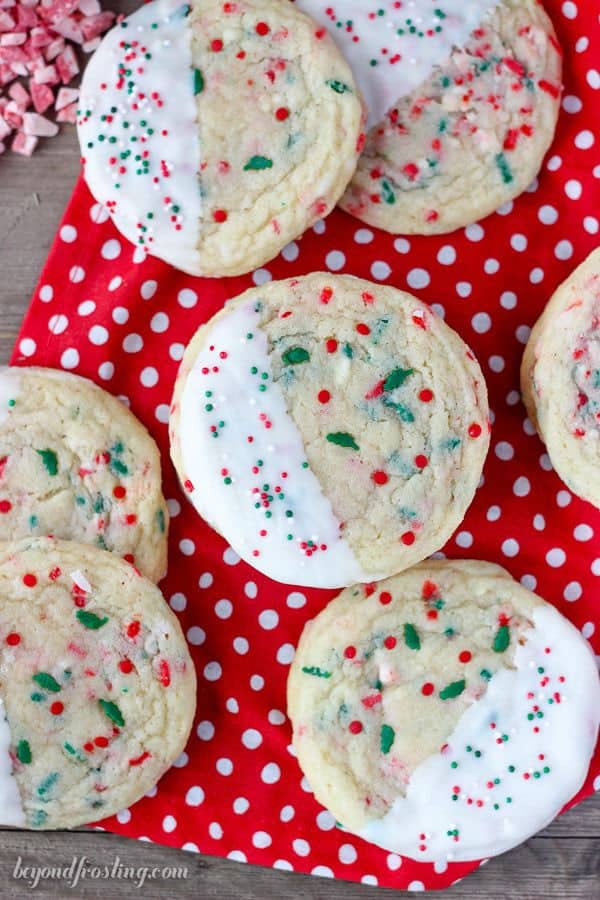 So yeah, back to these cookies. This recipe is my trusted snickerdoodle recipe, but slightly adapted for these peppermint cookies. Here's another secret, this is also a recipe I've used for my Fruity Pebble Cookies, my Strawberry Pop Tart Cookies and even my Soft and Chewy MnM cookies. The recipe is incredibly versatile.
Don't skip chilling the dough
The only thing is, you do need to refrigerate the dough, which will help prevent these cookies from spreading out like pancakes. I also leave these cookies slightly unbaked in the middle so that stay nice and chewy.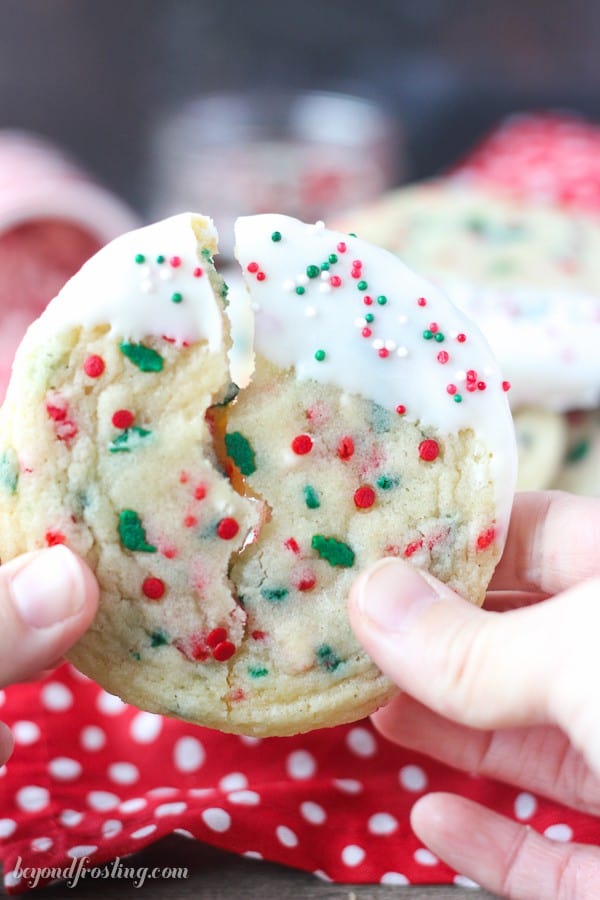 I've never come across anyone who doesn't like these cookies! Plus, these actually freeze well, even with the white chocolate coating on them.
Speaking of the chocolate coating, I always recommend using chocolate that is meant for candy making such as Wilton candy melts or Ghirardelli melts. You could use Almond bark chocolate like Candiquik. If you need to use straight up white chocolate, you can do that too, but it might take longer to set and harden.
With only 10 days left till Christmas, there is plenty of time to make these cookies!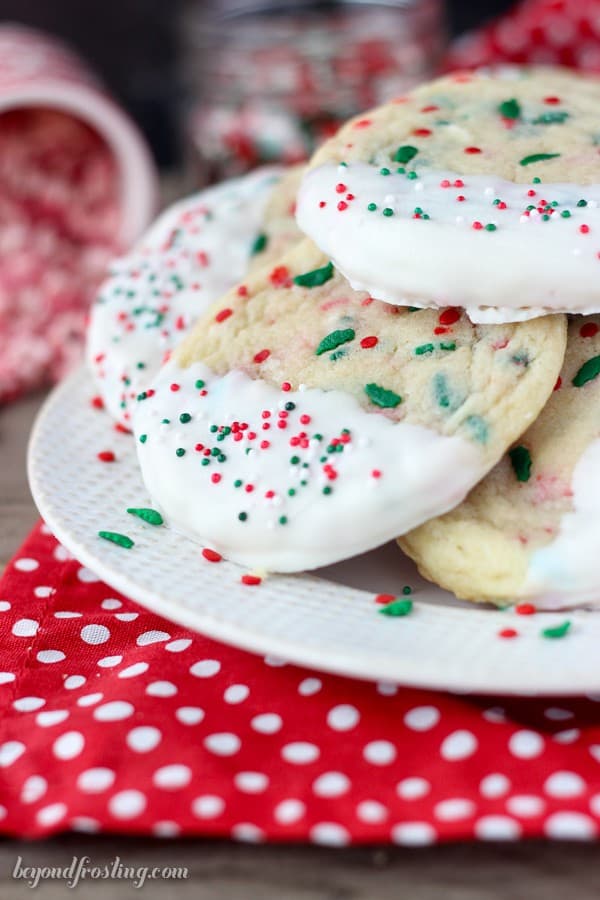 Follow Beyond Frosting:
Facebook | Twitter | Pinterest | Instagram
Print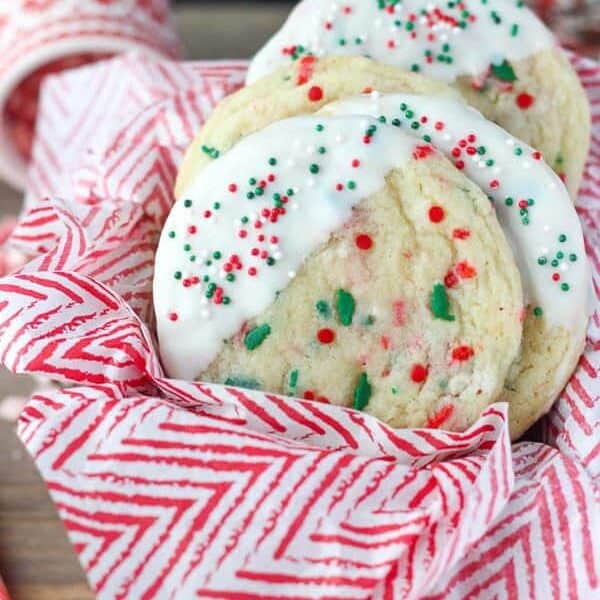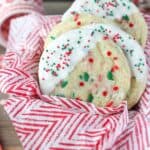 Author:

Prep Time:

45 minutes

Cook Time:

12 minutes

Total Time:

57 minutes

Yield:

24 large cookies
Description
Soft and buttery sugar cookies with a peppermint crunch. These white chocolate dipped Peppermint Crunch Sugar Cookies are perfect for the holidays.
Ingredients
1 cup

(

2

sticks) unsalted butter, softened

2 cup

granulated sugar

2

large eggs

1 tsp

vanilla extract

3 cups

flour

½ tsp

Baking soda

½ tsp

Cream of tarter

¾ cup

Andes Peppermint Crunch

¼ cup

red and green sprinkles

8 ounces

white chocolate (candy dipping chocolate preferred)
Instructions
Combine butter with sugar and beat on medium speed until well creamed together.
Add egg and vanilla extract. Mix into butter and sugar until egg is well beaten.
In a separate bowl, combine flour, baking soda and cream of tartar. Slowly add into batter and beat on medium low speed until well combined and dough forms. Lastly, add the Andes Peppermint Crunch and the sprinkles and mix until well combined.
Refrigerate the dough for a minimum of 30 minutes, but the longer the better.
Preheat the oven to 350° F. Use a large cookie scoop (3 tbsp) and scoop cookie dough onto a parchment paper lined baking sheet. Place about 2 inches apart.
Bake at 350° F for 11-13 minutes. Allow cookie to cool on the baking sheet for several minutes and then transfer to a wire rack to cool completely
To coat with white chocolate, break the chocolate up into smaller pieces and microwave it at 50% power for 30 seconds at a time. Stir the chocolate after each 30 seconds so that it doesn't burn. Then dip your cooled cookie in the chocolate and tap off the excess chocolate on the side of the bowl. Set these on a piece of parchment paper to cool.
Category:

Cookies

Method:

Oven

Cuisine:

American
Keywords: chewy sugar cookies, christmas sugar cookies, decorated sugar cookies, christmas cookies, peppermint cookies
You might also like
Peppermint Cream Pie Cookie Cup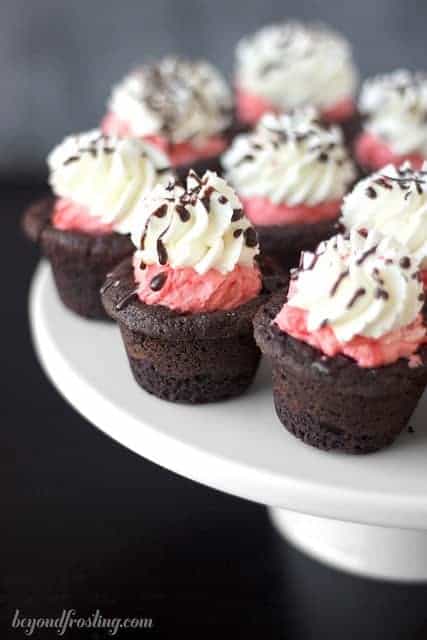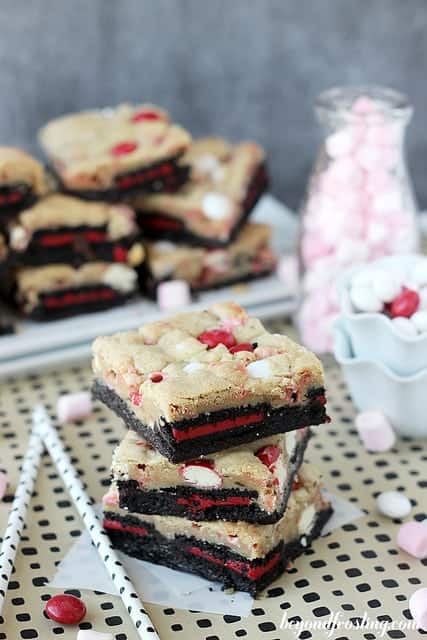 Peppermint Cookie Dough Truffle Bars