This post may contain affiliate sales links. Please see my full disclosure policy for details
Whether you're celebrating a holiday or prepping for a birthday party, you'll love these easy sugar cookies! The soft-baked cut-out cookies are not too sweet and perfectly hold their shape. Frosted cookies can be paired with buttercream or icing. Plus you only need about 30 minutes to chill the dough!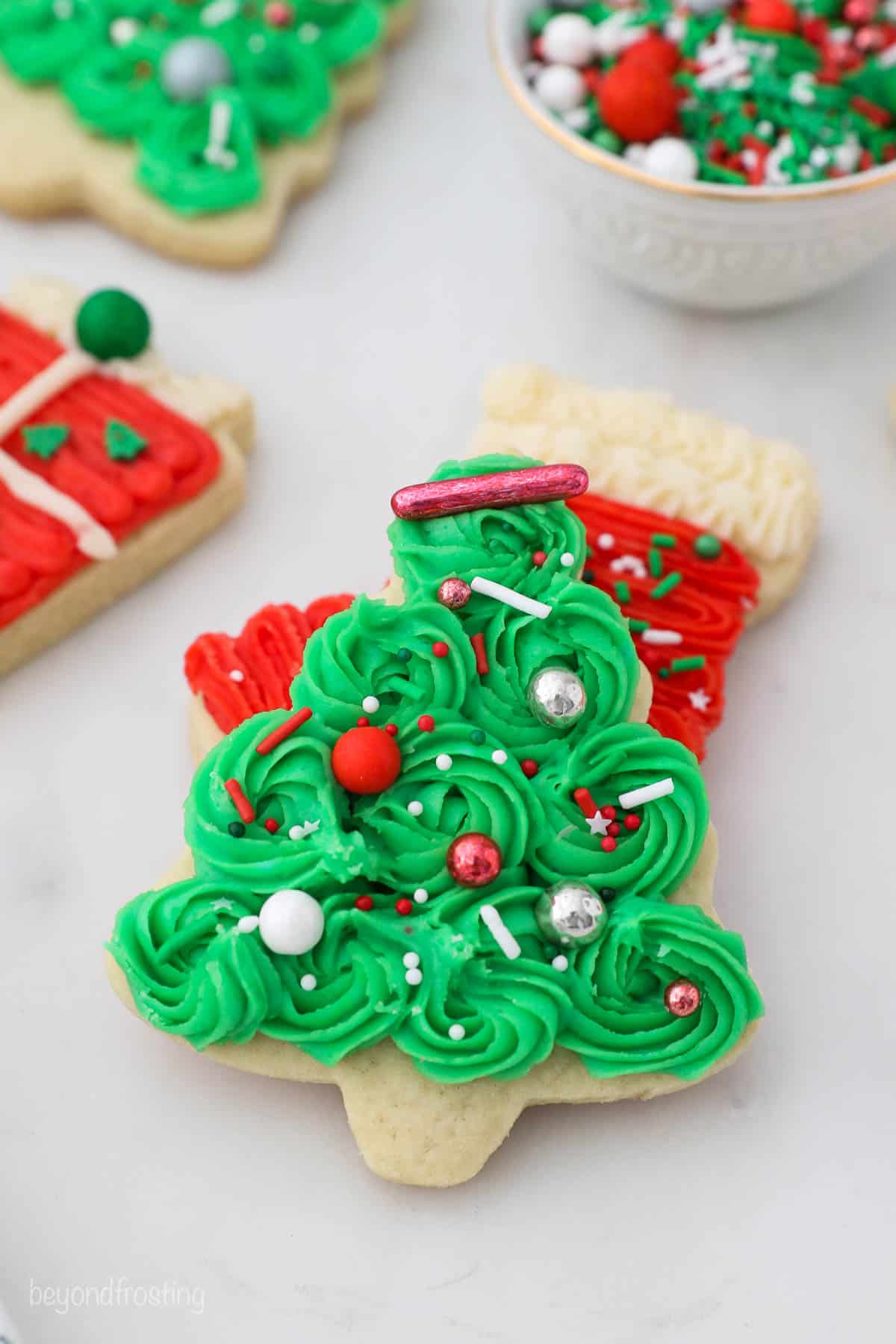 Tis the season for sugar cookies!! Traditionally sugar cookies are thought to be Christmas cookies, but they are also perfect for Valentine's Day, Easter, Halloween, and even birthday parties.
This is the sugar cookie recipe that I grew up with. It was handed down from my grandmother (Nana) and was definitely one of my favorite holiday traditions as a child and one I look forward to doing with my children.
If this is your first time making sugar cookies, or you'd just like to brush up on your skills, then you're in the right place because we're going to go through this step by step so you'll get perfect cutout cookies every time.
You're really going to love them!
The easiest cookie dough to work with
Only 30 minutes to chill the dough
Simple ingredients
Holds their shape when baked
Make soft, buttery cookies
Not overly sweet
They freeze well
Use a baking mat: It provides a barrier between the cookies and the cookie sheet and helps prevent the bottom of the cookies from browning too quickly. Plus they're nonstick.
Bake one tray at a time: Always bake on a rack placed in the middle of the oven for even baking. Once one pan goes in the oven, I have another one ready to go. Always keep it moving. It does help things go faster.
Don't roll all the dough at once: The more you work the dough, the softer it becomes. Soft dough can get sticky and hard to work with. So divide the dough into three equal balls before refrigerating.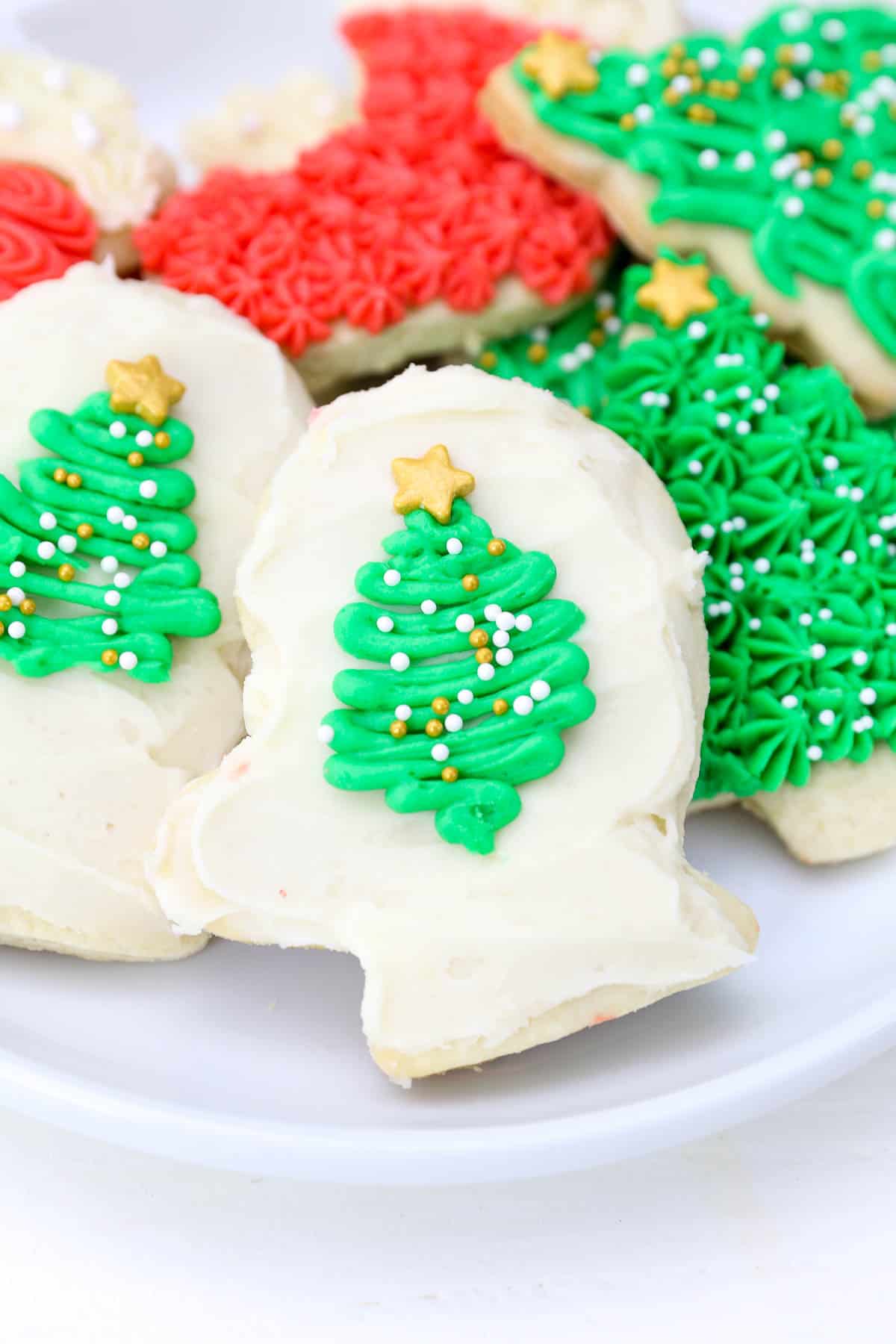 Step 1: Cream the butter and sugar.
Prep the butter: Butter should be slightly colder than room temperature, about 20-30 minutes on the counter. I also like to cut the butter into 1 tablespoon size pieces which helps speed up the process.
Cream together the butter and sugar. This is an essential step to any cookie recipe. It creates and traps air pockets which later helps during baking to actually slow down the process of the butter and sugar melting. Remember to scrape down the bowl and remix, so that you get a good consistency in your mixture.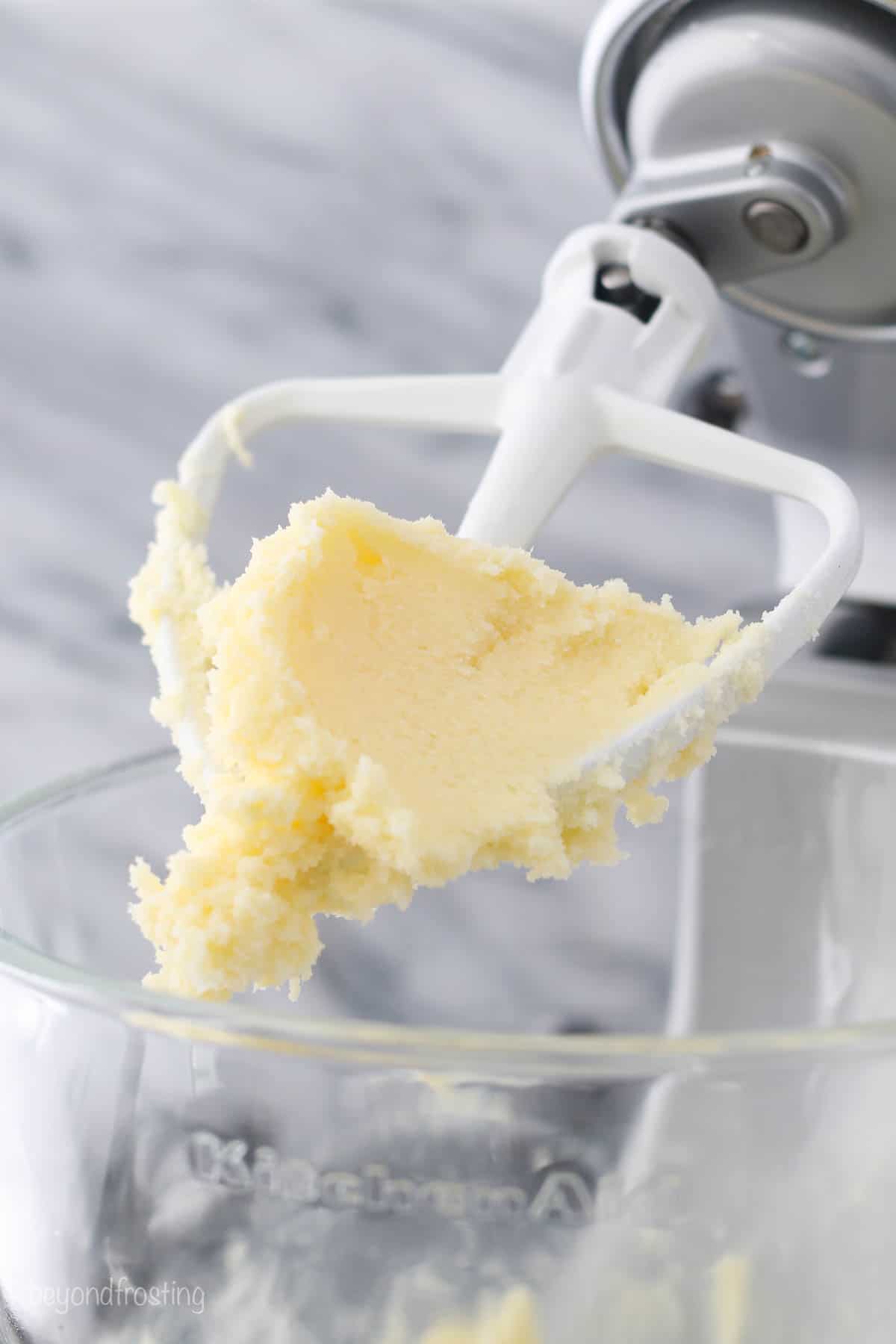 Step 2: Add the liquid ingredients
Add the eggs. The mixture will still be a bit "chunky", but it will still be a cohesive mixture.
Add remaining liquid ingredients: add the milk (with baking soda dissolved) and vanilla extract: To dissolve the baking soda in the milk, I take the baking soda and stir it into the milk until there are no dry pockets of baking soda on the bottom of the dish. This starts a chemical leavening process to help the cookies rise just a bit during baking.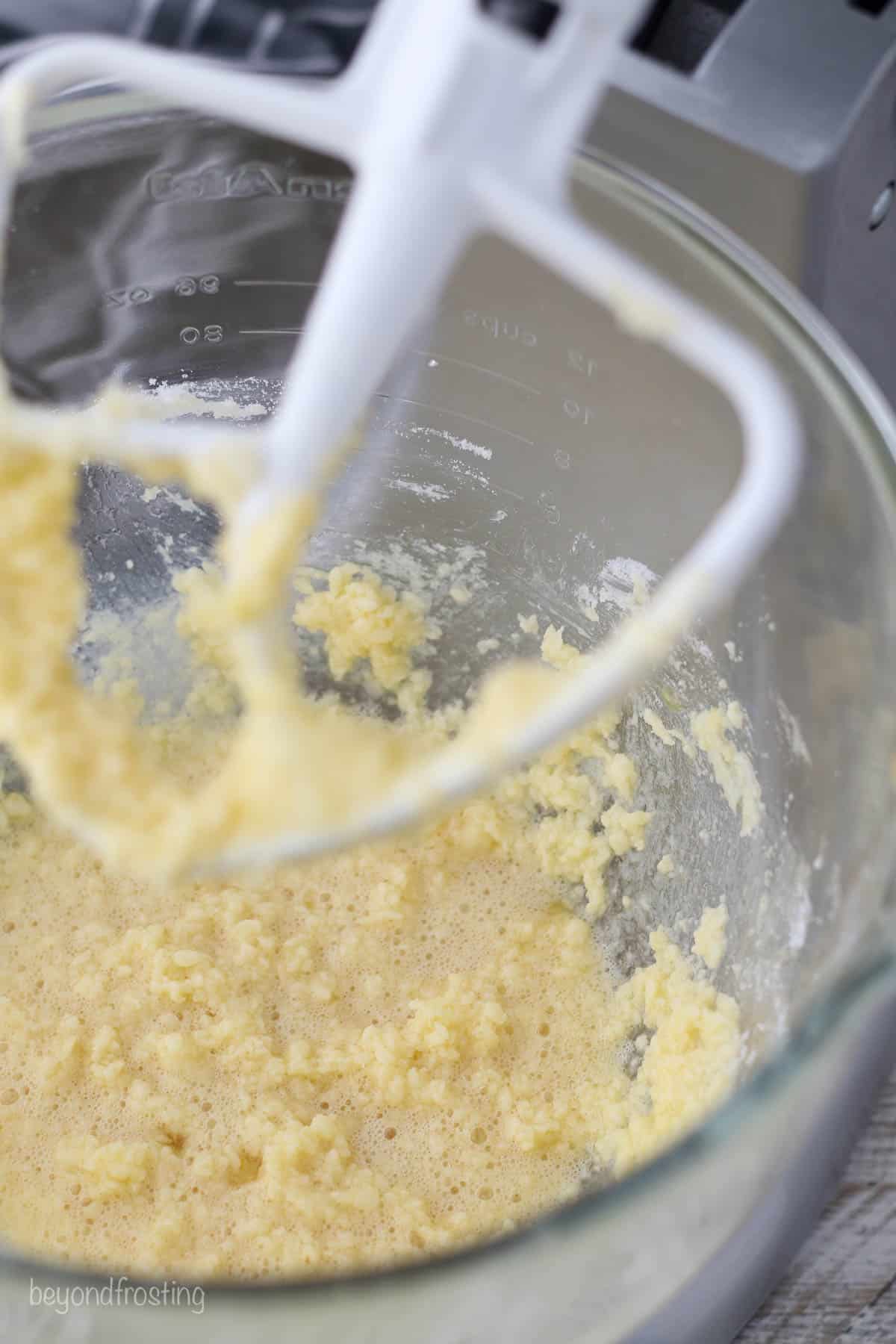 Step 3: Add the dry ingredients
I highly suggest using a kitchen scale to measure out your flour because it's so easy to add too much flour to your dough, which makes for dry and brittle cookies. I never bake without my kitchen scale.
Slowly add the flour to the dough, 1 cup at a time, again, scraping down the bowl to get any residue off the bottom. At first, this dough might look like a crumbly mixture. However, as soon as you press the dough together, it's like play dough, it's soft and forms easily into a ball. Keep mixing it together and you'll have a nice ball of cookie dough.
Step 4: Chill the dough.
This dough needs to be chilled for about 30 minutes, which will make it much easier to handle when rolling it out.
I recommend making 2-3 flattened discs of dough, no larger than a softball. This allows you to work in small batches, which is easier to roll out, and it prevents the dough from getting too soft. Wrap it with plastic wrap and place it in the refrigerator to chill.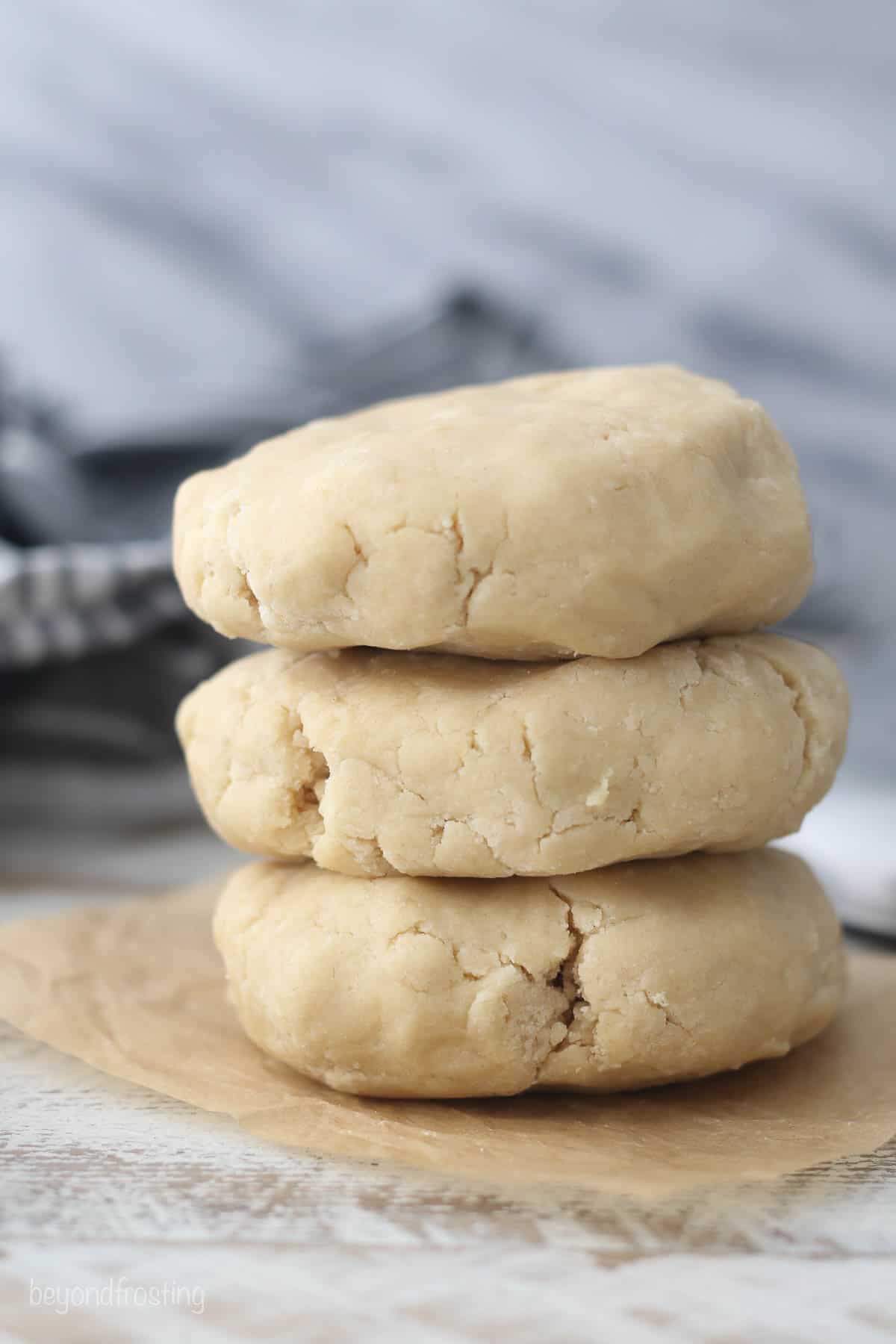 Step 5: Roll & cut
I like a good thick sugar cookie that is still soft! I recommend rolling to about 1/4″ thickness, they will rise slightly in the oven. If your dough is thinner on the edges, roll it into the next batch
Use a well-floured surface: I always use a silicone baking mat or a large piece of parchment paper (and I tape down the corners). You can generously flour the dough without it drying it out. After you cut out the shapes, brush away excess flour with a pastry brush.
Roll from the center: Always roll from the center to the edge. Slightly flatten the dough in the center, flip it over and rotate to flatten the other edges, and continue this process 2-4 times until the dough starts to thin out.
Maximize the space: Layout the cookie cutters until there's no room left. You can use every nook and crannies. Give the cookie cutter a little wiggle to release it from the dough.
Save leftover dough scrapes: Once my dough becomes too soft or after rolling out a couple of times, I set any leftover dough aside, and wait until the end to use it again. All those leftover scraps make a lot of good cookies! It just becomes difficult to mix the cold dough with a soft, warmer dough. Once you have all your scrapes, press them together and reroll.
STEP 6: Bake
Remember my tips to use a silicone mat and bake one tray at a time.
How to tell if the cookies are done: If the edges of my cookie start to brown, they're done. The recommended baking time on my cookies is 10-12 minutes. I always bake it for 9 minutes, because as the cookie cools, it is still sitting on a hot pan.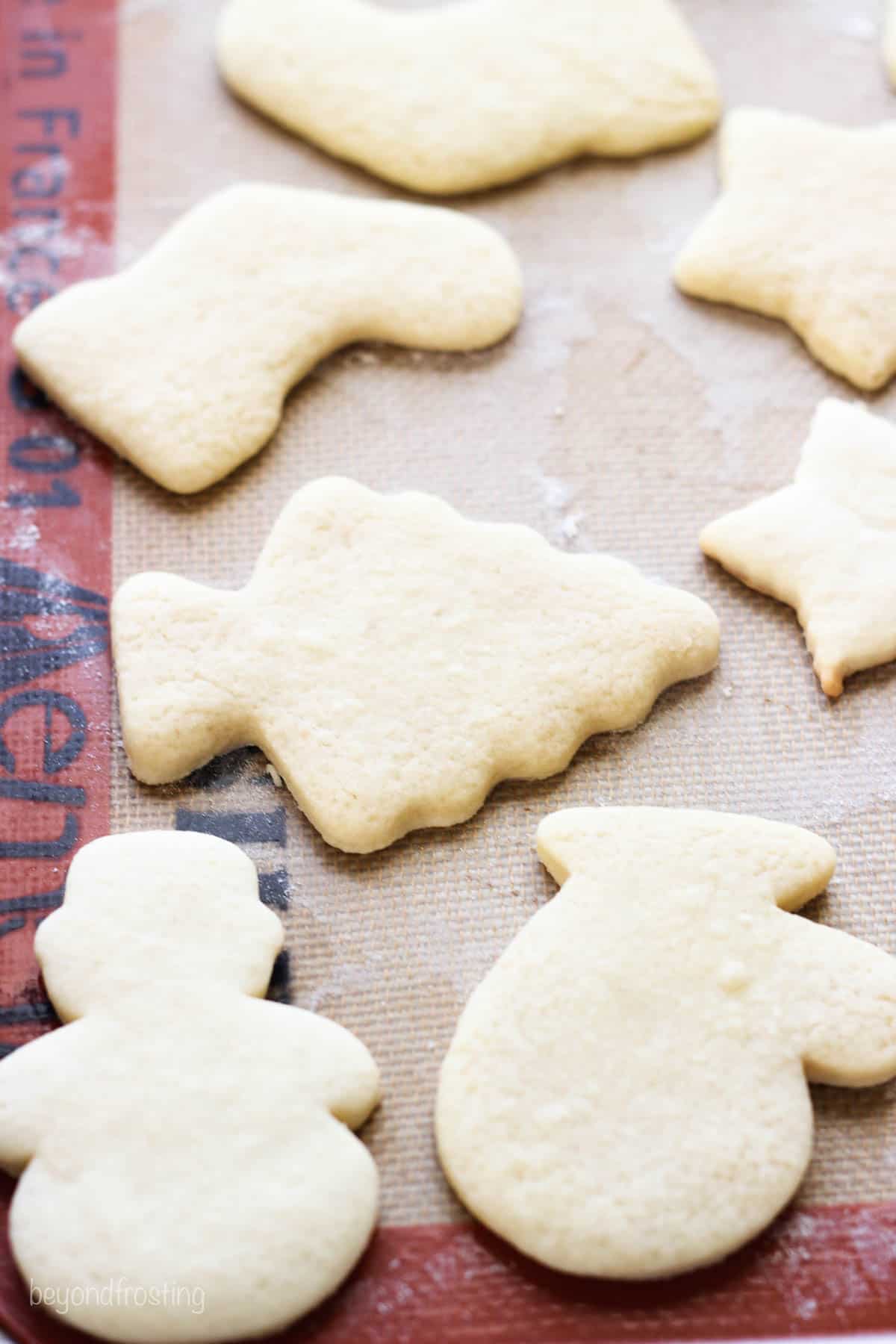 Step 6: Decorating
This is both my most favorite and least favorite part of the process. I always start out super excited to decorate, but by the end, I always get lazy and just slap some frosting on the last few cookies. These do eventually form a light "crust" so if you want to add sprinkles, it's best to do that right away.
Top these with either buttercream or this icing recipe which is great for kids to work with. We used to "paint" our cookies. I could go super detailed with decorating sugar cookies, so I put all my tips and tricks into one post for you.
More Helpful Decorating Resources
These are best kept in an airtight container, and they will stay fresh for several days. While this buttercream does have a little "crust", I don't recommend stacking more than 1 cookie on top of another, as it will crush the peaks of the frosting.
Can I Make The Dough in Advance?
If you want to make this dough ahead of time, just wrap it tightly in plastic wrap and put it in the fridge for up to 2-3 days. Beyond that, I suggest freezing it.
To defrost the dough, just place it in the fridge the night before you'd like to use it. You might need to let it sit on the counter for 10 minutes before you start rolling it out, making it much easier to handle.
To make these ahead of time, you have two options. You can freeze the baked cookies prior to decorating them, or you can freeze them once decorated.
To freeze baked cookies, prepare and cool completely. Place in a freezer-safe air-tight container for up to one month.
To freeze decorated cookies, place them on a cookie sheet in the freezer for 15-30 minutes until the frosting is hard. Transfer to a freezer-safe airtight container and freeze. You can stack two layers high, place a piece of parchment between them. Thaw on a cookie sheet in a single layer to prevent damaging the frosting.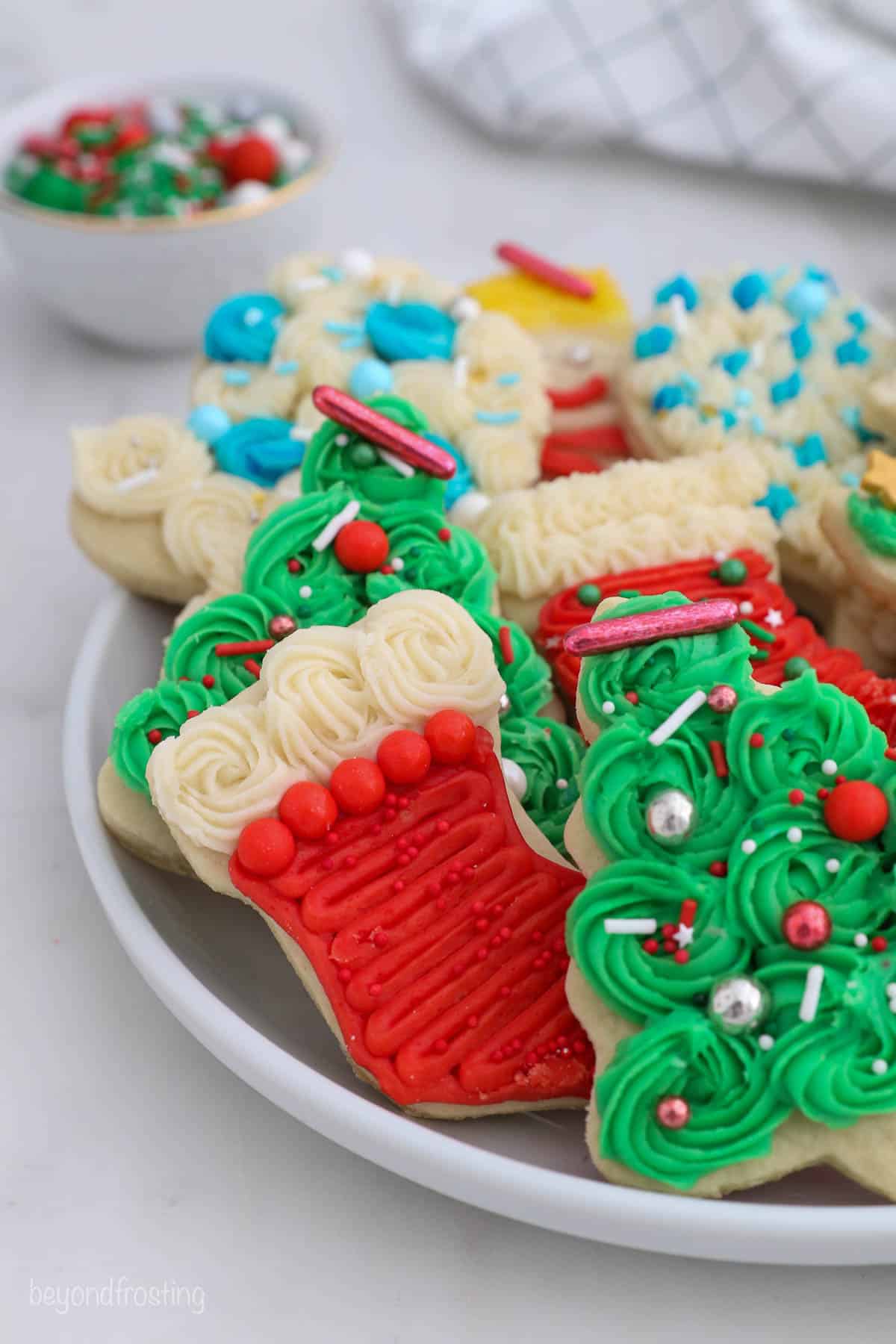 More Sugar Cookie Recipes To Try:
Print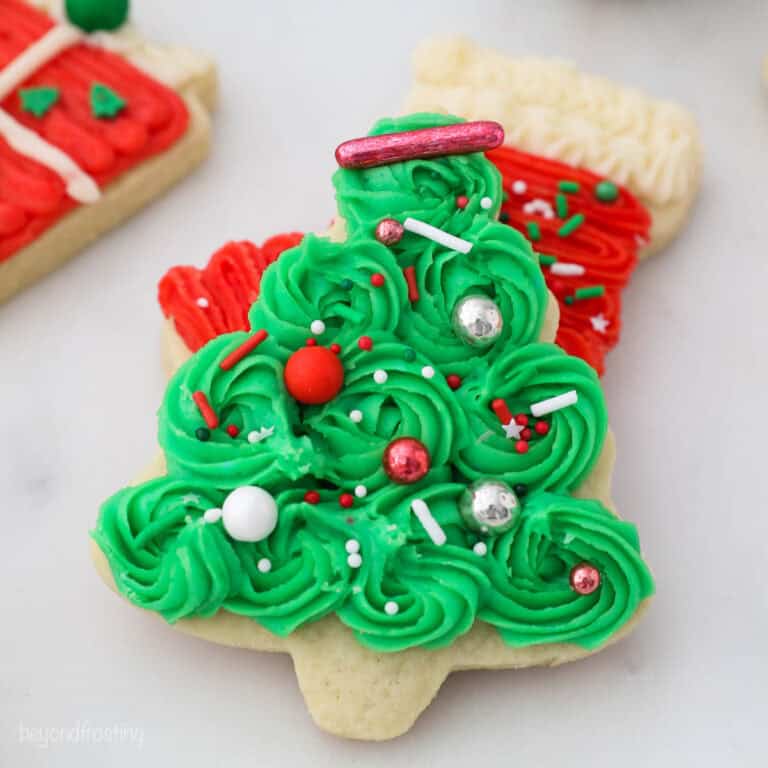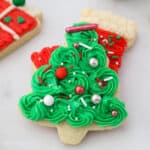 Author:

Prep Time:

60 minutes

Cook Time:

10 minutes

Total Time:

1 hour 10 minutes

Yield:

24 cookies
Description
If you've ever wondered how to make sugar cookies this easy cut-out recipe is for you! It makes soft sugar cookies that hold their shape and are perfect for decorating!
Ingredients
1/2 cup

(

4 oz

) unsalted butter

1/2 cup

(

95g

) granulated sugar

1/2 tsp

baking soda

2 tablespoons

(30m) milk

1/2 teaspoon

vanilla extract

1

large egg, beaten
Pinch of salt

2

1/2 cups (

350 g

) all-purpose flour
Instructions
Beat the butter and sugar on medium-high speed until the sugar is dissolved and creamy.
In a small glass dish, dissolve the baking soda in the milk. Add the baking soda/milk, vanilla and egg to the butter. Beat until all ingredients are well incorporated.
Slowly add the salt and the flour 1 cup at a time and mix until a stiff dough forms.
Form 3 softball size balls of dough. Flatten and wrap tightly in plastic wrap then chill in the freezer for at least 15 minutes or in the refrigerator for at least 30 minutes or up to 3 days.
Pre-heat oven to 350°F.
Remove the dough from the fridge, roll the dough out on a well-floured surface about ¼" thick. Use a cookie cutter to cut the shapes and transfer to a lined baking sheet. Use parchment paper or a baking mat.
Bake at 350° for 8-12 minutes. Allow to cool for 5 minutes before transferring to a wire rack to cool completely.
Notes
Frosting options: These are frosted with my perfect vanilla frosting. They also go great with this easy icing recipe.
Make the dough ahead of time: The dough can be refrigerated for 3 days, otherwise I suggest freezing. Thaw frozen dough overnight in the refrigerator.
How much does this recipe make? This batch produces about 24 cut-out cookies depending on the size of your cookie cutters. It can easily be doubled for a large batch
Storing baked cookies: These are best kept in an airtight container, and they will stay fresh for several days. While this buttercream does have a little "crust", I don't recommend stacking more than 1 cookie on top of another, as it will crush the peaks of the frosting.
Freezing baked cookies: Baked cookies (unfrosted) can be stacked in an airtight container and frozen for one month. Thaw completely before frosting. Frosted cookies can be frozen as well. Place them on a cookie sheet in the freezer for 15-30 minutes until the frosting is hard. Transfer to a freezer-safe airtight container and freeze. Place a piece of parchment paper between stacked layers. Thaw on a cookie sheet in a single layer so as not to damage the frosting.
Category:

Cookies

Method:

Baked

Cuisine:

American
Keywords: cut out sugar cookies, frosted sugar cookies