This post may contain affiliate sales links. Please see my full disclosure policy for details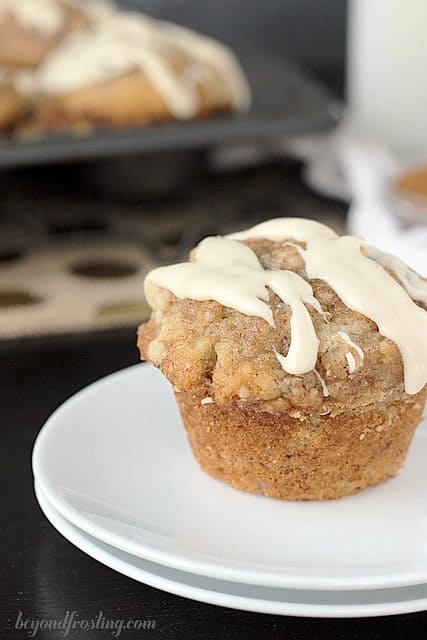 I seriously can't get enough muffins. Those not so little muffins seem to disappear whenever I make them. After I made my Apple Pie Muffins, I knew I needed to make a cinnamon roll version. Cinnamuffin? Can we call that a thing? These Cinnamon Roll Muffins are what I've been craving all week. My master muffin mix is so easy to adapt to all different types of flavors.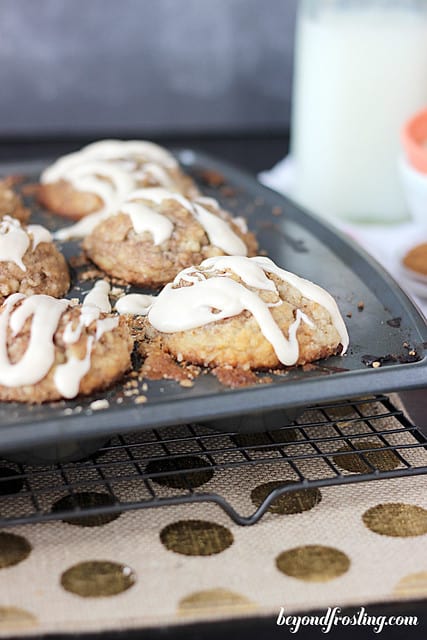 The idea was to really swirl the cinnamon and brown sugar right into the muffins. So what I did was put a bit of streusel on top and used a toothpick to lightly mix it in.
No cinnamon roll is complete without icing, right? So I went to town with a simple vanilla glaze. My boyfriend is obsessed with Cinnabon, so I've read multiple copycat recipes that seem to have cream cheese and a hint of lemon in the icing. I was feeling a little lazy, so I left out the cream cheese, but I did add some lemon. I like a really thick icing, but it's difficult to not end up with something overly sweet. The lemon helps to cut the sweetness.
I want to be sure you guys know what makes these muffins so big. First of all, there is added baking powder which helps lift the muffins out of the pan. I also bake these muffins at a higher temperature for the first five minutes and then just turn the oven down. This is a trick I learned from reading Sally's blog.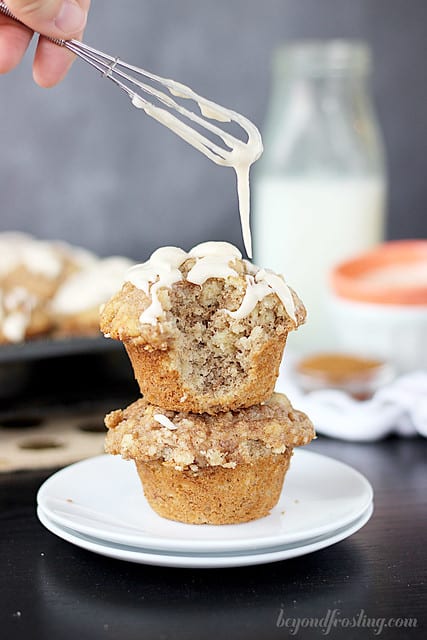 The last thing to note is that you should fill the muffin tin right to the top and then add the streusel. This will result in 12 large muffins. In order to remove them from the pan, you may need to run a knife underneath the muffin top. You should also let them to cool for at least 30 minutes will also help. I like my muffins sky-high.
These cinnamon roll muffins are great for Fall. I wish I could eat muffins for breakfast every day, but that's probably excessive. Yes? No?
Print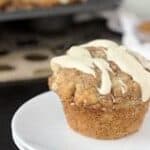 Cinnamon Roll Muffins
Author:

Prep Time:

23 mins

Cook Time:

18 mins

Total Time:

41 minutes

Yield:

12 muffins
Description
Cinnamon muffins swirled with a cinnamon brown sugar streusel and topped with a sweet vanilla glaze.
Ingredients
For the Muffins:
2 1/4

C Flour

1

C Granulated sugar

4 tsp

Baking powder

1 tsp

Cinnamon

1/2 tsp

Salt

1/2

C Unsalted butter

1

Large egg

1

C Milk or buttermilk

1/4

C Sour cream
For the Streusel:
4 tbsp

Flour

3 tbsp

Brown sugar

3 tbsp

Unsalted butter

1 tsp

Cinnamon
For the Glaze:
1

–

1 1/2

C Powdered sugar

1 tbsp

Milk

1 tsp

Vanilla extract
Juice of

half a

lemon
Instructions
Preheat oven to 425°. Grease a muffin pan with Crisco or baking spray.
In a medium-sized bowl, mix flour, sugar, baking powder, cinnamon, and salt. Then set this mixture aside.
In a separate bowl, beat the egg using a whisk until light and fluffy. Add melted butter and whisk together with the egg. Continue to add milk and sour cream and whisk everything together until smooth.
Slowly pour wet ingredients into the dry ingredients and use a wooden spoon to mix just until combined.
To prepare streusel, combine butter with all dry ingredients. Use a pastry cutter or fork to cut the butter into the dry ingredients until no large chunks remain.
Fill your muffin tin all the way to the top with batter. Add 1 tablespoon of streusel to the top of each muffin. Use a knife or toothpick and swirl into the muffin.
Bake for 5 minutes at 425° and then reduce heat to 350° and bake for another 16-20 minutes. Do not open the oven for at least 15 minutes, you will see how nicely the muffins rise. Baking times will vary by oven.
Check your muffins for doneness by inserting a toothpick into the center of the muffin. If your toothpick comes out clean, your muffin is done. Allow muffins to cool completely in the pan. You can also cool on a wire rack, but you want to allow them to cool enough to remove and transport them out of the pan.
Sift powdered sugar. This step is necessary to create a smooth glaze. Start with 1 cup of powdered sugar
Add milk and vanilla extract and stir to combine. The mixture will be thick.
SLOWLY squeeze in the lemon juice and mix to cut the sweetness until desired taste.
For a thicker glaze, add only 1 tablespoon of milk instead of 2. Or add additional powdered sugar. There is no secret to the glaze, you have to alternate milk and powdered sugar until desired consistency and taste.
Category:

Breakfast

Method:

Baked

Cuisine:

American
Keywords: cinnamon muffins