This post may contain affiliate sales links. Please see my full disclosure policy for details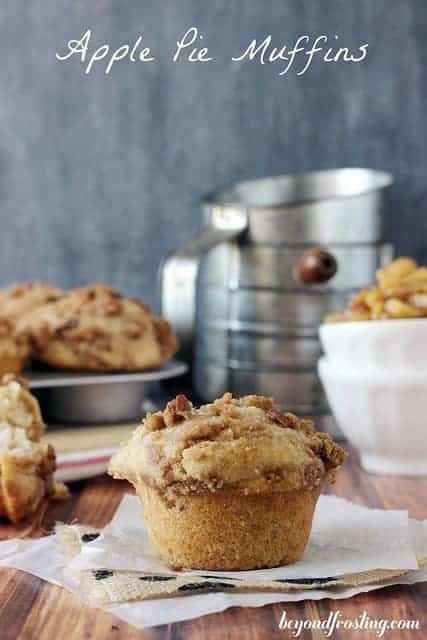 The best part about catering events, is when they are over. Just kidding. Seriously though. I absolutely LOVE sharing desserts, especially during weddings because they are such joyous occasions. Hours and hours of work that I put in and it makes me so happy to see everything come together. Then I sleep. A lot. I wish I had more photos to share with you from this past weekend, but I was so busy and it was pretty much getting dark by the time everything went out. It was awesome though!
September is my favorite month. The nights get colder but the days stay warm. It's time to pick apples and flavors turn from lemon and strawberry to cinnamon and apple. My friend Lindsay and I are celebrating with Apple week! First up are these Apple Pie Muffins. It's one irresistible one! Be sure to check out Lindsay's Apple Blondie Cheesecake too! For even more apple inspiration, be sure to check out my Pinterest board!
You see, I have slightly altered my master muffin mix to make these muffins. I've added a bit of cinnamon and mixed in some homemade apple pie filling. Then, I topped it off with a brown sugar pecan streusel. I am not sure which part I like better, the apple filling or the pecan streusel. I am a firm believer that all muffins are better with streusel.
There are two steps involved with these muffins. First, you must make the apple filling, and allow it to cool slightly before adding it to the muffins. You can refrigerate for a little bit to help cool it off. Then you make the muffin mix and stir in the pie filling.
I've been wanting to make an apple pie muffin for months. I cannot resist muffins. Cookies, cakes, brownies, it's all good, but muffins, I just can't deny. If they are sitting in my house, I will pick away at them all day. These are no exception. I know you have seen plenty of apple muffins, but this one is just, better.
Let me share a couple of secrets with you. It's got extra baking powder, which helps boost the height of the muffin. If you preheat your oven to 425°F, and bake them for the first few minutes at the higher temp, it helps them rise. Then, just reduce the oven temperature to 350°F and let them bake for the remaining time. When I say fill the muffin cups all the way to the top, I am not joking, Then top it off with buttery brown sugar streusel and toss them in the oven! Enjoy!
Keep up with all the happenings. Follow Beyond Frosting:
Facebook | Twitter | Pinterest | Instagram |
Print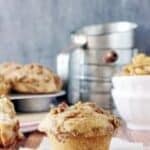 Bakery Style Brown Butter Apple Pie Muffins
Prep Time:

20 mins

Cook Time:

20 mins

Total Time:

40 minutes

Yield:

12 muffins
Description
An incredibly moist, cinnamon muffin with fresh apple pie filling. Topped with a buttery brown sugar and pecan glaze.
Ingredients
For the filling
3

–

4

Medium apples, sliced

1

Lemon, juiced

2 tbsp

Light brown sugar

2 tbsp

All-purpose flour

2 tbsp

Maple syrup

2 tsp

Cinnamon

1 tsp

Apple pie spice
For the muffins
2 1/4

C Flour

1

C Granulated sugar

4 tsp

Baking powder

1 tsp

Cinnamon

1/2 tsp

Salt

1/2

C Unsalted butter, browned

1

Large egg

1

C Milk or buttermilk

1/4

C Sour cream
For the streusel
6 tbsp

Flour

5 tbsp

Brown sugar

4 tbsp

Unsalted butter

1/2

C Pecans

1 tsp

Cinnamon
Instructions
For the pie filling
Slice apples into small pieces and squeeze a lemon over top and stir to combine.
Add brown sugar, flour, maple syrup, cinnamon, apple pie spice over top of apples. Stir to mix ingredients.
Heat apples on the stove over medium heat for 15-20 minutes until soft. Stir occasionally. Set aside and allow to cool, refrigerate if necessary.
For the muffins
Preheat oven to 425°. Grease a muffin pan with Crisco or baking spray.
In a medium sized bowl, mix flour, sugar, baking powder, cinnamon and salt. Then set this mixture aside.
In a shallow sauce pan, melt butter and stir until butter starts to turn light brown and releases a nutty flavor.
In a separate bowl, beat the egg using a whisk until light and fluffy. Add melted butter and whisk together with the egg. Continue to add milk and sour cream and whisk everything together until smooth.
Slowly pour wet ingredients into the dry ingredients and use a wooden spoon to mix just until combined. Add apple pie filling when about half of your flour is mixed into the wet ingredients.
To prepare streusel topping, combine butter with all dry ingredients. Use a pastry cutter or fork to cut the butter into the dry ingredients until no large chunks remain.
Fill your muffin tin all the way to the top with batter. Add 1-2 tablespoon of streusel to the top of each muffin.
Bake for 5 minutes at 425° and then reduce heat to 350° and bake for another 16-20 minutes. Do not open the oven for at least 15 minutes, you will see how nicely the muffins rise. Baking times will vary by oven.
Check your muffins for doneness by inserting a toothpick into the center of the muffin. If your toothpick comes out clean, your muffin is done. Allow muffins to cool completely in the pan. You can also cool on a wire rack, but you want to allow them to cool enough to remove and transport them out of the pan.
Other recipes you might like:
Apple Pie Cupcakes with Maple Swiss Meringue Buttercream
Recipes from my friends:
Apple Cider Donut Holes from Heather's French Press
Caramel Apple Cinnamon Bars from Averie Cooks
Caramel Apple Pie Empanadas from Mom on Timeout