This post may contain affiliate sales links. Please see my full disclosure policy for details
This is Grandma's Baked Mac and Cheese. It's a classic creamy stovetop cheese sauce mixed with shells and then baked with a crunchy bread crumb topping. This mac and cheese is an easy weeknight dinner.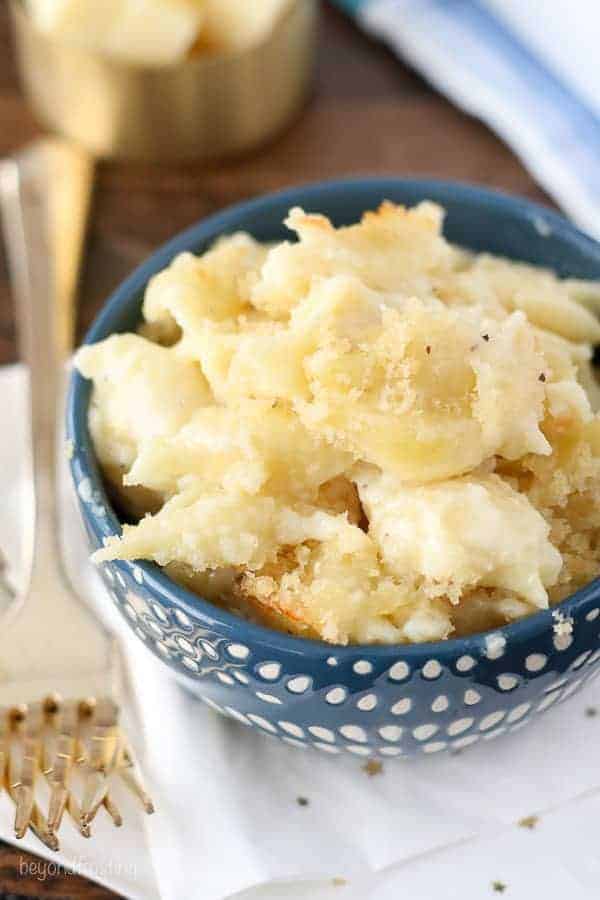 When I moved into my first apartment in college, I was thrilled to be able to cook for myself. I wanted all of my favorite recipes from my mom, so I took a little notebook and wrote out all of my favorites. I still have that notebook today!
One of the recipes in my notebook is Grandma's (aka Nana's) Mac and Cheese. I remember that Nana used to make this recipe with elbow noodles and a sharp cheddar cheese roux. For years I followed her same recipe, but at some point, I decided that I wanted to add some bread crumbs and bake it. Boy, am I glad I did.
Side note, my husband doesn't eat mac and cheese (insert eye roll here). So once we have kids I will for SURE be making them this mac and cheese for dinner.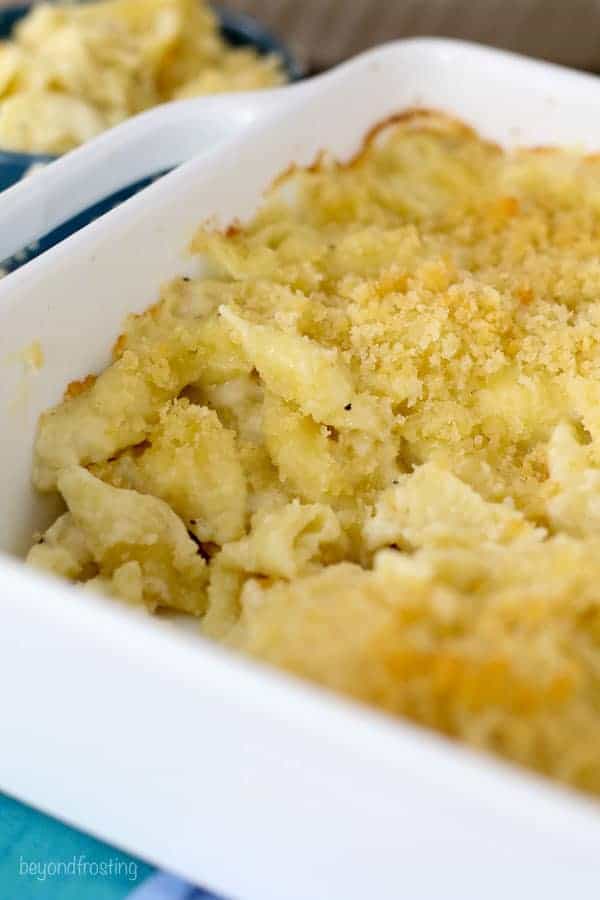 This recipe starts with pasta (umm, duh). I prefer shells myself because I like a larger noodle. At the same time that you are preparing the shells, you should prepare the roux.
A roux sounds fancy, but really, it's just butter mixed with flour and milk, some seasonings and cheese. The trick with a roux is that once the melted butter and flour are combined, it will be a little clumpy, keep cooking it until it thins back out. Once it starts to thin out, slowly whisk in the milk and continue cooking until it's bubbling and thick.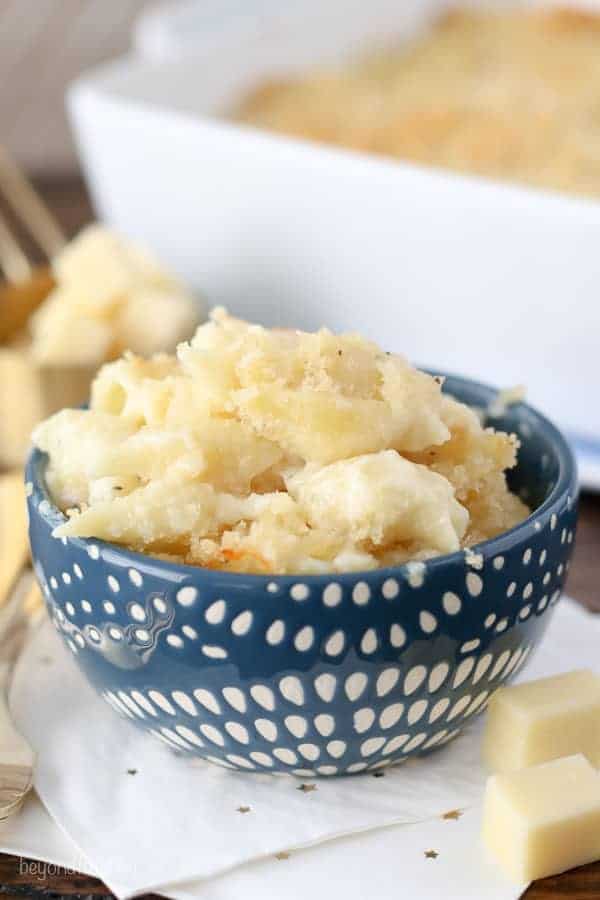 At this point, you should start to stir in the cheese. I prefer to use a nice sharp white cheddar. My preference is Cabot, of course (seeing as how I am from Vermont). Really you can use any cheese that you prefer, or even a combination of cheeses.
I like to cut the cheese into cubes to help it melt more quickly. Once all of your cheese has been added, the sauce will be nice and thick. Pour this over your cooked pasta.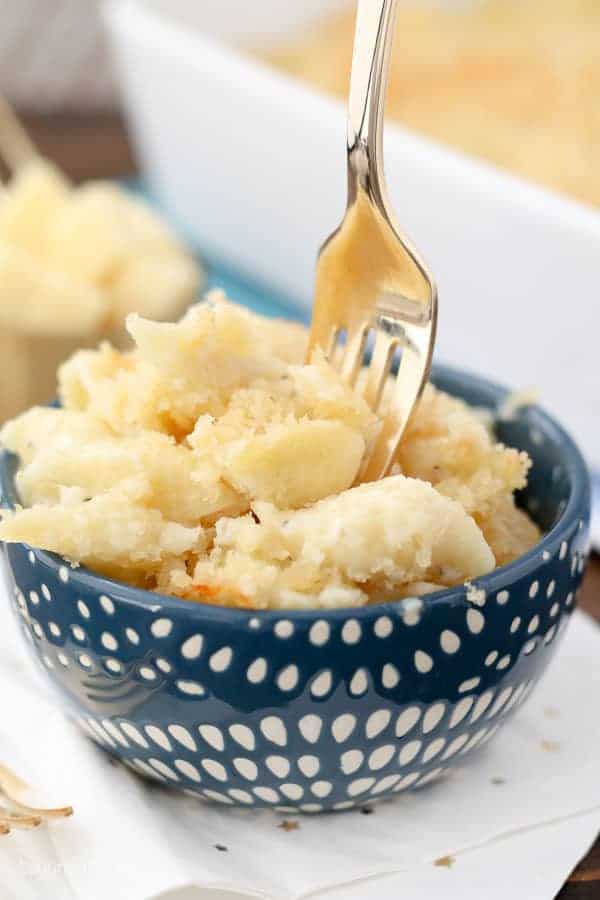 Then comes the good part. Stir a little melted butter into the bread crumbs, sprinkle over top of the pasta and then bake. I grabbed a 9-inch square dish, just make sure it's oven safe.
I don't know about you, but my FAVORITE part of a baked pasta is the top part because it gets just a little bit crispy, plus all the extra bread crumbs. Seriously, I would scrape off the whole top layer of the mac and cheese all for myself. So, you can decide if you want to come over for dinner or not.
Besides this mac and cheese, I also have Nana to thank for her sausage bread recipe and also her love of ice cream and Oreo dirt.
How to make a roux with flour and butter
Start by melting the butter over medium-high heat. Once melted, whisk in the flour, the mixture will thicken quickly. Continue whisking over medium heat until it has thinned back out.
Slowly add the milk while whisking. Again, the roux will continue to be thick and maybe a little clumpy, but just keep whisking the milk and eventually it will all come together.
Once the roux is bubbling and thick, add some salt and pepper and then slowly start adding your cubes of cheese.
Continue whisking until the cheese is completely melted.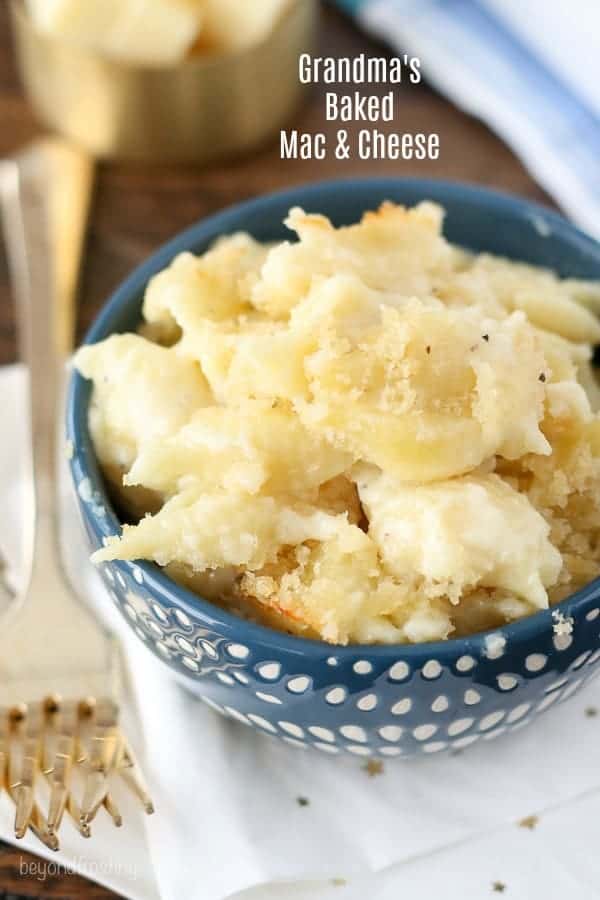 Follow Beyond Frosting:
Facebook | Twitter | Pinterest | Instagram | Bloglovin
If you love no-bake recipes, be sure to check out my cookbook, No-Bake Treats!
Print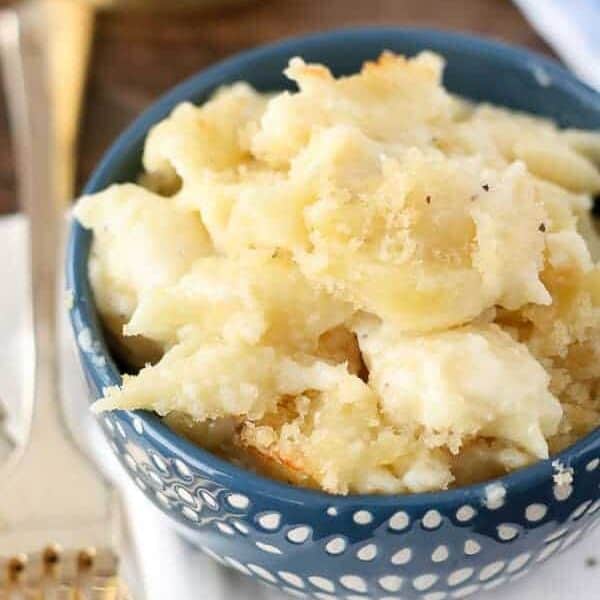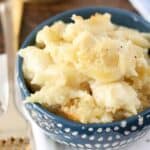 Grandma's Baked Mac and Cheese
Author:

Prep Time:

30 minutes

Cook Time:

30 minutes

Total Time:

1 hour

Yield:

6-8 servings
Description
This is Grandma's Baked Mac and Cheese. It's a creamy classic stove top cheese sauce mixed with shells and then baked with a crunchy bread crumb topping. This mac and cheese is an easy weeknight dinner.
Ingredients
3 cups

uncooked shell pasta

3 tablespoons

butter

2 tablespoons

all-purpose flour

2 cups

milk

12 ounces

sharp white cheddar cheese, cubed

1 teaspoon

salt

1 teaspoon

pepper
For the topping:
2/3 cup

panko bread crumb

2 tablespoons

butter, melted
Instructions
Pre-heat the oven to 350°F. Spray a 9-inch square pan with cooking spray. Set aside.
Boil 3 cups of water in a large pot over high heat. Once boiling, add the uncooked pasta and cook until al dente, approximately 10-12 minutes. Drain the pasta and set aside.
In a large sauce pan, melt the butter over medium heat. Once melted, sprinkle the flour over top and whisk to combine. The mixture will be thick.
Continue cooking over medium heat until the roux thins out. Next, slowly whisk in the milk, continuing to whisk until smooth. Boil until thick and bubbly.
Finally whisk in the salt & pepper and start adding the cubes of cheese, whisking into the roux. Continue stirring until all the cheese is melted.
Pour the cheese sauce over the pasta and stir to combine. Pour the pasta in a 9-inch square pan.
In a small bowl, combine bread crumbs with melted butter and stir until combined. Sprinkle the bread crumbs over top of the pasta.
Bake for 25-30 minutes. Allow to cool for 10 minutes and serve warm.