This post may contain affiliate sales links. Please see my full disclosure policy for details
These moist and fluffy decorated Football Cupcakes are guaranteed to be a hit at this year's Superbowl party! Made from fudgy chocolate cupcakes decorated with easy homemade buttercream frosting.
Fun Football Cupcakes for Superbowl Sunday
Today I'm sharing some seriously cute and EASY football cupcakes that are perfect to make for game day. You'll impress everyone without breaking a sweat. This fun cupcake idea puts a bright pop of color on any Football Sunday spread.
Below you'll find all the details for making the fluffy and moist chocolate cupcakes I use as the base in this recipe, as well as the creamy buttercream frosting for decorating. Follow along with the easy step-by-step tutorial for creating adorable frosting footballs nestled in beds of piped green turf.
These fun football cupcakes will have the whole Superbowl party saying, "touchdown!"
Which Cupcakes Should I Use?
I use my favorite Easy Chocolate Cupcakes as the base recipe for these football cupcakes, along with my classic Vanilla Buttercream Frosting that's then colored with gel food dye.
However, this recipe turns out just as delicious with Vanilla Cupcakes, or any other base flavor you prefer. Simply bake up a batch of your favorite cupcake flavor, and follow my easy step-by-step for frosting your football cupcakes below.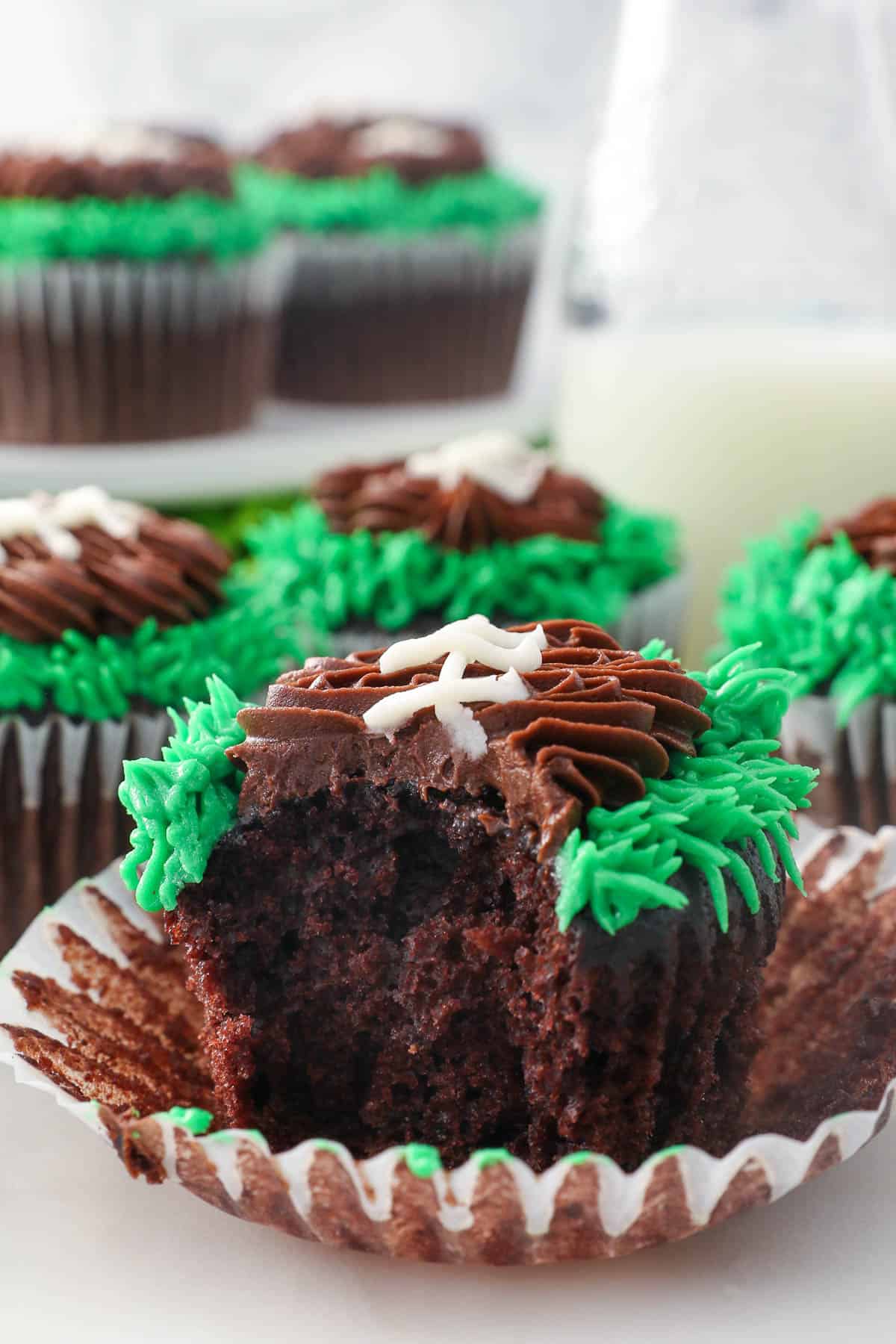 Ingredients You'll Need
Below are the key ingredients you'll need for both the chocolate cupcakes as well as my basic vanilla buttercream, with further details and amounts available in the recipe card.
For the Cupcakes
Granulated Sugar
Oil – Gives cakes and cupcakes an unbelievably tender crumb.
Eggs and Vanilla Extract
Sour Cream – Sour cream adds loads of extra moisture to these chocolate cupcakes. You don't notice the flavor, and the added fat content yields a rich, moist, yet fluffy cupcake. You can also use plain or Greek yogurt to produce a similar result.
Cocoa Powder – Use natural cocoa powder for a fudgy flavor that's not overly sweet.
Leavening agents – You'll need both baking powder and baking soda, as well as a pinch of salt.
Brewed Coffee – Coffee flavors marry beautifully with the cocoa powder for an extra fudgy, decadent chocolate cupcake.
For the Frosting
Unsalted Butter – this recipe calls for cold butter, straight from the refrigerator.
Powdered Sugar
Heavy Whipping Cream – For the creamiest frosting, use full-fat heavy whipping cream. I opt for heavy cream over regular milk for a frosting that's perfectly sweet, light, and fluffy.
Food Coloring – You'll need green and brown food dyes for coloring your frosting. I recommend using gel food dyes (see below). You can also use cocoa powder to lend a chocolate flavoring to the brown frosting.
What Is the Best Dye for Buttercream?
My favorite food dyes for frosting are gel dyes like the ones from AmeriColor or Wilton Color Right Gels. A little goes a long way when it comes to gel dyes, and they only require a couple of drops to make bright, vibrant-colored frosting.
I include more tips for coloring frosting in my tutorial on How to Color Buttercream Frosting.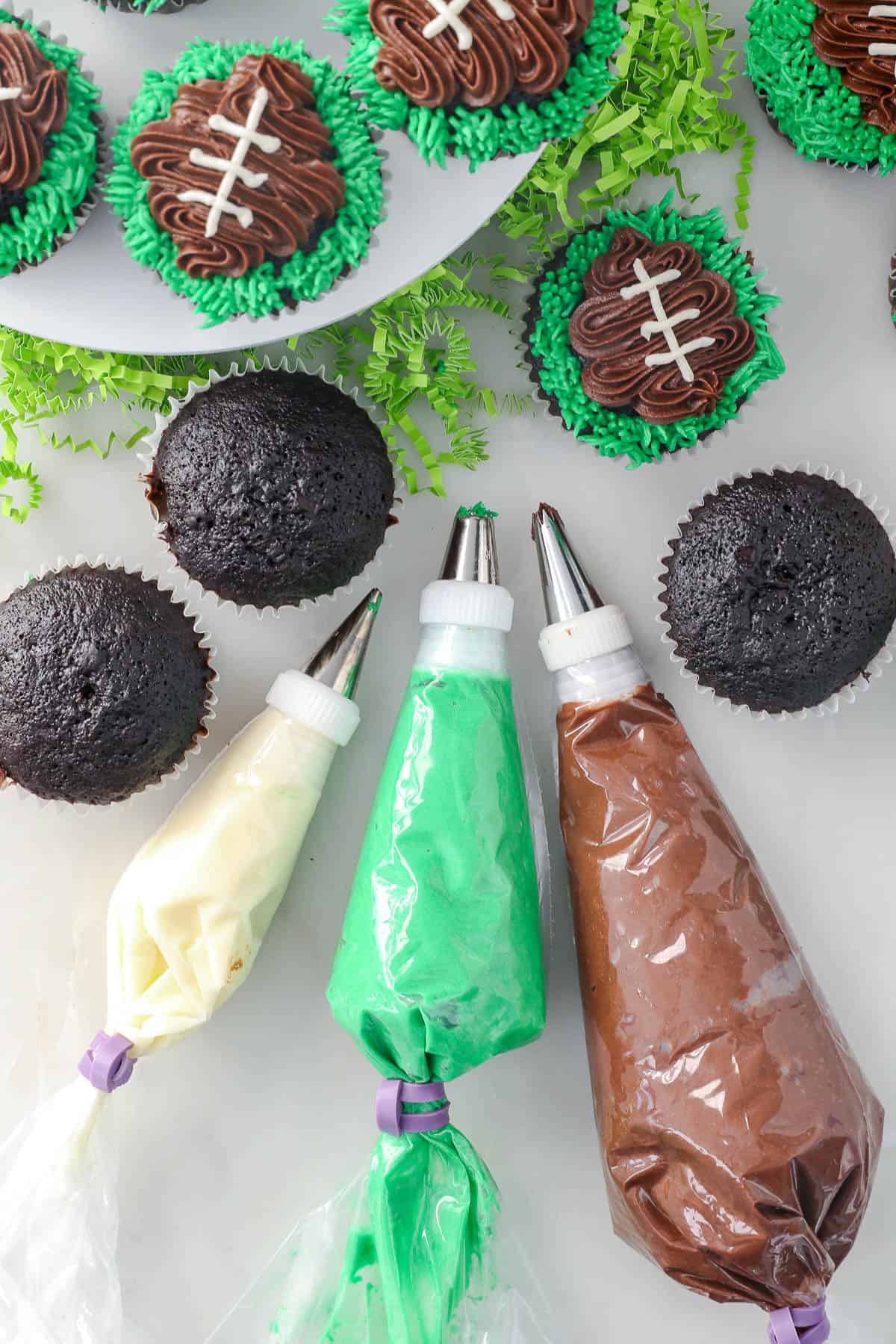 How to Make Football Cupcakes
While the oven preheats, line a cupcake pan with cupcake liners. Next, get started on the chocolate cupcakes:
Combine the wet ingredients. Cream together the sugar, oil, eggs, and vanilla in a large mixing bowl until the batter is light and fluffy. Afterward, beat in the sour cream.
Sift together the dry ingredients. Once sifted, gradually add the dry ingredients to the wet batter, alternating with the coffee, mixing on low speed until well combined.
Fill the cupcake liners. Divide the batter between the cupcake liners in your cupcake pan, filling each to about ⅔ full. I find it super handy to use a large cookie scoop when portioning out my cupcake batter.
Bake. Bake your cupcakes at 350ºF for 14-16 minutes, then take them out of the oven and leave them to cool fully before frosting.
How to Make and Color the Frosting
What's great about these football cupcakes is that you only need to make one frosting recipe for all the colors. The brown frosting has some cocoa powder added to it for coloring, and at the same time, it gives the frosting a subtle chocolate flavor.
Here's how to make the easy vanilla buttercream frosting that serves as the base:
Whip the butter. Make sure your butter is cold from the fridge, and dice it up into pieces (this makes it much easier to blend). Whip the cold butter for a few minutes until it looks light and fluffy. This step is crucial for the right consistency.
Add powdered sugar. Mix in two cups of powdered sugar, followed by the vanilla extract. Beat the mixture for about a minute to ensure everything is well combined. Finally, add two more cups of powdered sugar and beat for about 3 minutes.
Finish the frosting. Add the final cup of powdered sugar, followed by the heavy whipping cream. Continue to beat the frosting together for another few minutes, to make the texture nice and airy.
Divide and color the buttercream: You'll portion out about a quarter cup of the frosting, and leave this uncolored. Separate the remaining frosting, and dye one cup green. Next, make the brown, and you can return the bowl to the mixer for this part if that's easier. Add the cocoa powder to the remaining frosting, followed by the brown gel coloring. You can use tiny amounts of black gel dye to darken the colors if needed.
Decorating the Cupcakes
When your cupcakes are completely cool, they're ready to be decked out in adorable frosting footballs. Here's how easy it is to frost these Superbowl-worthy football cupcakes:
Prepare the piping bags:
For the white, uncolored buttercream use a piping bag fitted with a size 3 tip.
For the green, fit a piping bag with a grass piping tip, and fill the bag half-full with green buttercream.
For the brown, fill a piping bag fitted with a size 21 tip about half-full with brown buttercream.
Pipe the grass. Begin by using the green buttercream to pipe "grass" around the outside edges of each chocolate cupcake. To do so, place the piping tip on top of the cupcake and then quickly pull it away to form the blades of grass. You'll get the hang of it in no time! You can also check out my post on How to Decorate with Piping Tips for more helpful tips.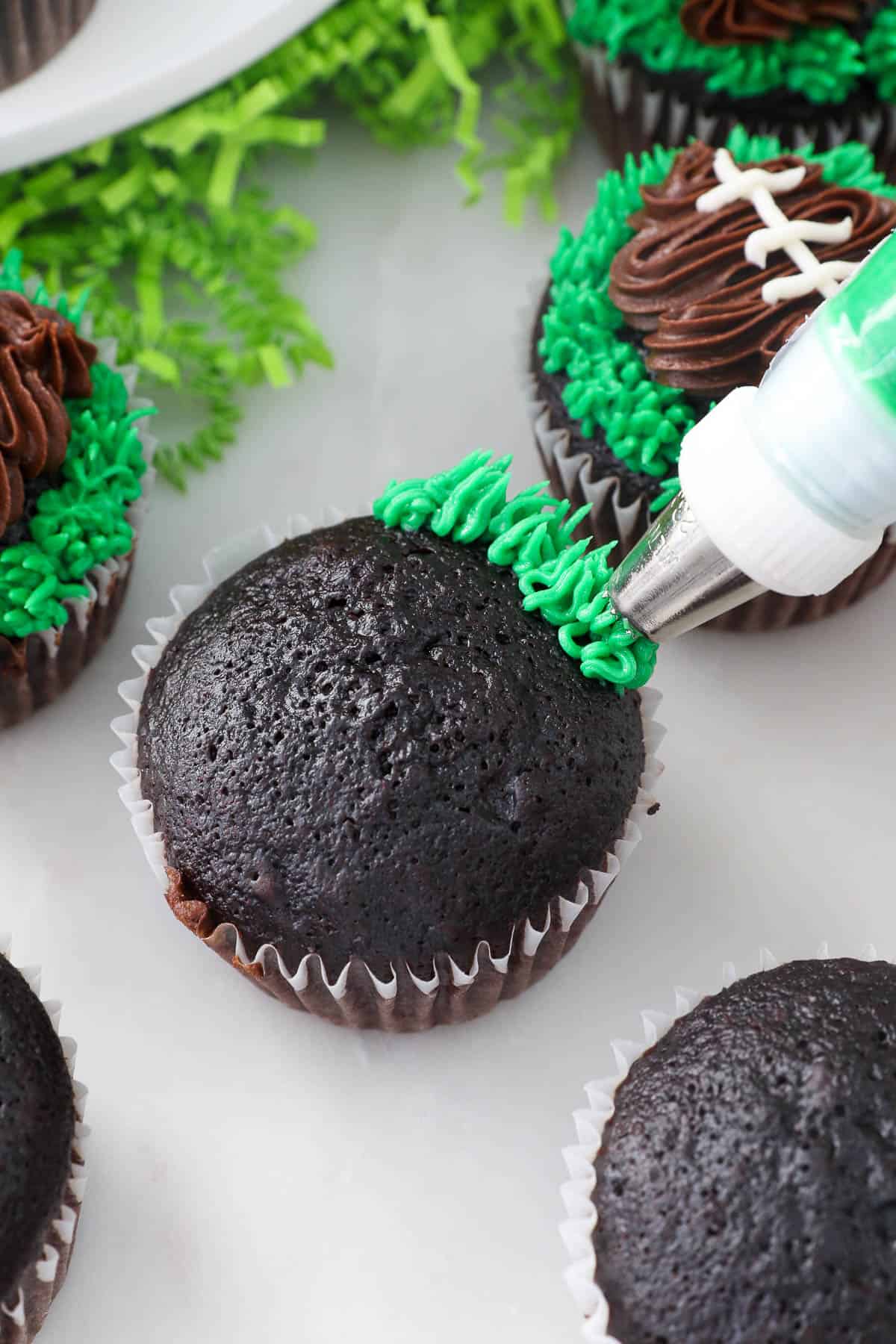 Pipe the footballs. Next, use your brown buttercream to pipe a brown zigzag shape over the center of the cupcake. The shape should get wider in the middle, and taper at each end to resemble a football. Afterward, pipe white icing over each football shape to make laces. Use additional green piping as needed to fill in any gaps that are left over.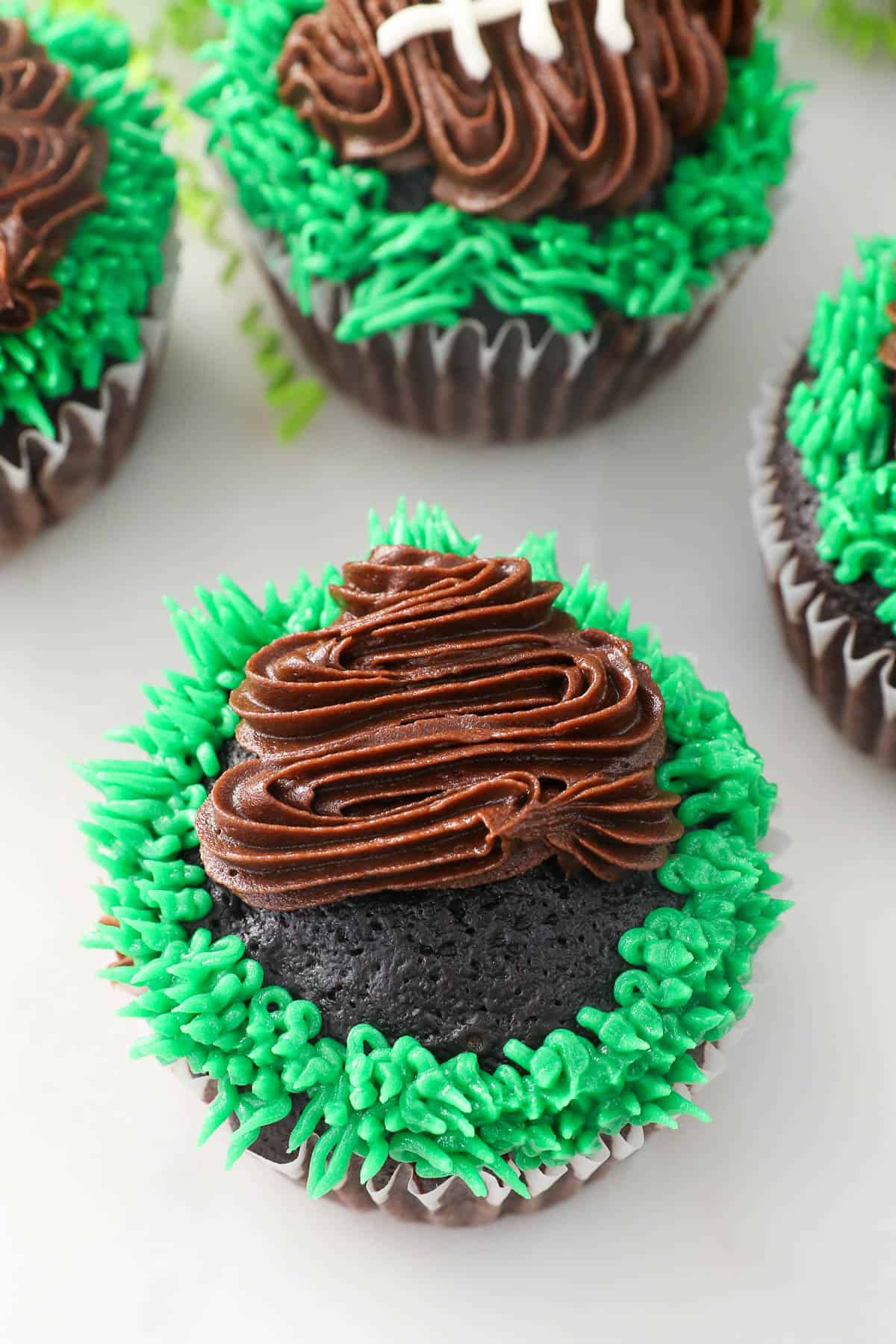 Tips for Success
There's a bit of technique involved in decorating these football cupcakes, but you're sure to master it in no time. Here are some additional tips to nail these football cupcakes each time:
Use cold butter when making buttercream. Cold butter means extra whipping time, and extra whipping time means fluffier frosting!
How to thin out frosting: If you notice that the cocoa powder added to the brown frosting thickens the buttercream a bit, add a 1/2 teaspoon of milk at a time until you reach your desired consistency.
Don't add too much gel dye. As mentioned, a little goes a long way. Add your coloring a drop or two at a time, mixing in between to avoid overcoloring the buttercream.
Fill your piping bags only halfway with frosting. This makes it easier to hold the bag and also prevents your hands from warming up the frosting.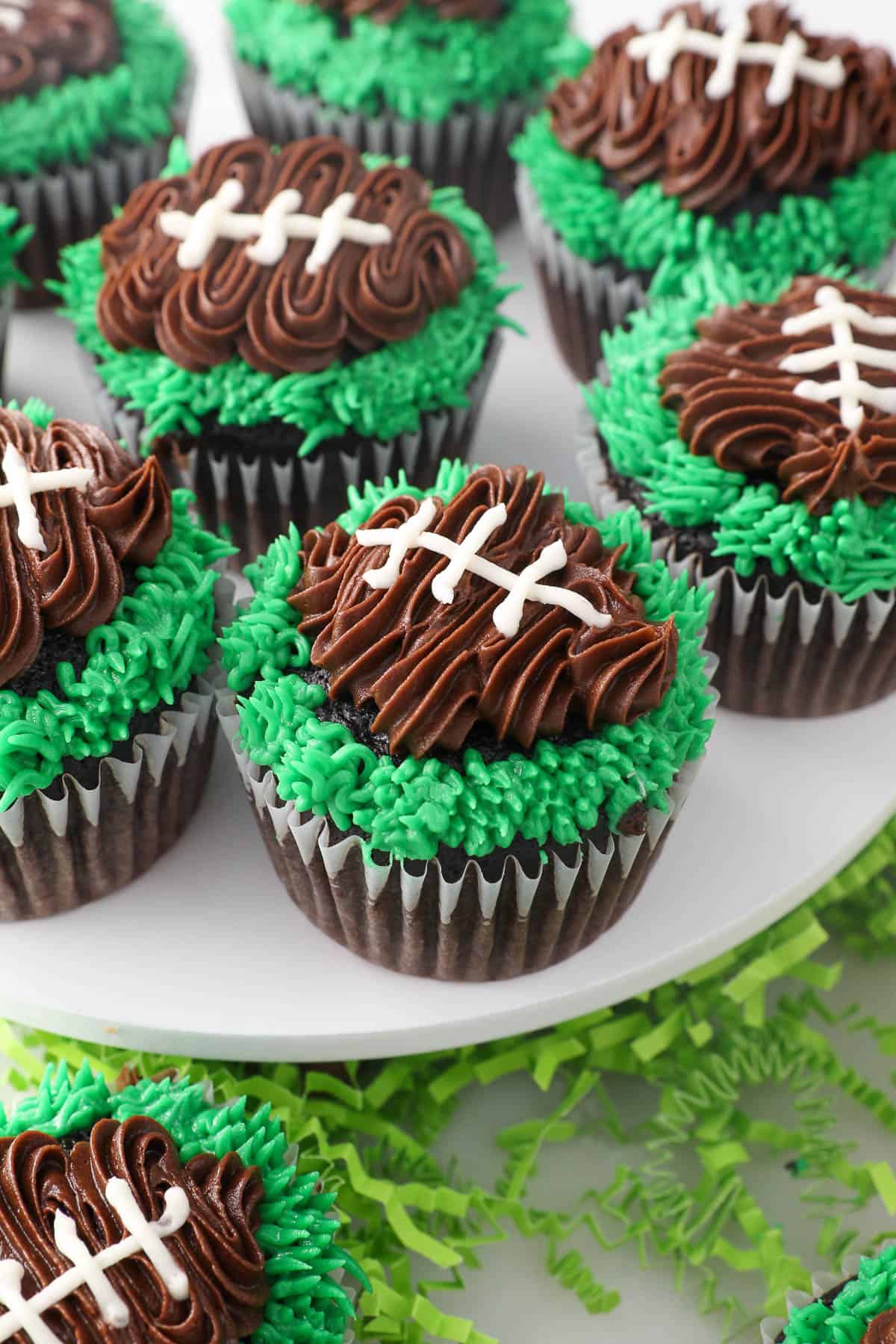 What to Serve With Football Cupcakes
A frosted chocolate cupcake makes the perfect sweet treat to accompany all your favorite Superbowl foods on game day!
Round out a full spread of savory football snacks like Baked Chicken Taquitos, Cheddar Jalapeño Pretzels, Spinach Artichoke Dip, or a veggie platter served with 5-Minute Dill Dip.
Or, serve these football cupcakes as the perfect sugary addition to your viewing party with more Game Day desserts like Maple Bourbon Popcorn or Chocolate Covered Potato Chip Blondies.
How to Store Frosted Cupcakes
Frosted football cupcakes can be stored airtight at room temperature for 2-3 days. If you live somewhere hot or humid, you may want to keep them in the fridge instead. If you do keep them refrigerated, I recommend taking the cupcakes out 15 minutes ahead of serving in order to take the chill off.
Can I Freeze Cupcakes?
It's best to freeze the chocolate cupcakes before they're frosted. I usually flash-freeze the baked and cooled cupcakes in a single layer on a baking sheet until solid, before transferring them to an airtight container. Thaw the frozen cupcakes at room temperature before frosting and decorating.
You can also freeze any leftover uncolored buttercream frosting. Store it sealed airtight in a Ziploc bag, and stash it frozen for up to 1 month. After defrosting the buttercream in the fridge, it's a good idea to give it a whip to fluff it up again.
Print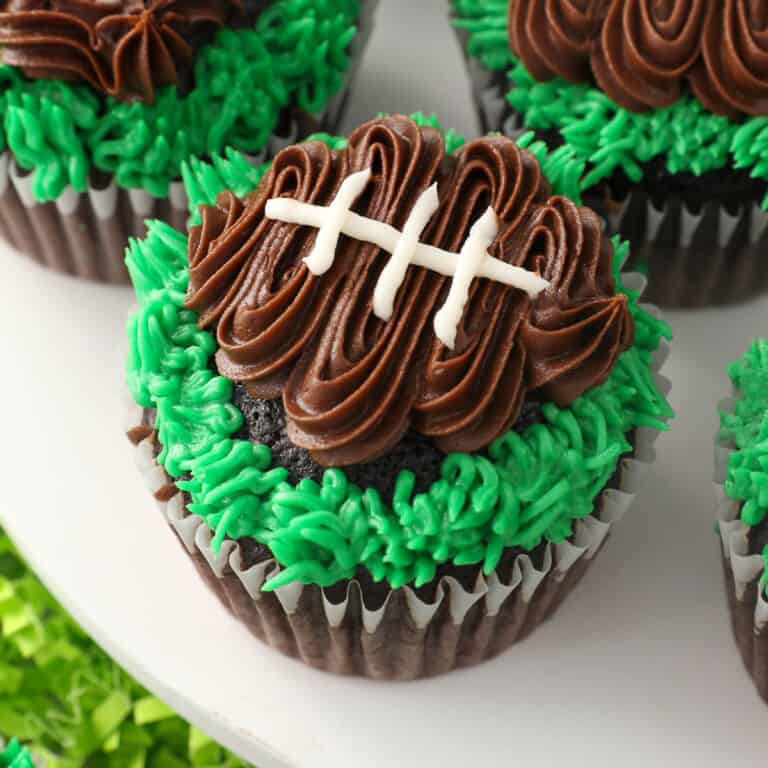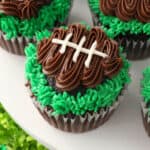 Easy Football Cupcakes
Author:

Prep Time:

30 minutes

Cook Time:

15 minutes

Total Time:

45 minutes

Yield:

24 cupcakes
Description
These moist and fluffy decorated Football Cupcakes are guaranteed to be a hit at this year's Superbowl party!
Ingredients
For the Cupcakes:
1 ½ cups

(

285g

) granulated sugar

½ cup

(118 ml) vegetable oil

3

large eggs

1 tablespoon

(15 ml) pure vanilla extract

½ cup

(

118

ml) sour cream

2 cups

(

280g

) all-purpose flour

½ cup

(

55 g

) natural cocoa powder

1 tablespoon

(

5g

) espresso powder (optional)

2 ½ teaspoons

(

9 g

) baking powder

½ teaspoon

(

2 g

) baking soda

1 teaspoon

(

5 g

) salt

1 ¼ cup

(

296

ml) hot brewed coffee
For the Frosting:
1 ½ cups

(

339 g

) unsalted butter, cold.

5 cups

(

650 g

) powdered sugar

2 ½ teaspoons

(12 ml) pure vanilla extract

2 tablespoons

(30ml) heavy whipping cream (or milk)
Pinch of salt (optional)

1/3 cup

cocoa powder
Green gel color
Brown gel color
Black gel color (optional)
Instructions
For the Cupcakes:
Preheat the oven to 350°F. Line a cupcake pan with cupcake liners.
In a large mixing bowl, combine the sugar, vegetable oil, eggs and vanilla extract. Beat on medium speed until the eggs and oil are well incorporated and the batter is lighter in color.
Next mix in the sour cream and beat until well combined.
In a separate bowl, sift together the dry ingredients. Then add half the dry ingredients followed by half of the coffee and mix just until the flour starts to incorporate.
Finally add the remaining dry ingredients, mixing on low speed while pouring in the remaining coffee and beating until all of the ingredients are well combined. Use a spatula to scrape down the sides of the bowl and stir the batter from the bottom to the top to ensure it's well mixed.
Using a large cookie scoop, divide the batter evenly, filling each liner 2/3 full.
Bake at 350°F for 14-16 minutes. Test the cupcakes for doneness by inserting a toothpick into the center of the cupcake. If the toothpick comes out clean, the cupcakes are done. Cool Completely.
For the Frosting:
Cut the butter into pieces. Using the paddle attachment, whip the butter for 5-7 minutes, scraping down the bowl occasionally, and beating until the butter look light in color.
Add 2 cups of powdered sugar and mix on low speed until incorporated into the butter then add the vanilla extract and mix to combine. Beat for about 60 seconds.
Next, add an additional 2 cups of powdered sugar and beat on low speed until sugar is incorporated. Increase speed to medium-high and beat for 3 minutes.
Add the last 1 cup of powdered sugar along with the heavy whipping cream and salt. Beat on low until the ingredients start to mix together. Increase speed to medium-high and beat for another 3-5 minutes to whip additional air into the frosting.
Separate out ¼ cup of the prepared frosting, and leave it uncolored. Separate out 1 heaping cup of buttercream and dye it using the green gel colors. If you want to make the green darker, dip a toothpick in the black gel color and slowly mix it into the green until you get the desired color you'd like.
For the leftover frosting, add 1/3 cup of cocoa powder and mix it into the buttercream. If it seems thicker, add 1 teaspoon of additional cream or milk until you reach the desired consistency. Add the brown gel coloring, and use the same toothpick technique with black gel to achieve the desired brown color.
To Decorate:
For the white buttercream, fit a size 3 piping tip in a piping bag with a coupler. For the green buttercream, fit a grass icing tip in a bag with a coupler, and fill it half full of frosting. For the brown, fit a size 21 piping tip in a bag with a coupler and fill it half full.
Start by piping the green frosting around the outside of the cupcake, place the piping tip directly on the surface and pull away. Next, pipe the brown frosting from a zigzag from side to side, gradually getting wider and then smaller again to make the football shape. Finally, add the laces with the white frosting. Fill in any remaining gaps with the green frosting.
Notes
The base recipe is my chocolate cupcakes with vanilla buttercream, but you could make these with vanilla cupcakes as well or any other base flavor.
Storing frosted cupcakes: The finished cupcakes can be kept at room temperature for 2-3 days in an airtight container. Unless it's hot or humid, then I'd recommend refrigerating in an airtight container and serving at room temperature.
When decorating, I recommend only filling half the piping bag. It's easier to hold in your hands, and when you decorate, your hands warm up the frosting, so it's helpful to prevent the frosting from being too runny.
Adding the green grass icing is optional but I love the contrast of color it adds.
Leftover buttercream can be stored in an airtight container in the refrigerator for 1 week or 1 month in the freezer.
Category:

Dessert

Method:

Oven

Cuisine:

American
Keywords: super bowl desserts, game day food, football food ideas