This post may contain affiliate sales links. Please see my full disclosure policy for details
In this tutorial, you'll learn how to color buttercream frosting to create the most beautifully decorated cakes and sugar cookies. You'll learn tips and tricks about the different types of icing colors to use and how to achieve those difficult colors.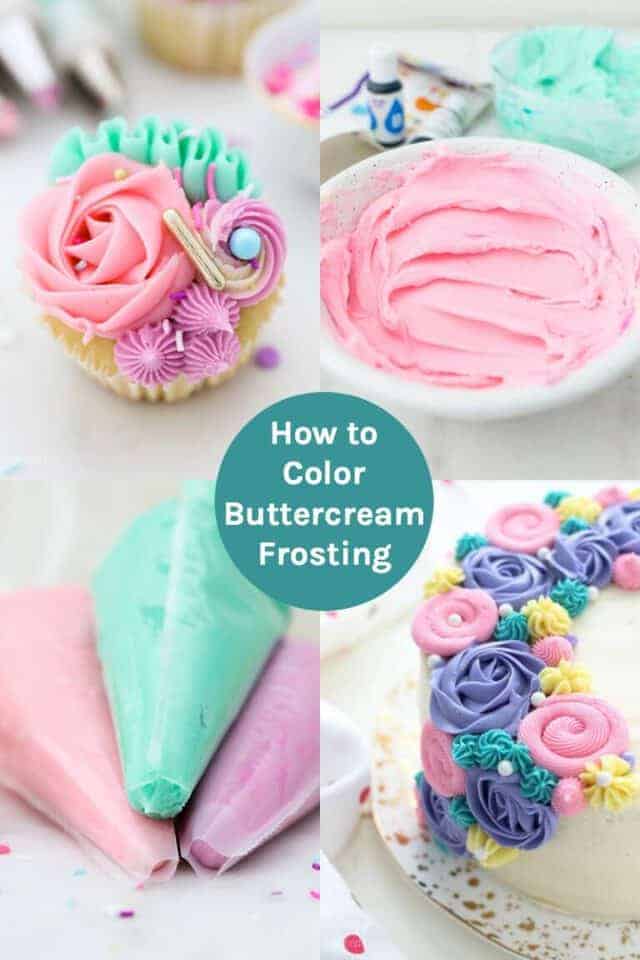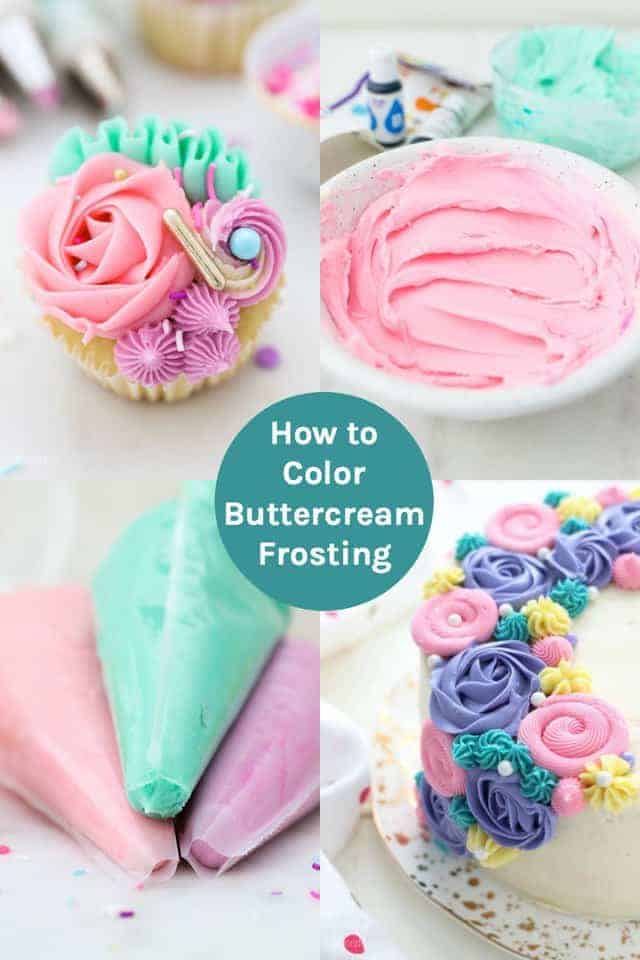 There is nothing prettier than a beautifully frosted cake. I will always remember the cakes my mom used to make for our birthdays when we were kids. Often themed and decorated with buttercream to match.
I am super passionate about my buttercream. I was the kid who was notorious for taking the frosting off my cakes and just eating the cake. Then I learned how to actually make buttercream myself and it was a game changer.
In this buttercream series, I've already covered some important topics.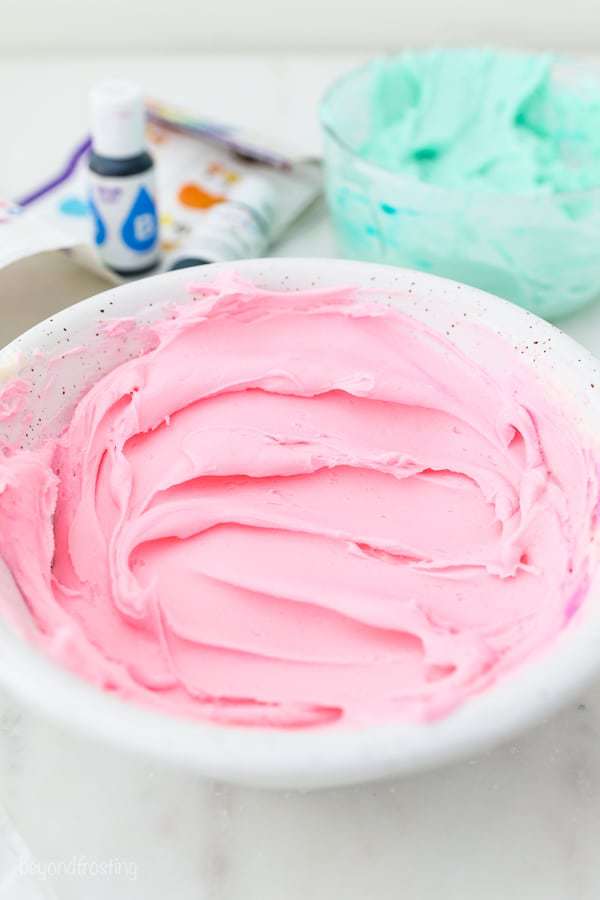 Today I am talking all about How to Color Buttercream Frosting. I've made enough cakes, cupcakes and sugar cookies over the years with beautifully colored buttercream, and it's time to share all my tips and tricks with you.
3 Reasons you need to color buttercream frosting:
To decorate sugar cookies for a particular holiday or themed parties
To decorate cupcakes and cake
To match your sprinkles, DUH!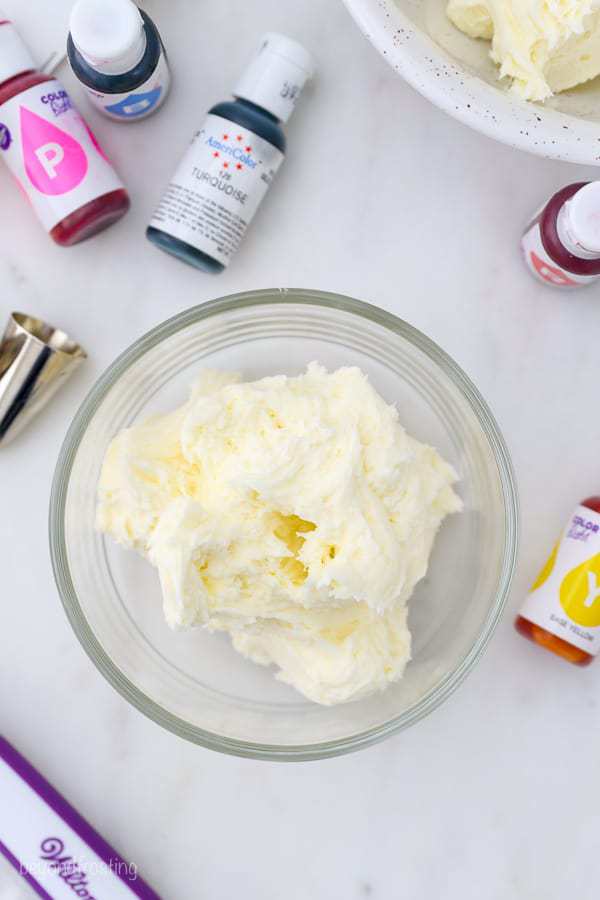 The actual amount of frosting you need to color will vary depending on what you're making and how many colors you need. Generally speaking I use up to 3 colors at a time, and have white as the 4th color.
Coloring less than 1 cup of frosting can be difficult, but it is certainly achievable. I am of the mindset that you should always color more buttercream than you actually need. It is very difficult to get the same color twice.
You can always freeze your leftover frosting to use again in the future. Store it in an airtight Ziploc bag or container and thaw to room temperature prior to using.
If you're going to color your buttercream, I recommend starting with a stiffer buttercream, because you will be mixing it by hand as you add the color. This can change the consistency of your frosting. If you follow the method I use in my Perfect Vanilla Frosting, you shouldn't have a problem.
Let's dive in.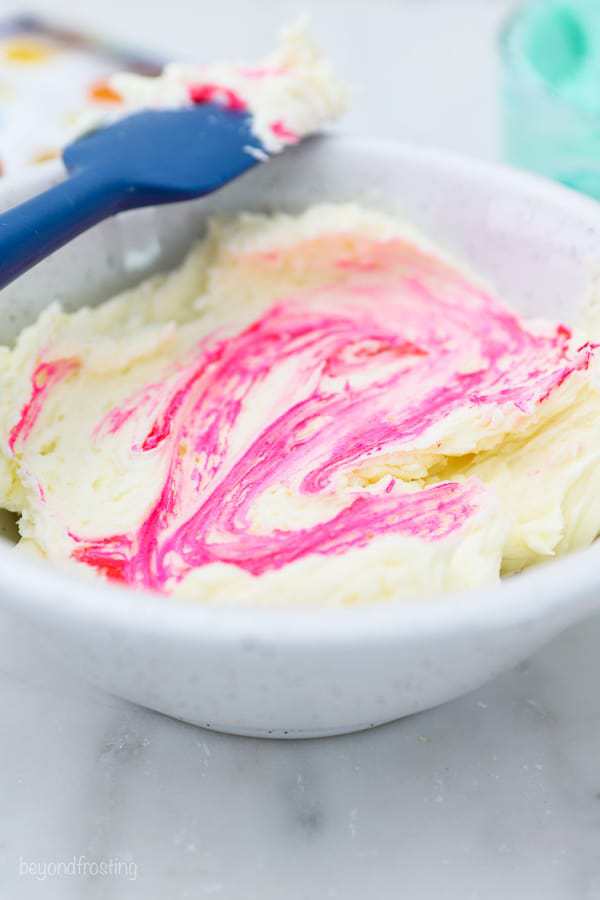 Tips and Tricks for How to Color Buttercream Frosting
What type of food colors can you use to color buttercream?
Gel colors are more concentrated and thicker than food coloring, so you need much less of it to color the frosting. Food coloring is typically more water based and therefore it makes your frosting much thinner.
Since the gel colors are highly concentrated, you don't need very much of it to get a bold color. There are two types of gel colors I primarily use: Wilton Color Right Color System and Amerigel.
Wilton Color Right Color System: These gels come in 8 basic colors. Included is a guide to make 50 different colors using the 8 basic colors in the kit.
This is a great starter system if you don't want to invest a lot in individual colors. You can buy the individual color refills at craft stores like Michales or Joanns, or at cake decorating stores.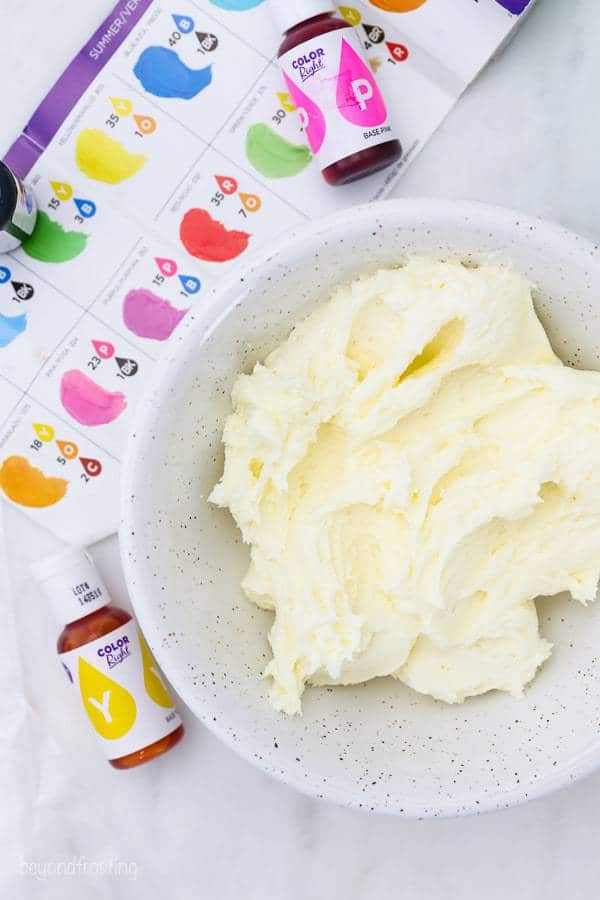 Amerigel: While you can also buy a starter kit 12 basic colors, Amerigel is best for finding those unique shades of colors like teal or turquoise, pumpkin or terracotta, champagne or dusty rose. You get the idea.
They have over 50 colors to choose from and also sell various sizes in case you need it in bulk. However, I always start with the .75 oz sizes which is perfect for a home baker.
You can buy the individual colors at craft stores like Michales or Joanns, or at cake decorating stores. Craft stores usually have more basic color, but if you need one of their unique color, try searching on Amazon.
Food coloring: I don't recommend using food color because they are a thinner, more liquid consistency and therefore it makes your frosting thinner.
These are most commonly found in the grocery store and usually come in 4 basic colors like red, yellow, green and blue.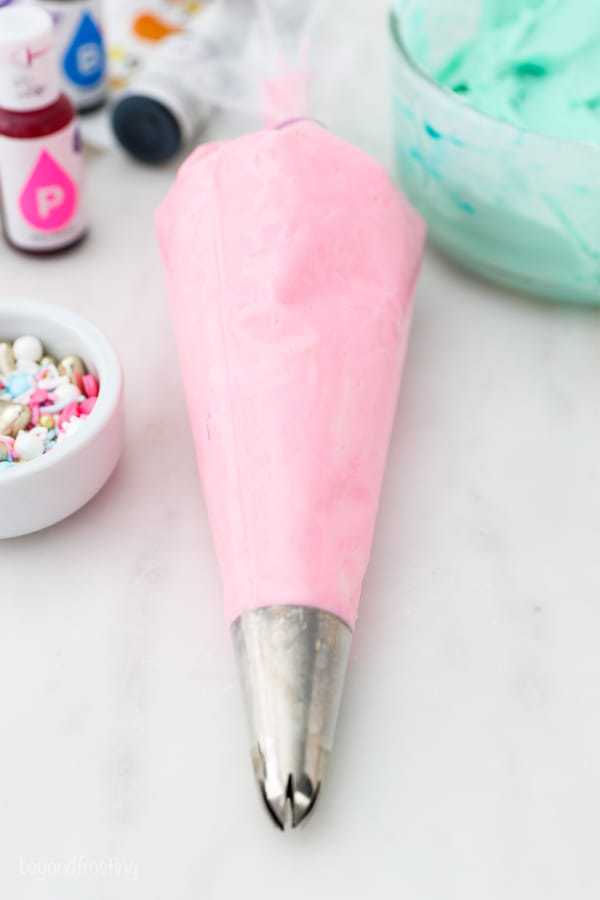 How much gel color should I use to color my buttercream?
This completely depends on how much frosting you are trying to color. You can always go darker by adding more gel color, but you really can't go much lighter unless you add in more undyed frosting.
For soft pastel color, ¼ drop or less is usually enough for 1 cup of frosting. I recommend using a toothpick to add the gel color to your frosting. After the toothpick comes in contact with the frosting, do not touch is back to the gel bottle.
If you're dying a whole batch of frosting the same color, start with 1-2 drop and gradually add more. For darker colors you can start with 3-4 drops and go from there
If you're dying a small amount of frosting (1 cup or less), you'll need ¼ drop or less. Try the toothpick method for this as well.
Sometimes you need to combine two or more gel colors to achieve the correct icing color. For example, for purple you need to combine a pink and blue. Start with the primary color first (pink), then add your secondary color (blue)
To darken a color, you might find that adding just a touch of black will help.
Looking for a unique color? I find Wilton's guide to be the most helpful.

How to color buttercream true white
Buttercream is naturally off white due to the shade of the butter you're using. Also if you'd adding vanilla extract, which is a dark brown color, you can end up with a yellowish color of buttercream.
If you're planning to color your buttercream, it's best to use a clear vanilla extract which is usually an artificial vanilla flavor, but it will not alter the color of your buttercream from the start.
There are two ways to achieve a whiter buttercream. Wilton sells a white icing color, which can be added to your frosting.
Or you can add just a touch of purple gel color which to your frosting and it will shift the color to be less yellow, and appear to be whiter.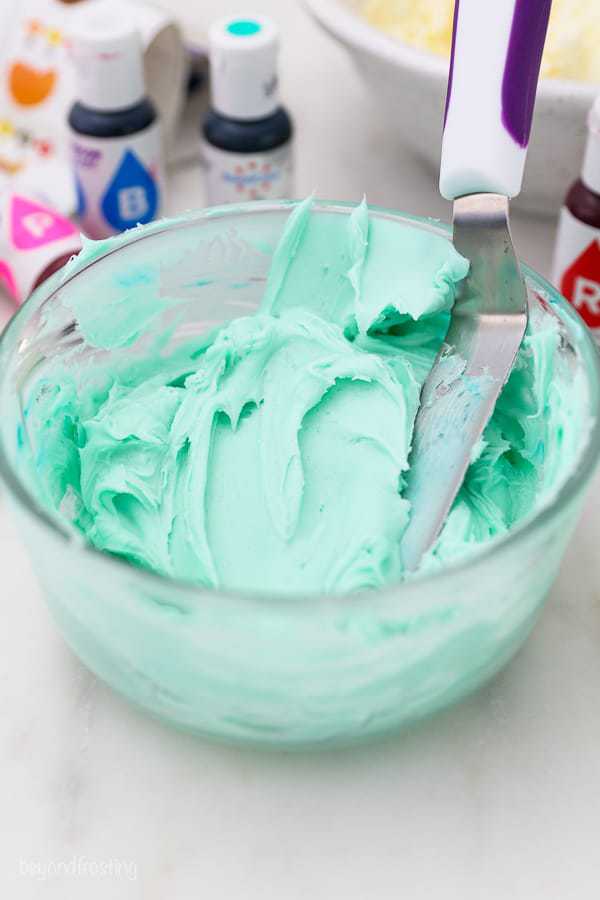 How to color buttercream icing red
Achieving a bright red is notoriously difficult to achieve, especially without adding a lot of gel color to the frosting which can affect the taste.
I recommend using a no taste red gel to start. This will help to prevent the bitter aftertaste. I also prefer to use Americolor Super Red.
The color will become richer and darker the longer it sits, so if you can prepare it ahead of time and allow it to sit in an airtight container.
Buttercream can be made up to 7 day in advance and stored in the refrigerator. It will need time to come to room temperature before you use it. You may also need to remix or beat your frosting once more before frosting your cake.
Once frosted, the buttercream will also set a little bit darker than it looks in the bowl.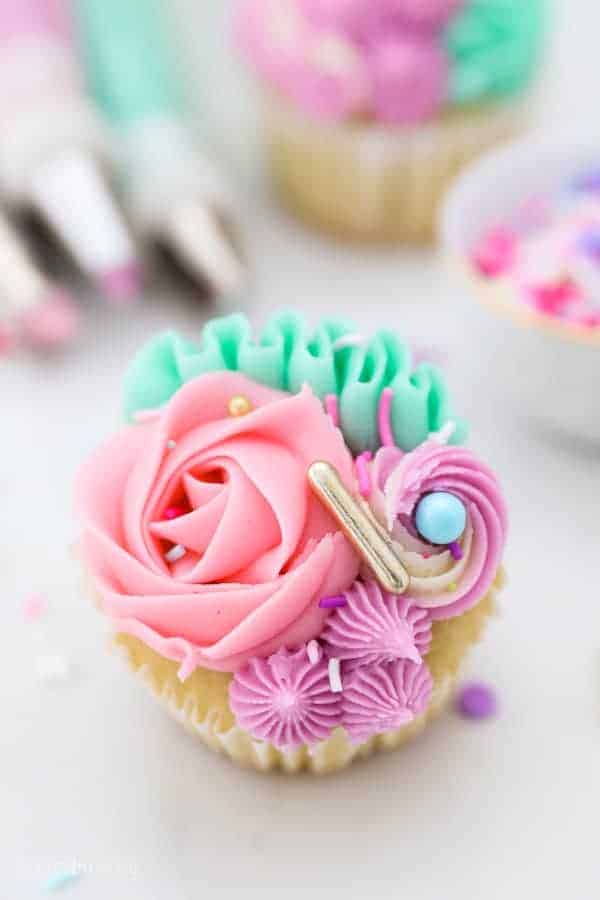 How to I color buttercream black
Just as I mentioned with red buttercream, a dark black is really difficult to achieve. The same tricks can be used in regards to allow the buttercream to sit for a period of time prior to using. It will darken the longer it sits.
I recommend using Americolor Super Black to color your buttercream.
I've also heard it mentioned before that you should start with a chocolate buttercream and then color it black. While I have not tried this before, it is something I am dying to try! It makes sense because the chocolate buttercream is already darker in color, and therefore takes less gel to get a dark color.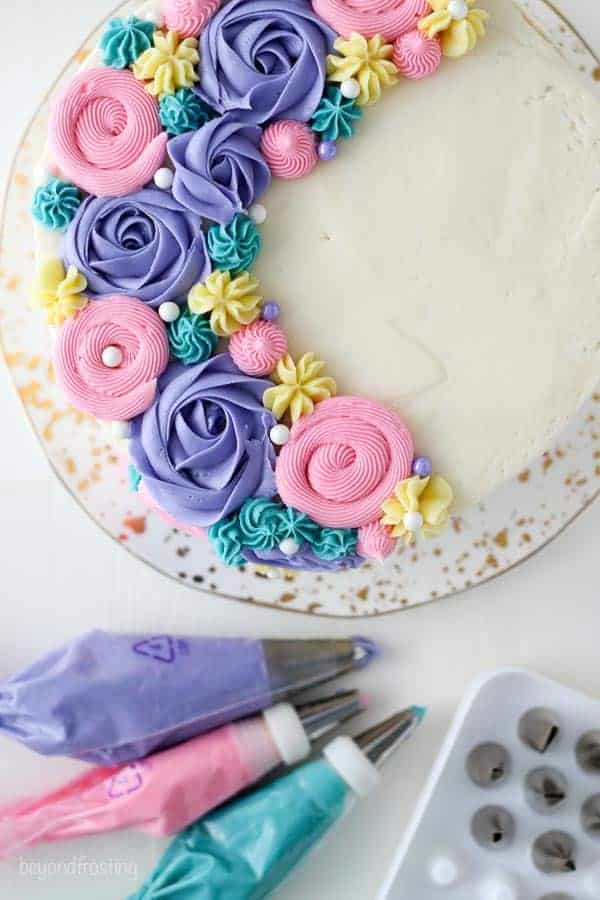 More recipes that use colored buttercream
How to decorate Sugar Cookies with Buttercream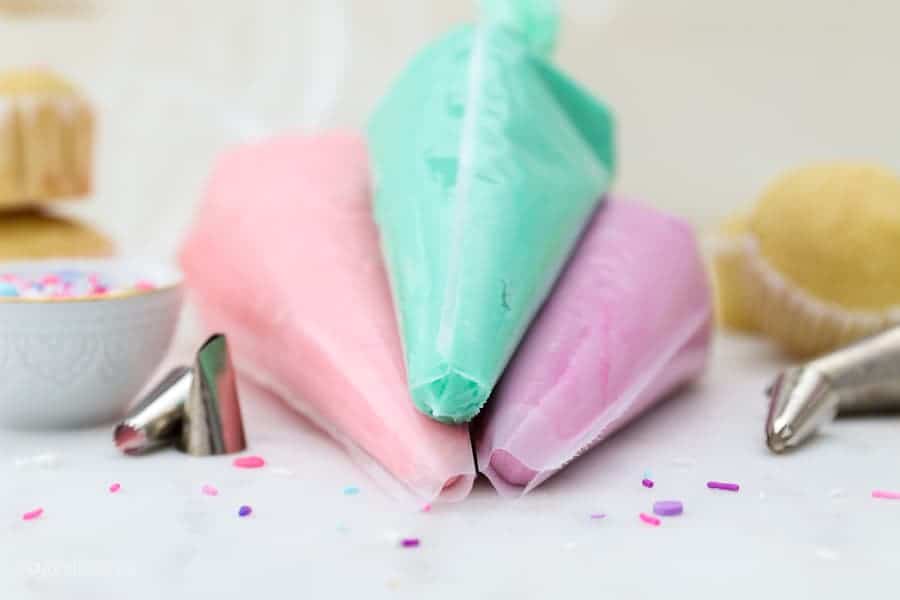 Do you have questions about how to color buttercream frosting? Leave a comment below and I will get back to you!
Follow Beyond Frosting:
Facebook | Twitter | Pinterest | Instagram
Print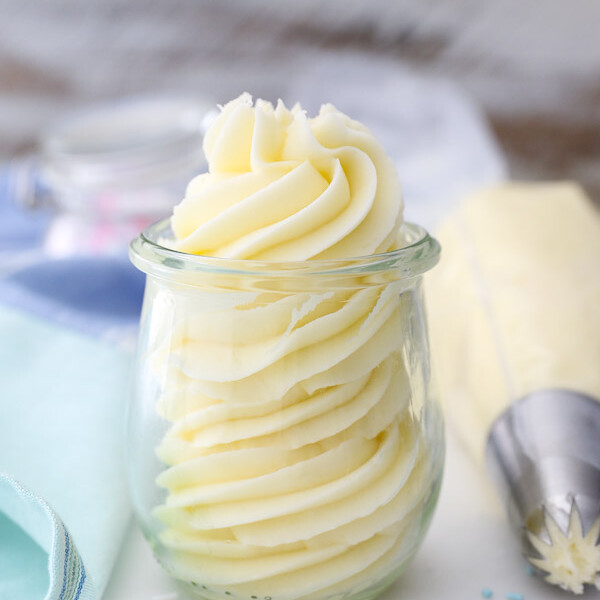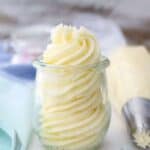 Vanilla Frosting
Author:

Prep Time:

15 minutes

Total Time:

15 minutes

Yield:

4 1/2 cups
Description
This Vanilla Buttercream Frosting Recipe recipe is very versatile. It's a basic vanilla buttercream using butter and powdered sugar. This is the perfect frosting for piping cupcakes and cake decorating.
Ingredients
1 1/2 cup

(

339 g

) (

3

sticks) unsalted butter, cold.

5 cups

(

650 g

) powdered sugar

2 1/2 teaspoons

(

12

ml) pure vanilla extract

2 tablespoons

(30ml) heavy whipping cream (or milk)
Instructions
Cut the butter into pieces. Using the paddle attachment, whip the butter for 5-7 minutes, scraping down the bowl occasionally, beating until the butter look light in color.
Add 2 cups of powdered sugar and mix on low speed until incorporated into the butter then add the vanilla extract and mix to combine. Beat for about 60 seconds.
Next, add an additional 2 cups of powdered sugar and beat on low speed until sugar is incorporated. Increase speed to medium-high and beat for 3 minutes.
Add last 1 cup powdered sugar along with the heavy whipping cream. Beat on low until the ingredients start to mix together. Increase speed to medium-high and beat for another 3-5 minutes to whip additional air into the frosting.
Notes
This frosting can be kept at room temperature if serving within 24 hours and it's not too hot. Store in an airtight container.
It can be made ahead of time and kept refrigerated for 7 days, store in an airtight container. Frosting must come back to room temperature before piping, and suggest to rewhip.
This frosting can also be frozen in an airtight container, but once thawed, I suggest to rewhip.
If you are coloring this frosting, I suggest to try using a clear vanilla extract to keep the frosting a pure white
Flavor with different extract or zest of lemon, orange or lime
This makes enough to frost 24 cupcakes
Category:

Frosting

Method:

Stand Mixer

Cuisine:

American
Keywords: Vanilla Frosting, Vanilla Buttercream, Best Vanilla Buttercream Frosting, How to Make Vanilla Frosting