This post may contain affiliate sales links. Please see my full disclosure policy for details
These homemade CheddarJalapeño Pretzels are made with beer and loaded with diced jalapeños and cheddar cheese. These pretzels make great appetizers and are perfect for game day.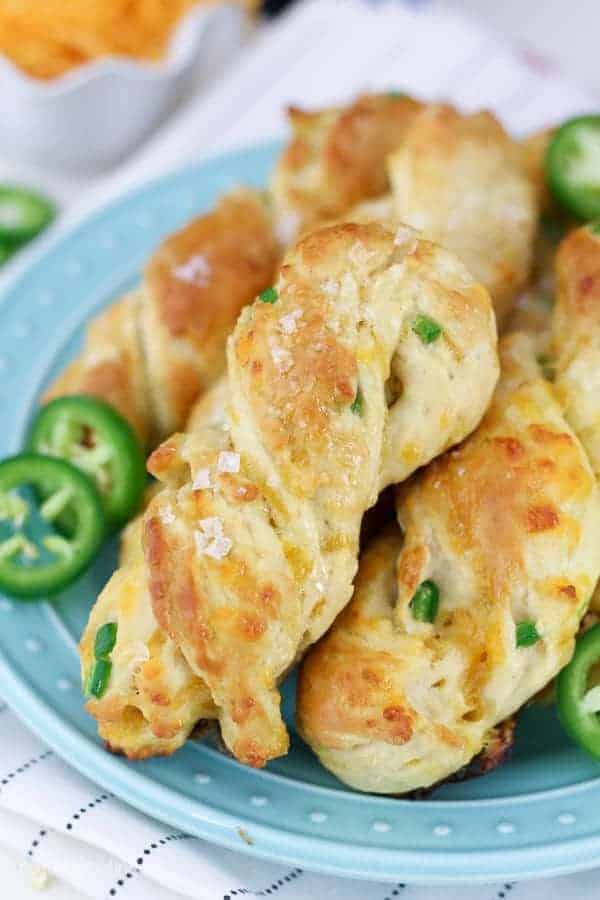 Sometime in the last couple of years I've become quite obsessed with soft pretzels. I feel like someone brought them into the office one day and ever since it's rekindled my love of the soft, warm salty dough.
I've actually made homemade pretzels before, but once I started doing it, I found that I craved pretzels even more. This is pretty dangerous for me, because I'd be the only one actually eating pretzels and I most certainly don't need a whole batch to my myself. This is exactly what happened when I made this Cheddar Jalapeño Pretzels.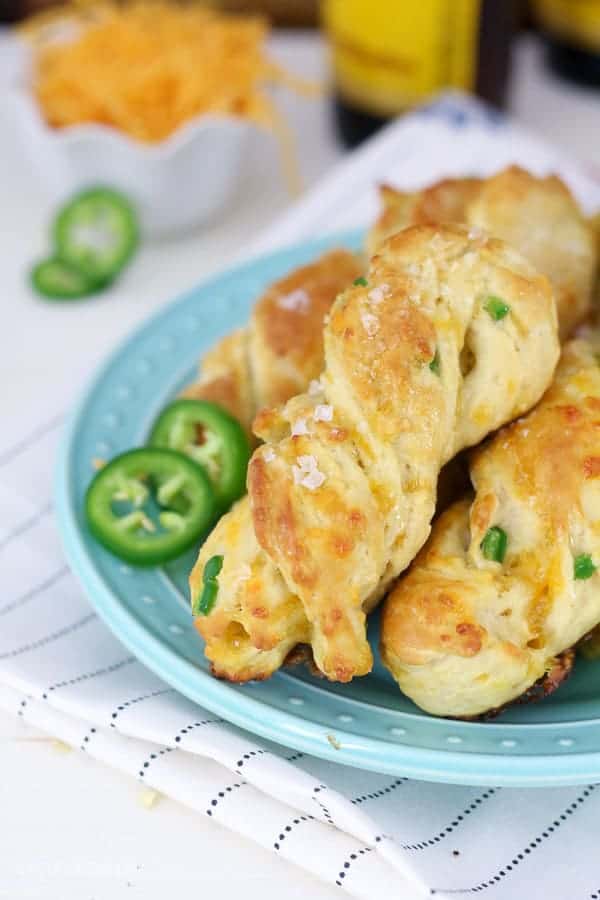 These buttery pretzel twists are loaded with diced jalapeño and cheddar cheese. I think I feel in love with these because the dough is made with warm beer and brushed with melted butter when it comes out of the oven! I used Pacifico because DUH! This recipe needs only 45 minutes from start to finish, so they are perfect for a last-minute treat or even for a Sunday Football game.
This recipe is from The Simple Kitchen cookbook by Chad and Donna Elick of the blog Slow Roasted Italian. I was eager to get my hands on a cookbook that provided a variety of easy recipes we can make on a busy weeknight. There are eight chapters covering a wide variety of recipe needs including slow cooker recipes, dinners, one pot meals, plenty of side dishes and of course desserts. With each recipe Donna shares a kitchen tip, which is pretty awesome!
Donna also shares a chapter of everyday kitchen essentials. These are staples in her kitchen that she turns to time and time again. This chapter includes recipes for sauces, rolls, spice blends, meatballs and more.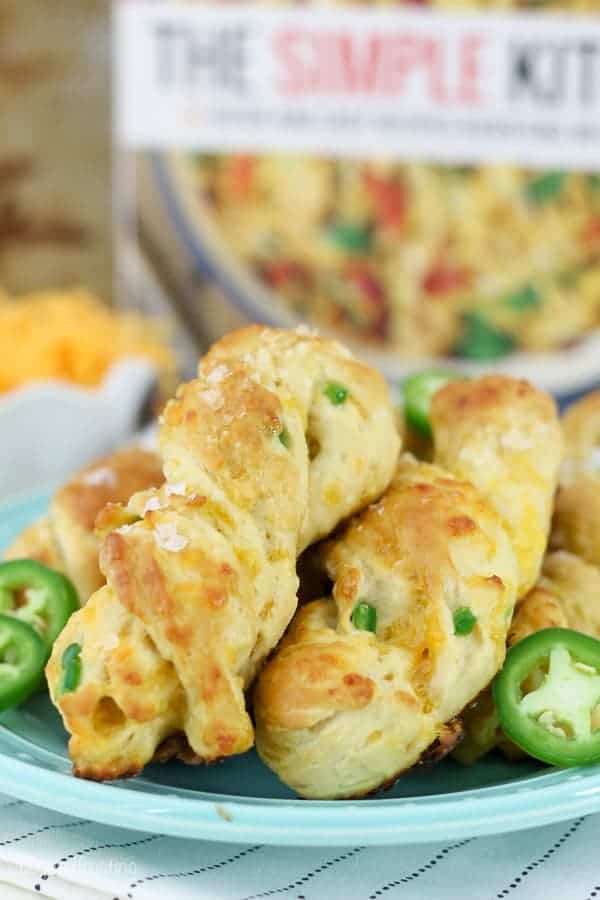 When I flipped to the Cheddar Jalapeño Pretzels, I knew that's what I'd be make from this cookbook. Plus, it was suggested to serve this with a Jalapeño Spinach Cheese Dip and well, you don't have to ask me twice.
As you might be able to tell, I need to work a little harder on my pretzel twisting skills, but regardless the flavors here are amazing!
This recipe is pretty standard as far as yeast dough goes. I warmed the beer in the microwave and then used my candy thermometer to take the temperature. The beer should be between 110-120° so it doesn't kill the yeast. For this recipe, you'll need an active dry yeast.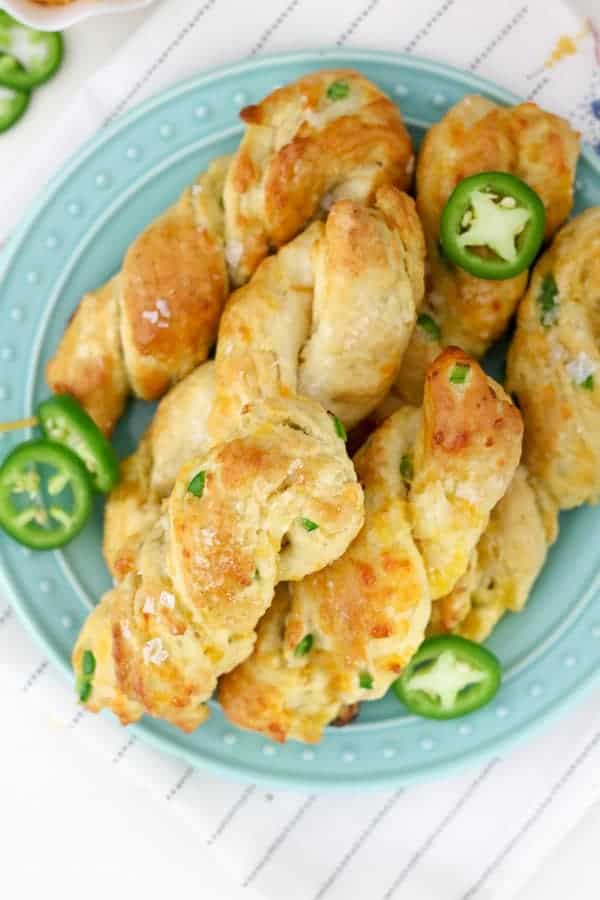 The yeast and sugar are combined with the warm beer and these need to bloom for 3 to 5 minutes. Then you'll combine with the flour and use the dough hook attachment on your stand mixer to knead the dough together.
Once the dough starts coming together, you'll add the diced jalapeños and cheddar cheese. I think I waited a little too long before adding mine because I was pressing a lot of the leftover pieces into the dough when I was making those final pretzel twists.
To roll the pretzels, you'll cut the dough down into small balls and then roll it into a long rope before twisting. Some of my rolls were more successful than others. If you find that your dough is stretching and then bouncing/shrinking back to size, just go slower and allow the dough to rest a bit. It can also be a little difficult to roll these with the pieces of jalapeño and cheese. If some fall out, that's okay, there's plenty more inside!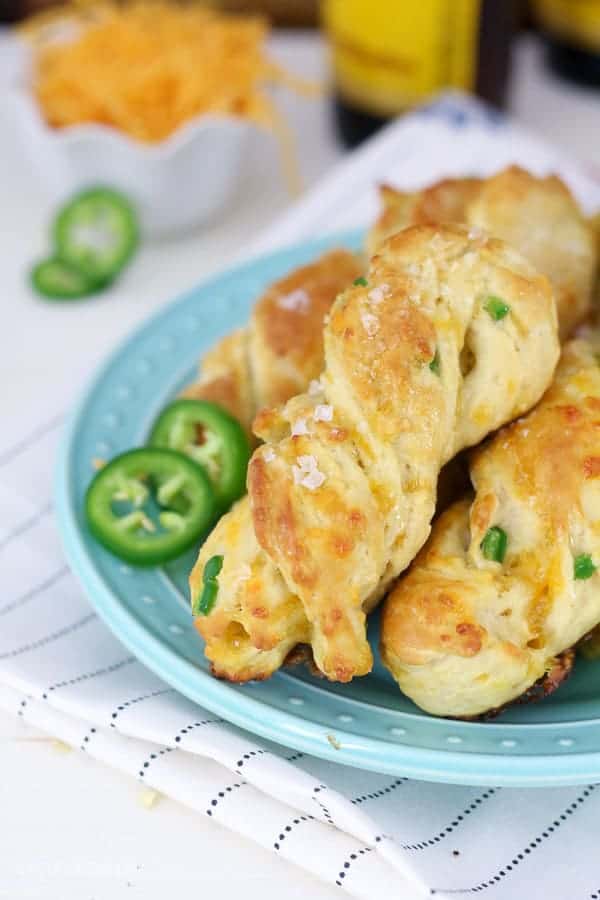 After the twists are prepared, these pretzels will sit in a baking soda and hot water bath which helps add a nice golden-brown color when baking. If the twist starts to unravel after you take them out of the water bath, just retwist them before baking.
Finally, add a brush of egg wash and sprinkle some coarse pretzel salt. I actually didn't have coarse salt at my house, but I think it makes a huge difference! Homemade pretzels are just not the same without a good salt. I actually had some large flaked sea salt that I used instead and it was super good, but I am definitely in need of some good coarse salt at home.
These pretzels are baked at a high temperature (450°) and I defiantly suggest baking them on a silicone baking mat, but if you don't have one, parchment paper will do. I also suggest using a light color baking sheet if you have one so the bottoms don't brown too quickly.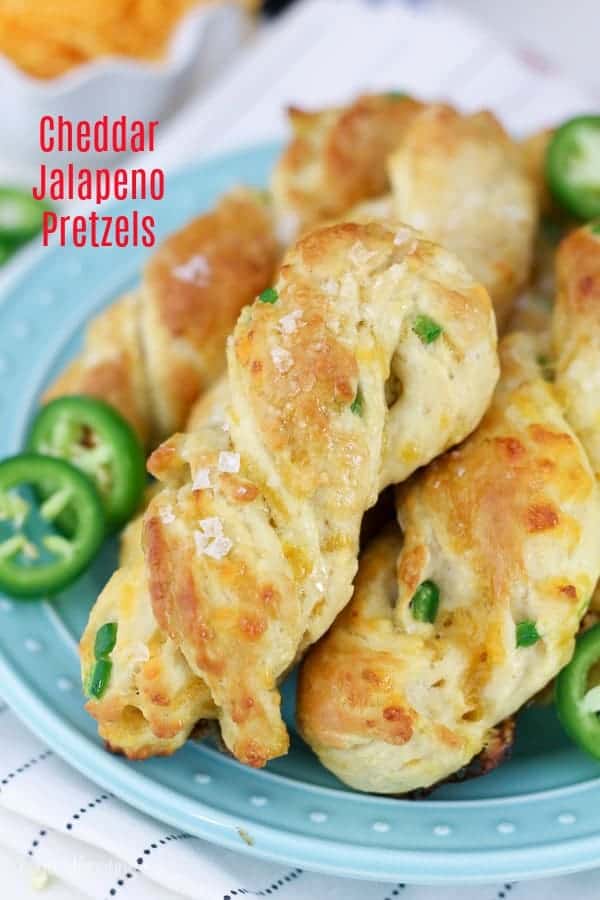 These pretzels are definitely best served warm, but you can certainly reheat them in the microwave. Donna's tip for this recipe is, if you're sensitive to alcohol, you can substitute the beer for water.
I know what I'm making for Super Bowl Sunday and its definitely Cheddar Jalapeño Pretzels!
Follow Beyond Frosting:
Facebook | Twitter | Pinterest | Instagram
If you love no-bake recipes, be sure to check out my cookbook, No-Bake Treats!
Print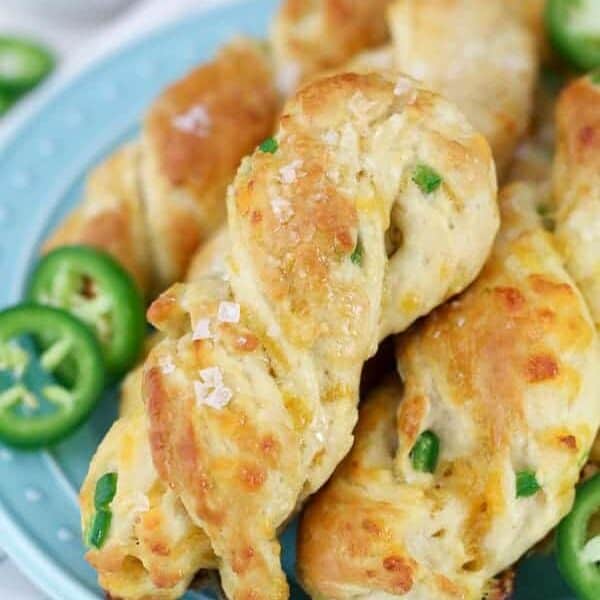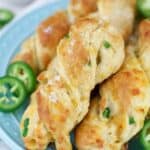 Cheddar Jalapeño Pretzels
Description
These homemade CheddarJalapeño Pretzels are made with beer and loaded with diced jalapeños and cheddar cheese. These pretzels make great appetizers and are perfect for game day.
Ingredients
1 ¼ cups

warm beer (110°-120°F)

2 ¼ teaspoons

active dry yeast

2 tablespoons

granulated sugar

3 ½

–

4

cups all-purpose flour

1 teaspoon

kosher salt

2

jalapenos, seeded and minced

2 cups

finally shredded cheddar cheese

4 cups

hot water

¼ cup

baking soda

1

large egg

2 tablespoons

cool water
Pretzel salt (or another coarse salt)

2 tablespoons

melted butter
Instructions
Preheat the oven to 450°F. Line a baking sheet with parchment paper or a silicone baking mat.
Heat the beer in a microwave safe dish to 110°-120° F. If it's too hot, allow to cool. Then pour the warm beer into the bowl of your stand mixer.
Sprinkle the yeast and sugar over top of the beer and stir together. Allow the yeast to bloom for 3-5 minutes (or more as needed until really foamy).
Add 3 ½ cups all-purpose flour and salt to the mixer. Knead the dough for about 3 minutes until the dough comes together into a ball.
Next add the jalapenos and cheese and mix until combined about 1 minutes. The dough should be tacky, not sticky. When you touch the dough with your fingertip and then pull it away, there should be no dough stuck to your finger. If your dough is sticky, add additional flour, about ¼ cup at a time.
In a large mixing bowl, combine the hot water and baking soda and stir until the baking soda dissolves.
Place the dough on an unfloored counter and form a ball. Quarter the dough. Roll each quarter into a log and then cut it into 3 equal pieces. When you are done, you will have 12 pieces.
Roll each rope 12-18 inches long. Fold the rope in half and then twist together. Pinch the bottom edges together and tuck under the edge.
Place the pretzel twist in the baking soda bath for 30-45 seconds. Remove the twists from the water with a slotted spoon and place them on the prepared baking sheet. Retwist as needed. Repeat for all 12 pieces.
In a small dish, beat the egg together with the water. Brush the egg wash over the pretzels and sprinkle with a coarse salt.
Bake for 8-10 minutes or until the tops are golden brown. One removed from the oven, brush the tops with melted butter. Serve warm.
Notes
This recipe is reprinted with permission from Donna Elick and Page Street Publishing
Donna's tip for this recipe is, if you're sensitive to alcohol, you can substitute the beer for water.