This post may contain affiliate sales links. Please see my full disclosure policy for details
These Chocolate and Strawberries Cupcakes are homemade moist chocolate cupcakes covered with a fresh strawberry Swiss meringue buttercream and topped with a chocolate covered strawberries.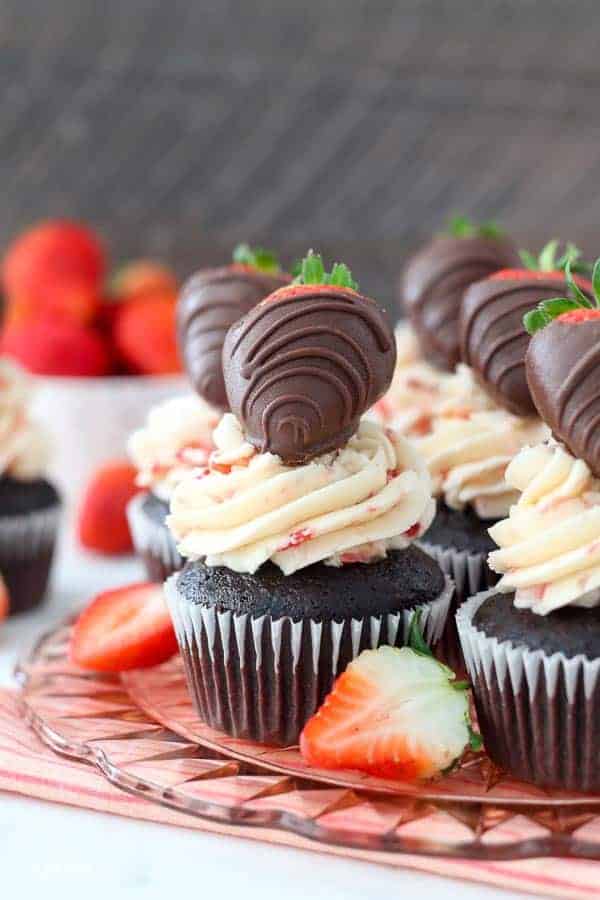 I am pulling this recipe out of the archives and giving it a facelift. The original reason I made these cupcakes is because my boyfriend husband did a road trip to Lake Tahoe, it was at least 10 hours each way. Randomly on the side of the highway we spotted a Ghirardelli chocolate outlet. I was quite excited.
I've completely obsessed with my chocolate cupcake recipe, so as I go back and update all recipes, I've been remaking them with my homemade chocolate cupcake recipe.
Whether it's Valentine's Day, a birthday or for no other reason than you simple need to make some cupcakes, these Chocolate and Strawberries Cupcakes are perfect for the occasion.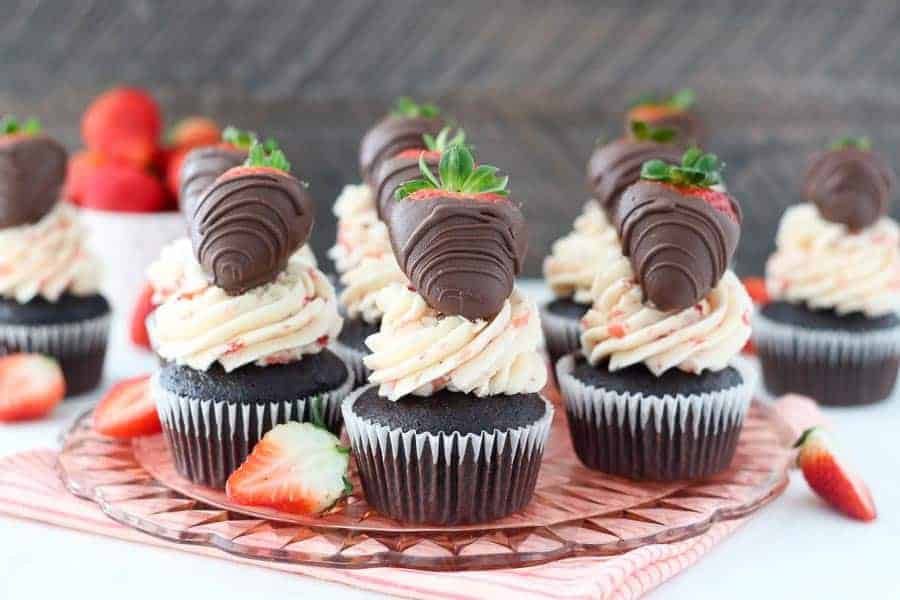 The chocolate cupcake is topped with a strawberry Swiss meringue buttercream and topped with a chocolate covered strawberry. The cupcake is a light and fluffy, moist but not overly sweet.
I just love chocolate covered strawberries. Actually, most fruit covered in chocolate tends to be pretty awesome, but I'll never turn down a chocolate covered strawberry.
Do you really need me to convince you to eat a chocolate and strawberry flavored dessert? I hope not!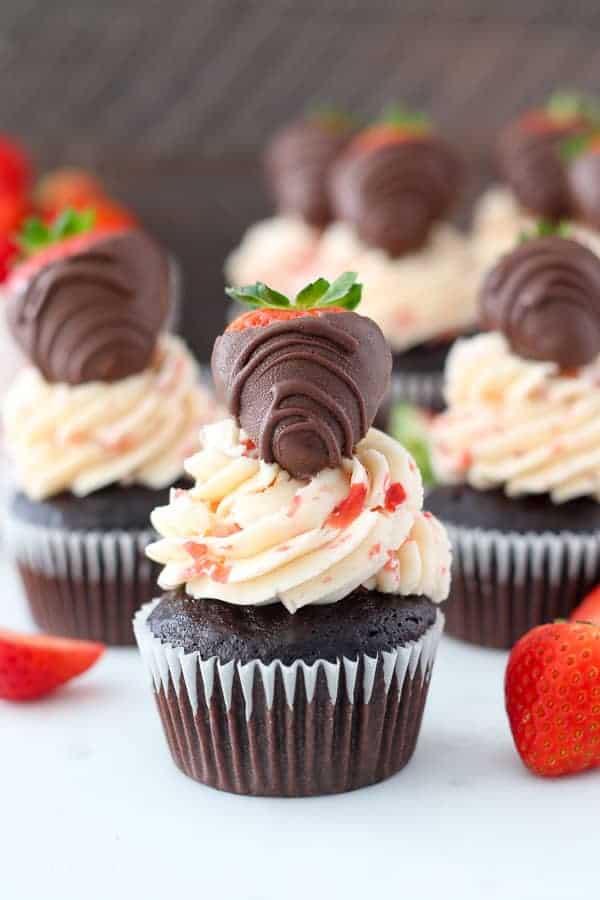 Easy Chocolate Cupcakes
The cupcake recipe is super easy! It's an oil-based cupcake, so there's no creaming together butter and sugar. It's got a touch of sour cream which helps keep it nice a moist for a few days. If you don't have sour cream, I recommend using nonfat Greek Yogurt,
It's also made with brewed coffee. A lot of people ask if you can taste the coffee, and the answer is no. The coffee helps bring out the chocolate flavors. If you're really opposed to it, you can use hot water or milk in place of the coffee.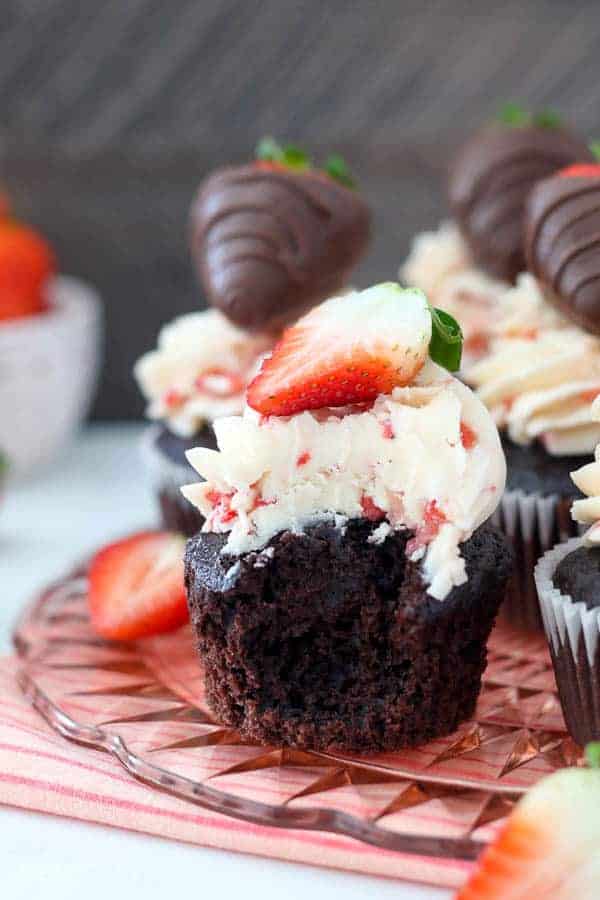 My favorite Strawberry Frosting
If you've never made a Swiss meringue buttercream before, you're in for a real treat. This type of frosting is made by heating egg whites with granulated sugar and then whipping them into a meringue.
Once the butter and flavoring is added, it results in a silky, very light frosting. It tends to be a lot less sweet than traditional American buttercream.
With the addition of the strawberries, the Swiss meringue buttercream take on a whole new aesthetic. Right away you'll notice there's only a subtle flavor, but as the frosting sets, the flavors really absorb. I actually think it's best served on the next day.
I've found that a lot of people haven't made Swiss Meringue Buttercream before because it just a less common frosting to make. So, I took the time to detail all the steps, and my tips and tricks when it coming to making this buttercream.
I highly, highly recommend giving that a read through before you start to make this frosting. I want to be sure you're successful!
Specifically, for the strawberry version, I recommend pulsing the strawberries in a food processor, leaving you about half puree and half small diced pieces of strawberries. It gives you a little bit of texture in the frosting and ensure that you won't overdo it with the liquid.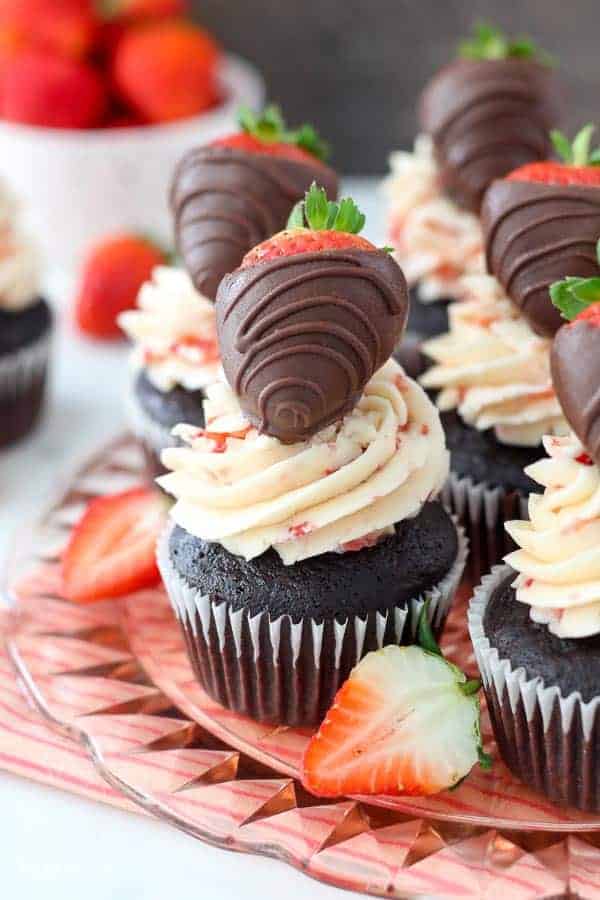 I've used this strawberry Swiss meringue buttercream or cookies and layer cakes and it pairs really nicely with vanilla cupcakes as well.
Now it's up to you if you'd like to add the chocolate covered strawberry but they are so dang pretty and obviously add a little wow factor.
If you're serving these rights away, then go ahead and place the strawberry on top, but if you're preparing them in advance, then it might be best to leave the strawberry off to the side.
After the first day, chocolate covered strawberries tend to "sweat" on the outside, so I don't like to leave them on top of the cupcakes for too long. Let's run through some quick tips.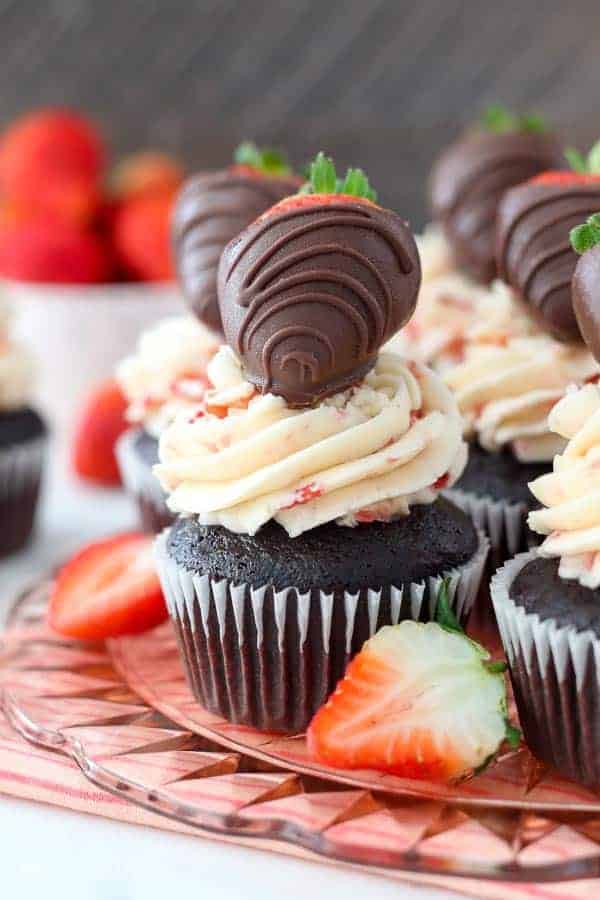 How to make chocolate covered strawberries
Wash and thoroughly dry the chocolate covered strawberries before you begin
For the chocolate, use chocolate wafers that are meant for candy making. My favorite is from Ghirardelli.
I like to use a wide but shallow dish like a Pyrex measuring cup (1 cup size)
Hold the green tip of the strawberry and dip and swirl it in the melted chocolate. Gently tap it on the edges of the glass and wipe the bottom along the edge to remove excess chocolate
Place on a piece of parchment paper to dry.
Drizzle with leftover chocolate.
Store at room temperature in an airtight container for up to 3 days
6 ounces of melted chocolate will make 18 strawberries. 8 ounces is probably enough for 24.
Don't wait around for an excuse to make these Chocolate and Strawberry Cupcakes!
Follow Beyond Frosting:
Facebook | Twitter | Pinterest | Instagram
Print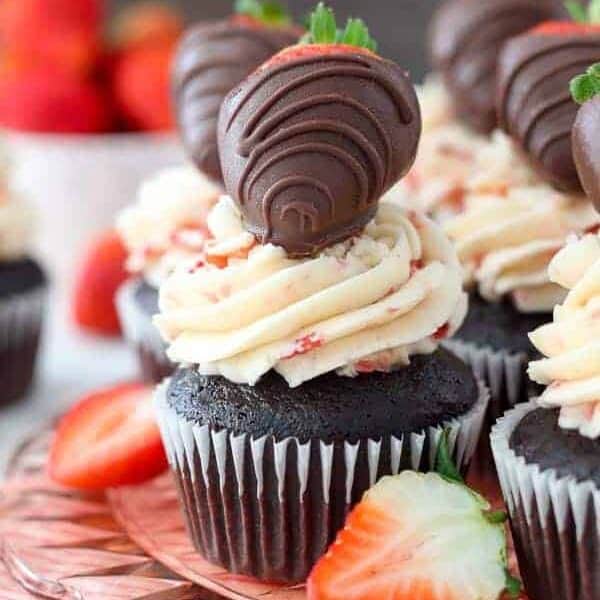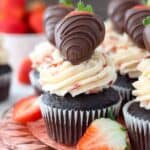 Chocolate and Strawberries Cupcakes
Author:

Prep Time:

1 hour

Cook Time:

14 minutes

Total Time:

1 hour 14 minutes

Yield:

24 cupcakes
Description
These Chocolate and Strawberries Cupcakes are homemade moist chocolate cupcakes covered with a fresh strawberry Swiss meringue buttercream and topped with a chocolate covered strawberries.
Ingredients
For the cupcakes
1 ½ cups

granulated sugar (

285g

)

½ cup

vegetable oil (

118

ml)

3

large eggs

1 tablespoon

pure vanilla extract (

15

ml)

½ cup

light sour cream (

118

ml)

2 cups

all-purpose flour (

280g

)

½ cup

cocoa powder (

55 g

)

1 tablespoon

espresso powder (

5g

) (optional)

2 ½ teaspoons

baking powder (

9 g

)

½ teaspoon

baking soda (

2 g

)

1 teaspoon

salt (

5 g

)

1 ¼ cup

brewed coffee (

355

ml)
For the frosting:
3/4 cups

strawberries, chopped and roughly pureed

2 cups

(

4

sticks) unsalted butter

1

cup granulated sugar

5

egg whites
Instructions
For the cupcakes: Preheat the oven to 350°F. Line a cupcake pan with cupcake liners.
In a large mixing bowl, combine the sugar, vegetable oil, eggs and vanilla extract. Beat on medium speed until the eggs and oil are well incorporated and the batter is lighter in color.
Next mix in the sour cream and beat until well combined.
In a separate bowl, sift together the dry ingredients. Then add half the dry ingredients followed by half of the coffee and mix just until the flour starts to incorporate.
Finally add the remaining dry ingredients, mixing on low speed while pouring in the remaining coffee and beating until all of the ingredients are well combined.
Use a spatula to scrape down the sides of the bowl and stir the batter from the bottom to the top to ensure it's well mixed.
Using a large cookie scoop, divide the batter evenly, filling each liner 2/3 full.
Bake at 350°F for 14-16 minutes. Test the cupcakes for doneness by inserting a toothpick into the center of the cupcake. If the toothpick comes out clean, the cupcakes are done. Cool Completely.
For the frosting: Rinse and chop strawberries into smaller pieces, about the size of a dime. Roughly puree in a food processor to create some juice, but leaving some smaller chunks of strawberries. Set aside.
Combine the sugar and egg whites in your stainless steel mixer bowl (or any heat proof bowl). Attached your candy thermometer to the side of the bowl.
Set your bowl over top of a pot with water, just enough to cover the bottom of the pot (about 1 ¼ cup). You do not want the water to boil and touch the bottom of your mixing bowl. Heat the water on medium to medium-low heat.
Combine the sugar and egg whites and stir (using your greaseproof spatula) constantly until the mixture reaches 140°-160° F. This is the most important part; you do not want to egg whites to cook. When it reaches 140° F, the sugar should be dissolved in the egg whites. You can test this by placing a drop on your fingertips and rubbing them together. The mixture should be completely smooth. Remove from heat.
Place the mixing bowl on your stand mixer. Using the wire whisk attachment, beat the egg whites. Start on low and increase the speed to medium after 2 minutes.
Beat for another 3-5 minutes on medium speed. At this point, your frosting should have turned white as the egg whites are whipped and the body of the meringue starts to form.
After 5 minutes, increase the speed to high. You will notice that as you increase the speed, the body of your meringue will also increase. It will start to look glossy as the peaks begin to form. Beat for another few minutes.
After about 10-12 minutes the bottom of your mixing bowl should be cooled completely. Your SMB should look kind of like whipped cream. Scrape down all sides and bottom of the bowl.
Turn your mixer down to medium-low. Slowly add your butter, about 1 tablespoon at a time, ensuring it is mixed well after each addition. Once you have added all your butter. Mix for another minute and scrape down the sides of the bowl.
Switch to the paddle attachment and continue beating on medium to allow all the air bubbles to escape. In about 3-5 minutes the frosting should be smooth. If your frosting appears to be curdled, just keep beating.
Lastly, pour in the strawberry puree and beat for another minute or two until they are well combined in the frosting.
Pipe onto cooled cupcakes with a large open star tip or open round tip. If serving immediately, place the strawberry on top.
Category:

Cupcakes

Method:

Baked

Cuisine:

American
Might also like: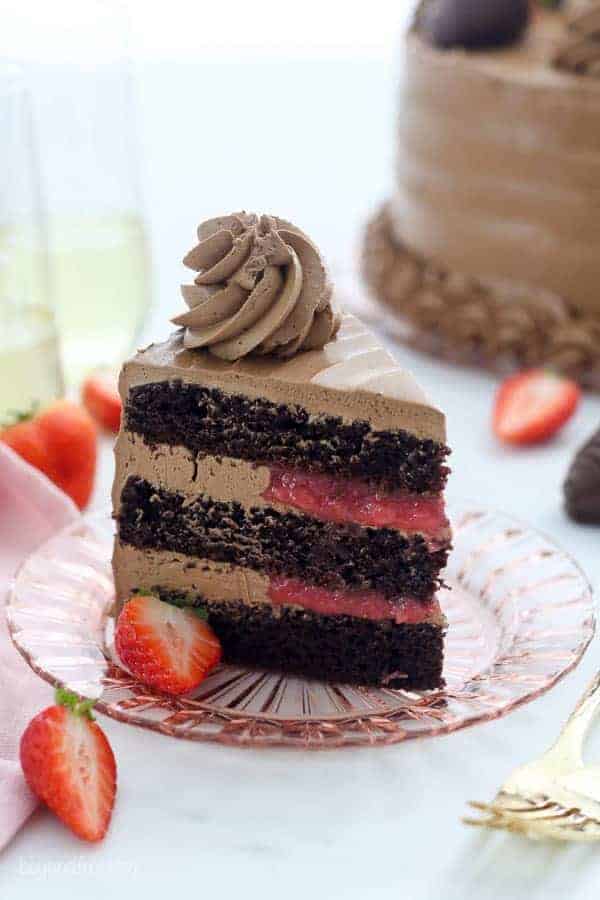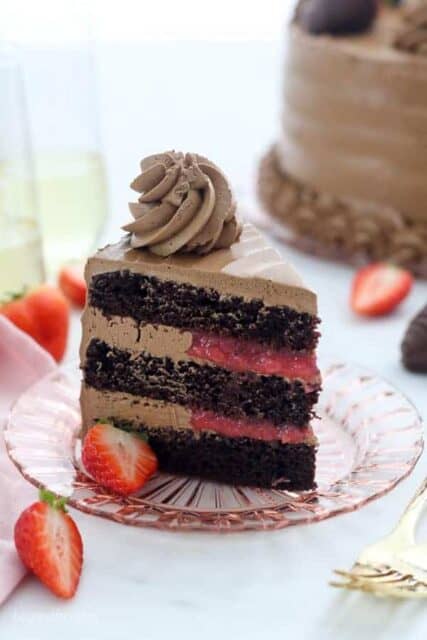 Chocolate Covered Strawberry Cookies