This post may contain affiliate sales links. Please see my full disclosure policy for details
This homemade Gingerbread Cake is topped with a cinnamon maple cream cheese frosting. You'll love this recipe, it's flavored with molasses, ginger, all spice, cloves and a touch of nutmeg. It's the perfect holiday treat.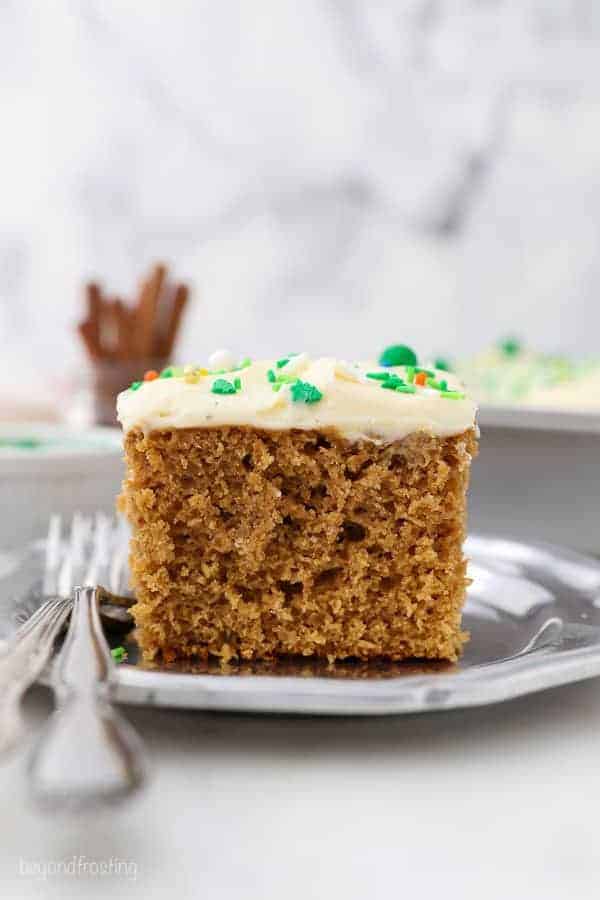 If you're looking for an easy, holiday-themed cake to bring to a party or serve for dessert, look no further than this easy Gingerbread Cake.
This moist, tender cake is overflowing with flavor, using a combination of molasses, ginger, all spice, cloves and a touch of nutmeg. It's so light and fluffy, I love it!
Plus, it's topped with the silkiest cream cheese frosting with hints of cinnamon and maple syrup. This cake will have your kitchen smelling just like Christmas morning.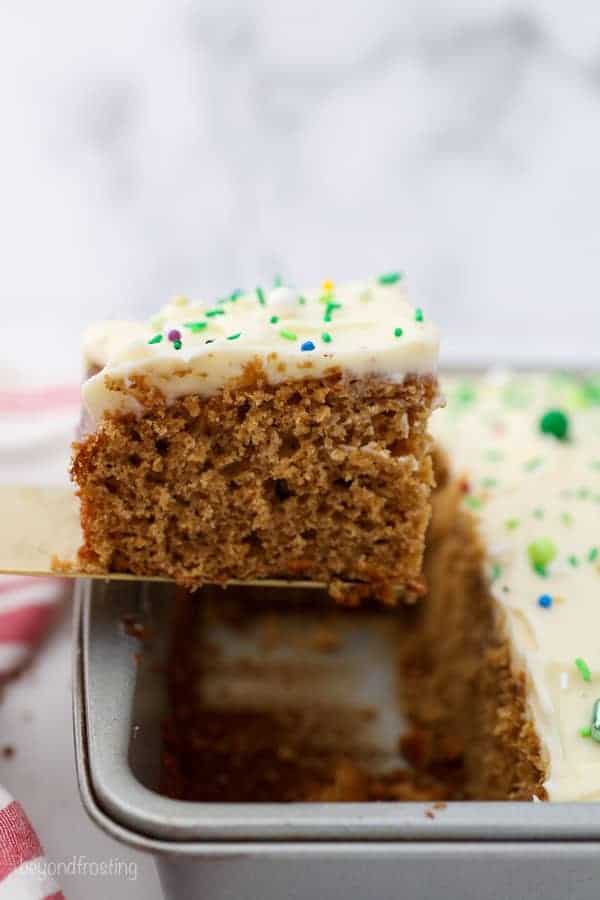 Last year, I shared my Gingerbread Cupcake recipe, and I've gotten a few questions about making them as a cake instead of cupcakes. The recipe will work both ways!
I love to bring cupcakes to a party because they're easier to eat, but they also require a little bit more effort than a cake. It's nice to be able to enjoy the same dessert but with a little less work.
The cake recipe is really easy to put together. There's more brown sugar than white which enhances the molasses flavor but also makes for a very tender crumb.
This cake is made with oil instead of butter, so you don't need to worry about creaming together and butter with sugar. It also calls for sour cream, which keeps it nice and moist. If you don't want to use sour cream, you can substitute Greek yogurt.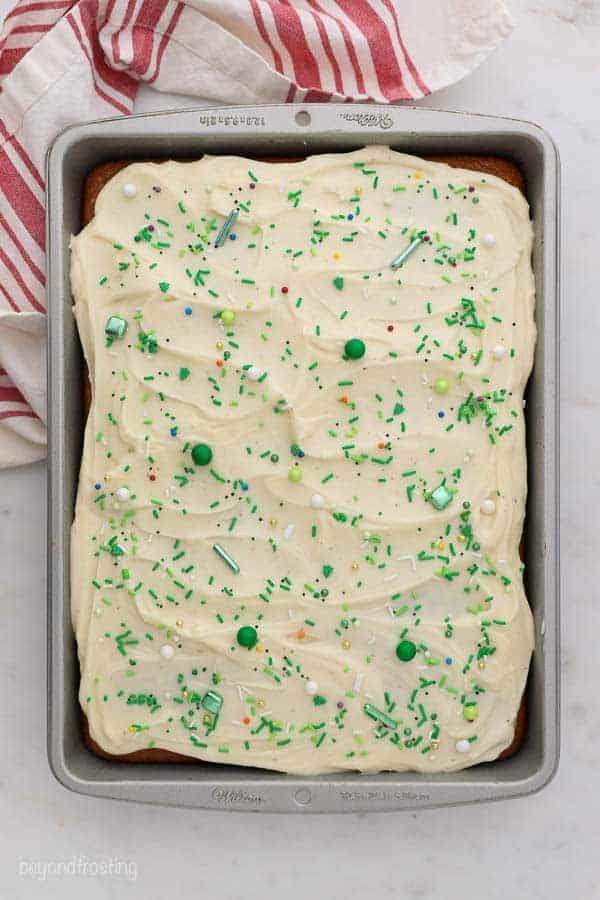 Cream Cheese Frosting
The best way to top off this gingerbread cake is with a mouthwatering cream cheese frosting. If you don't like cream cheese frosting (gasp-they do exist!), vanilla frosting would be a good alternative.
I absolutely LOVE my cream cheese frosting. It uses equal parts butter and cream cheese, and it starts with cold ingredients, as it straight out of the fridge.
If you use room temperature ingredients, it tends to make the frosting a lot weaker or runnier- and then you need to overcompensate with powdered sugar, leaving you with a frosting that is entirely too sweet.
First cut the butter into chunks so that it's easier to work in the mixer. Beat the butter for several minutes until it's fluffy and then add the cold cream cheese. Spend a couple minutes creaming the butter and cream cheese together.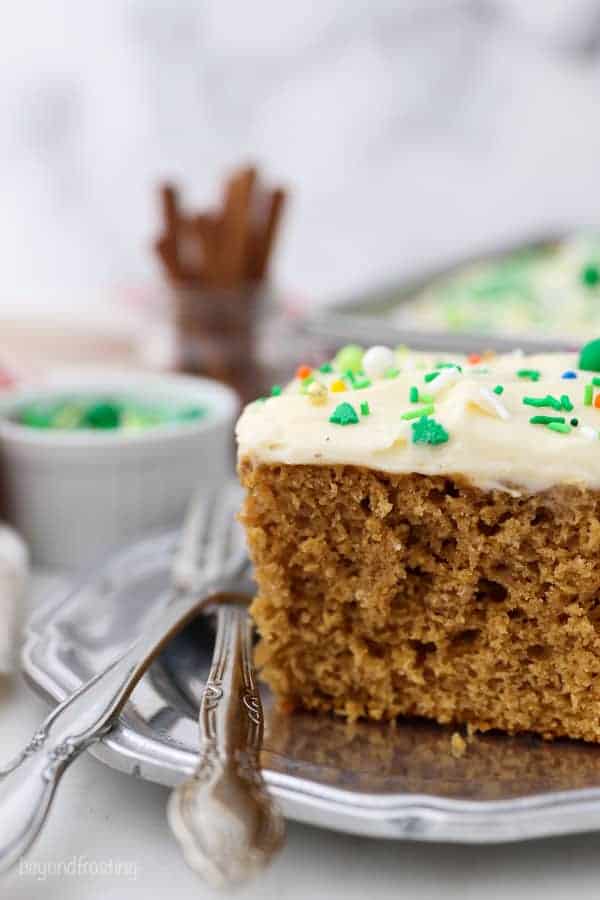 As you start adding the powdered sugar, you can alternate adding the liquid ingredients: heavy cream, maple syrup and vanilla extract.
The frosting recipe calls for 3-4 cups of powdered sugar so that it will allow you to control the consistency and taste of your frosting. Since you're spreading it over a cake, you don't need to worry about it being as stiff as you'd might want if you were making cupcakes.
Simply spread this cream cheese frosting over top of your cooled cake and garnish it with your favorite festive sprinkles. It may seem at first like you have a lot of frosting, but the cake itself is actually fairly thick, so you'll want that nice thick layer of frosting on top.
Let this Gingerbread Cake be the star of your holiday party. No one has to know how easy it is to make this cake!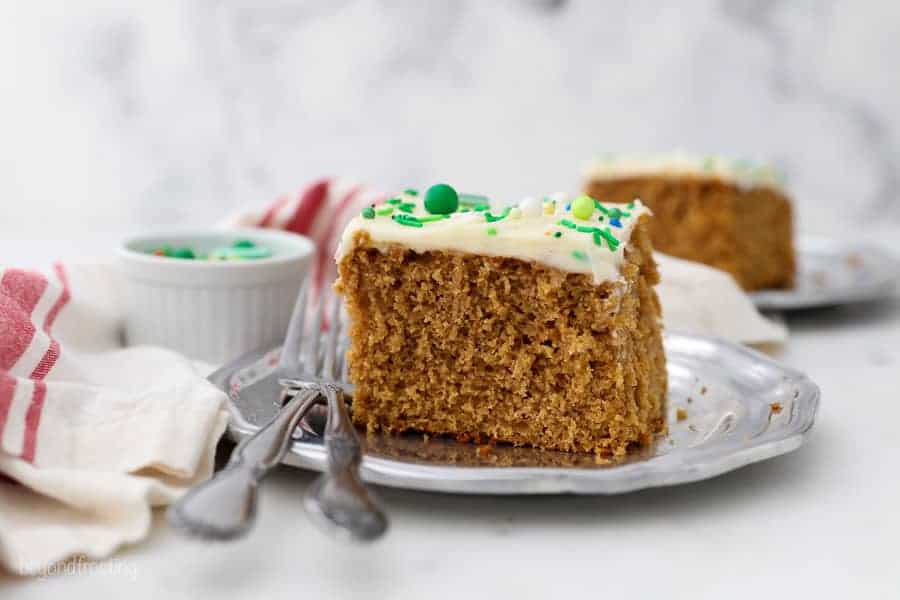 Follow Beyond Frosting: