This post may contain affiliate sales links. Please see my full disclosure policy for details
Indulge in this classic Pineapple Upside Down Cake, just like your grandma used to make it! A classic brown sugar crust with a light vanilla cake.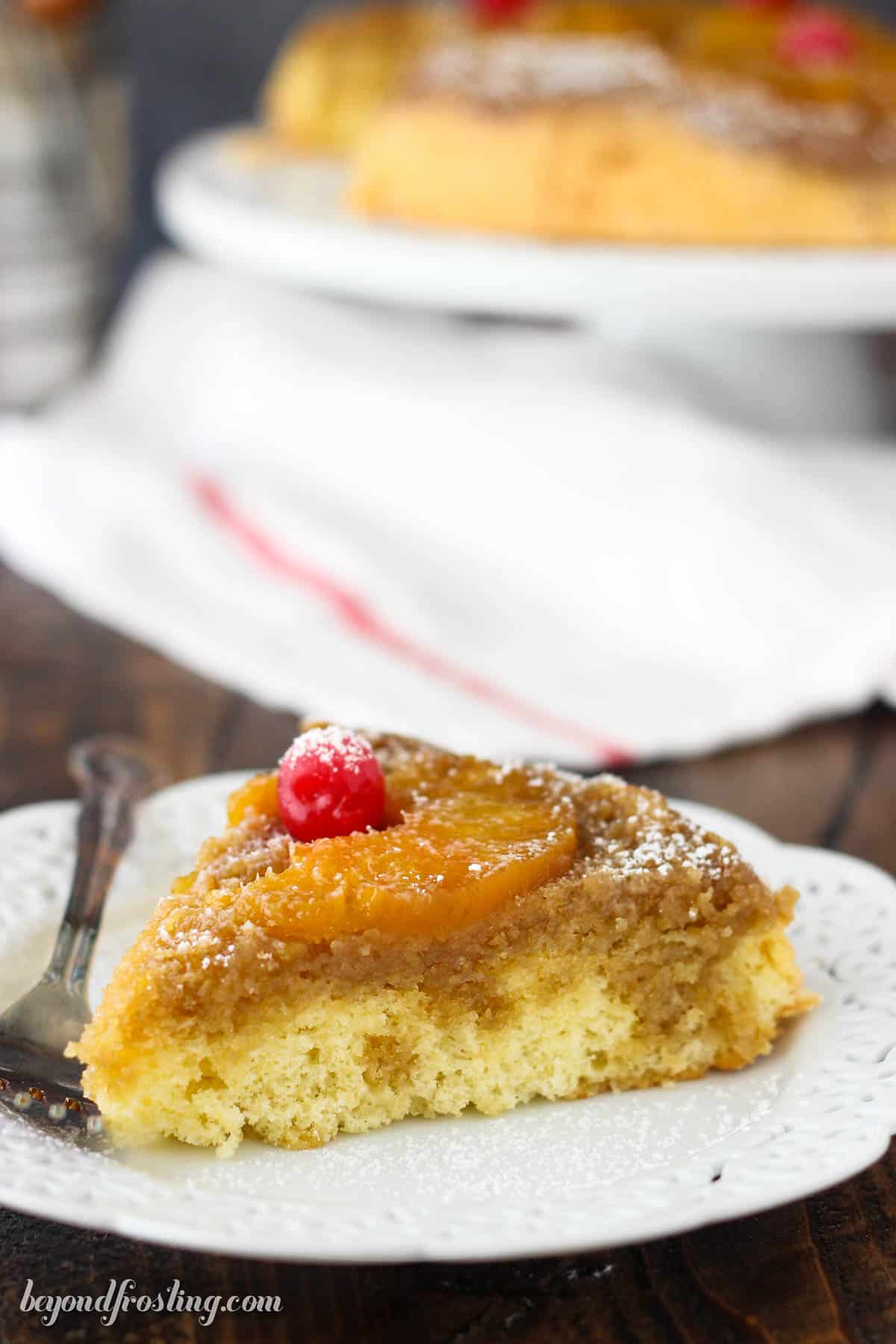 I know some of you are living in a climate where it must be unbearable to turn on your ovens right now. It is especially hot at the lake this week, but the evenings are nice and cool, and it's the perfect time to prepare a dessert.
A few weeks ago, my mom came to visit and I thought it would be the ideal time for us to prepare one of my grandmother's cakes together. She sent me this Pineapple Upside Down Cake awhile bake, but as it was my first upside-down cake, I wasn't certain I would be able to achieve it on my first try.
Together we deciphered my grandmother's recipe, who's instructions were lacking a bit. Between the two of us, we made some assumptions and everything turned out awesome. Grandma's recipe called for two cups of brown sugar for the bottom of the cake. Now I know that grandma liked her sugar, but this was a bit of an overkill. So we reduced the sugar and proceeded on.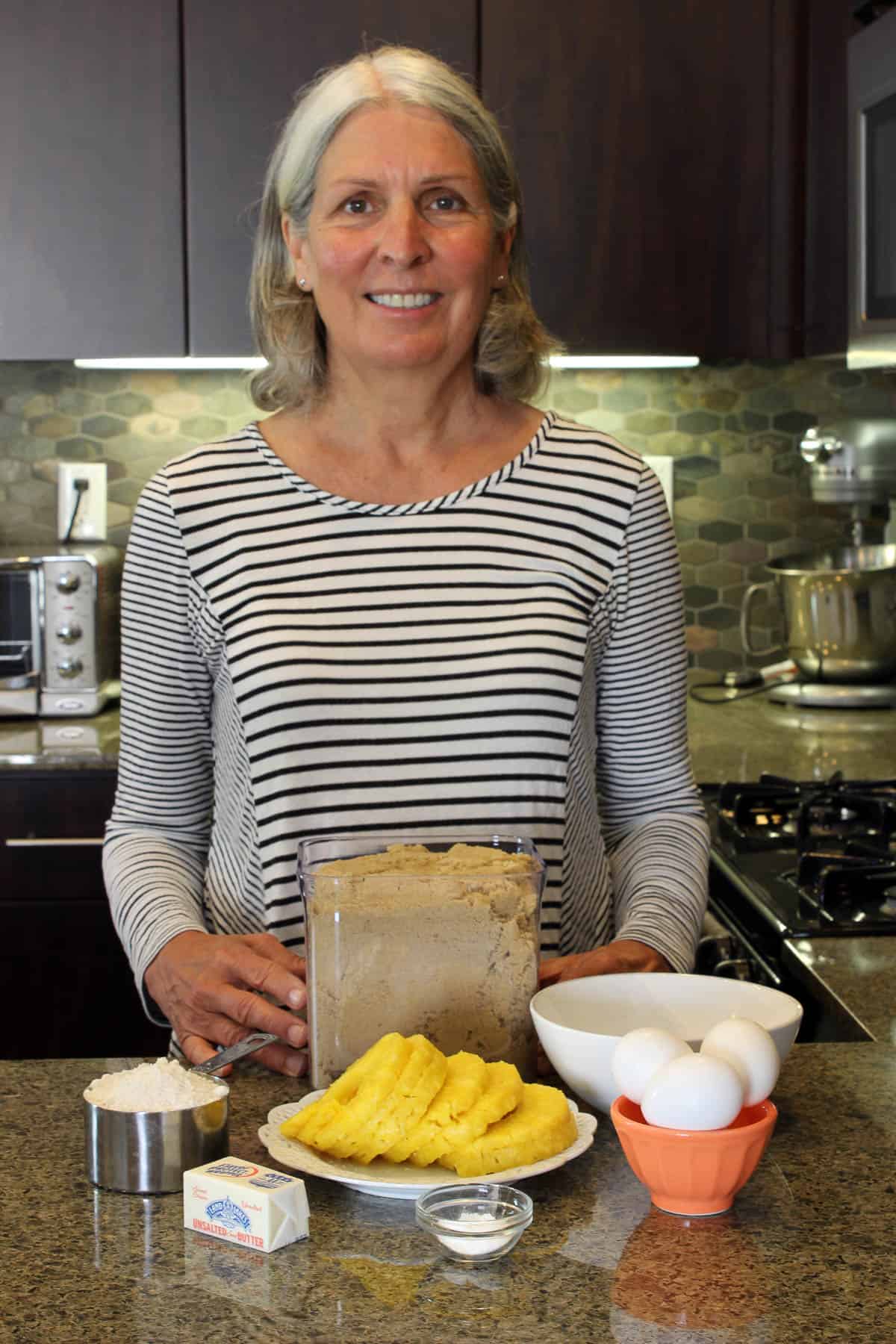 There was not a whole lot of flour in the recipe and even I questioned if it was going to work. There were no notes to whip the egg whites, which we determined was needed in to order to add a bit of height to the batter.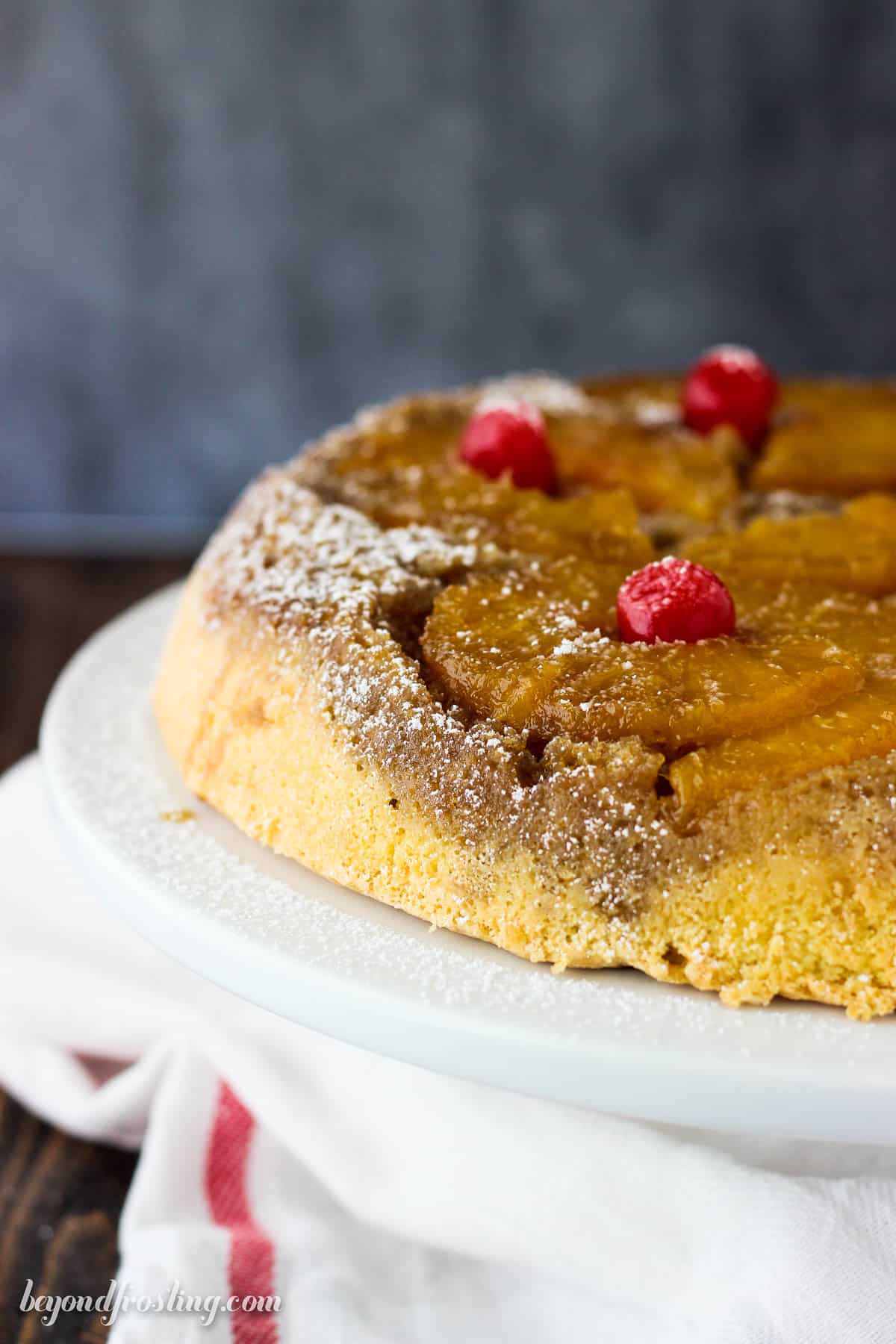 Whipping the egg whites was an important part that grandma failed to mention! This process adds dimension and structure to the batter and is used as a leavening agent. When the egg whites are combined with the flour and baking soda, it is important to fold the ingredients together gently so as not to deflate the egg whites. Use a spatula and turn the ingredients over and stir gently together.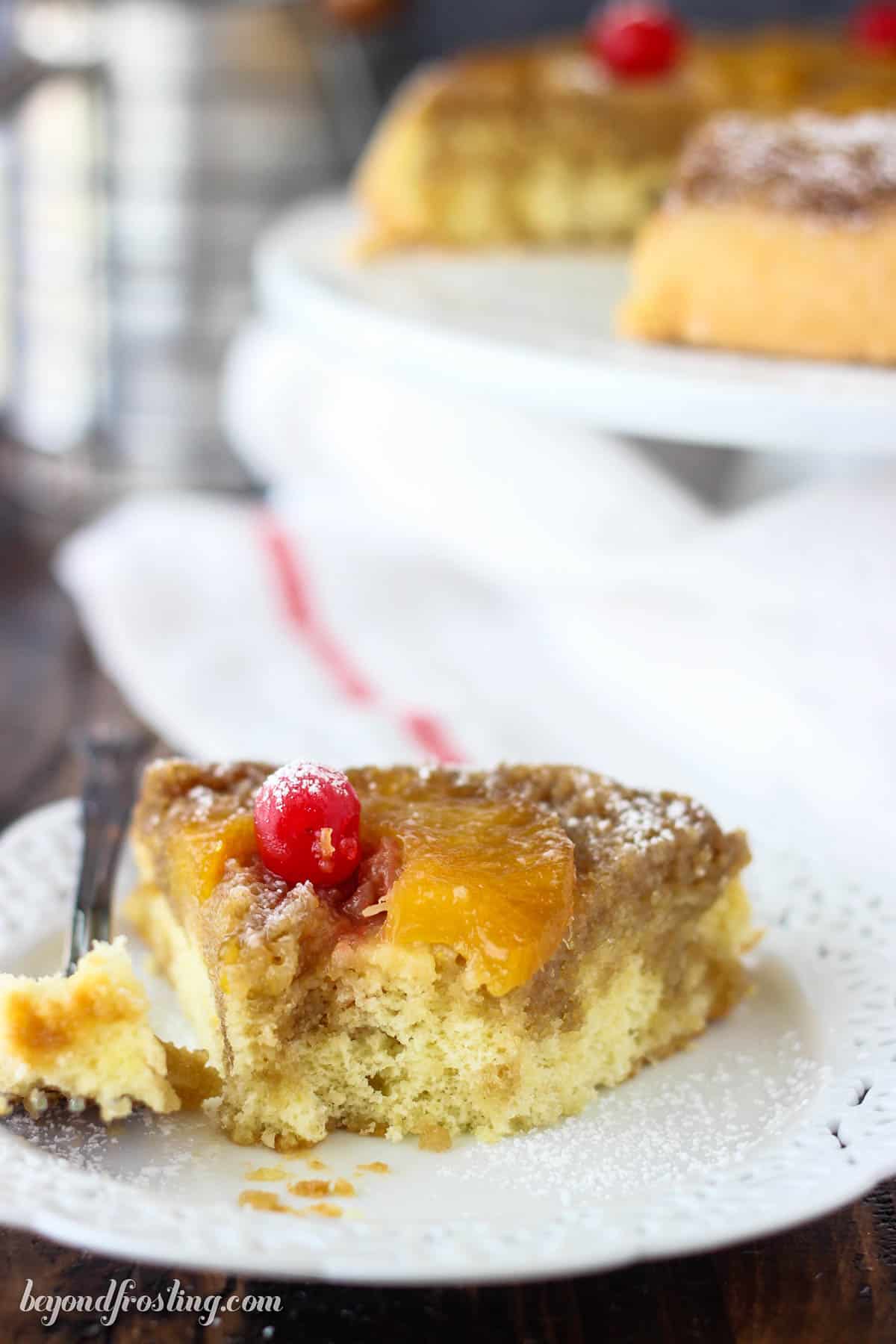 Needless to say, after a couple trials and error, we popped the cake in the oven and hoped for the best. Thirty-five or so minutes later, I turned the skillet oven and held my breath. "Looks like a pineapple upside-down cake," I said. After the first two bites, I thought I had done grandma proud. She would have served this at one of her dinners for sure.
Print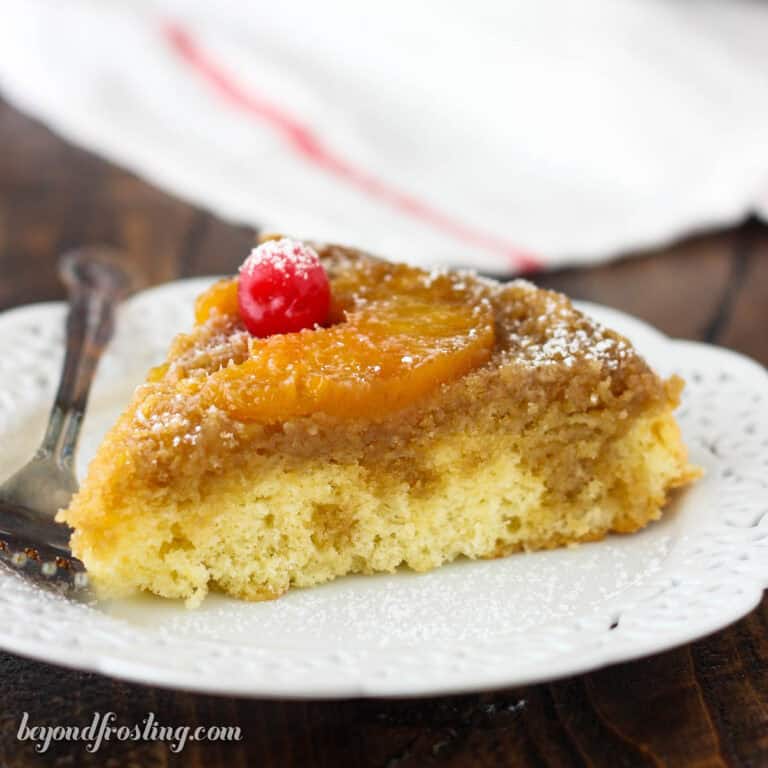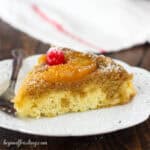 Grandma's Pineapple Upside Down Cake
Author:

Prep Time:

20 mins

Cook Time:

30 mins

Total Time:

50 minutes

Yield:

9″ cake
Ingredients
1/2

C Unsalted butter

1

C Light brown sugar

6

–

8

Pineapple slices

4

Large eggs, separated

1

C Sugar

1

C All-purpose flour

1 tsp

Baking powder
Cherries, optional
Instructions
Preheat oven to 350° F.
In a large, 9-inch skillet, melt butter in the oven while it's preheating. Remove from oven and stir in brown sugar; mix until well combined. Line the bottom of the skillet with pineapple slices.
Beat egg whites on medium-high speed, slowly adding sugar until medium stiff peaks form.
In a separate bowl, beat egg yolks until light and fluffy. Add flour and baking powder and mix until combine. Gently fold in egg-whites, turning the batter over and over with a spatula.
Once batter is well mixed, pour batter in the skillet. Bake at 350° F 30-35 minutes until lightly golden brown on top. Test the cake for doneness by inserting a toothpick into the middle of the cake. If the toothpick comes out clean, the cake is done.
Allow cake to rest for 10-15 minutes. Gently run a knife around the edges of the cake. Put a plate on top of the skillet, and use two hands and invert the cake onto the plate. You may need to tap the bottom of the cake to help release from the pan. Top with fresh cherries.
Recipes from my friends:
Pineapple Coconut Bars from Life Love and Sugar
Pineapple Upside down Milkshake from Grandbaby Cakes
Pineapple Cupcakes from The First Year Blog