This post may contain affiliate sales links. Please see my full disclosure policy for details
This No-Bake Funffetti Cheesecake is the best funfetti cheesecake ever! The recipe uses a combination of white chocolate and cake batter whipped cream to make the ultimate funfetti taste shine through in this no-bake cheesecake.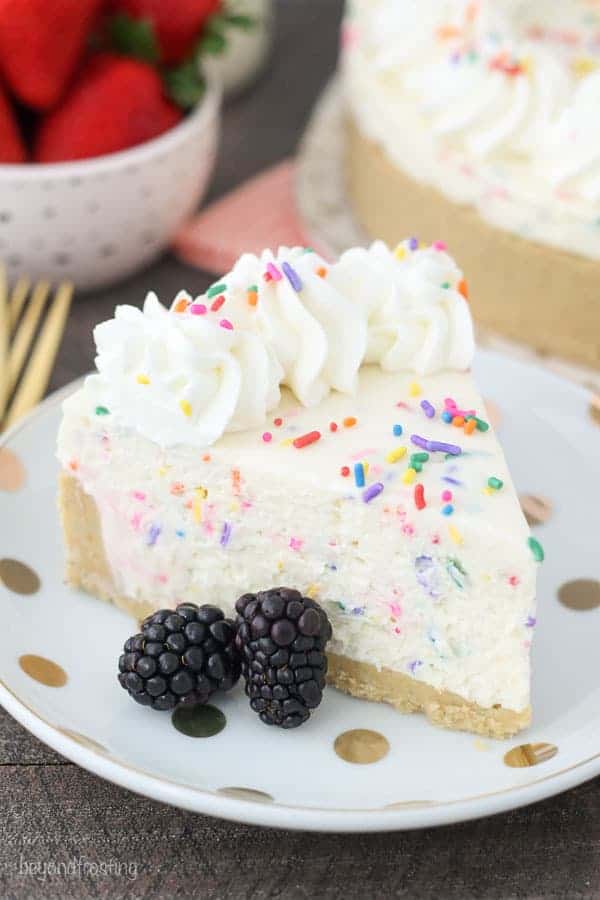 Can you believe that in all my years of blogging, I don't have a basic No-Bake Funfetti Cheesecake? Gasp. I mean I have plenty of funfetti and cake batter desserts, but no cheesecake. What the heck?! I think it was because I was saving this one until I found the perfect and dare I say BEST no-bake cheesecake base, that could then be adapted to different flavors.
What's make this Funfetti cheesecake a little bit different? The cheesecake batter requires melted white chocolate, which balances out the tangy cream cheese.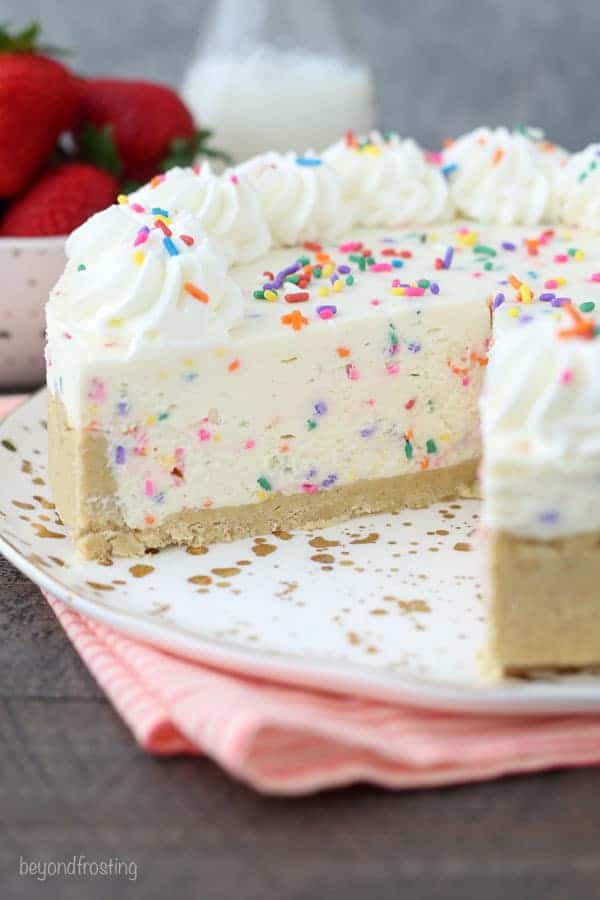 High quality white chocolate is key here. I recommend using a baking bar such as Ghirardelli or Bakers chocolate as opposed to chocolate chips. The baking bars melt better and are less oily, which gives the chocolate a better texture for mixing into the cheesecake. Of course, in a pinch, chocolate chips will work too.
The cheesecake itself has a really nice texture. I like to say it's denser then it is fluffy, but of course, it's not as dense as a baked cheesecake. It's still light and airy as you would expect a no-bake dessert to be.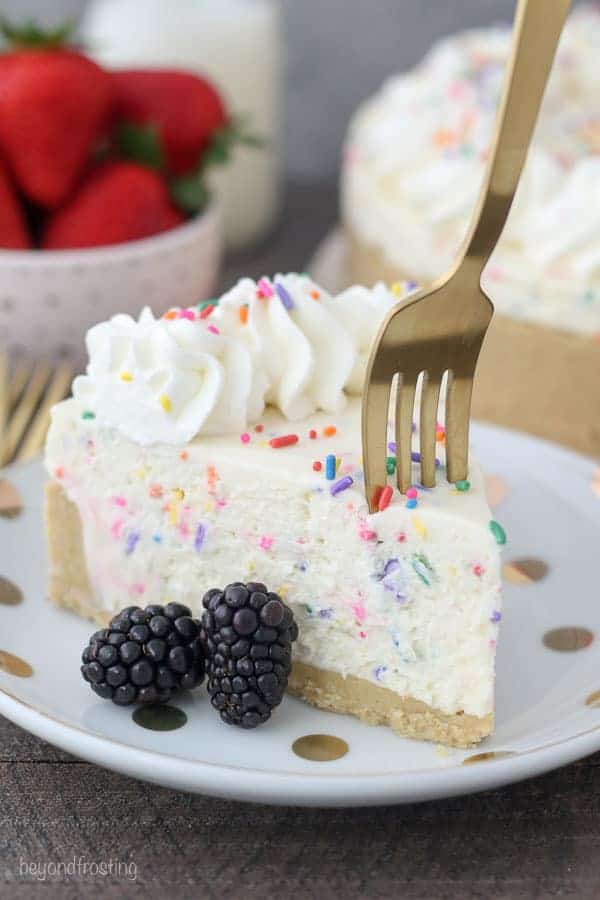 This No-Bake Funfetti Cheesecake is quite rich, so a little slice goes a long way here. That is due in part to the cake batter whipped cream that I used for the filling.
Cake Batter Whipped cream is a simple homemade whipped cream that swaps out the powdered sugar for cake mix. This stuff is pure gold, I could eat an entire batch with a side of strawberries. Some people get concerned about eating raw flour. If you'd like to cook your dry cake mix prior to using, I use the bakerpedia method.
If you're uncertain about making a homemade whipped cream, I encourage you to give it a try, it's way easier than you might think and I share plenty of tips how to make whipped cream at home.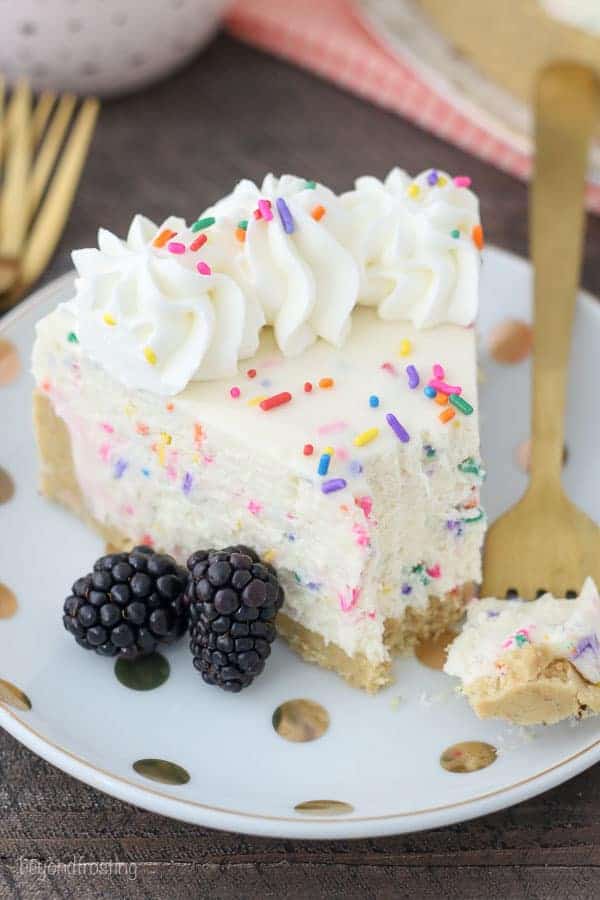 For my no-bake cheesecakes, I like a nice thick crust. So, I usually opt for some type of Oreo cookie as opposed to graham cracker. This recipe calls for birthday cake or Golden Oreos, whichever you can find. Be sure to press the sides of the crust up nice and high to!
My friends always go crazy when I bring funfetti desserts and this No-Bake Funfetti Cheesecake was no exception!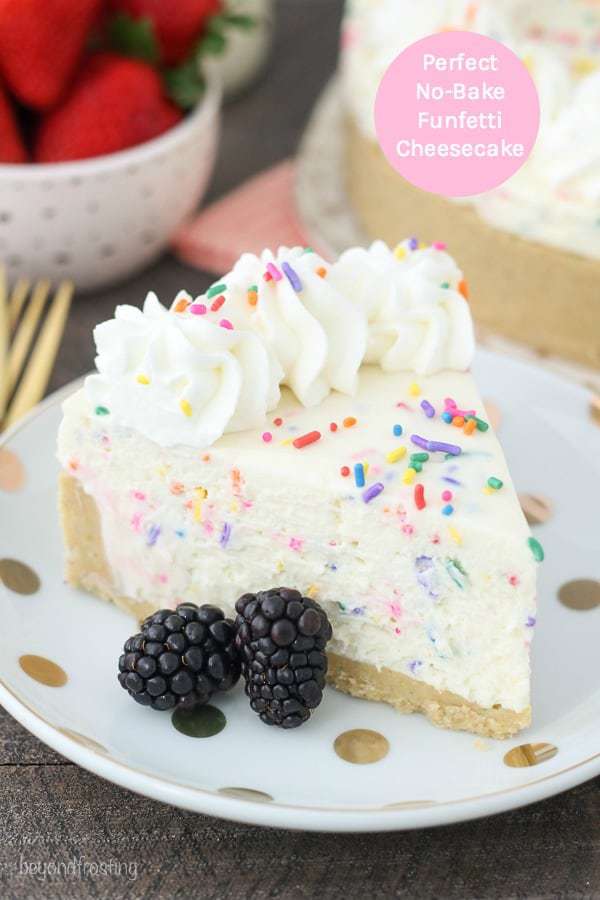 Follow Beyond Frosting:
Facebook | Twitter | Pinterest | Instagram | Bloglovin
If you love no-bake recipes, be sure to check out my cookbook, No-Bake Treats!
You might also like: