This post may contain affiliate sales links. Please see my full disclosure policy for details
It's a super exciting day today. I am participating in the Let's Bake A Difference fundraiser for the Ventura Cancer Support Community. I spent all day baking 14 dozen of my Ghirardelli Chocolate Milkshake Cupcakes. I forgot how much I love these cupcakes. The frosting is full of sweetened cocoa powder and malted milk powder. In between all of my baking, I managed to photograph two recipes and was sitting on the couch with a glass of wine by 6pm. I do still have to frost of my cupcakes, but my kitchen is clean, so I am just going to go ahead and call that a win.
I wanted to deliver one last St. Patrick's day recipe for you guys. I had a box of Mint Oreos in my pantry, and a craving for cheesecake. Since I was already making so many chocolate cupcakes, it just seemed only natural to make a mint cheesecake cupcake. This recipe is a twist on my boyfriend's favorite cupcake. Do you all remember when I let him take over the baking one day? He made his mother's Chocolate Cream Cheese Cupcake. You should check it out, he has some "rules for baking" that I find to be pretty comical.
So yeah, let's get back to these Mint Oreo Cheesecake Cupcake. It starts with a Mint Oreo in the base of the cupcake, followed by some cupcake batter and topped with a heaping spoonful of mint chocolate cheesecake. The cheesecake is made with both a hint of mint extract and also some mint chocolate chips! It is to die for. I picked up a bag of Mint chocolate chips at Walmart, but I have also seen them at my local grocery store. Sometimes they are green and sometimes they aren't.
The frosting is a creamy, mint Oreo frosting, flavored entirely with, well, Oreos. I decided not to color is green with food coloring, because I liked the surprise of the Oreo at the bottom of the cupcake.
In order to make this recipe, you will need at least a package and a half of the Mint Oreos to use between the cupcake, the frosting and an extra Oreo for good measure of time. Triple mint? Yep. Triple Oreo? Yep. This recipe is a triple win. Okay, that was a bad joke but whatever!
Follow Beyond Frosting:
Facebook | Twitter | Pinterest | Instagram
Print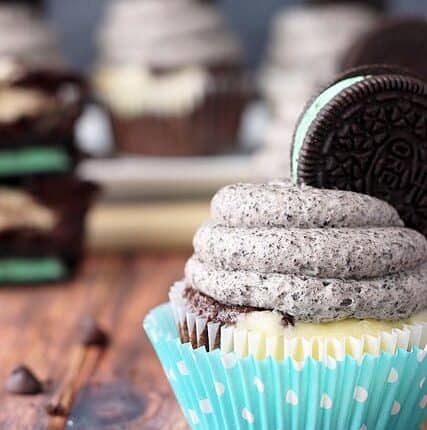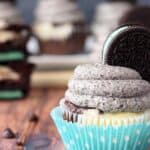 Mint Oreo Cheesecake Cupcakes
Prep Time:

15 minutes

Cook Time:

20 minutes

Total Time:

35 minutes

Yield:

24 Cupcakes
Description
A chocolate cheesecake cupcake with a Mint Oreo on the bottom, a cheesecake filling and a Mint Oreo frosting.
Ingredients
1

box Chocolate Cupcake mix
Ingredients listed on the box (egg, oil, water)
For the cream cheese filling
1

pk (8oz) Cream cheese (softened)

1

Large Eggs

1/3

C Sugar

1/2 tsp

Mint extract

1/2

C Mint chocolate chips
For the frosting
3

Sticks Unsalted butter (softened)

4

C Powdered sugar

1 ½ tsp

Pure vanilla extract

2 tbsp

Heavy whipped cream

2

C Mint Oreo crumbs
Instructions
Preheat oven to 350° F.
Line cupcake pan cupcake liners. Drop a full Oreo in the bottom of each liner.
Mix cake mix with required ingredients listed on the back of the box. Spoon cupcake batter into liners. Fill your lined cupcake pan 2/3 full.
To soften cream cheese, microwave for 20 seconds, flip it over and microwave another 20 seconds.
Mix together softened cream cheese, sugar, egg and mint extract and beat until smooth. Fold in chocolate chips.
To add the cream cheese mixture to the cupcakes, use a spoon to drop into each liner. The original recipe calls for 1 tsp of the cream cheese mix per cupcake. You will have some leftover.
Bake at 350° for 18-20 minutes. Use a toothpick to check the doneness of your cupcake. Insert the toothpick and if it comes out clean, your cupcakes are done. Allow cupcakes to cool for a couple minutes before transferring to a wire rack.
For the frosting
Use a food processor to grind Oreos into crumbs. Set aside.
Allow butter to soften for about 30 minutes.
Beat butter on medium-high speed until soft and smooth.
Add powdered sugar one cup at a time and beat on medium-low speed, frosting will become thick. Add mint extract and heavy cream and increase speed to medium-high. Whip for a couple minutes until fluffy.
Reduce speed and add Oreo crumbs, mix until incorporated.
Recipe you might like from my friends:
Mint Chip Cake Roll from Crazy for Crust
Mint Oreo Brownie Ice Cream Cake from Life Love and Sugar
Mint Cheesecake Cookie Bars from Simply Gloria
Other recipes from Beyond Frosting
Dark Chocolate Andes Mint Cookie Cups