This post may contain affiliate sales links. Please see my full disclosure policy for details
If you are new to these part, I have monthly series called "Monthly Mixer" where I like to share what's been going on behind the scenes each month. Sometimes it is event focus and sometimes it's not. I invite you to grab yourself a cup of coffee and stick around!
This month's monthly mixer is all about our amazing weekend in Lake Tahoe. Anyone who reads my blog in the winter knows how much I snowboard- which is as often as possible. We try and take trips several times over the winter and Lake Tahoe is one of our absolute favorite places to visit. This year we stayed at a resort called Northstar at Tahoe.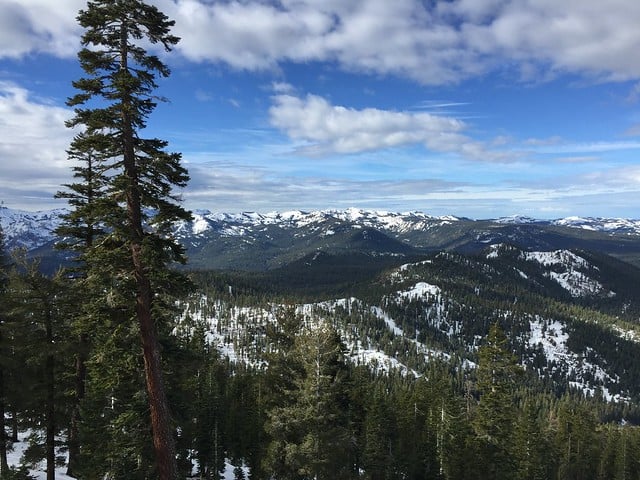 This is not a sponsored post. While I enjoyed my weekend in Lake Tahoe, we received nothing more than a complimentary bottle of sparkling wine for our celebration. All opinions are as a result of my experience.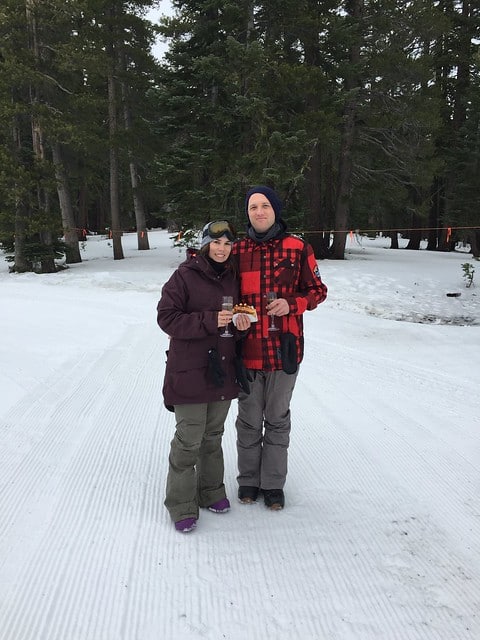 This trip was particularly special for us. I had been planning it as a surprise since last June! Finally the surprise was unveiled at Christmas and my boyfriend was SO excited. I cried. Typical. I just love to get something for him that would mean so much to him. His 30th birthday is quickly approaching and I wanted to do something extra special this year for him.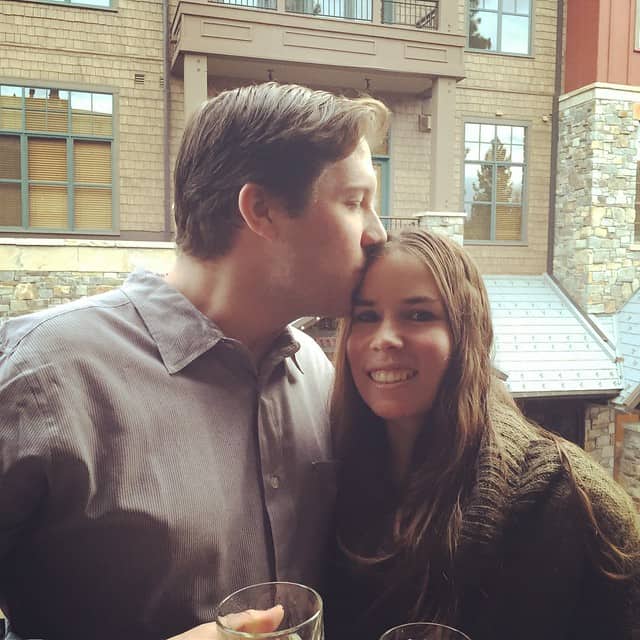 I was able to find really cheap airline tickets on Southwest into Sacramento. Ideally we would fly into Reno, but I booked 2 round trip tickets into Sacramento for the price of one flight into Reno. It is less than 2 hours to Lake Tahoe from Sacramento, so it is a great option to have. We rented a car for the weekend as well, but we only needed it to get up and down the mountain.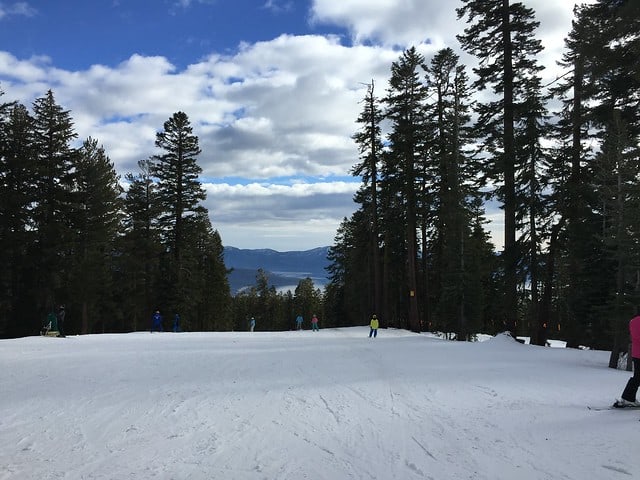 I like to save money, who doesn't? So I booked our lodging well in advance when Northstar was running a lodging special. We were able to get a wonderful room in the middle of the village for such an affordable rate. It's not always easy to plan that far in advance. I did notice that they ran different lodging special throughout the year. Often times you can also pair this with a ticket package for additional savings.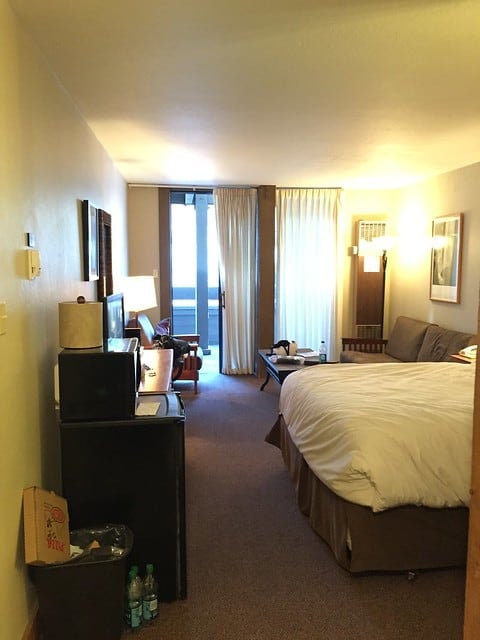 I talked to one of their vacation specialist a few times leading up to our visit to see what types of things we could do during our visit. Northstar was kind enough to even give us a bottle of sparkling wine when we checked in for our special weekend. I thought that was just awesome.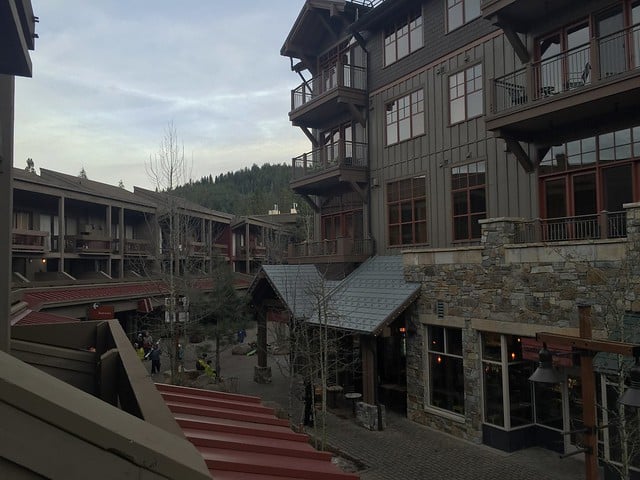 Our room was in the lower part of the village. It was about a 3 minute walk to the chairlift and surrounded by plenty of restaurants and shops. It could not be move convenient.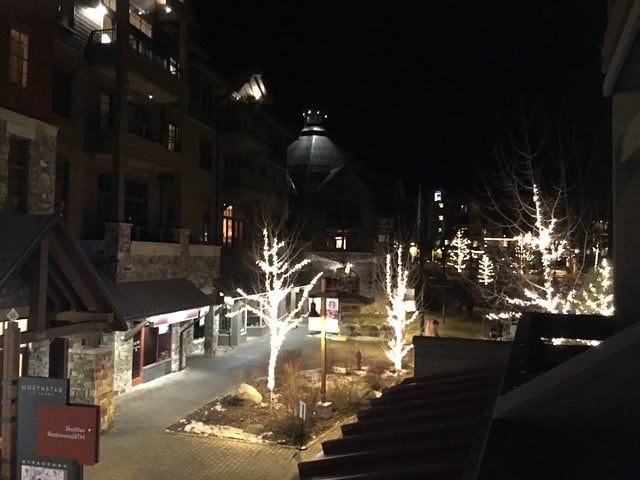 The other thing we like to do is go to Tahoe the week AFTER a holiday. I find the mountain to be much less busy. This year we went after New Years but before Martin Luther King weekend. It was so perfect. The mountain was not crowded at all and we hardly waited in line. I have a seasons pass, but there is nothing worse than spending $100+ on a lift ticket and waiting in long lines all day.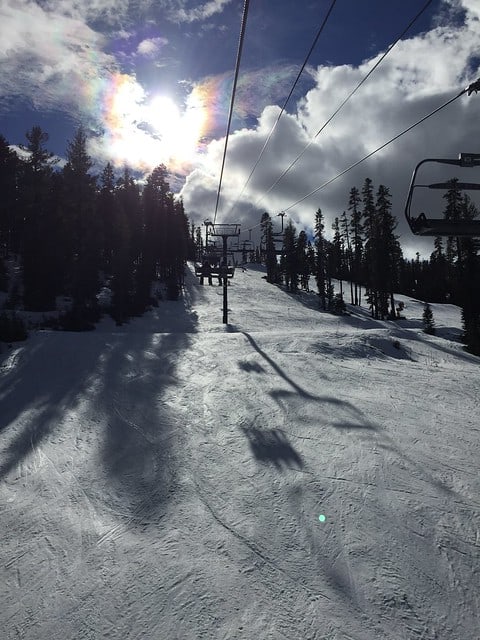 This is no way of predicting what the snow will be like. Sometimes it dumps a ton of snow and you get super lucky and other times, it's just meh. For us, the snow was about as good as we expected it to be. It was warm, so the conditions were like spring skiing. It's nothing that we aren't used to being in Southern California. The terrain park was on point and the half pipe just opened, so I was a happy camper. Th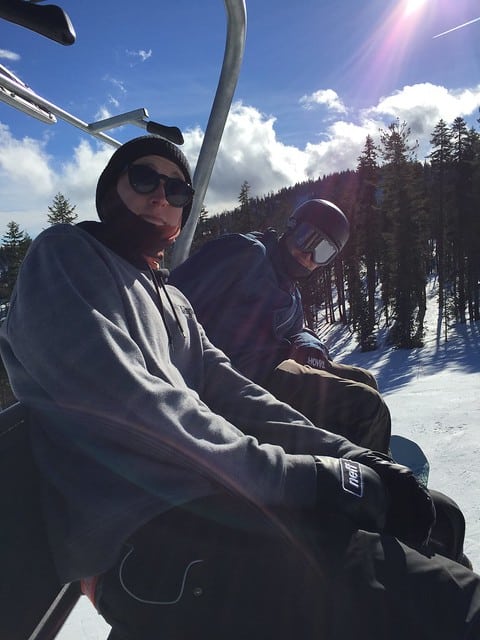 This is not my first time visiting Northstar, but this trip was different for me. I was really looking forward to staying in the village and accessing all they have to offer.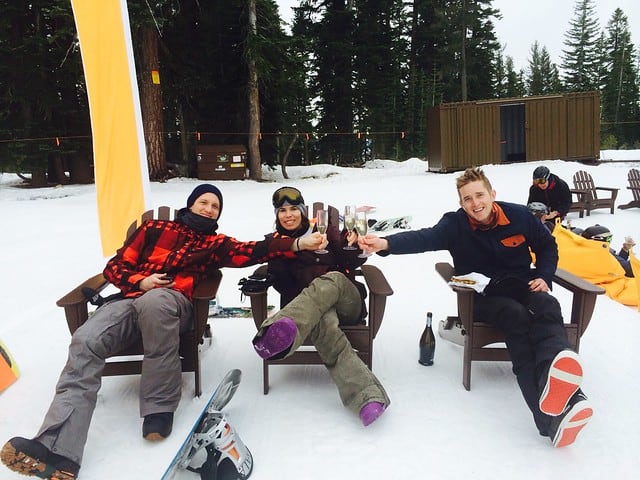 There are so many restaurants to try, activities to partake in and lots of overall fun going on! One thing Northstar does really well is try and connect with their customers. Every day around 3' o'clock, they roll out the S'mores cart and handout free s'mores to anyone who is hanging out near the ice skating rink. You can also buy a S'mores kit which I think is so fun!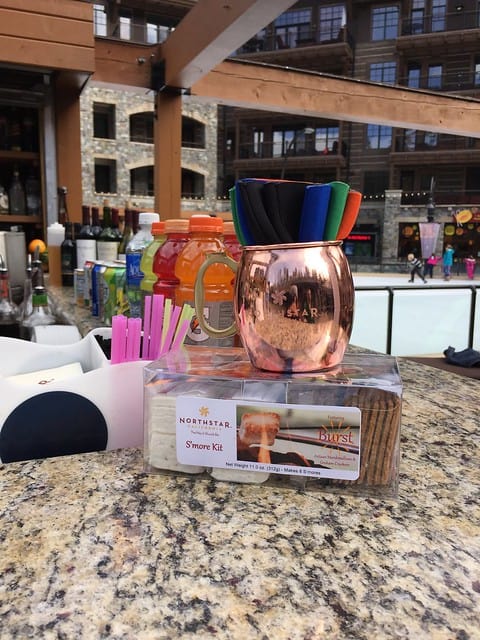 The center of the village houses a large outdoor skating rink that is open day and night and guests can rent skates. I never skated, but I enjoy hanging out in the various lounges around the rink. There is plenty of places to grab a snack or even a cocktail while you hang out.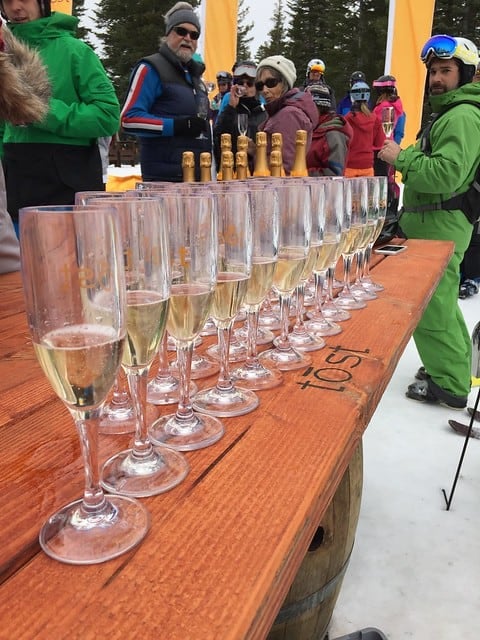 One of the best new things I found there was their daily champagne toast! Free champagne? Where do I sign up? Everyday at 2pm sharp, there is a champagne toast up on the mountain. Anyone is welcome to stop by and cheers to a day of fun. One day we hung around a bought a bottle. It was so fun to kick back for a little while- plus I paired my champagne with a waffle sooooo, double win.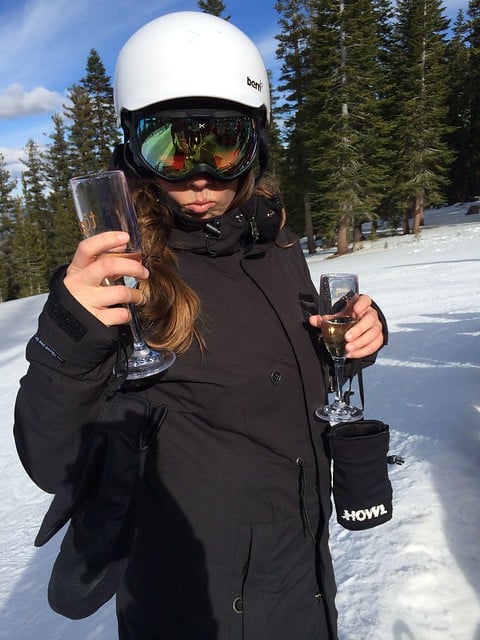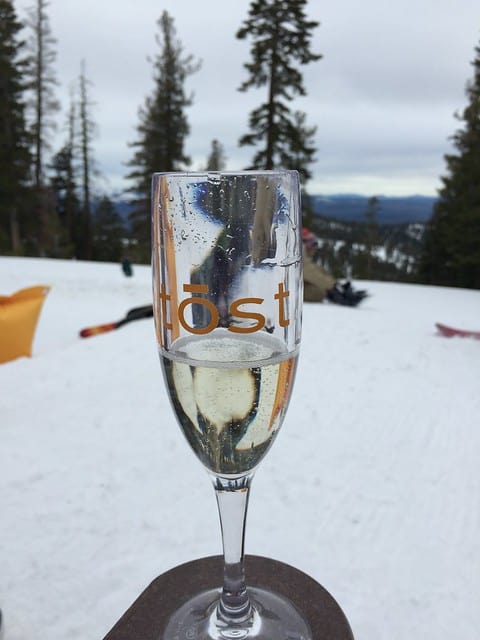 Let's talk about the food! I am beyond OBSESSED with Le Waf. It is a Belgium waffle stand that they have scattered throughout the property. I ate 2 waffles a day, and I am not even sorry about it. Every morning I walked down the village to grab a coffee and a waffle. It was perfect!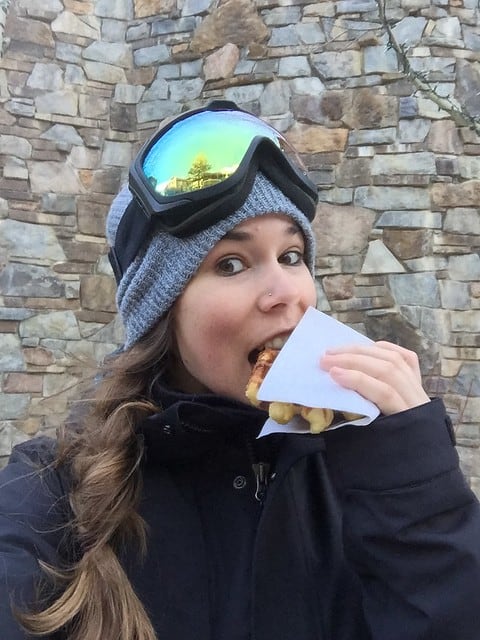 We ate at several different restaurants during our stay. The first night we had sushi at Mikuni. I really love this place, it was not my first time there. They have a great happy hour and they even have a whole to-go window where you can pick up sushi to take with you. We had a late dinner after some night riding at Boreal Mountain. The sushi is really good and very reasonably priced.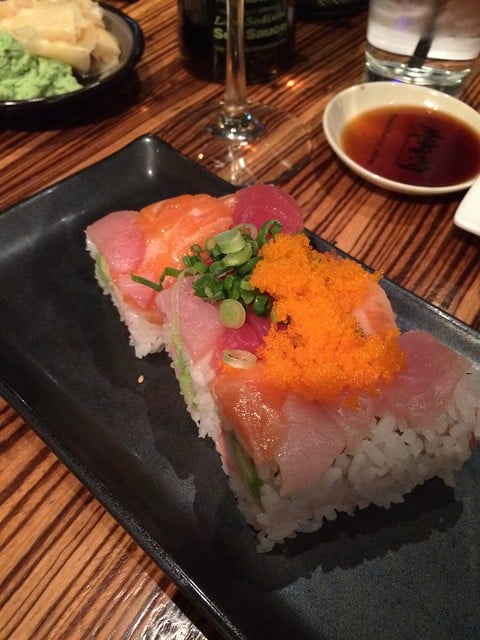 For lunch on Saturday we got smart. We usually stop in any lodges to grab a quick bite. However the night before we walked into Rubicon Pizza to take a look. The pizza appeared to be outstanding- and it was! We called in a pizza from the chairlift, took a couple runs and rode down to the village to pickup our pizza. We ate in one of the lounges next to the skating rink. The pizza was spectacular and it was nice to take a little break without spending a ton of money in the lodge. Since we had a refrigerator, I took the leftovers back to our hotel room. High fives! I highly recommend phoning in your lunch.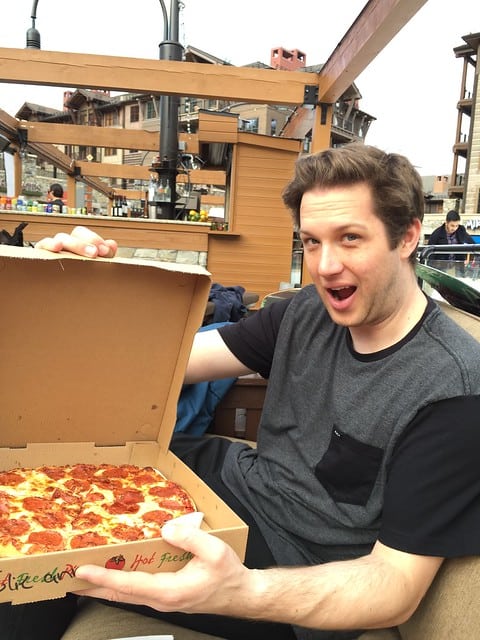 Saturday night was extra special. We took the gondola from the village up to the Ritz Carlton for dinner. I wanted to treat us to a pre-birthday dinner. I was really looking forward to it! The Ritz Carlton is on the side of the mountain, so during the day you can ski in and out. Next time I hope to try their Backyard BBQ restaurant! We ate at Manzanita for dinner. The setting was really nice. The kitchen is in the center of the restaurant so you can watch the chefs at work! There are large fireplaces all over and it was super cozy.
I ordered the king salmon which way laying on top of some potato gnocchi, brussels sprouts, mushrooms and truffle potato cream. I nearly cleaned my plate but I was too full! It was SO tasty!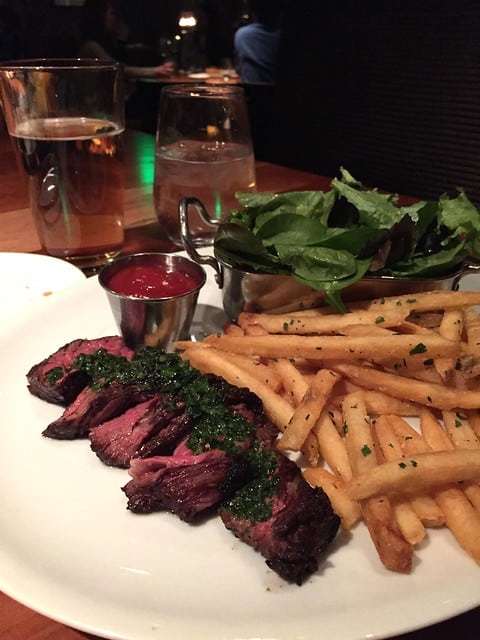 My boyfriend ordered the marinated hanger steak with chimichuri and French fries. It was probably one of the best few bites of steak I have had. I also couldn't pass up the brown butter and fried sage mash Yukon potatoes. I felt so bad we hardly touched it, but those freaking mashed potatoes were the smoothest mashed potatoes I have EVER had.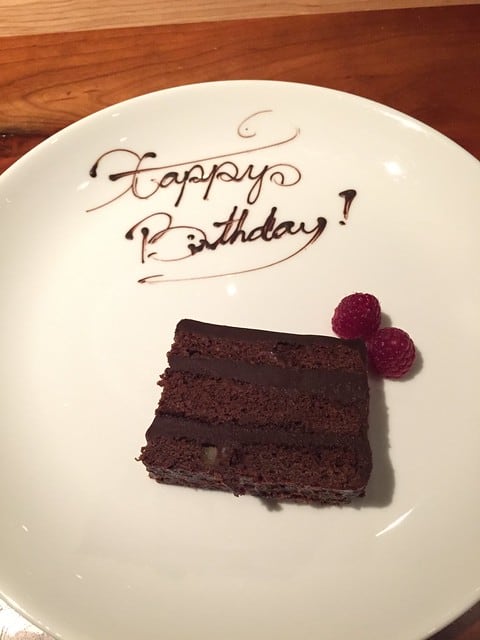 The staff at Manzanita was so kind to surprise us with a Happy Birthday slice of cake. It was a rich chocolate cake with a grand mariner ganache. It was a nice surprise my boyfriend was not expecting. After dinner we hoped a gondola back to the village and we were back in our hotel room 15 minutes later- and stuffed to the max.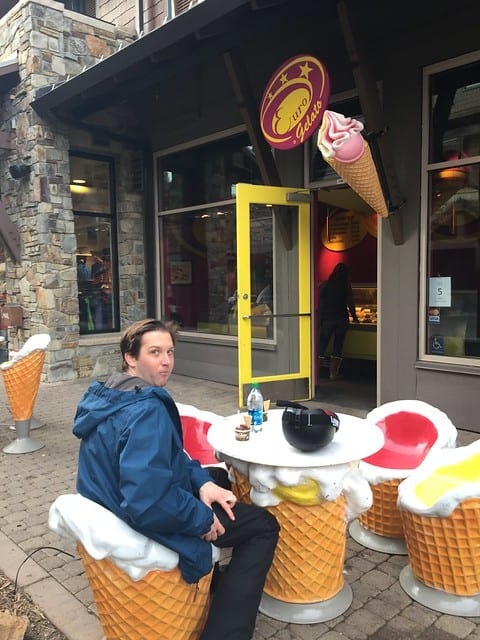 There was no shortage of sweets over weekend! Beside my daily waffle fix, I stopped in at Euro Gelato. Since I was trying to still maintain my diet (kinda sorta not), I got a scoop of dark chocolate and some guilt-free banana walnut.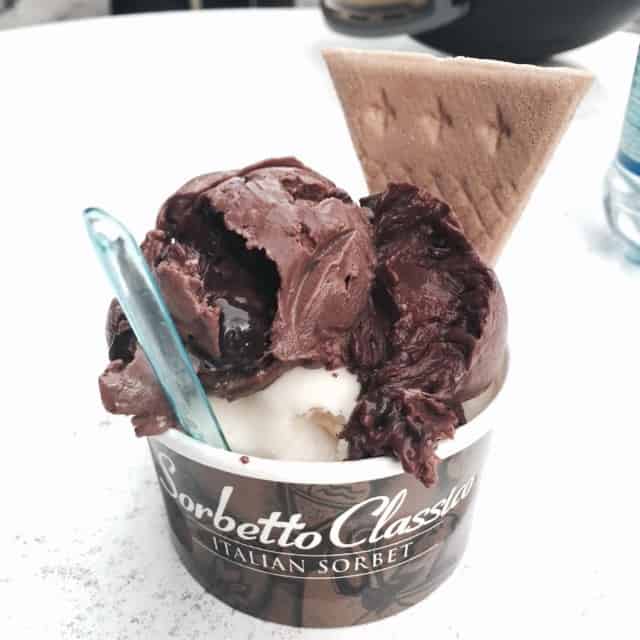 Finally, I made it over to the Chocolate Bar. Every time I come down off the mountain I ask my boyfriend what he thinks the Chocolate Bar might serve. We figured it was a bar/lounge because they had a huge outdoor fireplace and it was usually crowded in the later afternoon.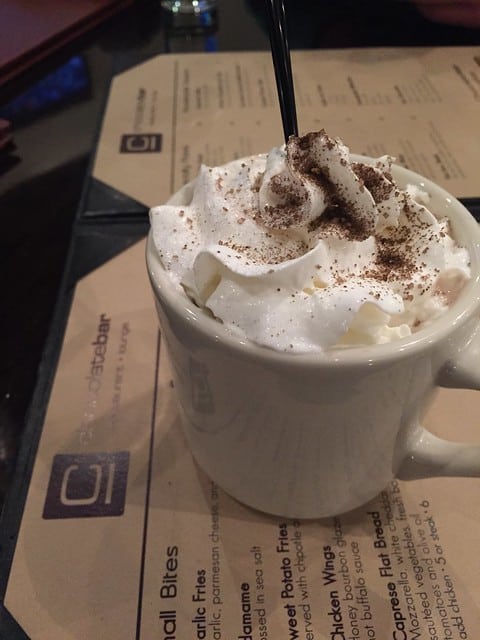 We each got a hot chocolate and shared a salted caramel and chocolate brownie. My expectations where high for a place called the Chocolate Bar. I would say they definitely met my expectations! The really fun part about The Chocolate Bar was their dessert inspired martini menu. A few of their martinis are tiramisu, white chocolate raspberry, turtle and German chocolate. I was too stuffed to try a cocktail but it's certainly a reason to go back the next time I visit Northstar.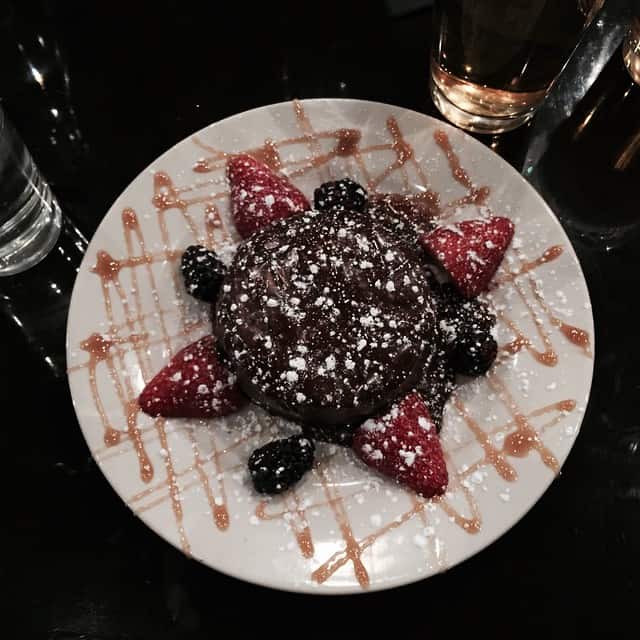 There was plenty more places we did not have the chance to visit but that is all the more reason to go back and we definitely will. I have to say that out of all the different resorts I've been to that are owned by Vail Corporation, Northstar is my favorite. Did I mention that?
They are so connected to the experience of the guests and making the most of it. I know there is so much more they have to offer that I didn't cover. I wish we could have stayed for more than 3 days, but we packed so much into 3 days that the trip felt like it was longer. We were sad to leave and head back to reality but every vacation must come to an end.
Heads up -cheesy photo op!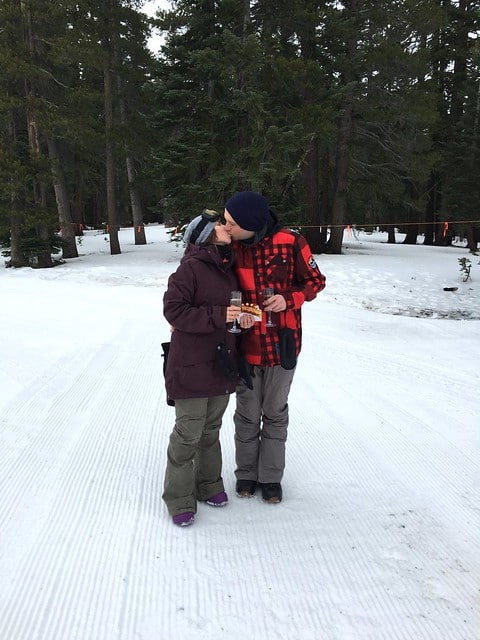 That's why I am headed to Colorado for my next trip. I can't get enough.