This post may contain affiliate sales links. Please see my full disclosure policy for details
This homemade Funfetti Pudding Pie is a cake batter lover's dream. The from-scratch Funfetti pudding is topped with a cake batter whipped cream. This pie is insanely delicious.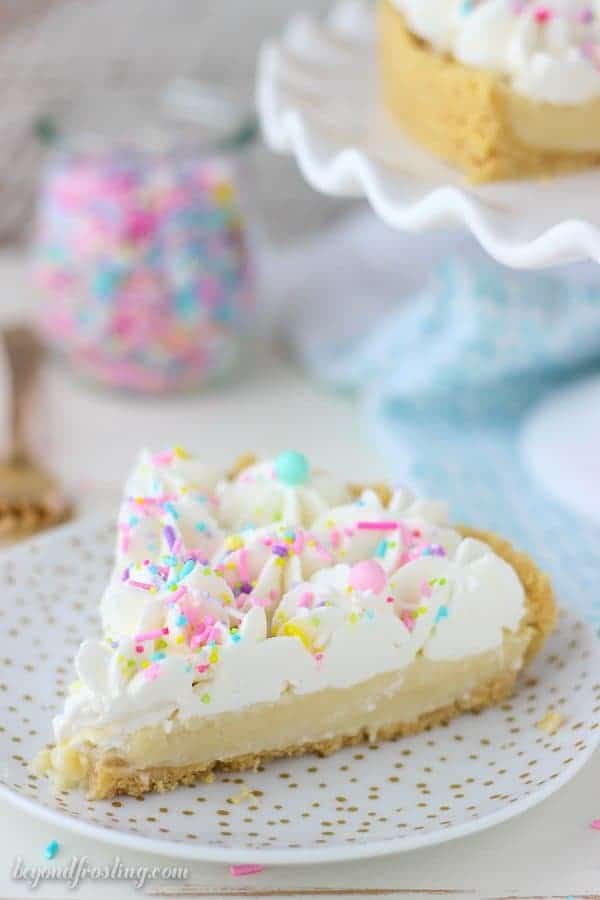 Random thought of the day. Every time I watch Planet Earth I get totally sucked in. It must be the music and the soft voice, the wonders of the world that drag me in. Then before you know it, hours have past and I still have so much to do. Am I right? Am I?
This past week I got Invisalign. So far I am not that pumped on it. Please tell me if gets better. I'll spare you my complaining and try to focus on the end results. The one positive thing is that they are basically a dieter's best friend. In lieu of sipping on diet coke and black ice tea, I am drinking a lot of sparkling water. There's no way I am going to take these things off for a few bites of pie, which means that I have to brush my teeth afterwards. SO much brushing.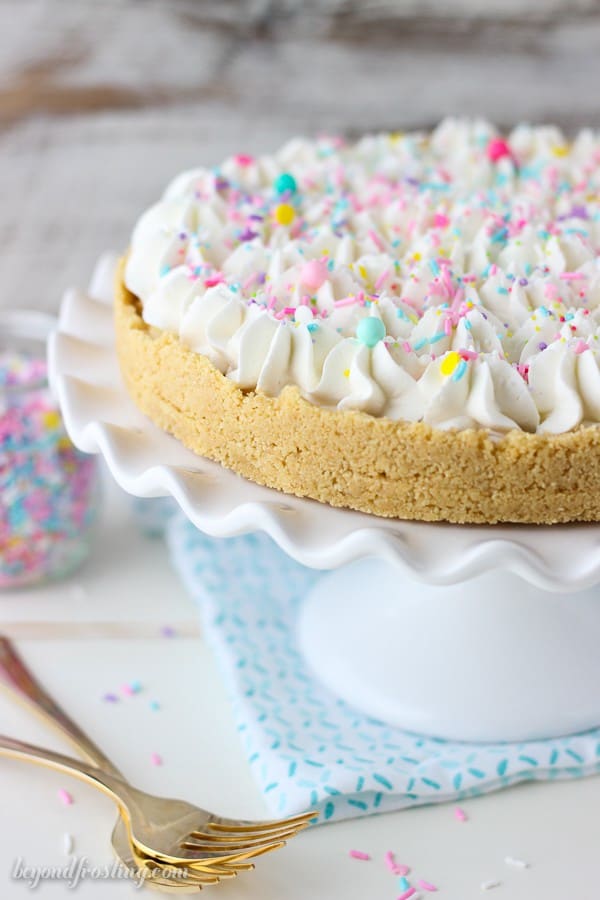 There are exceptions to my rule of course. This Funfetti Pudding Pie being one of them. Thank goodness that I didn't have my retainers when I made this pie, but for the sake of my hips, I probably should have.
If you follow me on Snapchat (@beyondfrosting) then you might have seen me snapping about this pie. I literally COULD NOT stop eating this pie. It was like it was haunting me in the fridge and before I knew it, it was nearly half gone. So I did the unspeakable; I had to thrown it away for my own good. It wasn't going to last till Monday because I was eating too much of it. I am terribly sorry for throwing out this pie because it deserved to be shared with everyone, but sometimes you gotta do what you gotta do for the sake of your diet.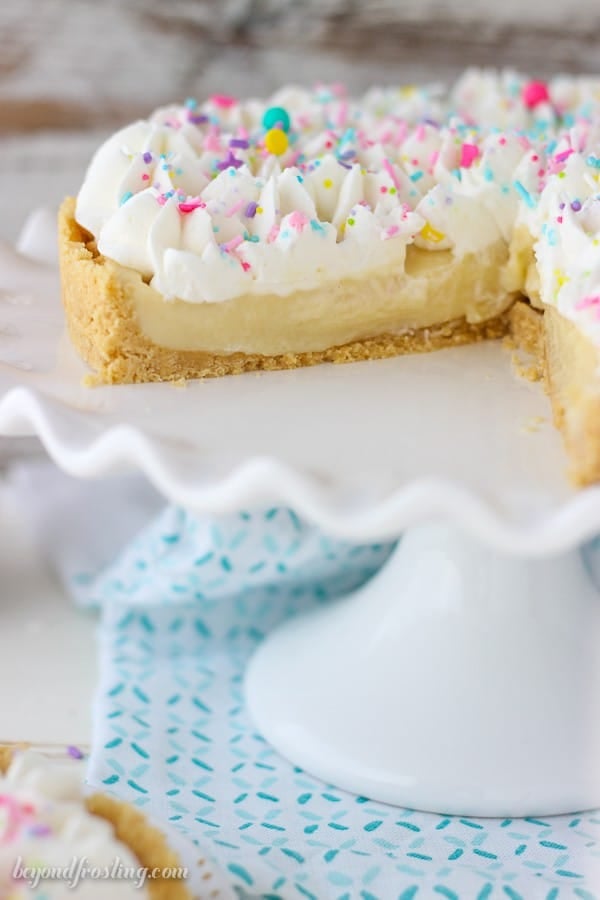 I bet you must be wondering why this pie is so dang good.
First of all, I might never make a graham cracker crust again, because Golden Oreos are definitely my best friend (okay that might be a stretch but you get my drift). It not just the crust though, this pie is all about the filling.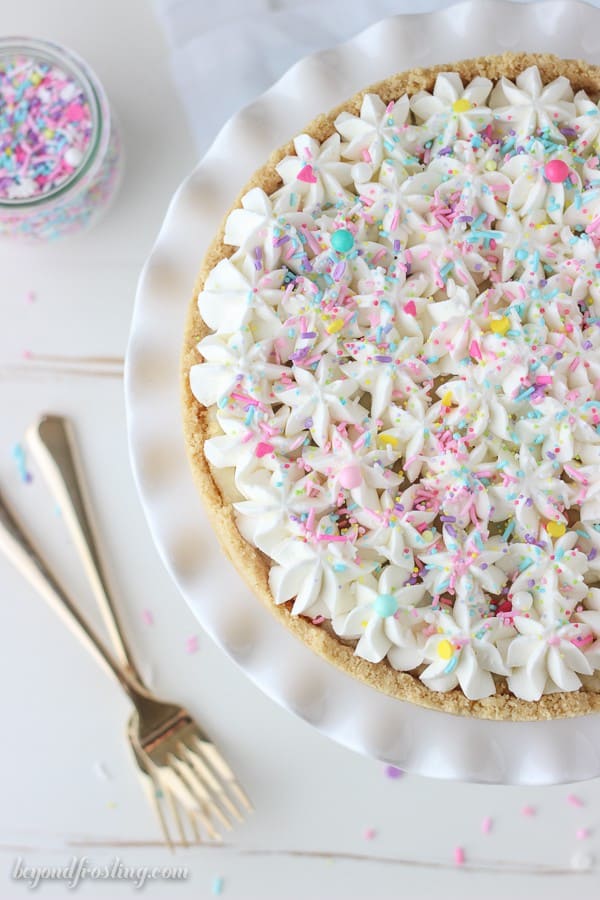 This is a homemade Funfetti pudding, it is what dreams are made of. This is a hybrid of two different recipes in my cookbook, No-Bake Treats. In my book, I have a Birthday Cake Lasagna and I also have some Funfetti Cream Pie parfaits. This pudding is adapted to fit a 9-inch pie plate, and made with some additional eggs yolks, gelatin and non-fat milk.
There once was a time when I intimidated by gelatin, but that time has long past. There are two important parts. One is to let it "bloom" by sprinkling it over the cold water and letting it turn to a solid gel-like texture. This usually takes 2-3 minutes. Then you need to turn it back into liquid by heating it, and mixing it into your liquid. This can be the milk in this pudding, some heavy cream in your whipped cream or some melted chocolate for your mousse. So please friends, just give it a try!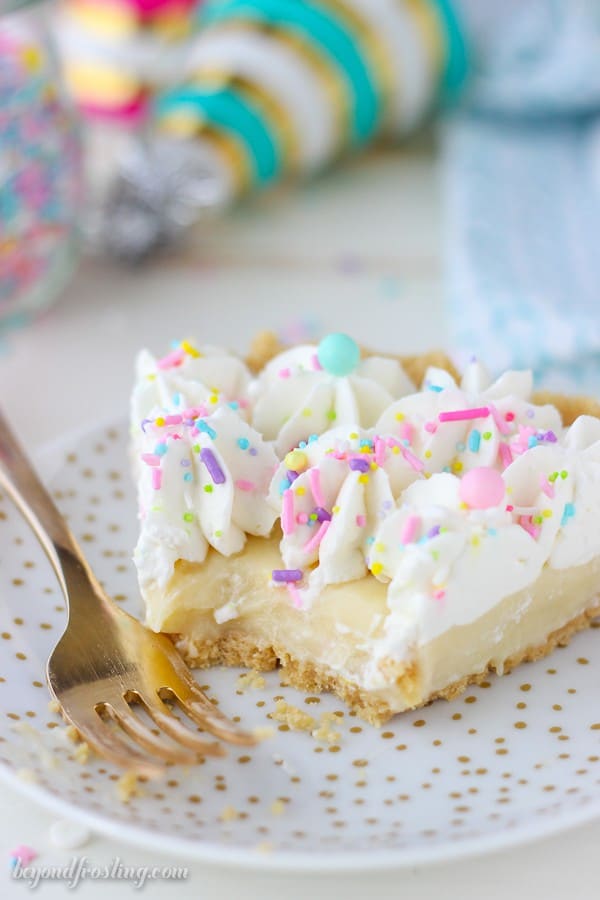 When it comes to making homemade pudding there are two important things you need to know. One is to work quickly to temper the egg yolks. This is done by pouring some of the warm (but not hot) liquid into the yolk, whisking it quickly and then pouring it right back into you saucepan. Work quickly and keep stirring! It's a lot easier than you think.
The second tip I have is the same one I shared when I made my No-Bake Bourbon Butterscotch Pudding Pie. Prepare your crust first, and then as soon as your pudding is done, pour it directly into your crust. Now I also strain my pudding through a fine sieve, so that I can catch any dry ingredients that didn't dissolve. This helps make the pudding nice and smooth.
Then I immediately cover the pudding with plastic wrap and poke a couple of holes with a toothpick. This will prevent the pudding from forming a skin over top of it. Boom! Homemade pudding success.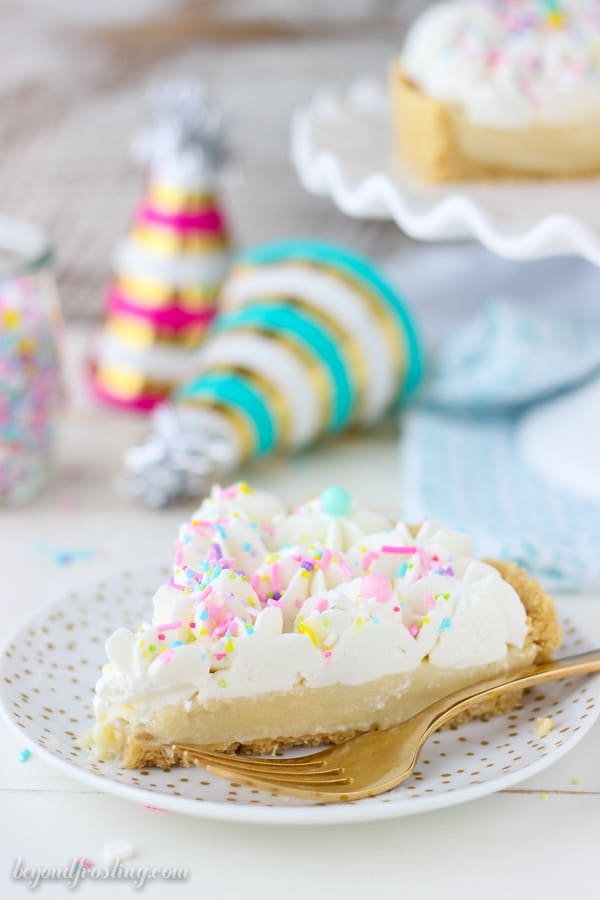 There is one more reason that this pie is downright amazing, and it has to do with the cake batter whipped cream topping. I am no stranger to this glorious whipped cream, I don't even need a reason to make it. Pass me a spoon and I am good to go. I definitely included some recipes in my book with the cake batter whipped cream.
The one catch is that you need to allow enough time for the pudding to completely set and get cold. Generally I will make the pudding a day a head of time and then add the whipped cream before serving. You can always make the whipped cream at the same time and just keep it in the fridge until the pudding is ready.
I hope I don't need to convince you any further that this pie must happen, immediately if not sooner.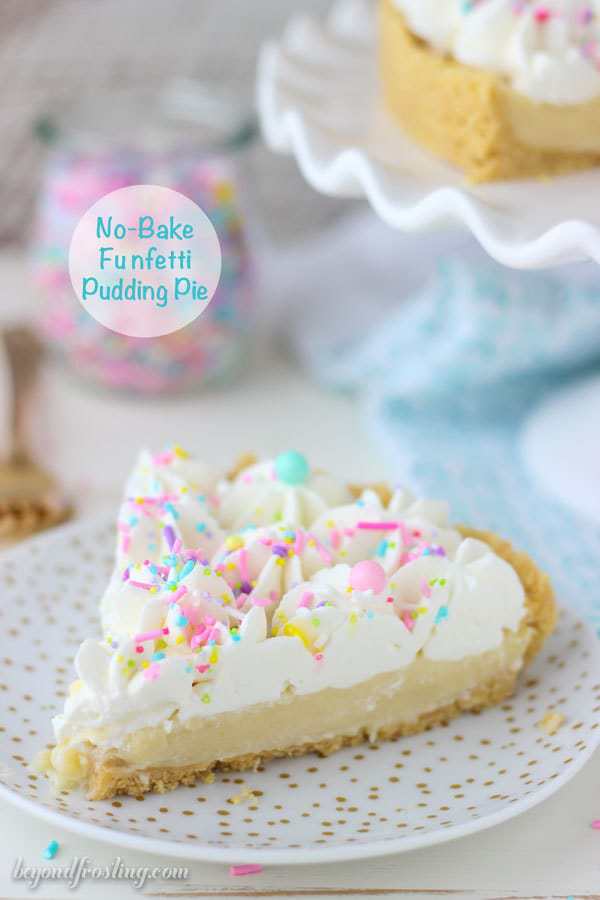 Facebook | Twitter | Pinterest | Instagram
If you love no-bake recipes, be sure to check out my cookbook, No-Bake Treats!
Don't forget to watch my quick trips for making the perfect no-bake crust!
Print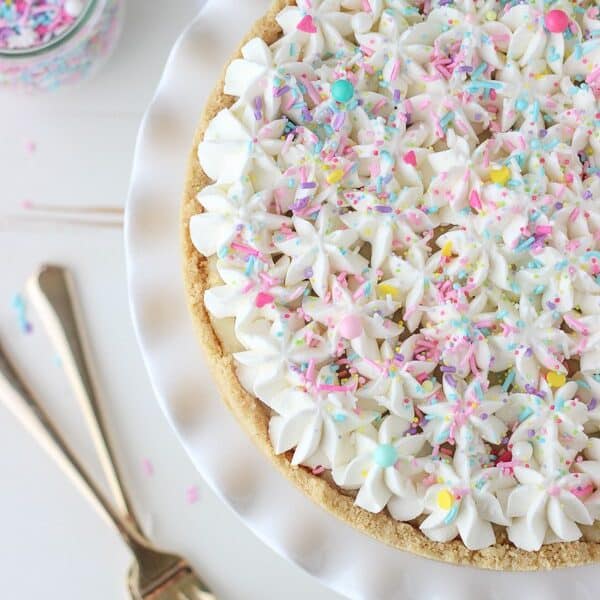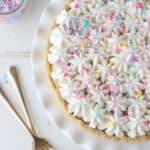 No-Bake Funfetti Pudding Pie
Author:

Prep Time:

20 mins

Cook Time:

10 mins

Total Time:

30 minutes

Yield:

8 slices
Description
This creamy no-bake pudding pie is given an upgrade with colorful funfetti!
Ingredients
For the crust

24

Golden Oreos

5 tablespoons

unsalted butter
For the pudding

1 tablespoons

cold water

1 teaspoon

gelatin

3

egg yolks

2 cups

milk (I used nonfat)

1 teaspoon

vanilla extract

1/3 cup

granulated sugar

3 tablespoons

vanilla cake mix (dry)
For the topping

1 ¼ cups

heavy whipping cream

4 tablespoons

vanilla cake mix (dry)

¼ cup

powdered sugar
Sprinkles for garnish
Instructions
For the crust: Prepare a 9-inch springform pan by lightly greasing the edges of the pan with cooking spray, and then wiping gently with a paper towel.
Grind the Oreos into fine crumbs using a food processor or blender.
In a microwave-safe bowl, microwave the butter for 45 to 60 seconds until the butter is melted.
In a separate medium-size bowl, pour the melted butter into the Oreo crumbs and stir until there are no dry crumbs left.
Pour the crumbs into your springform pan and press firmly into the bottom and up on the sides to create a thick crust. Refrigerate the crust while you are preparing the pudding.
For the pudding: Measure out all of the ingredients for the pudding prior to starting.
In a medium-size saucepan, add the cold water and sprinkle the gelatin over the top. Allow the gelatin to sit for about 2 minutes until firm.
Place the egg yolks in a separate bowl and whisk lightly.
Once the gelatin is firm, turn the heat to medium-low and allow the gelatin to dissolve back into liquid.
Quickly add the milk and vanilla extract and continuing to whisk over medium-low heat.
Add the granulated sugar and vanilla cake mix and whisk constantly to dissolve the dry ingredients into the milk.
Once the mixture is warm but not hot, pour about ¼ cup of the milk into the eggs and whisk vigorously. You will need to work quickly to prevent the eggs from becoming scrambled.
Immediately pour the egg yolks back into the pan and whisk constantly until the pudding starts to thicken and lightly bubble.
Remove the pudding from the heat and immediately strain the pudding through a fine sieve into the prepared crust. This step is optional, but it will help catch any lumps of ingredients that did not get blended.
Immediately cover the top of the pudding with clear plastic wrap (directly on the surface of the pudding) and poke a few holes with a toothpick.
Allow it to cool on the counter for at least 1 hour before refrigerating. Refrigerate the pie for 4 to 6 hours until the filling is firm before adding the topping.
For the whipping topping: Place the mixing bowl and whisk attachment in the freezer for 5 to 10 minutes to chill.
Pour the heavy whipping cream into the chilled bowl and use an electric mixer to beat the heavy cream on medium-high speed until the cream gets bubbly.
Slowly add the vanilla cake mix and powdered sugar and continue beating on high speed until stiff peaks form.
Pipe the whipped cream using a large open star tip or spread the whipped cream over the top of the pie and garnish with sprinkles.
This pie must be refrigerated.
Notes
I made this in a 9-inch spring form pan, but you can also use a pie plate.
Category:

Dessert

Method:

Refrigerator

Cuisine:

American
Keywords: no bake pie, pudding pie, no bake desserts
Visit Beyond Frosting's profile on Pinterest.
You might also like: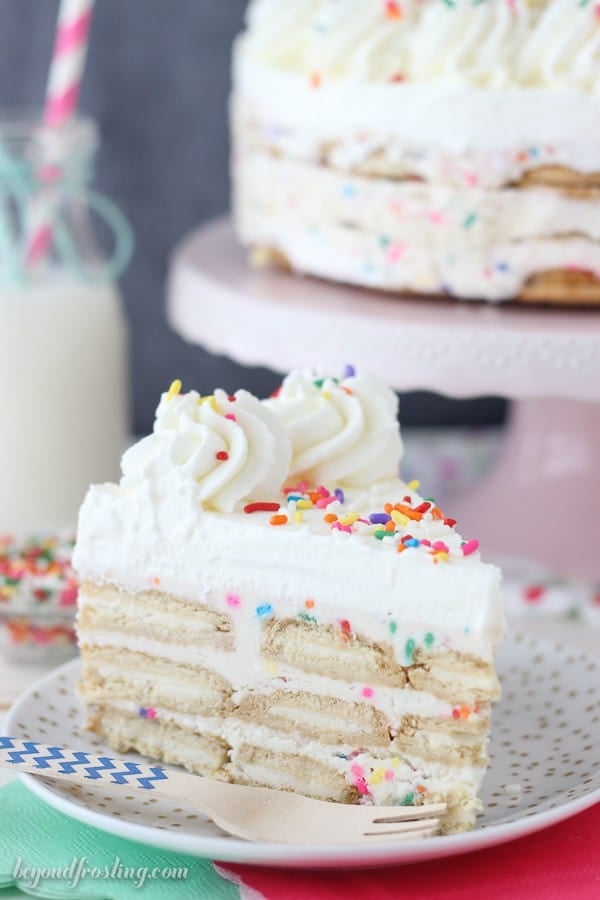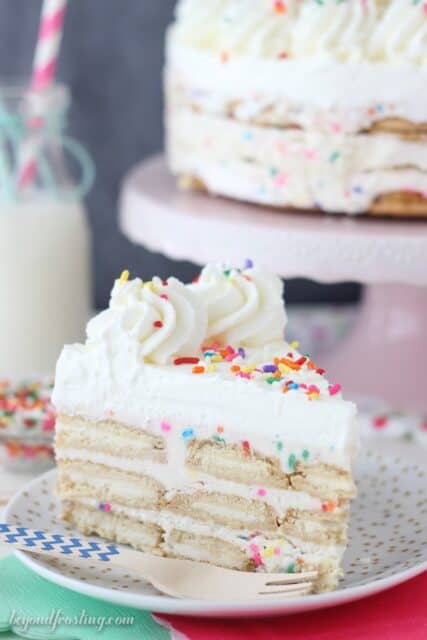 Funfetti Cookie Dough Ice Cream Pie