This post may contain affiliate sales links. Please see my full disclosure policy for details
Cut yourself an extra large slice of this homemade no-bake bourbon butterscotch pie. The from-scratch bourbon butterscotch pudding is made with brown sugar, butter and bourbon. Plus this pie is topped with a bourbon whipped cream.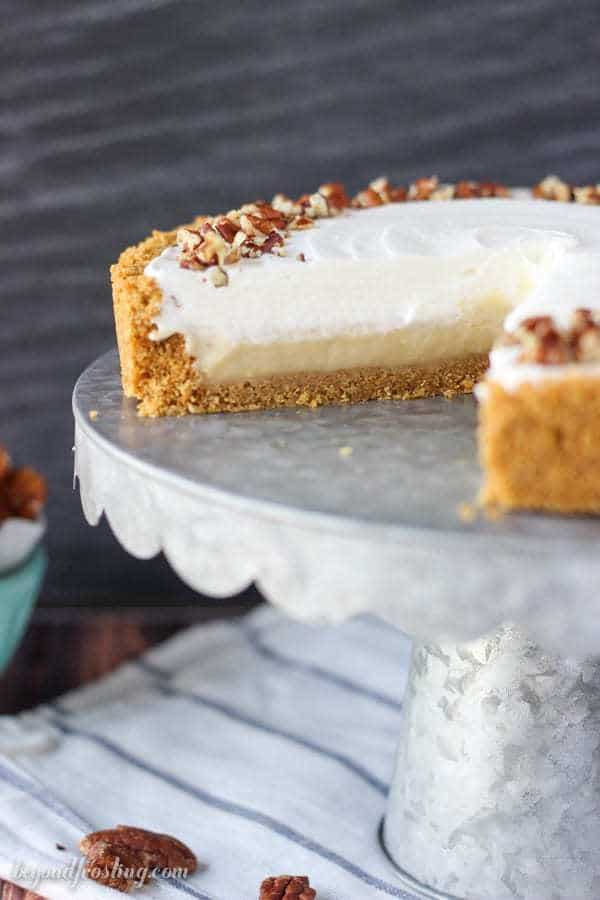 Can you guys believe July is nearly over?! This summer is seriously flying by. Even though summer is slipping through our fingertips, I am not done sharing no-bake recipes! It's still ungodly hot outside, and inside it's not much better. We don't have air conditioning, so when it's 85 degrees in the house I can barly peel myself off the couch. I am flooded with flashbacks of pumping out recipe after recipe for my cookbook despite the hot summer temperatures.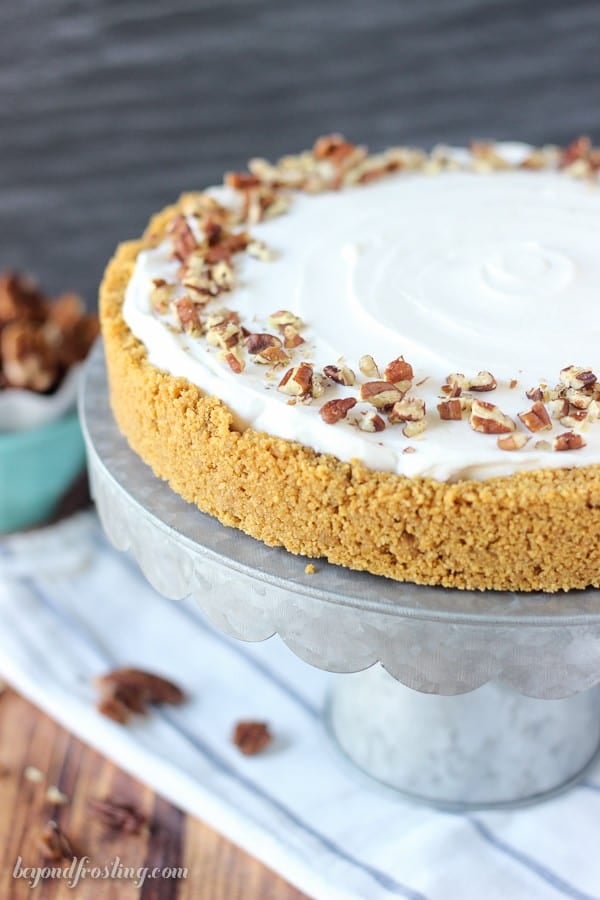 So when I remade my No-Bake Bourbon Butterscotch Pudding Pie, I was pretty pumped that I wasn't turning on the oven.
This is the second recipe I am sharing from my cookbook, No-Bake Treats. If you missed the first one, then you'll want to see my Lemon Macaroon Cheesecake. Or if chocolate is more your thing, I did share my Brownie Batter Cheesecake over at Chocolate Chocolate and More yesterday. There's a lot of no-baking going on right now!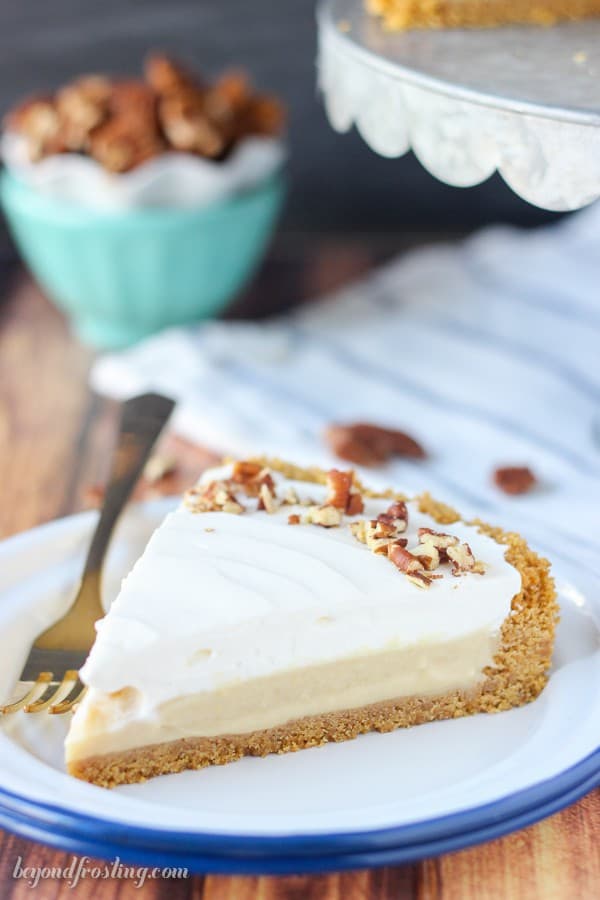 I alluded to this in my cookbook, but last fall, I traveled to Seattle for a food-filled weekend and I was delighted to have my boyfriend accompany me. We sought out some sweet spots (no pun intended) to visit, and one of them was A La Mode Pie where I had this exact same pie. After the first bite, I knew I wanted to recreate it for my book and I am so glad I did. Seriously, if you are ever in Seattle, you HAVE to go to A La Mode Pies, and also be sure to get a pie milkshake because OH MY GOSH!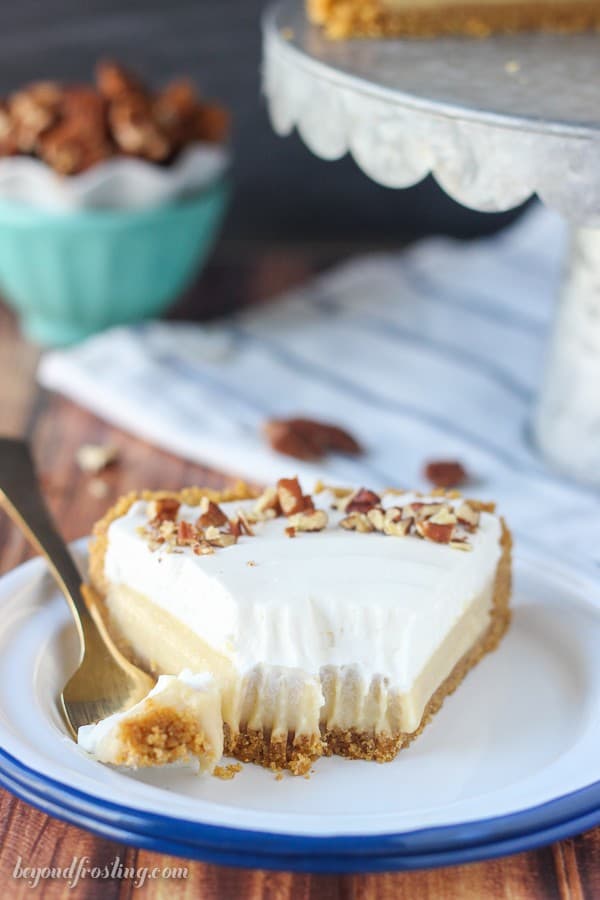 So let me tell you why you have to make this pie STAT. The butterscotch pudding is homemade, from scratch using butter, brown sugar and bourbon. I also added a bit of bourbon to the whipped cream, because I'm an adult and I do what I want. Now you don't have to take my word for it, but Dorothy made the alcohol free version of this butterscotch pudding pie, and she said it was "the best pie she's ever eaten" and I didn't even pay her to say that! And that girl knows her pie.
Please don't be intimidated to make this pudding from scratch. It really is quite easy. Just start with your heat on low so that your eggs don't cook right when you drop them in the pan. You definitely want to prepare all of your ingredients head of time so you can add them one right after another. Lastly, just keep on whisking! You want to blend all those dry ingredients into the pudding and if you have a fine mesh sieve, strain your pudding.
Oh, I actually have one more tip. I strained the pudding directly into the crust, but then I immediately cover it with saran wrap, and press it onto the surface of the pudding. This helps prevent that nasty "skin" from forming on the top of the pudding. I like to poke a few holes with toothpick on top too to let some of the hot air out.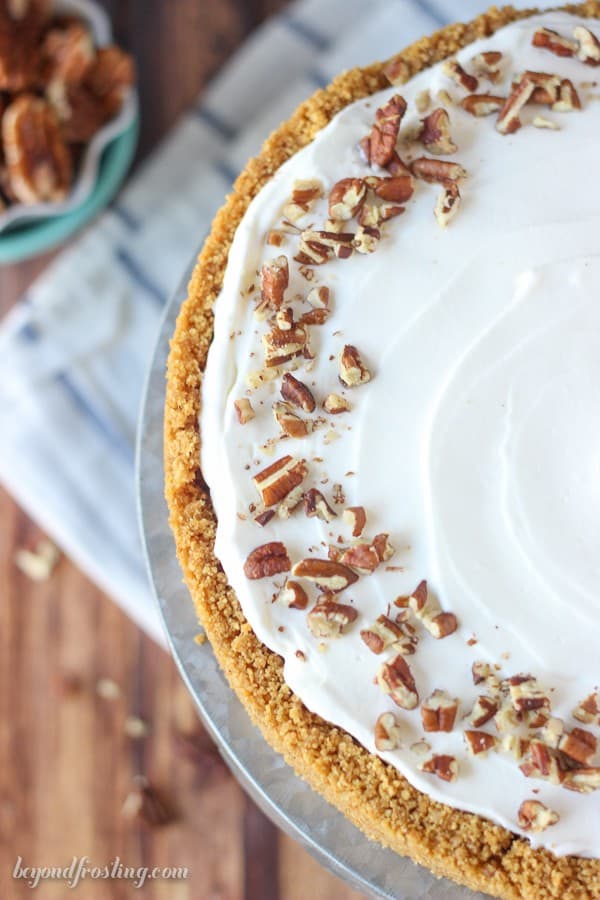 You and your friends are sure to devour this pie! The weekend I made this pie was the same weekend my Dad was visiting back in June. I hope he isn't embarrassed that I am telling you this, but he ate the whole pie over 3 days (minus the slice you see in the photos). Can you blame him though? This pie is THAT good!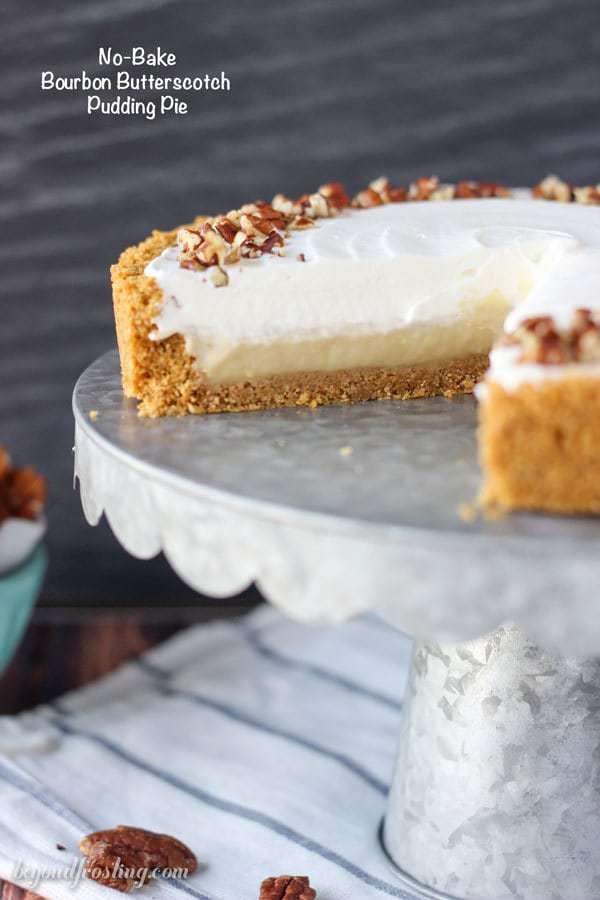 Facebook | Twitter | Pinterest | Instagram
If you love no-bake recipes, be sure to check out my cookbook, No-Bake Treats!
Don't forget to watch my quick trips for making the perfect no-bake crust!
Print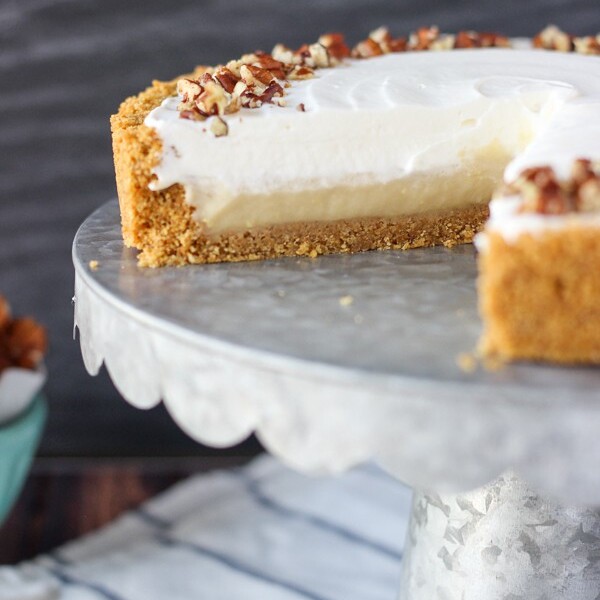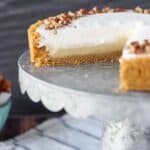 No-Bake Bourbon Butterscotch Pie
Author:

Prep Time:

6 hours

Cook Time:

0 minutes

Total Time:

6 hours

Yield:

8 slices
Description
The from-scratch bourbon butterscotch pudding is made with brown sugar, butter and bourbon. Plus this pie is topped with a bourbon whipped cream.
Ingredients
For the crust:
2 ¼ cups

graham cracker crumbs

8 tablespoons

unsalted butter
For the pudding:
2 tablespoons

unsalted butter

3

large egg yolks

¾ cup

light brown sugar

1 ½ cups

milk

½ cup

heavy whipping cream

3 tablespoons

corn starch

1 tablespoons

bourbon
For the topping:
¾ cup

heavy whipping cream

2 teaspoons

bourbon

½ cup

powdered sugar

¼ cup

pecans, crushed
Instructions
For the crust:
Prepare a 9-inch (23-cm) springform pan by lightly greasing the edges of the pan with cooking spray, and then wiping gently with a paper towel.
Grind the graham crackers into fine crumbs using a food processor or blender. In a microwave-safe bowl, microwave the butter for 45 to 60 seconds until the butter is melted. Pour the melted butter into the graham cracker crumbs and stir until there are no dry crumbs left. Pour the crumbs into your springform pan and press firmly into the bottom and up on the sides to create a thick crust.
For the pudding:
Measure out all of the ingredients for the pudding prior to starting. You will need to work quickly to prevent the eggs from becoming scrambled.
In a medium-size saucepan, melt the butter over medium-low heat. Once the butter is melted, add the egg yolks, whisking continuously until well combined. Immediately add the brown sugar and whisk into the eggs.
Quickly add the milk and heavy whipping cream, continuing to whisk over medium low heat. Add the cornstarch 1 tablespoon at a time, and whisk until dissolved.
Once the pudding starts to thicken, continue cooking for another couple of minutes until it's bubbling lightly. Remove the pudding from the heat and whisk in the bourbon (if desired), stirring rapidly until the pudding is well blended.
Strain the pudding through a fine sieve into the prepared crust. This step is optional, but it will help catch any lumps of ingredients that did not get blended.
Immediately cover the top of the pudding with clear plastic wrap (directly on the surface of the pudding) and poke a few holes with a toothpick. Allow it to cool on the counter for at least 1 hour before refrigerating. Refrigerate the pie for 4 to 6 hours until the filling is firm before adding the topping.
For the topping:
Place the mixing bowl and whisk attachment in the freezer for 5 to 10 minutes to chill. Pour the heavy whipping cream and bourbon (if desired) into the chilled bowl and use an electric mixer to beat the heavy cream on medium-high speed until the cream gets bubbly.
Slowly add the powdered sugar and continue beating on high speed until stiff peaks form.
Spread the whipped cream over the top of the pie and garnish with crushed pecans.
Category:

Pie

Method:

Stovetop

Cuisine:

American
Keywords: No-bake dessert, butterscotch pudding, pudding pie