This post may contain affiliate sales links. Please see my full disclosure policy for details
Hello and welcome to national ice cream month! It's like a month long holiday where it's acceptable to eat ice cream everyday right? That's what I thought. Since July 20th is national ice cream day, I thought it was only fitting to load you guys up with a few more ice cream recipes to celebrate.
This Peach Maple Walnut Ice Cream is all that is right in ice cream. First, lets start with the peaches. They are sautéed in a little bit of browned butter and coated with cinnamon and brown sugar. The peaches are added into an ice cream based flavored with brown sugar, maple syrup and bourbon. To finish it off, I threw in some walnuts. Can I get a heck yes?
You guys know how much I have been chatting about peaches lately. See my last few posts! Well it was only fitting I made an ice cream flavor. My first job was at an ice cream and candy parlor in Southern Vermont. There was a peach ice cream that we had that was enough to day dream about. It made an amazing milkshake.
I decided to combine peaches with a few of my favorite flavors like maple and cinnamon, not to mention bourbon. The bourbon is completely optional, but as I mentioned before, I have a bottle to get rid of, sooooo expect a few more recipes perhaps.
One last reminder about homemade ice cream. It takes a little bit of planning. Unless you keep your ice cream maker in the freezer at all times, you will need to allow 12-15 hours of freezing time before you plan to make the ice cream.
You also need to make sure that all ingredients are cold before you add it to the machine to churn. It's best if you make the ice cream the night before you plan to serve it, so it has time to harden, although I don't mind this ice cream in a soft custard form either!
Keep up with all the happenings. Follow Beyond Frosting:
Facebook | Twitter | Pinterest | Instagram
Print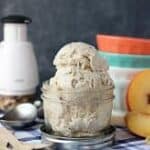 Peach Maple Walnut Ice Cream
Prep Time:

16 hours

Cook Time:

20 minutes

Total Time:

16 hours 20 minutes
Description
The peaches are sautéed in browned butter and coated with cinnamon and brown sugar. The peaches are added into an ice cream based flavored with brown sugar, maple syrup and bourbon (optional).
Ingredients
2

Large peaches

3 tbsp

Unsalted butter, browned

1 tbsp

Brown Sugar

1 tsp

Cinnamon

3

C Heavy whipping cream

1/2

C Sugar

1/4

C Brown sugar

2 tbsp

Maple syrup

1 tbsp

Bourbon

1 tsp

Cinnamon

1

C Walnuts, crushed
Instructions
Pre-freeze ice cream maker according to manufactures instructions.
Prepare the peaches. Remove the skin with a vegetable peeler and slice into small pieces. Set aside.
Brown butter in a medium sized nonstick pot. Butter is ready when it starts to have a nutty aroma and turns slightly brown in color. Add peaches to brown butter and stir to coat.
Add brown sugar and cinnamon and cook over medium heat until peaches are soft. Use a masher to smash peaches. Remove from heat and cool completely. Refrigerate until ready to make the ice cream.
In a medium sauce pan, combine 2 cups of heavy cream, sugar, brown sugar, maple syrup, bourbon and cinnamon. Stir until mixture is boiling for 2-3 minutes.
Remove from heat and stir in remaining 1 cup of heavy whipping cream.
Refrigerate until mixture is completely cold. If mixture gets slightly firm, it may be reheated until liquid forms again. Return to the freezer to cool rapidly.
Start your ice cream maker before adding the liquid. Pour liquid in slowly and churn for 10-15 minutes until custard starts to form. Pour the smashed peaches into the ice cream.
Continue to churn for another 5 minutes. Add half of the crushed walnuts.
Once mixture has reached custard form, stop the mixer and spoon into freezer safe container. Layer in remaining walnuts.
Freeze for 4-6 hours.
Notes
The prep time and total time includes both the pre-freezing of your ice cream maker and also the freezing time for the ice cream.
Recipe Card powered by
Recipes from my friends:
Peaches and Cream Popsicles from Grandbaby Cakes
Dairy-free Vanilla Peach Ice Cream from This Gal Cooks
Peaches and Cream Bars from Sally's Baking Addiction
Other recipes you might like:
For my other ice cream and frozen treats, click HERE.
Brown Butter Peach Shortbread Parfaits