This post may contain affiliate sales links. Please see my full disclosure policy for details
Homemade Bourbon Apple Pie Ice Cream is a perfect excuse to make dessert. It's a sweet cinnamon bourbon ice cream with delicious apple pie filing throughout. Nothing beats this homemade ice cream recipe!
If you enjoy this ice cream recipe, you'll love my Homemade Pumpkin Pie Ice Cream and this Maple Spice Cake Ice Cream.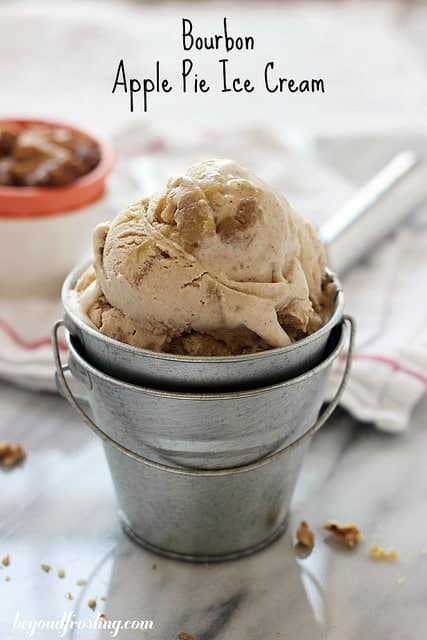 Bourbon Apple Pie Ice Cream
As soon as I got my ice cream maker (and figured out how to use it), store bought ice cream has never been the same. This Bourbon Apple Pie Ice Cream is a dream come true. With the combination of flavors, each bite will leave you asking for more! Did you know it was Apple week? The second day of Apple Week with Lindsay sure doesn't disappoint. She is sharing a Caramel Apple Layer cake today! Be sure to check out my post from Monday while you are here.
This recipe was inspired from my Peach Maple Walnut Ice Cream. The base of the ice cream is made with heavy cream, maple syrup, brown sugar, lots of cinnamon and a little bit of bourbon.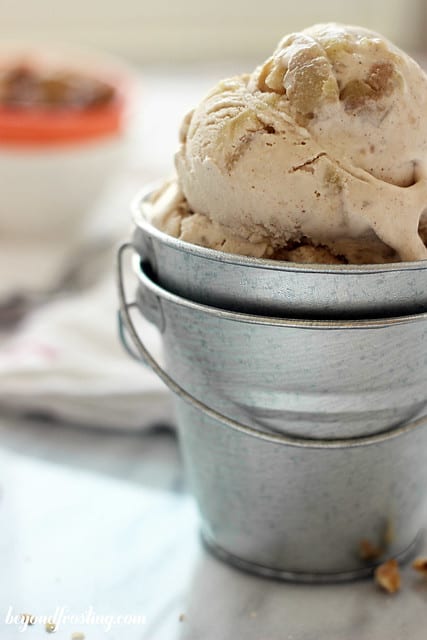 How To Make Homemade Ice Cream
In order to make ice cream at home, you need to make sure all the ingredients are cold. That means that you should prepare the heavy cream mixture a couple hours in advance of making your ice cream, otherwise you will need to stick it in the freezer to help cool it off.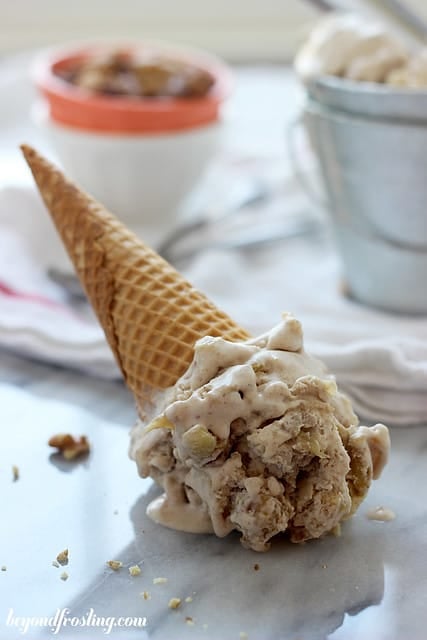 The Best Way To Make Apple Pie Filling For Ice Cream
This also means that you need to prepare the apple pie filling in advance as well. I think it really helps to mash the apples like apple sauce instead of leaving them chunks. Big chunks of frozen apples aren't always the easiest to eat! I left a few chunks in my ice cream but I prefer it to be more pureed that chunky.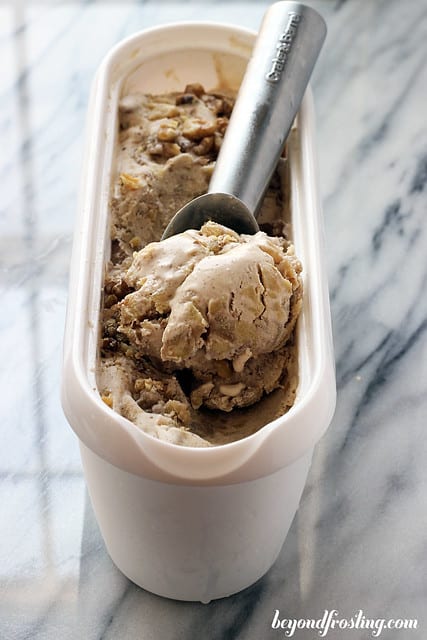 How To Make Bourbon Apple Pie Ice Cream
I churn this ice cream on slow for about 10 minutes and then increase the speed. Then, I add the smashed apples directly to the ice cream mixture. It is best to add this in during the last couple of minutes. I really can't resist having a few bites of ice cream right out of container, it has more of a custard consistency.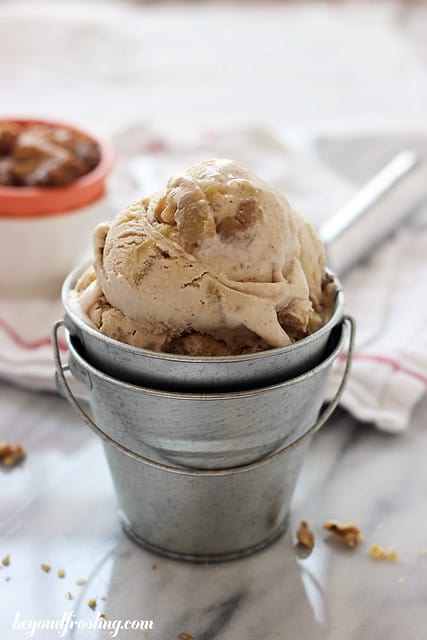 I usually freeze my ice cream for a few hours before I eat the rest. Sometimes if the ice cream over freezes, I let it thaw for about twenty minutes before serving. I just really like soft ice cream. When I was younger, I used to stir my ice cream until it reached a milk shake consistency. Old habits don't die. With apple season under way, I know you need another way to use them all up!
What Tools Are Needed To Make Homemade Ice Cream?
Some helpful tools tools you need for this recipe include an ice cream tub for your freezer and an ice cream maker. I have the attachment for my KitchenAid mixer but if you don't have a KitchenAid mixer, I hear this Cuisinart ice cream maker is really popular.
Keep up with all the happenings. Follow Beyond Frosting:
Facebook | Twitter | Pinterest | Instagram
Print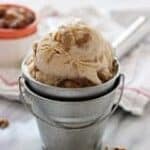 Bourbon Apple Pie Ice Cream
Author:

Prep Time:

15 hours

Cook Time:

20 mins

Total Time:

15 hours 20 minutes
Description
Homemade Bourbon Apple Pie Ice Cream is a sweet cinnamon bourbon ice cream with delicious apple pie filing. Nothing beats this homemade ice cream recipe!
Ingredients
For the filling
3

–

4

Medium apples, sliced

1

Lemon, juiced

2 tbsp

Light brown sugar

2 tbsp

All-purpose flour

2 tbsp

Maple syrup

1 tbsp

Bourbon

2 tsp

Cinnamon

1 tsp

Apple pie spice
For the ice cream base
3

C Heavy whipping cream

1/2

C Sugar

1/4

C Light Brown sugar

2 tbsp

Maple syrup

1 tbsp

Bourbon

1 tsp

Cinnamon

1

C Walnuts, crushed
Instructions
Pre-freeze ice cream maker according to manufactures instructions.
Slice apples into small pieces and squeeze a lemon over top and stir to combine.
Add brown sugar, flour, maple syrup, cinnamon, apple pie spice over top of apples. Stir to mix ingredients.
Heat apples on the stove over medium heat for 15-20 minutes until soft. Stir occasionally. You want the apples to be mushy like apple sauce, instead of the larger chunks. Set aside and allow to cool completely, refrigerate if necessary.
In a medium sauce pan, combine 2 cups of heavy cream, sugar, brown sugar, maple syrup, bourbon and cinnamon. Stir until mixture is boiling for 2-3 minutes.
Remove from heat and stir in remaining 1 cup of heavy whipping cream.
Refrigerate until mixture is completely cold. If mixture gets slightly firm, it may be reheated until liquid forms again. Return to the freezer to cool rapidly.
Start your ice cream maker before adding the liquid. Pour liquid in slowly and churn on low for 10 minutes until custard starts to form. Increase speed and churn for another 5 minutes. Pour the smashed apple pie filling into the ice cream. Add half of the crushed walnuts.
Once mixture has reached custard form, stop the mixer and spoon into freezer safe container. Layer in remaining walnuts.
Freeze for 4-6 hours.
Notes
The prep time and total time includes both the pre-freezing of your ice cream maker
Category:

Ice Cream

Method:

Ice Cream Maker

Cuisine:

American
Keywords: bourbon ice cream, homemade ice cream, how to make ice cream, apple pie ice cream, apple ice cream, homemade ice cream recipe, how to make home made ice cream, ice cream recipe
More Apple And Ice Cream Recipes You Might Like:
Apple Pie Muffins with Maple Swiss Meringue Buttercream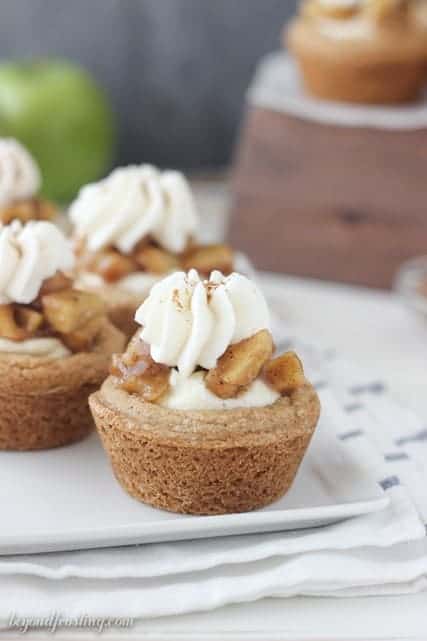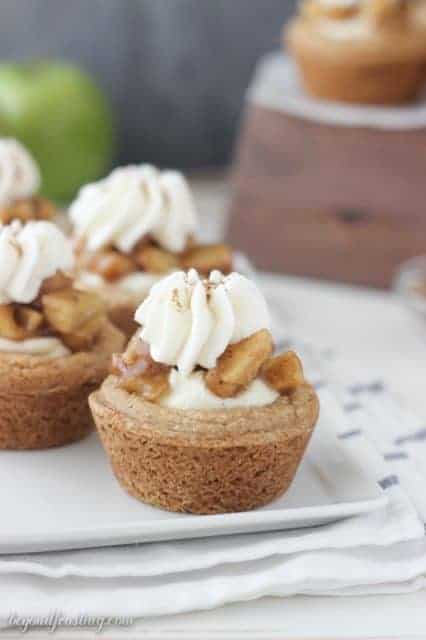 Brown Butter Apple Pie Muffins