This post may contain affiliate sales links. Please see my full disclosure policy for details
A homemade pumpkin ice cream is a custard made with half and half, heavy cream and egg yolks and topped with a graham cracker crust. This pumpkin ice cream is the real deal!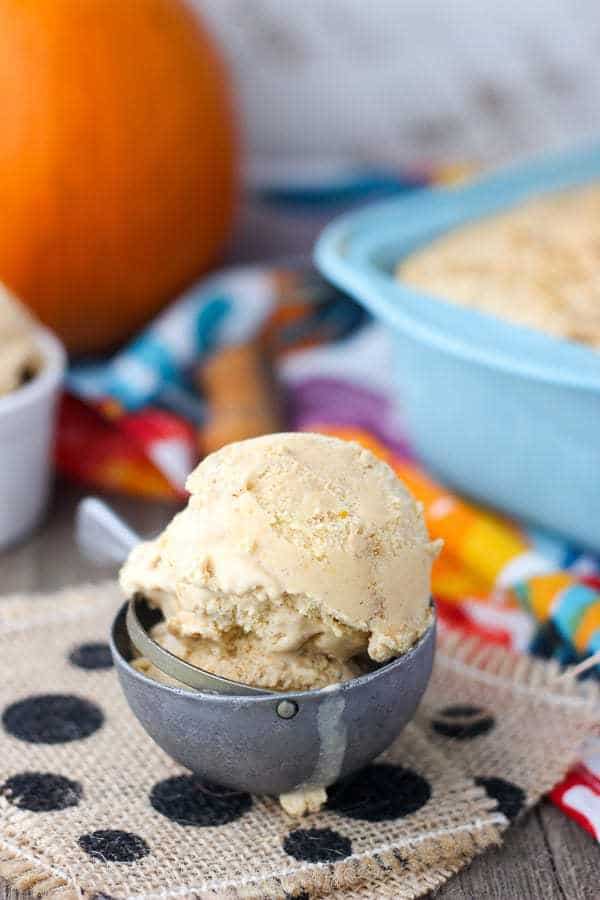 Each year I patiently wait for September so that I can find some pumpkin ice cream in my local grocery stores. It seems silly, because I certainly can make it at home. Whatever I do, no matter how hard I try, I can't quite get it to be as smooth in texture and as creamy as the grocery store.
However, this Homemade Pumpkin Pie Ice Cream is the closest I've come to a homemade recipe that I would make over and over again.
While I do have a no-churn pumpkin ice cream, it can't quite compare to a recipe that is made from scratch.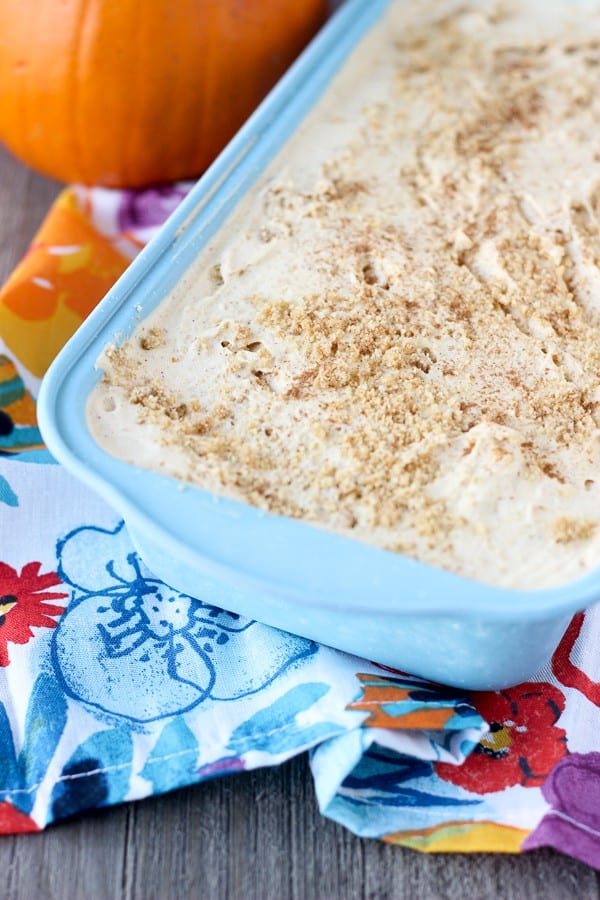 When I was looking for a recipe to share over at Better Homes and Gardens this month, I was pretty excited about trying this ice cream recipe.
The recipe calls for an ice cream base made with half and half, brown sugar and egg yolks. The only change I made to the base recipe is that I substituted one cup of heavy cream.
Here's the downside about this recipe. You have make the ice cream base on the stovetop and then wait for it to cool completely before you churn it. Sometimes I simply cannot wait because that's how much I love pumpkin ice cream. Oh and you also have to make sure you ice cream maker is fully chilled.
This ice cream does have a hint of whisky in it, which I feel is becoming my staple in my recipes, and I hope you guys are okay with that!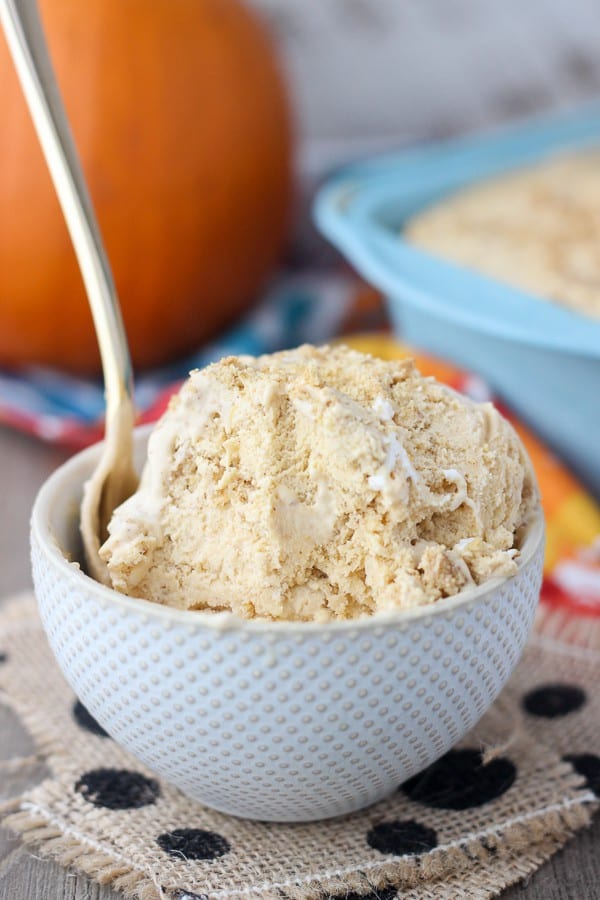 One of the ways I changed this recipe was too add some graham cracker crust crumbs into the ice cream. I just mixed ½ cup of graham cracker crumbs with 2 tablespoons of melted butter so that the crust was easy to press together. Then I sprinkles it into the ice cream as I poured it in the pan.
If you've never made homemade ice cream before, I definitely encourage you to try. If you can temper egg yolks, you can make homemade ice cream!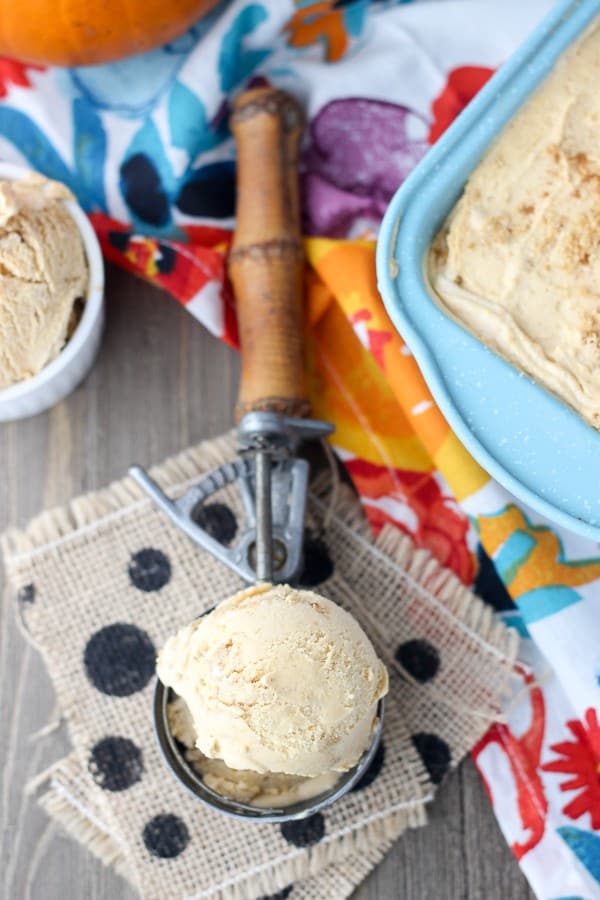 Follow Beyond Frosting:
Facebook | Twitter | Pinterest | Instagram
Print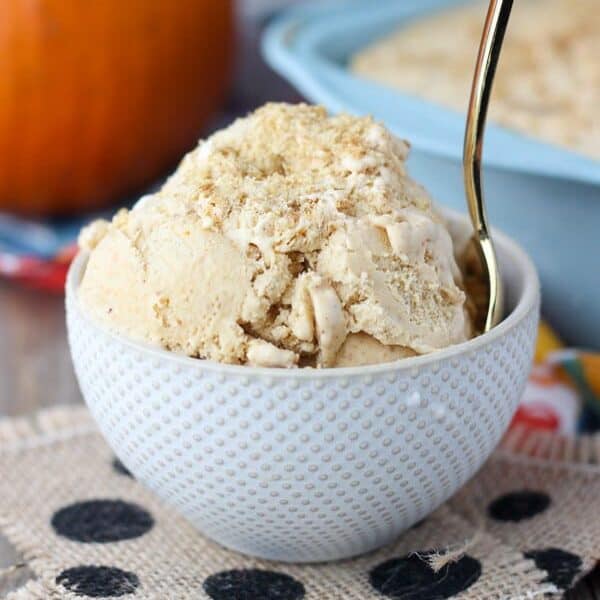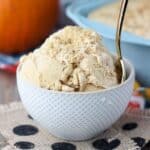 Homemade Pumpkin Pie Ice Cream
Author:

Prep Time:

10 min

Cook Time:

10 min

Total Time:

3 hours

Yield:

5 cups
Description
A homemade pumpkin custard ice cream made with half and half, heavy cream and egg yolks. Topped with a graham cracker crust. This pumpkin ice cream is the real deal!
Ingredients
2

cups half-and-half

1 cup

heavy whipping cream

3/4

cup packed light

brown sugar

5

egg yolks

1

teaspoon pumpkin pie spice

1/4

teaspoon salt

1 tablespoon

bourbon (optional)

1

teaspoon pure vanilla extract

1

cup canned pumpkin puree (not pumpkin pie filling)

1/2 cup

graham cracker crumbs

2 tablespoons

unsalted butter, melted
Instructions
In a medium saucepan, combine the half-and-half , heavy whipping cream and brown sugar. Cook over medium heat, stirring frequently to dissolve the brown sugar or until bubbles form around the edges of the pan.
In a separate bowl whisk together the egg yolks, pumpkin pie spice and salt.
Gradually whisk about 1/2 cup of the warmed liquid mixture into the eggs and continue to whisk until smooth, work quickly so as not to cook the egg yolks.
Pour the egg mixture back into the liquid mixture in the saucepan. Cook and stir over medium heat until the mixture coats the back of a large metal spoon, about 4 minutes. Do not boil.
Strain the liquid through a fine mesh sieve into a large bowl, then stir in the bourbon and vanilla.
Next, whisk the pumpkin into the mixture until thoroughly combined. Cover the surface of the liquid with plastic wrap to prevent a skin from forming. Refrigerate until well chilled, at least 3 hours.
Churn in your ice cream maker until the custard has thickened.
Combine the graham cracker crumbs with the melted butter and stir to combine. As you pour the ice cream into your freezer-safe container, layer in the graham cracker crumbs.
Pour the liquid into a freezer-safe container and freeze for 3 or more hours.
Notes
Recipe slightly adapted from BHG.com for the Delish Dish Blog.