This post may contain affiliate sales links. Please see my full disclosure policy for details
Learn how to melt chocolate chips to use for dipping, drizzling, and more, without seizing or scorching your chocolate! Below, I'm covering everything you need to know for silky smooth, melted chocolate on the stovetop and in the microwave.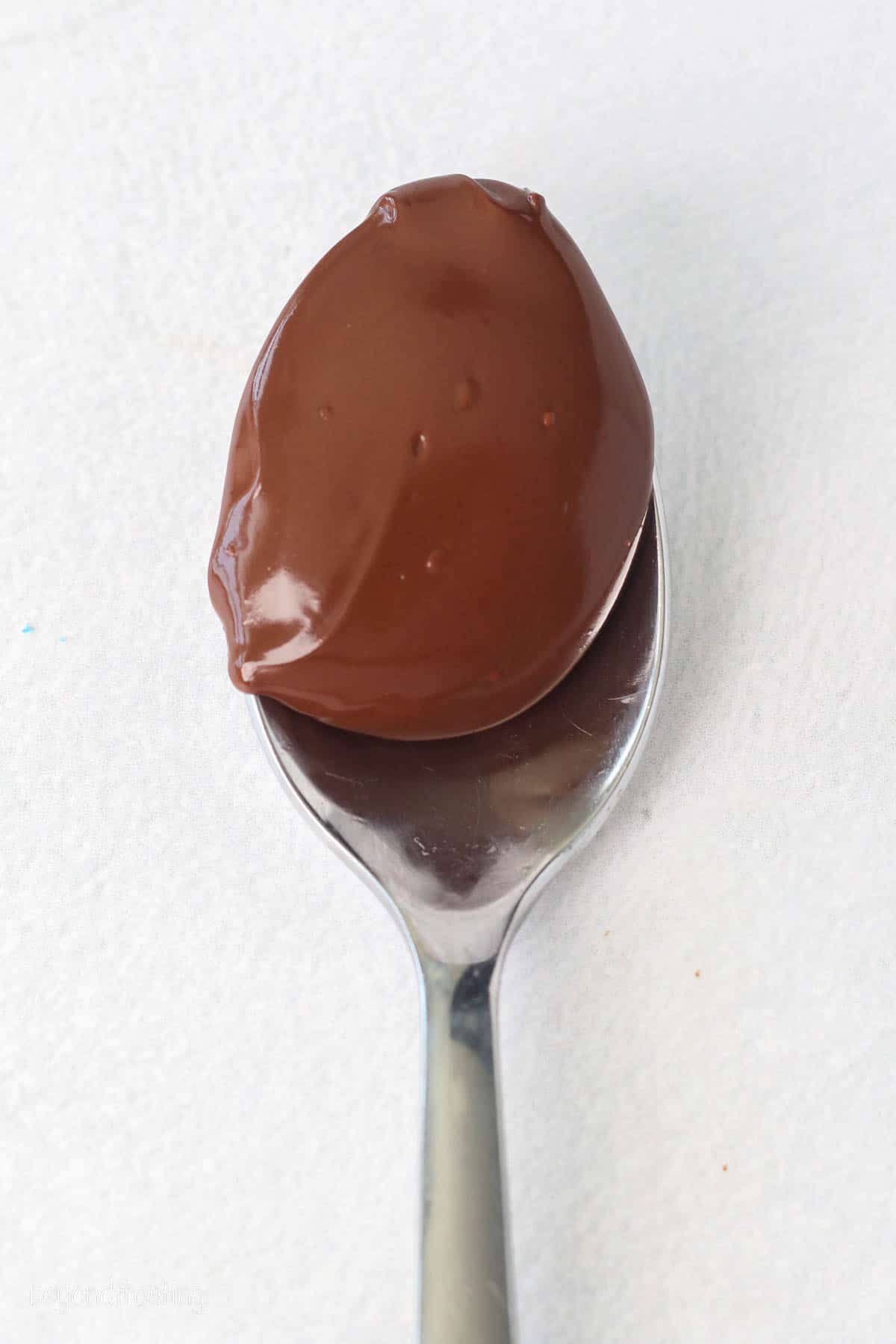 How to Melt Chocolate Chips for Baking
Melting chocolate isn't complicated. That being said, ask any home baker: it can be a slippery slope from silky smooth to scorched and unusable. Luckily, the key to perfectly melted chocolate chips lies in a few easy techniques, which we'll walk through below. Whether you're melting chocolate on its own, or melting it with cream to make chocolate ganache, I'm sharing how to get the best results using both microwave and stovetop methods.
What's the Best Way to Melt Chocolate?
My preferred methods for melting chocolate chips are the two easiest and most common: in the microwave, and in a double boiler on the stovetop. There are pros and cons to both:
Microwave – Melting chocolate in the microwave is the method with the easiest clean-up, as you need only one bowl! Since chocolate chips melt much faster in the microwave than they do on the stovetop, stirring often is key to preventing the chocolate from scorching.
Stovetop – Another way to melt chocolate chips is on the stovetop, using a double boiler method. This low-and-slow technique lets you keep a closer eye on the chocolate while it melts, so it's less likely to burn. The double boiler does, however, run the risk of exposing your chocolate to water – so make sure to take care when heating.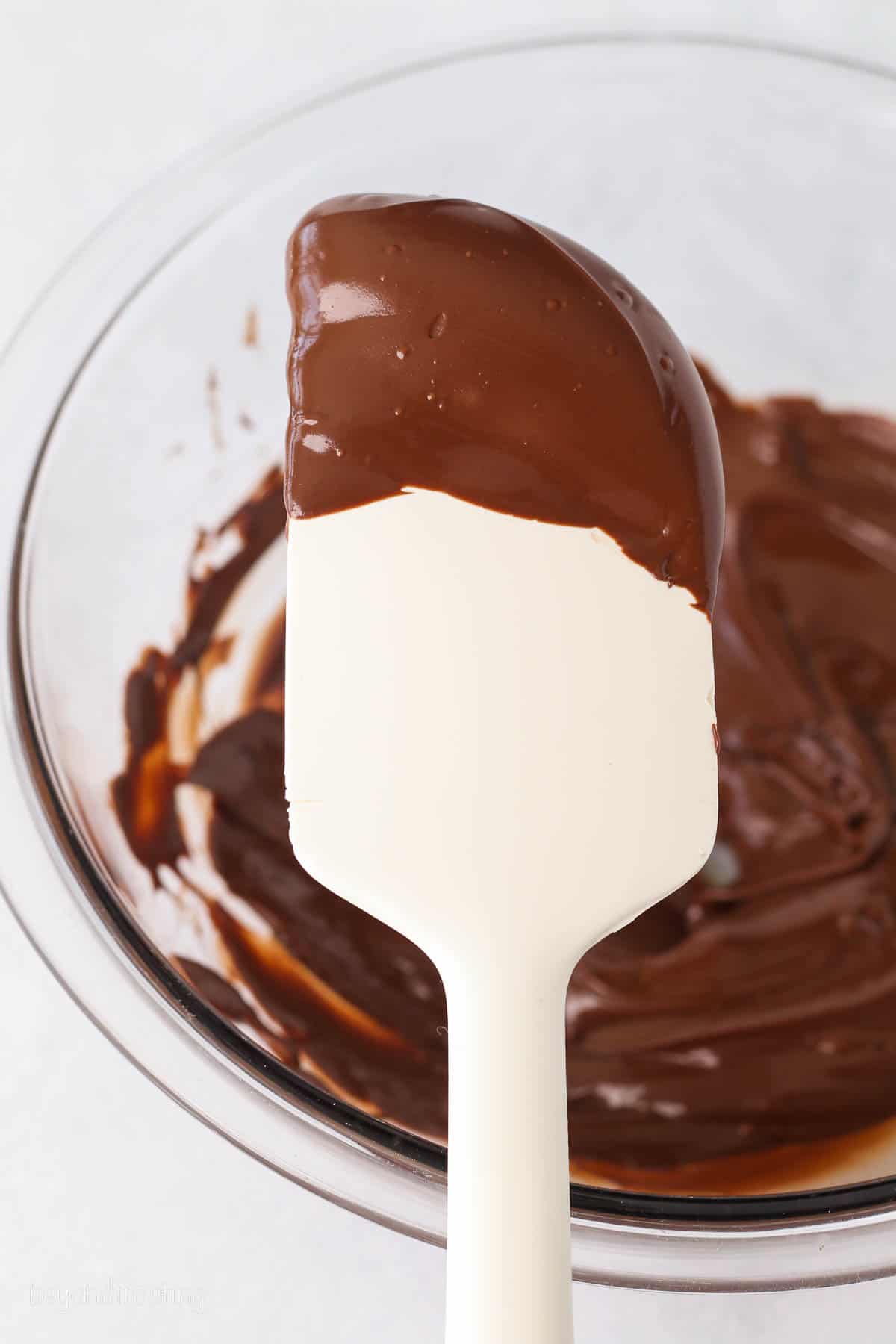 What You'll Need
The list is short! Melting chocolate chips is easy, and you only need a few tools to do it:
Chocolate Chips – Both methods will work for any kind of chocolate chips and also chocolate bars. Chocolate bars will melt down quicker if they are chopped into smaller pieces.
Heatproof Bowl – Double-check that the bowl you're using is heatproof, clean, and completely dry before you start. Even a hint of water can lead to seized chocolate (grainy, chalky chocolate that can't be used – more on that later).
Spoon – For stirring! I recommend a silicone spoon or spatula.
Should I Add Oil to Chocolate Chips When Melting?
While I don't include oil in this tutorial, adding a tablespoon of fat, like coconut oil or vegetable oil, to chocolate while it melts is an old baking trick that gives the chocolate a smooth, dippable consistency. This is great if you're using melted chocolate as a glaze for, say, homemade donuts! The only "but" comes when the chocolate cools, as chocolate with added fat won't set up as hard. For most general purposes, you can skip the oil.
How to Melt Chocolate Chips (2 Ways)
Let's break down how to melt chocolate chips using the microwave, or a double boiler. Whether you're melting chocolate chips or chopped chocolate, both methods apply.
In the Microwave
Our first melting method is the microwave. This is my go-to way for melting chocolate that's fuss-free since there's only a single bowl to clean. While heating chocolate in the microwave is quicker, don't forget to pause and stir often to prevent overheating.
Heat in bursts. First, add your chocolate chips to a heatproof, microwave-safe bowl. Heat the chocolate in the microwave in 30-second increments, stirring in between.
Keep stirring. Once the chocolate starts to melt, you can shorten the heating increments to 15 seconds and stir the chocolate for longer in between each stint in the microwave. Continue until the melted chocolate is silky smooth.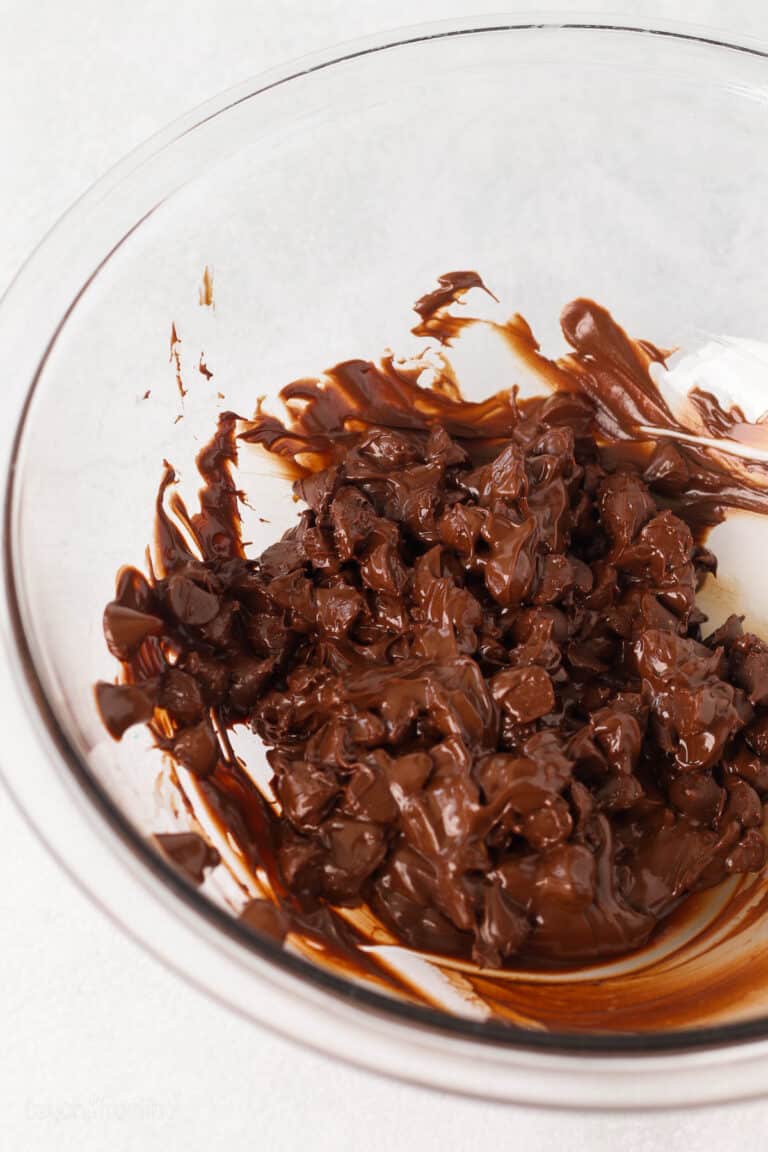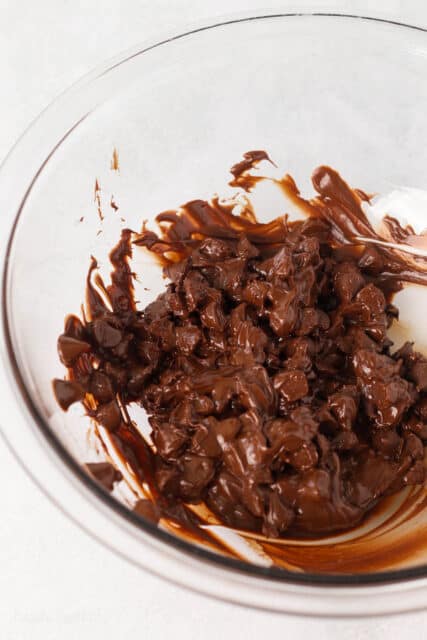 On the Stovetop
Next up is the double boiler. This method takes a little more time, but the trade-off is that the chocolate chips are less likely to heat too quickly and burn. Just be mindful that your chocolate does not come into contact with steam or splashing water!
Assemble a double boiler. Add a cup or two of water to a pot, and set it over medium-low heat on the stove. Next, place a heatproof bowl filled with chocolate chips over the pot (make sure that the bowl rests on top of the pot, and isn't touching the water).
Heat the chocolate. Bring the water to a boil beneath the bowl with the chocolate. After a minute, you should notice the chocolate starts to melt. Stir frequently and watch those chocolate chips become completely melted and smooth!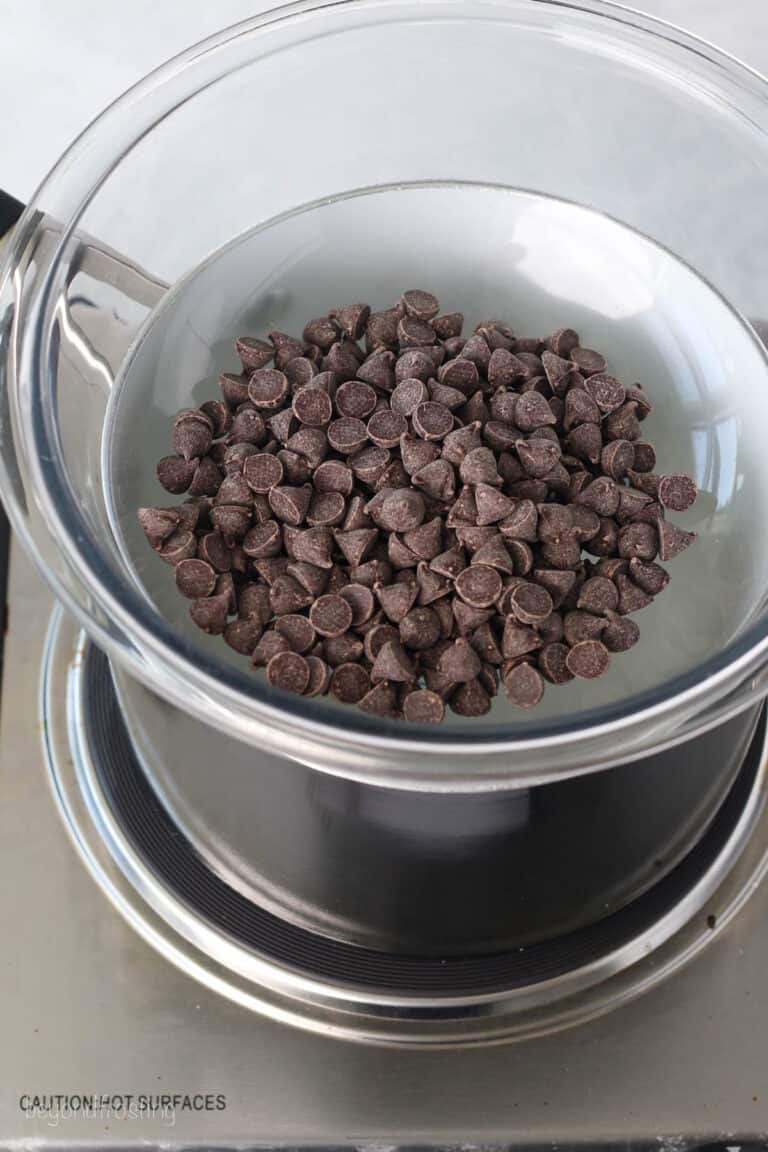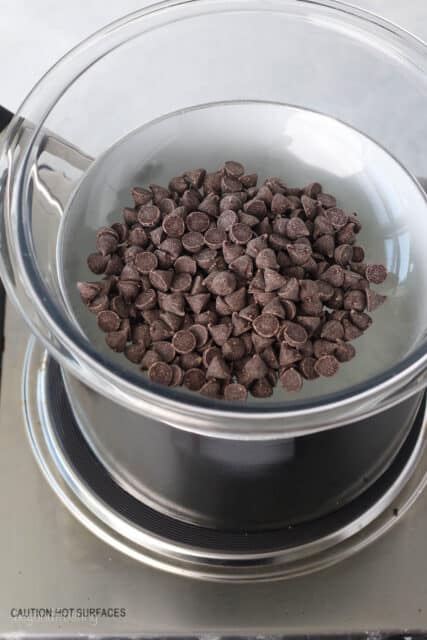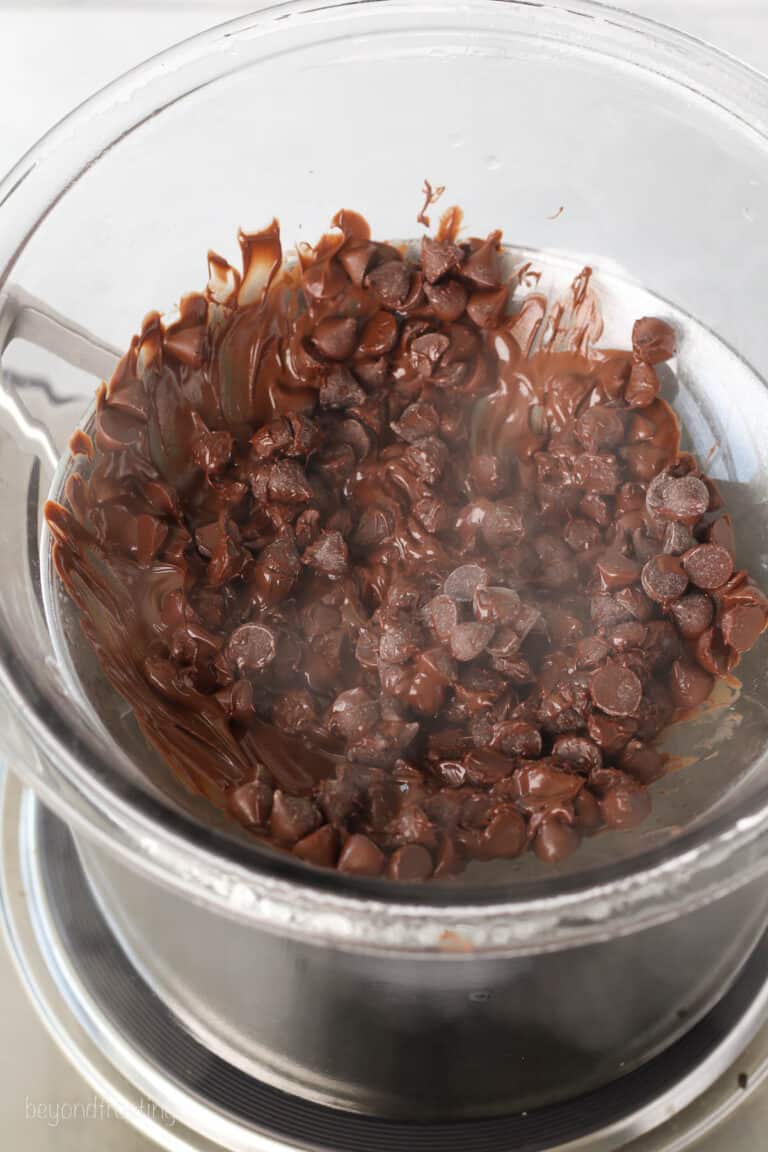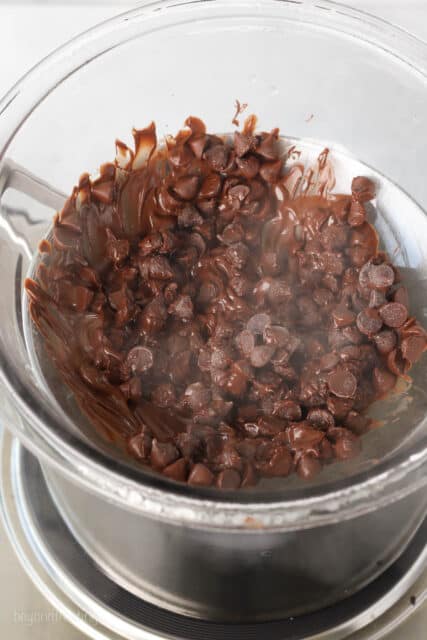 Tips for Melting Chocolate Chips
With a bit of attention and patience, you'll be melting chocolate chips like a pro in no time! Keep the below tips in mind for velvety smooth melted chocolate, whichever method you use:
Keep the chocolate away from water. This can be especially tricky when using the double boiler method, as the boiling water produces steam that is escaping around the edges of the bowl. Keep the water underneath at a gentle simmer and avoid a rolling boil, which risks splashing.
Wipe down your bowl and tools. Be sure the bowl and utensils you're using are clean and completely dry before melting the chocolate.
Chocolate chips may not melt as smoothly as chopped chocolate bars. This is because chocolate chips contain an additive called soy lecithin, which helps the chips keep their shape when baked into treats like chocolate chip cookies. They'll still melt well, but there is a slight difference in texture.
Overheating chocolate can lead to burned or seized chocolate. One way to prevent this is to reduce the microwave power to 50% (Google the settings for your specific microwave). This will melt the chocolate more slowly, but you should still stir every 30 seconds.
Stir stir stir. As the chocolate melts down further, stirring the chocolate not only helps to prevent hot spots, but it will help to melt down pieces of chocolate down, so you don't need to return the chocolate to the microwave.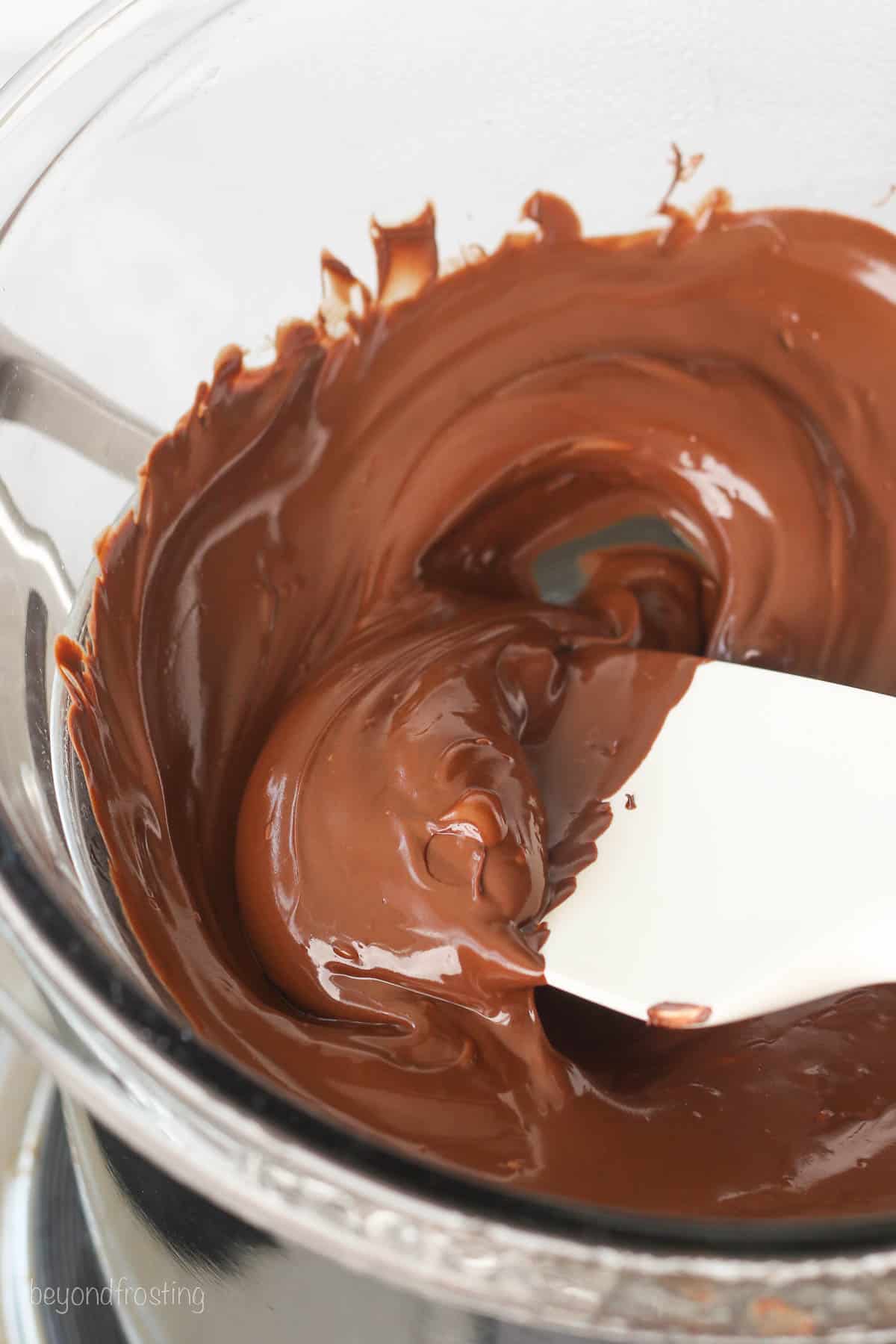 Common Questions
Can I Fix Seized Chocolate?
When melted chocolate is overheated or comes in contact with water, it can "seize" the chocolate, resulting in a grainy, clumpy, crumbly texture. Basically, the chocolate isn't smooth at all. Unfortunately, when this happens, I usually just start over with a fresh batch of chocolate chips.
However, if you'd like to maybe salvage your seized chocolate, try this: One teaspoon at a time, add boiling water to the seized chocolate, stirring well. I know, totally counterintuitive. And it will water down your melted chocolate (something to keep in mind). It's not always worth trying to save chocolate that's seized, though, so you use your judgment!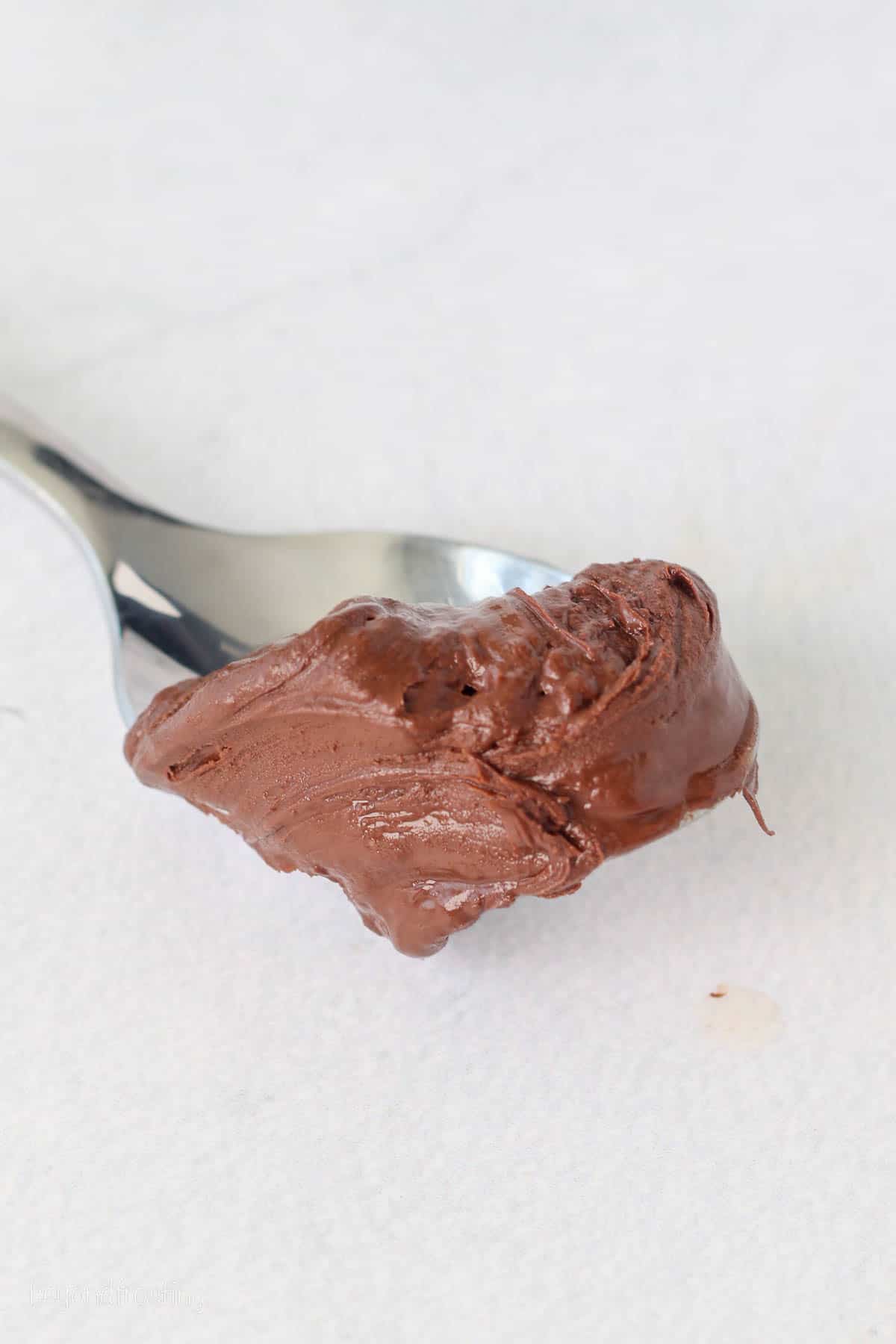 Can I Thin Out Melted Chocolate That's Too Thick?
Chocolate can become thick and muddy when it's heated too quickly. It may not be seized, but it's not great either. To avoid this scenario from the start, heat gradually and stir often, no matter which method you're using.
To thin out chocolate that's thickened, I recommend stirring in a bit of oil (coconut or vegetable oil is best, see the section earlier). Add one spoonful at a time until you reach your desired consistency.
Will Chocolate Chips Set After Melting?
Yes, melted chocolate chips will harden after they've cooled. When your chocolate hardens, you may notice it's dull or streaky. This method of melting chocolate is best for things like frosting, brownies, or cheesecakes that call for melted chocolate (see below for ideas).
This method for melting chocolate chips is not the same as tempering chocolate. Tempering chocolate is used for making candies or dipping chocolate, leaving it with a smooth and shiny finish.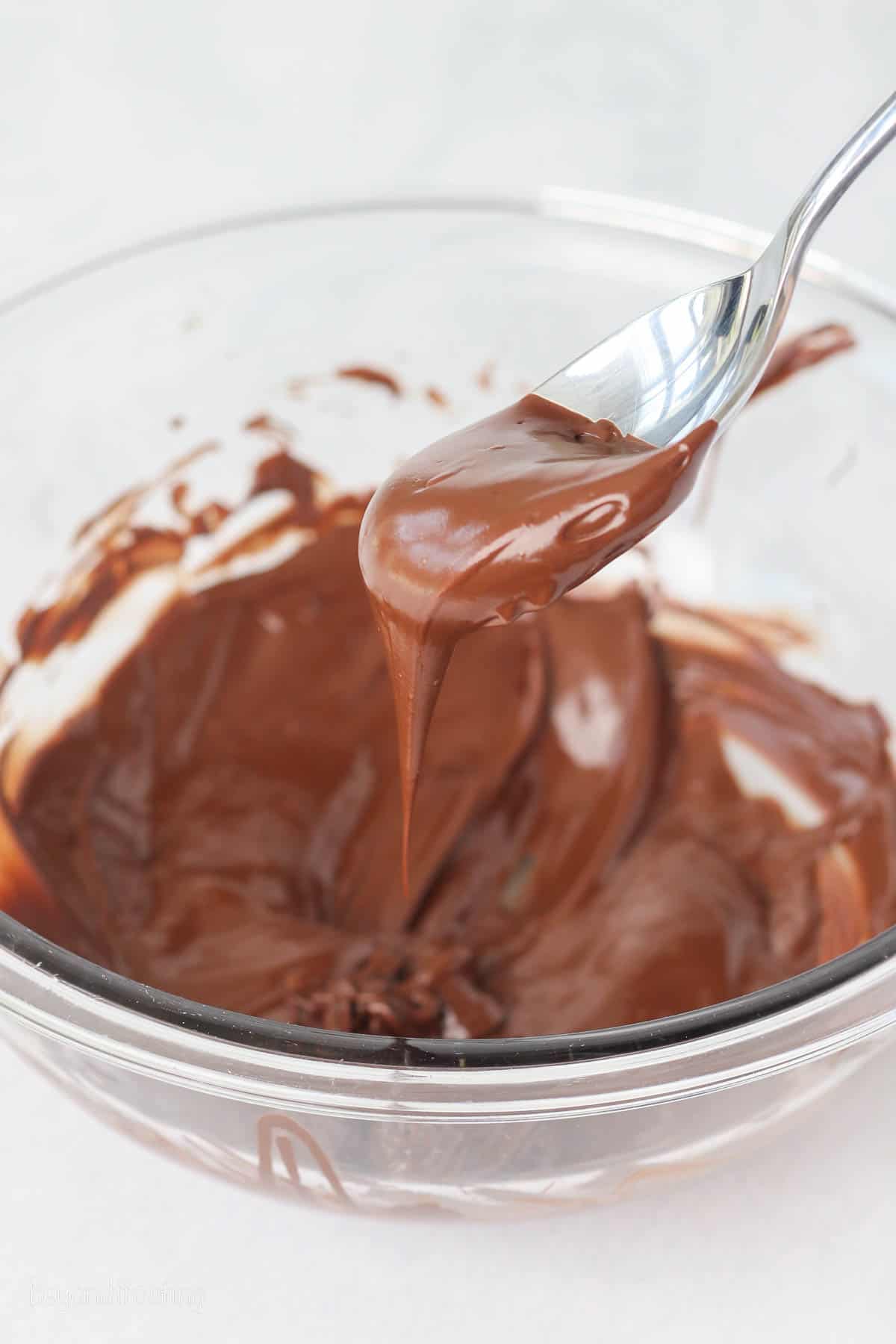 Ways to Use Melted Chocolate Chips
Looking to put your melted chocolate to good use? Try these delicious baking ideas:
How to Store and Use Leftover Melted Chocolate
If you have leftover melted chocolate, don't let it harden in the bowl! Storing melted chocolate in a bowl or plastic container will make it a pain to remove once it's solid. Properly storing chocolate that's been melted is key to reusing it. Here's how to prepare your melted chocolate chips for storage:
To Store: While the chocolate is still in a melted state, pour it out onto a large sheet of parchment paper. Place the sheet of chocolate into the fridge to chill until it's hardened throughout. Afterward, break up or chop up the hardened chocolate, store it airtight in a bag or container, and return the chocolate to the fridge. Most chocolate will keep for up to 3 months!
Reheat: Whenever you're ready to use your leftovers, simply melt down your recycled chocolate using one of the methods above.
Freezer: Once your melted chocolate is stored airtight, place the bag or container into the freezer and keep it frozen for up to 6 months. Defrost the chocolate in the fridge before reheating.
More Helpful Baking Tutorials
Print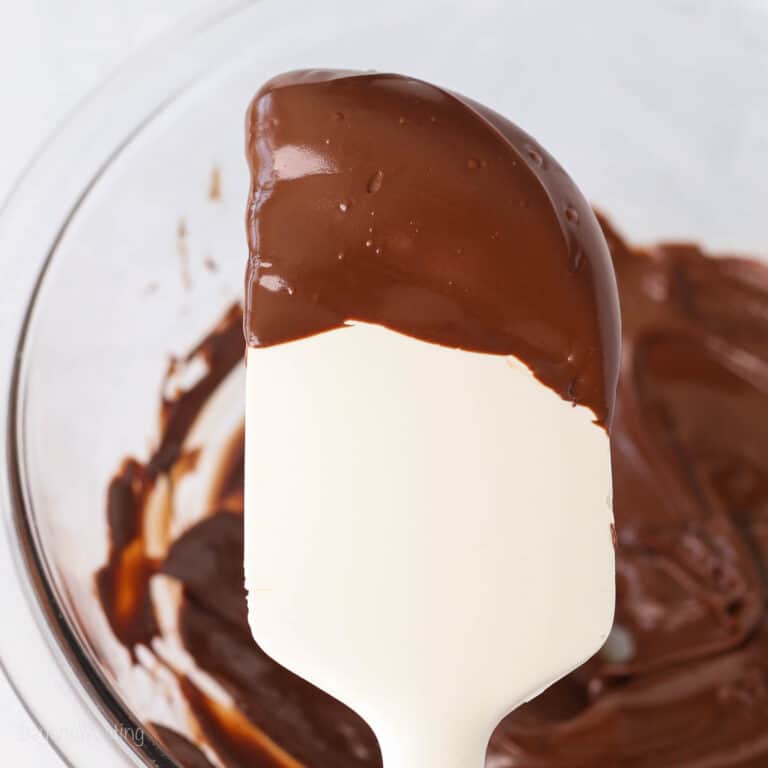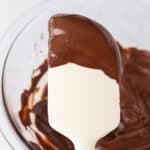 How to Melt Chocolate Chips
Author:

Cook Time:

5 minutes

Total Time:

5 minutes

Yield:

1 cup
Description
Learn how to melt chocolate chips using these easy methods for the stovetop and microwave. You'll have silky results every time, without seizing or scorching your chocolate!
Ingredients
Chocolate chips, up to 2 cups
Instructions
In the microwave
Place chocolate chips in a heat-proof, microwave-safe bowl. Microwave in 30-second increments, and stir the chocolate every 30 seconds. As the chocolate begins to melt, consider stirring it for a minute or two before returning to the microwave to melt any remaining pieces. Stir until smooth. If only a small portion of chocolate remains to be melted, microwave in 15-second spurts and stir it until smooth.
On the stovetop
You can melt chocolate chips on the stovetop using a double boiler method. Place a pot filled with 1-2 cups of water on the stovetop over medium-medium/low heat. Place the chocolate chips in a heatproof bowl and place it over the pot. Bring the water to a boil and as the water heats, it starts to melt the chocolate. Stir until completely melted and smooth.
Notes
Chocolate chips melt down to approximately half of their starting volume. For example, 2 cups of chocolate chips will yield about 1 cup of melted chocolate.
Category:

Dessert

Method:

Stovetop and Microwave

Cuisine:

American
Keywords: how to melt chocolate chips, best way to melt chocolate chips, how to melt chocolate