This post may contain affiliate sales links. Please see my full disclosure policy for details
A festive holiday puppy chow recipe made with chocolate chex, peppermint candy and chocolate spread. It's the perfect Christmas dessert.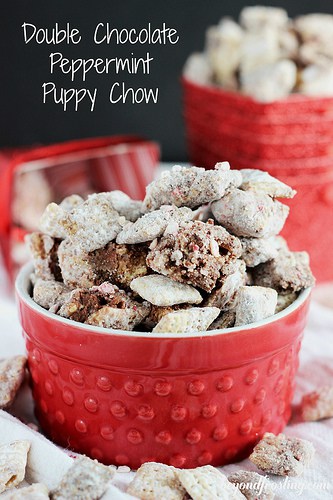 Lots and lots of chocolate and lots of peppermint. I am getting all double and triple chocolate on you. I knew I needed a holiday version of a puppy chow and obviously, chocolate came to mind. Now I have seen white chocolate peppermint versions and I have seen milk chocolate peppermint versions. However, this one combined the best of both worlds!
I really think you need to check out the recipe because it uses all type of white chocolate, milk chocolate and peppermint! While I was shopping last week, I was the new Hershey's Chocolate Spread in the peanut butter aisle. It just like a peanut butter consistency but chocolate flavors. I immediately started thinking about all the amazing things I could use this for and it starts with this puppy chow. Really this is the perfect holiday treat because you can make it up in just a few shorts minutes and it travels well so you can bring it to a party.
Follow Beyond Frosting
Facebook | Twitter | Pinterest | Instagram

Print
Double Chocolate Peppermint Puppy Chow
Author:

Prep Time:

60 minutes

Cook Time:

0 minutes

Total Time:

1 hour

Yield:

11 cups
Description
For the mix
9 cups Chocolate Chex cereal (or any variety)
1 cup white chocolate chips
½ cup Andes Peppermint Chips (or chopped Andes Thins)
½ Hershey's Chocolate Spread
6 tablespoons butter, melted
½ tsp peppermint extract
For the coating
½ cups Andes Peppermint chips, finely chopped
1 ½ cups Powdered sugar
Ingredients
In a microwave-proof bowl, combine white chocolate chips, Andes chips, chocolate Hershey's spread, and melt in the microwave for 30-second increments until the chocolate is melted and stirred smooth.
Add peppermint extract and slowly add melted butter, stirring until well combined. If you think your mixture is still too thick, add additional melted butter, 1/2 tablespoon at a time.
In an extra large bowl, combine the Chex cereal and pour the melted chocolate mixture over the top of the cereal. Use a spatula to gently fold the chocolate into the cereal. Try to coat the cereal as evenly as possible.
Take

½ cup

Andes Peppermint Chips and grind in a food processor into a fine powder. Shake over chocolate-coated cereal and gently mix.
Place powdered sugar in a large Ziploc bag and fill 1/2 full with cereal mix. Seal it and shake it to coat the cereal. Repeat until all the cereal is coated. Add additional powdered sugar as needed.
Spread out in a single layer on a cookie sheet and allow it to cool completely.
Keep in an airtight container in the fridge for up to three days. It is best enjoyed the same day.
Instructions
Use with Andes Baking Chips or Andes Peppermint Thins. One package (4.6oz) of peppermint thins has 28 pcs. You'll need about 16 pcs chopped to get 1/2 cup. I recommend getting 2 package of the thins for this recipe, so you have enough to sprinkle over top. If you are using the baking chips, one package (10oz) should be fine. If you can't find Andes, you can substitute with Hersheys Candy Cane Kisses
Equipment
Category:

Snacks

Method:

No-Bake

Cuisine:

American
Keywords: Peppermint Puppy Chow, Peppermint Muddy Buddies, Muddie Buddies, Puppy Chow
This post also appeared on My Cooking Spot when it was original published in 2013