This post may contain affiliate sales links. Please see my full disclosure policy for details
Tis' the season for peppermint, right? I mean pumpkin pie and turkey… I mean peppermint. These White Chocolate Peppermint Rice Krispie Treats are literally packed to the brim with flavor.
The actual Rice Krispie Treats are made with melted white chocolate, peppermint and marshmallow. Plus there are some Andes Peppermint Chips mixed in. Have you had those yet? They are a limited addition that only comes out around this time of year and they are amazing! To top it off, these are covered with more melted white chocolate, peppermint chips and drizzled with dark chocolate.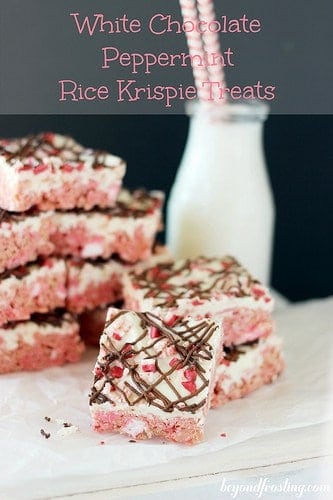 I've got more peppermint for you this week! If you have ever been skiing and browsed the cafeteria section, you will find giant Rice Krispie Treats. It's kind of our go-to quick snack when we are riding and my boyfriend loves them. I may have mentioned this before, but every time I make a Rice Krispie Treat for my blog, I make him his own tray because he can't wait for me to finishing shooting them so he can eat the whole batch.
These White Chocolate Peppermint Rice Krispie Treats are the perfect quick holiday treat to enjoy. It's full of white chocolate and plenty of peppermint.
What's not to love about Rice Krispie Treats? They are super easy to throw together and can be made in so many different varieties! This recipe uses peppermint mini marshmallows both melted and whole. I saved 1 cup of the marshmallows to mix in whole. That way, when you bite into the Rice Krispie treat you get the added texture of a whole marshmallow!
Print
White Chocolate Peppermint Rice Krispie Treats
Ingredients
For the Rice Krispie Treats
6

C Rice Krispie Treats

1

bag (10 oz) peppermint marshmallows

3 tablespoons

unsalted butter

4 ounces

white chocolate, melted

1 cup

Andres peppermint chips
For the topping:
12 ounces

white chocolate chips

¼ cup

Andes peppermint chips
Dark chocolate for drizzling
Instructions
In a microwave safe bowl, melt white chocolate chips.
Melt butter in a medium-sized saucepan and add all but 1 cup of the peppermint marshmallows and stir until melted.
In an extra large mixing bowl pour melted marshmallows over Rice Krispies.
Before mixing, add melted white chocolate, Andes Peppermint chips and the remaining cup of peppermint marshmallows. Stir together to combine.
Grease a 9×13" pan with Crisco or cooking spray and spoon Rice Krispie mixture into pan. Use a piece of wax paper or the back of a spatula and press into pan.
In a microwave safe bowl, melt white melting chocolate in 30 second increments, stirring in between. Pour melted chocolate over top of Rice Krispie treats and spread evenly. Top with additional Andres Peppermint chips.
If desired, melt some dark chocolate in the microwave and drizzle on top.
Let set for 30 minutes before cutting.
Recipe Card powered by
Do you like peppermint? Check these out!
Peppermint Cream Thumbprint Cookies