This post may contain affiliate sales links. Please see my full disclosure policy for details
This Strawberry Champagne Cake is an orange infused vanilla cake soaked in a champagne glaze and topped with a tangy strawberry cream cheese frosting.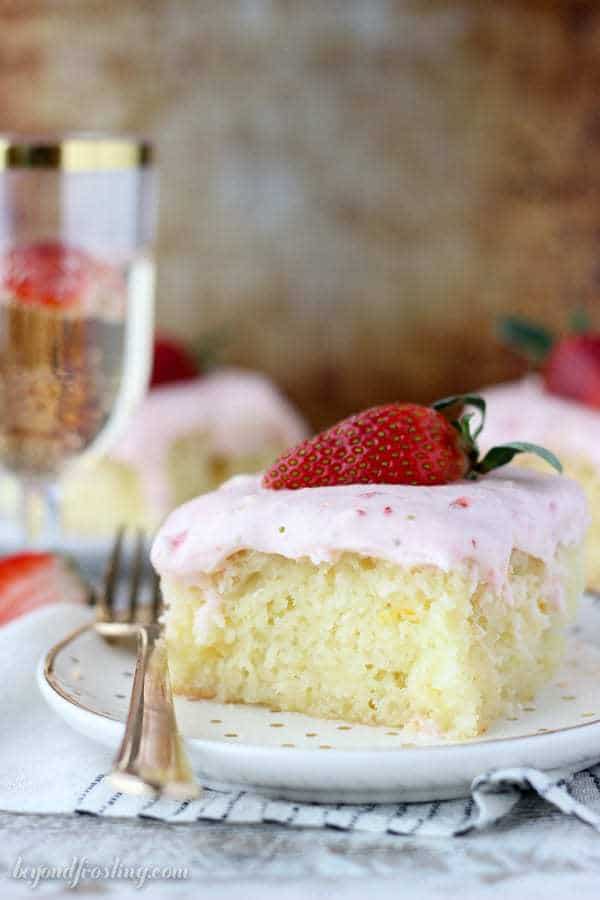 Has anyone watched Bakers vs. Fakers on the Food Network? I am kind of addicted to the show and I am always so impressed with the desserts they come up with. Once you start an episode you have to watch it all the way through so you find out who's a baker and who's a faker. I just love cooking competitions; I've also started watching Beat Bobby Flay. What are you favorite cooking shows?
Sometimes when I am in the kitchen I have SO much going on that it feels like I am on my own cooking show running back and forth to the pantry, trying to make multiple things at once. Which is exactly what happened with this cake.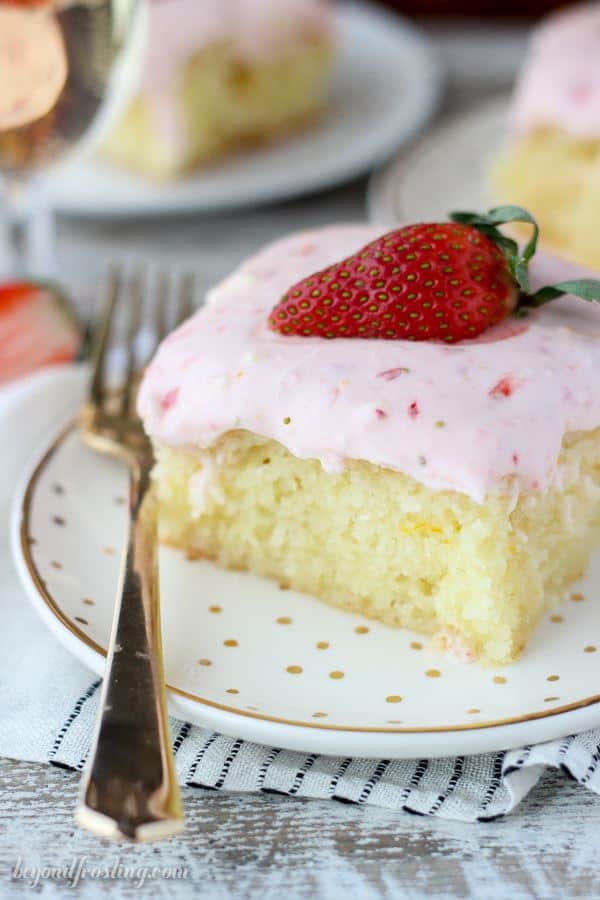 I happened to make this the same weekend as my Mimosa Cupcakes, but really I think I just felt like popping a bottle of champagne and needed an excuse. I also had a batch of cookies and a no-bake dessert going at the same time. While it's hard to pick a favorite, I am very partial to anything with champagne and this Strawberry Champagne Cake is right up my alley.
The cake recipe is quite simple. It starts with a cake mix, and for the liquid I used a combination of orange juice and champagne. However, you don't need to go buy orange juice. After you first zest the orange into the cake, you can then squeeze the juice directly from the orange. The cake itself it light and airy. If you're looking to make this as a homemade cake, you might try adapting my moist vanilla cake recipe.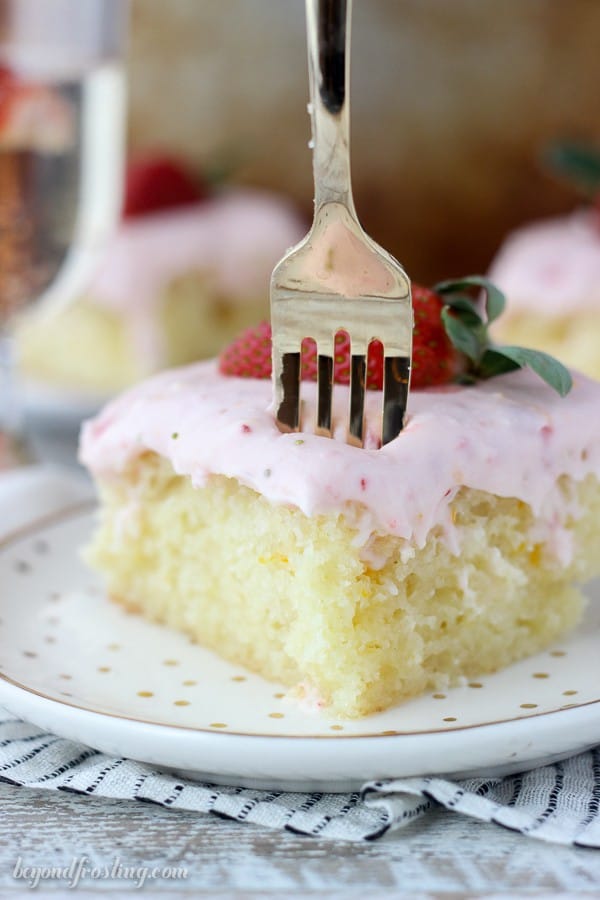 The champagne glaze is an essential part of this cake. It's similar to a poke cake in that once the cake is baked you poke holes all over the cake and then pour the champagne glaze over top.
The glaze is everything you want it to be, buttery and decadent with a touch of champagne flavor. It's made on the stovetop and boiled until it's thickened. It also very easy!
This isn't the first time that my champagne glaze has made an appearance on my blog. I first made my grandmother's classic pound cake and added the champagne glaze. I also used this glaze for my skinny champagne parfaits, because it pairs perfectly with fresh berries.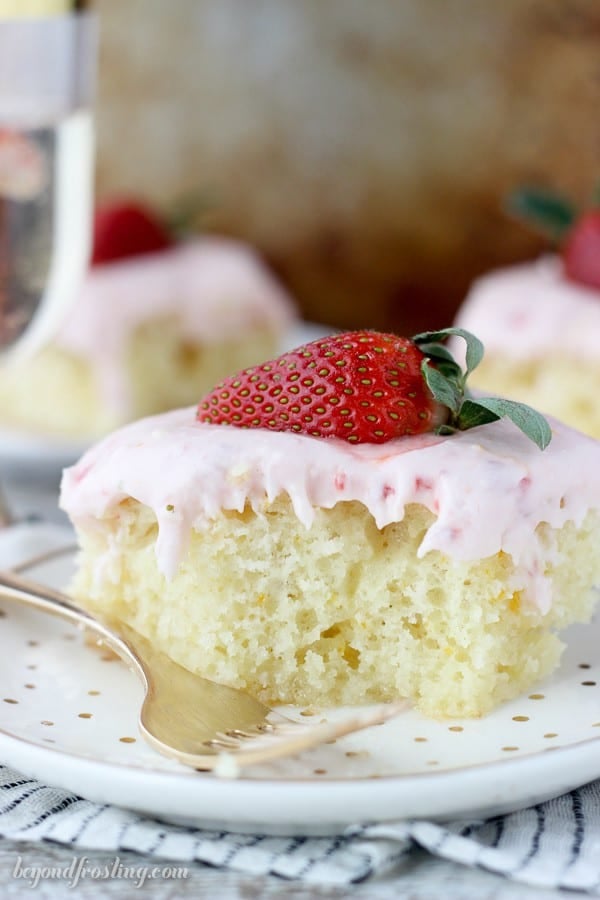 The fresh strawberry cream cheese frosting is a little bit tangy and a little bit sweet. It can be difficult to make a strawberry frosting because of the additional water in the berries. This combined with the soft cream cheese makes your frosting appear very thin at first. As much as you want to keep adding more powdered sugar to make it thicker, you must resist! This will thicken back up in the refrigerator.
This cake is a bit on the sweet side, so cut yourself a small piece and go back for seconds. Strawberry Champagne cake for the win! I first shared this recipe at Food Fanatic.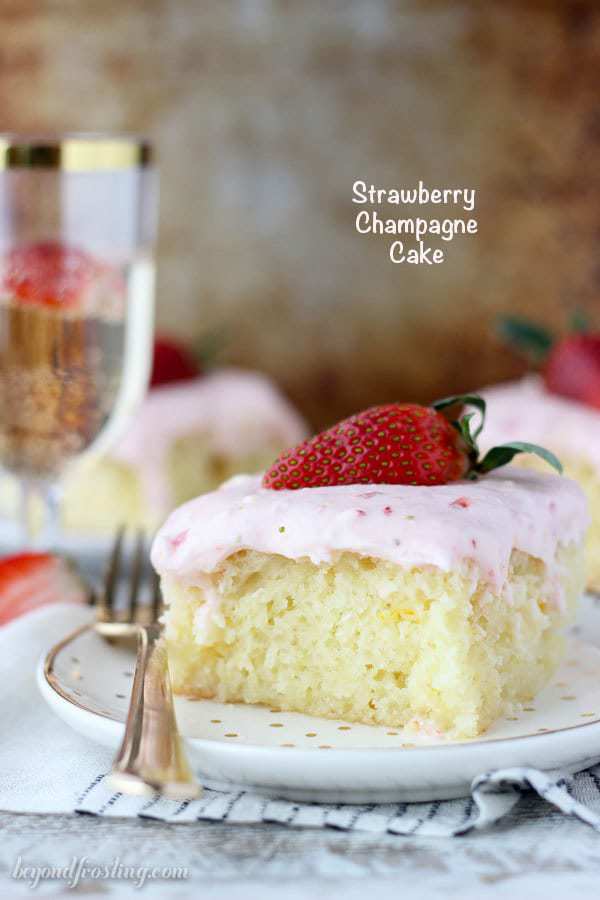 Follow Beyond Frosting:
Facebook | Twitter | Pinterest | Instagram
If you love no-bake recipes, be sure to check out my cookbook, No-Bake Treats!
You might also like: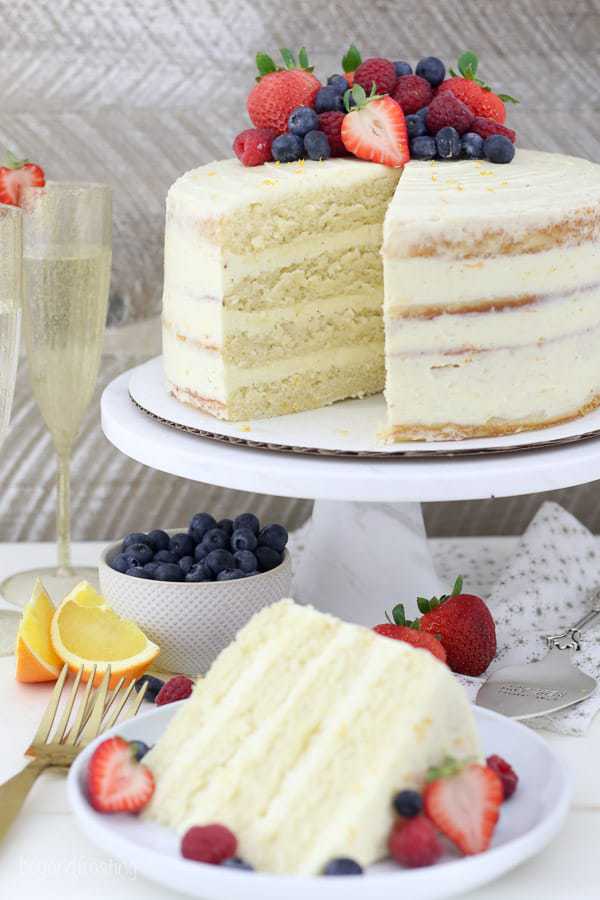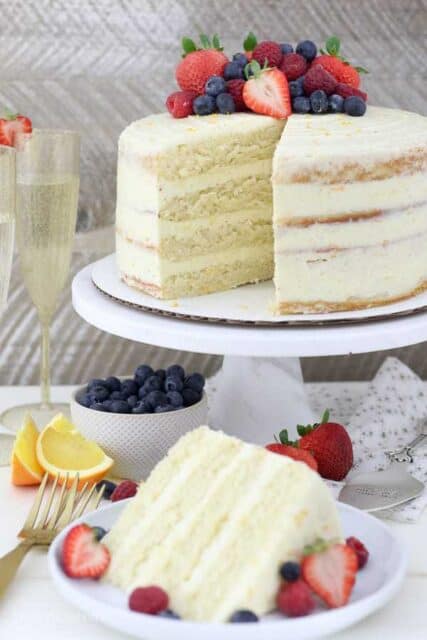 Strawberry Cheesecake Poke Cake