This post may contain affiliate sales links. Please see my full disclosure policy for details
Sinful Brownie Batter Poke Cake. This chocolate poke cake is soaked with dark chocolate pudding, and topped a brownie batter mousse and brownie batter glaze. It's for true chocolate lovers.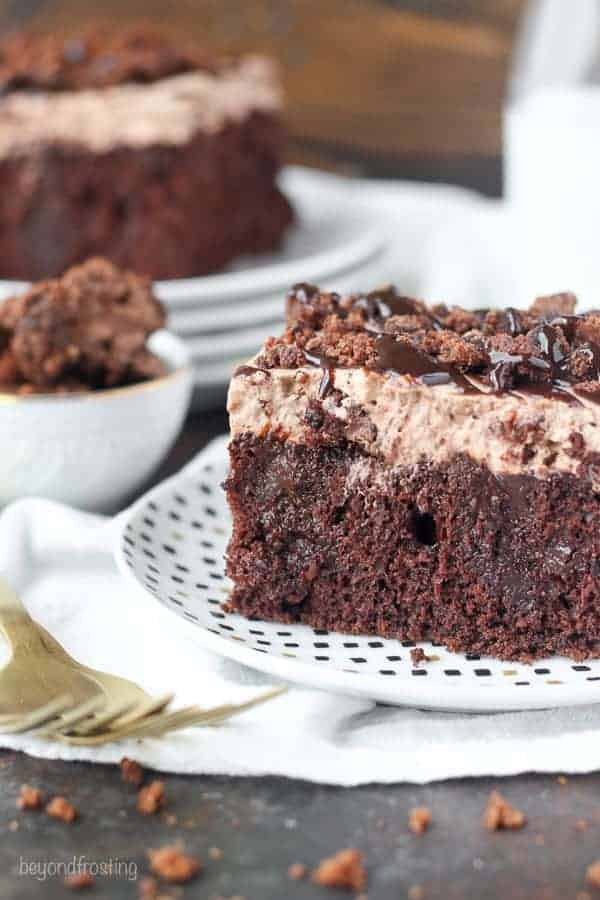 Today is an important day, especially if you live in Oregon! It's the total Solar Eclipse day! The state has been preparing for months and people have been talking about the traffic for quite a while. Although here is Portland we aren't in the path of totality, but I understand things are much more busy in central Oregon. We were given permission to work from home today, which means we get to watch the eclipse together.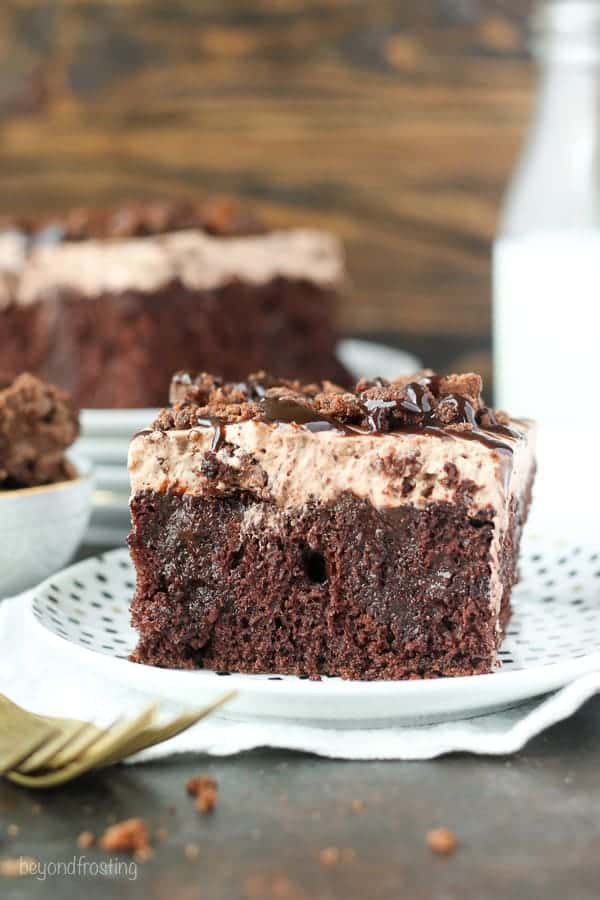 I am not one to get excited about things such as the solar eclipse but when I think about the fact that there hasn't been a coast to coast solar eclipse since 1918, I get a little appreciative of the opportunity to be this close to the path. So even though everyone is talking about the eclipse, I am still over here talking about this Brownie Batter Poke Cake.
This is a chocolate cake, soaked in chocolate pudding with a brownie batter mousse on top. I've made this one a few times, and it's a great variation of my signature Triple Chocolate Poke Cake.
The recipe calls for a cake mix, but you can certainly make a homemade chocolate cake instead.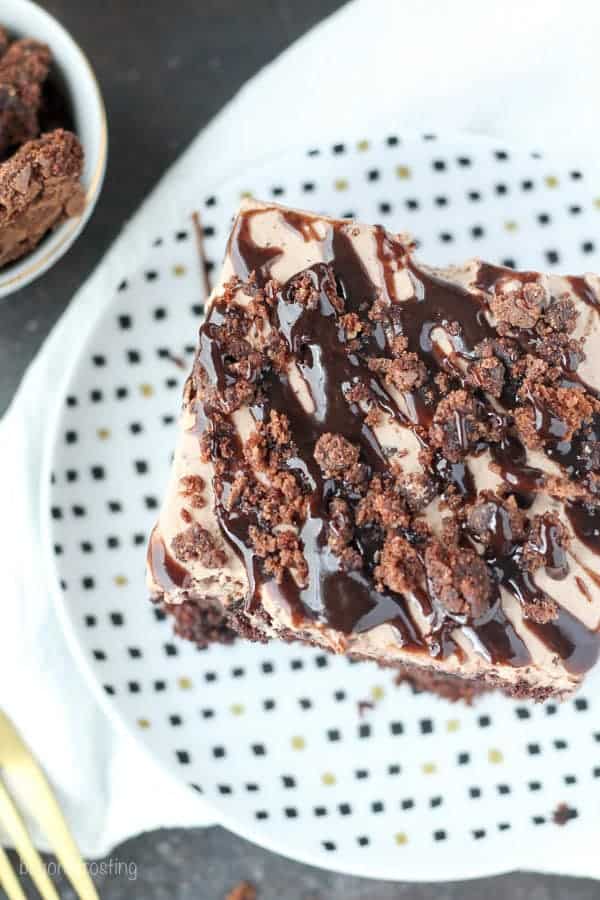 What makes this one so unique and different is that it's covered with a Brownie Batter Mousse, which is basically a brownie batter whipped cream that's loaded with baked brownies. It's one of the layers of my No-Bake Icebox Brookie Cake.
It's quite simple to make the brownie batter mousse. You'll beat the heavy whipping cream as if you're making a homemade whipped cream, and then you'll add dry brownie mix to the cream. It thickens it up to a great consistency.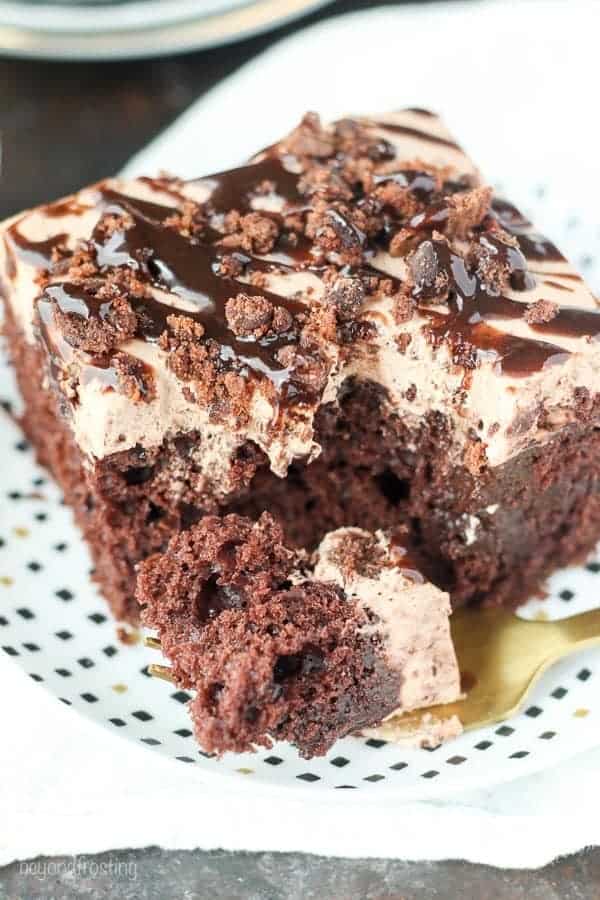 I also like to add gelatin to the whipped cream because I think it makes the mousse more airy after it's had a chance to set in the fridge. I wish I could claim responsibility for the invention of the brownie batter mousse, but the first time I heard about it was from Shelly's Brownie Batter Parfaits.
For the actual brownies in the mousse, I tend to use store bought brownies and chop them up nice and small, about the size of a dime. Of course, it never hurts to make a batch for brownies at home, but it does add some steps to the process. So, it's your choice!
I can't forget about glorious chocolate cake that soaked in chocolate pudding either. The combination of this mouthwatering cake and the mousse, it that can't be beat.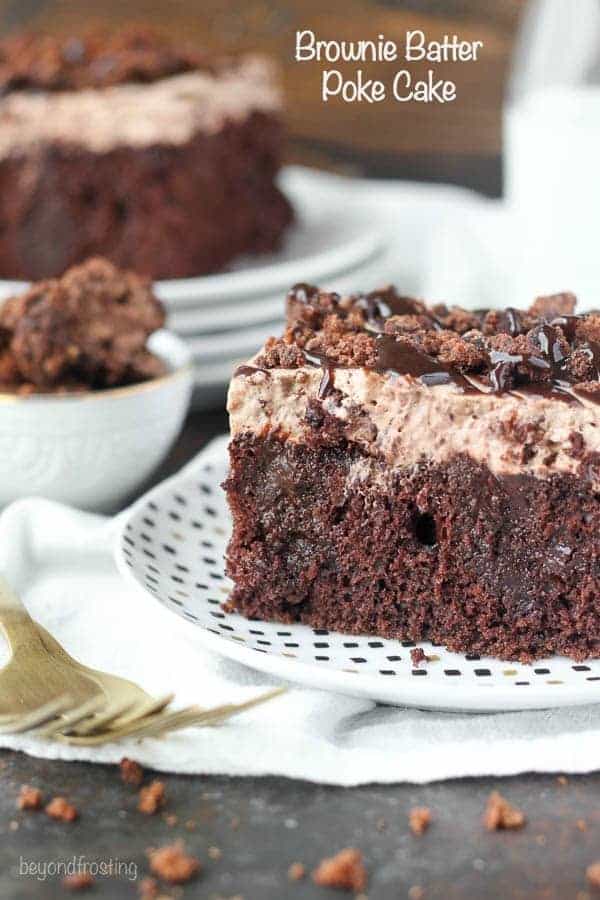 Follow Beyond Frosting:
Facebook | Twitter | Pinterest | Instagram
If you love no-bake recipes, be sure to check out my cookbook, No-Bake Treats!
You might also like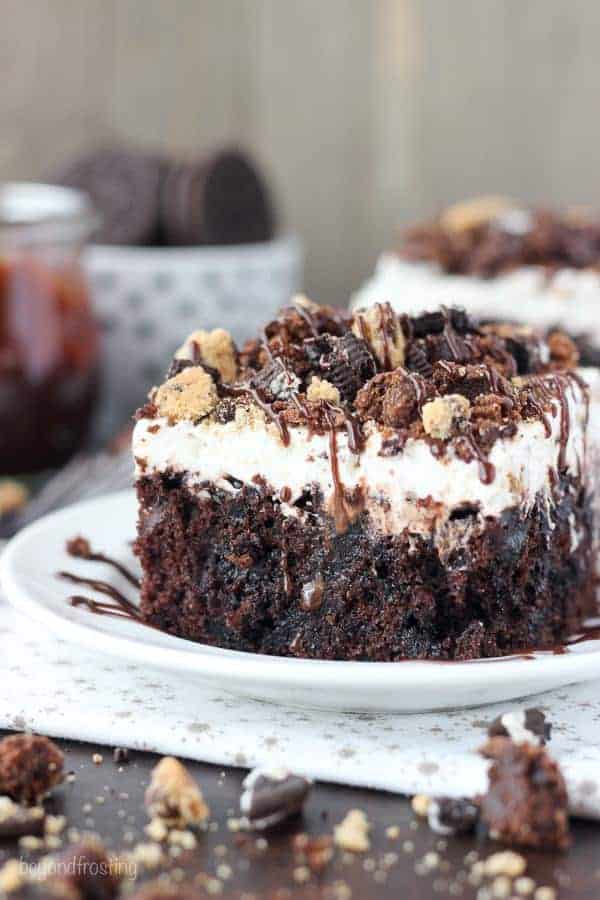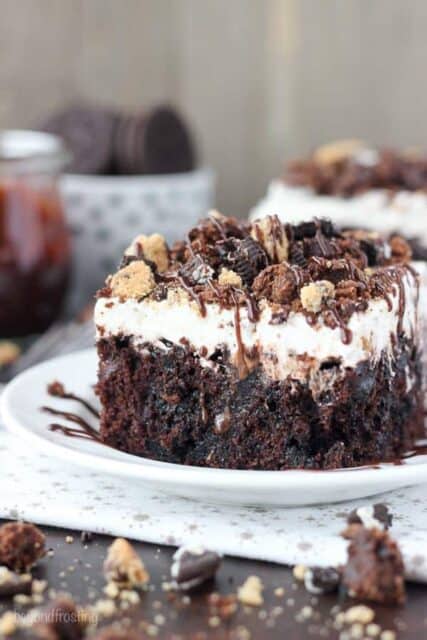 Sinful Triple Chocolate Poke Cake