This post may contain affiliate sales links. Please see my full disclosure policy for details
I am drooling over this Chocolate chip cookie poke cake! This chocolate cake has a chocolate chip cookie crust, it's filled with chocolate pudding and topped with a chocolate chip cookie mousse.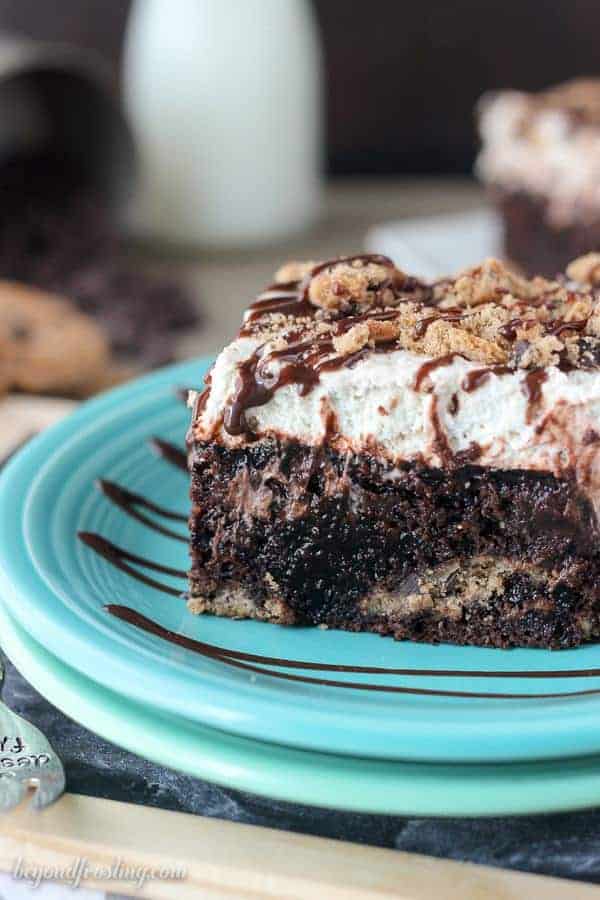 I'm sorry to tell you that I've been holding out on you with this Chocolate Chip Cookie Poke Cake. I first made this cake to test out on a coworkers' birthday before 2016 even ended. Almost immediately after finishing the first slice, a few people went in for seconds.
This cake is similar to my Ultimate Oreo Poke Cake in that the chocolate cake is topped with a cookie-filled mousse. Only this time, instead of Oreos, we're using chocolate chips cookies.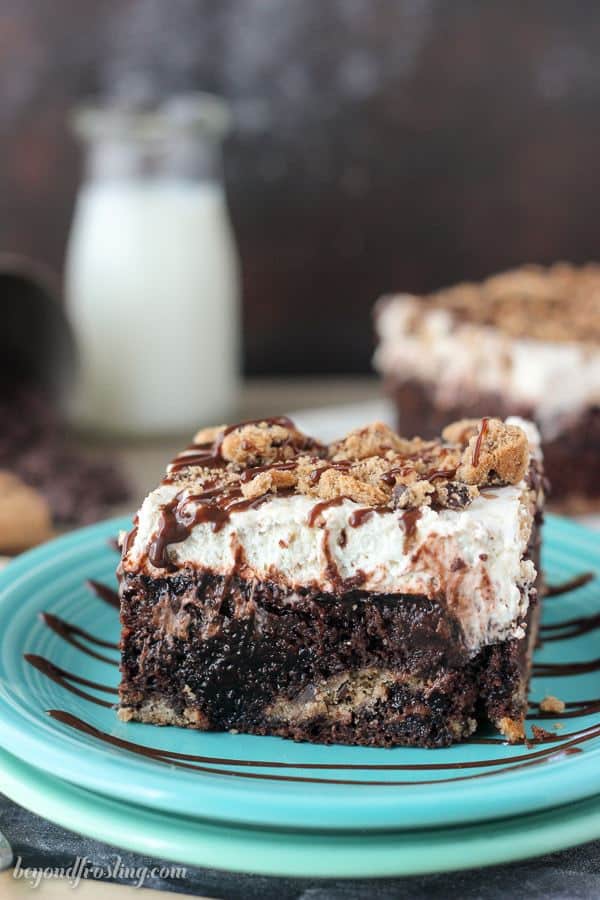 For this cake, it starts with a chocolate cake that is lined with a chocolate chip cookie crust. It's filled with chocolate pudding and topped with a chocolate chip cookie mousse. The topping is by far my favorite part! It is also one of the fillings I used in my No-Bake Brookie Icebox Cake, which is the one and only dessert I think I can't live without.
The mousse is fairly simply and requires only a batch of homemade whipped cream and crushed cookies. I decided to add a little bit of gelatin to the mousse because it helps keep it a little more airy and whipped in texture.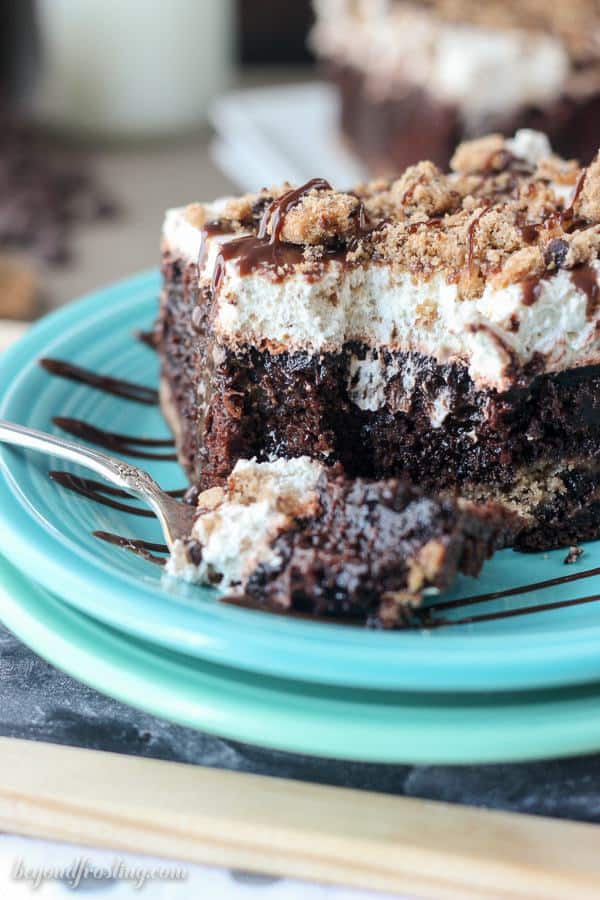 I hate to say it but I am not even sure I need the cake part for this dessert. Wait, what? Did I just say that?
The bottom of this cake is lined with chocolate chip cookies. The cookies soften in the cake mix, so they are easy to cut through and blend in nicely with the cake. I used Chips Ahoy, but anything similar would work.
I think it adds a nice surprise when you get a fork full of cake and there's a cookie inside! I love the combination of textures with the spongy cake, the cold pudding and the airy mousse on top.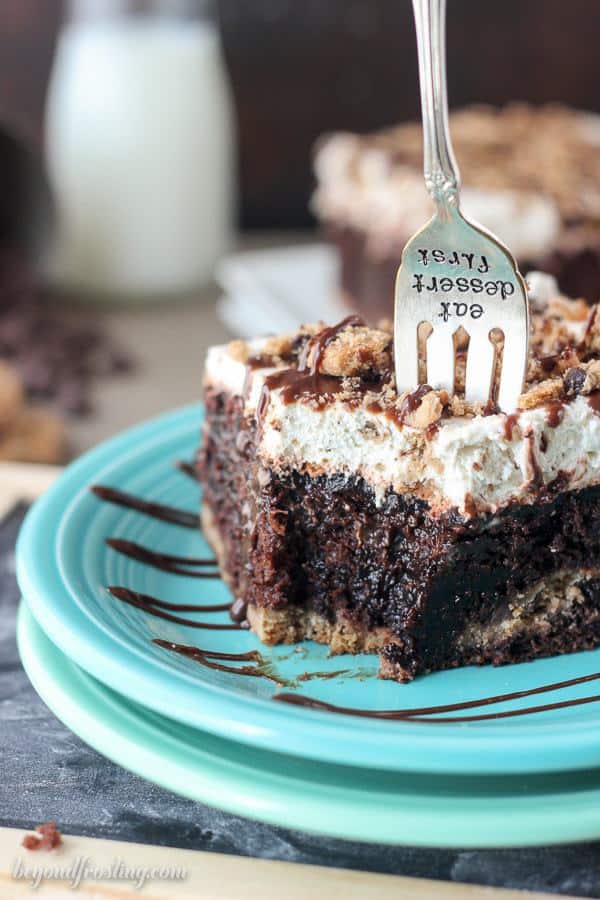 I literally have to stop myself from going back for seconds eeer I mean thirds.
I'm no stranger to poke cake, at this point I'm probably making at least one a month but they are just too good not to share!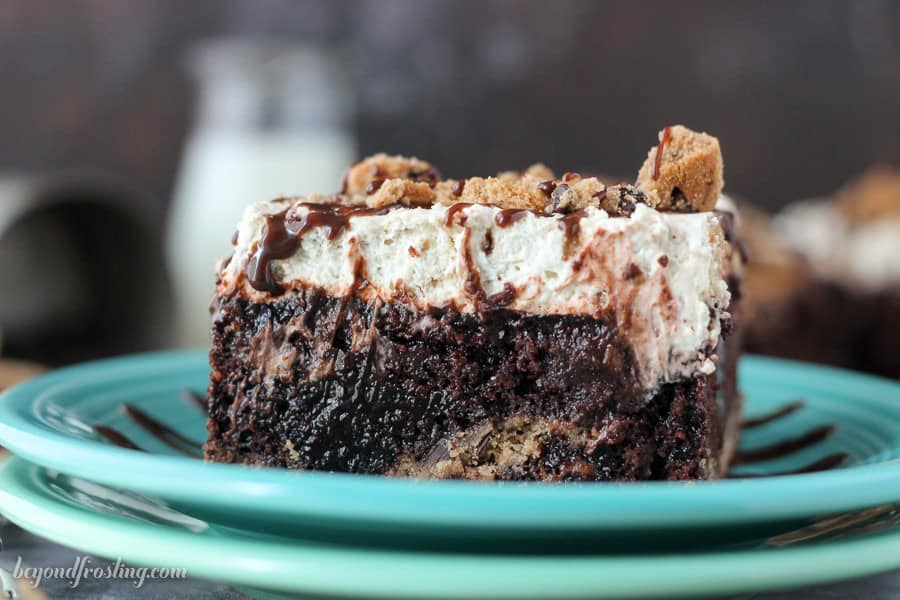 When you work with as many people as I do, you have to keep bringing fresh desserts to the table!
Poke cakes are often my go-to dessert for work birthdays and potlucks. It usually a lot less effort than a layer cake or cupcakes, and I've never met a person who doesn't love a poke cake..
Between the cake, the pudding filling and the mousse, you can't go wrong. You can also find this recipe at Food Fanatic.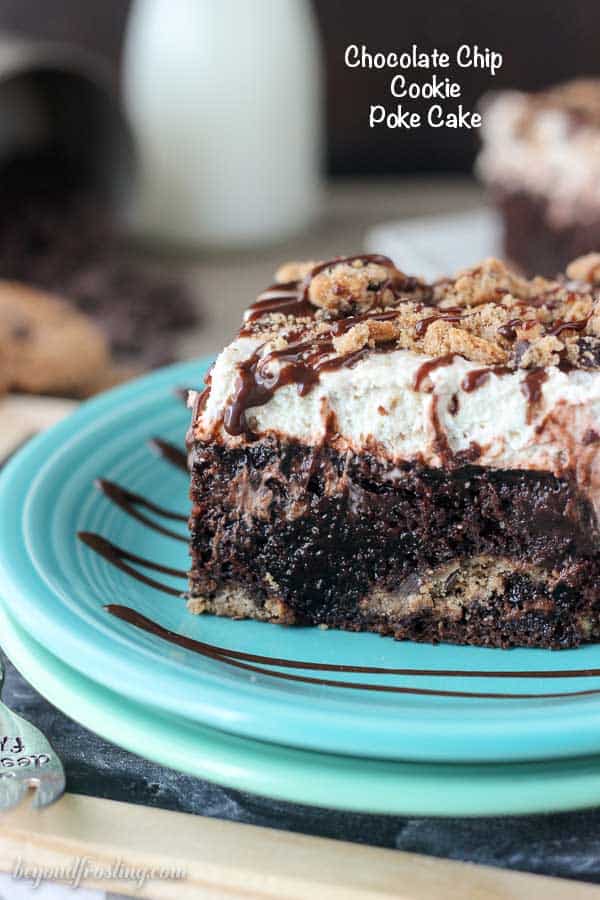 Follow Beyond Frosting:
Facebook | Twitter | Pinterest | Instagram
If you love no-bake recipes, be sure to check out my cookbook, No-Bake Treats!
You might also like:
Oreo Dirt Poke Cake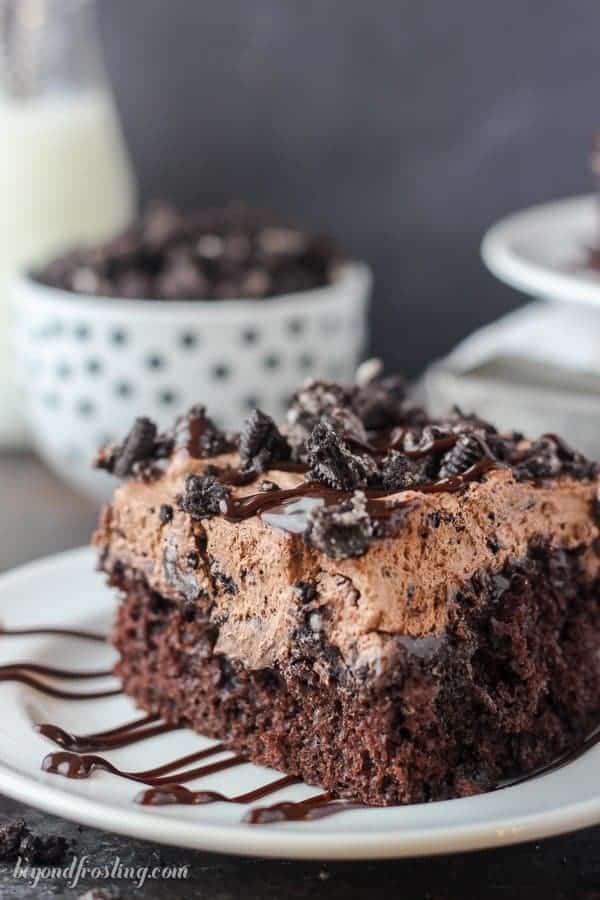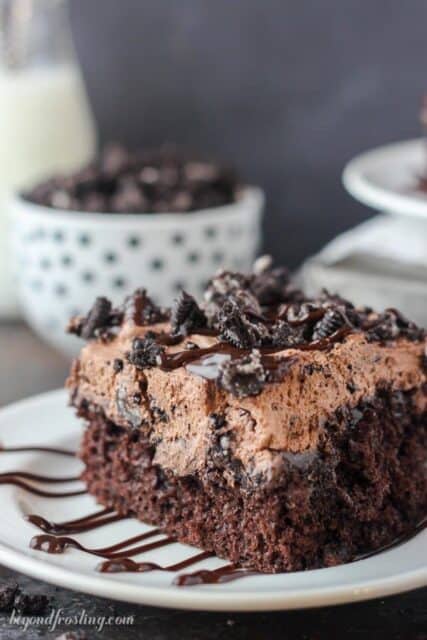 Peanut Butter Chocolate Poke Cake