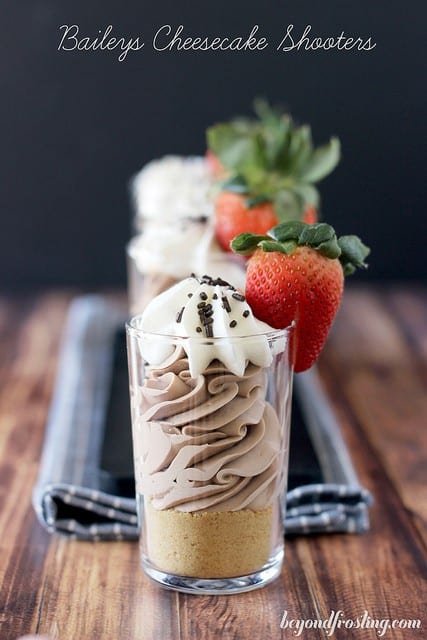 My boyfriend says I have a problem. He thinks I am intelligent, educated down to earth type of girl. Yet, I like the trashiest of television (*cough* Rich Kids of Beverly Hills *cough*), and a slew of shows that involve housewives and girls whose names begin with Ks. The drama, I just can't get enough! Go ahead and judge me. I have always love reality television.  At least I can offset my faults with the fact that I am make desserts, lot and lots of desserts.
I thought it was only fitting to end Baileys week with some spiked shooters. These Baileys Cheesecake Shooters. I just love a good no-bake desserts, especially when it involves cheesecake. HELLOOO, cheesecake is my jam. The idea for these shooters came from my No-Bake Whiskey Spiked Chocolate Parfaits.
The texture of the chocolate mousse is light and airy, the longer you let it set, the lighter it becomes. However, you can also serve it right away. This mousse is made with a Baileys infused chocolate, and mixed with cream cheese and whipped cream. You will want to make up the infused chocolate ahead of time, to allow it too cool for at least 30 minutes.
You can use any type of cookie for the base of these shooters. I choose graham cracker just because it's my favorite crust with have with a cheesecake. I still mixed in a little bit of butter because I like how it holds the crumbs together. I also topped these parfaits with a little bit of homemade whipped cream. There is heavy whipping cream in the recipe for the cheesecake mousse, so you can use the leftover for whipped cream. Seriously, don't be afraid of it, homemade whipped cream is SO east!
Make sure to check out my other recipes from Bailey week. I started off with Bailey Spiked French Toast and followed it with a Bailey Spiked Ice Cream Cake. The ice cream cake was so good that I decided not to share the leftover.
Print
Baileys Cheesecake Shooters
---
Prep Time:

15 mins

Total Time:

15 mins

Yield:

6-8 Parfaits
Description
A Baileys infused chocolate cheesecake mousse layered with Graham Crackers and whipped cream.
---
Ingredients
6 oz Dark chocolate chips
3 tbsp Heavy whipping cream
2 tbsp Baileys Irish Cream
1 pk (8oz) Cream cheese
1 Container (8oz) Cool Whip, thawed
1 1/4 C Graham cracker crumbs
2 tbps Unsalted butter, melted
For the whipped cream
1/2 C Heavy whipping cream
1 tbsp Powdered sugar
6-8 Strawberries
---
Instructions
In a microwave-proof bowl, place dark chocolate chips and heavy cream. Heat in the microwave for 60 seconds. Remove an immediately whisk until smooth. Add Baileys Irish Cream and whisk into melted chocolate
Allow to sit for 20-30 minutes until cool or refrigerate until slightly firm.
In a mixing bowl, combine chocolate mixture with cream cheese. Beat until mixture is smooth. Add Cool Whip and continue to beat until well incorporated. Set aside.
Use a food processor to grind up graham crackers into a fine crumb.
In a microwave-safe bowl, melt butter for about 30 seconds.
Combine melted butter with Graham cracker crumbs and mix thoroughly.
Make homemade whipped cream last. You will need your mixing bowl and your wire whisk attachment. Beat heavy whipped cream on medium-high heat for 2 minutes until cream becomes bubbly. Add powdered sugar while mixer is still going.
Increase speed to high and beat until stiff peaks form (another 3-5 minutes).
Wash, dry strawberries. Slice down the middle, halfway, and slide on the edge of the glass.
Assemble your parfaits by adding one-two tablespoons of the graham cracker crumbs into the bottom of your parfaits. Follow with about 1/4 cup of the chocolate filling and top with whipped cream. Garnish with strawberries
Print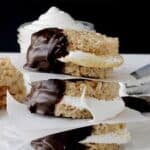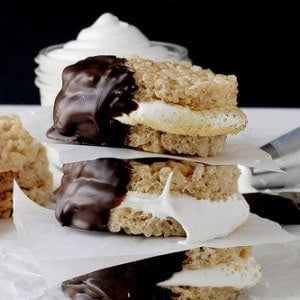 Baileys Cheesecake Shooters
---
Prep Time:

15 minutes

Total Time:

15 minutes

Yield:

6-8 Parfaits
Description
A Baileys infused chocolate cheesecake mousse layered with Graham Crackers and whipped cream.
---
Ingredients
6 oz Dark chocolate chips
3 tbsp Heavy whipping cream
2 tbsp C Baileys Irish Cream
1 pk (8oz) Cream cheese
1 Container (8oz) Cool Whip, thawed
1 1/4 C Graham cracker crumbs
2 tbps Unsalted butter, melted
For the whipped cream
1/2 C Heavy whipping cream
1 tbsp Powdered sugar
6-8 Strawberries
---
Instructions
In a microwave-proof bowl, place dark chocolate chips and heavy cream. Heat in the microwave for 60 seconds. Remove an immediately whisk until smooth. Add Baileys Irish Cream and whisk into melted chocolate
Allow to sit for 20-30 minutes until cool or refrigerate until slightly firm.
In a mixing bowl, combine chocolate mixture with cream cheese. Beat until mixture is smooth. Add Cool Whip and continue to beat until well incorporated. Set aside.
Use a food processor to grind up graham crackers into a fine crumb.
In a microwave-safe bowl, melt butter for about 30 seconds.
Combine melted butter with Graham cracker crumbs and mix thoroughly.
Make homemade whipped cream last. You will need your mixing bowl and your wire whisk attachment. Beat heavy whipped cream on medium-high heat for 2 minutes until cream becomes bubbly. Add powdered sugar while mixer is still going.
Increase speed to high and beat until stiff peaks form (another 3-5 minutes).
Wash, dry strawberries. Slice down the middle, halfway, and slide on the edge of the glass.
Assemble your parfaits by adding one-two tablespoons of the graham cracker crumbs into the bottom of your parfaits. Follow with about 1/4 cup of the chocolate filling and top with whipped cream. Garnish with strawberries
Keep up with all the happenings. Follow Beyond Frosting
Facebook | Twitter | Pinterest | Instagram | Bloglovin | Google+
Recipes from my friends:
Baileys Chocolate Pie from Life Love and Sugar
Irish Cream Cookie Dough Cheesecake from Roxana's Home Baking
Irish Cream Chocolate Chip Cheesecake from Cozy Country Living
Other recipes from Beyond Frosting
Spiked Chocolate Mousse Parfaits