This post may contain affiliate sales links. Please see my full disclosure policy for details
These Apple Cider Donuts are baked to perfection and covered with either cinnamon sugar or a cider glaze. Best of all, this recipe can be halved to make only 6 donuts!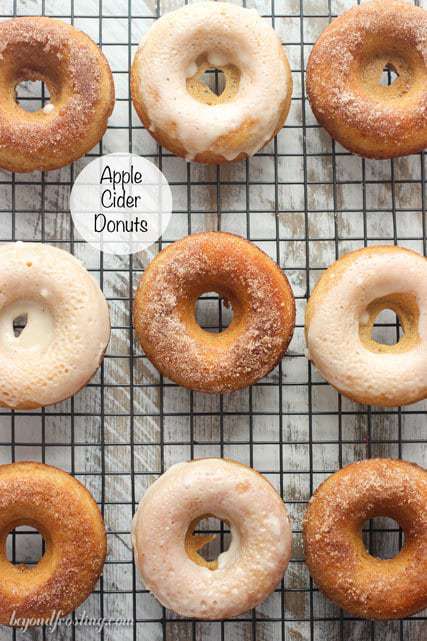 By far, my favorite thing about fall is cider donuts and pumpkin ice cream. Although I haven't found either that quite compare to the treats that I can get back in Vermont. Every year, my dad sends me a box of fresh cider donuts, although they aren't totally fresh by the time they make their way across country, they are easy to reheat and enjoy! Now I just have to figure out how to ship the ice cream.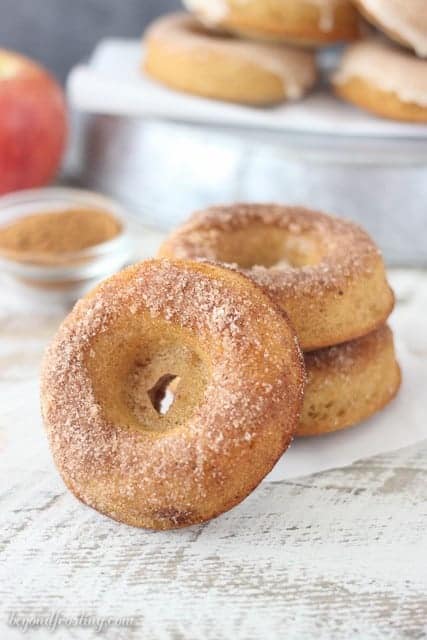 A couple weeks ago I Instagramed a photo of a package I purchased from King Arthur Flour. I think you guys know they are near and dear to my heart! I asked what I should bake first, and someone commented, Cider Donuts! So here we are.
I have been baking my way (slowly) through some of their cookbooks and their new magazine SIFT. Which, I am happy to say I have been included in their holiday issue! They sent me a sneak peek copy last week and I can't wait for you guys to see it!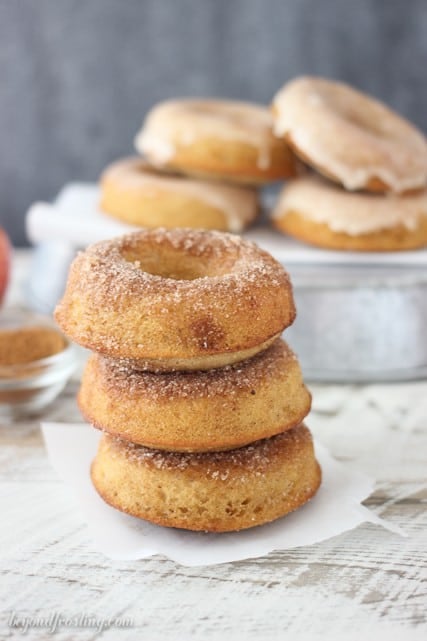 I've been trying to find a cider donut recipe that is similar to the one I get in Vermont. I am fairly certain they are a fried donut but without the yeast. You know those types of donuts that drop from the donut machine instantly to the fryer? That is the best way I can describe them. I decided to start with this baked cider donut recipe to see how they can compare.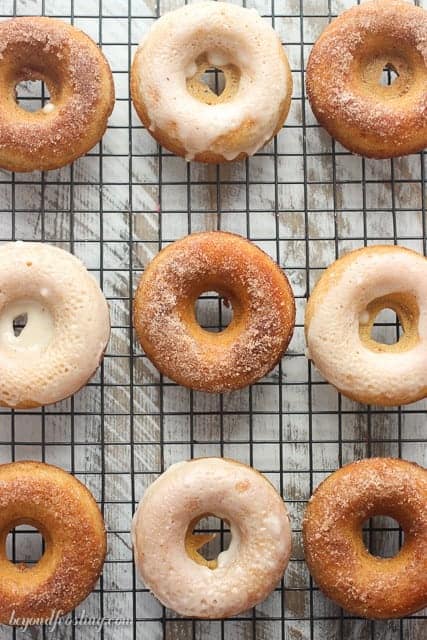 I baked these in my Wilton Donut Pan
and I actually doubled the original recipe, which ended up making 15 donuts. I was so pleased to find a donut recipe that only made 6 donuts!! I certainly don't need the extras laying around, but I wanted to try them as cinnamon sugar coated and also with the glaze. Hence why I doubled the recipe.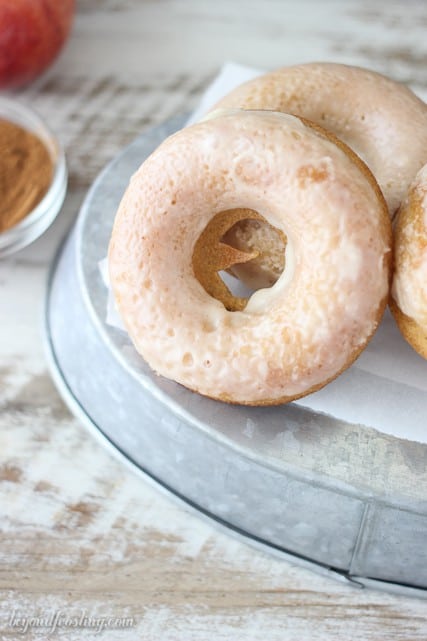 I filled the donut cavities quite full, because I wanted a thicker donut. I generously sprayed the pan with cooking spray first, and just watched them carefully until the edges started to brown. I did let them cool in the pan for a few minutes before I flipped them out.
While I love a fresh donut, I actually thought these were better a few hours later once all the flavors soaked in. I also made two different toppings for this donut. I did a cinnamon-sugar coating and a cider glaze. You will notice that this recipe calls for boiled cider, which is a product I purchased from King Arthur, but the recipe recommends using thawed frozen apple juice concentrate as an alternative.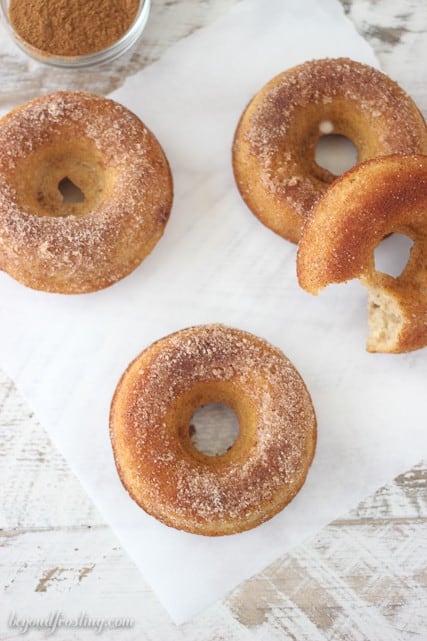 While the donuts were still warm, I brushed them with melted butter and dipped them in the cinnamon sugar mixture. I preferred the cinnamon sugar-coated donuts to the glaze, because I thought the glaze was a little too sweet for me.
While this recipe isn't exactly like the ones I get from home, it is close enough for me and I will be continue to make these!
Keep up with all the happenings. Follow Beyond Frosting:
Facebook | Twitter | Pinterest | Instagram
Print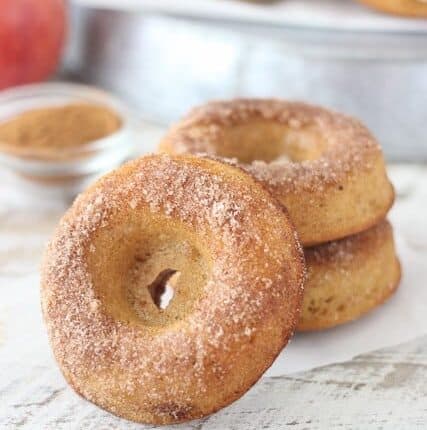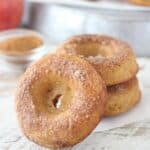 Apple Cider Donuts
Author:

Prep Time:

10 mins

Cook Time:

12 mins

Total Time:

22 minutes

Yield:

12-15 donuts
Description
These Apple Cider Donuts are baked to perfection and covered with either cinnamon sugar or a cider glaze. Best of all, this recipe can be halved to make only 6 donuts!
Ingredients
4 tablespoons

Unsalted butter, softened

4 tablespoons

Vegetable oil

½

C Sugar

1 tsp

Salt

1 tsp

Cinnamon

¼ tsp

Nutmeg, ground

4 tbsp

Boiled cider (or thawed frozen apple juice concentrate)

2

Large eggs

2 tsp

Baking powder

¼ tsp

Baking soda

2 ½

C All-purpose flour

1

C Milk
For the topping:

¼

C Sugar

1 tbsp

Cinnamon

2 tbsp

Unsalted butter, melted
For the glaze (coats 6 donuts)

¾

C Powdered sugar, sifted

2 tsp

Boiled cider (or thawed frozen apple juice concentrate)

1 tbsp

Unsalted butter, melted

2 tsp

milk
Instructions
Preheat oven to 400°F. Spray a donut pan generously with pam spray.
Combine butter, oil, sugar, salt and spices and beat until butter is well blended. Add eggs and boiled cider and beat until all ingredients are well combined.
In a separate bowl, combine baking powder, baking soda and flour and whisk ingredients together. Scape down sides of the bowl.
Pour alternating dry ingredients with milk and mix just until batter is mixed. Pour batter into a piping bag or Ziploc bag to help fill the donut pan easily.
Fill each cavity mostly full of batter and give the pan a gentle tap on the counter to even out the batter.
Bake at 400°F for 10-15 minutes, keep an eye on the donuts after 10 minutes so you do not overcook them. Insert the toothpick into the donut and if it comes out clean, they are done. Allow donuts to cool for at least 5 minutes before transferring to a wire rack.
For the topping (Cinnamon Sugar)
Combine sugar and cinnamon in a shallow bowl or paper plate and stir together.
Melt butter in the microwave. Brush each cupcake with a thin layer of butter and roll donuts in the cinnamon sugar mix.
Donuts can be keep in an airtight container for up to 2 days.
For the glaze – coats 6 donuts
Sift powdered sugar into a bowl. Add boiled cider, melted butter and 1 teaspoon of milk. Whisk until smooth. Add additional milk if you want a thinner glaze.
Dip each donuts and swirl in the glaze. Turn over on a wire rack and allow glaze to firm up. Glazed donuts are best served day of, but can be kept in an airtight container for one day.
Recipe Card powered by
Visit Beyond Frosting's profile on Pinterest.
Other recipes you might like:
Bakery Style Brown Butter Apple Pie Muffins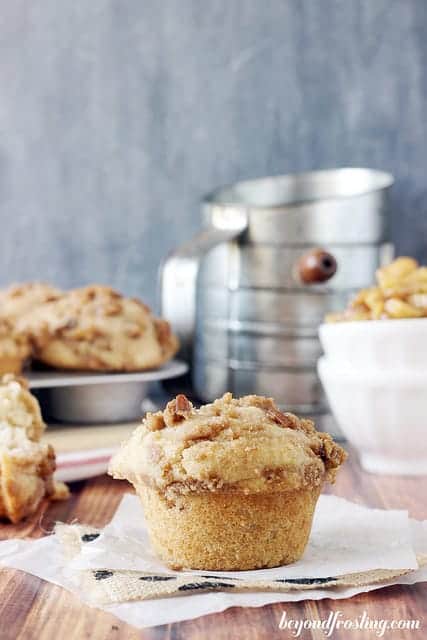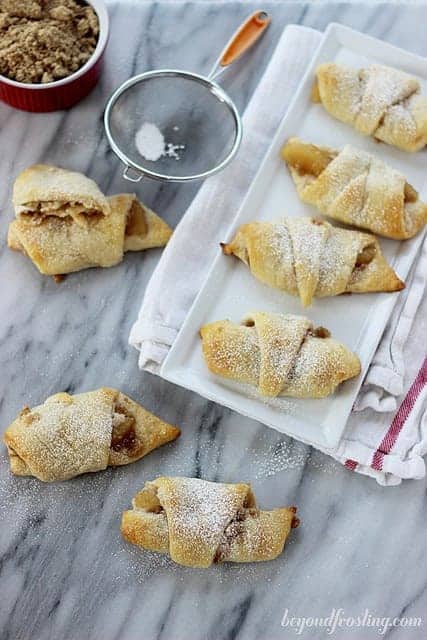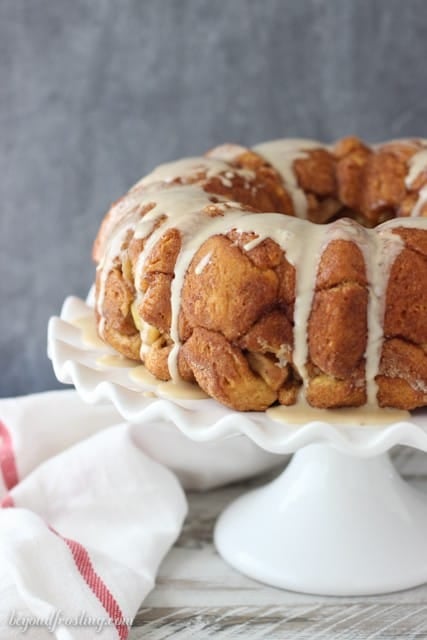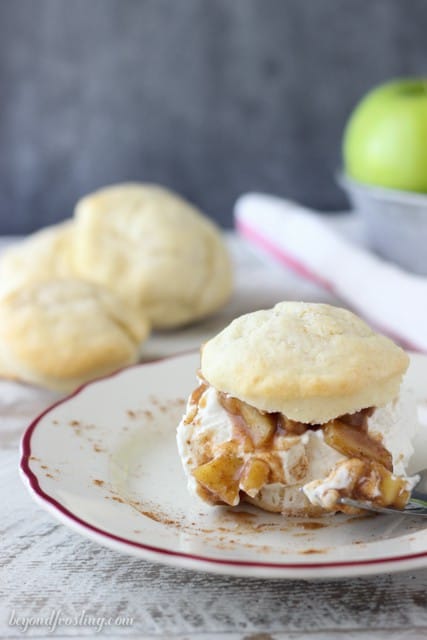 Apple Pie Coffee Cake with a Brown Butter Maple Glaze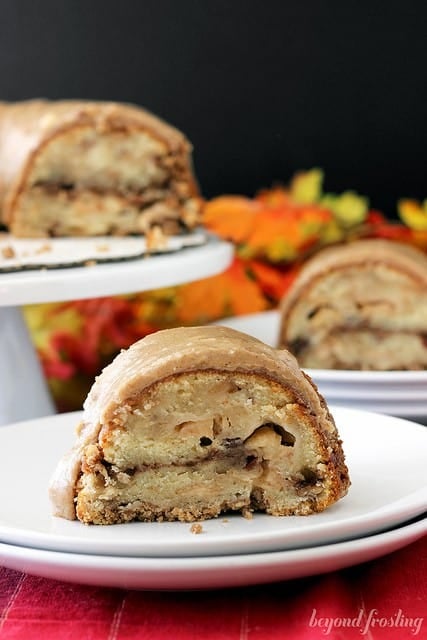 Other recipes you might like:
Baked Apple Fritters from The Baker Mama
French Toast Apples from Heather's French Press
Apple Cider Cinnamon Rolls from Crazy for Crust