This post may contain affiliate sales links. Please see my full disclosure policy for details
These homemade apple cider donuts are fluffy, filled with fall spices, and baked, not fried. Coated in cinnamon sugar, this donut recipe is the ultimate fall treat!
Looking for more festive donut recipes? Try my baked pumpkin donuts, too!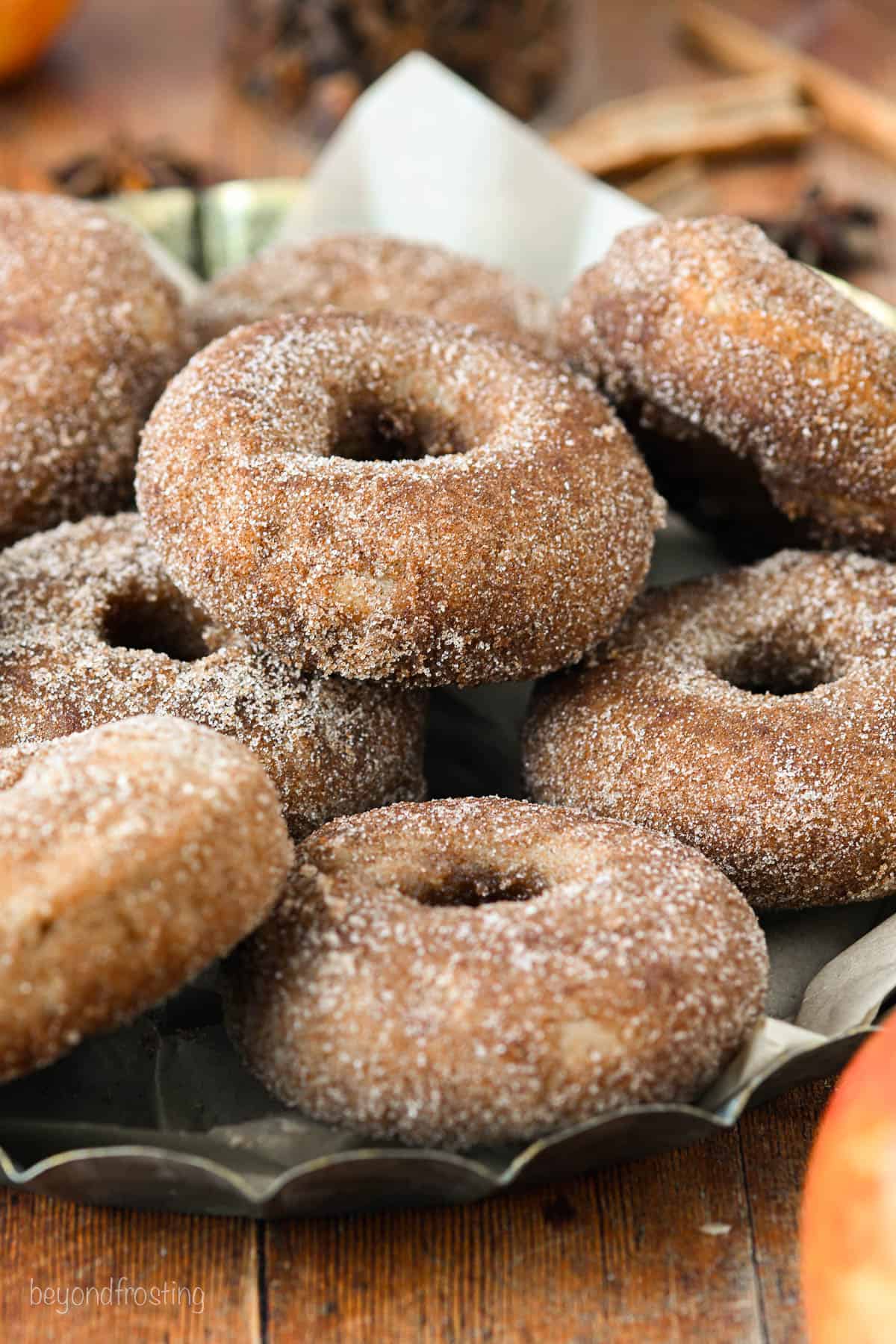 Baked Apple Cider Donuts
Every fall, my dad sends me a delivery of fresh cider donuts from Vermont. Of course, they aren't quite as fresh after they've traveled from coast to coast.
Nothing compares to those old-fashioned, fluffy donuts filled with tangy apple cider and rolled in crunchy cinnamon sugar. That's why I've tested this recipe for years, trying to get it as close as possible to the real deal!
These soft and dense apple cider donuts are baked, not fried. Not only is the flavor just as good IMO, but unlike deep-fried donuts, baked ones taste great even a day or two later. My baked apple cider donuts are deliciously spiced, full of cozy cinnamon and fall spice, and ultra tender. They're the ultimate fall snack!
Why You'll Love This Apple Cider Donut Recipe
Full of fall flavor. Anyone familiar with fall on the East Coast knows that apple cider is a staple. These baked apple cider donuts are filled with warm spices and made with boiled apple cider, for the best, most intense flavor.
Perfect texture. These are soft, spongy, moist, perfectly sweet donuts filled with spice, applesauce, and real apple cider. They're coated in crunchy cinnamon sugar and taste as though they come right from the bakery.
Easy to make. Best of all, my homemade cider donuts are fresh from the oven in 20 minutes. The batter comes together quickly without yeast (no rising time!), and baking these donuts in a donut pan saves the mess of deep frying.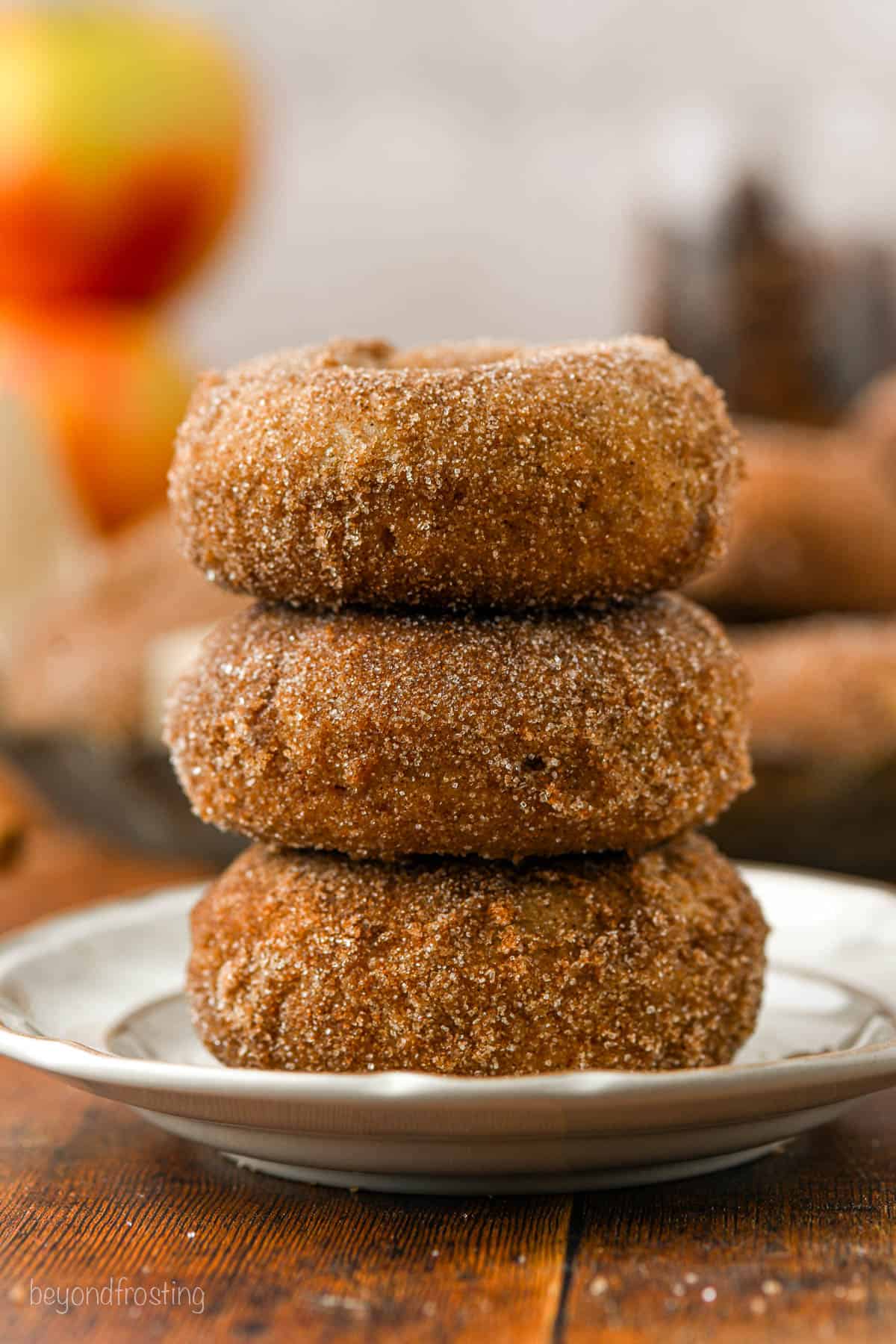 What's So Special About Apple Cider Donuts?
Apple cider donuts are a fall tradition in New England. Every year during the apple harvest, cider makers use some of their freshly pressed juice to make soft and tender "cake doughnuts".
These old-fashioned donuts are flavored with cozy fall spices like nutmeg and cinnamon and rolled in cinnamon sugar. Cider donuts are usually sold at cider mills or apple orchards and they're definitely a fall favorite! This homemade version is everything I'd hoped it would be, and I can't wait for you to try it.
I have not been able to find anything quite like them in Oregon yet.
Donut vs. Doughnut: What's the Difference?
Donut is simply an alternative spelling to "doughnut", most often used in the US. There's really no difference aside from that!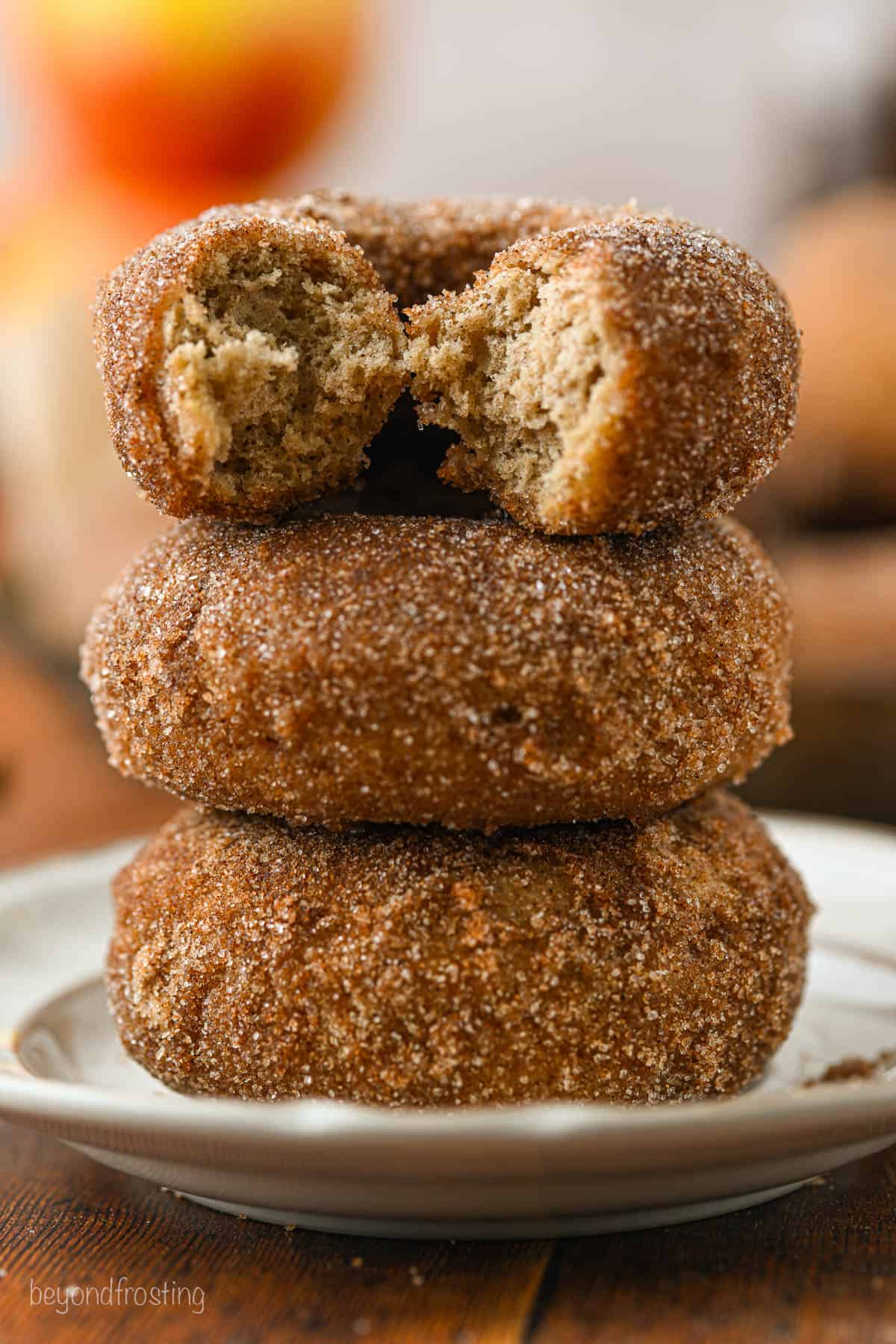 Cidar Donut Ingredients
Below is a quick overview of the key ingredients needed to make baked apple cider donuts. Don't forget to scroll to the recipe card for the full ingredients list and recipe details.
Apple Cider – Fresh apple cider, boiled into a concentrate, is the secret to the best apple cider donuts! Using boiled apple cider brings out an intense apple flavor. I include instructions on how to make boiled cider below, or you can use store-bought. A good alternative is apple concentrate (fresh or frozen).
Flour and Leavening – Regular all-purpose flour is the best choice for homemade cake donuts as it has a moderate gluten content, just the right amount for fluffy-textured donuts. A combination of baking powder and baking soda ensures that these donuts bake up nice and puffy.
Spices – Ground cinnamon and apple pie spice fill these apple cider donuts with the flavors of fall.
Melted Butter – I like to use melted butter when creaming the sugars for the donut batter, as it blends more easily with the other ingredients and yields a lighter, more tender crumb.
Sugar – A combination of brown sugar and granulated sugar makes these homemade donuts extra moist.
Egg and egg yolk
Applesauce – In keeping with the apple theme, I use unsweetened apple sauce in place of oil in this cider donut recipe. It makes the crumb ultra moist and tender.
Maple Syrup Meanwhile, maple syrup is a natural sweetener that gives these donuts cozy fall vibes at the same time.
Vanilla extract
Cinnamon Sugar – For coating your donuts after baking. This is easy to make by combining regular granulated sugar (or brown sugar) with ground cinnamon.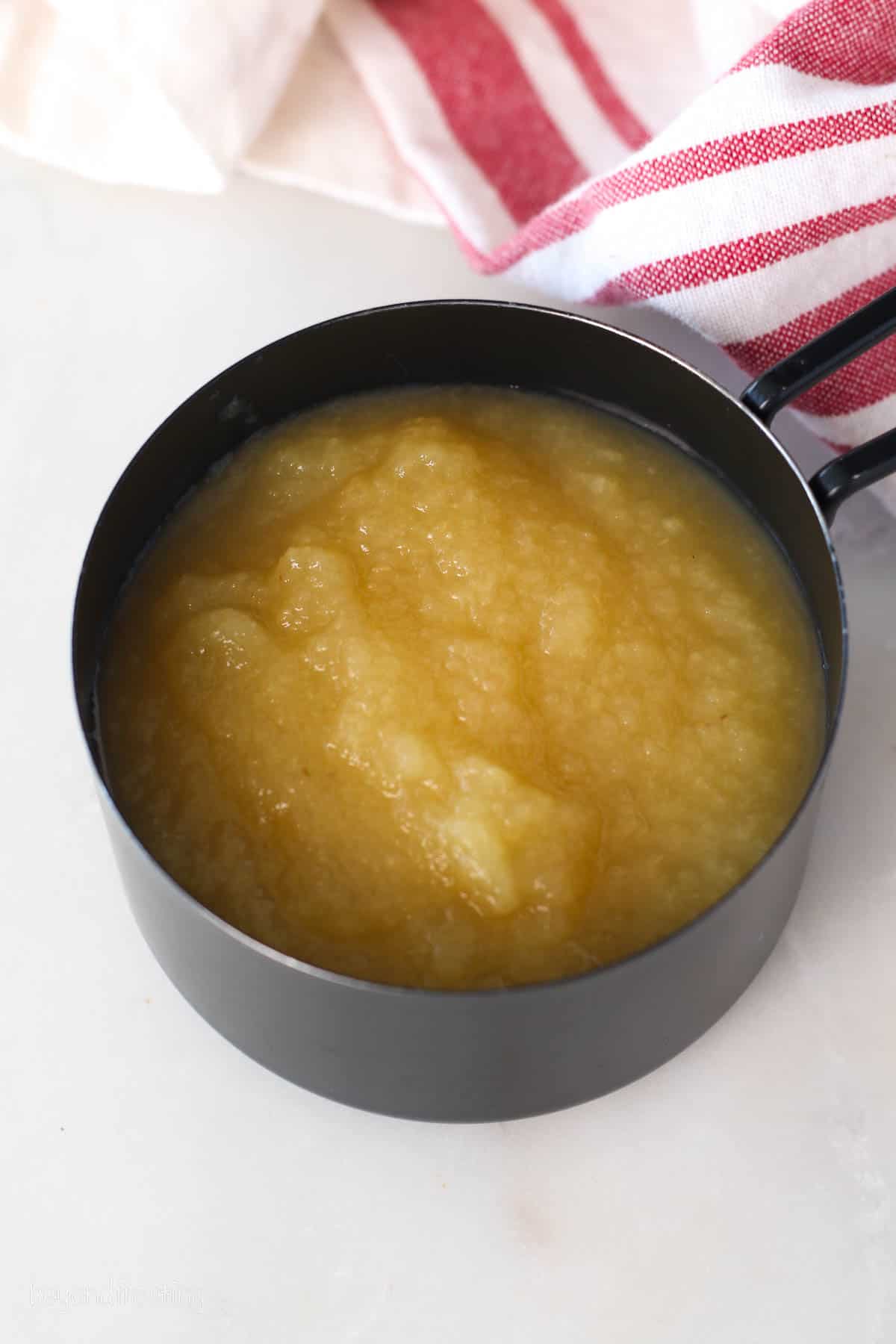 How to Make Apple Cider Donuts
These baked donuts are soft and compact, with far fewer fats and calories than fried donuts (not to mention, cleanup is WAY easier!). While the oven preheats to 350ºF, give your donut pan a generous coating with cooking spray. Let's make some apple cider donuts!
Reduce the Apple Cider
First things first, you'll boil down the cider. Boiled cider is basically apple cider that's been reduced to a thicker pourable syrup. It's the key to adding big apple flavor to these donuts without extra liquid.
Follow these easy steps to reduce apple cider into a flavor-packed concentrate:
Bring the cider to a simmer over medium-low heat. Add 1 ½ cups of apple cider to a saucepan on the stovetop. Stir the cider occasionally, checking it at the 10-minute mark, and again every 2-3 minutes, until it's reduced. This can take up to 20-25 minutes
The boiled cider is ready when it reaches ½ cup of liquid. Remove the pan from the heat, and allow the concentrate to cool.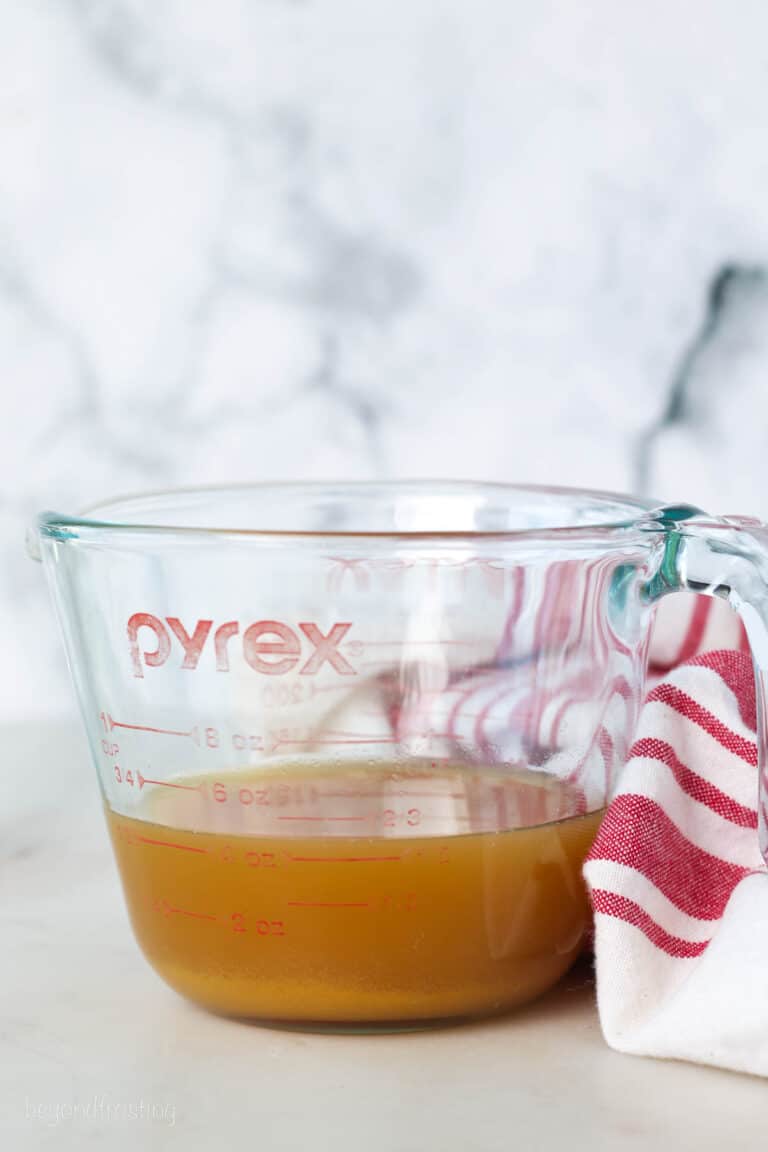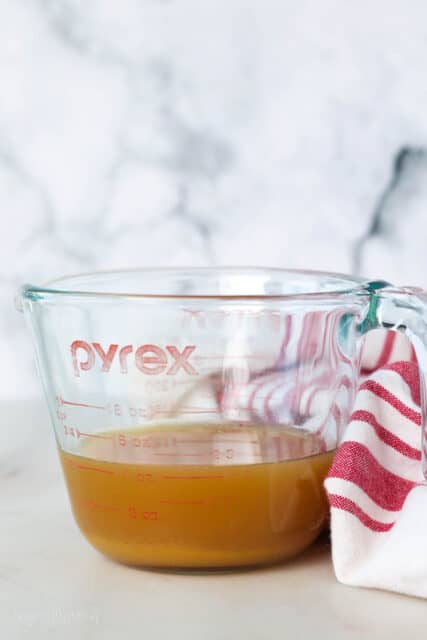 Make the Cider Donuts
Get your donut pans greased, and let's make some apple cider donuts:
Make the donut batter. First, whisk together the dry ingredients apart from the sugars. In a separate bowl, cream the melted butter with both sugars, then add the remaining wet ingredients (eggs, applesauce, maple syrup and vanilla) and whisk to combine. Lastly, stir in your boiled cider, followed by the dry ingredients. The batter will be pretty thick.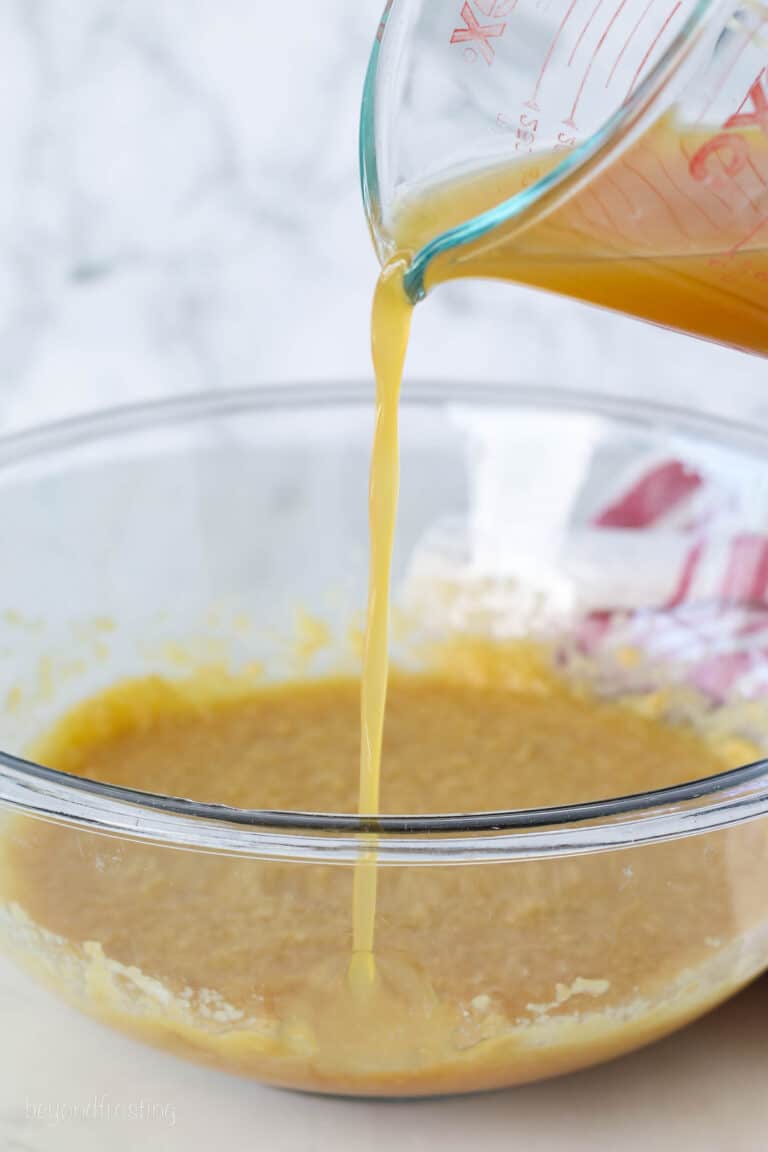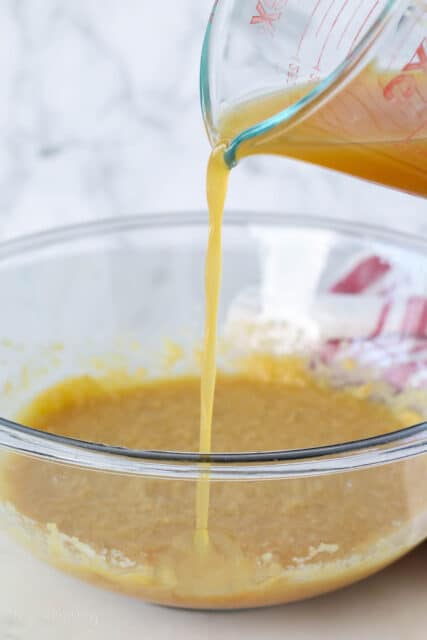 Fill the pan. I find that this is easiest to do if you transfer the donut batter to a piping bag and pipe the batter into each well of the donut pan. If you don't have a piping bag, a large Ziploc bag with the corner snipped off works just as well! Fill each donut well full with batter.
Bake the donuts. Pop your donuts into the oven and bake at 350ºF for about 9 minutes. Afterward, leave the donuts to cool in the pan for about 5 minutes before inverting them onto a wire rack.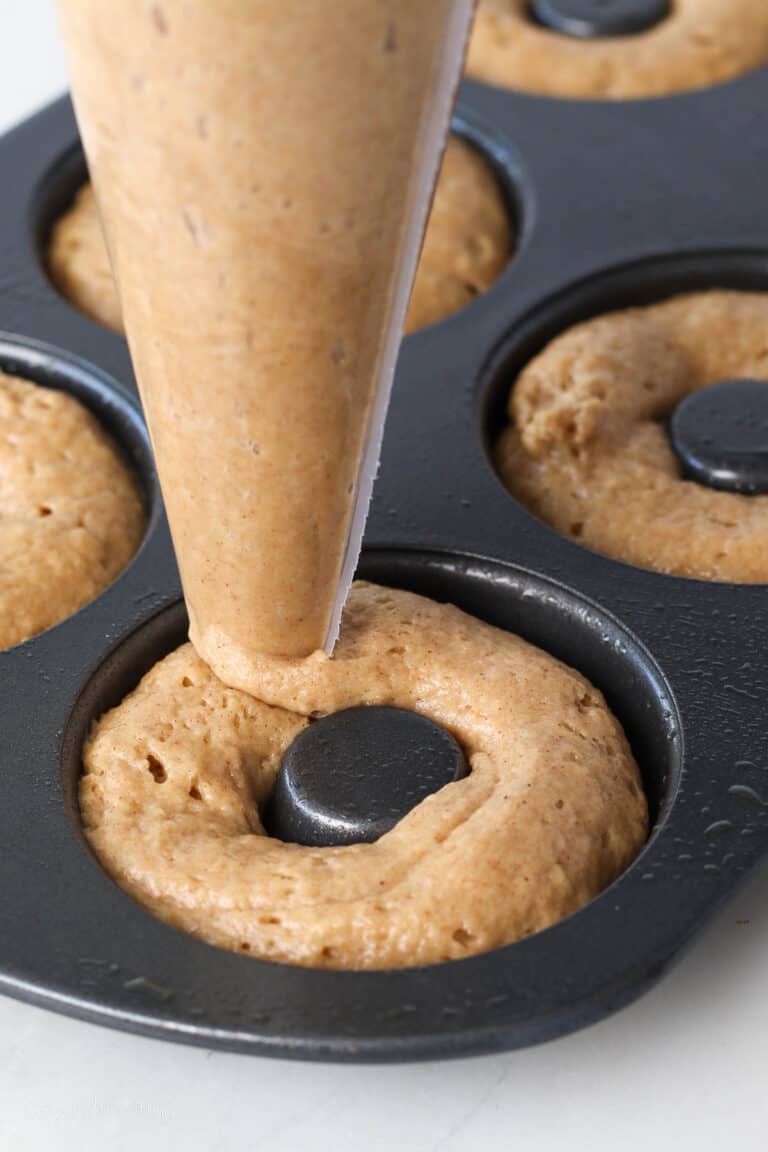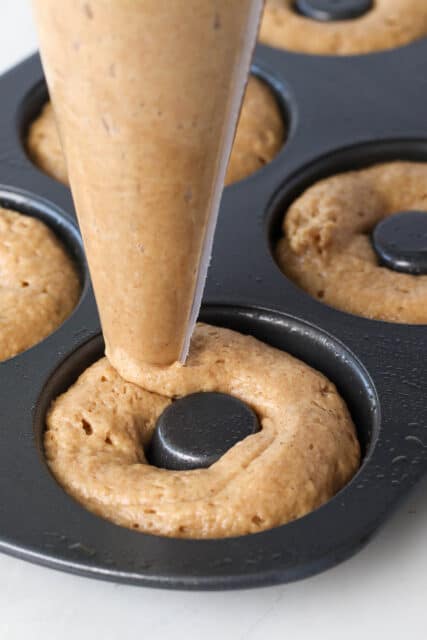 Cool and coat. When your apple cider donuts are cool enough to handle (but still warm), combine the sugar and cinnamon in a bowl. Next, one at a time, dip the donuts in melted butter and roll them in the cinnamon sugar. That's it! Your homemade apple cider donuts are ready for snacking alongside coffee or tea.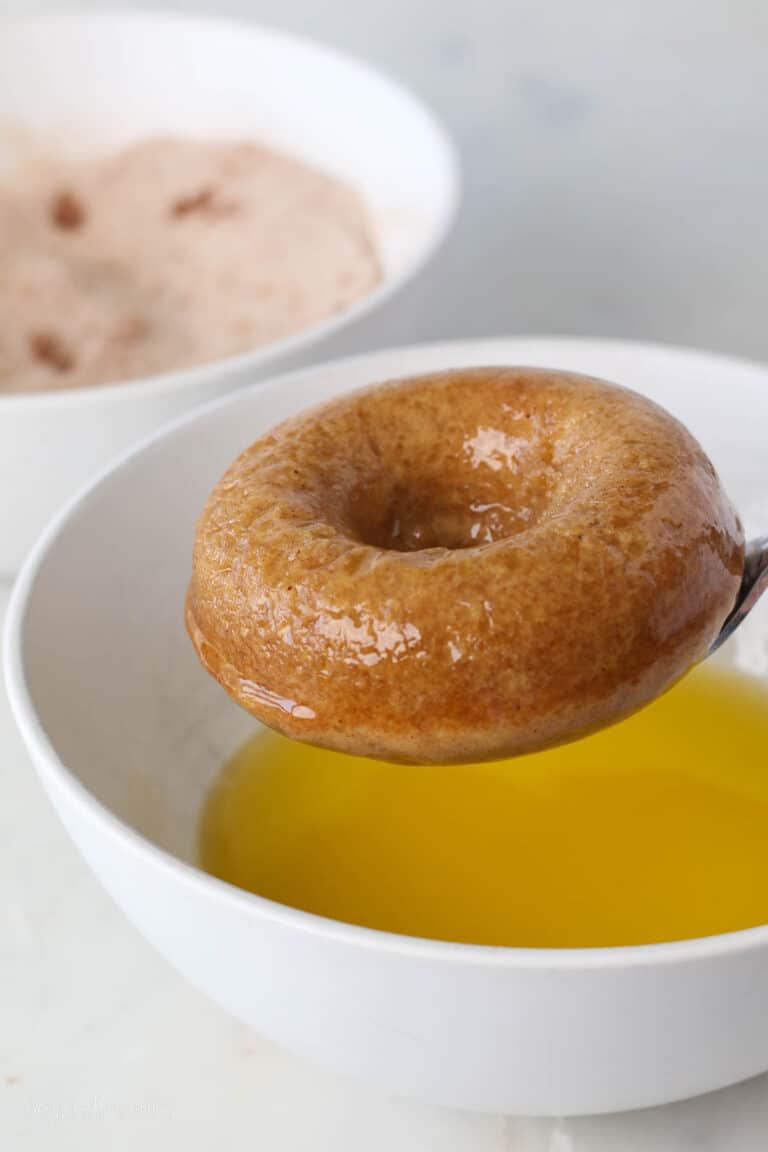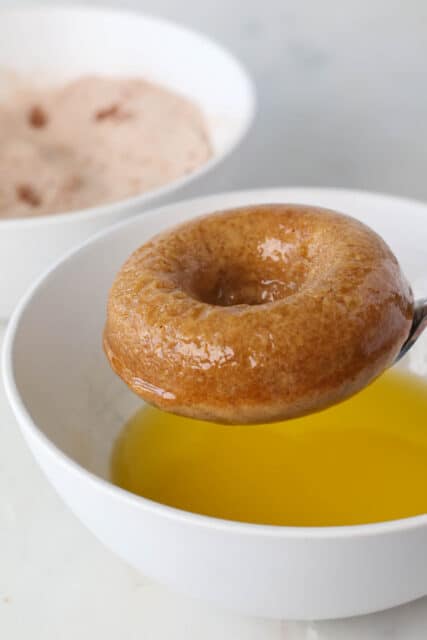 Tips for the Best Homemade Donuts
Follow these tips for baked donut perfection
Grease the pan. Don't forget to coat your donut pan with cooking spray (even if it's a non-stick pan) as extra insurance against sticking.
Don't overmix the donut batter. Make sure to only mix the flour into the wet batter until combined. Overmixing will cause the gluten to overdevelop resulting in rubbery or crumbly donuts.
Check the donuts toward the end of the cooking time. Different ovens bake differently. To avoid overbaking, check the donuts using a toothpick. If a toothpick stuck in the middle of a donut comes out clean, they're done! If it comes out streaked with batter, your donuts may need a few minutes more in the oven.
Dip the donuts in sugar while they're still warm. This helps some of the butter absorb into the donuts. If the donuts are too hot, however, they'll become too soft with the melted butter and the heat will melt the sugar.
No donut pan? Bake this recipe in a standard-sized muffin pan instead! Afterward, roll your baked and cooled apple cider muffins in butter and cinnamon sugar. Note that muffins will take longer to bake. So, add baking time as needed until a toothpick comes out clean (see above).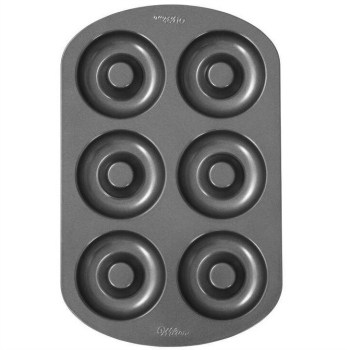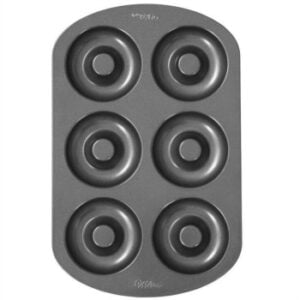 This non-stick 6-cavity donut pan is the best! Donuts release perfectly and it's even dishwasher-safe.
Large 18-inch piping bags are perfect for decorating with buttercream, whipped cream or for filling molds.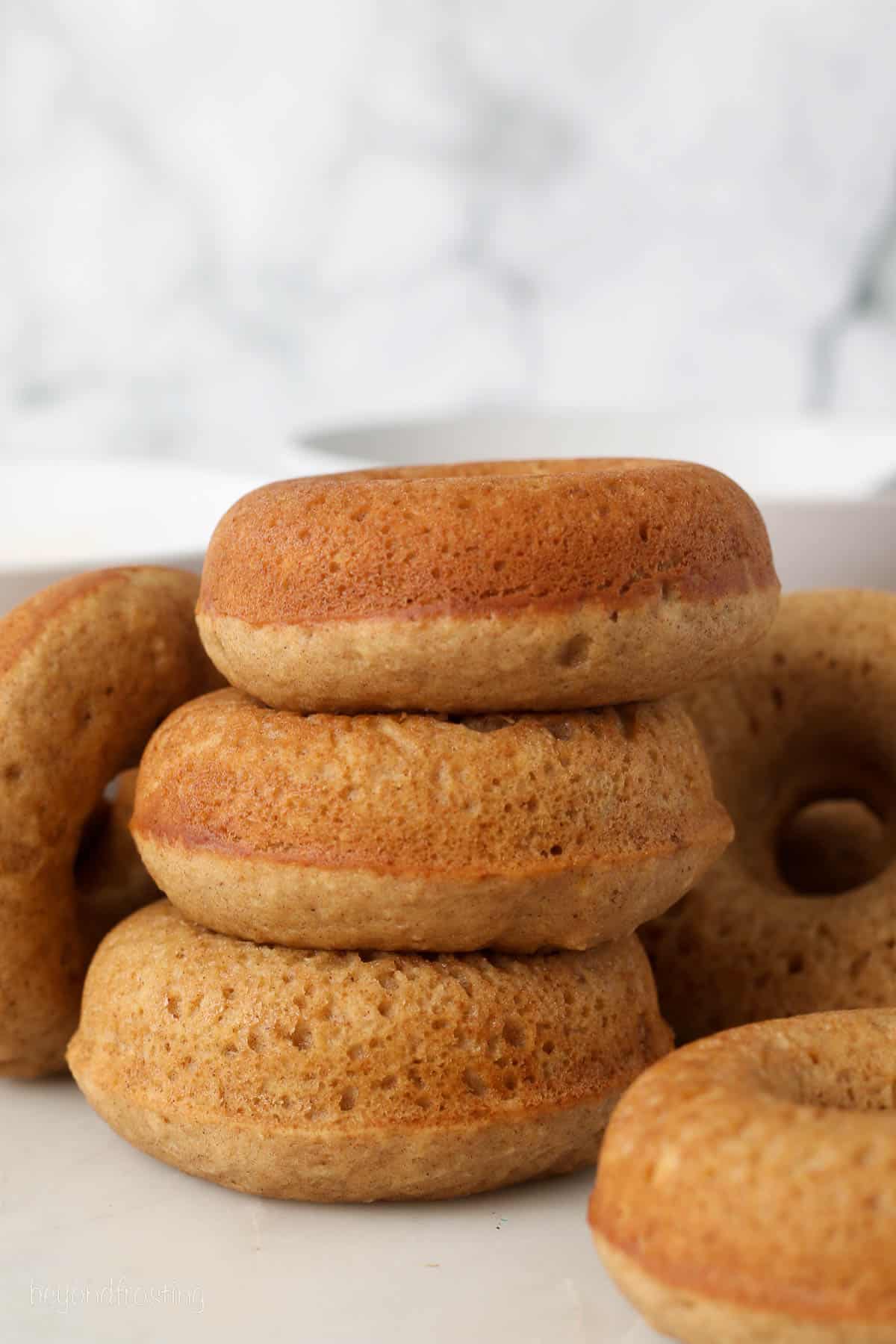 Can I Deep-Fry These Donuts Instead?
I don't recommend deep-frying these apple cider donuts as this recipe is made for baking. Baked donuts are different from fried donuts, in that they're more cakey and soft. However, if you'd like to make fried doughnuts, check out my glazed old-fashioned donuts recipe.
How to Store Cider Donuts
To store. Baked apple cider donuts are at their freshest on the day they're made. However, you can store any leftover donuts in an airtight container at room temperature for up to 3 days. The sugar coating will start to soften, though, so if you know you'll have lots of leftovers or are planning to store for along period, I recommend leaving the donuts uncoated before storing them.
Freeze. It's best to freeze these donuts before they're coated in cinnamon sugar. To freeze your apple cider donuts, store them in an airtight container with parchment paper between layers. Store the donuts frozen for up to 1 month. Thaw at room temperature and then coat in sugar as directed.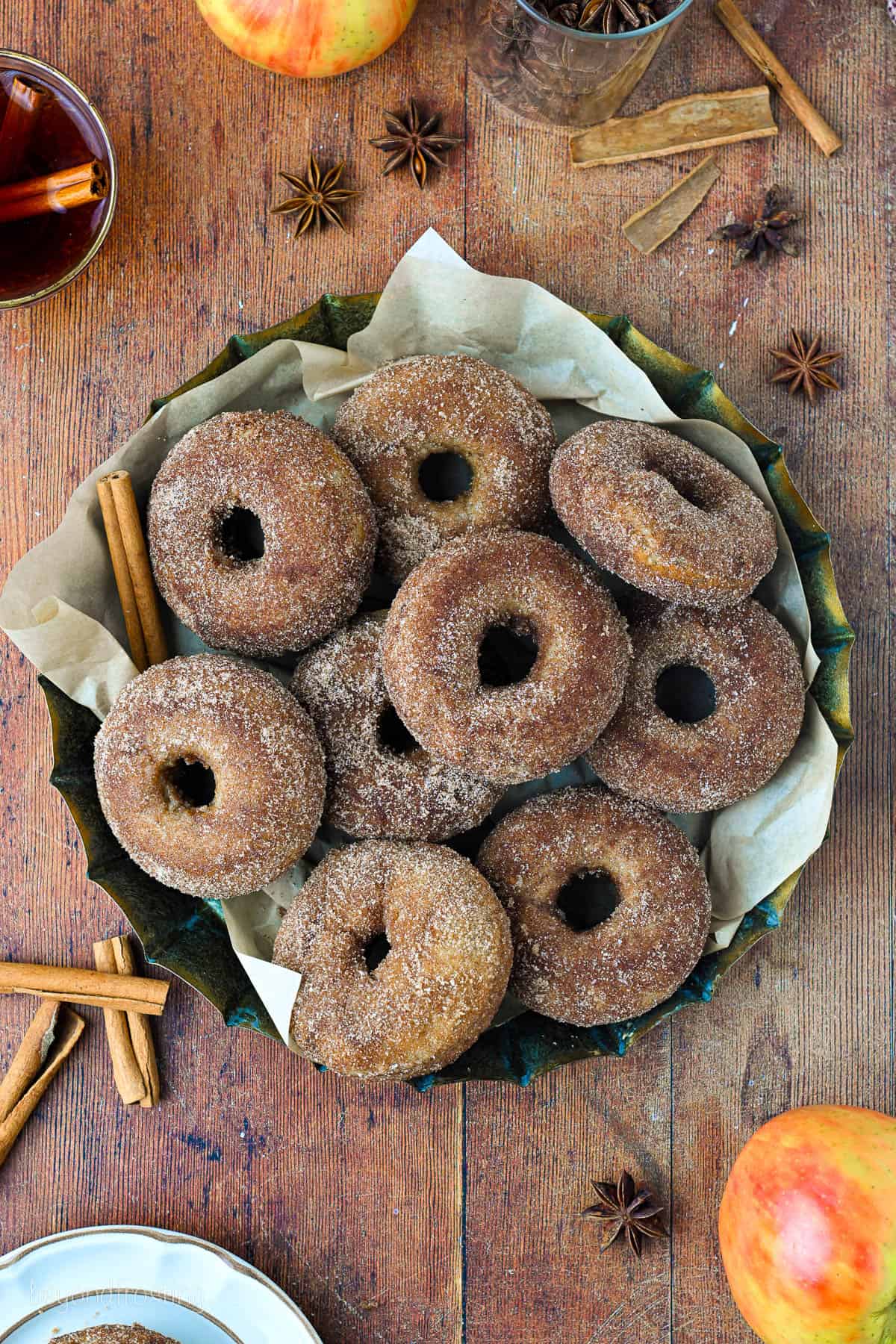 More Fall Recipes to Try
Print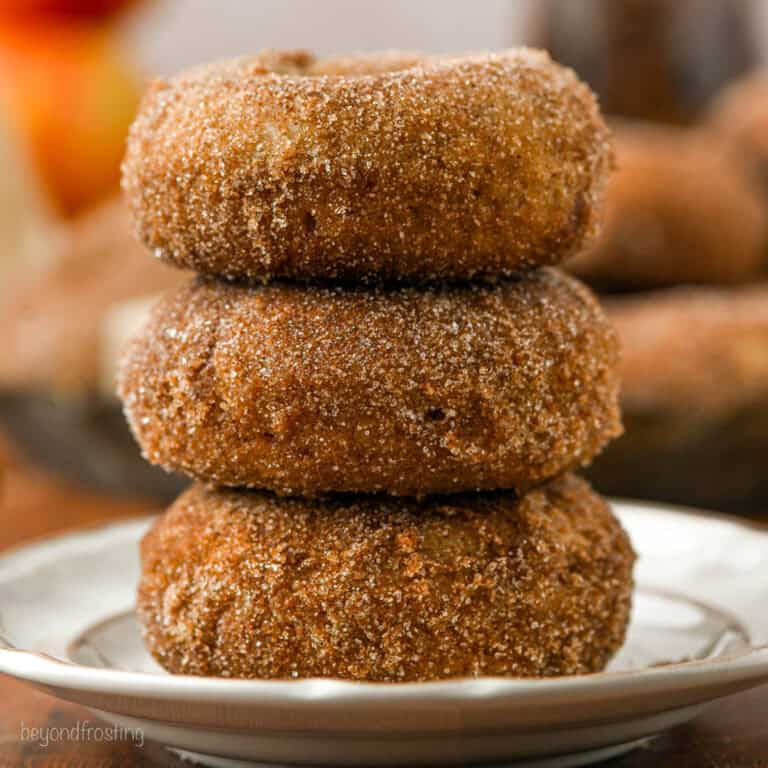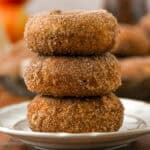 Apple Cider Donuts
Author:

Prep Time:

45 minutes

Cook Time:

9 minutes

Total Time:

54 minutes

Yield:

13-14 donuts
Description
These dense and fluffy apple cider donuts are filled with fall spices and baked, not fried. Coated in crunchy cinnamon sugar, they're the ultimate fall treat!
Ingredients
Batter:
1 ½ cups

(354ml) apple cider

3 cups

(

360g

) all-purpose flour

2 ½ teaspoons

(

6.25g

) ground cinnamon

2 teaspoons

(

8g

) baking powder

1 ¼ teaspoon

apple pie spice

1 teaspoon

(

5g

) salt

½ teaspoon

baking soda

¼ cup

(

56g

) unsalted butter, melted

½ cup

(

55g

) light brown sugar, packed

¼ cup

(

48g

) granulated sugar

1

large egg

1

large egg yolk

¾ cup

(

189g

) unsweetened applesauce

1 tablespoon

(15ml) maple syrup

2 teaspoons

(10ml) pure vanilla extract
Coating:
½ cup

(

113g

) unsalted butter, melted

1 cup

(

190g

) granulated sugar

1 tablespoon

(

7.5g

) ground cinnamon
Instructions
Preheat the oven to 350°F. Grease a donut pan with baking spray and set aside.
In a medium-sized saucepan, bring the apple cider to a boil over medium heat then reduce to medium low heat. Reduce the apple cider down to ½ cup. This should take 20-25 minutes. Set aside to cool.
In a medium sized bowl, whisk all the dry ingredients together except the sugars and set aside.
In a large bowl, whisk the butter with the granulated and brown sugar until combined. Next, add the egg and egg yolk, the applesauce, and vanilla and maple syrup and whisk until combined. Finally, add in the apple cider, mixing to combine.
Lastly, add the flour mixture and mix just until combined as the batter will be thick. Spoon the batter into a large piping bag and pipe batter into each donut cavity, filling until full.
Bake at 350°F for 9-10 minutes, or until a toothpick inserted into the center comes out cleanly. Cool in the pan for a few minutes then turn them out onto a cooling rack until they are warm enough to handle.
To make the coating, whisk the sugar and cinnamon together in a small bowl. One at a time, dunk each donut into the melted butter (on both sides) then roll them in the cinnamon sugar and toss well to coat.
Repeat until all of the donuts are coated.
Notes
Storage and make ahead: Donuts can be kept in an airtight container for up to 2 days.
Recipe from Sift Magazine, a King Arthur Flour publication. Fall 2015
Category:

Donuts

Method:

Baked

Cuisine:

American
Keywords: apple cider donuts, baked apple cider doughnuts, apple cider donuts recipe