This post may contain affiliate sales links. Please see my full disclosure policy for details
Spice up a weeknight chicken dinner with these easy homemade Chicken Empanadas! Baked deliciously crisp and golden on the outside, filled with juicy ground chicken, zesty chipotle, and melted cheese.
Cheesy Chicken Empanadas With Avocado Crema
What's juicy and savory on the inside, crisp and flaky on the outside, and warm all over? I'll spill. It's a delicious homemade chicken empanada! And that's what we're making today.
It's always great to switch up our weekly taco rotation. While we love chicken taquitos and taco salad, these baked chicken empanadas are working their way into the rotation. You could even serve these as an appetizer or bring them to a Superbowl party.
These flaky pastry pockets stuffed with spiced ground meat and cheese are so easy to pull together in under an hour, and they taste seriously amazing.
Empanadas are spicy, succulent, cheesy, and super satisfying, especially when they're dipped in my favorite quick and zesty avocado crema, which I've also included below. Let's get this fiesta started!
Why You'll Love This Recipe
Some of you might be thinking, what the heck is an empanada? Simply put, an empanada is a type of Latin American or Spanish turnover. They're made from pastry dough that's stuffed with savory fillings, then fried or sometimes baked (like the ones in this recipe).
These chicken empanadas are a juicy, crispy, tasty snack or appetizer and you're going to LOVE them. Here's why:
Easy. This empanada recipe uses store-bought puff pastry and other zero-fuss ingredients, making it great for busy weeknights.
Filled with juicy chicken. The tender, spiced ground chicken cooks up deliciously flavorful and juicy inside these zesty little dough pockets. Plus a kick of spicy chipotle and melty cheese, too!
Oven-baked. These empanadas are baked golden in the oven, as a lighter alternative to deep frying.
Are Empanadas Usually Baked or Fried?
Empanadas can be baked as they are in this recipe, or fried, which is the more traditional way of cooking them. I prefer baking as it's less messy and less grease! However, if you'd prefer to fry your chicken empanadas, you can do so with either a deep fryer or a skillet with oil.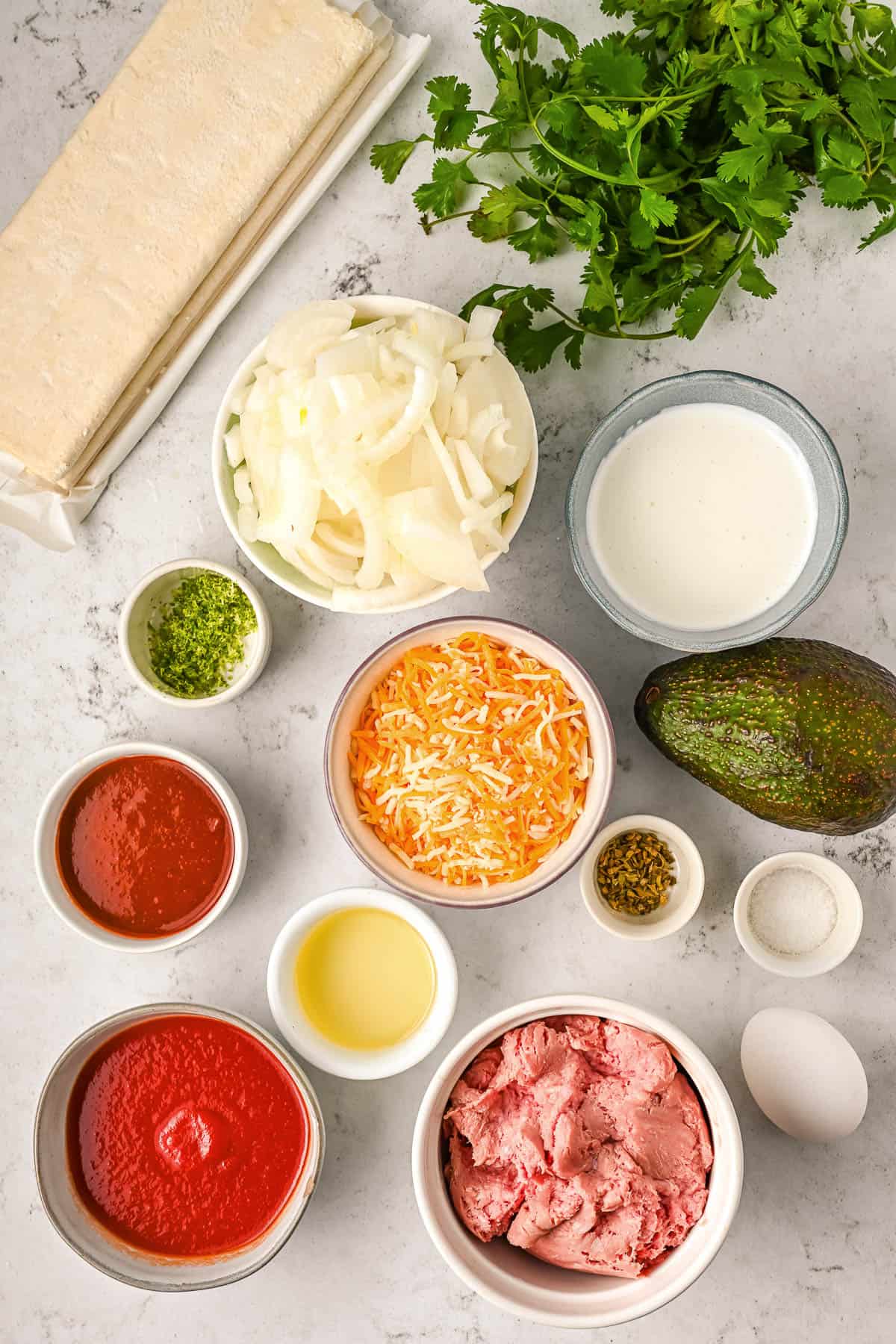 Chicken Empanadas Ingredients
The ingredients you'll need to make your empanadas are quite basic. Below you'll find a quick overview of the key ingredients for the chicken empanadas along with my favorite avocado crema for dipping. Be sure to refer to the recipe card at the bottom of this post for the full recipe.
For the Empanadas
Onion – Onion sautéd with a bit of olive oil makes a great flavor base.
Chicken – I love using uncooked ground chicken in this recipe, though cooked shredded chicken will also work (see below for tips).
Seasoning – Just a pinch of salt as well as some Mexican oregano is all you need to enhance the flavors of the chipotle sauce. Mexican oregano is a bit different than regular Italian oregano. The flavor is less minty and more lemon/citrus, and better suited for Mexican-style cooking. In a pinch, go ahead and use the regular kind.
Chipotle – You can use premade chipotle sauce, or mince up about 4 chipotle peppers in adobo to use instead.
Tomato Sauce – Your choice of canned or jarred tomato sauce.
Puff Pastry – Store-bought refrigerated puff pastry dough works great in this quick and easy recipe. Of course, you can still use your own homemade empanada dough if you prefer.
Cheese – I use a shredded Mexican cheese blend, which usually consists of Monterey Jack, cheddar, Asadero, and queso quesadilla cheeses. You can use one or any combination of these cheeses when filling your empanadas.
Egg – You'll need a single beaten egg for an egg wash to brush over the empanadas before baking.
For the Sauce
Avocado – I love making this sauce when avocados are in season.
Mexican Crema – This is a type of Mexican cream made with heavy cream and buttermilk. Alternatively, use sour cream.
Fresh Cilantro – Finely chopped, fresh cilantro leaves.
Lime – Freshly grated lime zest brings brightness and acidity to the sauce.
Can I Use Shredded Chicken?
If you have leftovers from your latest chicken dinner, go ahead and use them! Instead of cooking the chicken in the skillet, simply reheat it in the pan with the seasoning and chipotle sauce. Then fill your empanadas as usual.
How to Make Chicken Empanadas
Let's dive into how to make these juicy chicken empanadas!
Step 1: Saute the onion and chicken. Gently cook the onions in olive oil until browned, then stir in the ground chicken. Use a wooden spoon to break apart the chicken as needed while it cooks. Once the chicken is cooked through, season with salt and oregano.
Step 2: Add chipotle sauce. Next, pour in the chipotle sauce along with the tomato sauce. Let the mixture simmer and thicken, then take it off the heat to cool for a few minutes.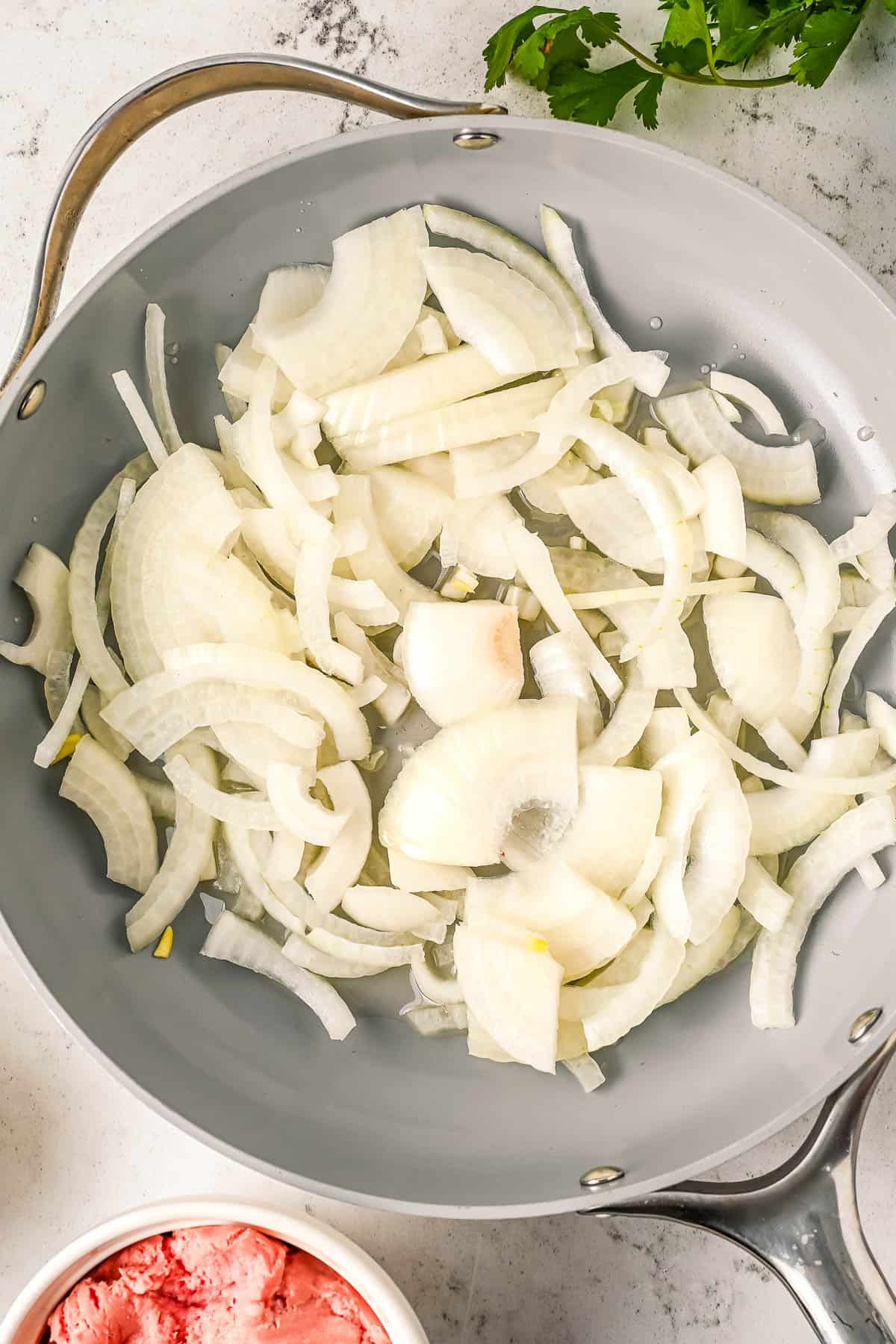 Step 3: Prepare and fill the puff pastry. While your oven preheats for baking, cut the puff pastry into circles about 3 inches in size. Place a dollop of chicken filling into the middle of each circle, then sprinkle on some cheese.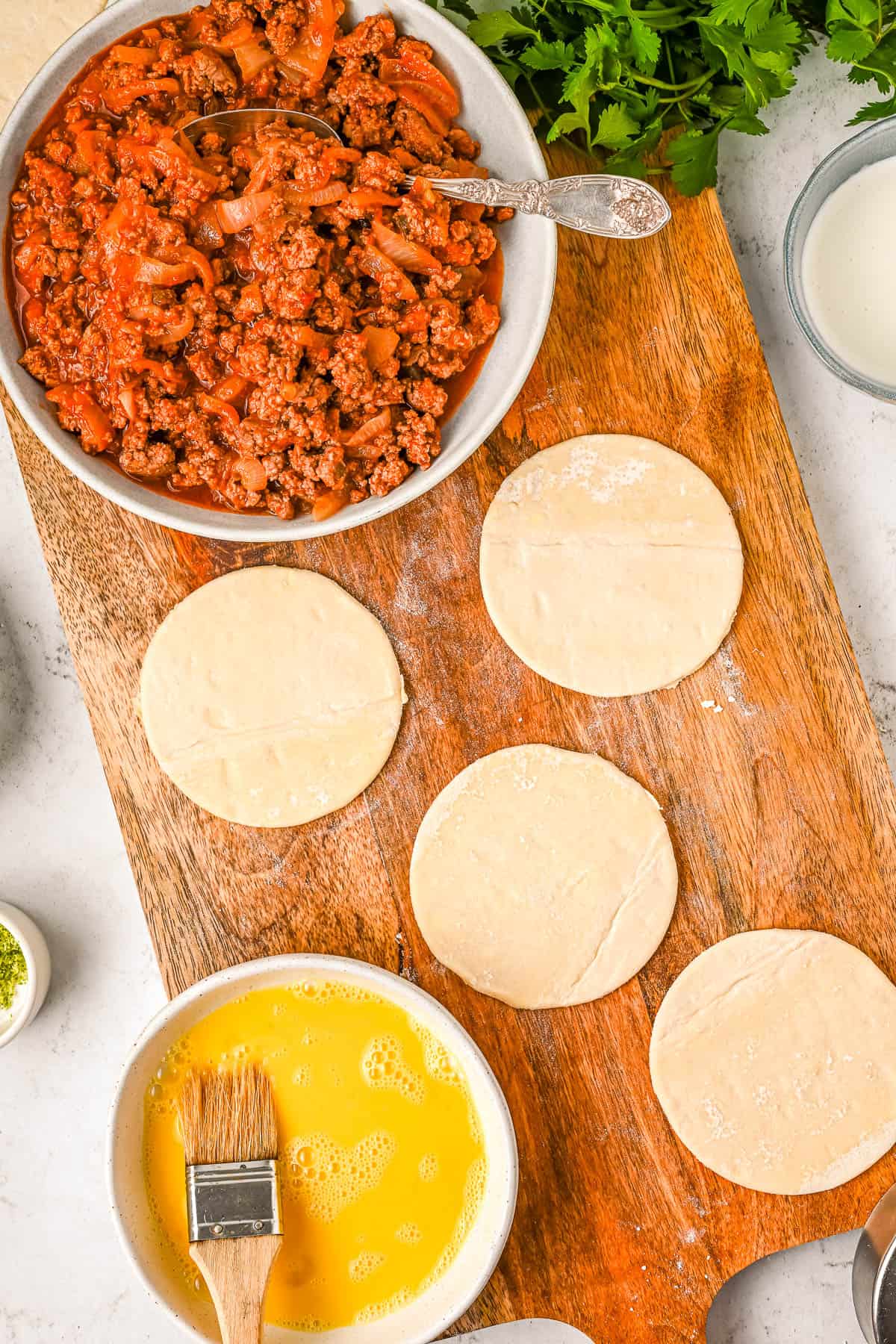 Step 4: Fold the empanadas. Use your finger dipped in a bit of water to wet around the edges of the pastry dough, then fold it over the filling. Use a fork to pinch the edges closed.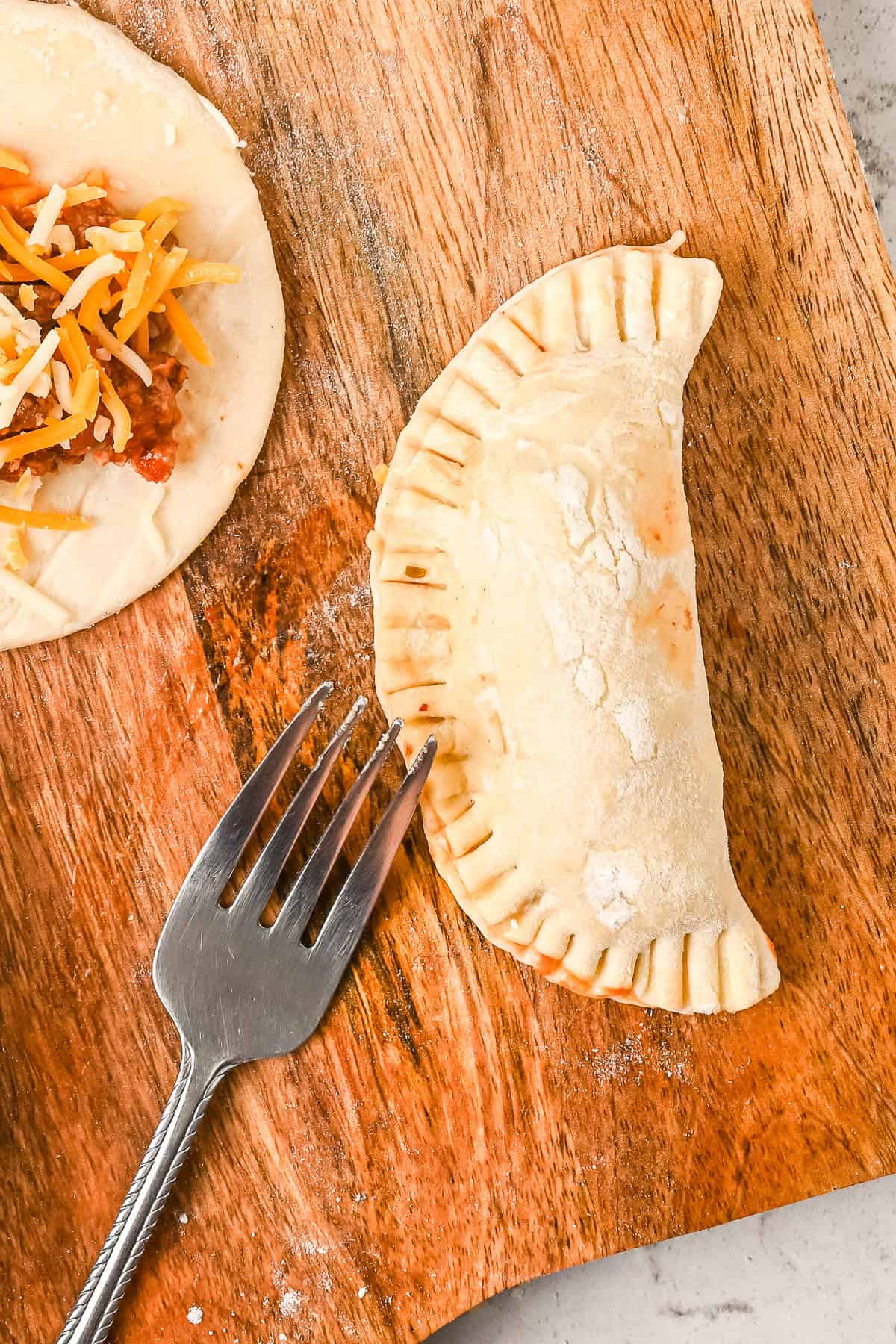 Bake. Finally, you'll transfer your chicken empanadas to a parchment-lined baking sheet. Brush the tops with an egg wash, then bake for 15 to 20 minutes until the empanadas are golden and crisp.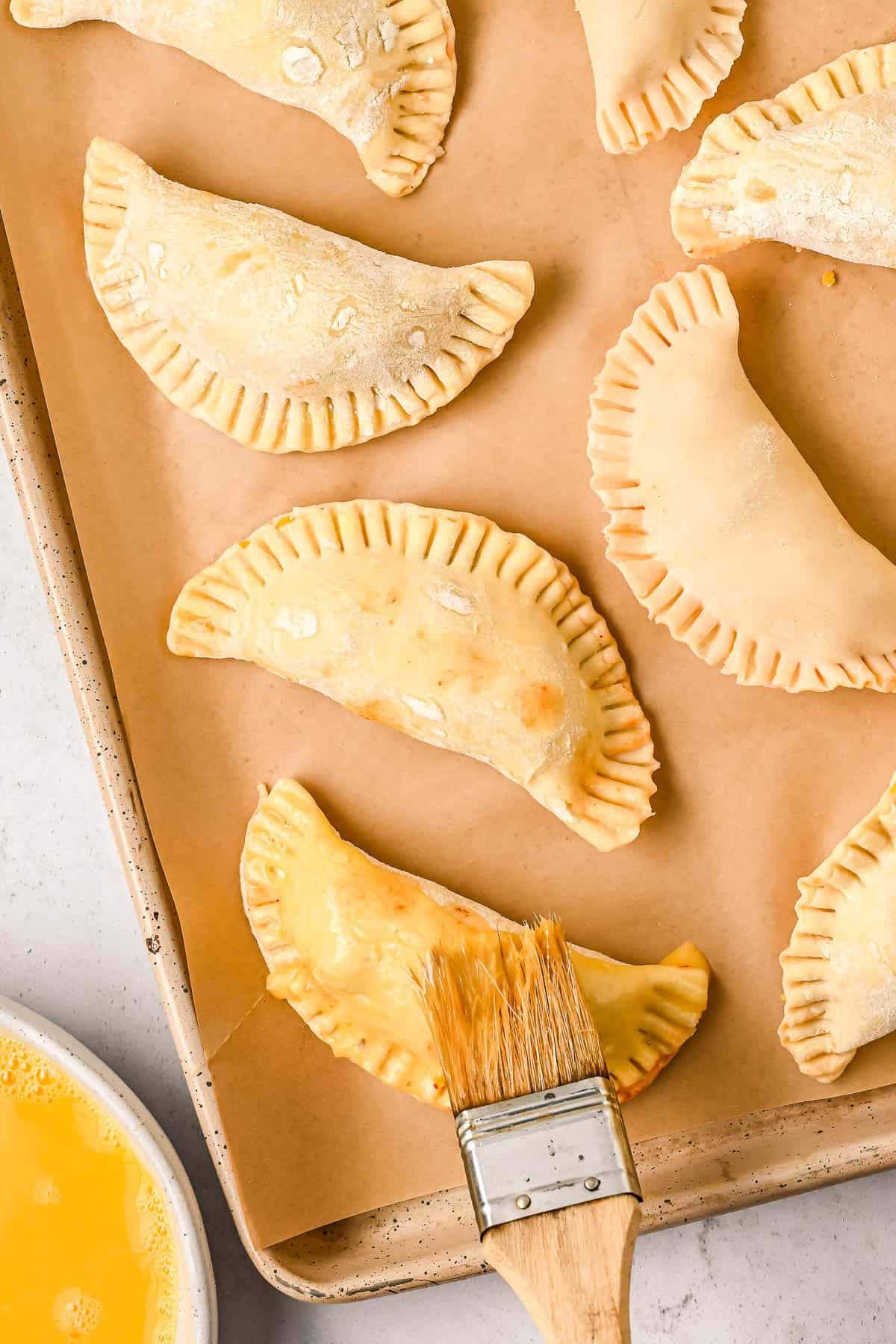 Make the sauce and serve. Stir mashed avocado together with some Mexican crema, fresh chopped cilantro, and a sprinkle of lime zest. Season the avocado crema to taste, then serve it alongside your chicken empanadas for dipping! See below for more ways to serve homemade empanadas.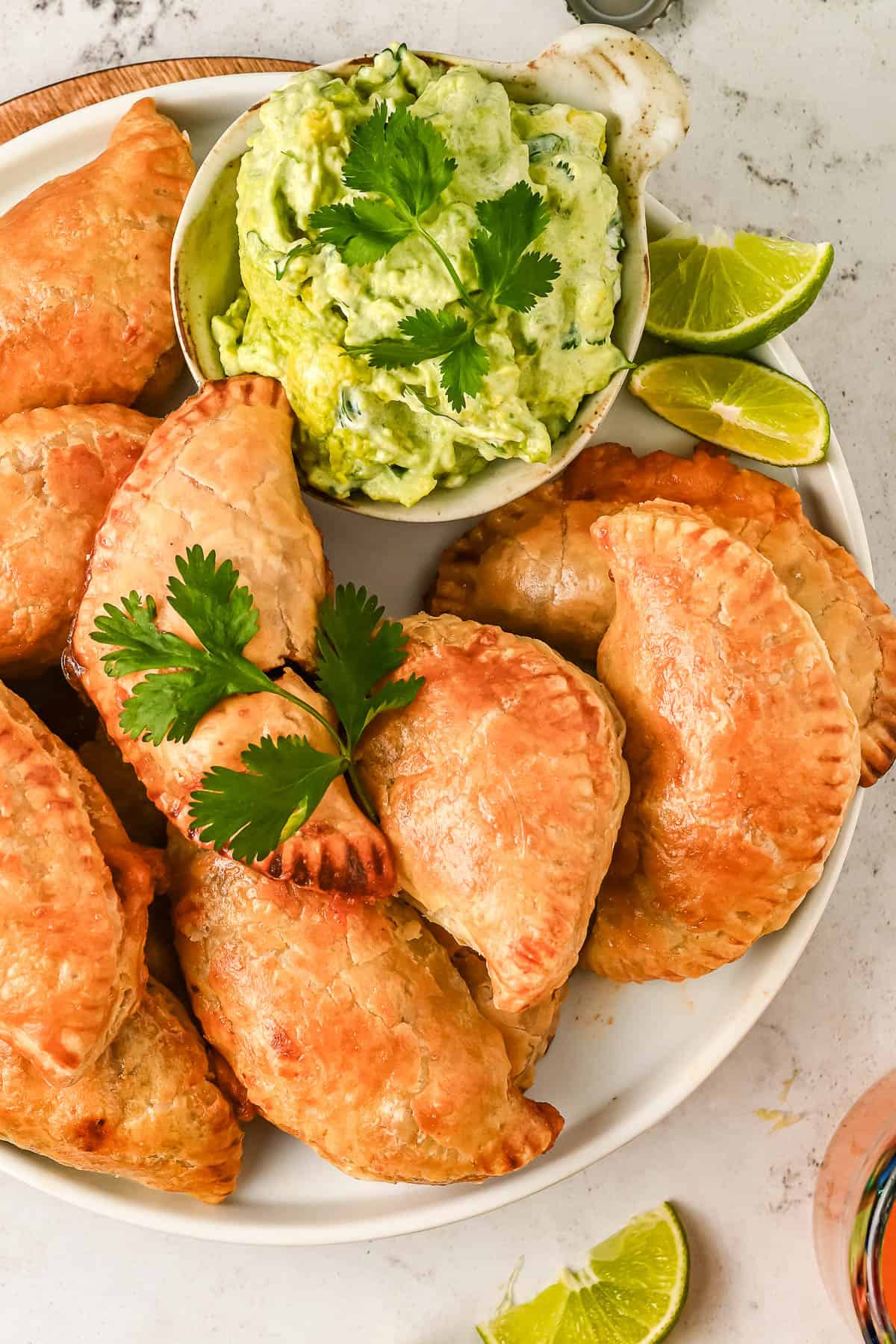 Recipe Tips and Variations
Empanadas are as easy to customize as they are to make! Here are my tips and tricks for the best chicken empanadas:
Refrigerated puff pastry or a pie crust is an easy shortcut for empanada dough. er.
To use up all the dough, gather up the scraps and roll them out again to cut more circles.
Make the filling in advance. To cut down on dinner prep, you can prepare the chicken filling ahead of time and store it airtight in the fridge. It will keep fresh for a few days. You can also freeze the filling, see further on for detailed storing and freezing instructions!
Use different proteins. The ground chicken in this recipe can be swapped out for ground turkey, beef or pork.
Give your empanadas an extra spicy kick by adding more chipotle sauce, or a sprinkle of chipotle powder.
Add veggies. Empanadas are a fun way to sneak extra veggies into a meal! Dice up carrots or bell peppers, or mix in beans or sweet corn.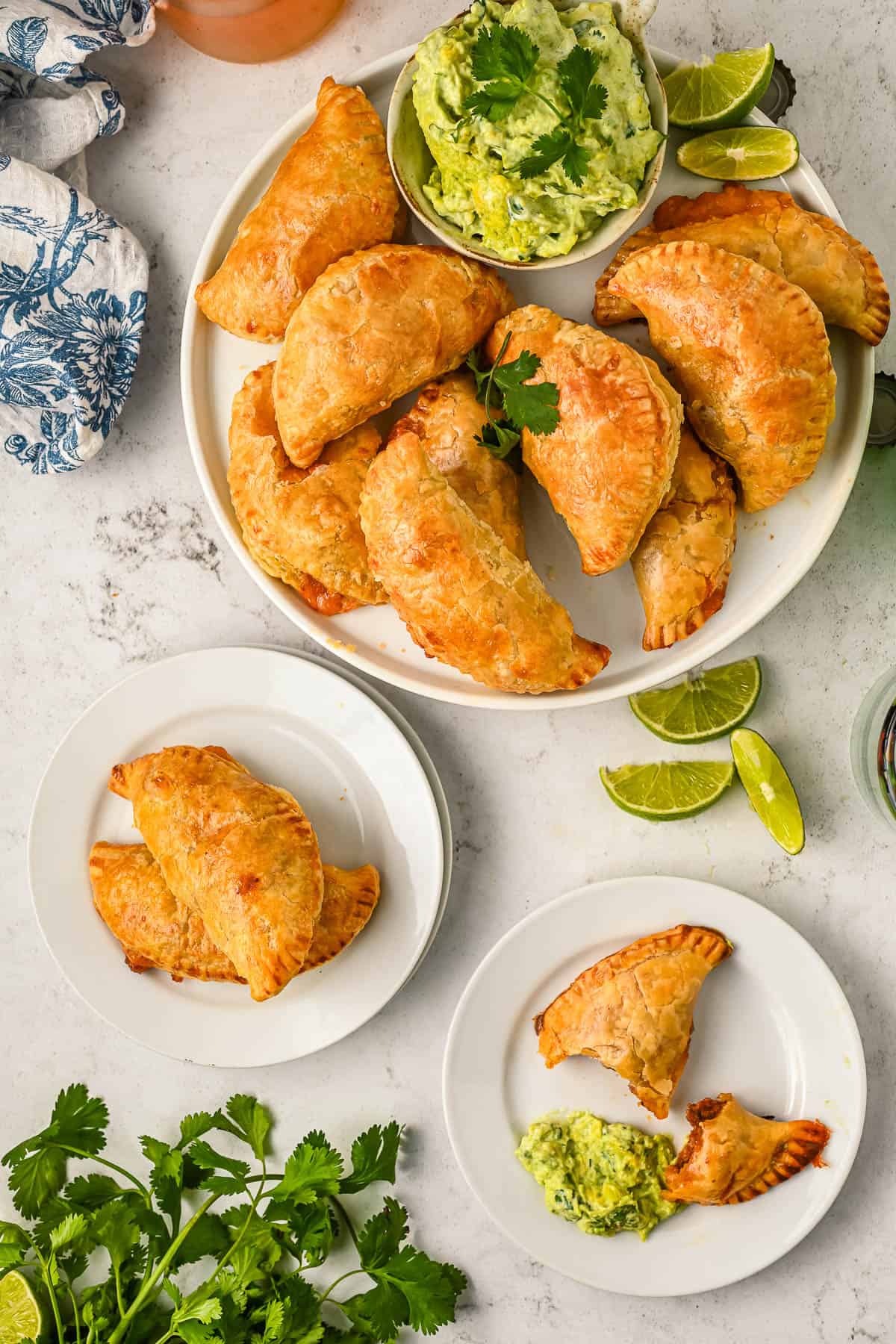 What Goes with Empanadas?
In addition to the avocado crema I've included in this recipe, you can serve these baked chicken empanadas with salsa, sour cream, or this easy recipe for my favorite Guacamole.
For a summery variation, try empanadas with Pineapple Salsa. We also love to enjoy ours with a side of zesty Cheddar Jalapeño Pretzels and Jalapeño Spinach Cheese Dip (for dipping the pretzels and the empanadas!).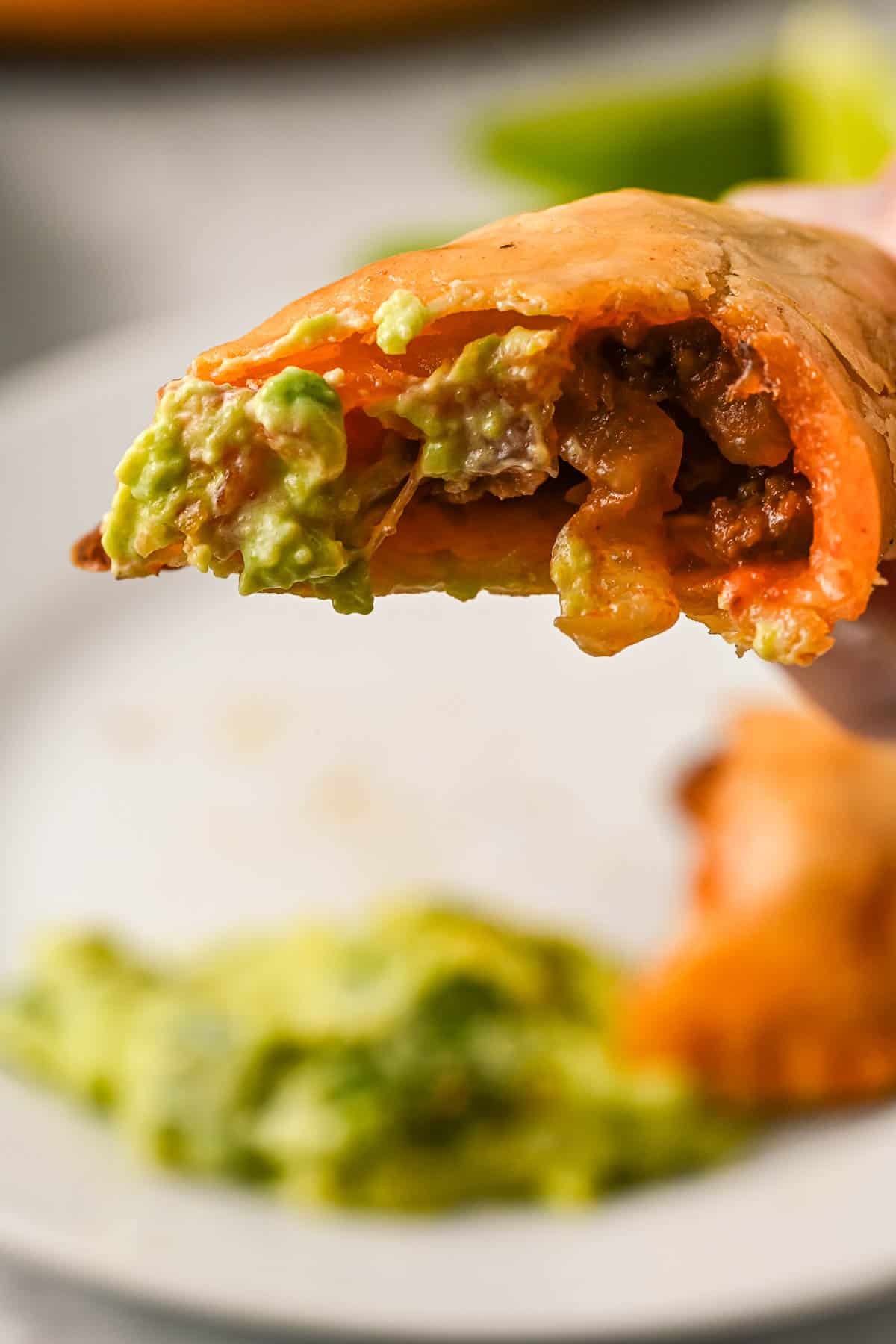 Storing and Reheating Leftovers
Store these chicken empanadas airtight in the fridge for up to 5 days. They're super easy and quick to reheat in the microwave (about 30 seconds should do the trick).
Alternatively, reheat the empanadas in the oven or toaster oven for a few minutes at 350ºF to crisp up the pastry dough.
Can I Freeze Chicken Empanadas?
Yes! Freezing is a great option for longer-term storage. Store the baked empanadas sealed in a ziptop bag, or in an airtight container, and keep them in the freezer for up to 3 months. You can thaw them in the fridge or reheat the chicken empanadas straight from frozen, just add an extra minute or two to the reheating time.
Print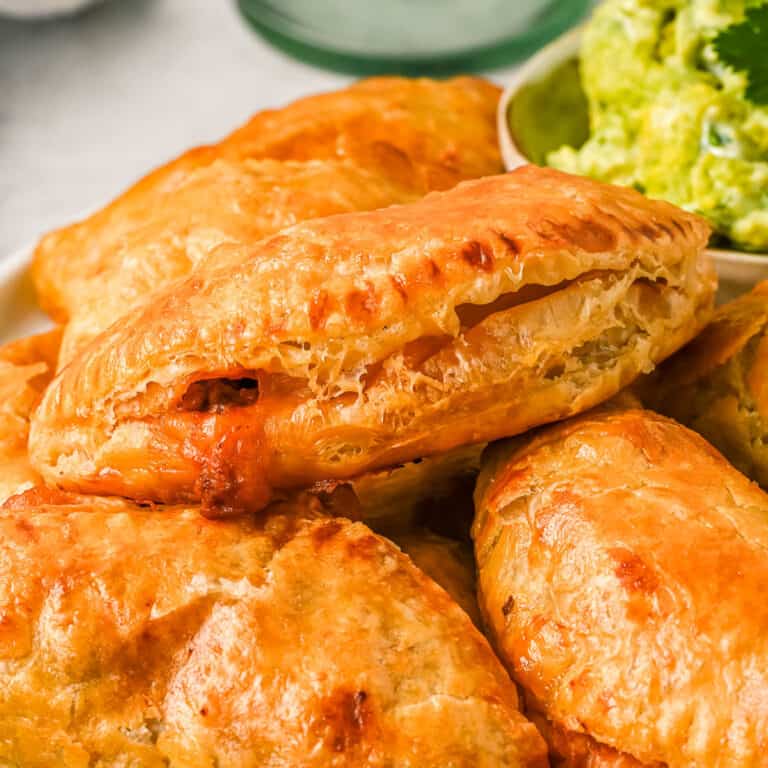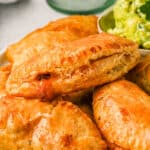 Chicken Empanadas
Author:

Prep Time:

40 minutes

Cook Time:

20 minutes

Total Time:

1 hour

Yield:

8-12 servings
Description
Spice up your next chicken dinner with this easy and cheesy Chicken Empanadas recipe! These homemade empanadas are baked crisp and golden on the outside, filled with juicy ground chicken, zesty chipotle, and melted cheese.
Ingredients
For the Empanadas
1

package (17oz/2 sheets) frozen puff pastry, thawed

2 tablespoons

olive oil

1/2

white onion, halved and thinly sliced

1

pound ground chicken

1/2 teaspoon

salt

1/2 teaspoon

Mexican Oregano (or Italian Oregano)

1/3 cup

chipotle sauce or 3 chipotles in adobo sauce (finely chopped)

2/3 cup

tomato sauce
Juice of

1/2

a lime

1 cup

shredded Mexican cheese blend

1

egg, beaten
For the Sauce
1

large avocado

1/4 cup

Mexican crema or sour cream
Juice of

1/2

a lime

1/4 cup

fresh cilantro, finely chopped

1 teaspoon

grated lime zest

1/2 teaspoon

salt (or salt to taste)
Instructions
Heat the olive oil in a medium pan. Sauteé the onion on medium-low for 7 minutes. Next, add the chicken and cook until it's no longer pink, then season with salt and oregano.
Next, add the chipotle sauce and tomato sauce and simmer for 5 minutes or until the sauce is thicker. Remove from the heat and allow to cool for 5 minutes.
Heat the oven to 375°F and line a large baking sheet with parchment paper or cooking spray.
Unfold the puff pastry and cut out 4-inch circles. Use the extra dough, just press it back, reroll and cut more circles
Place a large spoonful of filling into the center and sprinkle with cheese. Wet the edge of the pastry with water all the way around and fold it over. Seal the edges with a fork then brush with the beaten egg.
Bake for 15 to 20 minutes, or until golden brown. Serve warm.
To make the sauce, mash the avocado in a bowl and stir together with the crema, cilantro, and lime zest. Add salt to taste if desired. Serve with the empanadas.
Notes
You may have a little leftover meat. Save for later in an airtight container.
If you don't have a 4-inch circle cutter you can use a 3-inch circle which will result in more empanadas.
Swap out the ground chicken for ground turkey, beef or pork
You can serve these with salsa, sour cream, or my favorite guacamole.
If you prefer spicier, you can add extra chipotle sauce.
Storing: Store in an airtight container in the refrigerator for up to 5 days. Reheat in the oven or toaster oven for a crispier reheat. Otherwise warm in the microwave for about 30 seconds.
Freezing: Freeze baked empanadas for up to 3 months.
Category:

Dinner

Method:

Oven

Cuisine:

American, Mexican
Keywords: chicken empanadas recipe, baked empanadas, empanada recipe
More Easy Chicken Dinner Ideas