This post may contain affiliate sales links. Please see my full disclosure policy for details
These Coconut Cream Pie Cupcakes are the perfect combination of coconut cake with a lightly sweetened coconut mousse and topped with a cream cheese whipped cream.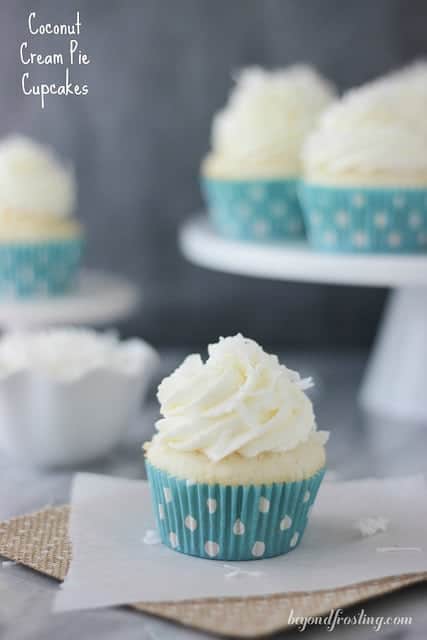 Yesterday was my dad's birthday! I wished I could be there to celebrate with him, but as I am on the other side of the country, it is nearly impossible. Still to this day he likes to make himself an ice cream cake for his birthday. Growing up, we had ice cream cakes for most birthdays, which was awesome! However, what is a man to do with a 3-layer, 9" ice cream cake all to himself. Don't think about it too hard, because the answer is to EAT IT!
After years of consuming his birthday cake for over a month, he kept talking about wanting to make a smaller cake! A couple years ago, I gifted him a set of 6" baking pans. Now he sends me a photo of his birthday cake every year, which I think is pretty special. I think he just needs to work on his food photography (insert emoji crying happy face!) Happy birthday day!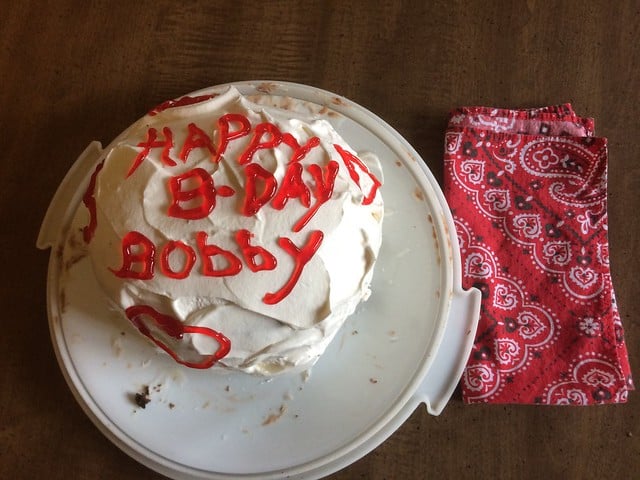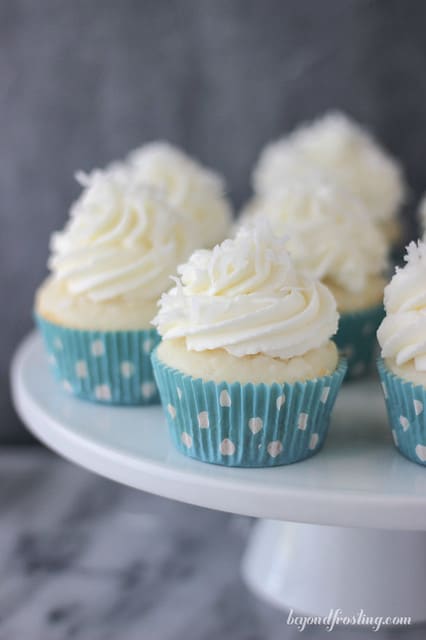 I am back today with these Coconut Cream Pie Cupcakes! I am so excited because I realized that I am seriously lacking cupcakes lately, and I am about to change that. Lately, out of nowhere, I have become obsessed with cream pies. Now I know I throw the term "obsessed" around here a lot, so I am trying to use it only when I mean that I am TRULY obsessed. It's totally appropriate today and that is why I deemed these "best ever" coconut cream pie cupcakes.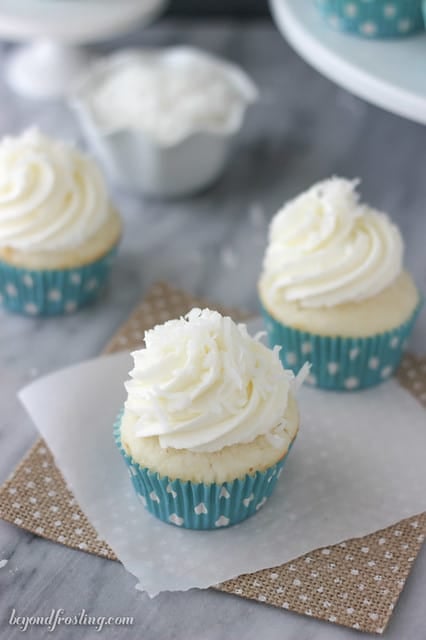 The cupcake starts with a cake mix. As I told you before, I do love baked-from-scratch desserts, but sometimes a cake mix just makes sense. I added shredded coconut to the batter of these cupcakes, so the texture is a bit different than a traditional cupcake, but it totally works here. I also added a teaspoon of baking powder to help these rise a little higher.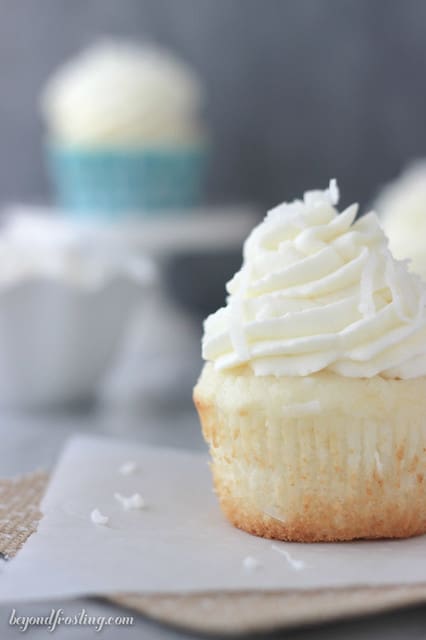 Instead of regular milk, I used coconut milk for this recipe. I am sure you could substitute regular milk, but the coconut flavor will not be as strong. I was a first-time coconut milk user before this recipe. You can find it in the section with Asian foods, and be sure it is well mixed before you add it into the batter. When I opened my can, it was separated. Just give it a good stir first.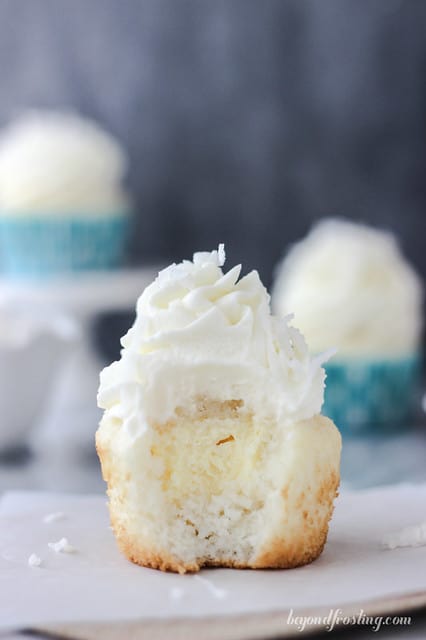 While I like so many different cupcakes, I tend to think that ones with the fillings inside are probably my favorite. How do you feel when you bite into a cupcake and get an unexpected surprise of awesomeness? Pretty good right? That is just one of many reasons why I absolutely LOVE these cupcakes.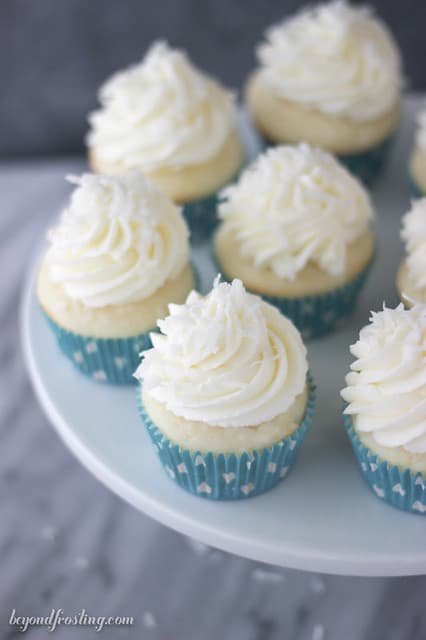 Let's talk about the filling. I first made this filling when I made Coconut Cream Pie Cookies. The filling is U-N-R-E-A-L and so easy to make. All it takes is a box of instant vanilla pudding, coconut extract and some home made whipped cream. Now I know you are probably rolling your eyes about the home made whipped cream but honestly, it is really easy to make and it is completely different than Cool Whip. In fact, it's also WAY better than Cool Whip. So the filling, yes, it's amazing.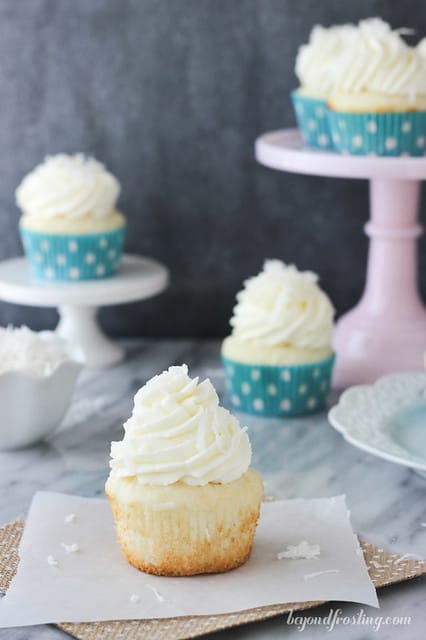 For the topping, I tried something new. I made a cream cheese whipped cream. Cream cheese whipped cream, where have you been all my life #forreal. Think about your favorite cream cheese frosting but 100% lighter and fluffier. The most important thing to remember about this frosting is that the cream cheese needs to be whipped very well before adding the heavy cream. This way, you beat out all the lumps in the cream cheese first.
Second most important step is to add a couple tablespoons of the heavy whipping cream into the cream cheese before you add the rest. Beat it together until the whipped cream is well mixed into the cream cheese. Then add the rest of your whipping cream and powdered sugar. Again, this will help ensure a nice smooth topping.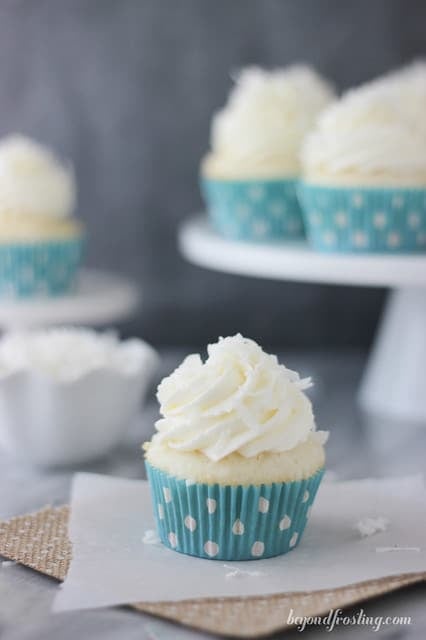 With the combination of the coconut cupcake, the coconut mousse filling and the cream cheese whipped cream topping, you sure can't go wrong with these cupcakes.
Print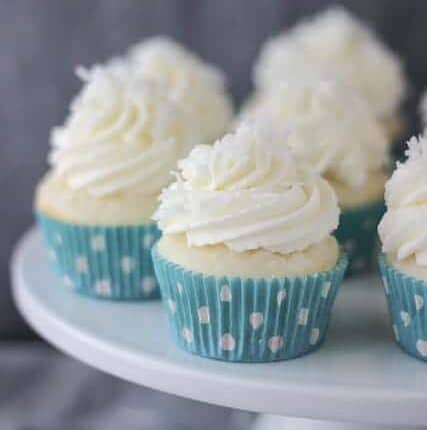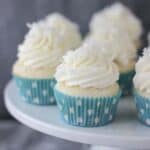 Coconut Cream Pie Cupcakes
Author:

Prep Time:

30 minutes

Chill Time:

30 minutes

Cook Time:

15 minutes

Total Time:

1 hour 15 minutes

Yield:

20 cupcakes
Description
These Coconut Cream Pie Cupcakes are the perfect combination of coconut cake with a lightly sweetened coconut mousse and topped with a cream cheese whipped cream.
Ingredients
For the cupcake
1

box (15oz) White cake mix

1 cup

(

120g

) shredded sweetened coconut

3

large Egg whites

¾ cups

(177ml) Coconut milk, mixed

½ cup

(118ml) vegetable oil

½ cup

(

96g

) light sour cream

1 teaspoon

(5ml) coconut extract

1 teaspoon

(

3.75g

) baking powder
For the filling
1

package (3.4oz) instant vanilla pudding

¾ cup

(177ml) milk, any type

1 teaspoon

(

5g

) coconut extract

1 cup

(236ml) heavy whipping cream

¼ cup

(

32g

) powdered sugar
For the frosting
8 ounces

(

226g

) cream cheese, cold

1 3/4 cups

(413ml) heavy whipping cream

1 cup

(

130g

) powdered sugar

1 teaspoon

(5ml) pure vanilla extract
Shredded coconut for garnish
Instructions
For the cupcake
Pre-heat over to 350° F. Mix Coconut milk well before adding to the batter.
In a large mixing bowl, combine cake mix with all remaining ingredients. Beat on medium speed until all ingredients are well mixed. Scrape down the sides of the bowl and stir from the bottom.
Using a large cookie scoop, divide the batter evenly, filling each liner 2/3 full. Bake at 350° for 15-18 minutes. Check for doneness by inserting a toothpick into the center of the cupcake. If the toothpick comes out clean, your cupcake is done. Cool completely.
For the Filling
Combine the pudding with milk and coconut extract. Whisk until pudding is dissolved. Refrigerate until firm.
Prepare the whipped cream. Place the mixing bowl and whisk attachment in the freezer for 5 to 10 minutes to chill.
Pour the heavy whipping cream into the chilled bowl and use an electric mixer to beat the heavy cream at medium-high speed until soft peaks start to form. Add the powdered sugar and continue beating at high speed until stiff peaks form.
Remove pudding from the refrigerator (after it has set) and gently fold in whipping cream. Place filling in a Ziploc bag and refrigerate until ready to use.
For the Frosting
Chill the bowl for 5-10 minutes again. Beat the cream cheese on medium-high speed for 2-3 minutes until cream cheese is smooth and free of lumps. Scrape down the sides of the bowl occasionally.
Add 3 tablespoons of heavy whipping cream. Beat into the cream cheese until cream cheese resembles a liquid mixture.
Slowly drizzle in the heavy whipping cream and continue beating until the cream cheese resembles a liquid mixture. Continue to add the remaining heavy whipping cream and beat on medium-high speed until soft peaks form. Add the powdered sugar and vanilla extract and beat until stiff peaks form. Use immediately or keep refrigerated.
To assemble the cupcakes, remove the middle of the cupcake using a spoon, knife, or cupcake corer. Cut off the tip of the Ziplock bag and fill the center with the coconut mousse filling. Top with cream cheese whipped cream. Sprinkle with shredded coconut. These cupcakes must be refrigerated.
Notes
Cream Cheese Frosting: It's important the frosting is whipped to stiff peaks or it will not properly set when it's piped. You can see the full tutorial right here.
Homemade Coconut Cupcakes: You can swap out the cake mix cupcakes for these homemade coconut cupcakes.
Storage Instructions: Once the filling has been added to these cupcakes, they have to be stored in the refrigerator in an airtight container. These will stay fresh for 3 days.
Category:

Cupcakes

Method:

Baked

Cuisine:

American
Keywords: Coconut Cupcakes, Cake Mix Cupcake, coconut cupcakes using coconut milk, Easy Cupcake Recipe
More Coconut Recipes You Might Like