This post may contain affiliate sales links. Please see my full disclosure policy for details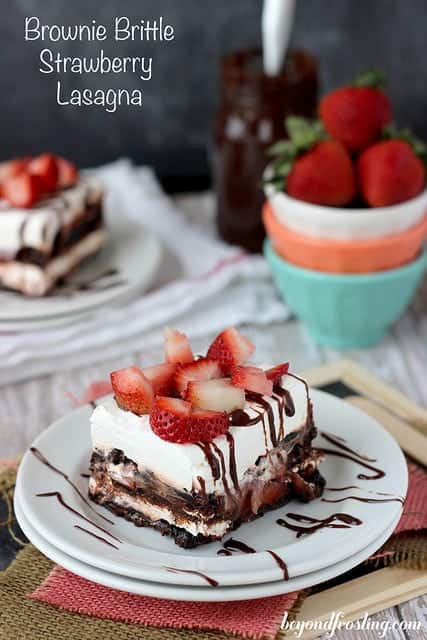 I am super excited for this weekend. My friend slash old roommate is getting married! She is one of the few friends I have that lives near me, only she doesn't live near me because she moved to Ohio a long time ago with her fiancé. Crazy, right? Who moves from California to Ohio? No offense to those of you who live in Ohio; I have nothing against Ohio! But seriously.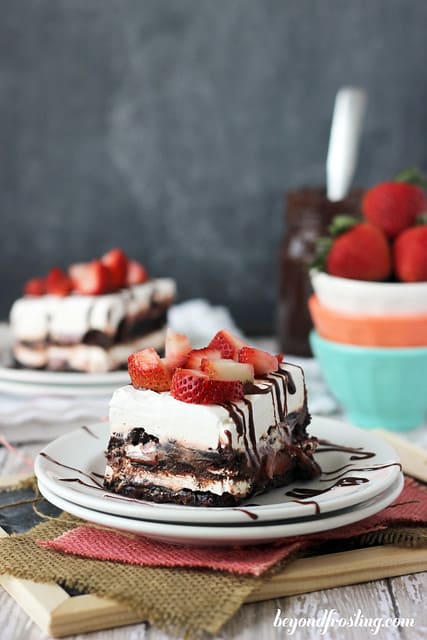 I am also pretty much head over heels in love with today's recipe. Wait for it….. Brownie Brittle™ Strawberry Lasagna. If you follow my blog, you might know that I was in Miami in May for the BlogHer Food conference. Brownie Brittle was a sponsor at said conference, and they were handing out bags of free Brownie Brittle. That's right, I said, "FREE BROWNIE BRITTLE™."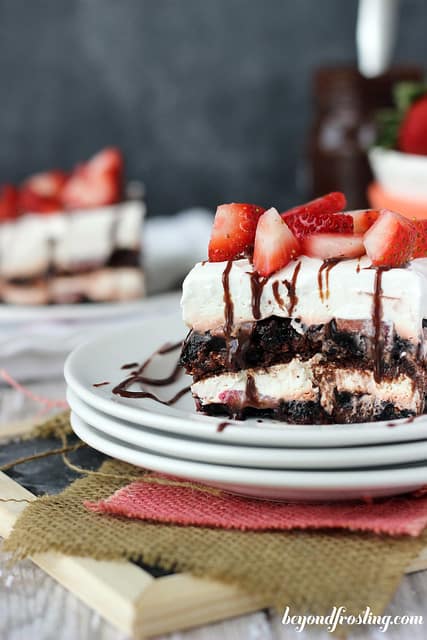 I was stuffing bags of Brownie Brittle™ in my carryon luggage like it was nobody's business. I had no idea they had flavors other than Chocolate Chip. When I found out that they made a Mint Chocolate Chip flavor, Salted Caramel and Toffee flavors, I nearly got lost in my excitement. Now if you haven't ever tried it, I highly suggest you add this to your grocery list for your next shopping trip.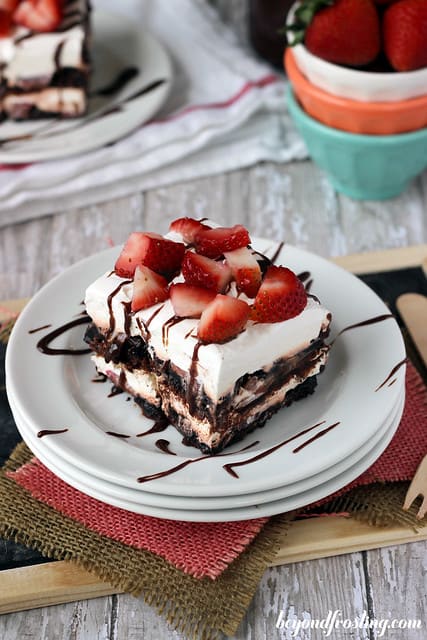 Now you also may know that I am somewhat obsessed with my dessert lasagnas (see other flavors: Apple Pie, Pumpkin and Peppermint). It was time for a summer version and thought strawberry would be a nice addition. Brownie Brittle™ is the perfect option to change it up from your standard graham cracker layers.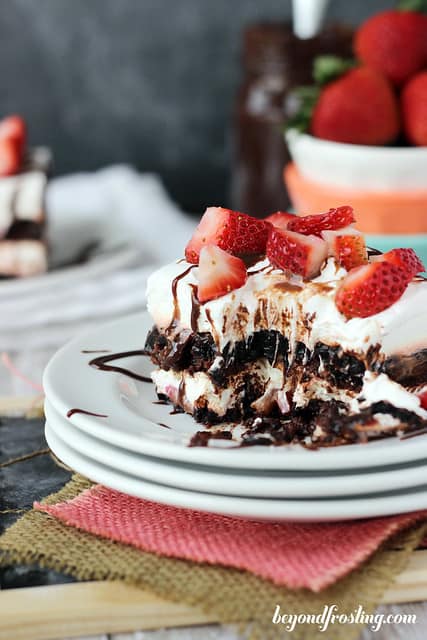 This dessert is layers of Brownie Brittle™, a cheesecake filling, dark chocolate pudding and of course, plenty of strawberries. This is a great no-bake recipe for summer time! If you allow it to set in the refrigerator for a couple of hours, the Brownie Brittle™ softens, making it easy to cut through, but it still holds its shape.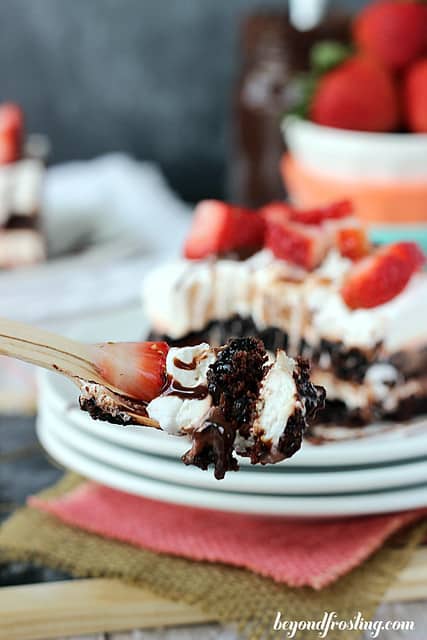 Each bite is filled with chocolate, strawberries and cheesecake. Can you really think of a better combination? I can't. The other reason I like Brownie Brittle™ is that it is somewhat Weight Watcher friendly. As a lifetime member of Weight Watchers, I can appreciate that. I estimate 1 oz. of Brownie Brittle to be 3 points. So if I were making a "light" version this dessert, I would use all non-fat products for the milk, cream cheese and Cool Whip.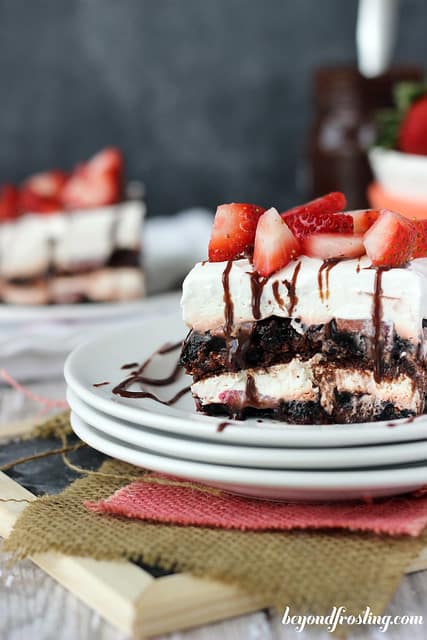 This recipe is made in a 9" x 9" pan. It should feed at least 6 people. If you want to make this for a crowd, you will need an additional bag of Brownie Brittle™. I would also recommend an extra container of Cool Whip, so that you can mix an entire container in the cheesecake, and then use the other one as its own "layer" in this dessert.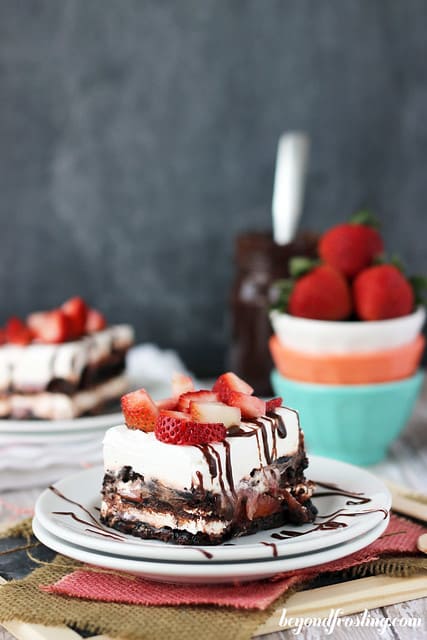 This post is sponsored by Brownie Brittle™, however all opinions expressed are my own
Keep up with all the happenings. Follow Beyond Frosting:
Facebook | Twitter | Pinterest | Instagram |
Don't forget to save your favorite recipes to your recipe box with the

button! You can create a meal plan and a shopping list all in the same place!
Print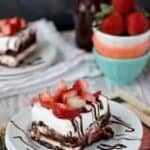 Brownie Brittle Strawberry Lasagna
Prep Time:

20 minutes

Total Time:

20 minutes

Yield:

6 Servings
Description
This icebox cake is layers of Brownie Brittle™, a cheesecake filling, dark chocolate pudding and of course, plenty of strawberries.
Ingredients
1

box Instant dark chocolate pudding (

3.4 oz

.)

1/2 quart

Strawberries

1 ¾

C Milk

1

pk Cream cheese (

8 oz

.)

1 tbsp

Sugar

1 tbsp

Milk

1 tsp

Pure vanilla extract

1

container Whipped topping (

8 oz

.)

2

Bags Chocolate Chip Brownie Brittle (

4 oz

. bags)
Instructions
In a medium-sized bowl, combine instant pudding and milk. Whisk until pudding mix is dissolved. Refrigerate until firm; about 10 minutes.
Rinse and dry strawberries. Slice into small pieces.
In a mixing bowl, whip cream cheese on medium-high speed until smooth. Scrape down the edges of the bowl.
Add sugar, milk and vanilla extract, beat into cream cheese until well combined.
Add 2/3 of the Cool Whip to the cream cheese mix and fold until well mixed.
Line the bottom of a 9" x 9" pan with wax or parchment paper. Lay down a layer of Brownie Brittle, covering as much of the bottom as possible. Some of the seams can be covered with additional pieces. It is best to use the largest pieces on the bottom.
Divide both cream cheese batter and pudding in half. Use a spatula to gently spread 1/2 of the pudding over top of the Brownie Brittle.
Next, spread 1/2 of the cream cheese on top of the pudding. Sprinkle a layer of strawberries and gently push into cream cheese.
Place another layer of Brownie Brittle on top of strawberries. Cover all open spaces.
Add remaining pudding, followed by more strawberries and remaining cream cheese spread.
Top lasagna with the remaining 1/3 of your Cool Whip.
Serve topped with fresh strawberries and drizzled with hot fudge sauce (optional). It is best to add the strawberries on top right before serving. It's also best to refrigerate for at least 2 hours before serving to allow the Brownie Brittle to soften, and cream cheese layer to set.
Keep refrigerated.
Other recipes from Beyond Frosting you might like:
Strawberry Mascarpone Sliders
Lemon Strawberry Cookie Cups
Recipes from my friends:
Vanilla Bean Cake with Strawberry Frosting from Spoonful of Flavor
Strawberry Shortcake Bars from Deliciously Sprinkled
Strawberry and Blueberry Cheesecake Icebox Cake from Life Love and Sugar