This post may contain affiliate sales links. Please see my full disclosure policy for details
These No-Bake Coconut Krispie Date Balls are made with dates and Rice Krispies and rolled in coconut. This classic Christmas cookie is a requirement in my house!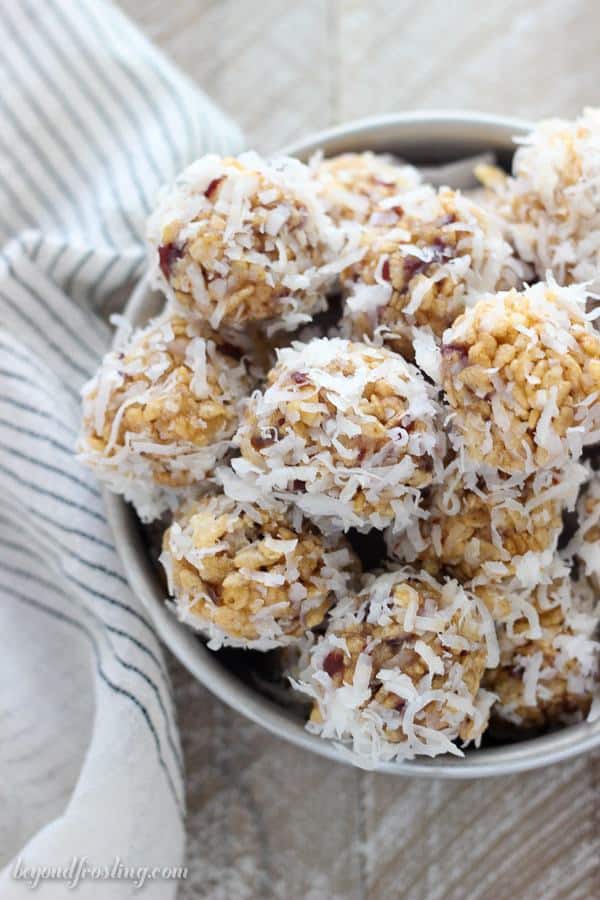 I know it's mid December (WHAT THE WHAT?) but I decided we're going to share cookie recipes all week because all I've been doing lately is making batch of batch of cookies for all my holiday gift baskets. Seriously, my freezer is about to bust open.
It's filled with Coconut Chai cookies, snickerdoodles, sugar cookies and more.
It wouldn't be Christmas without a batch of Mom's Coconut Krispie Date Balls. She also calls these "adventure cookies". Every year my mom makes a big batch of these no-bake cookies. Between my sister and my friend Erica, these didn't last long in my house.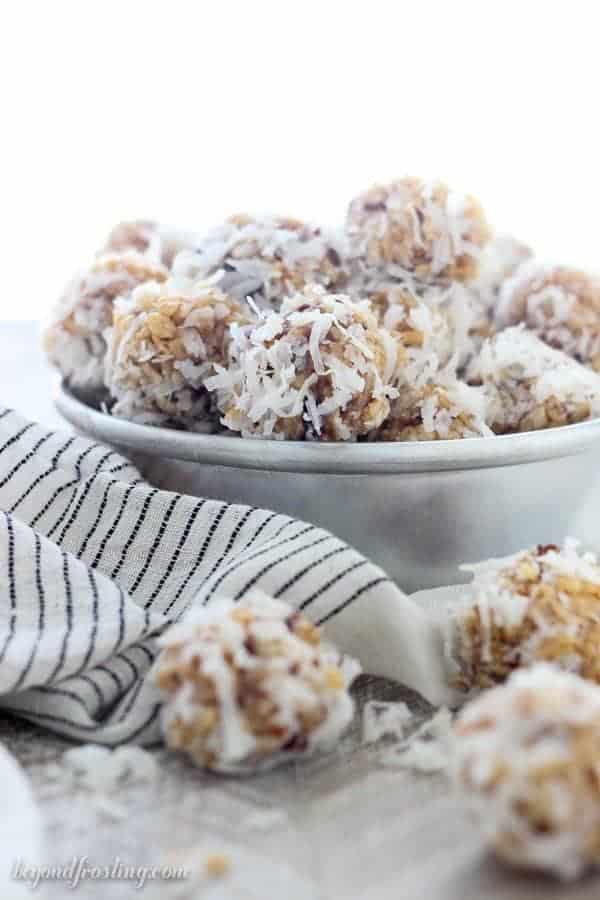 These no-bake date balls are mixed with Rice Krispie cereal and coated in coconut. These popular cookies have been around for as long as I can remember. This recipe was passed to my mother before I was born, but I know I've seen it all over the Internet, but that's okay because for me, these "cookies" mean it must be Christmas time. Do you have a favorite Christmas cookie from your childhood?
I love these because they freeze well, which means you can prepare them in advance and gift them to family and friends. I always include these cookies in my holiday gift baskets. This recipe also makes quite a large batch, making them ideal for cookie exchanges.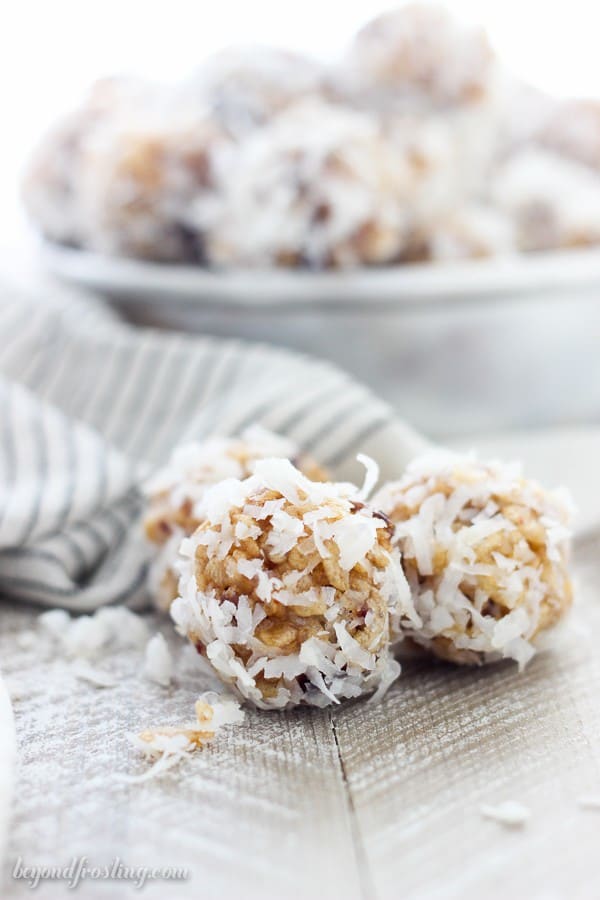 How to Make Coconut Balls
First melt the butter, sugar and dates together until it's lightly boiling.
In a separate bowl, combine eggs, milk and vanilla extract.
Temper the eggs. Since you will be adding the hot date mixture to the eggs, you want to work quickly to try and prevent them from scrambling. Add some of the hot mixture to the eggs first and stir it quickly to incorporate it into the eggs, then throw the eggs back into the saucepan and whisk vigorously until it's well blended.
Stir in the Rice Krispies and mix until thoroughly combined and allow the mixture too cool until you can handle it to the touch.
Use your hands or spoons to make the balls and then roll them in coconut. They will be very sticky, so I like to use gloves.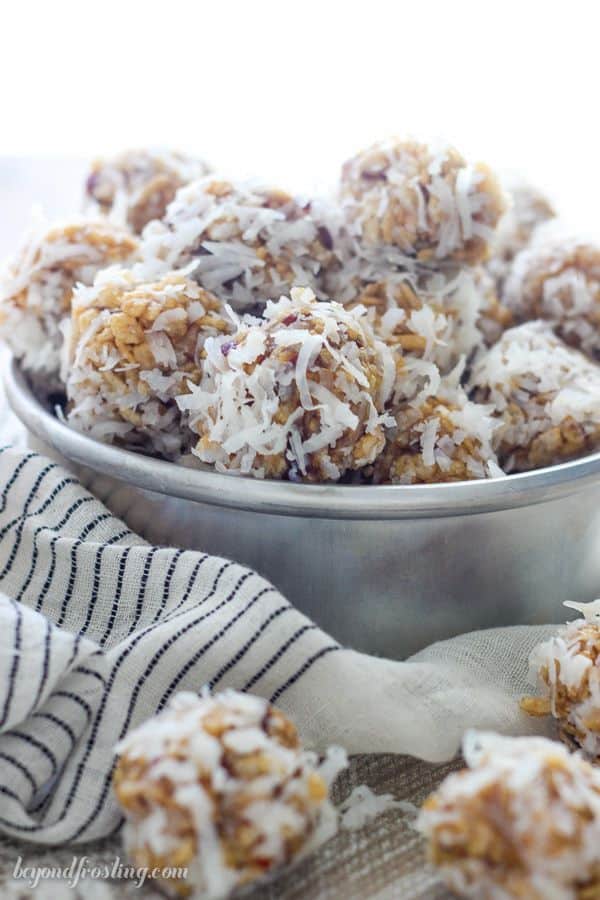 You'll need a whole bag of shredded coconut to roll these cookies in, and feel free to use your hands to press the coconut into the cookie. These cookies are best once they have had a chance to set and cool completely, I also prefer them to be cold, so I keep them in the refrigerator or even the freezer, then I can pull out just a few at a time!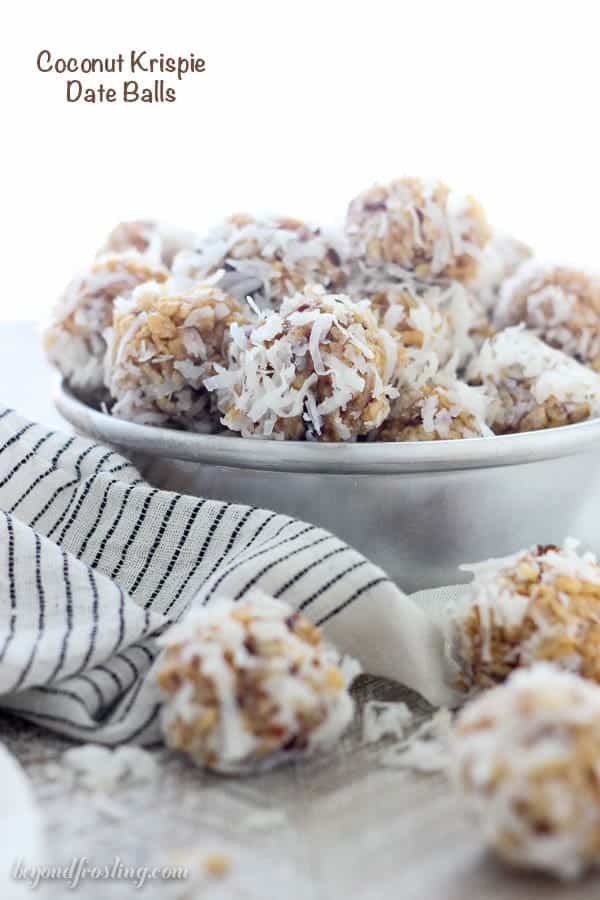 Follow Beyond Frosting:
Facebook | Twitter | Pinterest | Instagram
If you love no-bake recipes, be sure to check out my cookbook, No-Bake Treats!
Print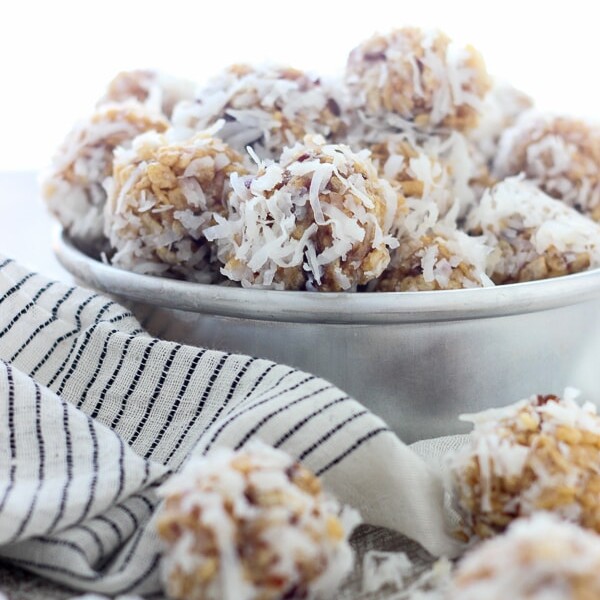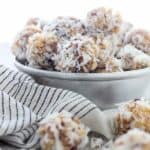 Coconut Krispie Date Balls
Author:

Prep Time:

10 minutes

Cook Time:

20 minutes

Total Time:

30 minutes

Yield:

42 cookies
Description
These No-Bake Coconut Krispie Date Balls are made with dates and Rice Krispies and rolled in coconut. This classic Christmas cookie is a requirement in my house!
Ingredients
11 ounces

(

311g

) dates, chopped

1 cup

(

226g

) unsalted butter

1 ½ cups

(

285g

) granulated sugar

2

large eggs, slightly beaten

1 tablespoons

(15ml) milk

1 teaspoon

vanilla extract

6 cups

(

160g

) Rice Krispie cereal (or similar cereal)

1

bag (7 ounces/ 198g) sweetened shredded coconut
Instructions
Remove pits and chop dates into small pieces, about the size of a dime. Dates are very sticky, if you have latex gloves, I would suggest using them.
In a large saucepan, melt butter and sugar together, stirring occasionally until the butter is melted.
Turn the heat to low and add chopped dates and cook until mixture is boiling, about 15 to 20 minutes. Stir frequently to prevent mixture from burning.
In a separate bowl, combine eggs, milk and vanilla extract. Once the mixture is boiling, take about ¼ cup of the mixture and pour it into the eggs, and whisk constantly to temper the eggs.
Remove the saucepan from the stovetop and pour the egg mixture back into the saucepan. You will want to work quickly so they do not become scrambled.
Return mixture to the stovetop and boil for about 5 minutes, stirring frequently. Remove the mixture from the heat. In a large mixing bowl, combine rice cereal with date mixture and stir until evenly coated. Allow the mixture to cool until it can be handled.
Shape date mixture into balls (1 to 2 tablespoons in size) and place on a sheet pan. For a higher yield, reduce the size of the balls.
Place the shredded coconut in a separate bowl and roll each date ball (one at a time) in the shredded coconut, gently pressing coconut into the dates. Refrigerate the date balls for one hour. Store in an airtight container and keep refrigerated or frozen.
Equipment
Category:

Cookies

Method:

Stovetop

Cuisine:

American
Keywords: Coconut Date Balls, No-Bake Cookies, Christmas Cookies, Rice Krispie Date Balls
You might also like: