This post may contain affiliate sales links. Please see my full disclosure policy for details
All your boxed cake mix questions answered. This is the best guide for what types of cake mix to choose. What cake mix is the most chocolaty? What cake mix has the best rise? I'm answering all your questions.
The Best Boxed Cake Mixes
Listen, it's no secret that we use a lot of cake mix around here. Why? Because I think anyone should be able to make something amazing and if that means you need to start with a cake mix, that's okay with me.
In general, we are not just making a cake mix and slapping some canned frosting on it. In fact, I don't think I've ever did that. I generally alter my cake mixes in some ways to make them taste even better.
I definitely have my preferred brands, and sometimes I'll even specify that for you. This is deep dive into a variety of cake mixes that are available and to see how each one is different from one another.
The 3 Cake Mixes I Tested
All cake mixes offer a wide variety of flavors and some have pudding in the mix. There's always chocolate, vanilla, devil's food, Funfetti, maybe a lemon or red velvet.
For the purposes of this test, I used Devil's Food and I am testing the top three brands: Betty Crocker, Pillsbury, and Duncan Hines.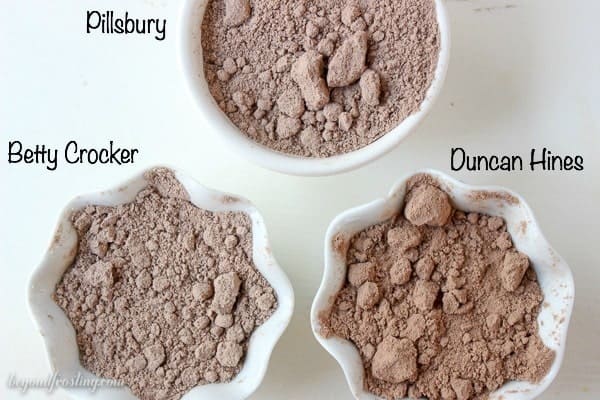 There are certainly other brands available such as Ghirardelli, King Arthur Flour, Jiffy or even a generic store brand, but I felt that these were the top 3 most common brands when it comes to cake mix.
Ingredients Used
For the purposes of this experiment, I used only the ingredients called for on the box: water, oil and eggs. All three boxes were 15.25 ounces / 432 grams but each one varied in the liquid ingredients that are required.
Betty Crocker: 1 ¼ cup water, ½ cup vegetable oil and 3 large eggs
Pillsbury: 1 cup water, ½ cup vegetable oil and 3 large eggs
Duncan Hines: 1 cup water 1/3 cup vegetable oil, 3 large eggs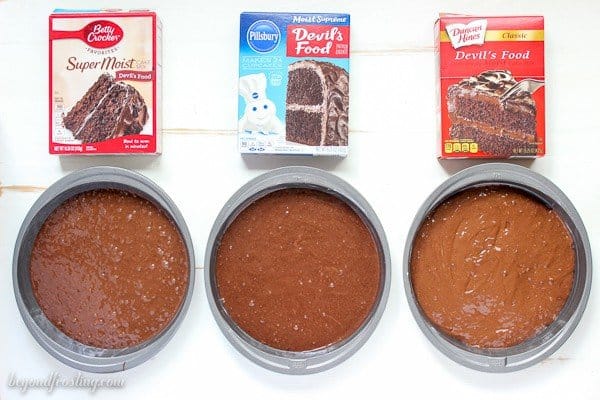 How Each Cake Mix Varies
Betty Crocker
This cake mix was by far the thinnest, due to an extra ¼ cup of water. In fact, when I measured out the amount of batter in each prepared cake mix, there was an extra 1 cup of prepared batter in this box.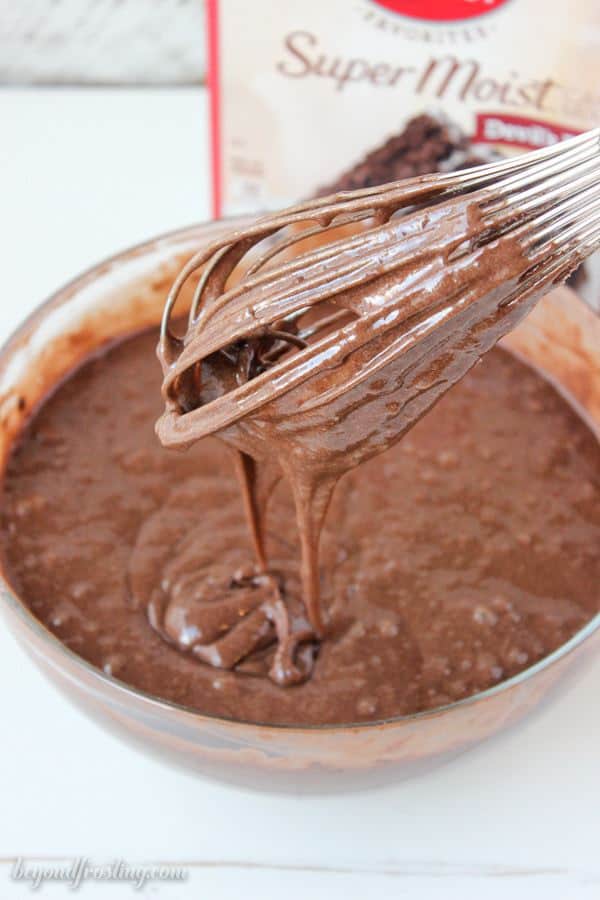 Pillsbury
This batter was the darkest in color, so it's no surprise when you see my conclusion that this was the most chocolate-flavored cake.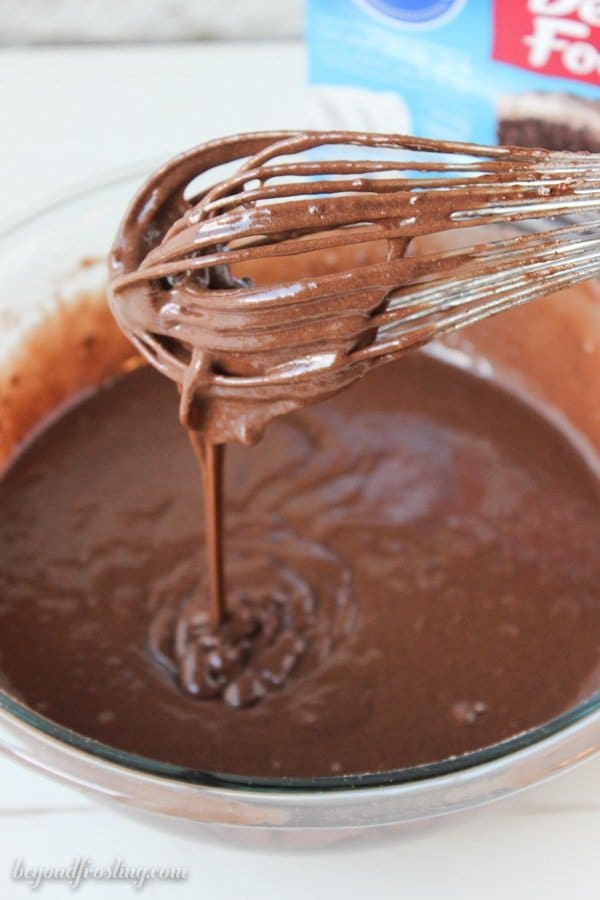 Duncan Hines
This batter what the thickest, which makes sense because it has the least amount of liquid.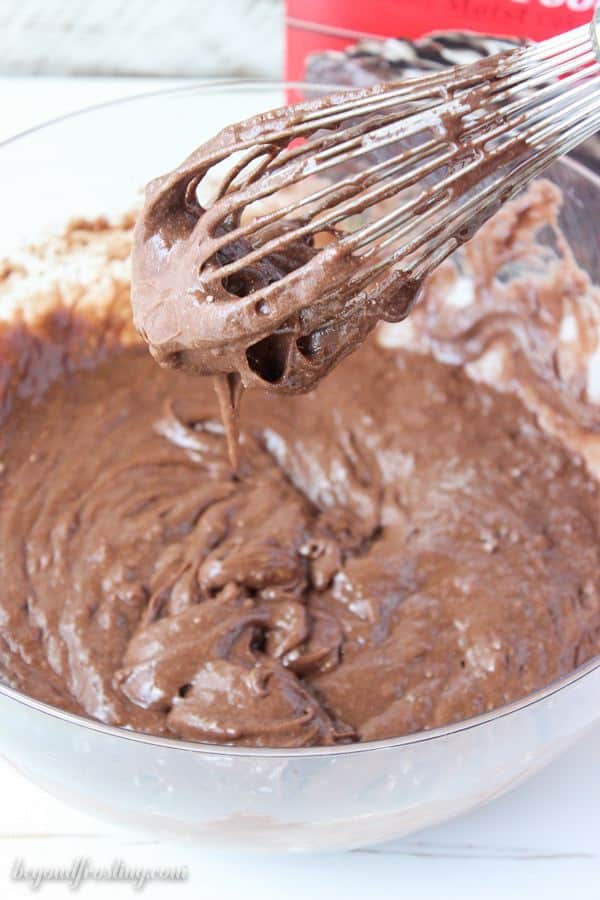 What Size Cake Pan Should I use?
For this post, I tested these cake mixes in two different sizes pans, both 8-inch and 9-inch and I did not use my beloved bake even stripes.
Two 9-inch pans will produce thinner layers whereas the 8-inch pans will be taller. Most boxed cake mixes provide baking times for 9-inch layers, but if you are making 8-inch layers, you may need to add additional baking time.
9-inch Cake Tests
How much batter I used: To keep things consistent, I am using 1 ½ cups of batter for each cake mix. As opposed to dividing the batter in half (because not each cake mix had the same amount of liquid batter), I wanted to control the amount of batter in each pan.
Baking times: Each cake was baked for 19 minutes.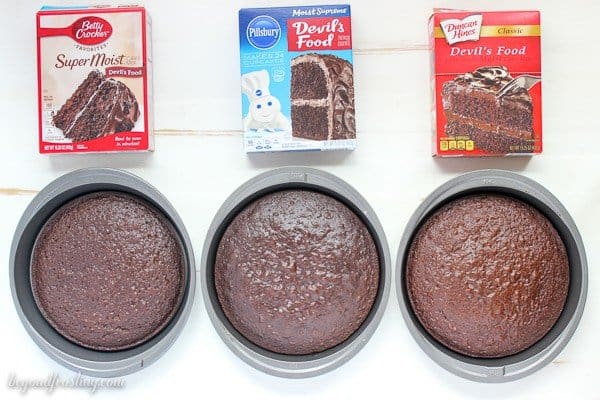 8-inch Cake Test
How much batter I used: 1 ¾ cups batter for each cake mix, which is 1/4 cup more than the 9-inch pans.
Baking times Each one baked for 19 minutes except for Duncan Hines, which needed an extra 2 minutes.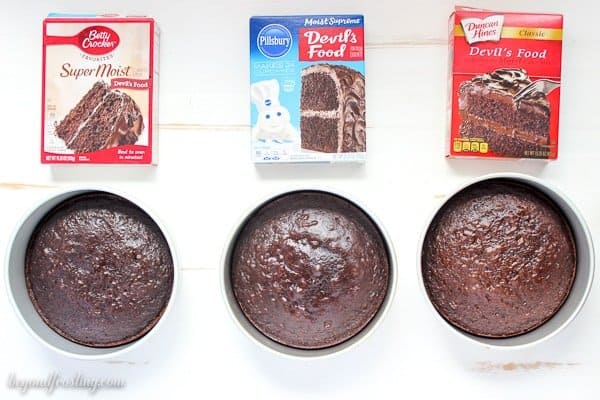 Which Boxed Cake Mix is Best?
I fell this is really a personal preference. I don't think you can go wrong with any of these, but they each have their own unique properties that make them a little but different. They were all moist and spongy, with varying flavors.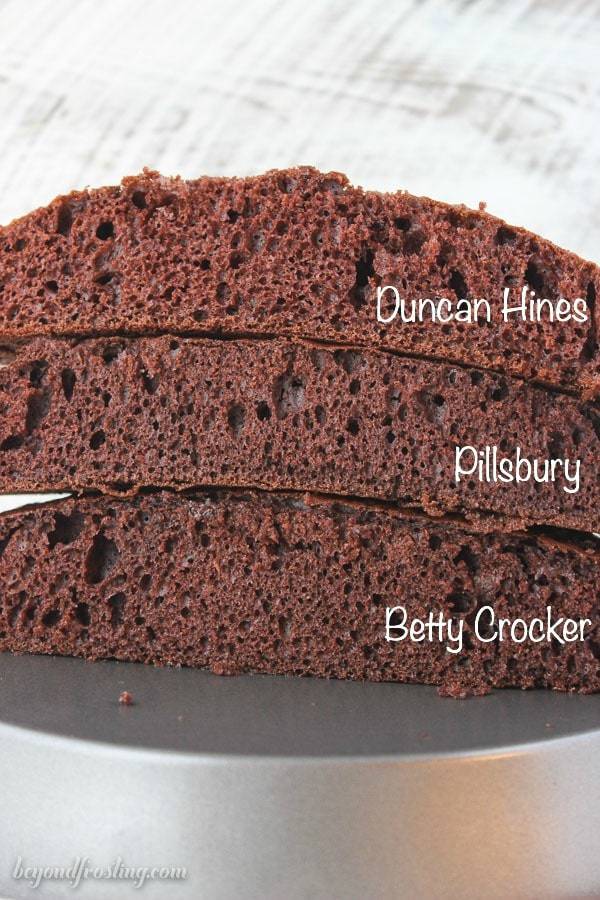 Betty Crocker
Rise: In both tests, the Better Crocker has the least amount of rise on the cake, which again might be due to the increased liquid in the batter. You can see it is significantly higher/taller.
Crumb: Betty Crocker had the most compact crumb but I also felt like it had the most air bubbles with Duncan Hines being a heavy competitor.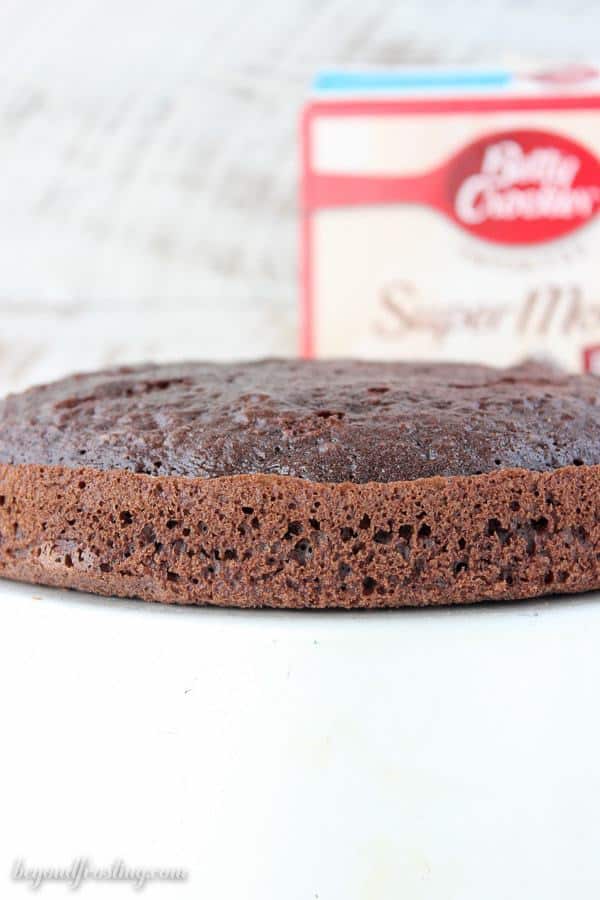 Pillsbury
Flavor: The Pillsbury cake had the best chocolate flavor.
Structure: In both cases, the Pillsbury one baked most unevenly, meaning that it needs to be torted if you are making a layer cake so the top is nice and flat.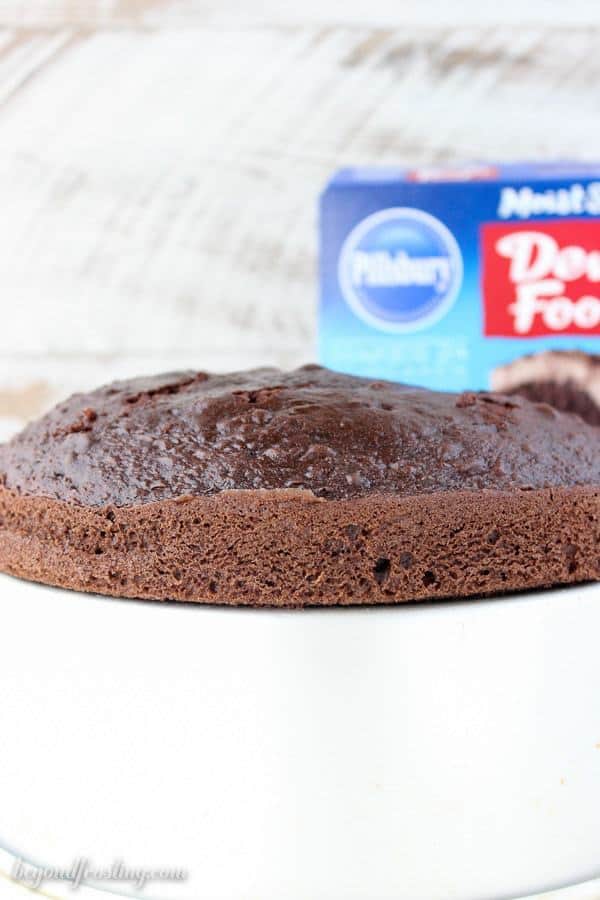 Duncan Hines
Texture: The Duncan Hines cake had the lightest and fluffiest texture and it was also the most moist cake mix. This was surprising to me given that the batter was the thickest.
Flavor: This cake also has the most cocoa flavor, which is not to be confused with the best chocolate flavor (Pillsbury was the best in my opinion)
Rise: This cake also had the best rise. It should also be noted that Duncan Hines is a Wilton-approved cake mix that is used in their test kitchens.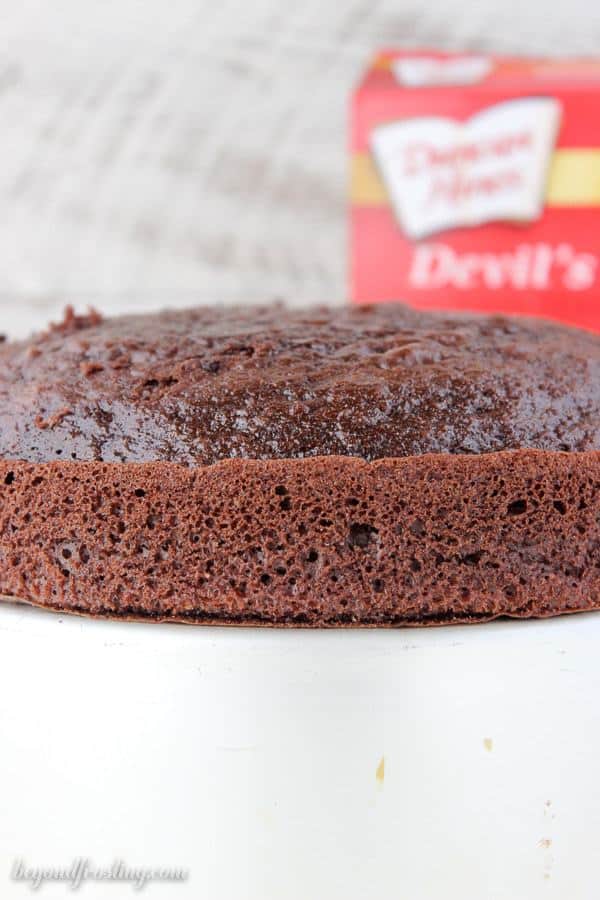 How to Make a Boxed Mix Taste Better
You might be surprised to know that even bakeries will reach for cake mix from time to time and with a few alterations, you can make it taste even better. Sometime you'd never be able to tell it's a cake mix.
Vanilla extract: Always add 1-2 teaspoons of vanilla to your cake mixes (expect maybe lemon).
Substitute with milk: Most cake mixes call for oil, water and eggs. Swap out the water for milk.
Use melted butter: Some people swear by swapping melted butter for oil, but I think oil produces a better texture and moister crumb.
Add sour cream: This really is the secret weapon. Adding 1/4-1/2 cup of sour cream to a cake mix makes the cake so much better.
Extra Cocoa powder: For more chocolate flavor, try adding 2-4 tablespoons of cocoa powder.
Add pudding mix: Even if the boxed mix already has it, people swear that adding a small box of pudding to the mix adds flavor and texture.
How Do I Prevent my Cakes from Sticking to the Pan?
I always recommend greasing the pans with Crisco and lining the bottom with parchment paper. This helps ensure the cake is released easily from the pans. If you don't have parchment paper, then you can use a dusting of flour. For chocolate cakes, I use a combination of flour and cocoa powder.
Parchment paper is also nice because when I am cooling the cakes on the wire rack, the bottom of the cake won't stick since it is lined with parchment paper. It also makes it easier to transport.
How Many Cupcakes Does a Boxed Mix Make?
This varies between brands. But generally, I get between 18-20 cupcakes from a box mix. This is using a standard large cookie scoop, about 3 tablespoons in size.
You might find my post tips for baking cupcakes to be helpful. I talk about how much batter for each cupcake and the different types of pans that are available.
More Baking Tutorials