This post may contain affiliate sales links. Please see my full disclosure policy for details
In this tutorial, you'll learn Cupcake Decorating Techniques, including how to frost cupcakes with different piping tips, and the best equipment to use for cupcake decorating. You'll learn how to decorate cupcakes like a PRO in no time!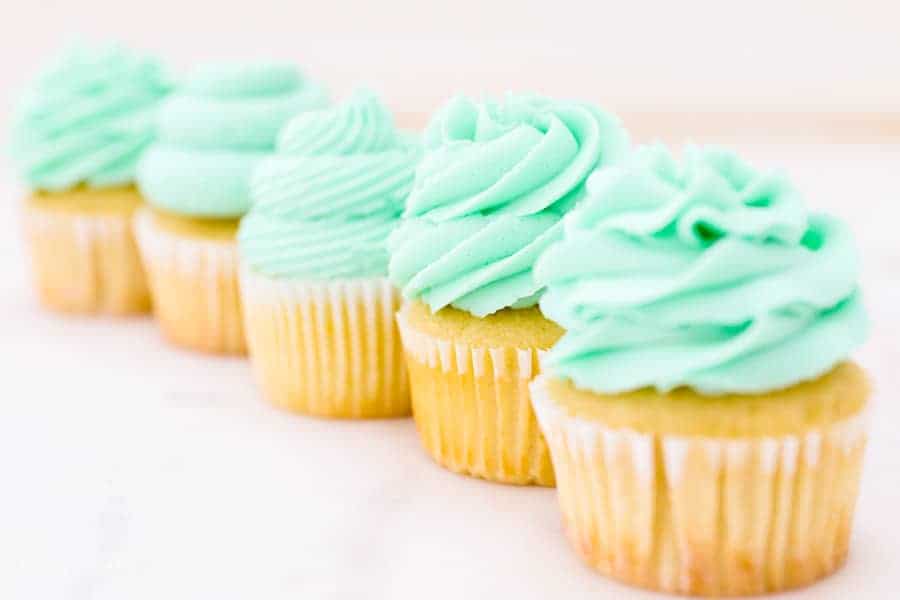 Frosting a cupcake can be a little daunting if you have never done it before. Let me tell you that it's really not as hard as your think.
When I started making cupcakes, I was getting frustrated because the piping tips did not produce the same results that I would see in the bakeries and on blogs I followed.
I decided to learn all about how to frost cupcakes. I purchased some large piping tips and let me tell you it changed my life. Suddenly I was decorating cupcakes like a PRO.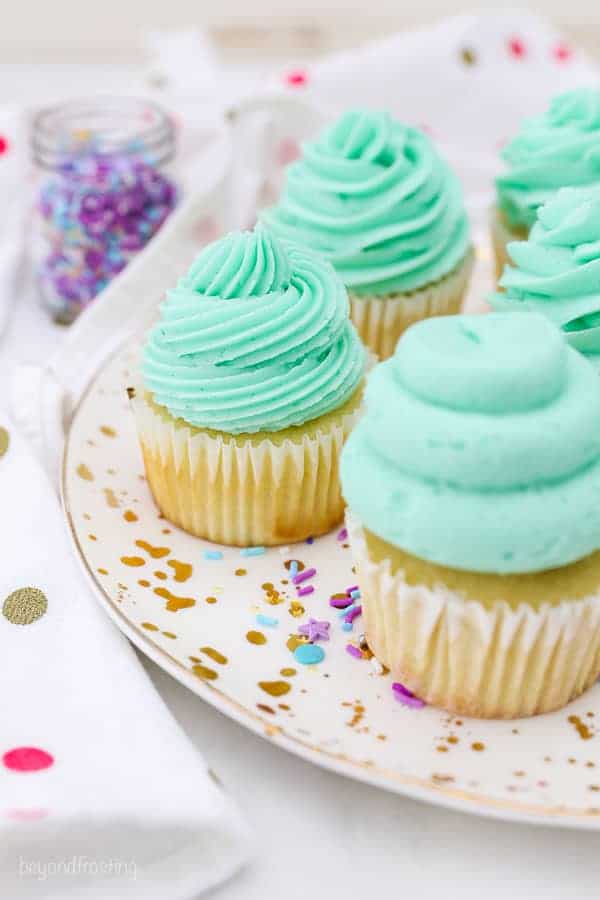 There are 3 key factors to learning how to frost cupcakes: pressure, position, and certainly a good frosting recipe.
With a little bit of practice and the proper tools, anyone can do it. That's right, you can learn how to decorate the perfect cupcake with these few simple decorating techniques.
Luckily for you, I've shared lots of tutorials for my favorite frosting recipes including a whole post about how to make buttercream frosting.
First I suggest mastering the techniques I talk about in that post, and it's all based around my perfect vanilla frosting recipe. This is a great recipe to start with, and it's the base for plenty of other frosting recipes on my blog.
Now I will talk you through each piping tip so you can see what each one looks like. Be sure to watch the video included for a more detailed look at my cupcake decorating techniques.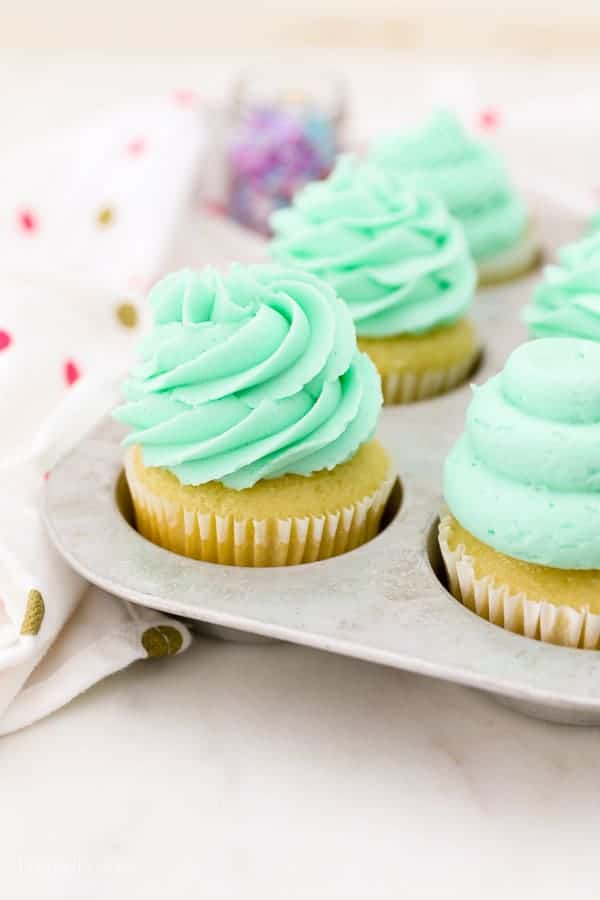 How to frost cupcakes
In order to have a consistent shape, you need consistent pressure on the bag. The larger piping bag allows you enough room to hold the bag both at the top and above piping tip, which is key to being able to apply equal pressure on the bag.
The larger bags are sturdier which is important when it's so full of frosting! However, I recommend filling it less than two-thirds full or it becomes too much to manage.
When positioning the piping bag, you should have your hands over top of the cupcake and hold it at a 90 degree angle.
Position the tip over the top of the cupcake and swirl from the outside working your way in as you lift up the bag.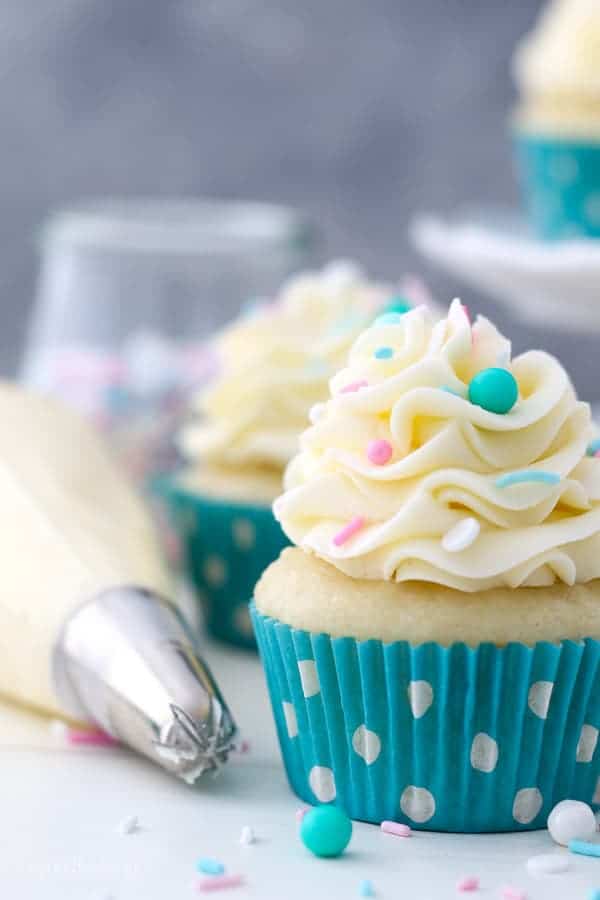 What piping tips do I need to decorate cupcakes?
I would recommend buying an Ateco 6-Piece Pastry Tube and Tips Set the as a starting point. If you don't need all 6, I included links to the individual piping tips I used below. For some of my favorites, I brought two of them.
Stores like Michaels or JoAnne fabrics will have the more common piping tips like a 1M or 2D.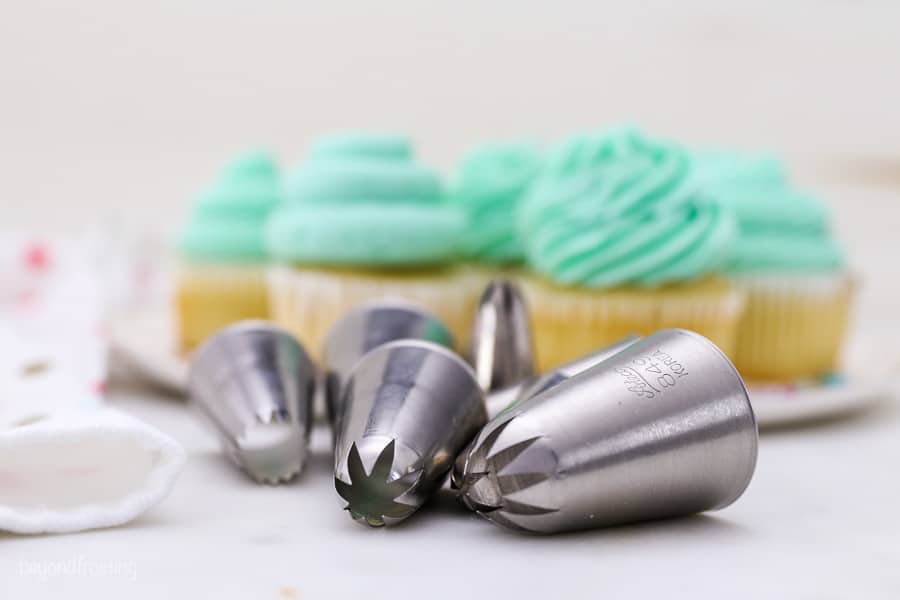 Ateco 849 Piping Tip (Closed Star Tip):
This is my favorite closed star tip. In fact, I own three of these tips and use them all the time. It is the one that reminds me most of an old-fashioned cupcake.
It works with most types of frostings except those that have stuff in them like nuts or crushed cookie. This tip can be used for a beautiful whipped cream on a pie or cake. It works great for both light and dense frostings. Buy it here.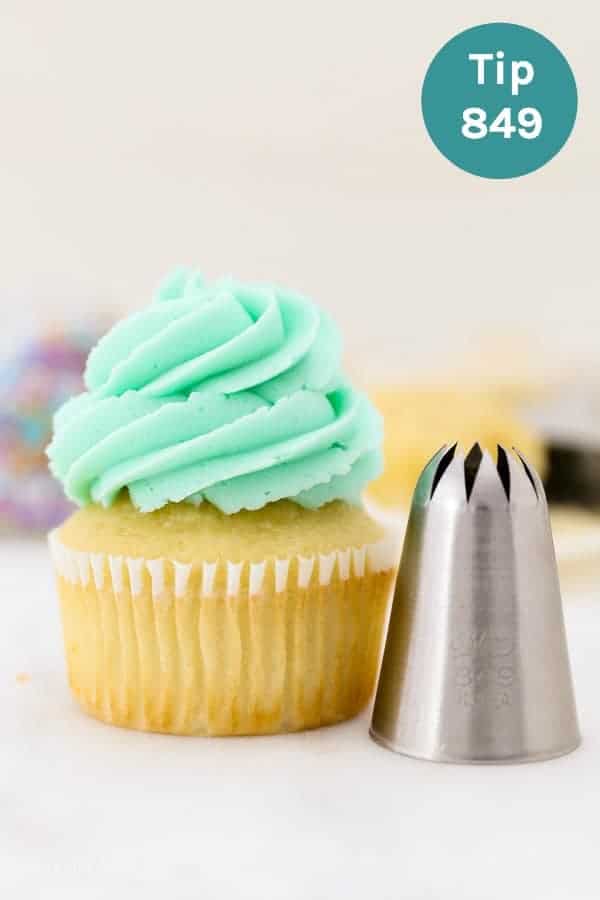 Other sizes in this series that I love are the 846 and the 844. The 846 is my second most used piping tip. It's just a little bit smaller but very versatile.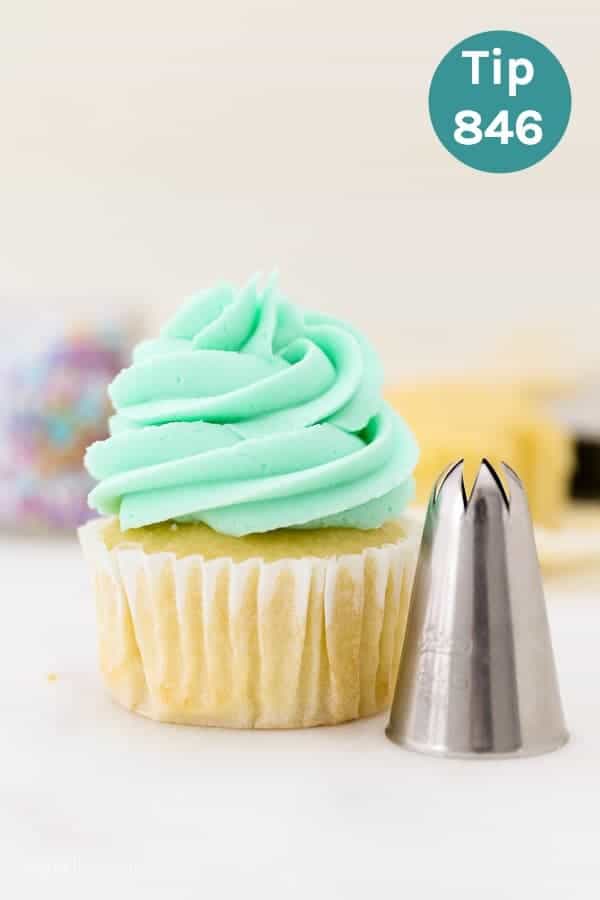 Wilton 2D Piping Tip (Drop Flower Tip):
This is a gorgeous tip for frosting cupcakes. It is commonly found in craft and baking stores. It works best with light frostings like Swiss meringue and whipped cream.
If you have any type of mix ins (like nuts or cookies) in your frosting, I don't recommend using this piping tip.
To start, piping a floret in the middle of the cupcake. Then pipe along the outside edge of the cupcake and slowly move your way up and into the center of the cupcake. Buy it here.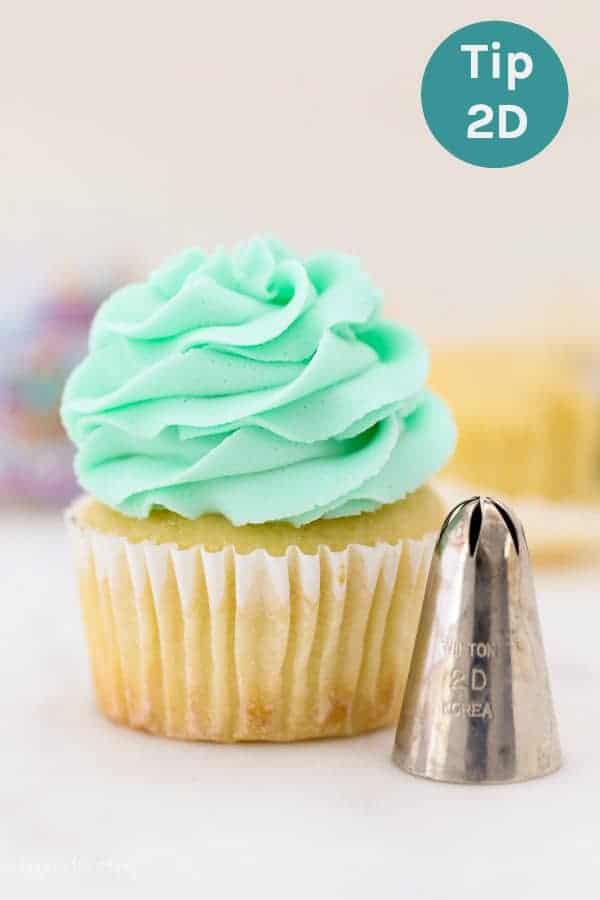 Wilton 1M Piping Tip (Open Star Tip)
This tip is gorgeous, and maybe most commonly known as the tip used to make roses.
This tip also works well for light frostings like Swiss meringue and whipped cream or stiff cream cheese. As with the previous tip, it is best to avoid using this with any frostings that have fillings like coconut or candy. Buy it here.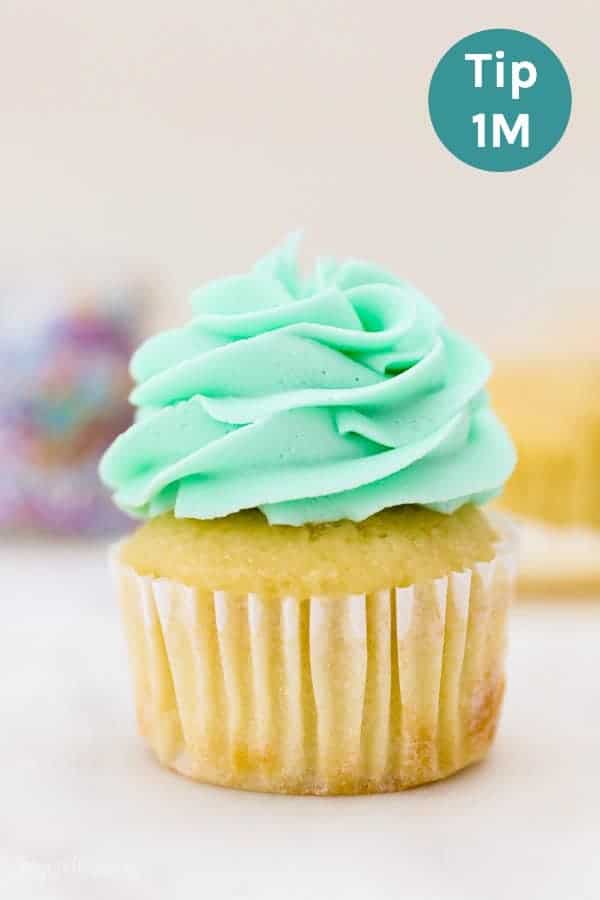 I loved using this tip for my Unicorn Cupcakes and my sugar cookies.
To make the rose, start in the center of the cupcake. Hold the bag at 90 degrees and slowly pipe from the center to the outside edge as you make you way around the cupcake.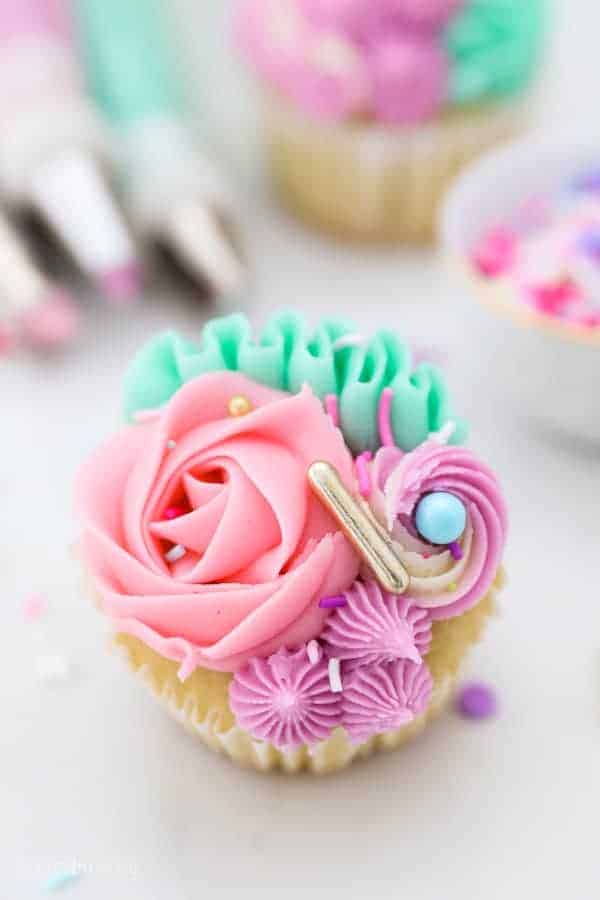 Piping Tip 808: (Open Round Tip)
This tip holds a special place in my tool belt. I don't use it often, and I am usually selective with what I use it for.
It's great if you have a frosting that has stuff in it like coconut or Oreos. The opening is large enough where the fillings won't get stuck.
It's about a 5/8″ opening. I usually find this tip in a cake store or buy it online. You can usually find a smaller version in a craft store. Buy it here.
These do some in many different sizes if you need a smaller opening.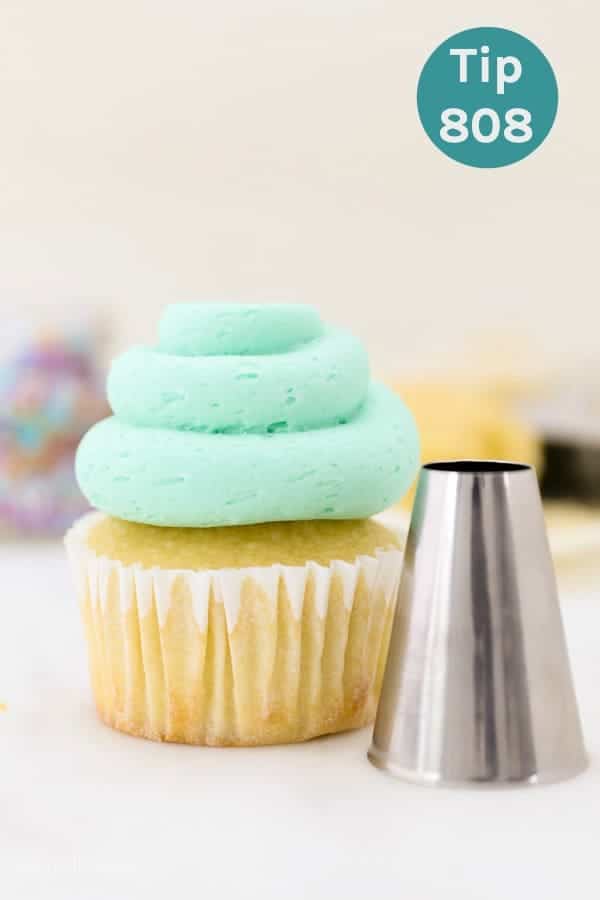 Ateco 866 Piping Tip: (French Star Tip)
This piping tip is not one I reach for as commonly as the other ones, but it sure is beautiful.
It creates a unique shape to the frosting that no other tip offers. I only use the larger version of this tip. The French tip also works great to fill cookies with frosting! Buy it here
As with the other piping tips, you can purchase smaller sizes of this tip.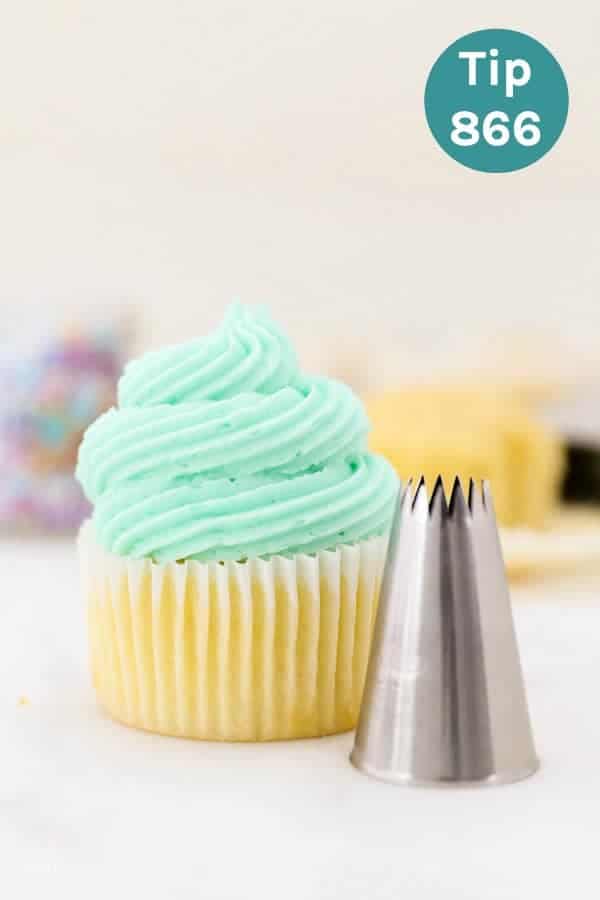 What type of piping bag should I use to frost cupcakes?
What I have found that helps me the most, is using a large piping bag. I use an 18″ Disposable Pastry Bag. First of all, the large piping bags allows you to put all the frosting in the bag without having to refill, because that gets messy.
Once filled, lay it flat and push all the frosting down the bag and try and get out any remaining air bubbles. Twist the end of the bag shut. Sometimes it helps to put a rubber band around it. I like to use Wilton Icing Bag Ties, but a rubber band works too!
Be sure to read my whole tutorial for how to use a piping bag.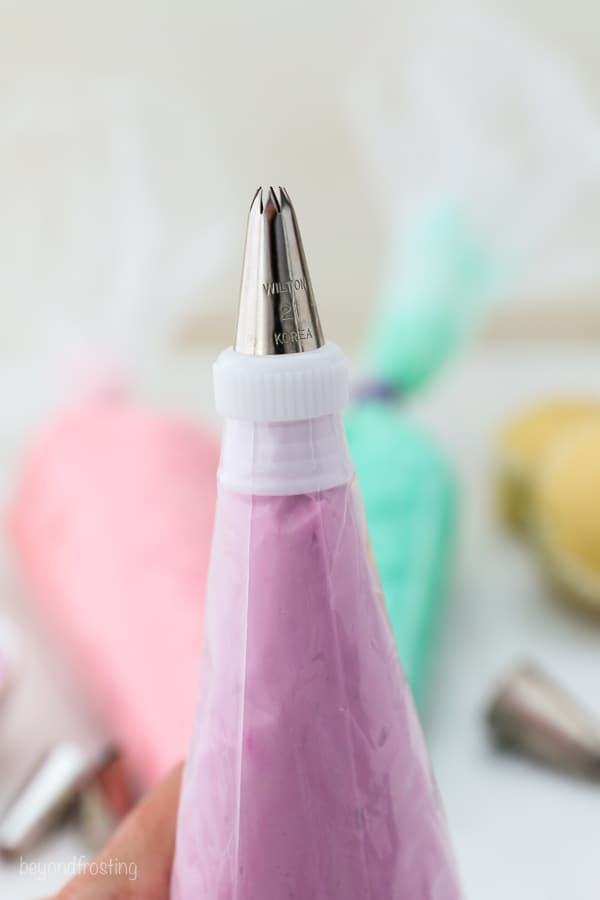 How to I color buttercream frosting?
If you're decorating cookies, cupcakes or cake for holidays, a themed birthday party or baby shower, you might need to color your buttercream to match.
Luckily for you, I have an entire post dedicated to how to color buttercream frosting.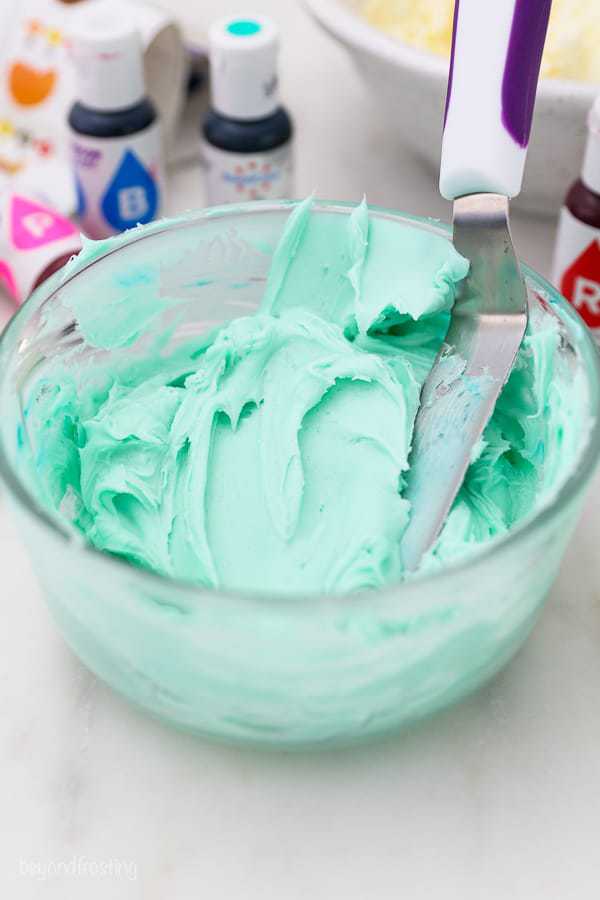 Other helpful resources:
I also have a pretty detailed post about cupcake pan sizes and the corresponding baking times.
Check out my Cupcake Baking Tips.
Want more of my favorite baking tool? I've got you covered!
Everyone asks me where I buy my bright cupcake liners. My favorite shop is Shop Sweets and Treats.
My favorite sprinkles are from Sweetapolita.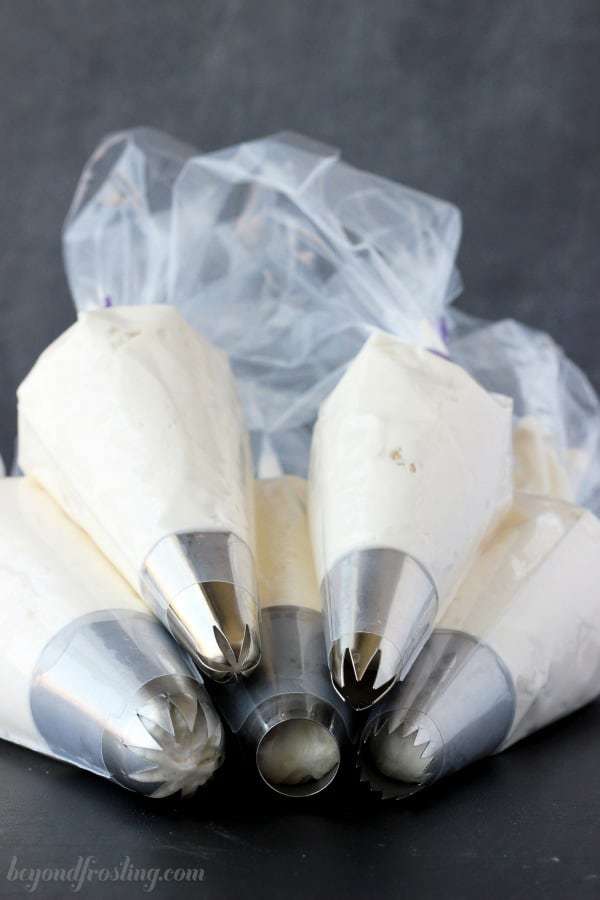 Follow Beyond Frosting:
Facebook | Twitter | Pinterest | Instagram
Print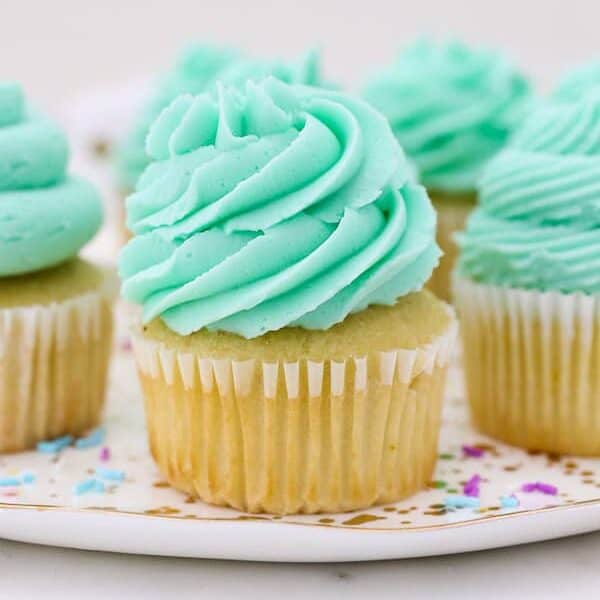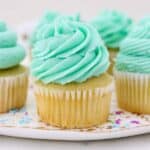 Vanilla Buttercream Frosting
Author:

Prep Time:

15 minutes

Total Time:

15 minutes

Yield:

24 cupcakes
Description
This Vanilla Buttercream Frosting Recipe recipe is very versatile. It's a basic vanilla buttercream using butter and powdered sugar. This is the perfect frosting for piping cupcakes and cake decorating.
Ingredients
1 1/2 cup

(

339 g

) (

3

sticks) unsalted butter, cold.

5 cups

(

650 g

) powdered sugar

2 1/2 teaspoons

(

12

ml) pure vanilla extract

2 tablespoons

(30ml) heavy whipping cream (or milk)
Instructions
Cut the butter into pieces. Using the paddle attachment, whip the butter for 5-7 minutes, scraping down the bowl occasionally, beating until the butter look light in color.
Add 2 cups of powdered sugar and mix on low speed until incorporated into the butter then add the vanilla extract and mix to combine. Beat for about 60 seconds.
Next, add an additional 2 cups of powdered sugar and beat on low speed until sugar is incorporated. Increase speed to medium-high and beat for 3 minutes.
Add last 1 cup powdered sugar along with the heavy whipping cream. Beat on low until the ingredients start to mix together. Increase speed to medium-high and beat for another 3-5 minutes to whip additional air into the frosting.
Notes
This frosting can be kept at room temperature if serving within 24 hours and it's not too hot. I
t can be made ahead of time and kept refrigerated for 7 days. Frosting must come back to room temperature before piping, and suggest to rewhip.
This frosting can also be frozen, but once thawed, I suggest to rewhip.
If you are coloring this frosting, I suggest to try using a clear vanilla extract to keep the frosting a pure white
Flavor with different extract or zest of lemon, orange or lime
This makes enough to frost 24 cupcakes
Category:

Frosting

Method:

Stand Mixer

Cuisine:

American
Keywords: Vanilla Frosting, Vanilla Buttercream, Best Vanilla Buttercream Frosting, How to Make Vanilla Frosting
More Frosting Recipes
The Best Chocolate Frosting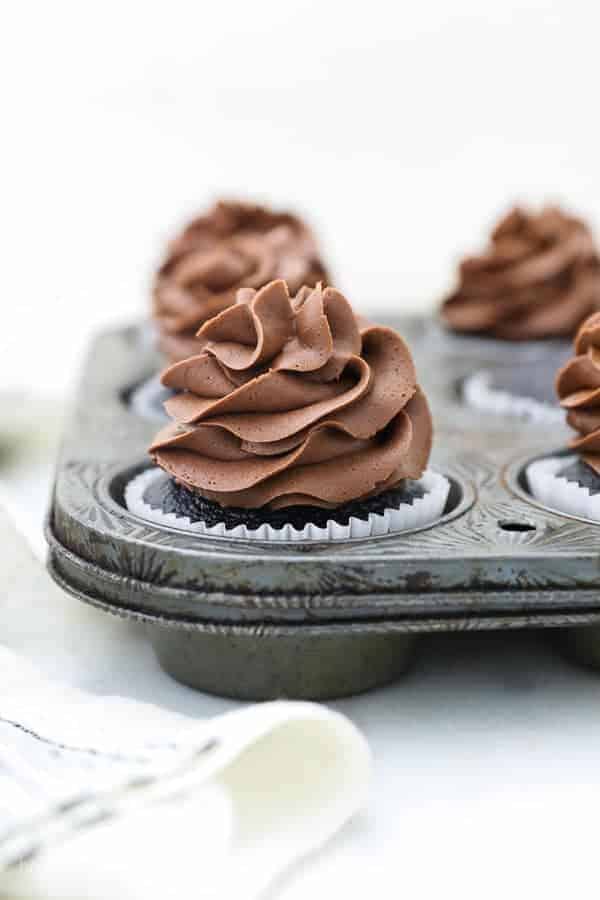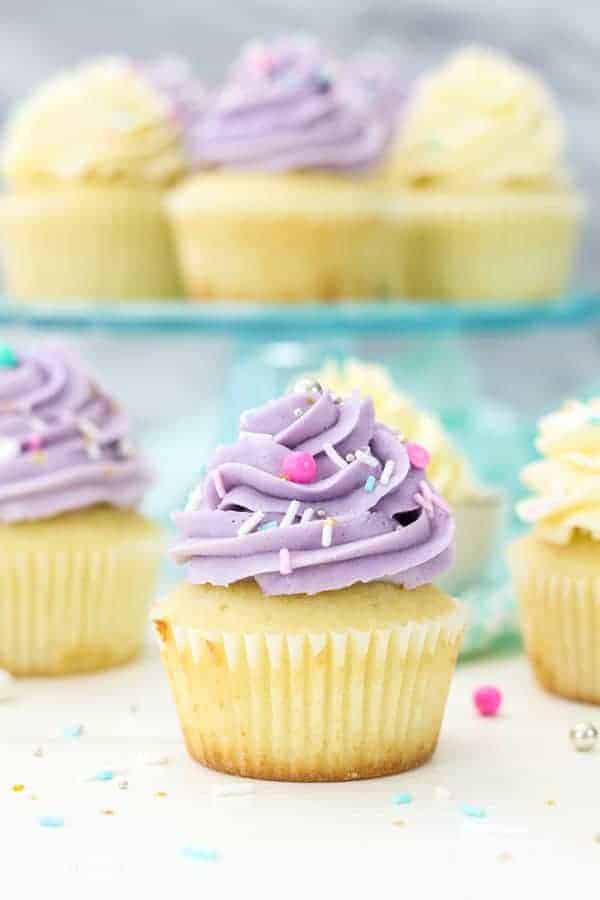 The Best Cream Cheese Frosting