This post may contain affiliate sales links. Please see my full disclosure policy for details
This Caramel Pecan Cheesecake is a rich brown sugar cheesecake with crushed pecans and a graham cracker crust with a homemade salted caramel sauce.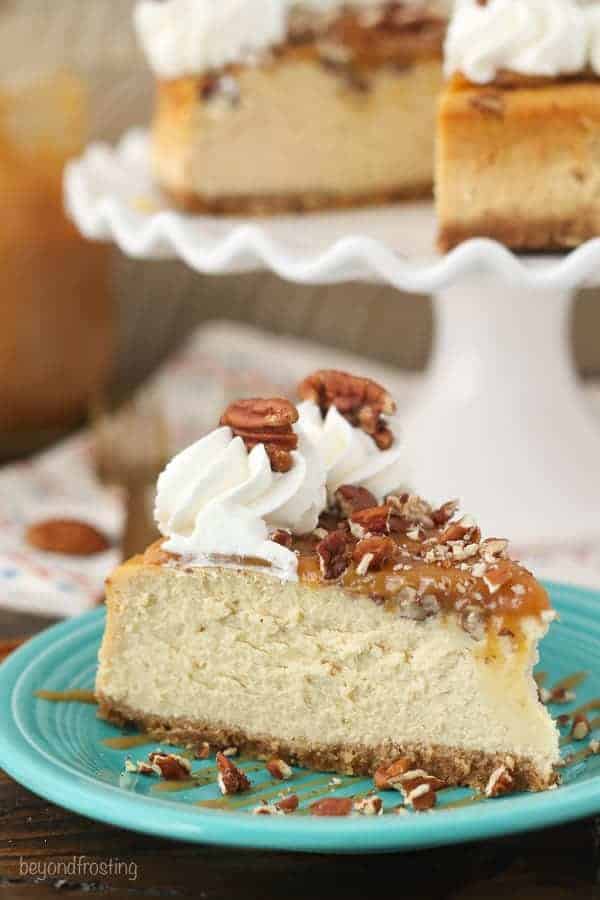 I hope you guys like caramel, because this is the second caramel recipe that I am sharing this week. I just couldn't help myself! Also, you might notice this is a BAKED cheesecake. That's right guys, despite my love of all thing no-bake, real cheesecake is actually one of my favorite desserts.
I rarely ever bake a cheesecake for my blog. In fact, other than my Bailey's Chocolate Cheesecake, I can't recall another baked cheesecake recipe I've done.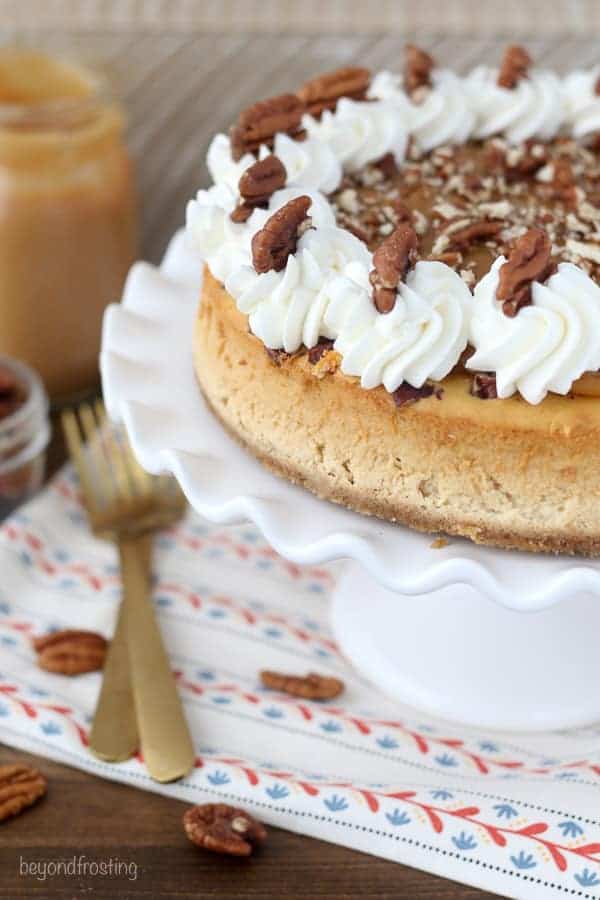 Typically, I shy away from baking cheesecake because they can be a bit labor intensive and the whole water bath thing. Well thankfully I've received several tips of the years and it's not really that intimidating to me any more. Because if I have a crack in my cheesecake, I'm just going to cover it with something yummy.
This Caramel Pecan Cheesecake is also very special because it comes from my talented friend Jocelyn Brubaker from Inside Bru Crew life. She wrote a whole cookbook about CHEESECAKE! Can we say love? No really, it's called Cheesecake Love.
It was really hard to actually choose a recipe to share because there were SO many mouthwatering recipes to choose from.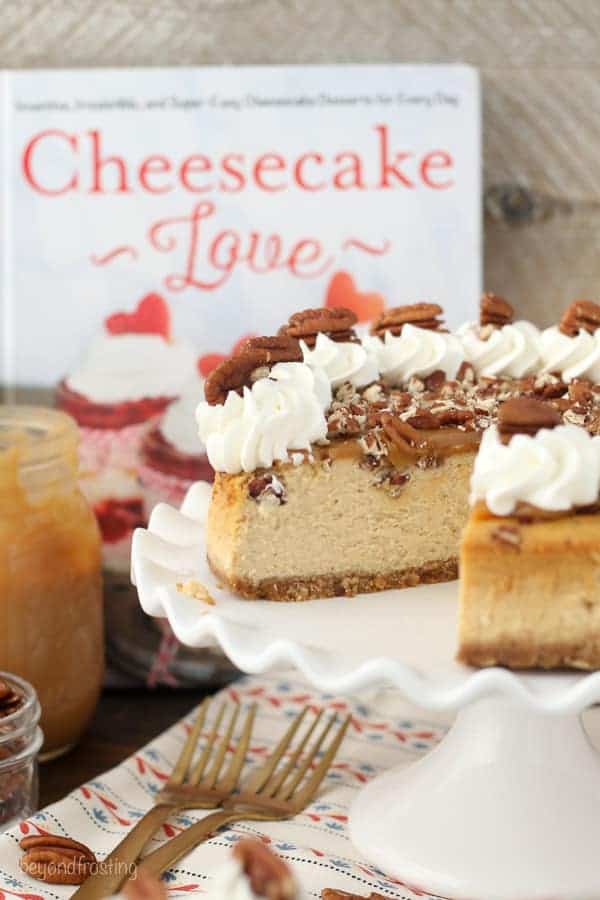 This cookbook doesn't cover just baked cheesecake, it also covers no-bake cheesecake, breakfast cheesecakes (think pastry tarts!), cheesecake cupcakes, cheesecake pies and more! There is definitely something for everyone in here, unless you hate cream cheese. Then we probably can't be friends.
This book also has a plethora of information of useful tips and tricks and a whole section dedicating to baking a cheesecake. I think several of us tend to ask ourselves, "is it done?". Well Jocelyn directly addresses that too! Here are a few tips she shared:
Cheesecake usually is under baked when you take it out of the oven. She says to do the wiggle test and if your whole cheesecake is wiggling, it's probably not done. BUT it's okay if the center is slightly jiggly
You need to allow plenty of time for the cheesecake to set and cool.
One of the reasons your cheesecake cracks is because it's overbaked.
Jocelyn claims to be a rebel because she takes the cheesecake out of the oven as soon as the timer goes off. She doesn't allow it to cool in the oven.
After 5 minutes, run a knife around the outside edge of the cheesecake because as your cheesecake cools, it shrinks. So, if you can loosen the edges of the cheesecake before it starts to shrink, it will also help prevent the cracking.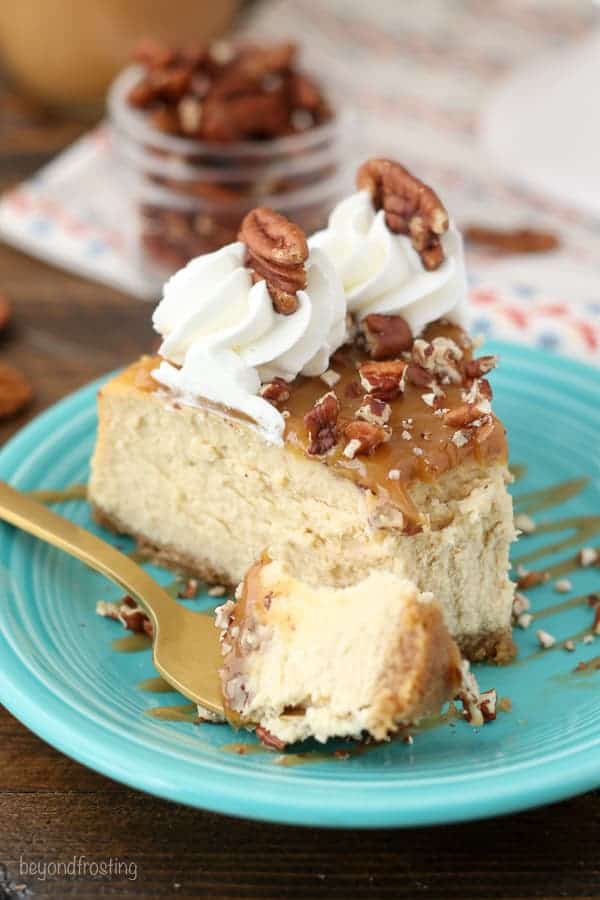 This cheesecake, it is a little more labor intensive, but I chose this Caramel Pecan Cheesecake because it has a homemade caramel sauce. I am not one to make caramel sauce very often, but I swear to you, the caramel I made is life changing, I have some leftovers and over the past week, I've just straight dipped my spoon in.
Since there is a homemade caramel sauce for the filling you need to plan enough time to make the caramel and let is cool completely. Don't be discouraged if your caramel seizes and you have to remake it. This happens to everyone! I found that my caramel was most successful when I added the butter before the heavy cream and then VERY slowly drizzle the heavy cream into the hot saucepan.
There are actually 2 different caramel recipes needed for this cheesecake and Jocelyn provided both recipes. However, if you're short on time, either one can be store bought. I used a combination of both a homemade caramel sauce and a store bought sauce for this cheesecake.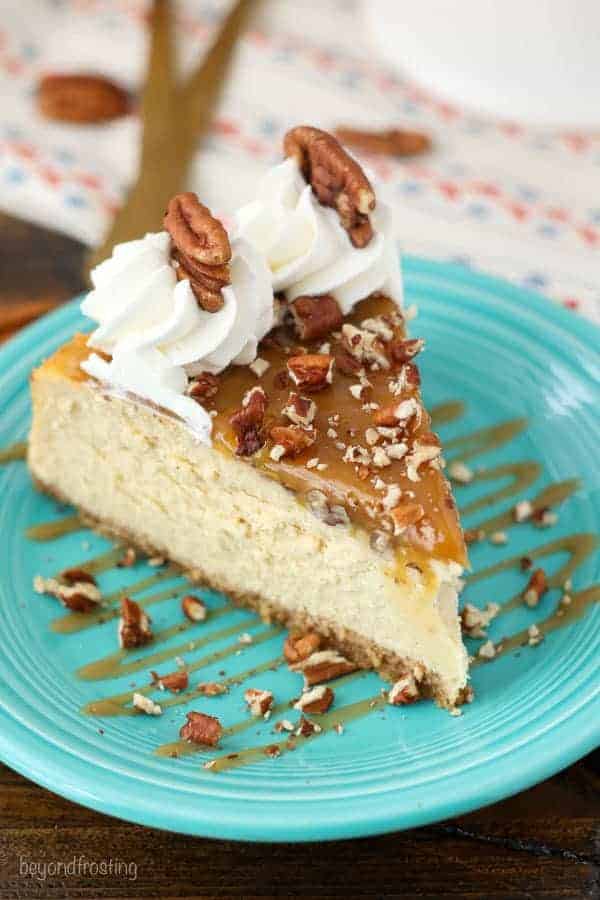 For the filling of the cheesecake, you'll need a thinner caramel, like the sauce that you would pour over ice cream. Then for the topping you need a thicker caramel sauce. Jocelyn suggested to use the caramel you would need for dipping apple.
The recipe calls for pecans to be sprinkled over top of the cheesecake, but I wanted to add some crushed pecans to the filling itself. I meant to put them on the bottom, but I forgot. So, I sprinkled them over top of the cheesecake before I put it in the oven.
Jocelyn's recipe didn't originally call for whipped cream on top, but I just love the way it looks, so I chose to add it.
Make sure you allow plenty of time for all the steps involved in this cheesecake, but trust me when I tell you it's WORTH it! I got so many compliments on this cheesecake, yes it's decadent but everyone deserves a dessert like this every once in a while.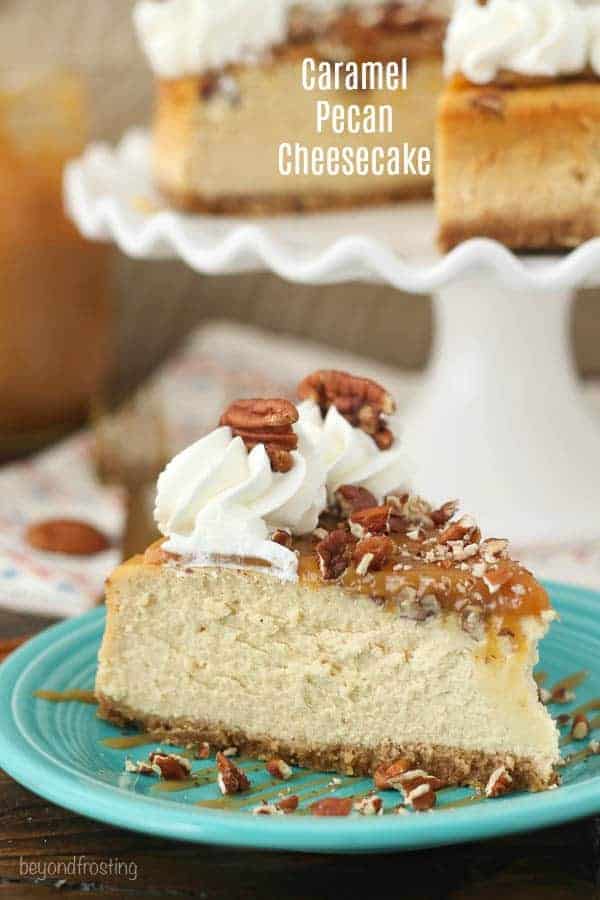 Follow Beyond Frosting:
Facebook | Twitter | Pinterest | Instagram
If you love no-bake recipes, be sure to check out my cookbook, No-Bake Treats!
Print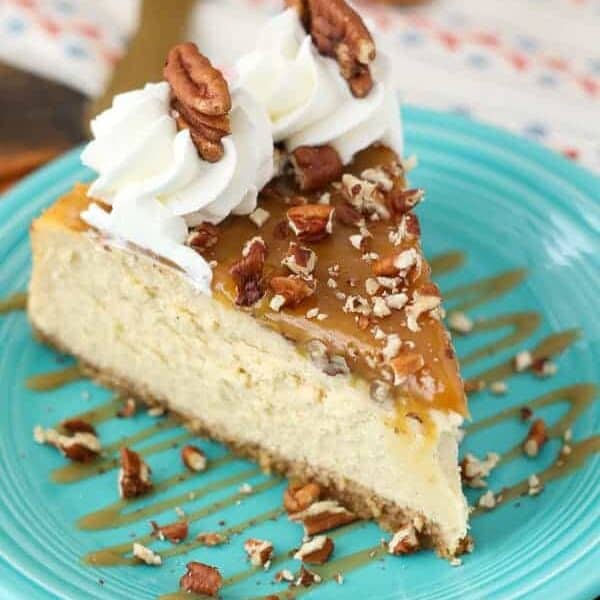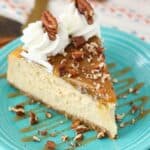 Caramel Pecan Cheesecake
Author:

Prep Time:

30 minutes (plus 4 hours cooling time)

Cook Time:

60 minutes

Total Time:

5 hour 30 minutes

Yield:

10-12 slices
Description
A rich caramel cheesecake with pecans and a homemade salted caramel sauce.
Ingredients
For the crust
1 1/2 cups

graham cracker crumbs

1/4 cup

light brown sugar

6 tablespoons

unsalted butter, melted
For the cheesecake
32 ounces

(

4

8-ounce packages) full fat cream cheese at room temperature

1 1/2 cups

packed brown sugar

1/4 cup

heavy whipping cream

1/4 cup

caramel topping (recipe listed below)

1 teaspoon

vanilla extract

1 teaspoon

caramel extract (or sub vanilla)

1/4 cup

all-purpose flour

4

large eggs

1/4 cup

finely chopped pecans
For the caramel topping
1 cup

sugar

1/4 cup

water

2 tablespoons

unsalted butter

2/3 cup

heavy whipping cream, at room temperature

1

–

2

teaspoons coarse sea salt (optional)
For the toppings
1/2 cup

finely chopped pecans

3/4 cup

heavy whipping cream

3 tablespoons

powdered sugar
Instructions
Prepare the required caramel sauce prior to making the cheesecake and allow proper time to cool.
For the caramel topping: Place the sugar and water in a 3-quart saucepan with high sides. Pick up the pan and rotate it to get the water into all the sugar. Place the pan over medium heat and cook until the sugar has dissolved. Do not stir the mixture at all.
The mixture will begin to bubble. Let the sugar mixture cook for 8-10 minutes more. Again, do not stir the mixture at all while its bubbling.
The color of the mixture will turn from clear to light amber to golden amber to slightly darker amber. Do not let it get too dark. Make sure you stand there and carefully watch the hot sugar mixture because it can burn very quickly.
Remove the pan from the heat when the mixture turns darker amber and whisk in the butter very slowly. Once the butter is mixed in, VERY slowly add the cream while whisking constantly. Note the hot sugar will bubble very fiercely when you add the cream but just keep whisking.
Return the pan to the heat and let the caramel boil for 1 minute. Remove the pan fro the heat and stir in the salt for salted caramel if desired. Cool the mixture completely.
Preheat the oven to 350°F. Place a large rimmed baking sheet on the very bottom rack of the oven and fill it halfway with water.. Line a 9-inch springform pan with parchment paper.
For the crust: Mix together the graham cracker crumbs, sugar and butter. Press the crumbs firmly into the bottom of the prepared pan. Set aside.
For the cheesecake: Beat the cream cheese until creamy. Add the brown sugar and beat until smooth.
Pour in the cream, caramel topping, extracts and flour. Beat until everything is incorporated completely.
Add the eggs one at a time, beating well after each addition. Make sure the eggs are fully incorporated, but do not over beat the batter.
Pour the cheesecake mixture onto the prepared crust. Place the pan on the oven rack right above the tray of water. Bake for 60 minutes.
Remove the pan from the oven and place it on a wire rack. Let the cheesecake cool for five minutes, then run a sharp knife around the edge of the cheesecake to loosen it from the springform pan.
Let the cheesecake cool for one hour then refrigerate it for 4 to 6 hours or until completely chilled.
Detach the springform pan ring and remove the cheesecake from the pan. Slide it onto the serving plate.
For the topping: Spread the caramel topping on the cheesecake right before serving. Sprinkle the pecans on top of the caramel.
Prepare a batch of whipped cream: Place the mixing bowl and whisk attachment in the freezer for 5 to 10 minutes to chill. Pour 1 ¼ cups heavy whipping cream into the chilled bowl and use an electric mixer to beat the heavy cream on medium-high speed until the cream starts to thicken. Slowly add the powdered sugar and continue beating on high speed until stiff peaks form. Pipe along the edges of the cheesecake.
Notes
If you refrigerate the cheesecake with the caramel dip on top, the caramel will harden. Run a sharp knife under very hot water. Dry it off and very slowly cut through the caramel so that you do not crush the soft cheesecake. The hot knife will melt the caramel as you cut through.
Prepare the required caramel sauce prior to making the cheesecake and allow proper time to cool. There are two types of caramel sauce for this recipe. These can be either homemade or store brought. The caramel sauce for the cheesecake filling should be thin like an ice cream topping. The caramel sauce for the topping should be thick like a caramel dip for apples.
To store the caramel dip: Let the caramel mixture cool before spooning into a jar. Store the caramel in the refrigerator for up to one month. You may need to warm it up slightly in the microwave or allow it to come to room temperature before using.
Recipe reprinted with permissions from St. Martin's Press Cheesecake Love
Category:

Cheesecake

Method:

Baked

Cuisine:

American
Keywords: Caramel Cheesecake, Cheesecake Recipe