This post may contain affiliate sales links. Please see my full disclosure policy for details
This Bailey's Chocolate Cheesecake only requires a few simple ingredients for this show stopping dessert. Silky chocolate cheesecake is infused with Bailey's Irish Cream liquor and topped with a Bailey's Whipped Cream! If you've never made a cheesecake before, let me walk you through the steps!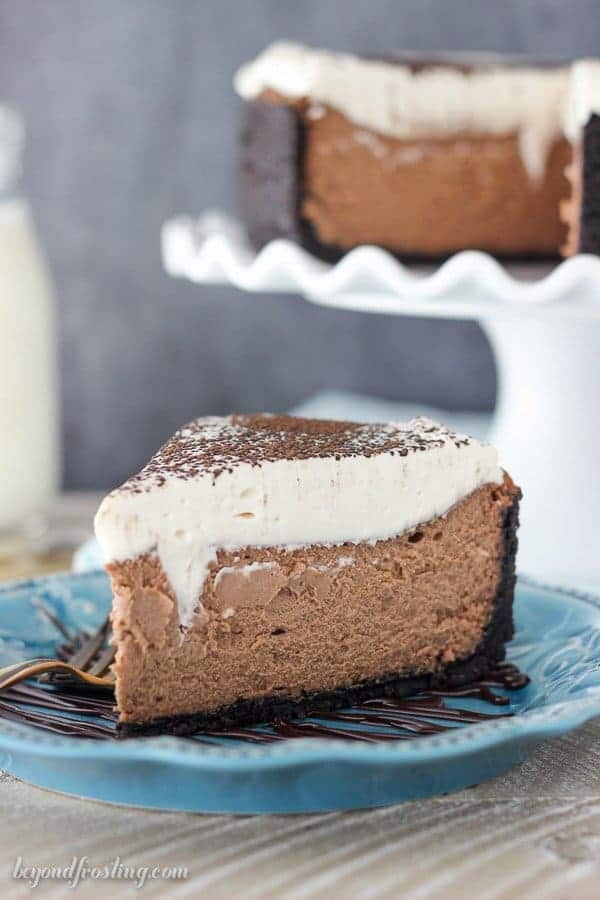 Guys, it's a big day for me. I BAKED a cheesecake! Can you believe it? I can't think of a better one to start with than this Baileys Chocolate Cheesecake.
Sink your teeth into this silky chocolate cheesecake infused with Bailey's Irish Cream liquor and topped with a Bailey's Whipped Cream.
As you may know, cheesecakes are my favorite dessert, but the whole baking of the cheesecake seems labor intensive and intimidating. However, it's far less intense than a layer cake and just takes a little bit of patience and time.
Some of the common fears for baking cheesecakes include: the cracking in the middle (after all the work, my word!), not knowing if the cheesecake is actually baked all the way through (please tell me I am not the only one!), and the water bath, lord don't make me do it!
However, if I can do it, you can do it! Let me break this down a bit for you so you can be successful too.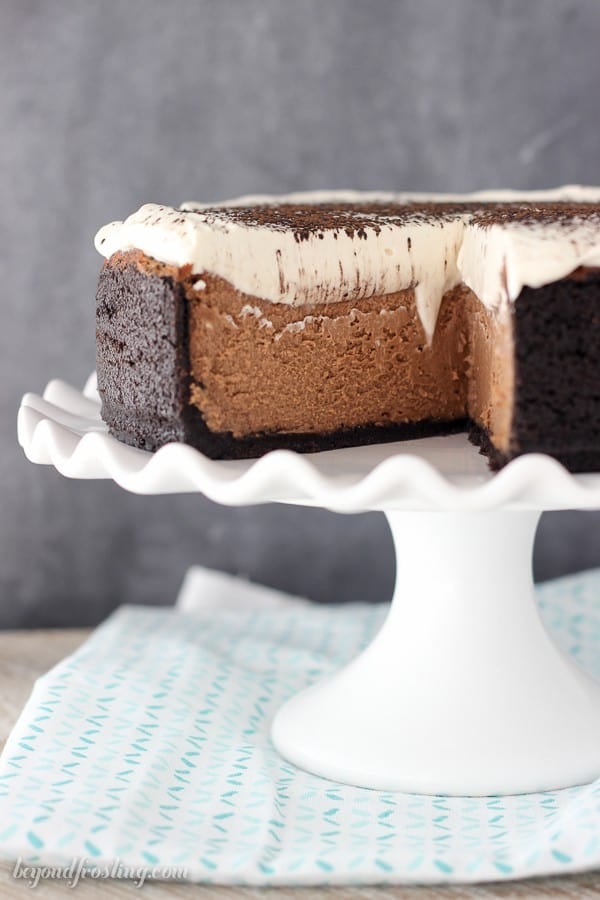 4 things you need to know about baking cheesecakes
Room temperature ingredients matter
From all I've learned about baked cheesecake, I know that one of the key components to making a silky-smooth cheesecake is that all ingredients should be at room temperature.
Don't rush it either! Take them out at least an hour or so before you're ready to bake. This includes the cream cheese, the eggs and any liquids such as sour cream, milk etc.
My cheesecake is going to crack
After you've spent all that time preparing and baking your masterpiece, you take it out of the oven and as it cools, you helplessly watch the top of the cheesecake cracks apart.
You know what I say? Who cares! Once you cover that baby up with some topping no one is very going to know.
Can you even tell that this cheesecake has a big crack in it? Nope!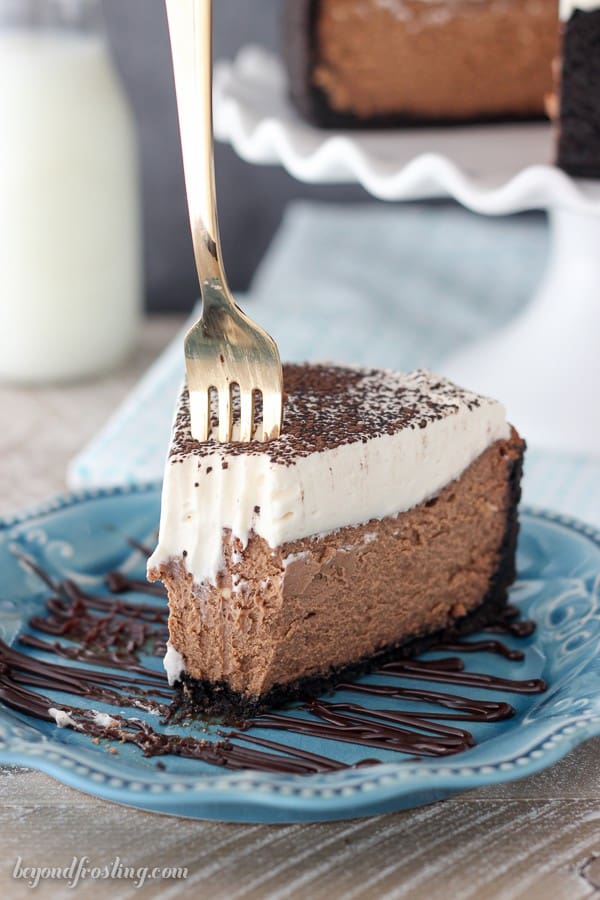 To bake in a water bath or not?
The original Irish cream cheesecake recipe did not call for it to be baked in a water bath, but I know it's a common method for baking cheesecakes. That may have been the cause for the actual cracking of the cheesecake, but that's okay. I am not as familiar with how the baking time would be adjusted with a water bath vs without one.
If your recipe does require a water bath, you just need a pan that is a little wider than your springform pan.
Your springform pan might leak
However, I still wrapped my cheesecake in the event that the springform pan leaked, which is another common issue.
You can check to make sure the seal is tight by pouring water into your pan and waiting to see how much it might leak. If it's pouring out, you might consider getting a new pan. Having a tight seal is important.
Even though I was not baking this in a water bath, I still followed my friend Lindsay's tip for and wrapped this cheesecake with a slow cooker liner and then baked it on a sheet pan so that the plastic was not directly on the wire racks in my oven. It's a very simple and quick trick.
When I first baked this, there was a little too much butter in the crust, and it leaked a bit. That just means that if I didn't have that liner or a sheet pan underneath, it would be been a total mess. Therefore, I've reduced the butter in the crust a bit.
But the moral of the story is to at least use a sheet pan under your springform pan regardless of whether or not there's a waterbath.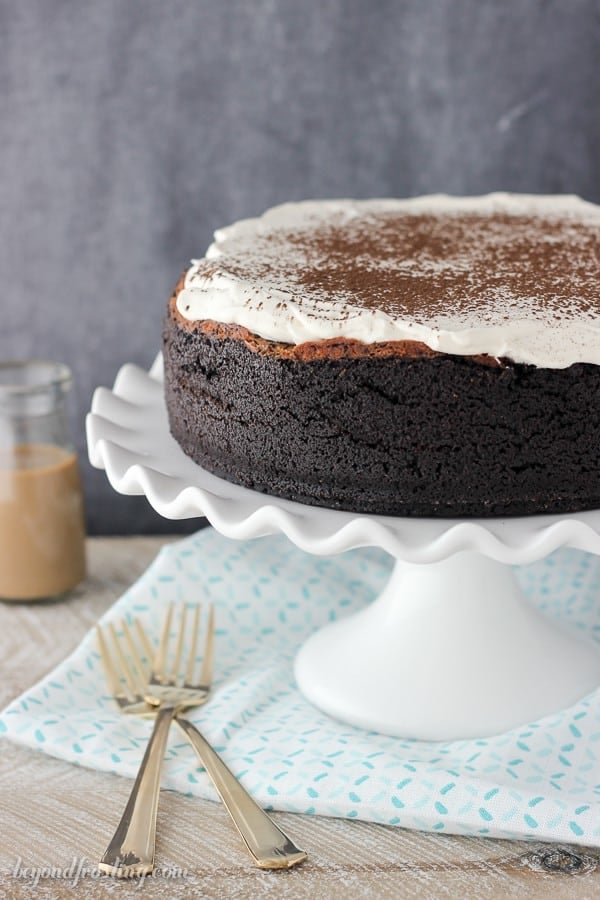 To top off this Baileys Cheesecake, I made a simple Baileys infused whipped cream. The key to making a homemade whipped cream is starting with a cold bowl and whisk. Once you've whipped the heavy cream until it reaches soft peaks, add the liquor and the powdered sugar. I could seriously dive in headfirst.
I dusted it with a little cocoa powder but you could certainly top it with chopped chocolate, chocolate sauce or a chocolate ganache.
More Baileys desserts
Follow Beyond Frosting:
Facebook | Twitter | Pinterest | Instagram
If you love no-bake recipes, be sure to check out my cookbook, No-Bake Treats!
Print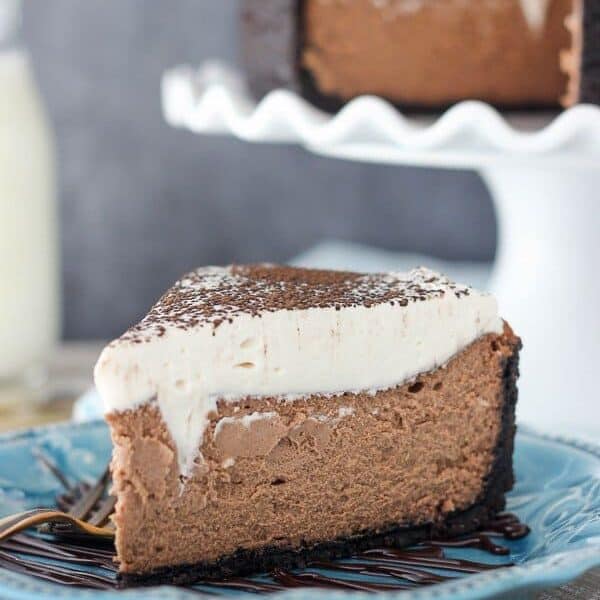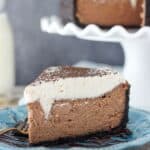 Baileys Chocolate Cheesecake
Author:

Prep Time:

90 minutes

Cook Time:

55 minutes

Total Time:

6 hours

Yield:

12 slices
Description
This Bailey's Chocolate Cheesecake only requires a few simple ingredients for this show stopping dessert. Silky chocolate cheesecake is infused with Bailey's Irish Cream liquor and topped with a Bailey's Whipped Cream!
Ingredients
For the crust:
1

package (14.3oz) Oreos

6 tablespoons

unsalted butter
For the filling:
24 ounces

full fat cream cheese, at room temperature

8 ounces

sour cream, at room temperature

3

large eggs, at room temperature

8 ounces

semi-sweet chocolate, melted and cooled

1 cup

granulated sugar

1/2 cup

Bailey's Irish Cream

2 tablespoons

milk or heavy whipping cream

2 teaspoons

vanilla extract
For the topping:
1 1/4 cups

heavy whipping cream

2

–

3

tablespoons Irish Cream

1/2 cup

+

1 tablespoons

powdered sugar
Cocoa powder for dusting
Instructions
Preheat the oven to 325°F.
For the crust, Grind the cookies into a fine crumb using a food processor or blender.
In a small bowl, melt the butter in the microwave for 30 to 45 seconds. Pour the melted butter over the cookie crumbs and stir until the crumbs are well coated.
Pour the crumbs into your springform pan and press firmly into the bottom and up on the sides to create a thick crust. Refrigerate the crust while you are preparing the filling.
For the filling: In a large mixing bowl, combine the cream cheese, sour cream, sugar, and melted chocolate. Beat on medium speed until smooth until all ingredients are well combined, scraping down the bowl as needed.
Next, mix in the eggs just until combined. Lastly, use a spatula to stir in liqueur, whipping cream or milk, and vanilla extract.
Pour the filling into the prepared crust. Place springform pan in shallow baking pan (such as a sheet pan). Bake for approximately 50 to 60 minutes or until center appears nearly set when gently shaken.
Cool the cheesecake in the springform pan on a wire rack for at least15 minutes. Using a small sharp knife, loosen from side of pan. Cool for another 30 minutes or more then remove side of springform pan and continue cooling for 1 hour. Cover and chill for at least 6 hours or up to 24 hours.
For the topping: Prepare a batch of whipped cream by placing your bowl in the freezer for 5-10 minutes. Pour the heavy whipping cream into the chilled bowl and use an electric mixer to beat the heavy cream on medium-high speed until the cream starts to thicken. Slowly add the Irish cream and powdered sugar and continue beating on high speed until stiff peaks form. Spread over cooled cheesecake. Dust with cocoa powder.
Notes
The whipped cream will not be as stiff as a normal cream due to the addition of the alcohol.
This recipe was adapted from Better Homes and Garden's Chocolate-Irish Cream Cheesecake.
Category:

Cheesecakes

Method:

Baked

Cuisine:

American
Keywords: Baileys Cheesecake, Cheesecake Recipe, Chocolate Cheesecake, Baileys Irish Cream Dessert