This post may contain affiliate sales links. Please see my full disclosure policy for details
These chocolate banana cream pie cupcakes are made with a chocolate banana cupcake and filled with a chocolate mousse. Top them off with some whipped cream, bananas and Nilla Wafers.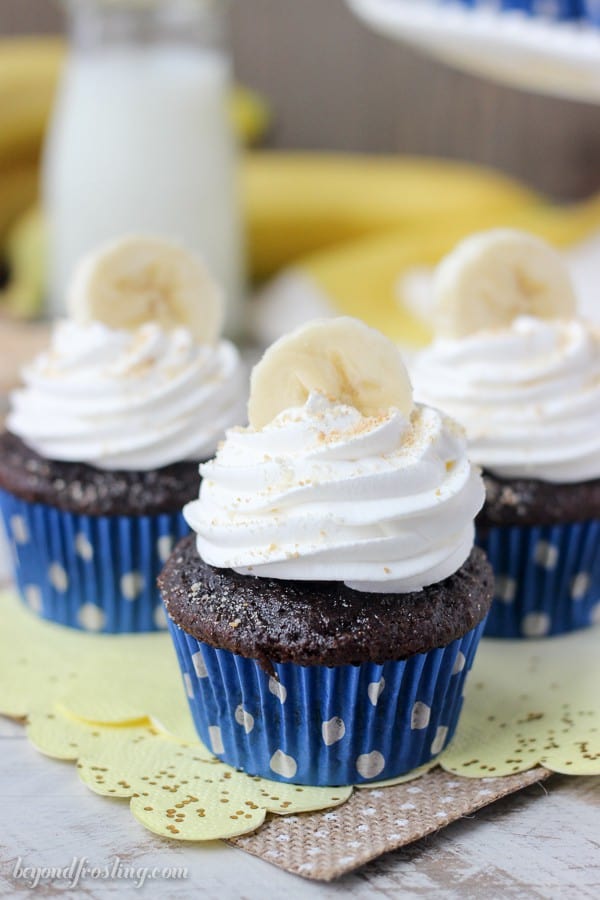 Did you watch the Grammies last night? Or did you take a timeout for the long awaited mid season premier of The Walking Dead? I really prefer to watch the Grammies when I can fast forward through the things I don't care to watch, because they are SO long. It's a real time commitment, but let's count how many times Adele made my eyes well up with tears.
This weekend we enjoyed a nice day on the mountain followed by homemade tacos. We were pre-celebrating Valentine's day since we won't be together this week. It was about the fanciest thing we could bust out after a very long day on the hill, but they were oh so good. I don't do anything special, just a packet of taco seasoning and some sautéed beef. My boyfriend fried the soft shells in a little bit of oil so they are still soft but slightly crispy. Served with a side of Pacificos.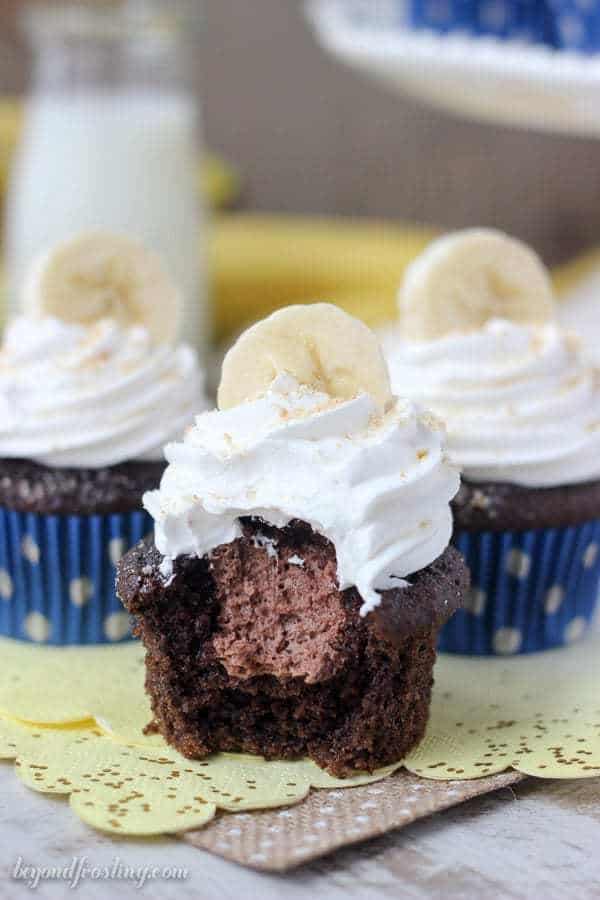 Let me tell you about something else that is SERIOUSLY delicious, and that's these Chocolate Banana Cream Pie Cupcakes.
I've become quite a sucker for pretty much anything that involves banana pudding. This recipe is unique in that it is actually a chocolate banana cupcake and it's filled with an easy chocolate mousse then topped off with some Cool Whip and fresh bananas.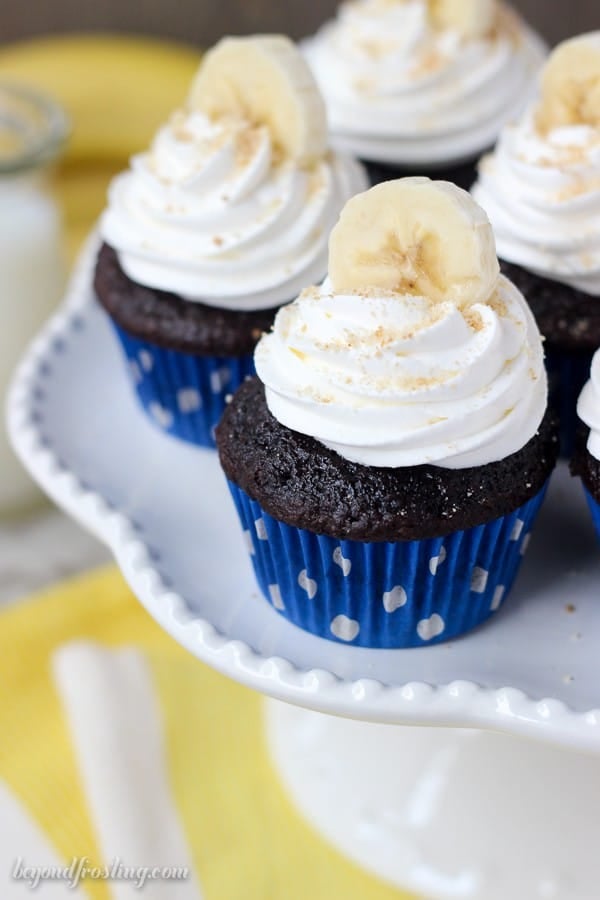 These cupcake happened by chance because I had some very brown bananas in my refrigerator for several days and I just felt like I couldn't freeze them or throw them away. While I love banana bread, I know I would devour a whole loaf all to myself, and that not good for my thighs.
The cupcake recipe is similar to the cake recipe for my banana pudding poke cake, but I added a touch of sour cream. Between the sour cream and the bananas, these cupcakes are very airy and light and also extra moist. I've also added a hint of brown sugar to bring out the sweetness in the bananas.
When it came time for the filling, I had to choose between a chocolate pudding or a banana pudding. While I loved the idea of using banana, I really wanted to highlight the chocolate here.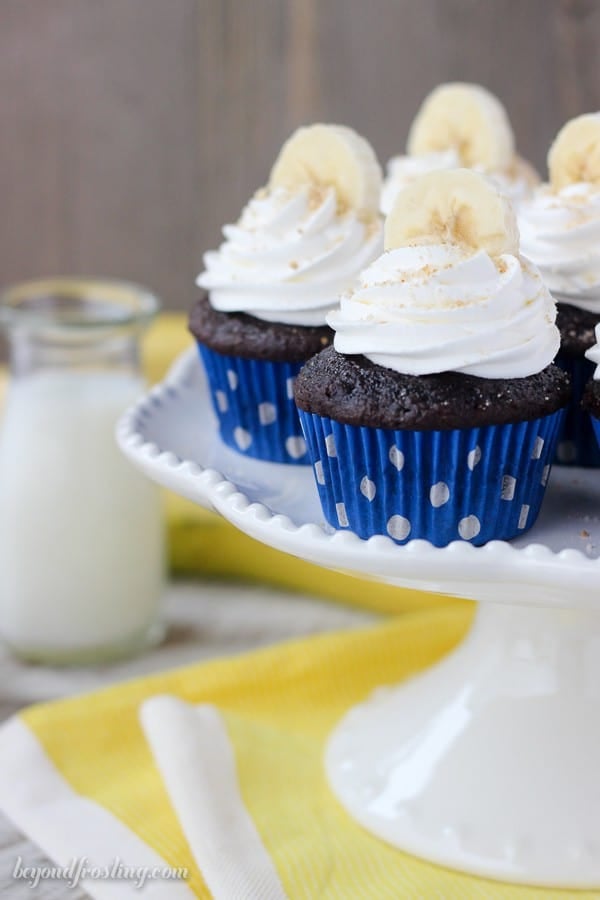 I recently received a shipment of new products from Jell-o Simply Good, a new line of Jell-o products featuring real ingredients with no artificial flavors. While. I had both a banana version and a chocolate version, I chose the chocolate version for this recipe. The new pudding mix uses real cocoa and it was a noticeable difference between standard pudding mixes. The chocolate flavor was more intense and rich. It's definitely something I will be reaching for in the future.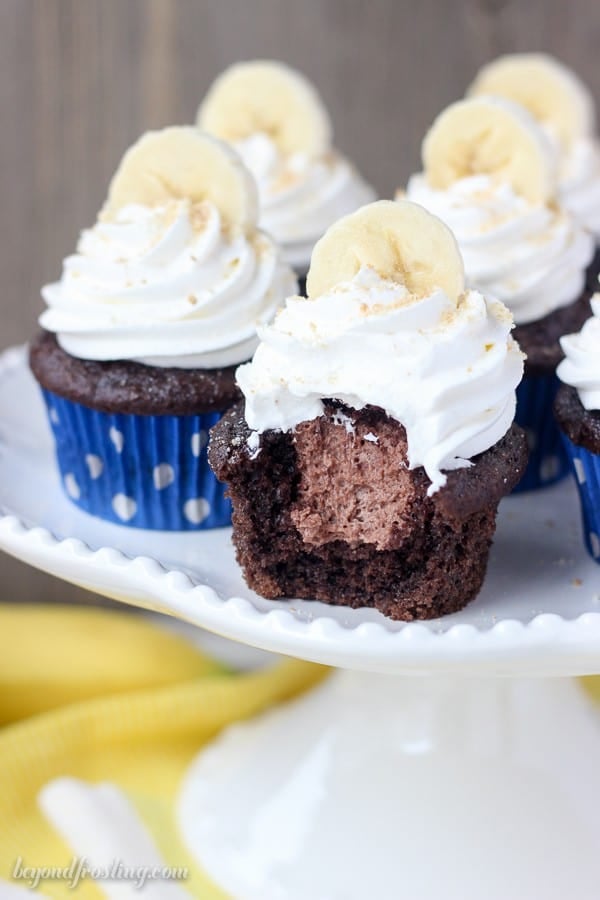 For the filling, I cut the amount of liquid in half so the pudding would be extra thick, and then mixed in some prepared whipped cream. This makes for a very airy mousse to fill the center of these cupcakes with. I use my favorite cupcake corer to remove the center of the cupcakes, but a knife works as well. Since these cupcakes are extra moist, it might get a little sticky. Save those tops because I like to stick them back on top of the mousse to keep the cupcakes from drying out.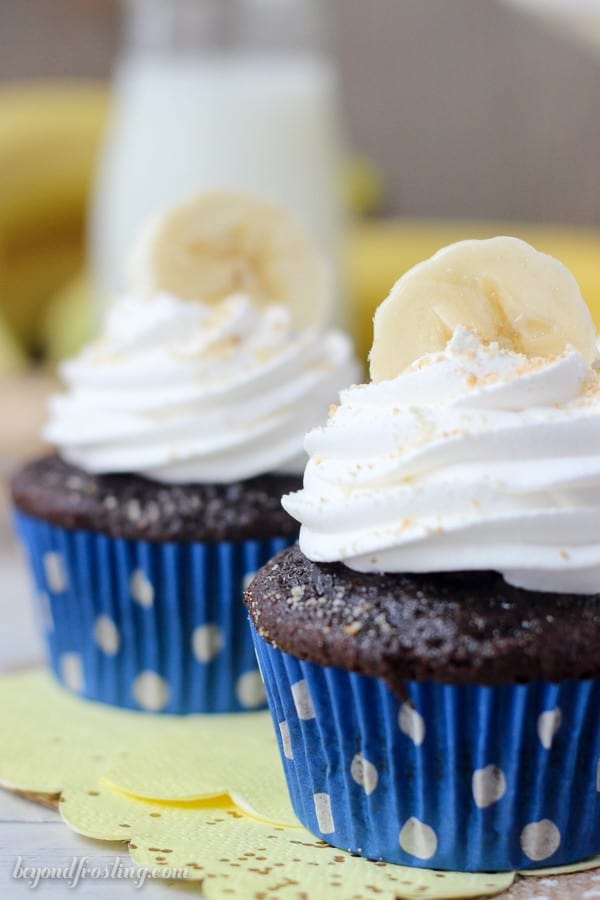 I once heard that traditional banana cream pie uses Cool Whip, and while I' not partial to either, I have chosen a prepared whipped cream for the filling and Cool Whip for the topping. You could use both or stick to one or the other. If you're concerned about the topping being stable, try preparing some gelatin with 1 teaspoon of gelatin and 1 tablespoon of cold water.
These cupcakes wouldn't be complete without a little garnish, so I added a fresh slice of banana and some crumbled Nilla Wafers. You may or may not want to share these with your friends and no one is judging you over here.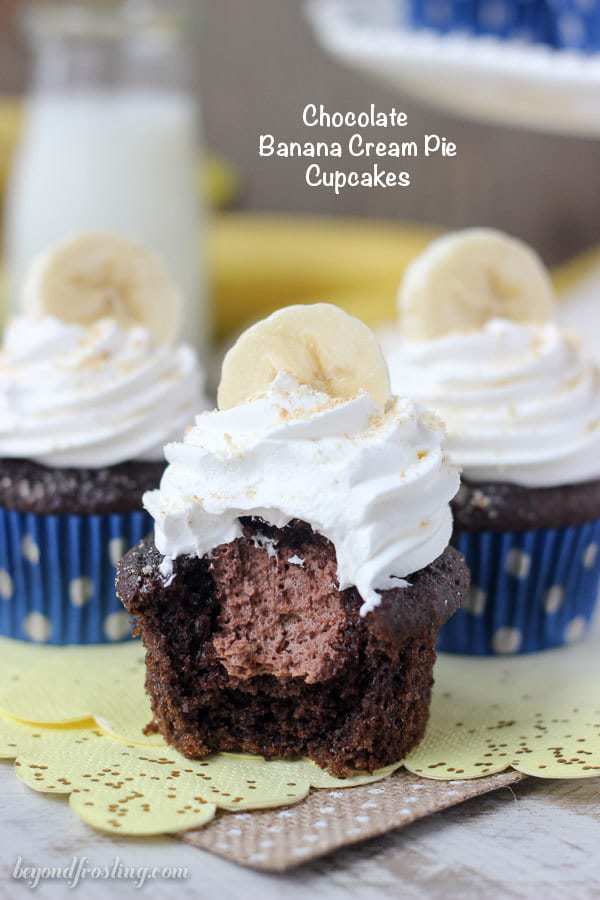 Follow Beyond Frosting:
Facebook | Twitter | Pinterest | Instagram
If you love no-bake recipes, be sure to check out my cookbook, No-Bake Treats!
Print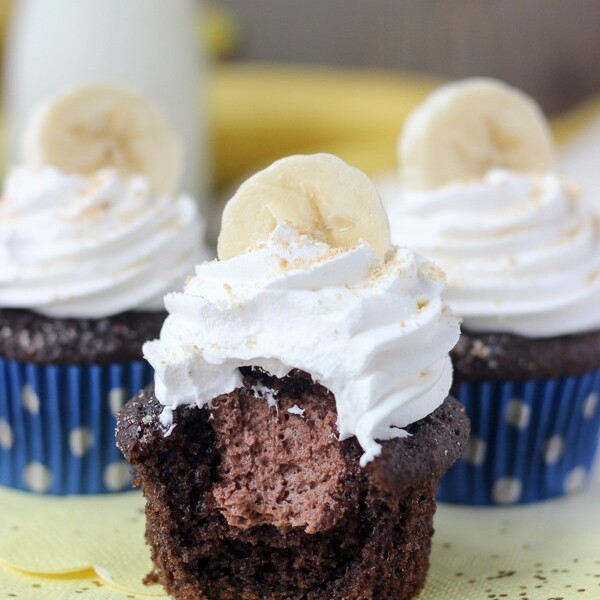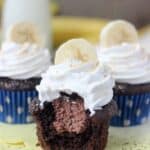 Chocolate Banana Cream Pie Cupcakes
Author:

Prep Time:

1 hour

Cook Time:

15 mins

Total Time:

1 hour 15 minutes

Yield:

22-24 cupcakes
Description
A banana chocolate cupcake filled with am easy chocolate mousse and topped with whipped cream, bananas and Nilla wafers.
Ingredients
For the cake:

1

box chocolate cake mix

½ cup

light brown sugar

1 cup

milk

½ cup

vegetable oil

3

large eggs

½ cup

light sour cream

1 teaspoon

vanilla extract

2

medium bananas, smashed
For the filling:

1

package instant chocolate pudding (

3.4 oz

)

1 cup

milk

¾ cup

heavy whipping cream

3 tablespoons

powdered sugar
For the topping:

8 ounces

Cool Whip

2

to

3

medium bananas
Nilla wafer cookies for garnish
Instructions
For the cake: Preheat the oven to 350° F. Line a cupcake pan with 24 cupcake liners.
In a medium-sized bowl, combine cake mix, brown sugar, milk, vegetable oil, eggs, sour cream & vanilla extract. Beat on medium–high speed until all ingredients are well blended.
Add the smashed bananas and continuing mixing until the bananas are well incorporated. Use a spatula to mix the batter from the bottom of the bowl to the top to ensure it's well mixed.
Divide the batter evenly, filling each liner about 2/3 full and bake at 350°F for 16 to 18 minutes until the cupcakes are set.
Test the cupcakes for doneness by inserting a toothpick into the center. If the toothpick comes out clean, the cupcakes are done. Allow the cupcakes to cool completely.
For the filling: In a medium-sized bowl, combine the chocolate pudding mix and the milk and whisk just until the powder starts to dissolve. Refrigerate until the pudding is completely firm.
Prepare the whipped cream. Put the bowl and whisk attachment in the freezer for 5-10 minutes to get them really cold (this step is optional, but a common practice I use.) Pour the heavy whipping cream into the chilled bowl and beat until soft peaks form.
Add the powdered sugar and increase speed to medium high. Beat until stiff peak form.
Remove pudding from refrigerator (after it has set) and gently fold in whipped cream until it's well combined. Place the filling in a Ziploc bag. Set in the refrigerator until you're ready to use.
To assemble the cupcakes, remove the middle of the cupcake using a spoon, knife or cupcake corer.
Cut off the tip of the Ziploc bag and fill the center with the chocolate mouse filling.
Take the tops of the cupcake centers and gently press them back into the mousse filling. This step is optional.
For the topping: Fill a piping bag fitted with a large open star tip. Pipe the Cool Whip on top of the cupcakes.
Prior to serving, slice the bananas and place on top of the cupcake. Take a few Nilla Wafers and crush them in your hands to sprinkle over the top.
These cupcakes must be refrigerated.
Notes
To make a homemade whipped cream topping, use 1/12 cup heavy whipping cream and about 3/4 cup powdered sugar. Chill the bowl as directed in the "filling" section.
You might also like:
No- Bake Banana Pudding Cheesecake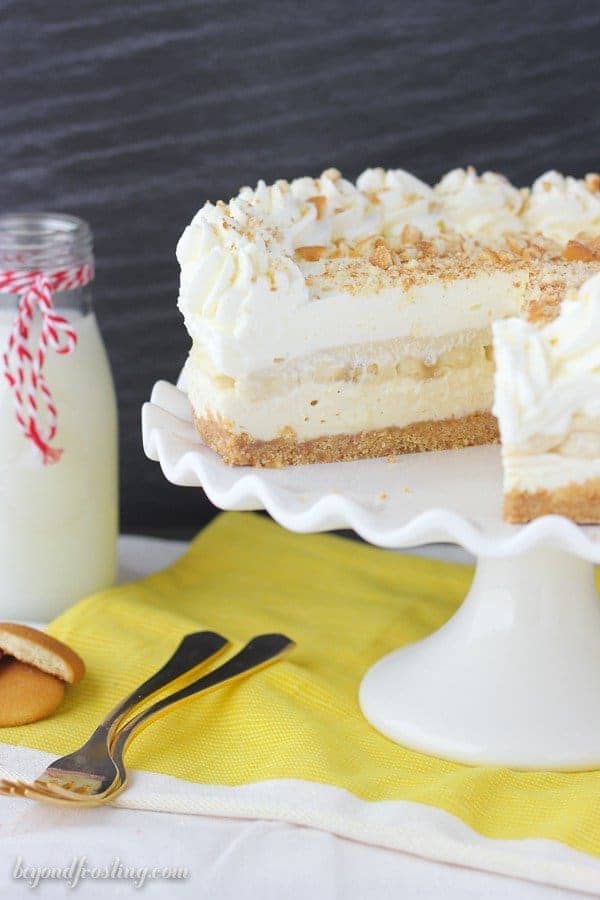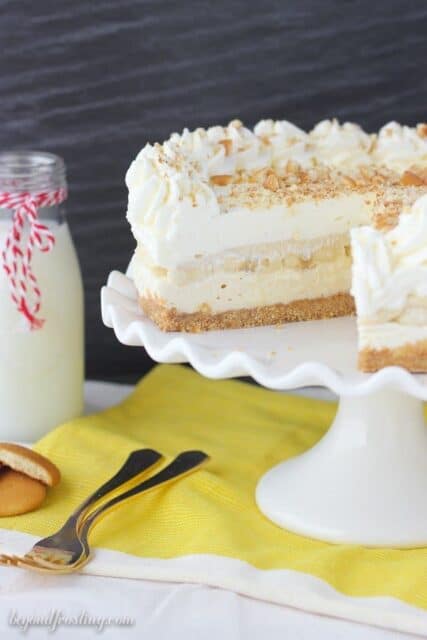 Banana Cream Pudding Poke Cake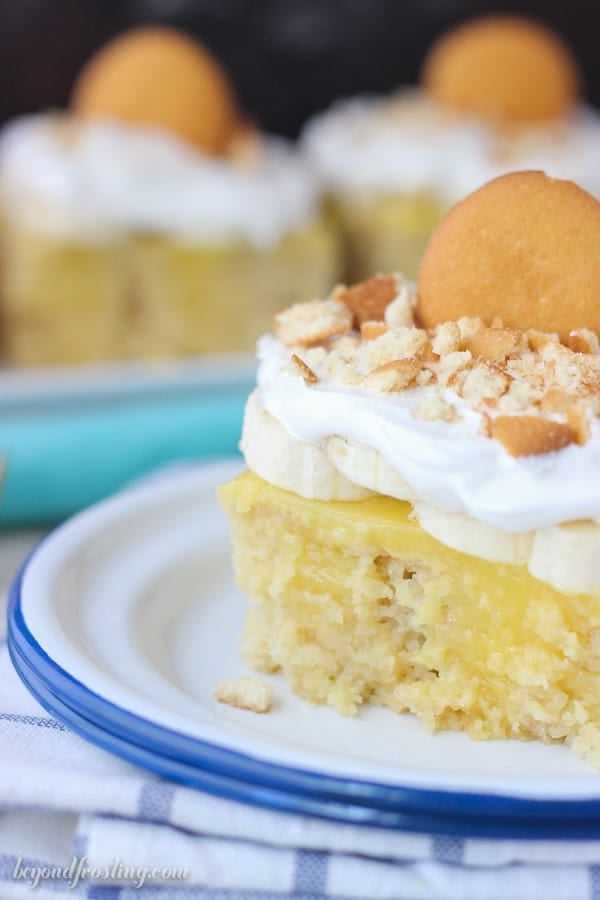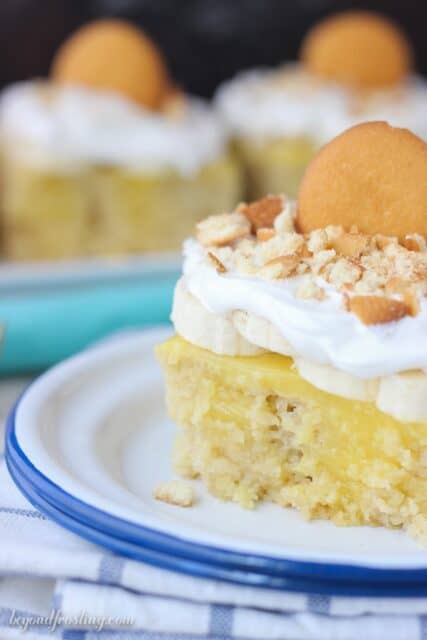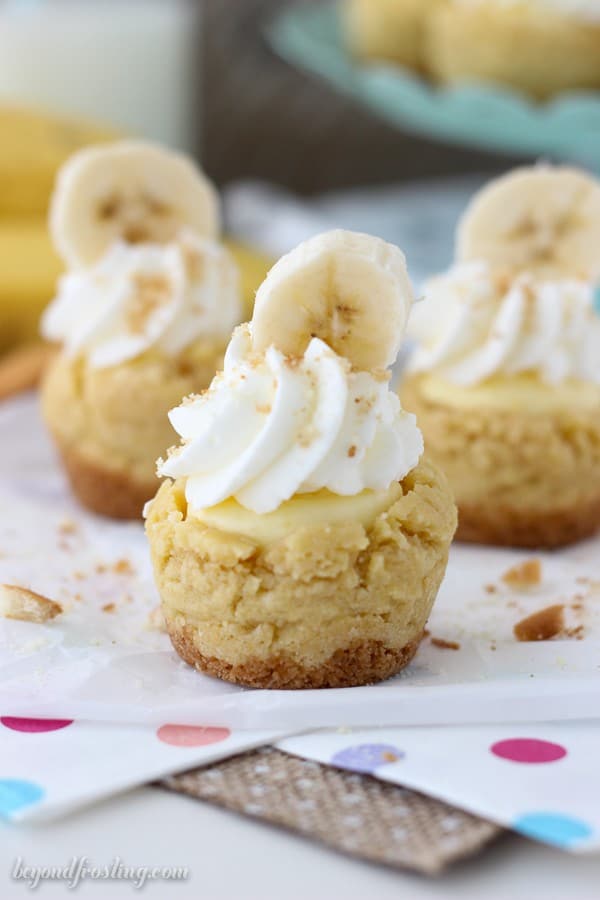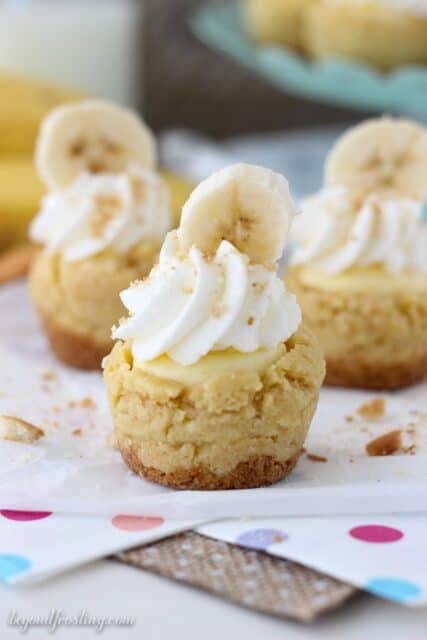 Favorite Banana Pudding Recipes from the web:
Banana Pudding Bundt Cake