This post may contain affiliate sales links. Please see my full disclosure policy for details
This Salted Caramel Butterscotch cake is one of the best cakes I've ever eaten! The dreamy brown butter frosting is the perfect addition to the rich butterscotch cake. The whole cake is covered with a salted caramel drizzle. You can't deny the salted caramel and butterscotch flavors in this perfect fall inspired cake.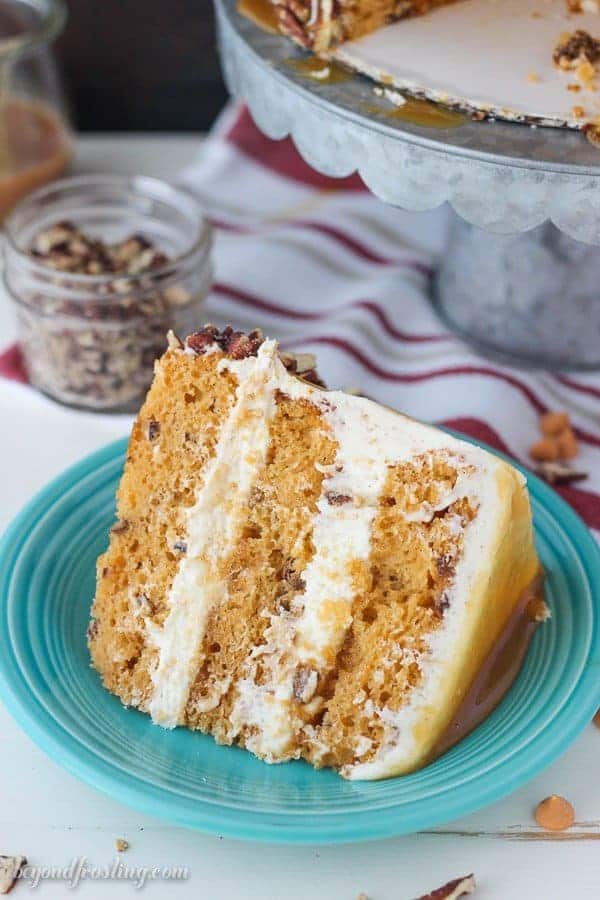 After taking a full 4 days off from work, I can't say it's been easy to come back. Ya feel me? We welcome September with open arms and I'm ready for cider donuts and pumpkin pie. This is going to be exciting month for me. I'll let you guys in a little secret, my little corner of the internet here is getting a major facelift! I'll be rolling out an all new design and some new user friendly elements just for you.
I'll also be doing some traveling these next few weeks, first up I'm heading to Ohio for some dairy-loving fun. Then I'm heading to San Francisco with a single purpose in mind: to eat. I am capping it off with a trip to Austin, Texas for the annul BlogHer Food conference. Be sure you follow along on Instagram and SnapChat @beyondfrosting for some fun adventures.
I have one more question for ya. We are looking for something fun and different. For the first time in 8 years, we won't be doing out annual snowboard trip to Colorado for Thanksgiving.
We're trying to think of something else that will be fun. We're looking for fun food destination and a bit of a relaxing getaway for a few days. I need some help, I can't decide. What are your favorite places to visit?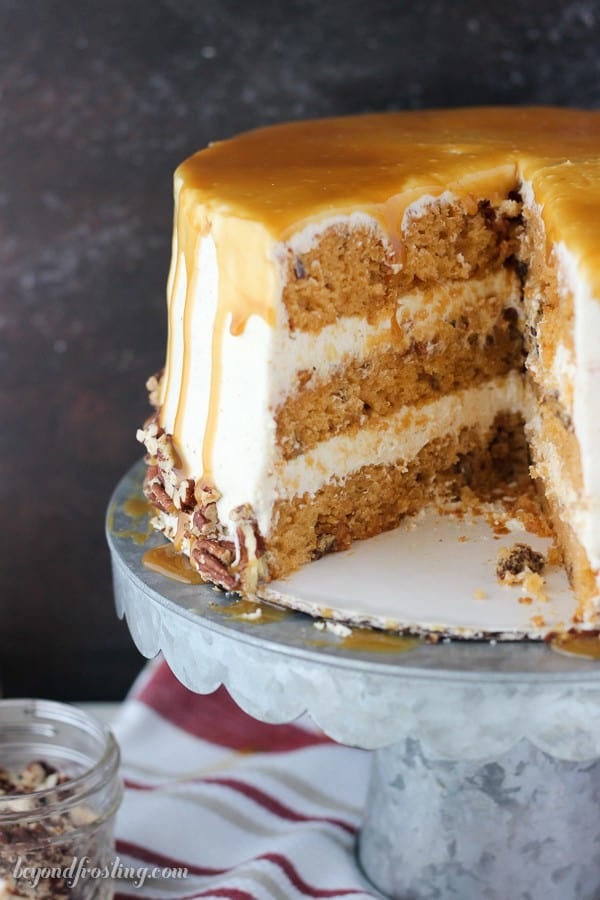 In the meantime, can we talk about this Salted Caramel Butterscotch Cake? I've been on a cake kick lately and I am just loving every minute of it. There's a lot going on here. You've got toasted pecan, a butterscotch cake, plenty of salted caramel and one of the best frosting creations I've ever made. You guys, BROWN BUTTER frosting!! Where have you been all my life??
One of my coworkers told me this cake reminded him of a werther's original candy. I'll take that.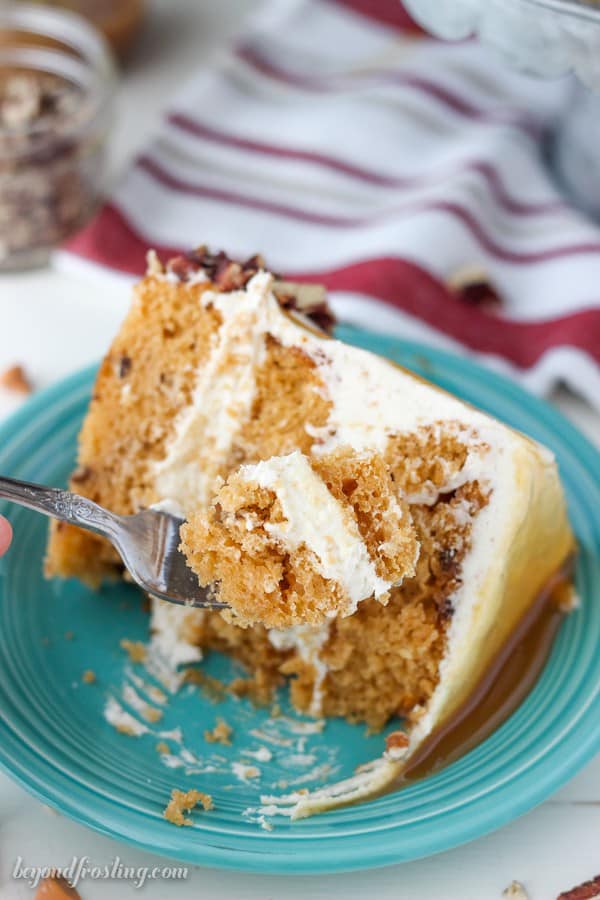 Now because I can't help myself, I've added some bourbon to both the frosting and the cake, but you are more than welcome to leave it out. My original inspiration for this cake started with a cake I tried at the Yard bird restaurant in Las Vegas. That cake is a bit more complex (bacon fat frosting- umm yeah!).
This cake start with a cake mix, but it's what's inside that makes it extra special. Brown sugar, butterscotch pudding, melted butterscotch chips, buttermilk and sour cream.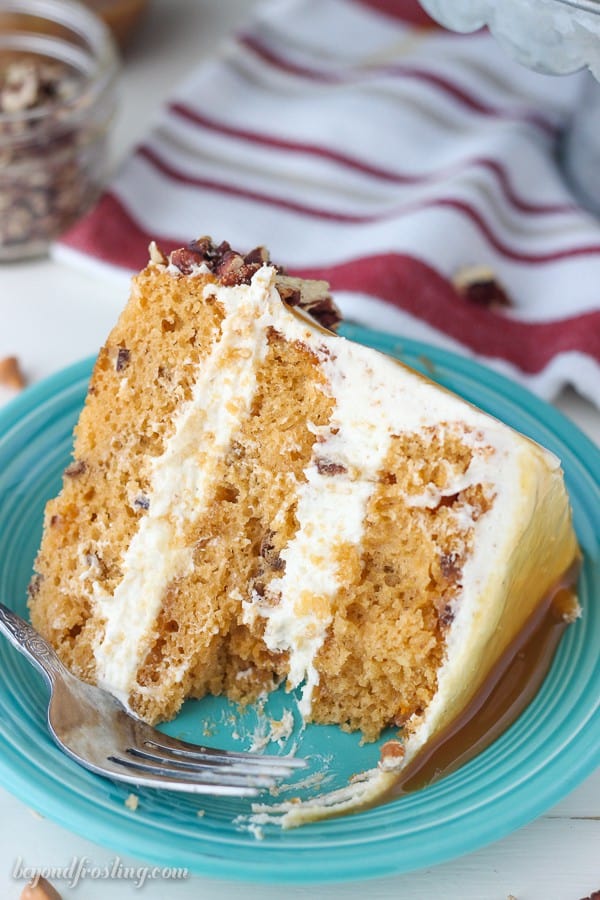 There are 3 glorious layers of cake, which I made in 8-inch pans. These are the most common pans I use for baking. If you have 9-inch pans, that will work as well, but you'll want to adjust the baking time.
For the frosting, there's a mix of regular butter and brown butter. When I take the butter out of the fridge to soften, I brown one stick of butter and then allow it to cool. If you had piping hot butter to the frosting, you'll melt the whole thing.
Browning butter is really easy! Use a small saucepan, and cut the butter into pieces. It will melt down, and then boil and bubble and once it's stops boiling, it slowly starts to turn an amber color and releases a nutty aroma. The cooled brown butter is added to the frosting after a majority of the powdered sugar as been added.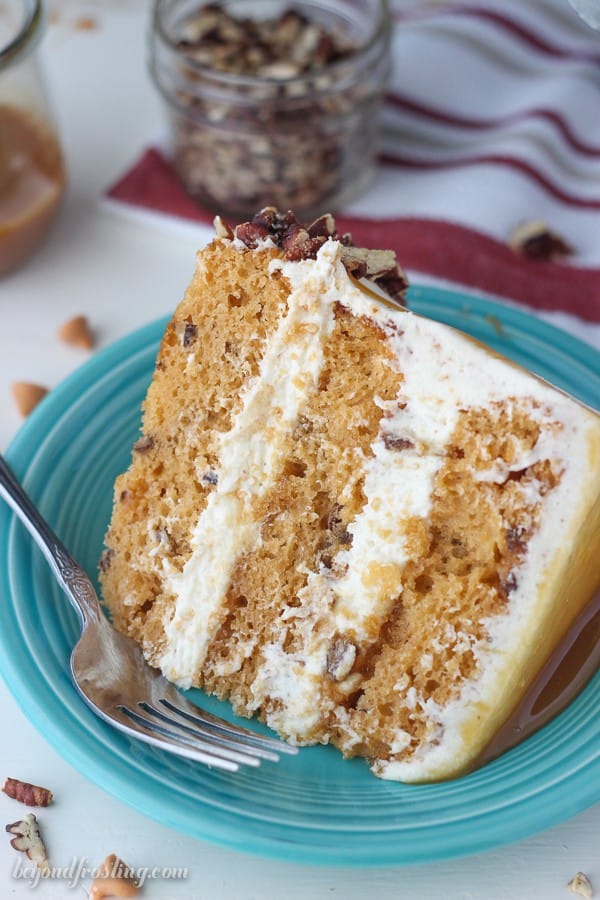 Right before serving, I drizzled some salted caramel over top. I am not going to lie, caramel is MESSY. So messy I've contemplated never using it again. Then I see it on this cake and I think, okay, I can deal with this. I use a store bought caramel sauce but you can totally make you own. Just be prepared for all the caramel on top to run off the sides. Don't say I didn't warn you.
The frosting is definitely rich, but it is the perfect compliment to this cake. I seriously couldn't get enough. Neither could my coworker! One of them was literally heartbroken to find out it was gone, and he occasionally asks me when I am going to make it again.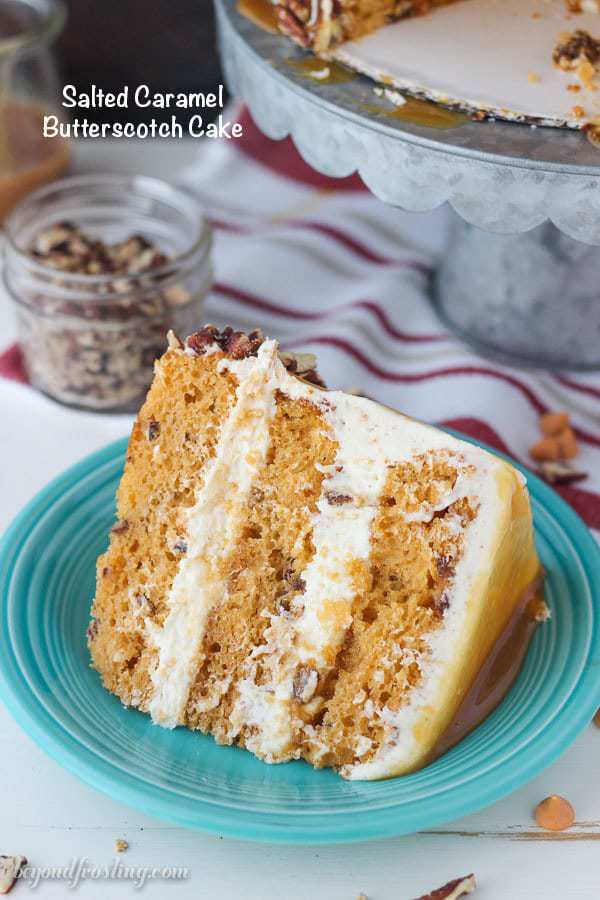 Facebook | Twitter | Pinterest | Instagram
If you love no-bake recipes, be sure to check out my cookbook, No-Bake Treats!
Print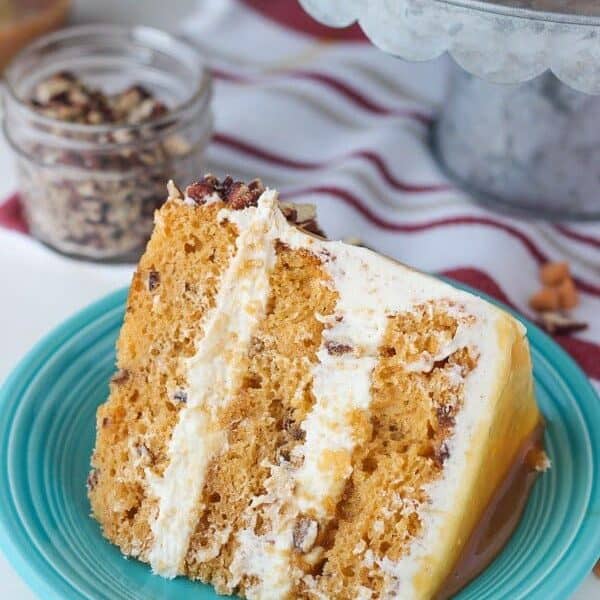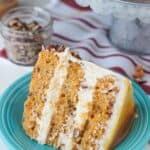 Butterscotch Caramel Cake
Author:

Prep Time:

30 mins

Cook Time:

24 mins

Total Time:

54 minutes

Yield:

8-10 slices
Ingredients
For the cake:
2 cups

pecans, toasted & divided

1

box white cake mix

1

pkg (3.4 oz) instant butterscotch pudding

½ cup

packed light brown sugar

½

c cup (

5 oz

) butterscotch chips, melted

3

large eggs

1 cup

buttermilk (or milk)

½ cup

vegetable oil

¾ cup

light sour cream

2 tablespoons

bourbon (optional)

1 teaspoon

vanilla extract
For the frosting:
1/2 cup

(

1

stick) unsalted butter, browned

1 1/2 cups

(

3

sticks) unsalted butter, softened

8 cups

powdered sugar

1 tablespoon

bourbon

1 tablespoon

heavy whipping cream

1/8 teaspoon

salt

½ cup

salted caramel sauce
Instructions
For the cake: Preheat the oven to 350° F. While the oven is preheating, toast the pecans.
To toast the pecans, sprinkle them on a cookie sheet and toasted for 5 to 8 minutes until you smell the aroma of nuts.
Grease and flour three 8-inch pans. Optional, line the pan with 8-inch parchment paper circles. Trace the outside edge of the pan on a piece of parchment paper and cut it and place on the bottom of the pan.
In a large mixing bowl, combine the cake mix, pudding mix and light brown sugar and stir to combine.
In a small microwave-safe bowl, melt the butterscotch chips in 30 second increments, stirring occasionally, until the chips are melted and smooth. Set aside.
Add to the mixing bowl: eggs, buttermilk, vegetable oil, sour cream bourbon and vanilla extract. Start mixing on a low speed until the ingredients start to incorporate. Then increase the speed to medium high and add the melted butterscotch chips. Mix the batter until all the ingredients are well combined. Lastly, chop and fold in one cup of the toasted pecans into the cake batter.
Divide the batter evenly between the 3 cake pans, spreading evenly over top. Bake at 350°F for 21-25 minutes until the cake is baked through.
To test the cake for doneness, insert a toothpick into the center of the cake. If the toothpick comes out clean, your cake is done. Allow the cakes to cool completely. You may need to run a knife around the edge of the cake to help release them from the pan.
For the frosting: remove 4 sticks of butter of the refrigerator, one stick will be browned and the other 3 will be left to soften.
To brown the butter, use a small saucepan, and cut the butter into pieces. Melt the butter over medium heat and allow it to boil and bubble. Once it's stops boiling, stir it frequently and it slowly starts to turn an amber color and releases a nutty aroma. Remove the butter from the heat and allow it to cool.
Cut the remaining butter into pieces. Using the paddle attachment, whip the butter for 3-4 minutes, scraping down the bowl occasionally. Beat until butter looks light in color.
Add 4 cups powdered sugar, one cup at a time and mix on low speed until incorporated into butter. Add 1 tablespoon of bourbon and continuing beating.
Next , add 2 cups of powdered sugar and slowly pour the cooled brown butter into the frosting and beat it into the butter until the frosting is completely smooth.
Add the last two cups of powdered sugar followed by 1 tablespoons of heavy cream and a pinch of salt and beat on low speed until the cream is incorporated. Then beat it at a high speed for 1 minute to whip some additional air into the frosting.
To build the cake: Even out the top of the cake by cutting off the dome using a serrated knife.
Place a dollop of frosting on the bottom of the cake plate and place the bottom layer of cake on top. The frosting will help prevent the cake from sliding.
In order to create even layers, I use a piping bag fitted with an open round tip, or simply cut off the end of the piping bag. I also highly suggest to use a lazy Suzan to rotate the cake as you work.
Fill the first layer of frosting by using your piping bag and pipe from the outside edge into the center. Gently spread the frosting with an offset spatula to fill in the gaps.
Place the next layer of cake on top and repeat the above instructions to fill the layer of frosting.
For the top layer of cake, place it inverted, so the bottom of the cake is actually the top, creating a nice and smooth top edge.
Proceed to add your crumb coat by adding a cup of frosting to the top of the cake and gently spread out to the edges and down the sides. Use the leftover frosting in your piping bags to fill in the cracks between the layers.
Using an offset spatula or icing smoother, wipe away the excess frosting, leaving you just enough to coat the outside of the cake. Do not mix your crumb coating frosting back into your icing if it has cake debris in it. Refrigerate the cake for 15-20 minutes to allow the crumb coat to harden.
Remove the cake from the refrigerator and proceed to the remaining frosting to the top and edges of the cake. To get a nice smooth edge, use your offset spatula and icing smoother to wipe away excess frosting.
Use the remaining chopped & toasted pecans and push into the bottom edge of the cake.
Drizzle with caramel sauce right before serving
Visit Beyond Frosting's profile on Pinterest.
You might also like: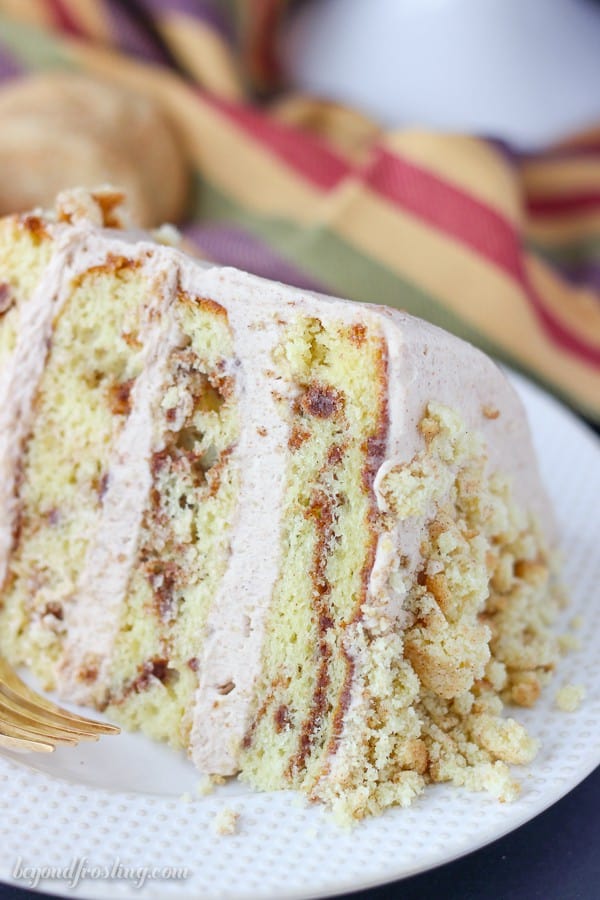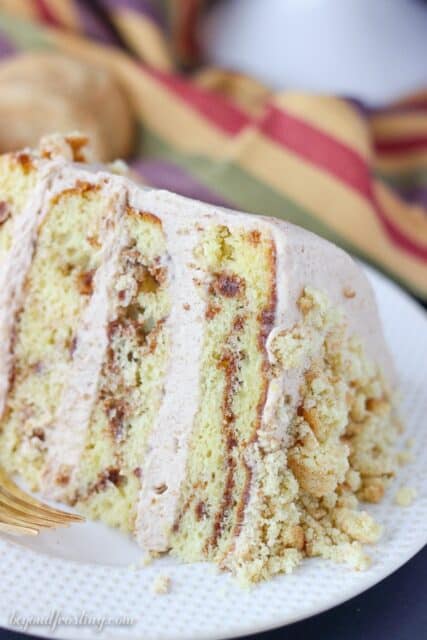 Bourbon Sweet Potato Cake with Caramel Cream Cheese Frsoting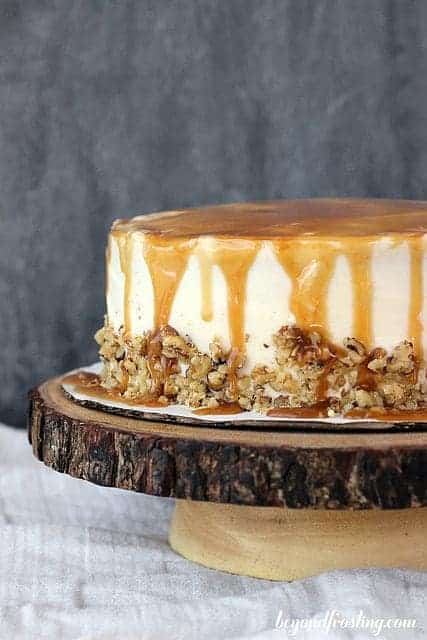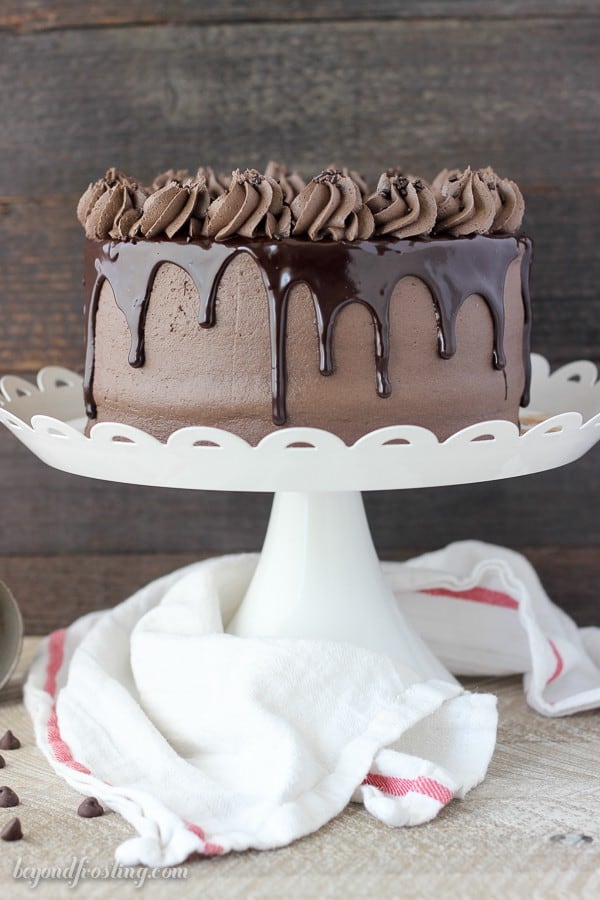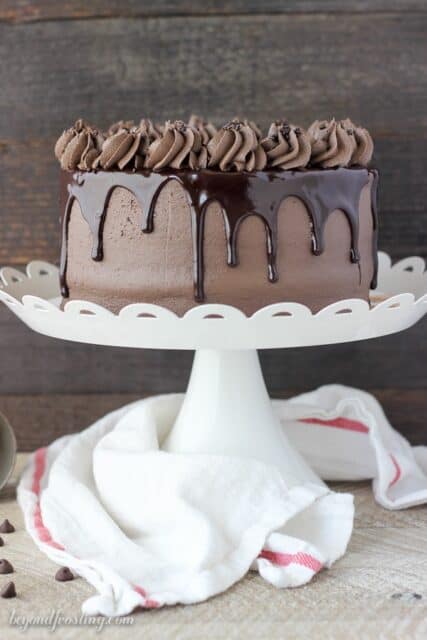 No-Bake Bourbon Butterscotch Pudding Pie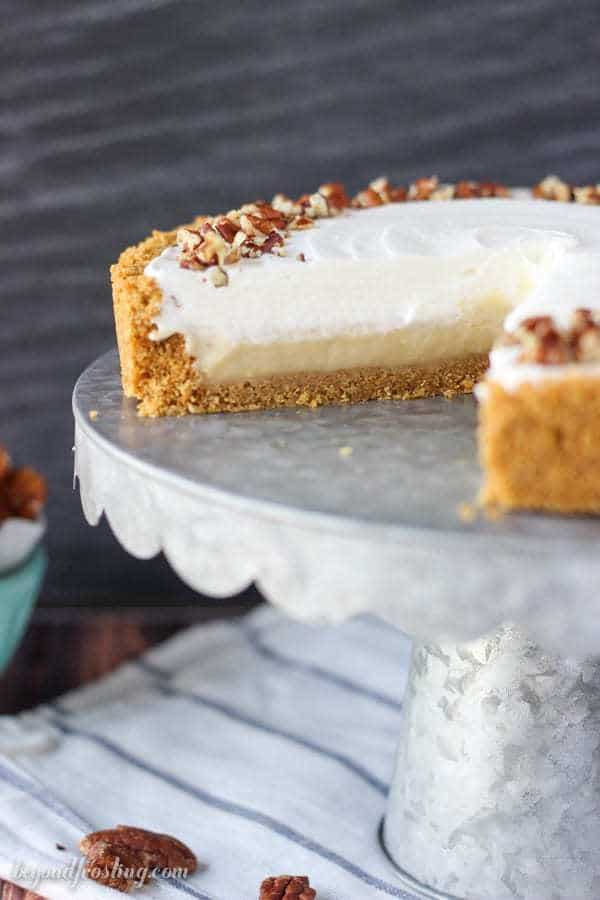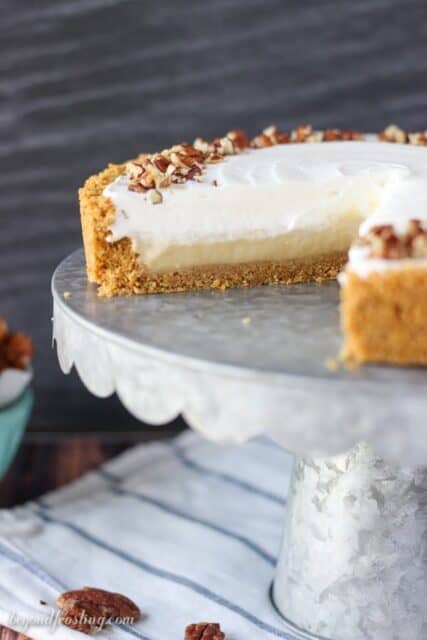 No-Bake Butterscotch Pretzel Bars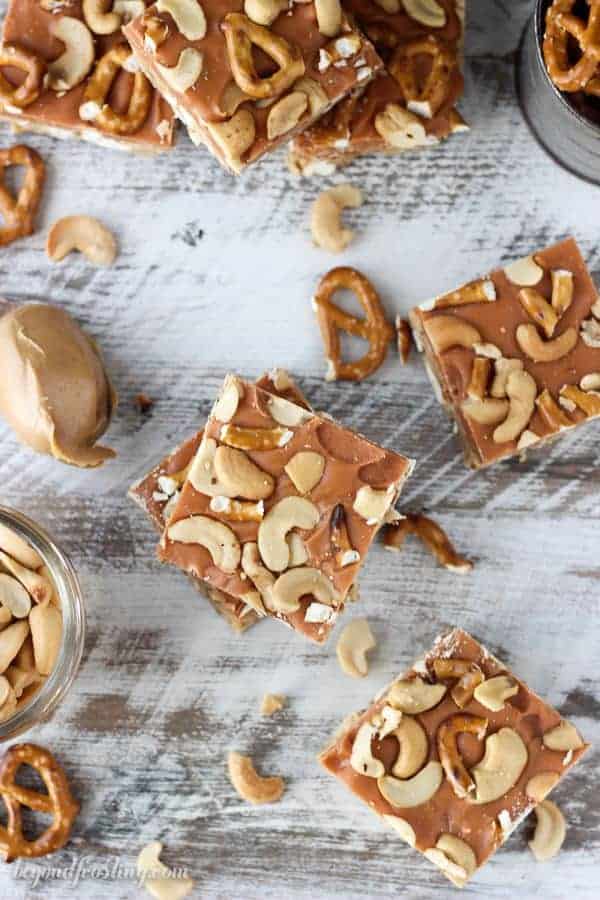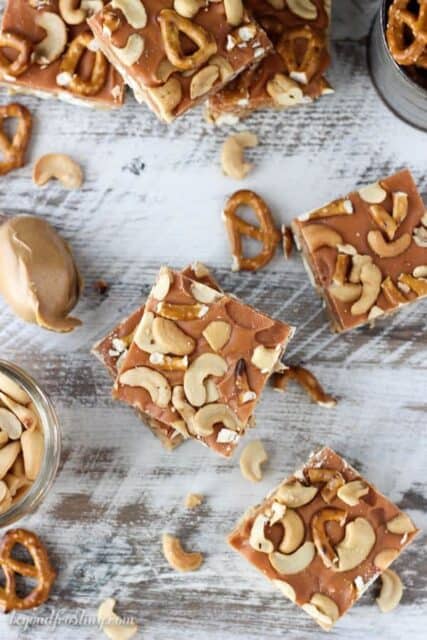 Butterscotch recipes from my friends:
Butterscotch Peanut Butter Cake
Loaded Butterscotch Cheesecake