This post may contain affiliate sales links. Please see my full disclosure policy for details
This Chocolate Sour Cream Bundt Cake with chocolate cream cheese frosting is an easy chocolate bundt cake recipe. It's light, fluffy and super moist, it's one of the best homemade chocolate cakes I've made. It's a perfect for so many occasions: birthdays, showers, family get togethers or just your average Saturday night.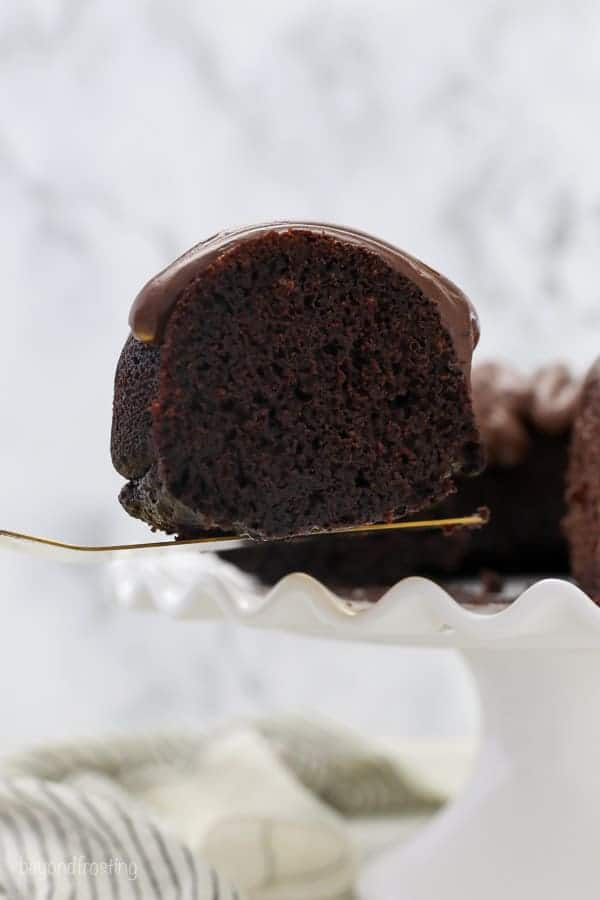 I am pretty sure I could eat this entire Chocolate Sour Cream Bundt Cake by myself, without a problem, and without guilt. Okay maybe soooome guilt- but you know what I mean.
This cake is SUPER light and fluffy with a delicate crumb. It stays moist for days and it's covered in a velvety chocolate cream cheese frosting that melts in your mouth.
But I love the cake so much I don't even need the frosting. It's one of those recipes I can't keep around my house because I have no self-control around this chocolate cake.
The best part is, the recipe is actually super easy! These are my favorite recipes to share with you.I want YOU to be hero the next time your family or friends take a bite of this cake.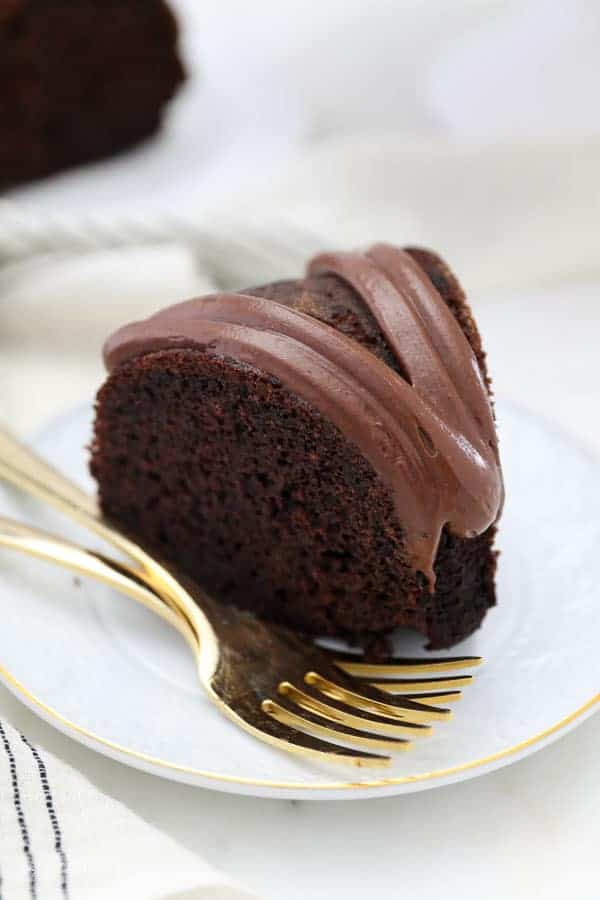 What makes this chocolate bundt cake so good
It's an oil-based chocolate cake recipe, which makes for a very tender crumb
It's flavored with a dark chocolate cocoa powder, which is my favorite for baking. It makes that rich color without an overwhelming flavor
The sour cream is what takes this cake to the next level, making it so moist and spongy
For the liquid ingredients, it's a combination of brewed coffee and milk. Coffee enhances the chocolate flavor and milk adds tenderness and moisture
One common question I get is, does this cake taste like coffee? NO! The coffee simply enhances the flavor, and unless you are very sensitive to coffee taste, you will not even notice the difference.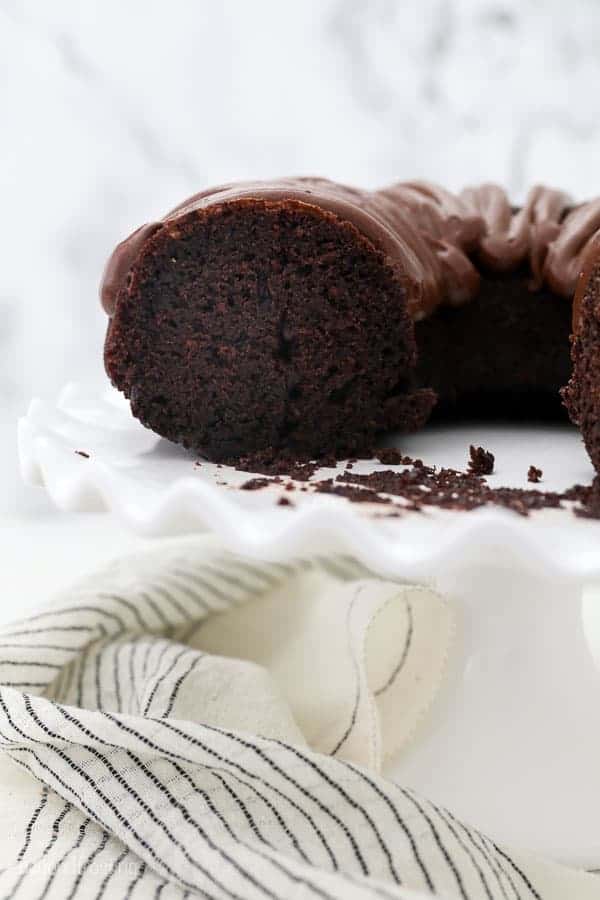 Chocolate Cream Cheese Frosting
I love a good cream cheese frosting. It's rich, so a little bit goes a long way, which makes it perfect for bundt cakes. Even though it's rich I still think it's less sweet than adding a glaze.
The consistency of the cream cheese frosting should be thick but still thin enough that it will slide down the side of your cake while you are piping, and stop at the bottom. If you aren't sure, you can always test it on a glass or the side of a bowl before putting it on your cake.
The great thing about this frosting is that if you need it to be thicker, you can add additional powdered sugar or cocoa powder, but if you need it to be thinner, you can add additional liquid.
To frost my bundt cake, I use a piping bag or Ziploc bag and just snip off the tip and then move back and forth over top of the cake as I work my way around.
If you don't love cream cheese, you can cover this recipe with a rich chocolate ganache, which is what I did for my original Chocolate Bundt Cake. See that blog post for the instruction. You can't go wrong either way.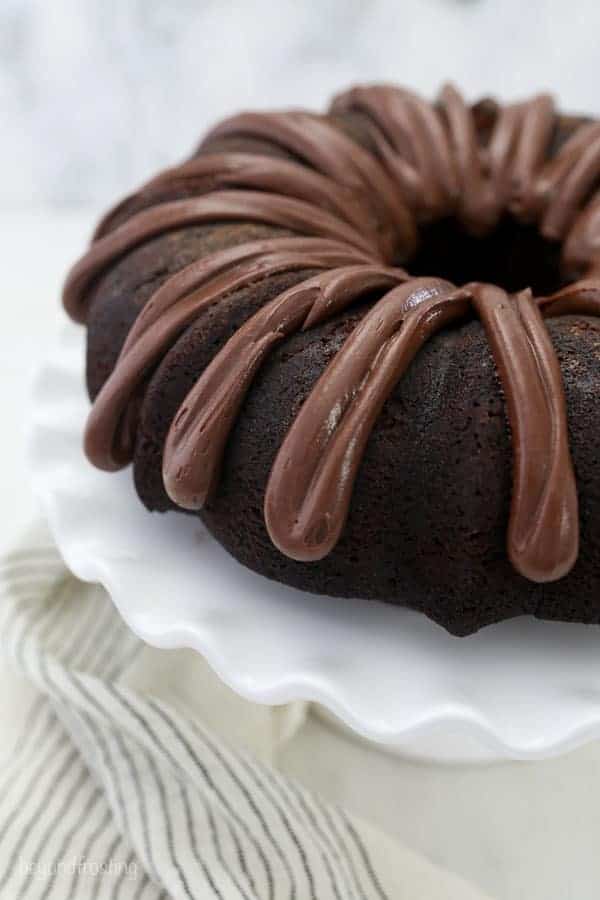 The best ingredients for chocolate cake
What type of cocoa powder should I use?
For this recipe, I used Hershey's Special Dark Cocoa powder. It is my preferred cocoa powder for this chocolate cake. You can use a regular, unsweetened cocoa powder as well.
Do I have to make this with coffee? What can I substitute for coffee?
This recipe is best when prepared with brewed coffee. You can try substituting with hot water or substituting with milk, but it won't be the same flavor. Still good, but the water doesn't add anything as far as flavor goes.
Coffee enhances the chocolate flavor, you can't taste the actual coffee. It also gives it this nice, dark looking color.
What does sour cream do in a cake?
Sour cream adds moisture but without making the batter too thin. I prefer a low fat sour cream myself, but a full fat sour cream can also be used. The fat adds a bit of creaminess but also makes the crumb structure nice and fluffy.
If you don't have sour cream, I recommend a nonfat Greek yogurt.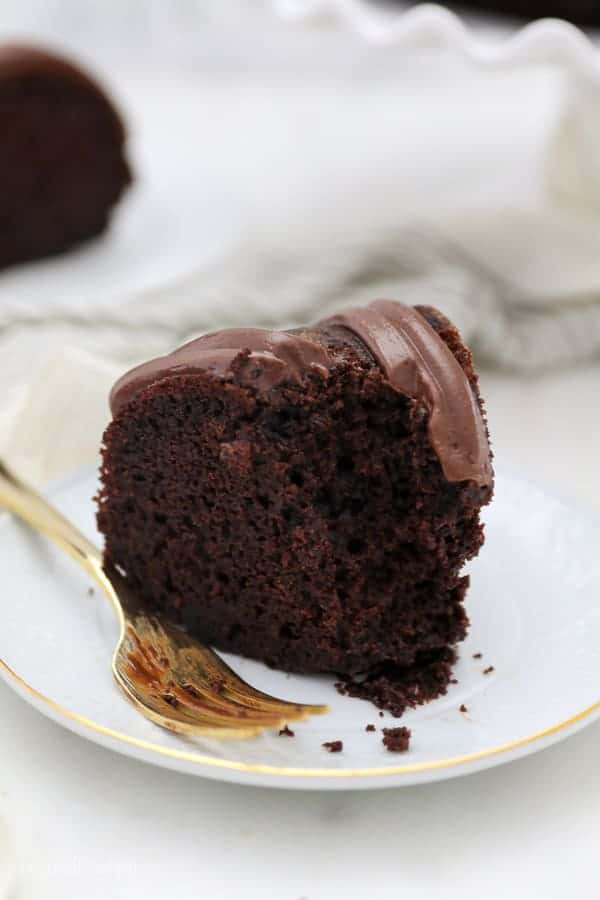 How do you know when a Bundt Cake is done?
If you see any glossiness or giggling on the top of the cake, it's not done. Check the areas where the bottom has separated or started to "break apart" a bit.
Always use a knife or toothpick and stick it into the center of the cake. If it comes out clean, your cake is done.
Sometimes your cake just needs another 1-2 minutes to fully finish, so I recommend watching to closely towards the end.
You also might notice the edges of the cake will start to pull away from the sides.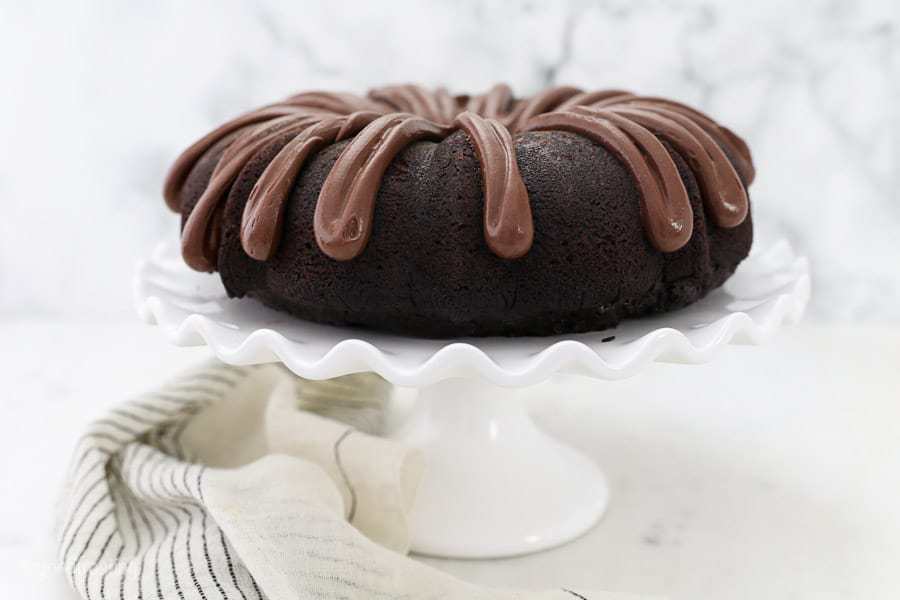 How to prevent a bundt cake from sticking to the pan:
Generously grease and flour your pan. This will ensure the cake easily releases from the pan. I prefer to use Crisco spread to grease my pan. I do not use cooking spray.
Then dust it with a combination of flour and cocoa powder

so you don't end up with white edges on your bundt cake.

Run a knife around the edge:

To turn the cake out of the pan, first run a knife around the outside and inside edges of your pan. Then flip it over onto a piece of parchment paper. If your cake is not releasing, tap the top of the pan a couple times instead of trying to shake it out. If it's not releasing right away, don't force it, or you risk your cake breaking. You can also hold the cooling rack on top of your pan, invert it and give it a couple taps on the counter.

Remove the cake from the pan quickly I only allow my cake to cool for about 5 minutes in the pan, because I don't want the outside edge of the cake to be too firm.
How to store bundt cakes so they stay fresh:
I love my cake carrier, but if you don't have one, you can slice it into quarters or into individual slices and store in an airtight Tupperware container.

Looking for ways to serve this Chocolate Sour Cream Bundt Cake? This cake is already covered in a rich chocolate cream cheese frosting, so it pairs nicely with homemade whipped cream, vanilla ice cream or fresh berries.
Follow Beyond Frosting:
Facebook | Twitter | Pinterest | Instagram
Looking for more Chocolate desserts?
Print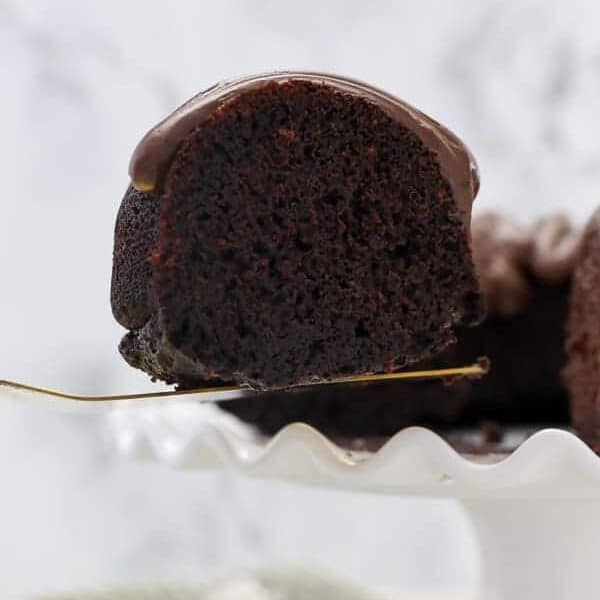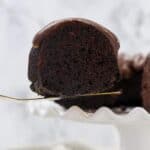 Chocolate Sour Cream Bundt Cake
Author:

Prep Time:

15 minutes

Cook Time:

38 minutes

Total Time:

35 minute

Yield:

12 slices
Description
This Chocolate Sour Cream Bundt Cake with chocolate cream cheese frosting is an easy chocolate bundt cake recipe. It's light, fluffy and super moist with a tender crumb.
Ingredients
For the Cake
1 ½ cups

(

285g

) granulated sugar

3

large eggs

½ cup

(118 ml) vegetable oil

1 tablespoon

(14.8ml) vanilla extract

¾ cup

(177 ml) light sour cream

2 cups

(280 g) all-purpose flour

½ cup

(

55g

) Hershey's Special Dark cocoa powder

1 tablespoon

(

6g

) espresso powder (optional)

2 teaspoons

(7.5 g) baking powder

½ teaspoon

baking soda

1 teaspoon

(5 g) salt

1 cup

(236 ml) brewed coffee

¼ cup

(59m) milk (I use nonfat)
For the Frosting
4 ounces

(

113 g

) cream cheese, softened

2 cups

(

260g

) powdered sugar, sifted

2 tablespoons

(

14g

) Hershey's Special Dark cocoa powder, sifted

1 teaspoon

(

5g

) pure vanilla extract

4

–

5

teaspoons (6ml) heavy whipping cream or milk
Instructions
For the cake:
Preheat the oven to 350°F. Generously grease and flour your bundt pan using a combination of flour and cocoa powder.
In a large mixing bowl, beat the eggs and sugar for approximately 2 minutes until well combined.
Next add the vegetable oil, vanilla extract and sour cream. Beat on medium speed until well incorporated. Scrape down the bowl as needed.
In a separate bowl, combine the remaining dry ingredients: flour, cocoa powder, baking powder, baking soda and salt. Add half the dry ingredients and half of the liquid ingredients and mix just until the flour starts to incorporate.
Finally add the remaining dry ingredients and liquid ingredients and beat until well combined.
Use a spatula to scrape down the sides of the bowl and stir the batter from the bottom to the top to ensure it's well mixed.
Pour the batter in the prepared bundt pan and bake at 350°F for 35-40 minutes, keeping a careful eye on the baking during the last few minutes.
Test the cake for doneness by inserting a toothpick into the center of the cake. If the toothpick comes out clean, your cake is done.
Remove from the oven and place on a cooling rack, and after 5 minutes, run a knife around the outside edge of your cake and in the center to release it from the sides of the pan. Turn it out onto a plate or cooling rack. Allow to cool completely.
For the frosting:
Remove the wrapper and microwave the cold cream cheese for 20-25 seconds and then beat the cream cheese until it's smooth.
Then add the powdered sugar and vanilla extract and beat until the ingredients are well combined. Slowly add the heavy cream, one teaspoon at a time until the cream cheese reaches your desired consistency. It should still be thick, not runny, but it should run off your spoon without too much effort.
Place the cream cheese in a piping bag and cut off the edge of the piping bag about ¼-inch from the bottom. Pipe the cream cheese frosting along the top and sides of the cake.
Keep stored in an airtight container.
Equipment
Notes
Baking times will vary depending on the type and size pan you use. Bake on a rack that is centered in your oven. I recommend using at least a 10 cup bundt pan
To ensure your bundt cake doesn't stick, generously grease and flour the pan. I prefer using Crisco spread, not baking spray.
Since this is a chocolate bundt, I like to combine a little bit of flour with cocoa powder to dust the pan
I let my cake cool in the pan for only about 5 minutes, then run a knife around the outside edge of your cake and in the center to release it from the sides of the pan. Turn it out onto a wire cooling rack.
Hershey's Dark Chocolate Cocoa powder can be substituted with regular cocoa powder if needed
You cannot omit the sour cream. If you don't have sour cream, you can use a nonfat Greek yogurt
If you don't want to use brewed coffee, you can use hot water instead but note this also makes the cake color darker, so with water your color won't be the same
Category:

Cake

Method:

Baked

Cuisine:

American
Keywords: Chocolate Bundt Cake, Bundt Cake Recipe, Chocolate Cake Recipe