This post may contain affiliate sales links. Please see my full disclosure policy for details
Find your new favorite from these 20 Mouthwatering Homemade Cake Recipes! You'll love these decadent and easy cakes to make from scratch. From layer cakes to poke cakes, birthdays to holidays, there's a cake for every occasion.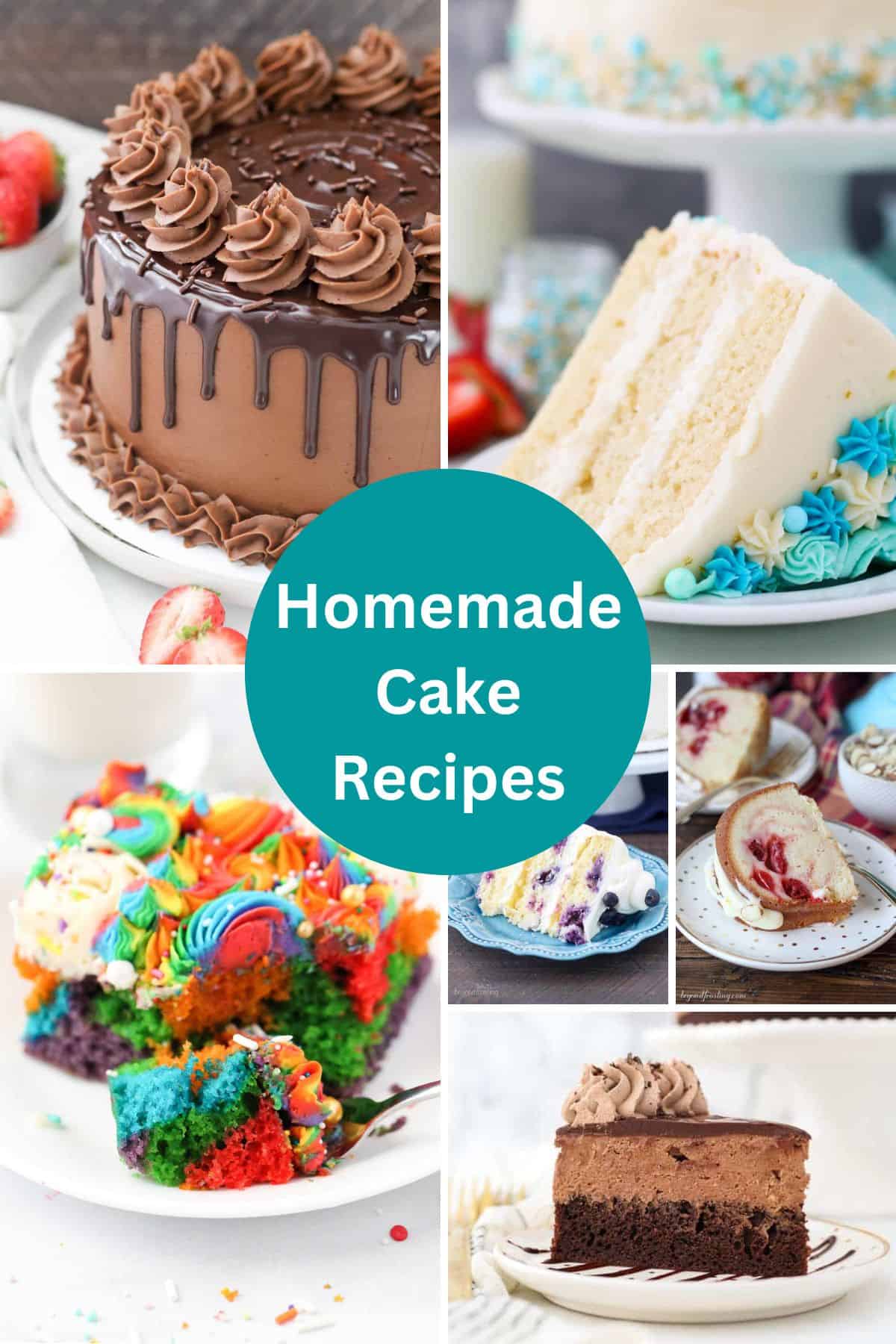 Luscious Homemade Cake Ideas
I've shared dozens upon dozens of cake recipes over the years. This time, I've hand-picked 20 of my all-time most popular cakes that I'm sure you'll love just as much as I do! These cake ideas are easy to make, yet totally impressive, and always SO mouthwateringly delicious.
This collection includes classics like chocolate layer cakes, moist vanilla cakes, and even a retro yellow cake. You'll also find some fun, fab cake flavors from blueberry to lemon and coconut. Plus, I've included a few baking tips and tricks below to ensure that these cakes come out absolutely perfect!
Whether you're new to baking or a seasoned home baker, these are seriously the best cake recipes that everyone can bake and enjoy.
Why You'll Love These Recipes
So, what makes these my best-ever cake recipes? Let's dive in:
Easy recipes. You don't need to be a professional cake-maker to bake up the dessert recipes below. These are tasty, eyecatching cakes that come together with easy ingredients and straightforward directions.
Suited for any occasion. Whether you're celebrating a birthday, or holiday, or simply craving cake (we've all been there, honestly), you're bound to find a perfect cake recipe for the occasion!
The best flavors. From peanut butter to chocolate, vanilla to Oreo, plus lemon, strawberry, and more – these cakes are brimming with the best flavor combinations around.
Cake Baking Tips
Before we get into some delicious cake recipes, here are some helpful hints and baking tips for homemade cakes:
Use room temperature ingredients. Ingredients such as eggs, butter, and cream cheese will mix more easily and bake more evenly when they're not chilled from the fridge. Unless a recipe specifies otherwise, it's almost always a good idea to take your ingredients out of the fridge ahead of time, to let them warm to room temperature.
Measure ingredients correctly. This is especially true when it comes to ingredients like flour. For best results, measure using the spoon and sweep method: spoon the flour into your measuring cup, then level it off with a knife. Never scoop the flour directly from the bag using the measuring cup, as this is a surefire way to add too much flour to your cakes!
Don't overmix the batter. If your cakes come out dense and tough, instead of moist and fluffy, there's a good chance that overly mixed batter is the culprit. Make sure to gently fold the ingredients together until evenly combined, and avoid excessive mixing or beating.
Follow the recipe! This may seem like a given, but it's true! We bloggers have gone to great lengths to test, trial, and get the very best results from our cake recipes. We've done the work, so you don't have to! Follow the recipes exactly as directed and you'll be smooth sailing.
20 Easy Cake Recipes to Try
Without further adieu, let's get into these perfect homemade cakes!