This post may contain affiliate sales links. Please see my full disclosure policy for details
Hey everyone! I am so excited to be bringing you an awesome GIVEAWAY today (and my first giveaway on Beyond Frosting!). My friend Ashton over at Something Swanky asked a few bloggers to join her in a giveaway for her birthday. Happy Birthday Ashton! Check out the cool prize details below including a KitchenAid Mixer and Target gift card. I know my KitchenAid mixer is one of my favorite things! Click on the Rafflecopter giveaway below.
I "met" most of these bloggers through Online BlogCon which is an amazing network of bloggers from different avenues of the web. Online BlogCon is an online conference that you attend while sitting in your PJs from the comfort of your couch. Well that's how I imagine it anyway. Even if you can't be present during the conference, you can view all the sessions at on your own time. This year will be my first year attending Online BlogCon, but I have already learned so much just from joining the group. Plus it's super affordable. Check out the link below. Early bird pricing ends August 2nd.
And now for the giveaway!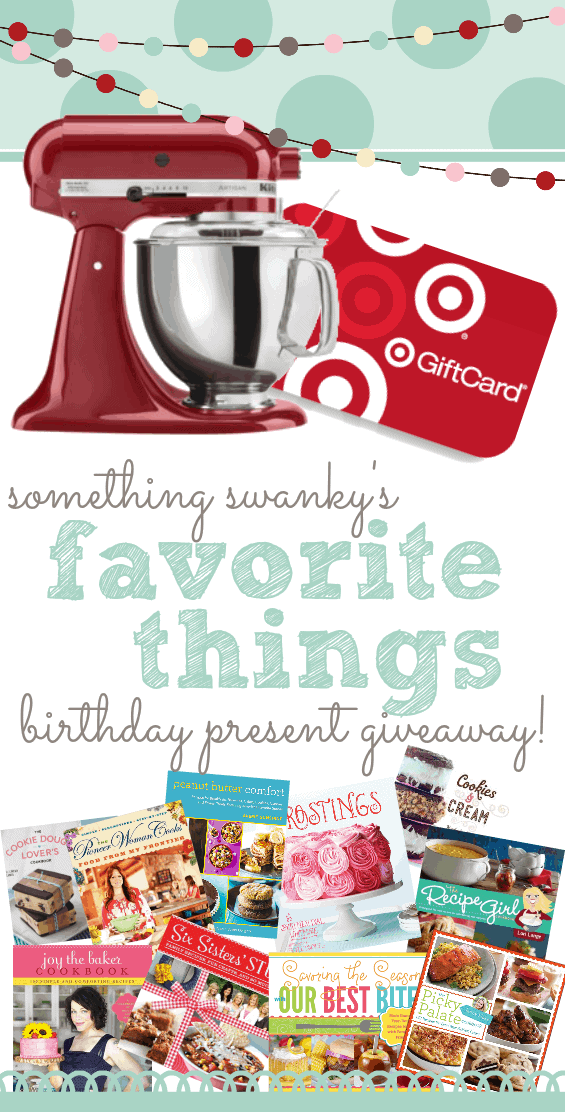 Want to win some of my favorite things?! Here's what's up for grabs:
A $300 Gift Card to Target
All of the Blogger recipe books pictured above! (10 total)
How can you enter to win all of these goodies (an $800 value!)? Simply fill out the Rafflecopter form below by signing in with your Facebook or E-mail account (you're required to use one of those so we can contact you if you win!):