This post may contain affiliate sales links. Please see my full disclosure policy for details
You may have come across cream of tartar in one recipe or another, without a clue as to what it is or how to use it. The truth is that a little goes a long way in baking and cooking! Here's everything you need to know, and how to use it in recipes.
What Is Cream of Tartar, Anyway?
Cream of tartar (COT) is used as a leavening agent in baked goods, helping cakes and cookies expand and rise in the oven. But what is this mystery ingredient, exactly?
Despite the name, cream of tartar isn't creamy at all. It's a dry, powdery byproduct of the wine industry. In winemaking, it's known by its sciency name, tartaric acid, and it's produced during the fermentation process. In baking, you'll find it in the grocery aisle labeled as cream of tartar.
Below, we'll go over in detail what this ingredient does in baking, possible substitutions, how to store it, and more. Plus, a round-up of easy recipes that you can try!
Is Baking Soda the Same Thing?
While they look similar and are both used as leaveners in baking, baking soda and cream of tartar are not the same thing. Baking soda, also called sodium bicarbonate, reacts with the acidic ingredients in a recipe to kickstart the rising process. Meanwhile, COT offers additional acidity.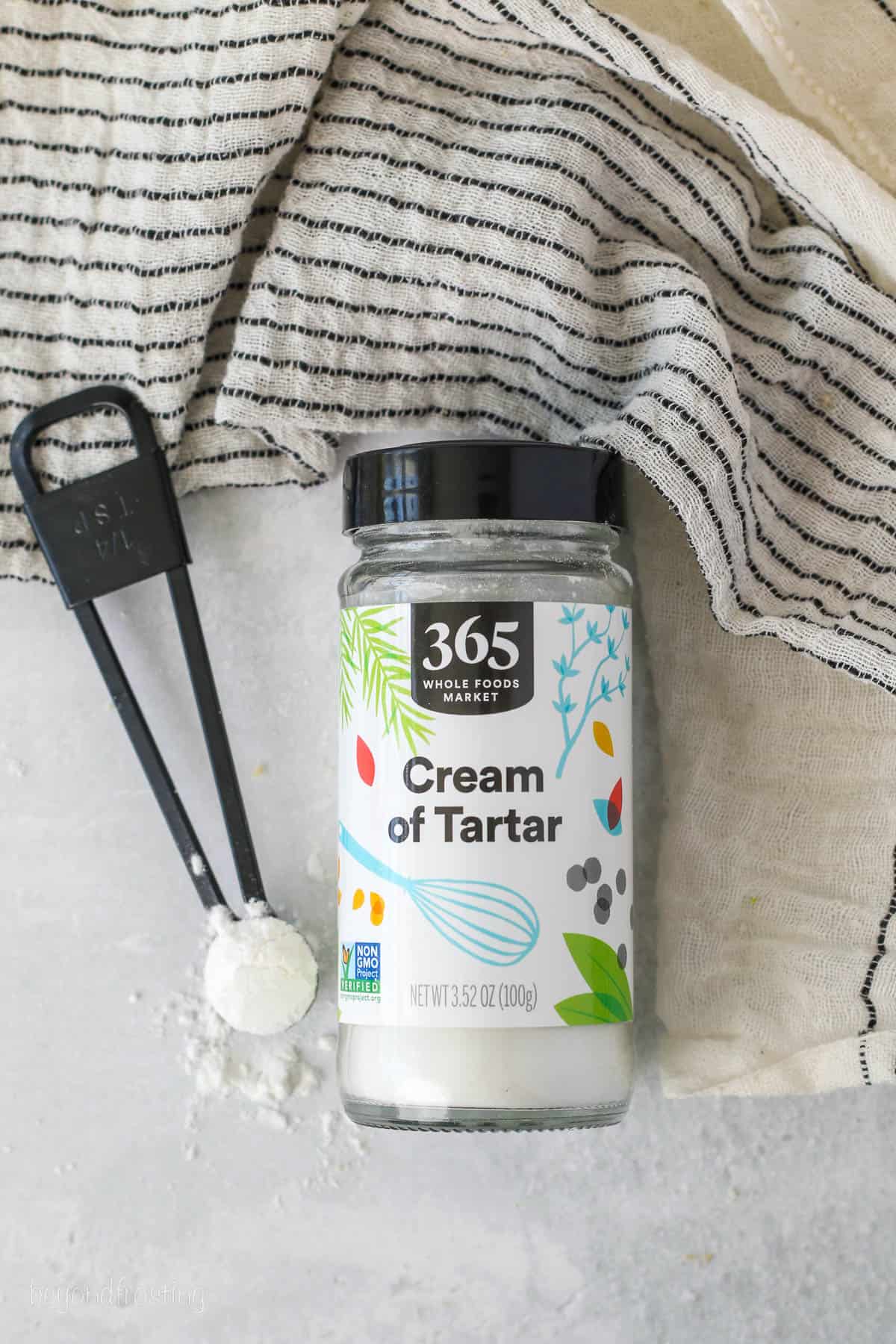 What Is Cream of Tartar Used For?
So, what does this ingredient do in baking? If you've ever bit into a soft sugar cookie and tasted a hint of tang, chances are that's cream of tartar! It has a metallic, tinny taste that's most recognizable in recipes for Snickerdoodles.
As mentioned, this acidic ingredient is most often used as a leavener in baking. It makes cakes bake up nice and lofty, and it gives cookies irresistibly tender chew. As you'll see in the round-up further on, Snickerdoodle cookies and sugar cookies just aren't the same without it.
Along with leavening, COT works as a stabilizer in meringues, giving volume to the whipped egg whites. It speeds up the whipping process and prevents the sugars from crystallizing. This produces stable, pillowy, glossy meringue for cookies, pies, and recipes like fluffy marshmallow frosting.
Cream of Tartar Substitute
What can you use instead of cream of tartar? If you've opened your pantry and found that you're out of this ingredient, never fear. Instead of dashing out to the store, there are a couple of ways that you can try to replace it.
Since COT is an acid, you'll want to substitute it with another acidic ingredient. Note that the substitutions below are for baking, and not tested in recipes for meringue.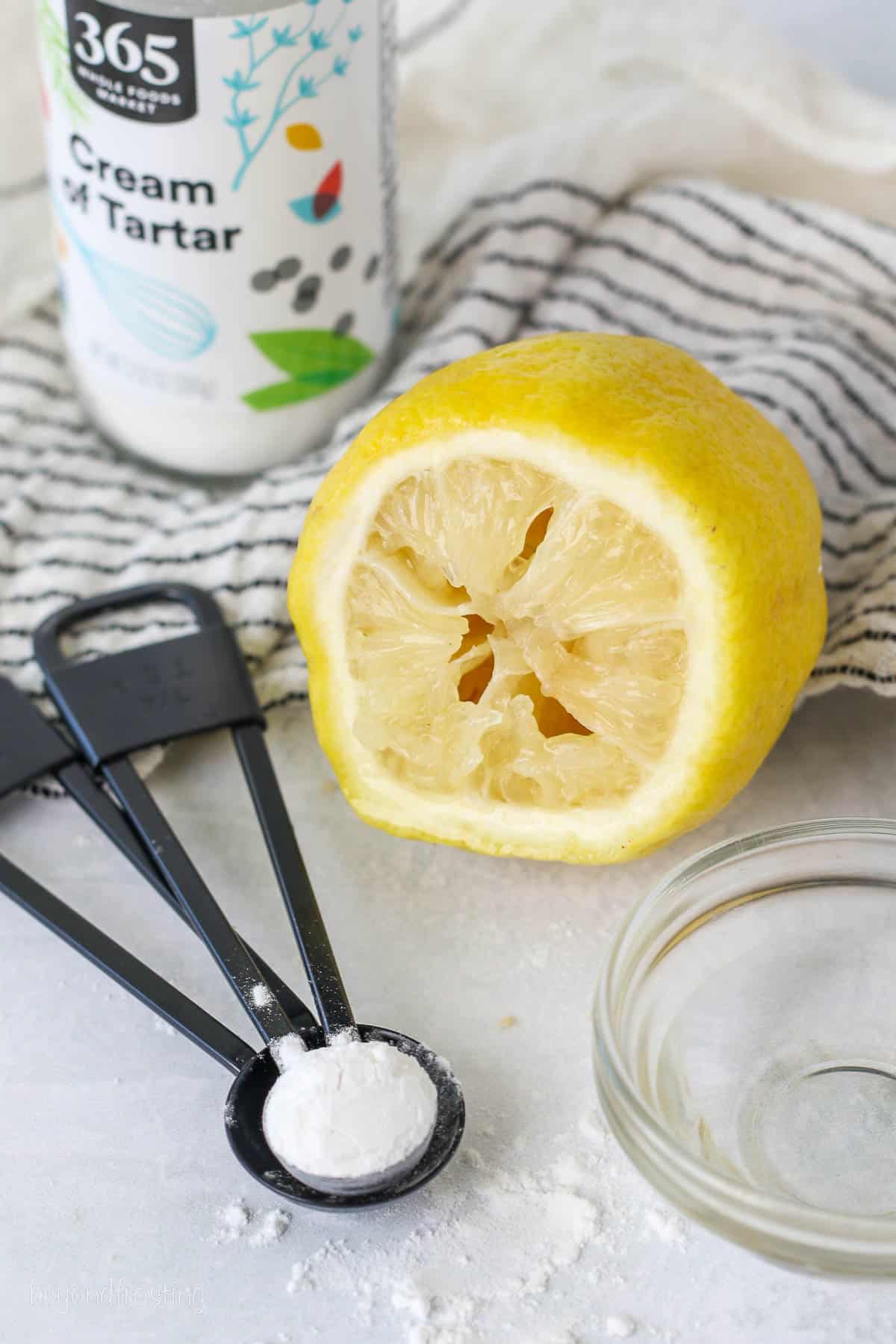 Lemon Juice or Vinegar
A popular substitute in baking is another acidic liquid, like lemon juice or white vinegar. For example, if your sugar cookies call for ½ teaspoon of COT, you can substitute it with 1 teaspoon of lemon juice or vinegar. The cookies will bake slightly more dense with less of a rise, but the flavors will still be tasty.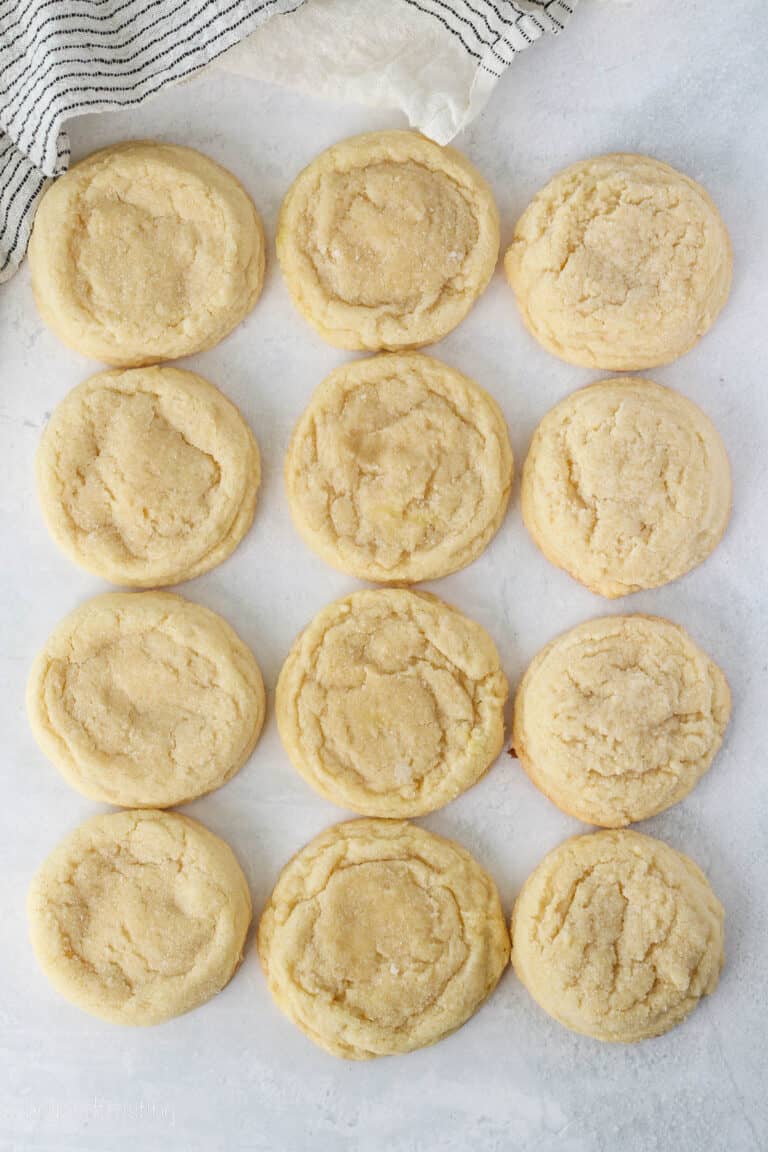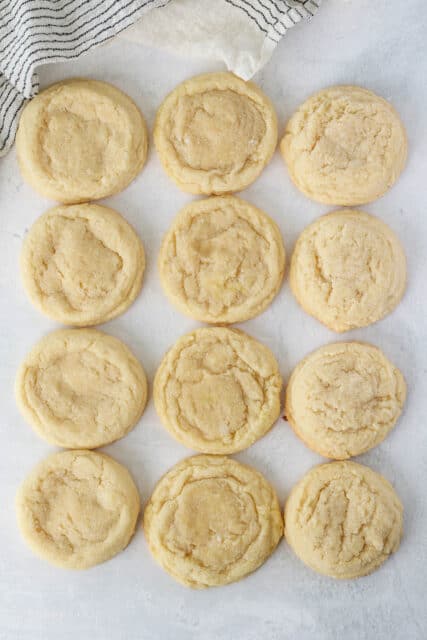 Baking Powder
A second substitute is baking powder. In this case, you would replace both the cream of tartar and baking soda in your cookie recipe. So, if a recipe calls for ½ teaspoon COT and ½ teaspoon baking soda, then you'd omit both and substitute 1 teaspoon baking powder instead. Again, the texture will vary, as the cookies do turn out a bit puffier and crunchier (see photos).
In most recipes for whipped egg whites, frostings, etc., you can leave out the COT altogether without it having too much of an impact.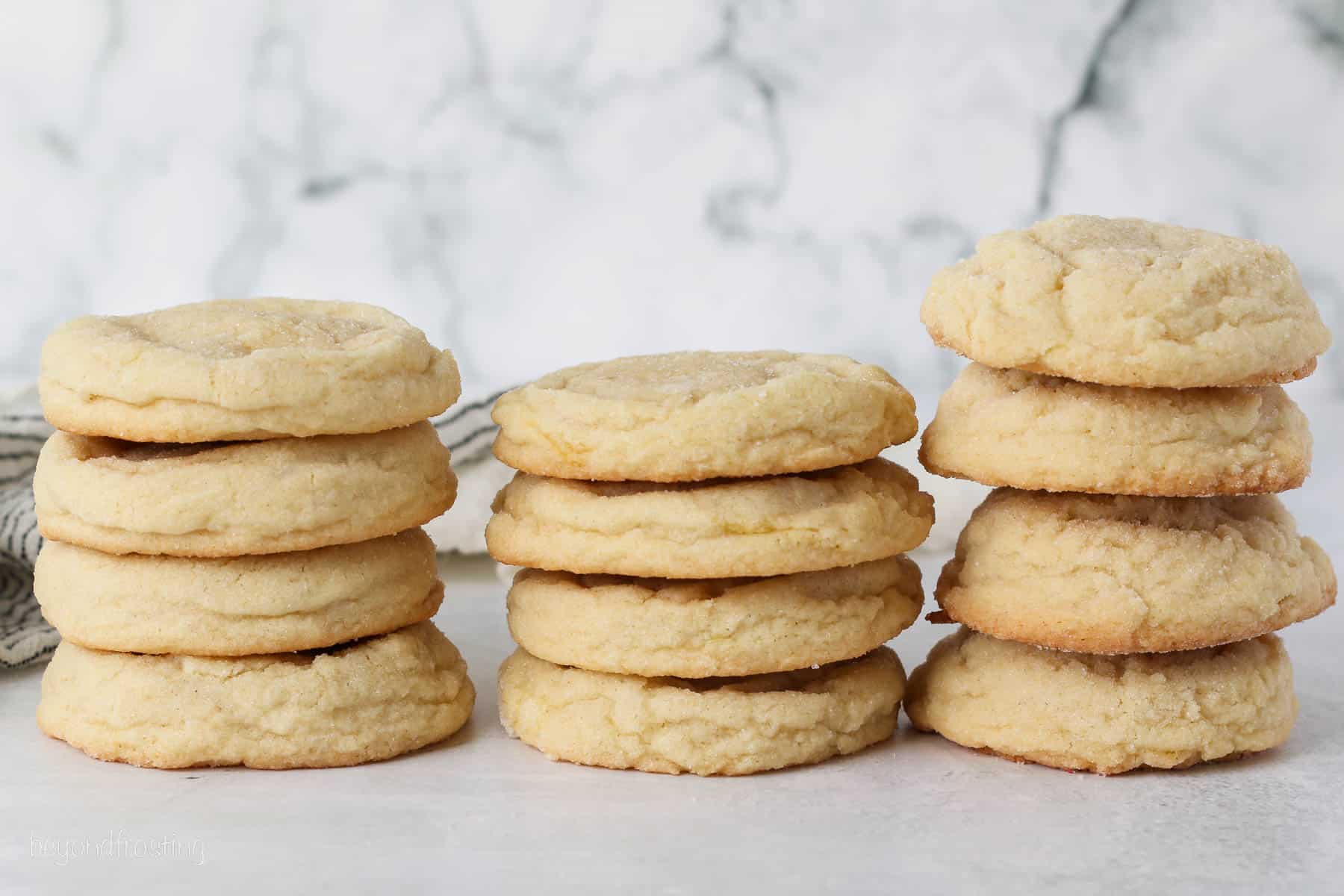 How to Store
The best place to store cream of tartar is in a cool, dry location, like your pantry, alongside other baking ingredients. Make sure to keep it airtight to protect against moisture and to preserve its flavor. Properly stored, you can use it indefinitely! The only thing you may notice is that the potency decreases over time.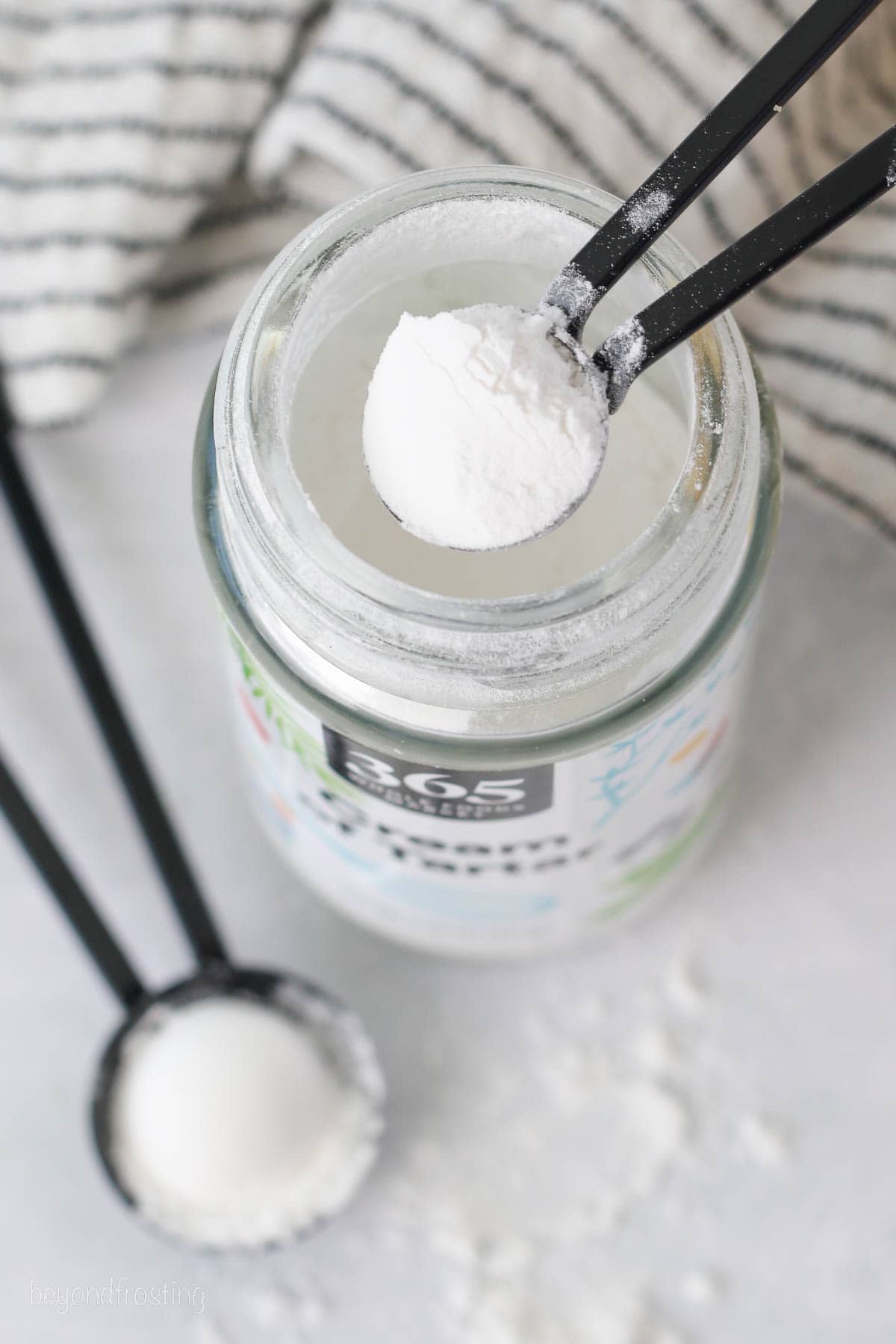 12 Baking Ideas to Try
Now that we've demystified cream of tartar, let's get baking! If you're looking for delicious ideas, here's a quick round-up of some of our favorite recipes to try.
Looking for more helpful baking tips and resources? Baking 101 has you covered! From how to measure flour to the best homemade buttermilk substitute, check out my tutorials for details.