This post may contain affiliate sales links. Please see my full disclosure policy for details
A collection of over 30 Easy Cupcake Recipes that you're going to want to bake ASAP. From classic chocolate cupcakes to creative flavor combinations, there's really something for everyone. Plus, helpful tips and tricks for making the best cupcakes at home!
The Best-Ever Cupcakes You Need to Make
Today I'm sharing a round-up of 30 wonderful and easy cupcake recipes that I just know you're going to love! Cupcakes are one of my specialties, and they're the most fun to make. I love the endless flavor combinations, the creativity, and even the technicality of dreaming up and baking the perfect cupcake.
You'll find recipes for classic cupcakes that you can customize with frosting and decorations. Plus creative flavors, and seasonal cupcakes to suit any holiday or special occasion. Join me on my cupcake journey as we dive into a collection of my best homemade recipes!
Why You'll Love These Cupcake Recipes
What makes these the best cupcake recipes? Let's narrow it down to the top three reasons you're going to want to bake them all:
Simple to make. The cupcakes in these recipes turn out great without any fancy equipment or specialty ingredients. Just the basics, plus a little decorating magic!
Lots of variety. Just because these cupcakes are easy doesn't make them boring. You'll find classics like vanilla cupcakes, plus fun and creative flavors, from gingerbread to coconut cream pie.
Great for any occasion. Instantly turn any gathering into a party with a batch of homemade cupcakes. These easy recipes cover all the bases, from holidays to birthdays, and more.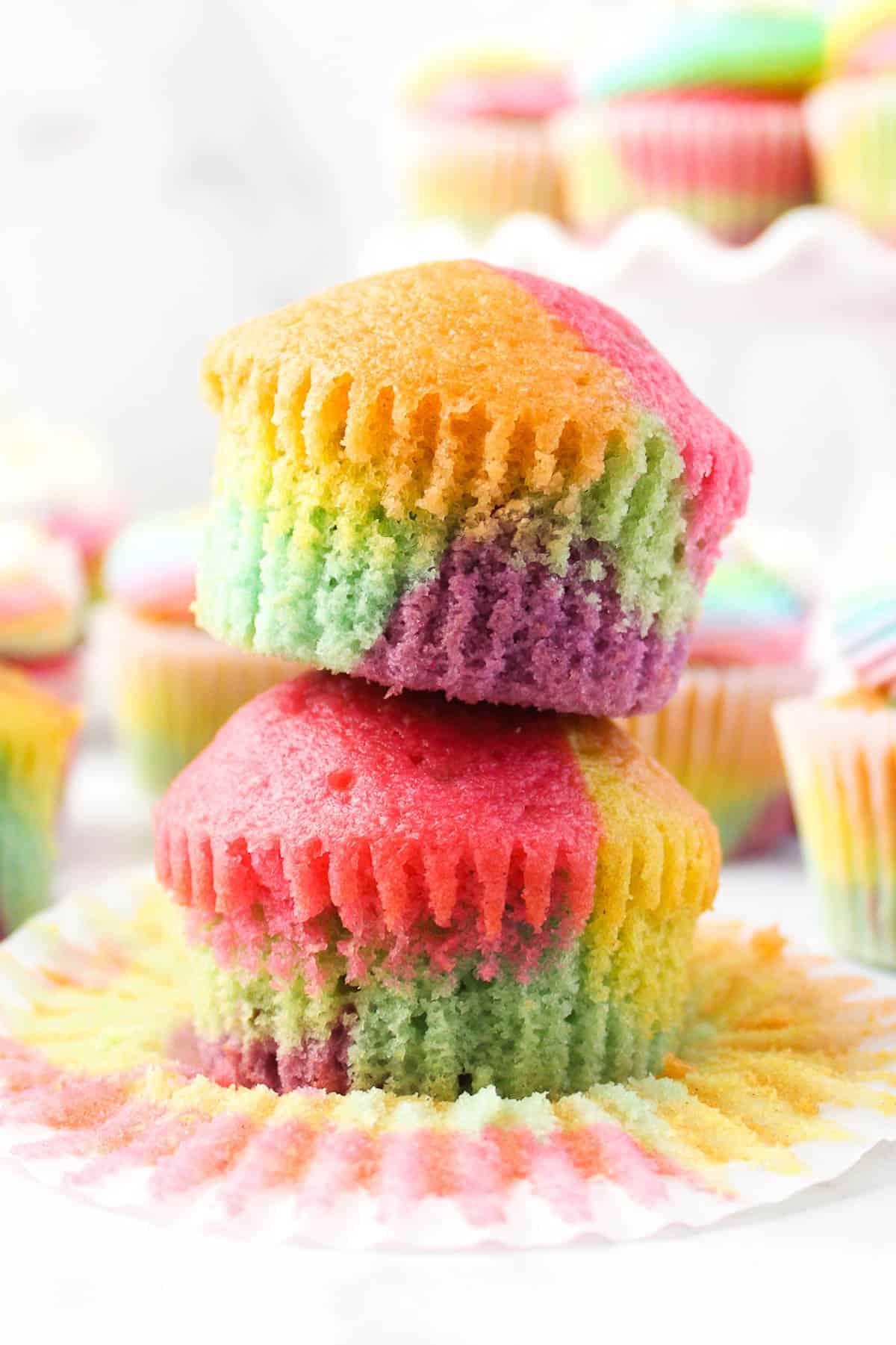 Cupcake Baking Tips and Tricks
Before we kick things off with the ultimate list of cupcake recipes, here are my best tips for making perfect homemade cupcakes:
Correctly measure your ingredients. Make sure that you're correctly measuring ingredients like flour the right way, so you wind up with cupcakes that are fluffy, not cakey. If you don't have a kitchen scale to measure by weight, spoon the flour from the bag into your measuring cup, and then level it off using the back of a knife.
Dairy and fat are key to an ultra-moist cupcake. You'll notice that a lot of my cupcake recipes below call for sour cream. Sour cream is known for keeping cakes and cupcakes extra moist due to its high-fat content. If you don't have sour cream, plain Greek yogurt is a good substitute.
Don't overmix the cake batter. Make sure to only mix your cupcake ingredients until they're just combined. Mixing creates the necessary air pockets in the batter for light, fluffy cupcakes. Overmixing, however, deflates the batter and your cupcakes may turn out tough and dense.
Be careful to not over-fill the cupcake liners. To avoid a cupcake explosion inside your oven, aim to fill your cupcake liners no more than ½ to ¾ of the way full. Don't know the difference? Check out this helpful tutorial.
Use a toothpick to tell when your cupcakes are done baking. This is an age-old baking trick, and the easiest way to tell when your cupcakes are ready. Insert a toothpick into the center of the cupcake, and if it comes out clean, the cupcake is done. (Provided you don't hit an add-in like a chocolate chip, of course, in which case try again in another spot.)
Let the cupcakes cool completely before frosting. If your cupcakes aren't at room temperature before you go to frost them, you'll wind up with melty, slippery frosting. Make sure you budget enough time to allow the cupcakes to cool.
What Frosting Should I Use?
So, what type of frosting is best for cupcakes? It depends on the recipe, but in general, you can't go wrong with the basics like Vanilla Buttercream Frosting, or Chocolate Buttercream Frosting. Buttercream is a favorite for frosting cupcakes because it's rich and pipable, and holds its shape well. Plus, buttercream frosting is incredibly easy to make at home!
If you're looking for more options when it comes to decorating cupcakes, try these other classic and easy frosting recipes:
You'll also find some more of my favorite frosting recipes here.
Once you have your basic frosting whipped up, the possibilities are endless when it comes to coloring and decorating your cupcakes. Check out my posts on How to Color Buttercream Frosting and How to Use a Piping Bag for more guidance and ideas.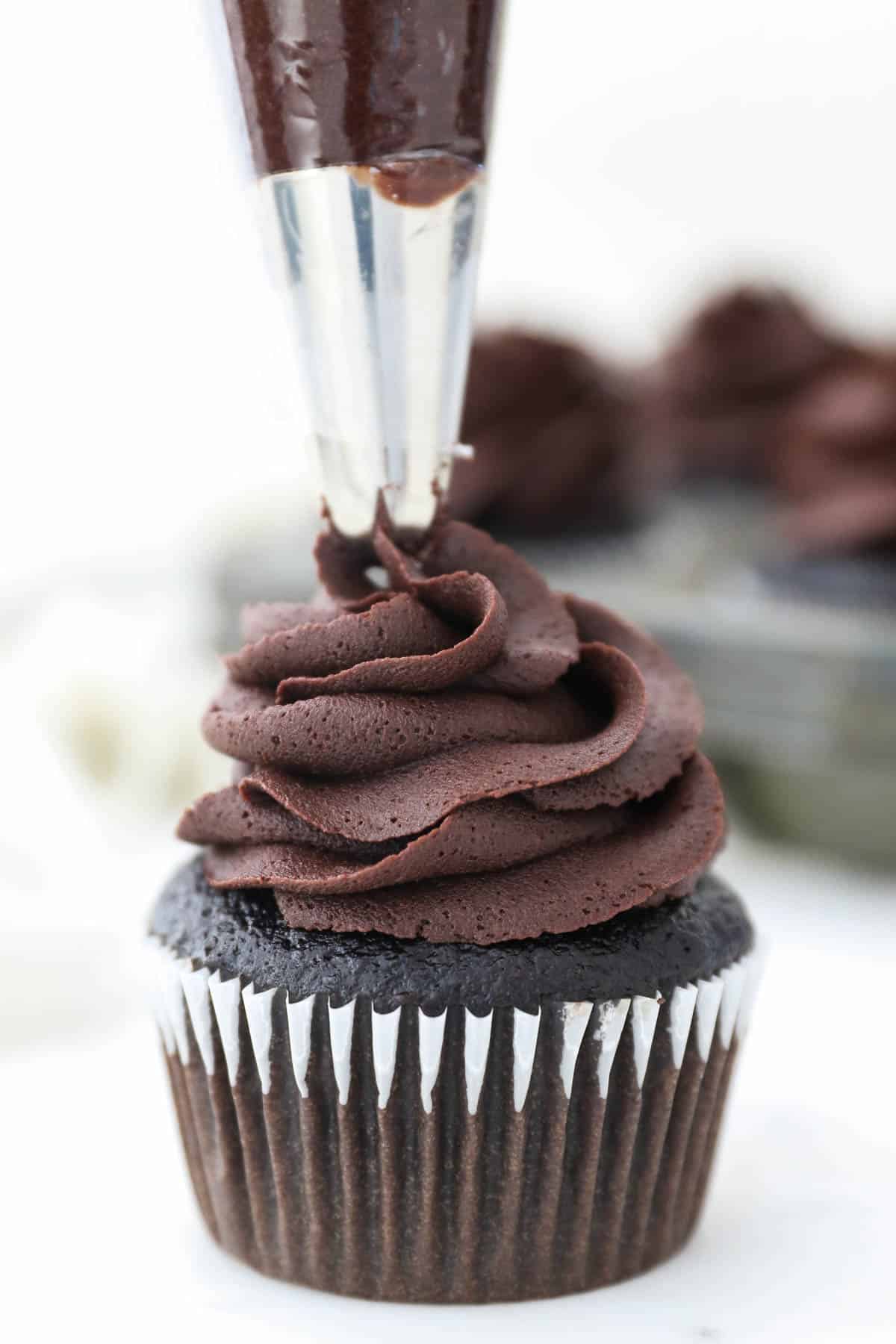 30 Easy Cupcake Recipes to Try
Fasten your apron ties, because you're going to want to binge the below cupcake recipes like the next season of your favorite Bravo show. Don't forget to check out the sections below with tips on storing and freezing your homemade cupcakes!
How to Store Homemade Cupcakes
Almost all cupcake recipes can be prepared in advance. It's best to store homemade cupcakes in an airtight container, in a cool and dry location.
Depending on the type of frosting or if there's a filling, your cupcakes may need to be refrigerated once they're baked. Likewise, if you live in a warm or humid climate, you may also want to consider refrigerating your cupcakes to keep them fresher for longer. Refer to the recipe for specifics.
Can I Freeze Cupcakes?
Many of these cupcake recipes freeze well before they're frosted. Once the baked cupcakes have cooled completely, they can be stored airtight and frozen for a couple of months. Of course, always refer to the individual recipes for detailed freezing instructions.