This post may contain affiliate sales links. Please see my full disclosure policy for details
These Perfectly Soft and Chewy MnM Cookies are crisp on the outside and soft and chewy in the middle. You won't be able to resist these. This post originally appeared on Chocolate Chocolate and More.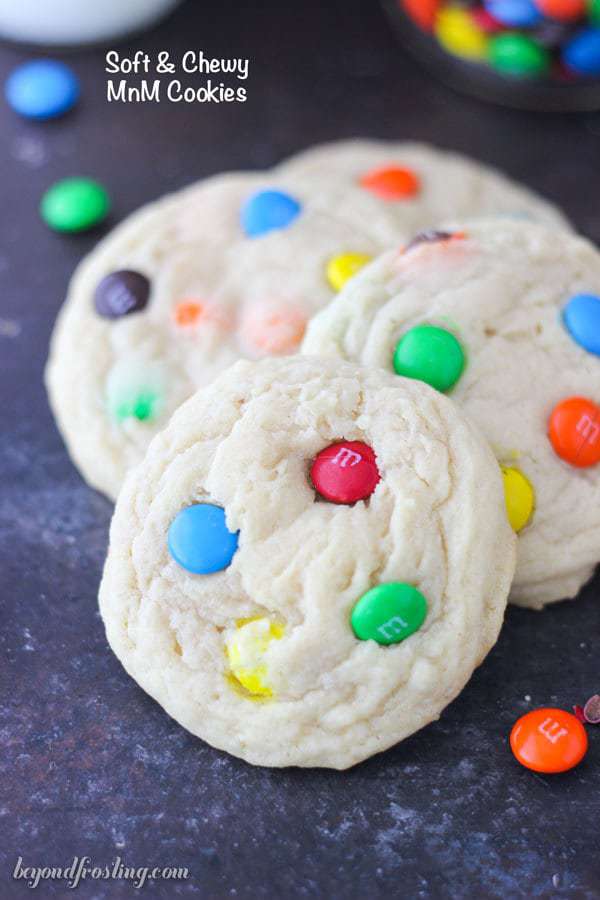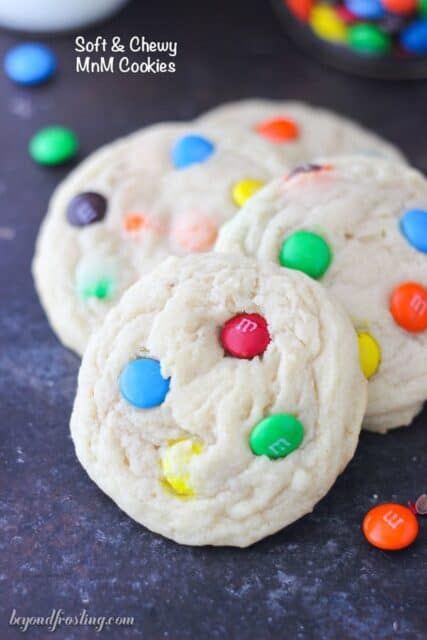 I am so ready for my February television shows to return. Thursday nights just aren't the same. Can we all agree on that? Why do I need to wait until the middle of February? I need something to take my mind off of sweets, stress and working out. I miss my shows. And before you know it, it will be summer and then there is nothing on TV. Thankfully, the new season of The Bachelor is enough drama to get me through. I know, I know. Its totally junk, but I just can't help myself. I can just see my boyfriend rolling his eyes right now.
I've been doing SO good with my diet, but I do miss cookies. I simply cannot keep them in the house. I've tried to keep frozen cookie dough, so I can make fresh cookies as needed. Doesn't work; I eat all the cookie dough. Sometimes, I make cookies and freeze them to send to family or friends. They hardly ever make it out of the house. Especially if my boyfriend finds out where I am hiding them.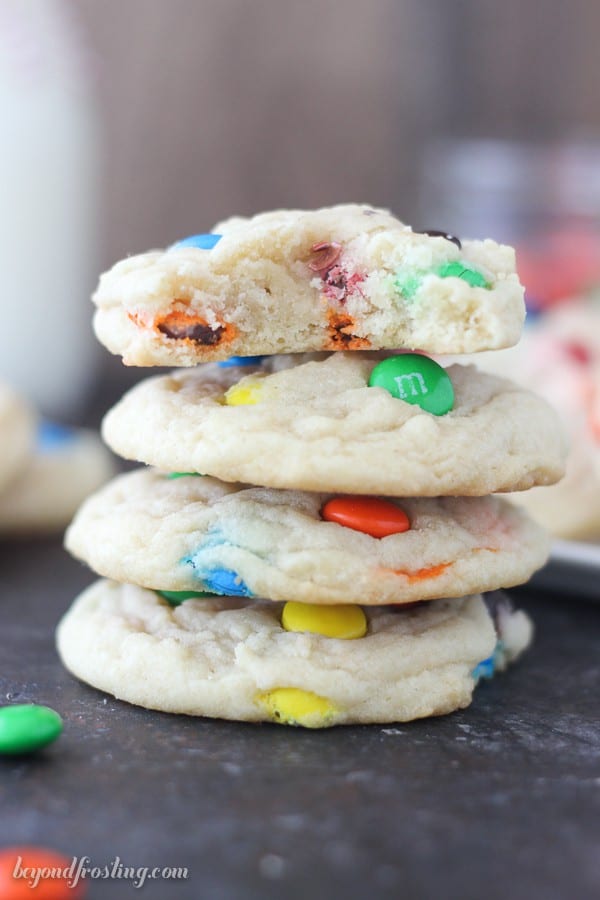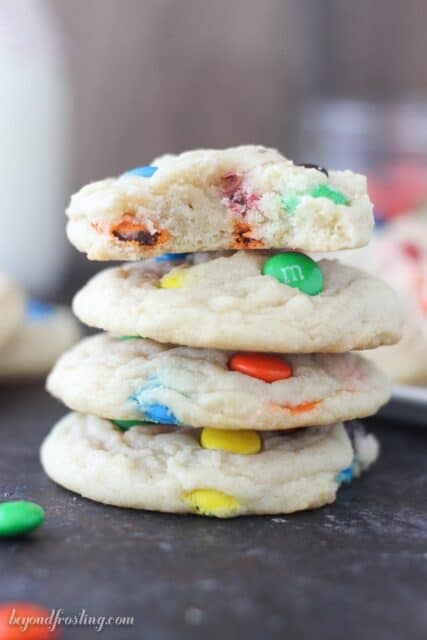 These Soft and Chewy MnM Cookies are no exception. The dough used for these cookies is very versatile. You can swap out MnMs for your favorite candy or fruit, or you can make them into snickerdoodles.
The secret to making these soft and chewy is first to beat the butter until it's light and fluffy. You do have to refrigerate this dough for about 30 minutes before baking, otherwise the dough will spread too much when baked. I like them to be a little thicker, so I bake them once the dough is colder. This allows the middle of the cookies to be a buttery and sugary delight.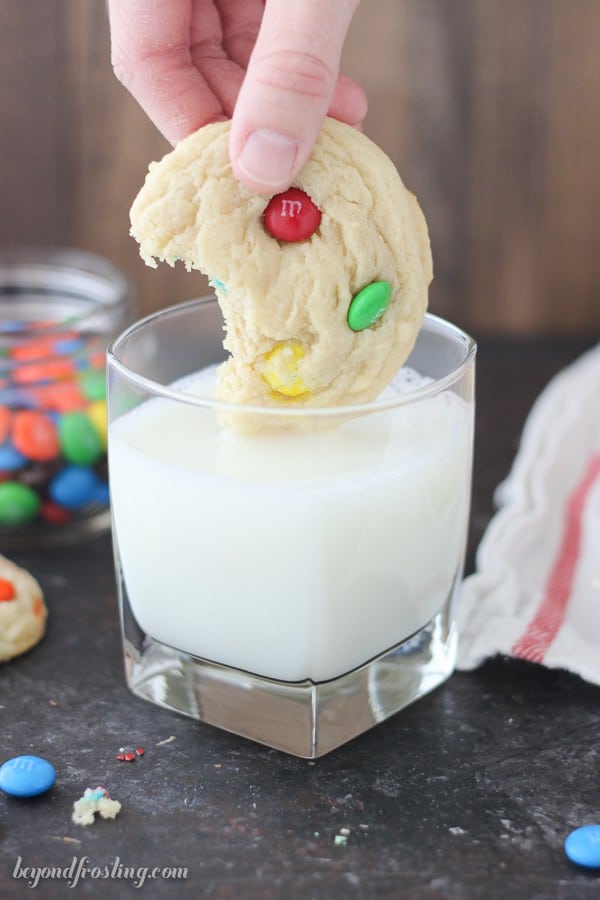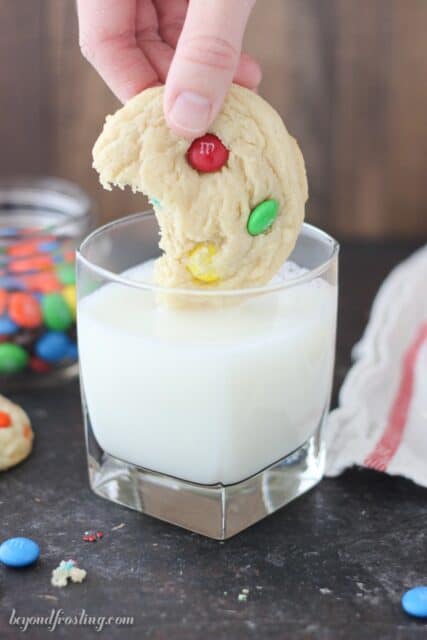 Do you want to know another secret? I like to hand-mix my MnM into the cookie dough so they don't break apart. Then I save a handful of them to put on top of the cookies. I like to add them right when they come out of the oven. I press them into the tops of the cookies and let them melt a bit as the cookie cools.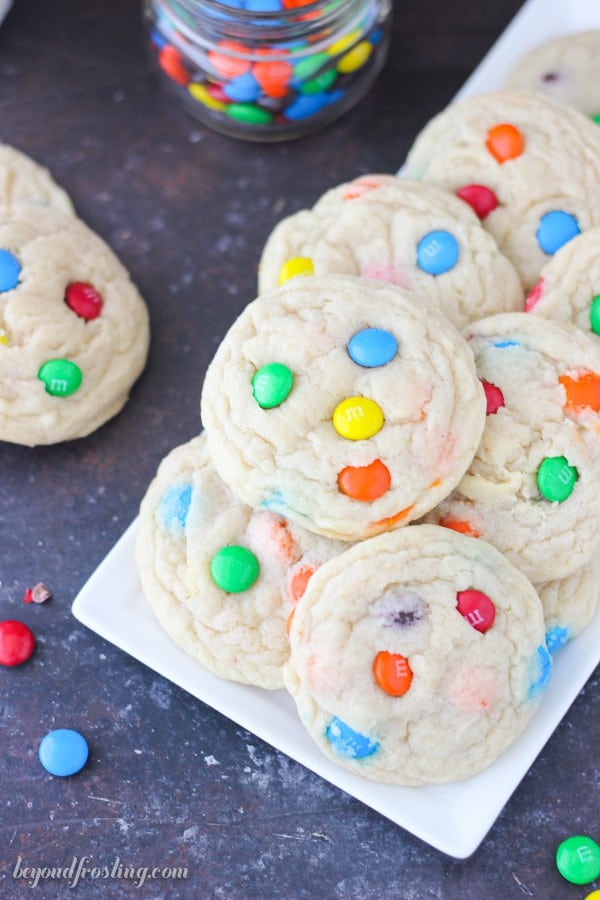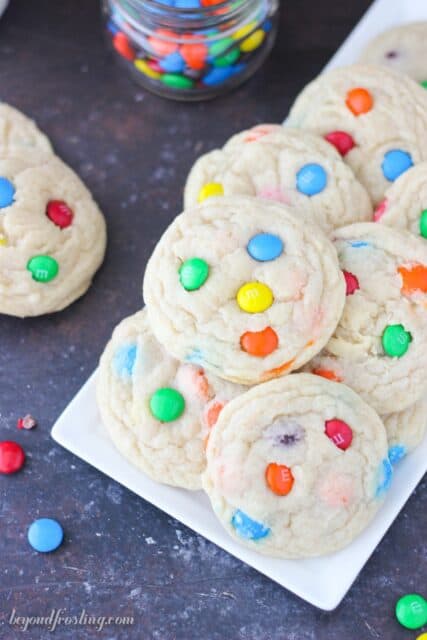 Now that you know all my secrets, it's about time you make these for yourself! I always make a double batch dough so I can make nice, big cookies. Yes, it's a lot of flour and a lot of sugar, but let's be real here. These are the BEST cookies. The recipe below is for a double batch.
Keep up with all the happenings. Follow Beyond Frosting:
Facebook | Twitter | Pinterest | Instagram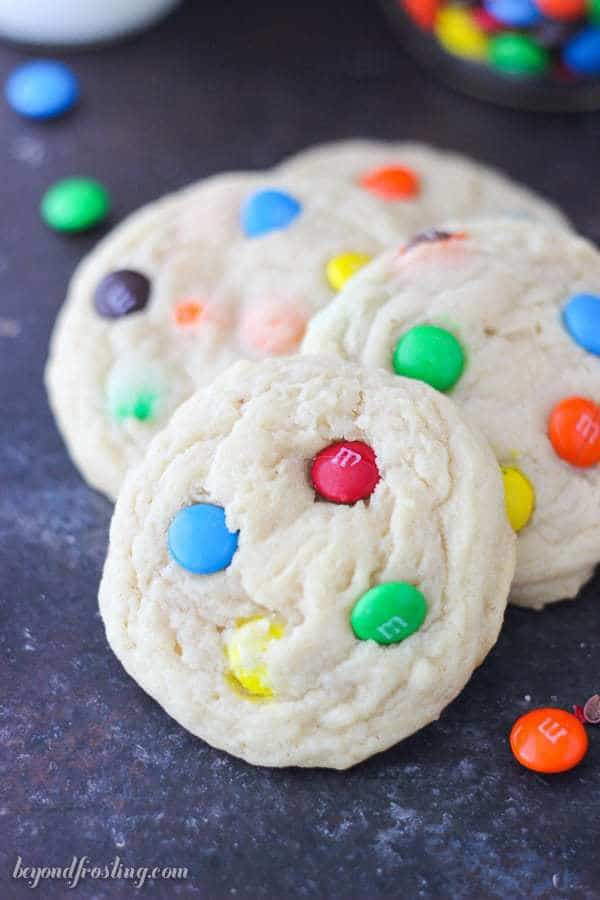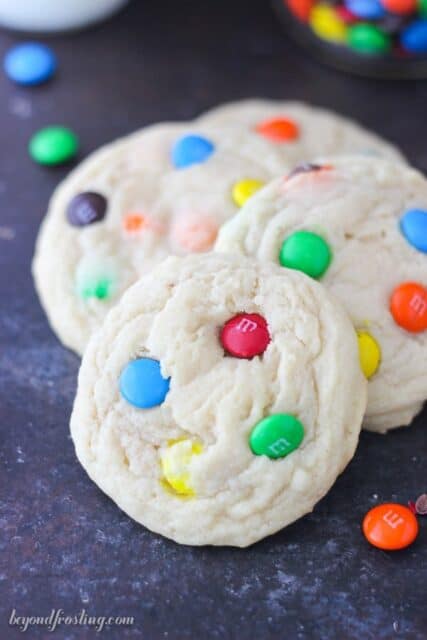 Print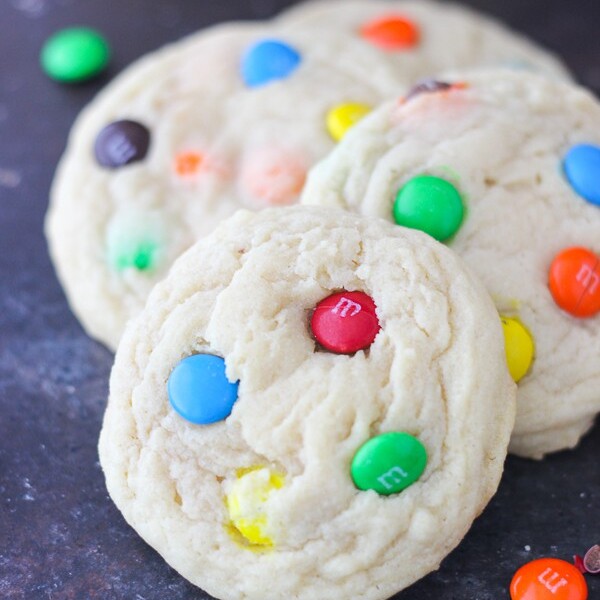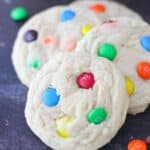 The Best Soft and Chewy MnM Cookies
Author:

Prep Time:

15 mins

Cook Time:

10 mins

Total Time:

25 minutes

Yield:

24 cookies
Ingredients
1

C (2 sticks) Unsalted butter

2

C Sugar

2

Large eggs

1 tsp

Vanilla extract

3

C Flour

½ tsp

Baking soda

½ tsp

Cream of tarter

1 cup

MnM candies
Instructions
Combine butter with sugar and beat on medium speed until well creamed together.
Add egg and vanilla extract. Mix into butter and sugar until egg is well beaten.
In a separate bowl, combine flour, baking soda and cream of tartar. Slowly add into batter and beat on medium low speed until well combined and dough forms.
Fold in MnMs with a spatula so they do not crushed.
Refrigerate dough for a minimum of 30 minutes and up to 1 hour.
Preheat oven to 350° F. Use a large cookie scoop (3 tbsp) and scoop cookie dough onto a parchment paper lined baking sheet. Place about 2 inches apart.
Bake at 350° F 10-12 minutes. Allow cookie to cool on the baking sheet for several minutes and then transfer to a wire rack to cool completely
Notes
This recipe will yield about 36 cookies if you use a medium sized cookie scoop instead of a large. Baking time may need to be reduced for small cookies.
Recipe Card powered by
Visit Beyond Frosting's profile on Pinterest.
Other recipes you might like: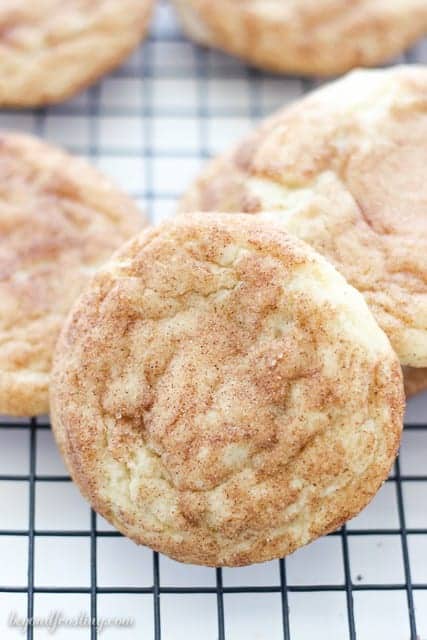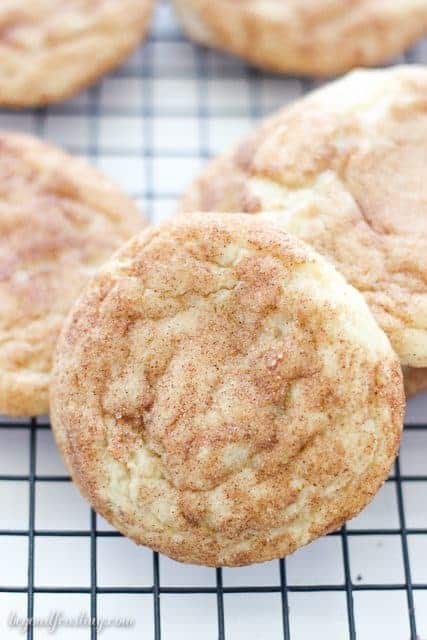 Bourbon Salted Caramel Cookie Cups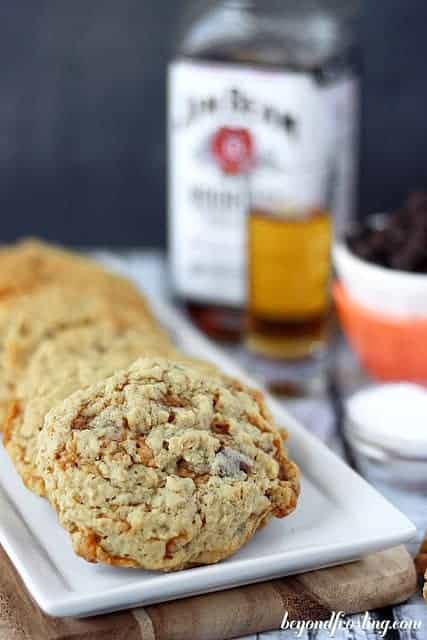 Chocolate Cream Pie Cookie Cups