This post may contain affiliate sales links. Please see my full disclosure policy for details
Have you ever tried a brookie? It's is combination of a fudgy brownie bar with and a chewy chocolate chip cookie. This Homemade Brookie Recipe takes two easy recipes and combines them into one fabulous dessert. Why decided between the two when you can have both?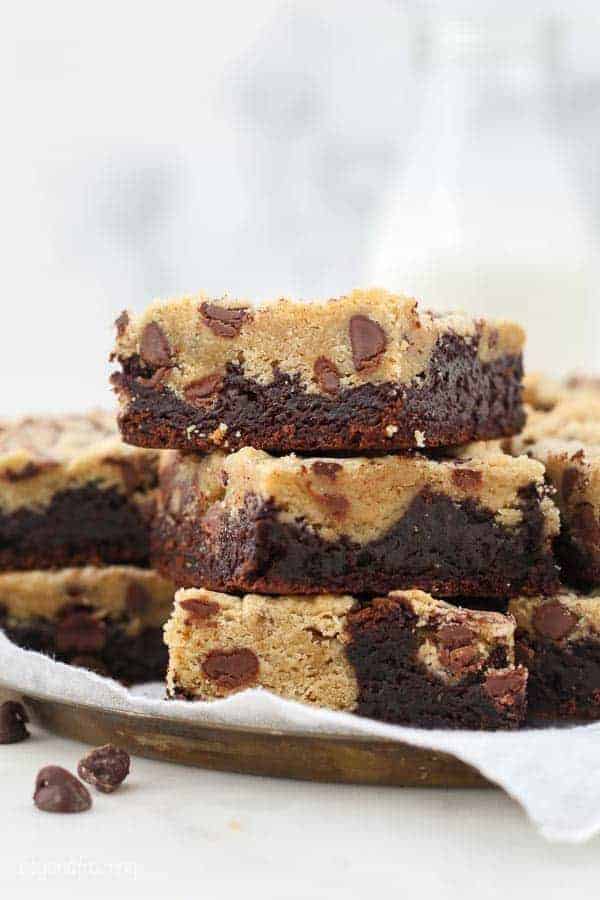 Are you team brownie or team chocolate chip cookie? What if I told you didn't have to decide?
For years I've been making brookies because once I discovered them, I was totally hooked!
However, up until now I've always reached for a boxed brownie mix and sometimes a homemade chocolate chip cookie or even prepackage dough depending on what I was working on. But not anymore!
What's a Brookie you might ask?
It's is combination of a fudgy brownie bar with and a chewy chocolate chip cookie all wrapped up into one thick bar. Grab a glass of milk and let's get started.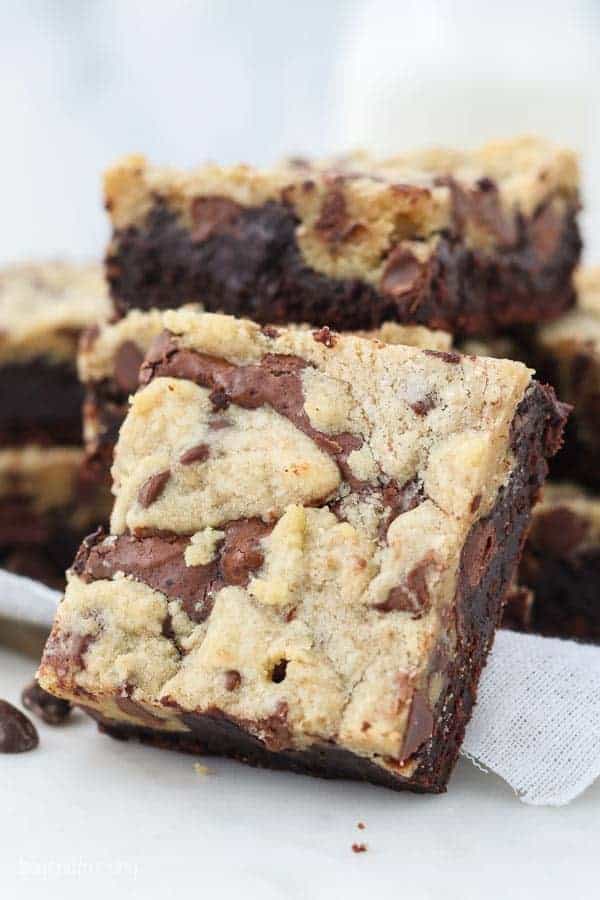 Creating the perfect Brookie Recipe
Once I had nailed down my fudgy brownie recipe, I knew there would be plenty of variations coming. No doubt about that.
Then I started testing my chewy chocolate chip cookies and making them with softened butter instead of melted butter to evaluate the taste and texture
My original cookie recipe calls for melted butter. The reason I wanted this cookie to start with softened butter instead is so that the consistency of the cookie dough would be easier to work with.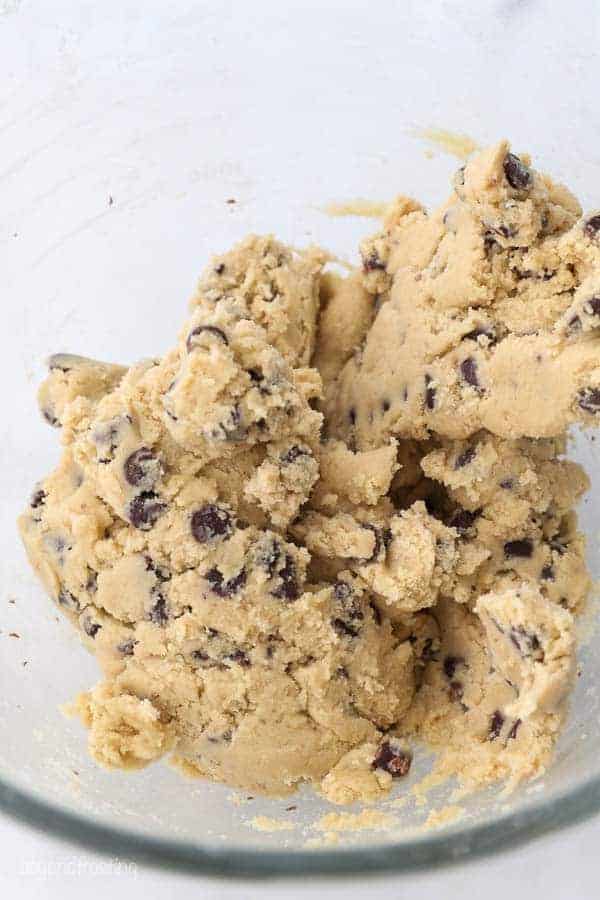 What I found was that the cookie was a little dense but perfectly buttery and chewy, making it a great base recipe to work with.
After a couple of test batches and playing with the right ratios of brownie batter and cookie dough, we finally the perfect homemade brookies.
You still have the dense and fudgy chocolate brownie layer with a buttery chewy chocolate chip cookie on top. Equal parts brownie and cookie.
How to assemble these Brookies
I've seen various recipes for brookies some with the chocolate chip cookie on the bottom and some with a brownie bottom. I prefer the brownie bottom because I think it's really easy to overbake the cookie base and end up with a dry and crumbly brookie- and we definitely want to avoid that.
After testing this recipe, I did find that it's better to prepare the cookie dough first, and then make the brownie batter.
This way the brownie batter doesn't sit for too long and thicken. However, you'll notice that my video shows it the opposite way, I made this decision after the fact. Either way, you can't go wrong.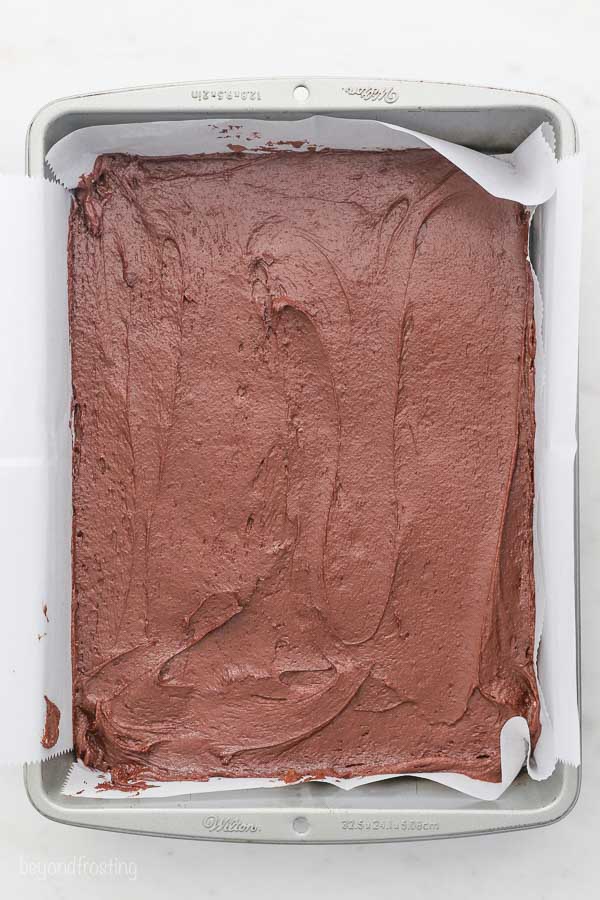 Spray the pan with cooking spray then line it with parchment paper. Why both? Because spraying it first will allow you to easily remove the parchment paper. I found that without the parchment paper, the brownies stuck to the pan along the edges and corners mostly.
First prepare the cookie dough according to the recipe. Note that is calls for softened butter, which may require some pre planning on your part, but during this time I gather and measure all my other ingredients. Set the prepared cookie dough aside.
Next prepare the brownie batter. This comes together rather quickly, especially if you have everything measured. Pour the brownie batter in the prepared pan
Take your cookie dough use your hands to flatten into chunks and begin placing it randomly on top of brownie batter, layering it as you go. It's easier to layer and you don't end up with any areas that are over covered.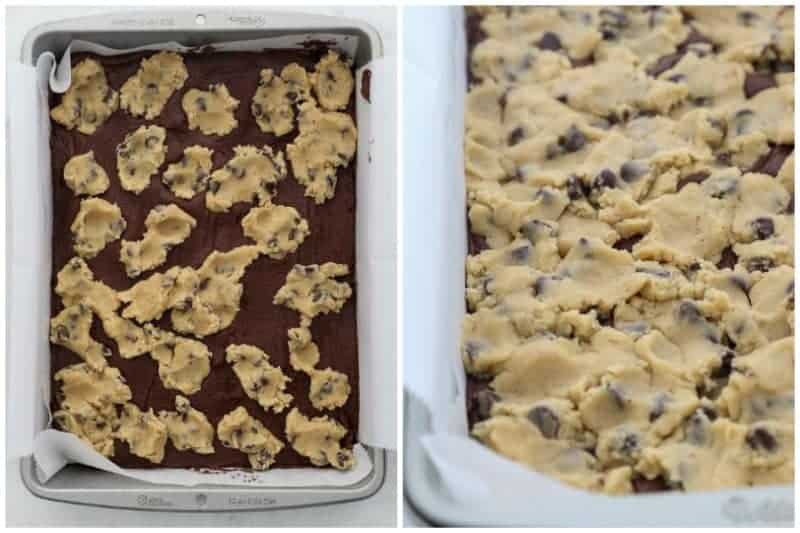 Last important thing to note: After 15-20 minutes, place a layer of aluminum foil on top of your pan to prevent the cookie layer from browning too quickly.
These will need a little bit of time to set and cool before you slice into them, especially because the gooey brownie layer on the bottom. Honestly, the waiting is the hardest part!
Don't forget you can make these own by adding in your favorite flavor of chips or chopped nuts. Now go and make a batch of these brookies to share with your friends or keep in your freezer to enjoy when you're craving something sweet!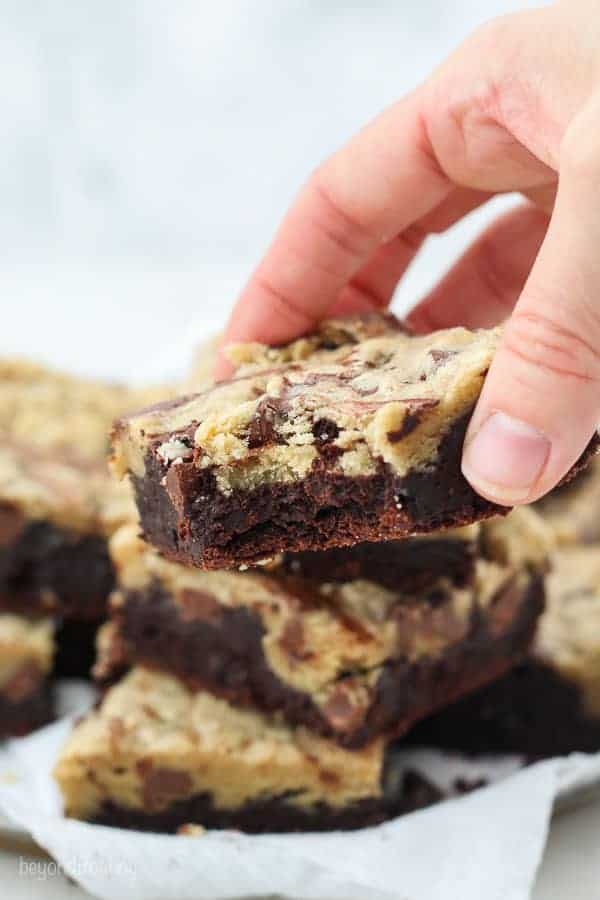 More Brookie Recipes
Follow Beyond Frosting:
Facebook | Twitter | Pinterest | Instagram
Print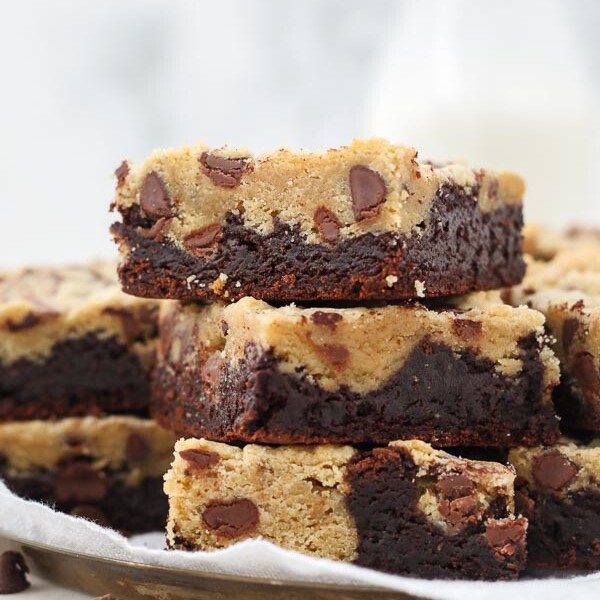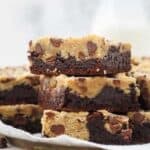 Homemade Brookie Recipe
Author:

Prep Time:

45 minutes

Cook Time:

35 minutes (up to 40 minutes)

Total Time:

1 hour 20 minutes

Yield:

18-21 bars
Description
Have you ever tried a brookie? It's is combination of a fudgy brownie bar with and a chewy chocolate chip cookie. This Homemade Brookie Recipe takes two easy recipes and combines them into one fabulous dessert.
Ingredients
For the cookie dough
¾ cup

(

170g

) unsalted butter, softened

¾ cup

(

165g

) packed light brown sugar

¼ cup

+ 2 tablespoons (

60g

) granulated sugar

1

large egg

1

large egg yolk

1 tablespoon

(15ml) pure vanilla extract

1 ¾ cups

+ 2 tablespoons (

254g

) all-purpose flour

¾ teaspoon

salt

¼

+

1/8 teaspoon

baking soda

1 cup

(

180g

) chocolate chips
For the brownie batter
6 ounces

dark chocolate, melted

¾ cup

(

170g

) unsalted butter, melted

1 ½ cups

(

285g

) granulated sugar

3

large eggs

1

large egg yolk

1 tablespoon

(15ml) pure vanilla extract

¾ cup

(

105g

) all-purpose flour

¾ cup

(

84g

) cocoa powder, sifted

1 teaspoon

salt

¾ teaspoon

baking powder
Instructions
Preheat the oven to 350°F. Grease a 9×13-inch pan and line the bottom and sides with parchment paper. Allow the butter to soften for at least 20 minutes.
For the cookie dough: Combine the softened butter with the brown and granulated sugar. Beat on medium speed until well combined, 2-3 minutes.
Next add the egg, egg yolk and vanilla extract and continue beating until well incorporated.
In a separate bowl, combine the flour, salt and baking soda. Stir to combine and slowly add the dry ingredients into the dough, mixing on low speed until dough starts to form. Before the dough thickens, add the chocolate chips. Beat until incorporated. Set aside.
For the brownie layer: Chop the chocolate into smaller pieces and melt the chocolate in a microwave-safe bowl for approximately 2 minutes at 50% power. Stir occasionally and microwave until completed melted and smooth. Set aside to cool.
Melt the butter in a microwave-safe bowl and combine with the granulated sugar; beat together until well combined.
Next add the egg and egg yolk and beat for 60 seconds at a higher speed until the batter is fluffy (texture resembling a cake batter).
Then add the vanilla extract and melted chocolate and beat until combined.
Combine the dry ingredients in a separate bowl and stir to combine. Add the dry ingredients to the batter and mix just until combined.
Assembly: Pour the prepared brownie batter in the bottom of the pan. Then take large pieces of the cookie dough and press it flat with your hands, then press it into the brownie batter. Continue to layer all the remaining cookie dough.
Bake at 350°F for 35-40 minutes. I suggest covering with aluminum foil after 15-20 minutes to prevent too much browning on top. Test for doneness by inserting a toothpick into the center. The brownie should be a little fudgy but not wet.
Equipment
Notes
Baking: Baking times will vary by oven and type of pan used. Do not overcook or they will be dry. Instead pull them out of the oven and allow then to finish baking as it cools. The layer of cookie dough may appear to be slightly under baked, but it is what keeps them soft and chewy.
Spraying the pan with cooking spray and then lining with parchment paper will help to remove the parchment paper more easily.
Melted Chocolate for brownies: I recommend using a high-quality baking bar such as Ghirardelli or Lindt. They melt down much smoother. These are best with dark chocolate, but any type of melted chocolate will work. 6 ounces is equivalent to approximately ¾ cups of chocolate chips.
Cocoa Powder for brownies: I recommend Rodelle Cocoa powder. It all my tests, it had the best taste and texture. It's a Dutch-processed cocoa powder. However, any cocoa powder will work, this recipe has been tested using several varieties.
Freezing instructions: Place these in an airtight container or Ziploc bag with a layer of parchment paper in between.
Category:

Brownies

Method:

Baked

Cuisine:

American
Keywords: Brookie, Recipe for brownies, homemade brownies, Chocolate chip cookie recipe, Easy chocolate chip cookie
This recipe originally appeared on Food Fanatic.