This post may contain affiliate sales links. Please see my full disclosure policy for details
These gooey Homemade Brownies are better than any boxed brownies you'll ever make. The middle is dense, rich and fudgy with a flakey layer on top. If you've never made brownies from scratch, this easy brownies recipe is the perfect place to start!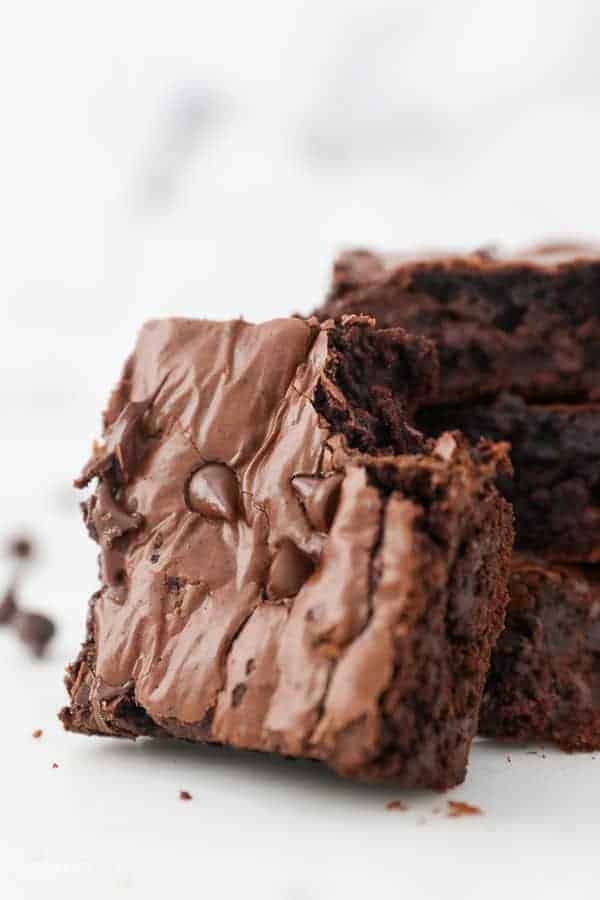 Perfect Homemade Brownies
You guuuuuuys- oh my gosh!!! The time has come.
I've been teasing you on Instagram for maybe a month or more with all the recipe testing I've been doing to make the perfect, fudgy, from-scratch brownie recipe. I've poured my heart and soul into perfecting this recipe.
Needless to say, I have a lot to share.
Around batch 15, I lost count of how many variations or tests we've done to get here. If you're interested in the process, you can read about the recipe testing below.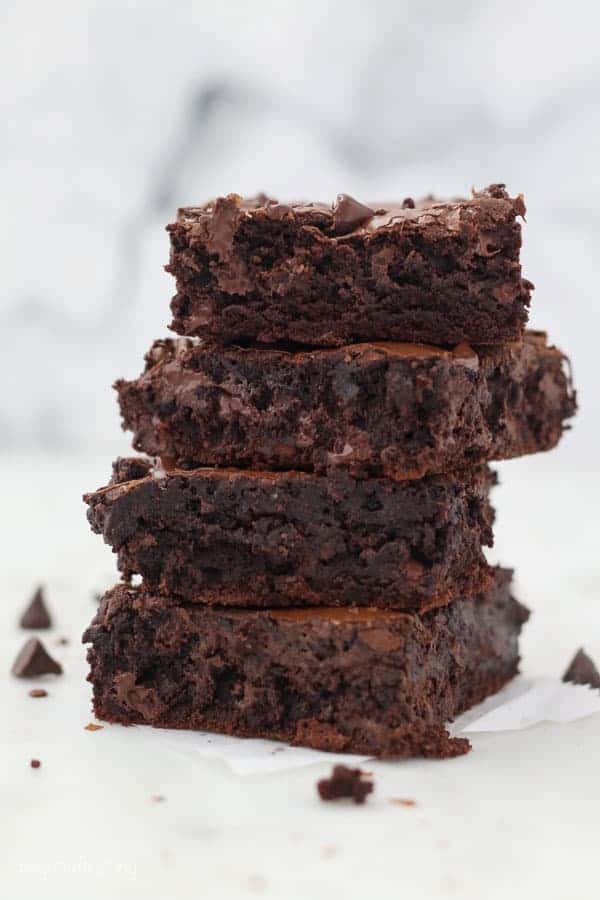 I've broken down the 3 crucial components to this recipe, it's TRIPLE the chocolate: melted chocolate in the batter, plenty of cocoa powder and chocolate chips to finish it off.
My sister-in-law described them as having a super-smooth texture and very rich. She told me "they're perfect for a brownie sundae". I couldn't agree more, but literally dozens and dozens of brownies were also enjoyed without ice cream.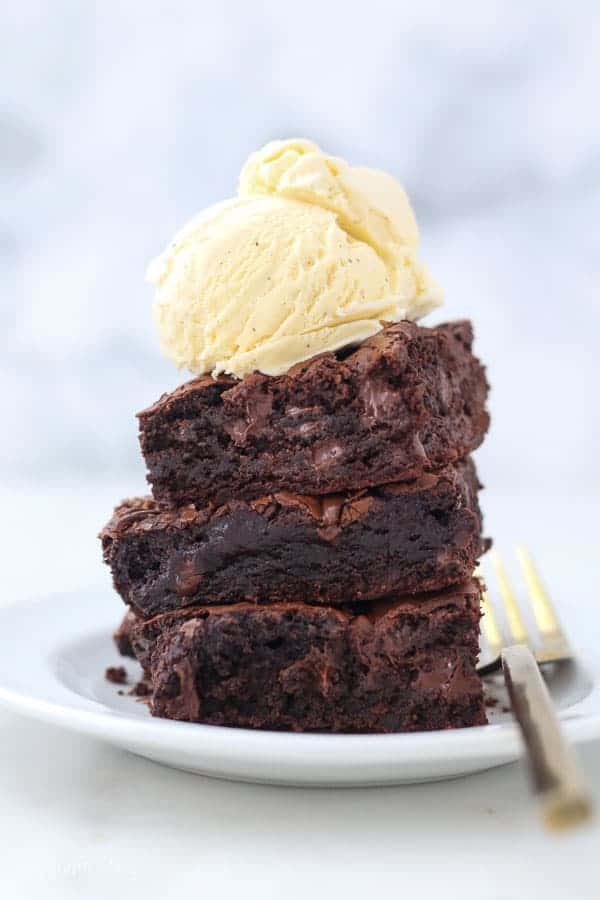 There're a couple super important steps to making this recipe. Each of them are simple and straightforward, but it's important that you follow the directions and don't take shortcuts.
Okay I can't wait any longer, let's get into in.
Creating the Perfect Brownies Recipe
The recipe testing actually started months ago. I knew I wanted to develop a brownie recipe for my blog, but first we had to define our perfect brownie.
Much like a chocolate chip cookie, opinions about brownies are fierce and widely debatable.
Are you team fudgy or cakey? Edges or middle? Chocolate chips or no chocolate chips. One person even told their perfect brownie had to be less than 1-inch in height. No, I'm not joking.
We first made several popular recipes you'll find on Google, along with boxed brownie mix. Then I set out to start testing our recipe.
I started with 4 variations of this recipe, with 2 of them being the clear winners. Then I had to compare them to our favorite boxed brownie mix (ahem, Ghirardelli). I enlisted the help of my husband and sister-in-law.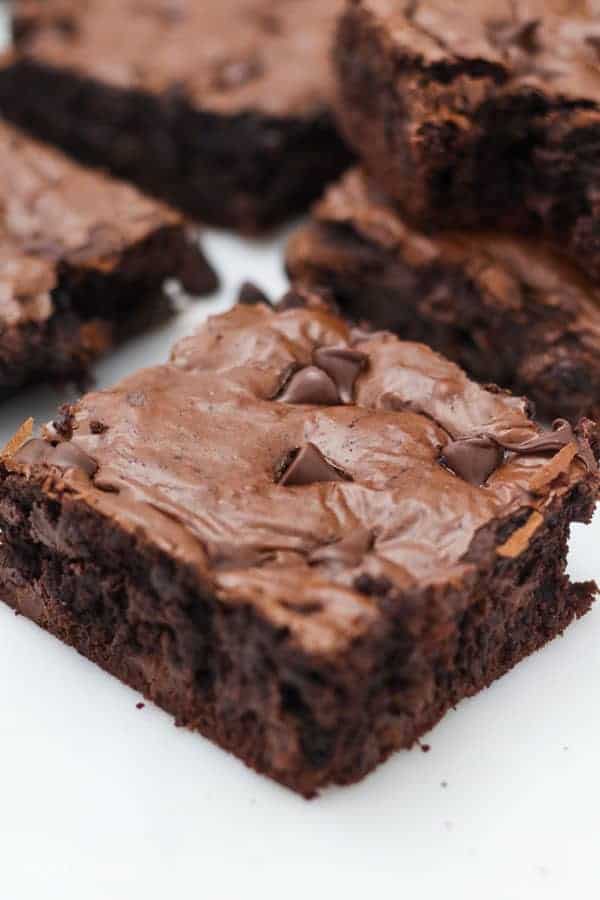 This presented a problem because although we loved our homemade version, there was something nostalgic and distinct about the boxed mix that we just weren't willing to give up. The other factor we were looking at is achieving the look of the boxed brownie mix with the flakey layer on top.
Once we narrowed it down to the final version, I had to test all the different variations of cocoa powder, chocolate, substations for butter, different pan sizes, etc.
All of this to say that I wanted to be sure that you'll be successful.
What I Love Most About These Homemade Brownies
The Crackely and Flakey Top Brownie Layer
after lots of research and recipe testing, this surface texture is the result of beating the eggs for an extended period of time. Be sure not to skip this step. It incorporates air into the batter and it's actually a meringue layer that forms on top.
There is a specific (and easy) way to prepare this recipe to achieve this effect. First the butter and sugar are well-creamed together then the eggs are added and beaten for an extended period of time.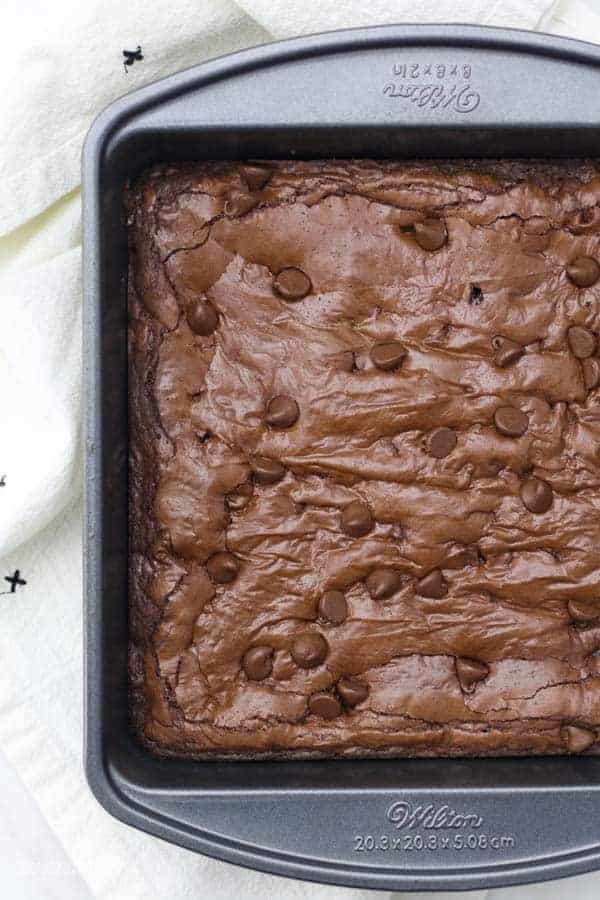 A Balanced Texture
Brownies are usually either fudgy and dense or light and cakey. I believe I've achieved the perfect balance of both worlds. A touch of baking powder to provide a little bit of lift needed to get the texture you're used to seeing in a boxed brownie mix.
It's true, most brownie recipes actually don't include a leavening agent. However, I found this was a real game-changer in achieving the type of texture you'll find in a boxed brownie mix while maintaining the fudgy centers.
Triple Chocolate (Aka the Gooey, Fudgy and Dense Centers)
Don't overbake the brownies! Your toothpick will still be gooey but not too "wet". There's also THREE different ways we're incorporating chocolate into this recipe. A combination of melted chocolate and cocoa powder produce a rich and dense texture, and added chocolate chip give you the gooey finish.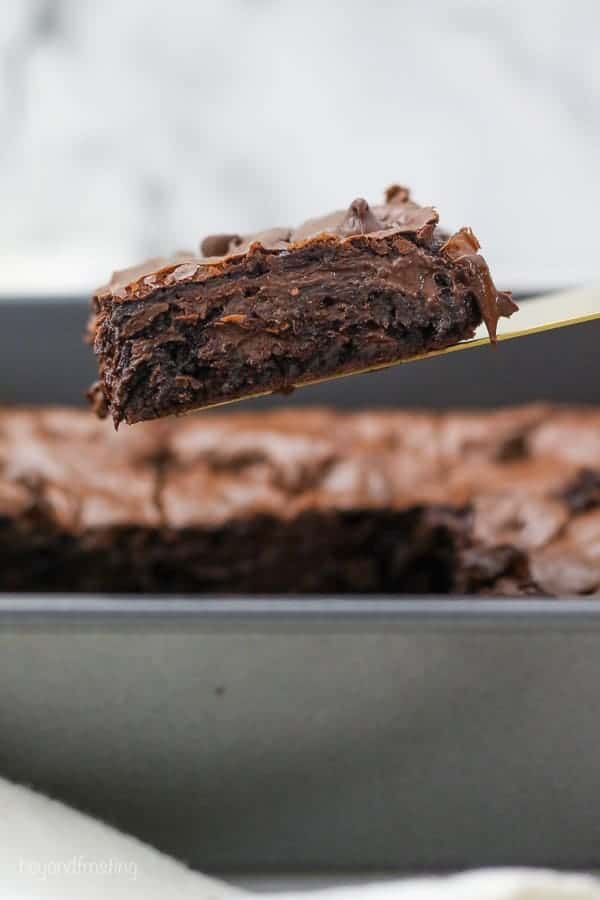 3 Key Ingredients for the Best Brownies from Scratch
One: Cocoa Powder, the "secret" to the best & richest flavors
As I previously mentioned, lots and lots of recipe testing was done to get the best results, including testing three different cocoa powders.
I'm proud to say I've created a cocoa powder snob in my husband.
This recipe was tested with three different cocoa powders:
Hands down, the winner every time was Rodelle cocoa powder. I don't always bake with a Dutch process cocoa powder, but it has the smoothest, richest flavor of the three. It also happens to have some of the highest levels of cocoa butter on the market.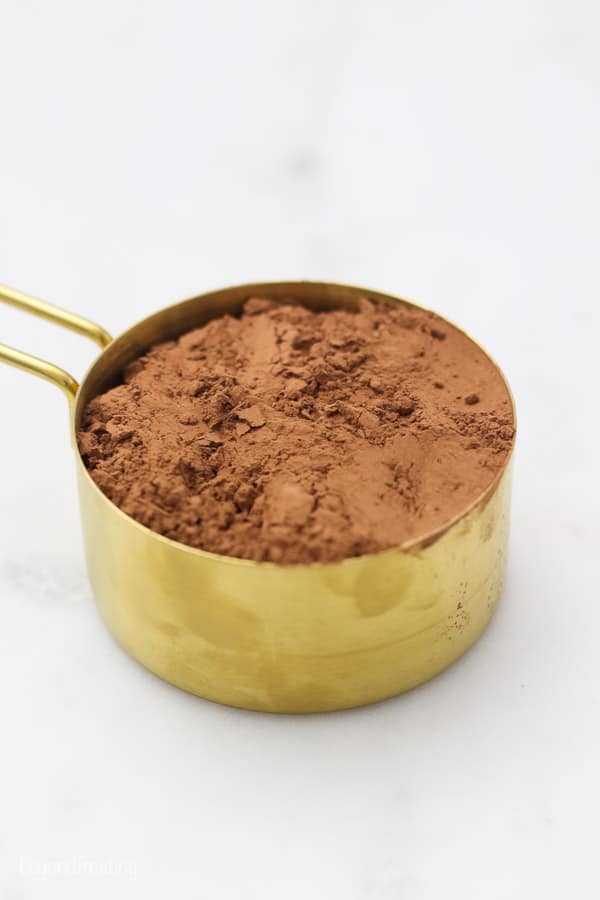 However, this recipe will work with any cocoa powder.
It's really the combination of the cocoa powder and chocolate that gives this recipe its edge. They go hand-in-hand in how the final results are achieved.
Two: Melted Chocolate, the secret to the fudgy & dense texture
This recipe calls for 4 ounces of melted chocolate that gets mixed right into the brownie batter. If I've learned anything through the years of baking, it's that the chocolate matters!
Personally, I love dark chocolate, it has the deepest and richest flavor. When a recipe calls for melted chocolate, it's really important that you buy high quality ingredients. Your standard Hersey's bar doesn't cut it for me, sorry.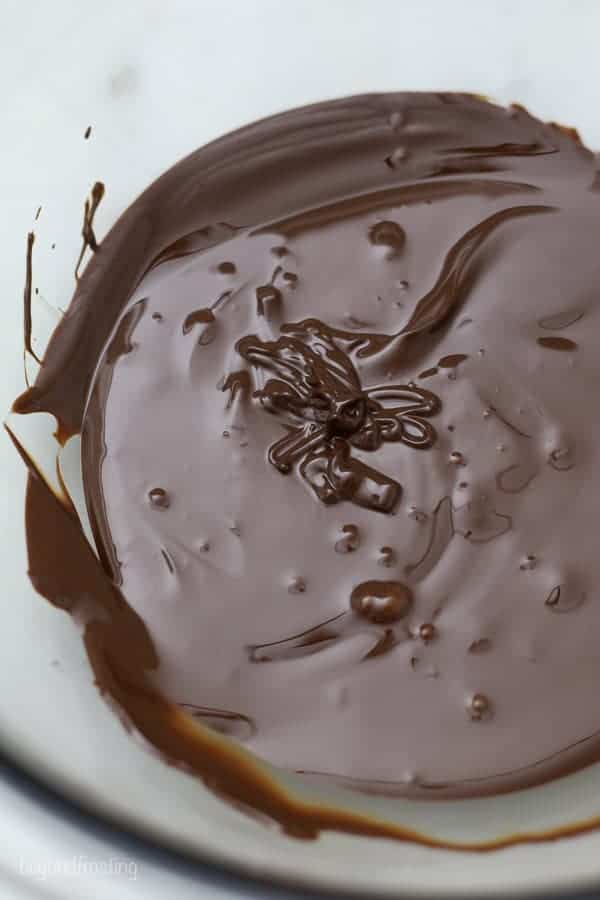 Tips for Chocolate Success:
Use a high-quality chocolate bar, at least 60% cocoa or higher. Brands like Ghirardelli, Lindt and Guittard are probably the most readily available in the baking aisle. One 4-ounce bar is what you'll need for the batter.
Melt the chocolate in the microwave at 50% power. This allows the chocolate to melt slowly in order to prevent burning or seizing. Stir it occasionally, every 30-60 seconds.
Chocolate chips are not the same as a chocolate bar. Chocolate chips generally have a wax-like coating, so they don't melt down as smooth and creamy as bars. They are also less sweet than chocolate bars.
However, you can make this recipe with chocolate chips if you don't have a baking bar. A 4-ounce chocolate bar is equivalent to a heaping ½ cup of chocolate chips.
Three: Triple Chocolate – Don't forget the gooey finisher
These brownies are just better when you finish them off with chocolate chips or chopped chocolate that's been folded in the batter at the end. Out of the oven they're melty, gooey, lick-your-fingers good. Once they have time to set and cool, they offer texture and exploding pockets of chocolate.
Now that I've given you the 3 secret weapons to make the best brownies ever, let me give you a quick breakdown of how the combination of these three components can affect the taste.
As written in the recipe, a melted dark chocolate bar with Rodelle cocoa and either dark or semi-sweet chocolate chips is by far the best.
Melted semi-sweet chocolate chips with either of the Hershey's cocoa powders and semi-sweet chocolate chips will result in a little bit more of a bitter cocoa, less sweet finish.
For a milk chocolate brownie, use melted semi-sweet or milk chocolate with regular (natural) Hershey's cocoa powder. This is the least sweet (least rich) of all 3.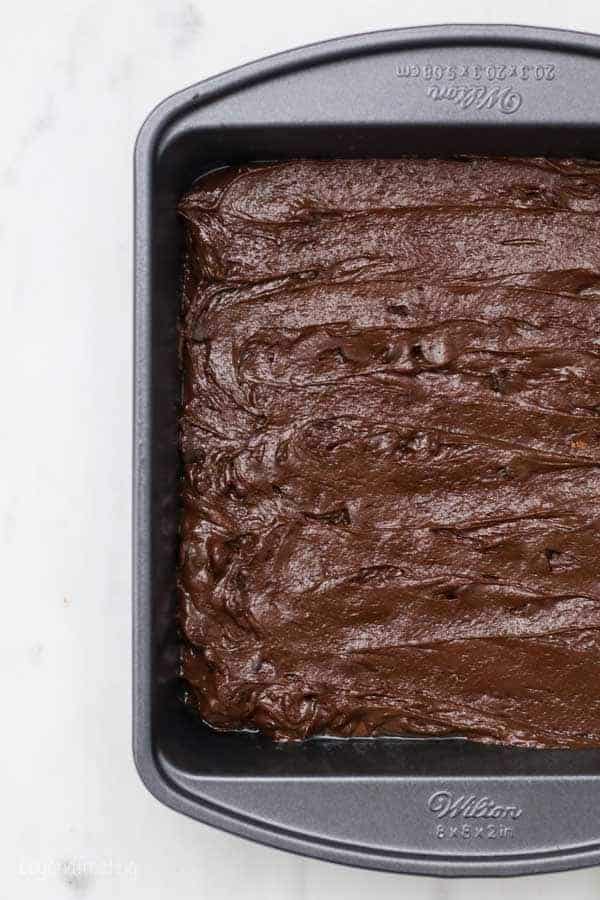 Tips for the Best Brownies
First combine the melted butter with the granulated sugar and beat them together until they're nice and creamy. This will give your brownies a nice, smooth texture (refer to picture below)
Eggs and egg yolks: the addition of the egg yolk helps to achieve a denser result due to the extra fat. It's REALLY IMPORTANT that you spend 1-2 minutes beating the eggs into the butter and sugar until the mixture if fluffy, it should resemble cake batter. This is what gives you the flakey layer on top.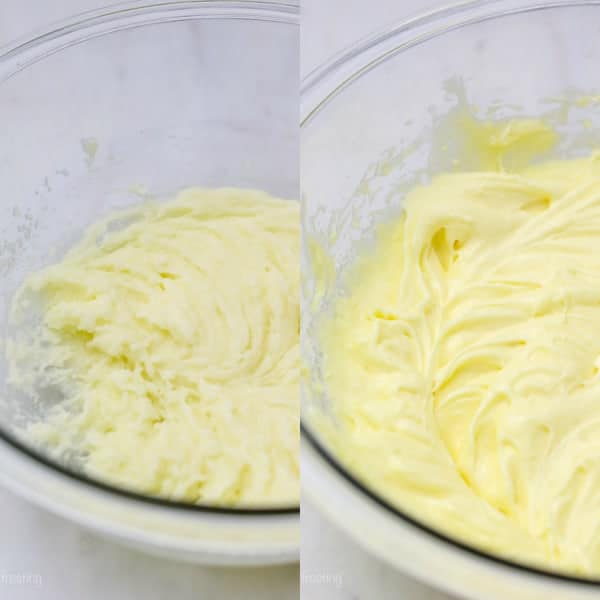 Melted chocolate and vanilla: In the recipe I note to melt the chocolate first, so that it has time to cool. There's also no shortage of vanilla in this recipe. Scrape down the bowl and ensure all the ingredients are well mixed before adding in the dry ingredients
Dry ingredients: equal parts flour and cocoa powder, with salt and baking powder. If possible, sift the flour and cocoa powder through a fine mesh sieve for the best results, it's not required but cocoa powder is naturally clumpy. Mix just until combined.
Chocolate chips: did I mention this is a triple chocolate brownie? Fold them into the batter at the end and leave some to sprinkle on top. Be sure to scrape down the bottom of the bowl to get any remnants that didn't get incorporated.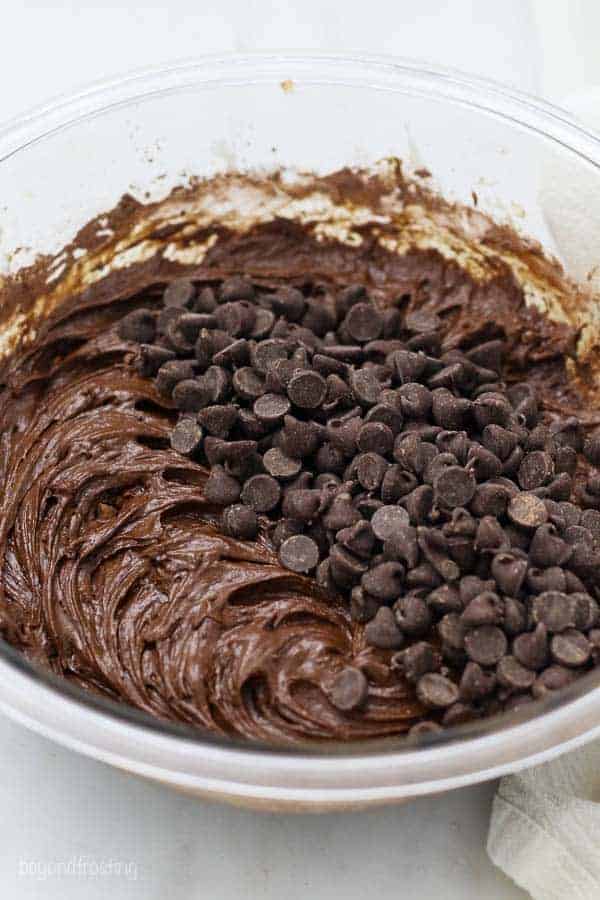 Generously grease your pan. It's common for a brownie recipe to call for lining the pan with parchment paper, but I find the edges don't get as crisp. So, I choose to grease the pan instead. It's up to you!
Variation Ideas
There're lots of ways you can make these brownies to personalize and suit your own unique taste:
Add a tablespoon of instant espresso powder for an even deeper, richer chocolate flavor
Add chopped nuts or change the flavor of chips (white chocolate, butterscotch, peanut butter, etc).
Want to make them even more decadent? Add a layer of ganache on top.
Please be sure to see the notes in the recipe for the different types of baking pans and different size pans you can use to make this recipe.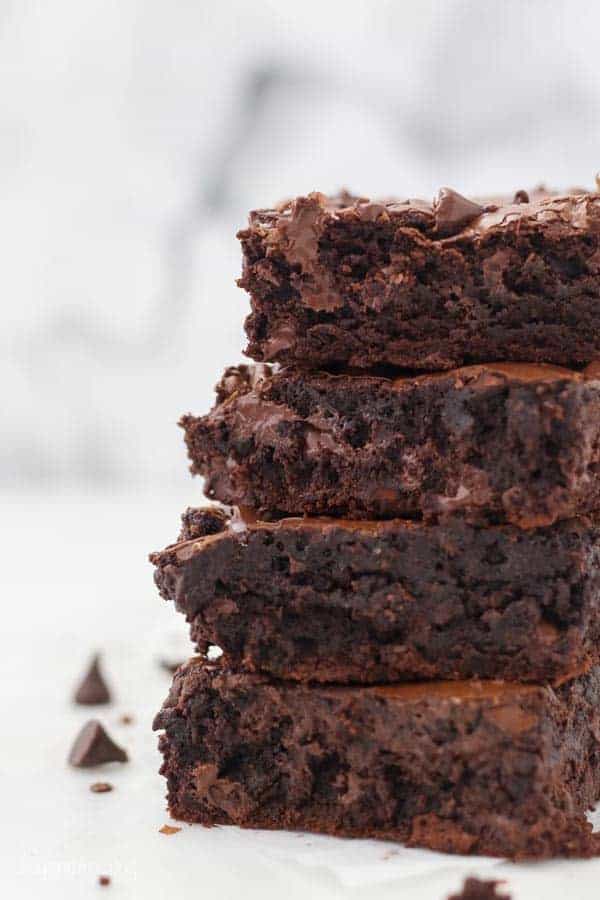 I sincerely hope that you'll make these, as I know you'll fall in love with them the same way I have. Now that I've perfected what I like to call the BEST brownies using my from scratch recipe, I don't think I'll ever make a boxed brownie again.
Follow Beyond Frosting:
Facebook | Twitter | Pinterest | Instagram
Print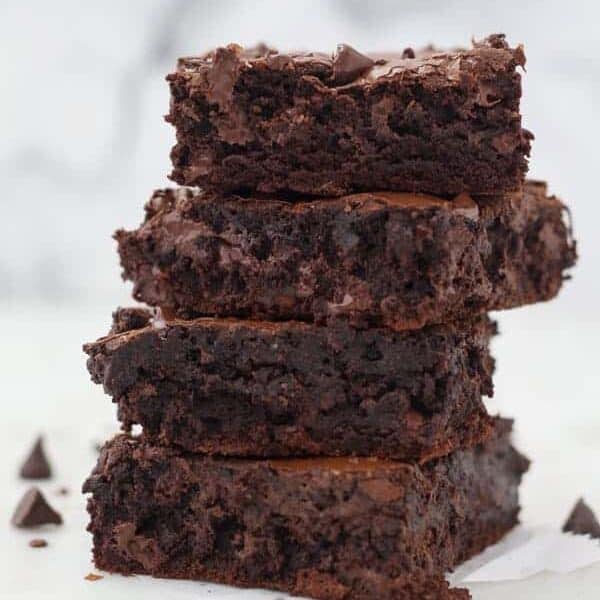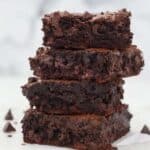 Homemade Fudgy Brownies Recipe
Author:

Prep Time:

15 minutes

Cook Time:

22 minutes

Total Time:

37 minutes

Yield:

8 slices
Description
These gooey Homemade Brownies are better than any boxed brownies you'll ever make. The middle is dense, rich and fudgy with a flakey layer on top. If you've never made brownies from scratch, you're sure to love this easy recipe.
Ingredients
4 ounces

dark chocolate, melted (see notes)

½ cup

(

113g

) unsalted butter, melted

1 cup

(

190g

) granulated sugar

2

large eggs

1

large egg yolk

1 tablespoon

(15ml) pure vanilla extract

½ cup

(

70g

) all-purpose flour

½ cup

(

55g

) Rodelle cocoa powder, sifted (see notes)

¾ teaspoon

salt

½ teaspoon

baking powder

¾ cup

(

135g

) semi-sweet chocolate chips
Instructions
Preheat the oven to 350°F.
Chop the chocolate into smaller pieces and melt the chocolate in a microwave-safe bowl for approximately 2 minutes at 50% power. Stir occasionally and microwave until completed melted and smooth. Set aside to cool.
Melt the butter in a microwave-safe bowl and combine with the granulated sugar; beat together until well combined.
Next add the egg and egg yolk and beat for 60-90 seconds at a higher speed until the batter is fluffy (texture resembling a cake batter).
Then add the vanilla extract and melted chocolate and beat until combined.
Combine the dry ingredients in a separate bowl and stir to combine. Add the dry ingredients to the batter and mix just until combined. Fold in the chocolate chips with a spatula.
Generously grease an 8-inch baking pan. Spread the batter evenly and bake at 350°F for 20-24 minutes. Toothpick should still be somewhat gooey but not wet in the center. Remove from the oven and allow to cool prior to cutting. Store in an airtight container.
Notes
Melted Chocolate: I recommend using a high-quality baking bar such as Ghirardelli or Lindt. They melt down much smoother. These are best with dark chocolate, but any type of melted chocolate will work. 4 ounces of chocolate is equivalent to a generous ½ cup of chocolate chips. If you don't have a chocolate bar, then you can use chocolate chips.
Beating the sugar: It's important to beat the sugar into the melted butter to allow the sugar to dissolve.
Whipping the eggs: Be sure to beat your eggs and yolk until the batter is really light and fluffy, resembling a cake batter. This ensures the flakey crust on top. See blog post for additional notes and photos.
Cocoa Powder: I recommend Rodelle Cocoa powder. It all my tests, it had the best taste and texture. It's a Dutch-processed cocoa powder. However, any cocoa powder will work, this recipe has been tested using several varieties.
Substitutes for butter: ½ cup of vegetable or coconut oil can be substituted for melted butter if needed, but melted butter produces the best results.
Salted vs Unsalted butter: If using salted butter, reduce the salt by at least half
Baking Pans: This can be made in an 9-inch square or round pan. The baking time is approximately 20-22 minutes depending on the type pan used. I use dark non-stick pans sprayed with cooking spray. Glass pans will always require a longer baking time. After 22 minutes, I check my brownies every 1-2 minutes. If you stick a toothpick in the center of the brownies, it will still be gooey but not as "wet". The brownies will continue to bake for several minutes as they cool.
For a large batch, double this recipe and bake in a 9 by 13-inch pan. Baking time is similar.
How to store or freeze these: Store in an airtight container or freeze for up to 1 month. To freeze the brownies, first allow them to cool completely, slice and wrap the brownies tightly in plastic wrap and then again in aluminum foil before placing them in the freezer. Thaw prior to eating.
Reheat the brownies if desired for 10-20 seconds in the microwave for that fresh-from-the-oven taste. Serve with vanilla ice cream.
Category:

Brownies

Method:

Baked

Cuisine:

American
Keywords: homemade brownies, best brownies, brownies from scratch, easy brownies recipe, how to make brownies
Recipe Card powered by