This post may contain affiliate sales links. Please see my full disclosure policy for details
These Maple Walnut Cupcakes with Brown Butter Frosting are the perfect combination of a moist vanilla cupcake infused with real maple syrup and buttery walnuts. The brown butter frosting adds to the overall nutty finish of these cupcakes.
This post is sponsored by ADA Mideast. All opinions are my own.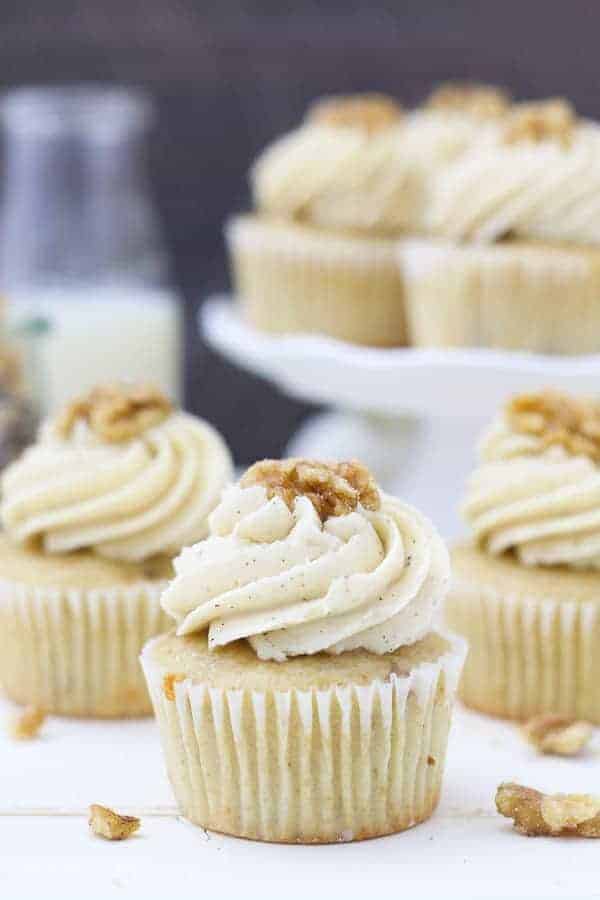 I love trying new cupcake recipes and playing around with different flavor combinations. I am pulling out all my favorite Vermont-inspired flavors for these Maple Walnut Cupcakes with Brown Butter Frosting.
As we head into the holiday season, I am partnering with my friends from the American Dairy Association Mideast to bring you this recipe. With all the holiday baking going on, I know I am not the only one buying up all the butter and cream cheese! I actually love to stock up on those ingredients this time of year because they're always on sale!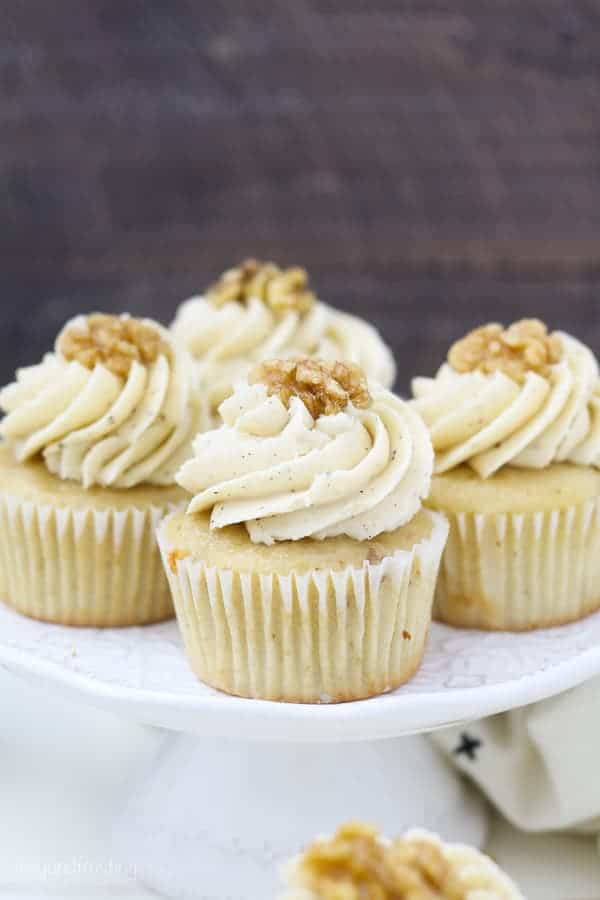 During my visit in Ohio, I learned all about what is means to be on the farm during these harsh winter months. Do you ever drive by the dairy farm and wonder if those cows are cold? I know I did when I was kid. Growing up on the east coast, temperatures below zero were a frequent visitor during the winters.
In the winter, cow care routines on the dairy farms change, which means bedding the cows more often. Most barns are equipped with curtains that may be manually raised or lowered to protect cows from cold weather and whipping winds. The calves also wear jackets to help conserve heat and stay warm, much like we put on jackets to keep us warm.
I like to keep my house warm by turning on the oven to bake, especially if there are cupcakes involved. This is a very easy recipe. It's an oil-based cupcake recipe, so you can get these cupcakes into the oven about 10 minutes after you start.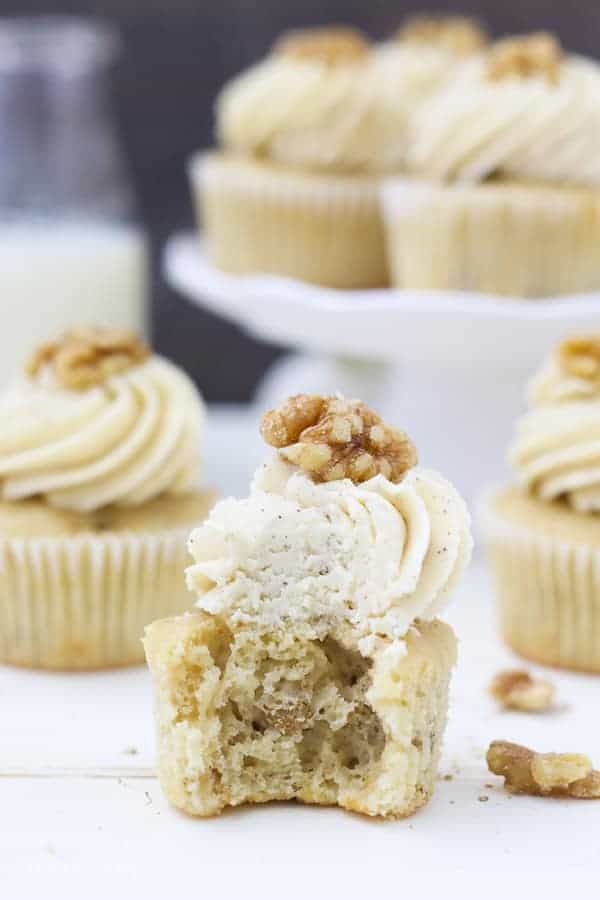 These cupcakes are based off my moist vanilla cupcake recipe as a base, but I've tweaked a few ingredients.
There's a combination of white and light brown sugar in this recipe. The brown sugar helps bring out the subtle maple & caramelized flavors in these cupcakes.
You won't find that these cupcakes are overly sweet. There's a hint of maple in the cupcakes, as well as the frosting. I chose to use 100% pure maple syrup instead of maple extract.
If you'd prefer a stronger maple flavor, you might consider substituting some of the vanilla extract with maple extract. Personally, I just prefer the taste of pure maple syrup myself.
Pretty much anything maple flavored is a go in my house.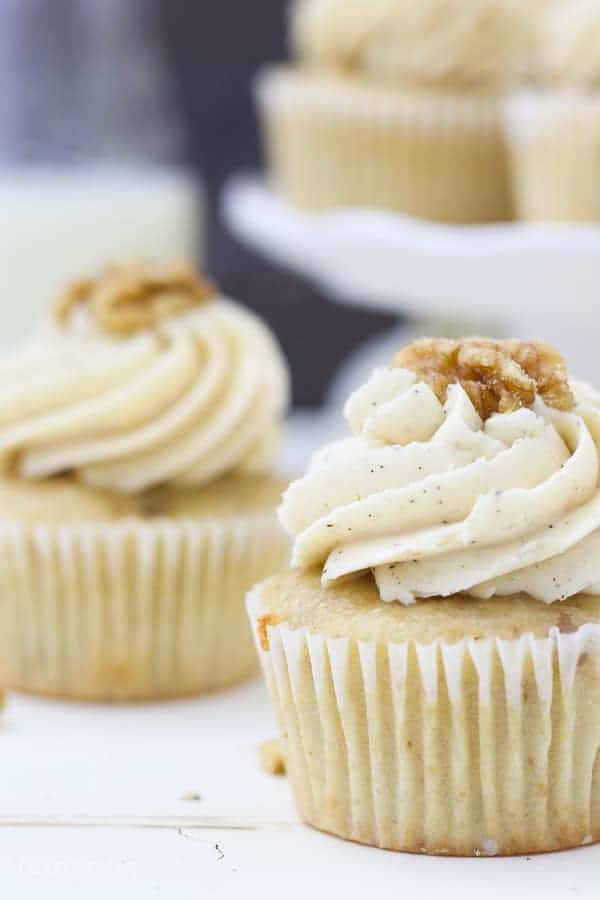 We're taking this cupcake to the next level with brown butter. Brown butter is an easy way to amplify your desserts. You can swap out brown butter for melted butter is most recipes whether they're sweet or savory!
For the frosting, it's a whipped brown butter frosting. This frosting is pretty much AH-mazing. The brown butter adds an element of flavor with a nutty finish with a hint of maple syrup. It really compliments these cupcakes well.
If you're not comfortable making brown butter frosting, let me walk you through the steps. It's much easier than you think!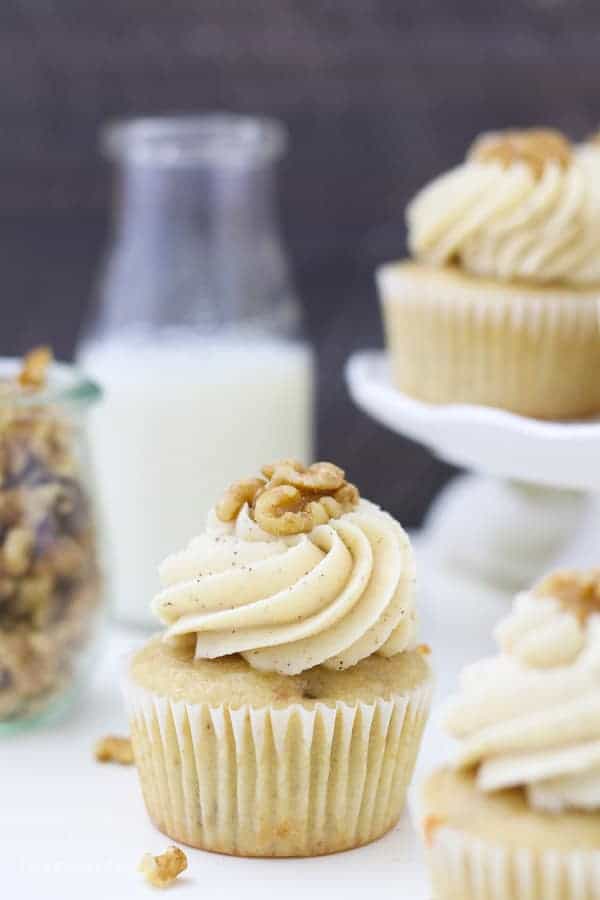 How to make brown butter frosting:
Start by making the brown butter. In a small sauce pan, melt the butter. It's helpful to cut it up before you melt it.
Once it's starts boiling, stir frequently and after it's been boiling for a couple minutes, you'll notice some brown specs in the bottom of your bowl. That's the milk solids and butter fat.
The butter will slowly start to turn an amber color and releases a nutty aroma. You can determine how much amber (or browning) you'd like, the darker the color, the richer the flavor. However, it can go from brown to burned rather quickly, so once the browning process starts, keep a really close eye on it and stir constantly.
Remove the butter from the heat and allow it to cool completely. Sometimes I throw it in the fridge if I need to speed up the process, but you do NOT want it to turn back to a solid. It should be cooled enough that it won't further melt anything it comes in contact with. So, if it's just warm to the touch, that's ok.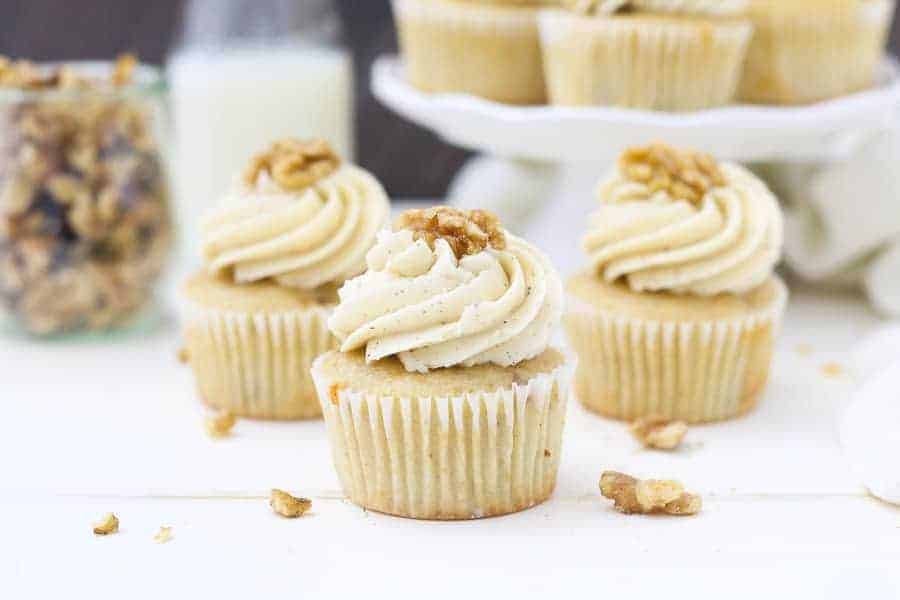 Before adding the brown butter to your frosting, you want to make sure it already has a solid, whipped foundation of butter and powdered sugar. The brown butter is one of the last things I add.
If you feel like your frosting is not stiff enough, you can add one additional cup of powdered sugar.
This frosting is best when it's served right away when it whipped and soft. As this frosting sets, it will become slightly firmer and it will "crust" over. This happens because the brown butter stiffens the frosting as it sets, since it's added in a liquid form.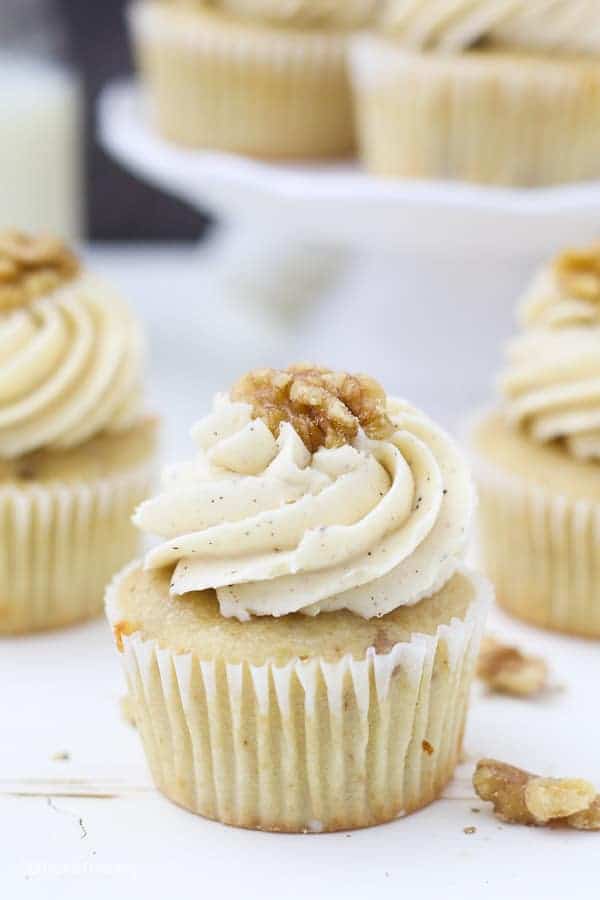 If you're looking for more recipes with brown butter, I've got a few other cake recipes I've shared below. This is my favorite time of year for baking!
If you have a chance, I'd love you to meet Ohio and West Virginia dairy farmers, learn more about how farmers care for their cows and follow milk's journey from farm to fridge, visit Drink-Milk.com, and follow the American Dairy Association Mideast on Facebook, Twitter, Instagram and Pinterest.
Remember that farming is a 365-day a year job. On Christmas and every day, dairy farmers are committed to providing excellent care for their cows, producing safe, healthy milk and protecting the environment for future generations. If you've ever wondering what Christmas morning is like on the farm, check out this story from dairy farmer Brenda Hastings.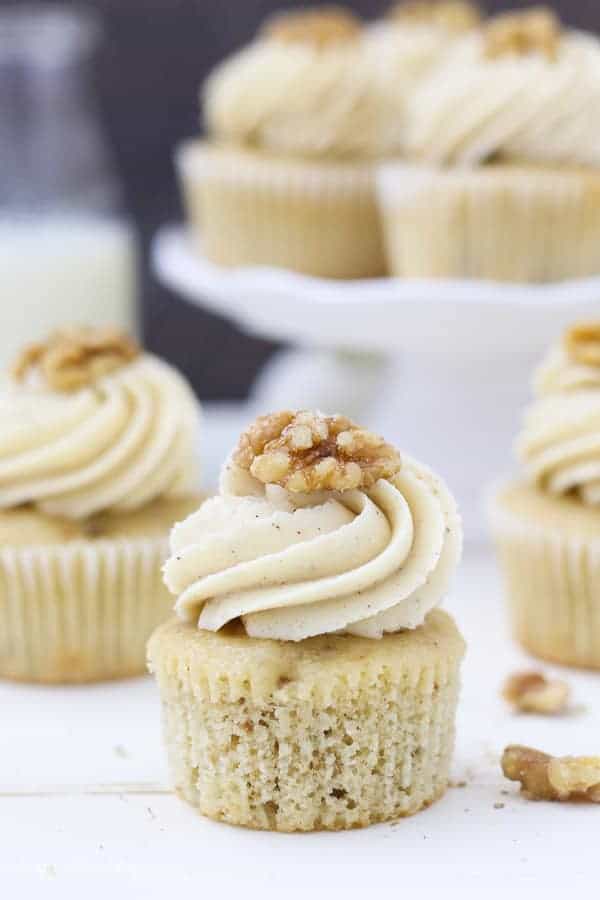 Follow Beyond Frosting:
Facebook | Twitter | Pinterest | Instagram
If you love no-bake recipes, be sure to check out my cookbook, No-Bake Treats!
Print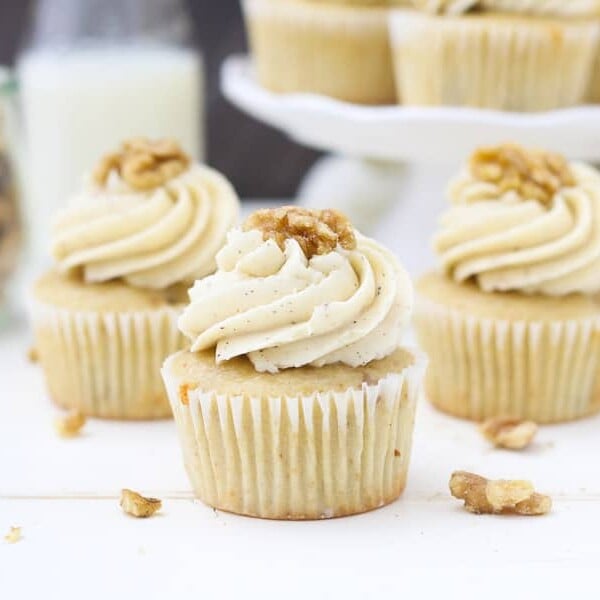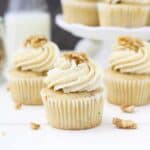 Maple Walnut Cupcake
Author:

Prep Time:

30 minutes

Cook Time:

14 minutes

Total Time:

44 minutes

Yield:

14 cupcakes
Description
These Maple Walnut Cupcakes with Brown Butter Frosting are the perfect combination of a moist vanilla cupcake infused with real maple syrup and buttery walnuts. The brown butter frosting adds to the overall nutty finish of these cupcakes.
Ingredients
For the cupcake
¾ cup

of granulated sugar

¼ cup

light brown sugar

¼ cup

vegetable oil

2

large eggs

¼ cup

sour cream

2 tablespoons

maple syrup

2 teaspoons

vanilla extract

1 ¼ cup

all-purpose flour

1 ½ teaspoons

baking powder

½ teaspoon

salt

2/3 cup

milk

½ cup

walnuts, chopped
For the frosting
¾ cup

unsalted butter, cold

½ cup

unsalted butter, browned and cooled

4 cups

powdered sugar

1 tablespoon

maple syrup

1 teaspoon

vanilla extract

1/8 teaspoon

salt

14

whole walnuts for garnish
Instructions
Preheat the oven to 350°F. Line a cupcake pan with cupcake liners.
In a large mixing bowl, combine the sugars, vegetable oil, eggs, sour cream, maple syrup and vanilla extract. Beat on medium speed until well combined. Scrape down the bowl as needed.
Add the dry ingredients and the milk and continuing beating until the flour is well incorporated. Scrape down the sides of the bowl and add the chopped walnuts and stir to combine.
Using a large cookie scoop, divide the batter evenly, filling each liner 2/3 full.
Bake at 350°F for 14-15 minutes. Test the cupcakes for doneness by inserting a toothpick into the center of the cupcake. If the toothpick comes out clean, the cupcakes are done. Cool Completely.
For the frosting: To brown the butter, use a small saucepan, and cut the butter into pieces. Melt the butter over medium heat and allow it to boil and bubble. Once it's starts boiling, stir it frequently and it will slowly start to turn an amber color and releases a nutty aroma. Remove the butter from the heat and allow it to cool completely.
Cut the remaining cold butter into pieces. Using the paddle attachment of your stand mixer, whip the butter for 2-3 minutes, scraping down the bowl occasionally. Beat until the butter looks light in color.
Add 2 cups powdered sugar and mix on medium speed until the powdered sugar is incorporated into the butter.
Next, add the remaining powdered sugar, maple syrup and cooled brown butter into the frosting and beat it into the butter until the frosting is completely smooth. Then beat it at a high speed for 1 minute to whip some additional air into the frosting.
Pipe the cupcakes using a large open star tip and top with a walnut. These are best served fresh. The frosting will firm up the longer it set.
You might also like:
Salted Caramel Butterscotch Cake with Brown Butter Frosting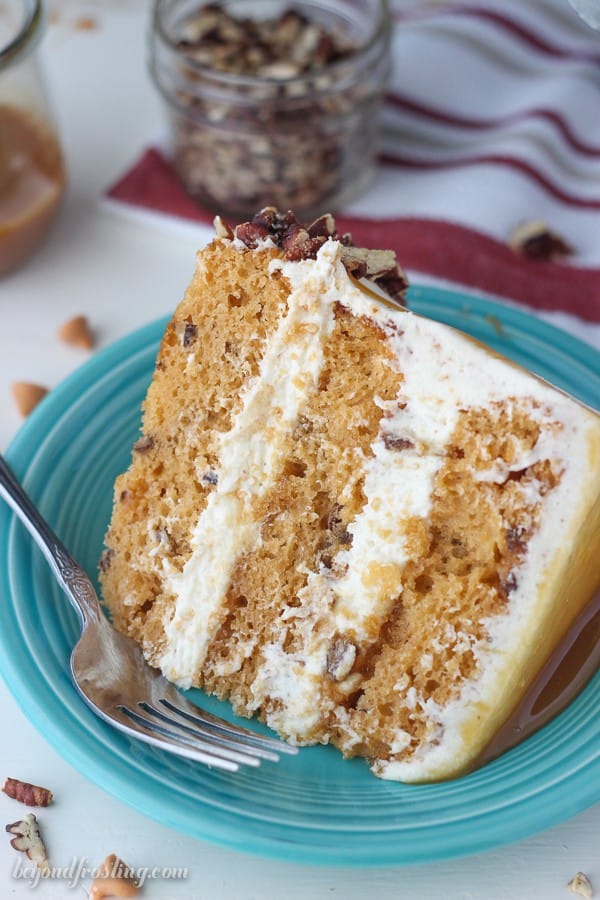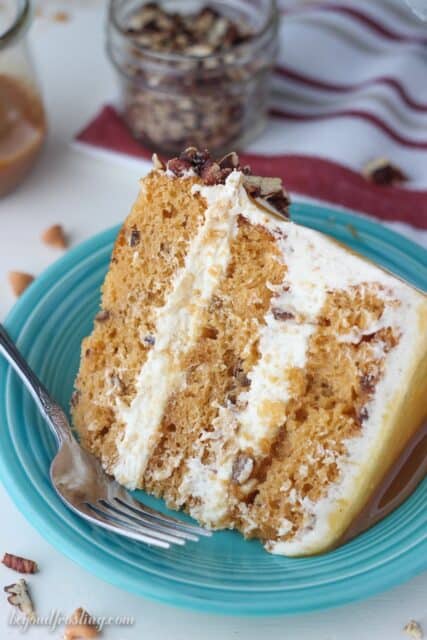 Chocolate Zucchini Cake with Brown Butter Frosting