This post may contain affiliate sales links. Please see my full disclosure policy for details
Champagne and orange make this mimosa French toast taste just like the drink it's named after! Perfect for a weekend brunch with friends!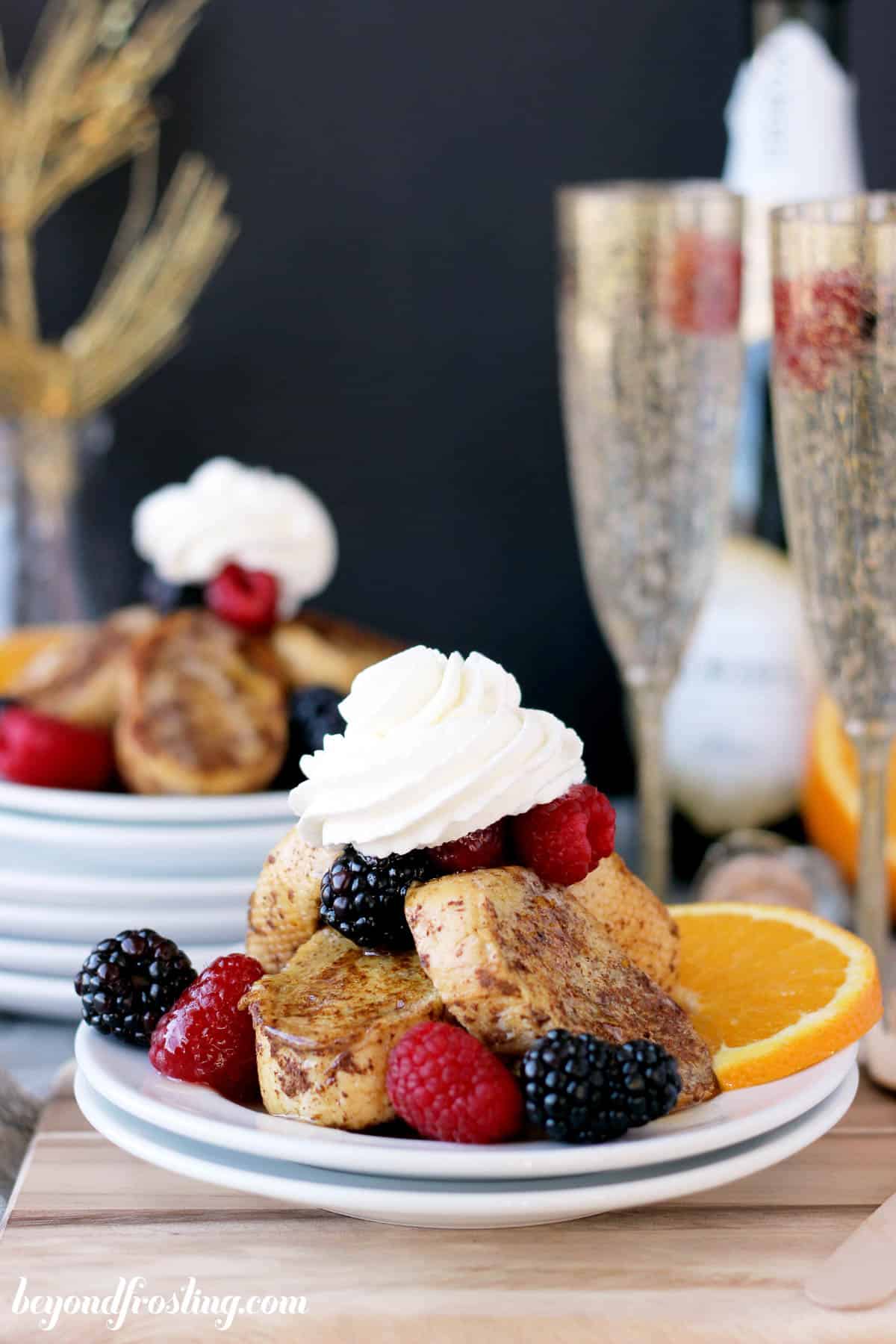 I really hope that everyone enjoyed his or her Christmas! It seems like it came and went super quickly for us. We had a bit of a rough one though. It started on a good note with a trip to Disneyland with my boyfriend's family. I hadn't been since I was twelve! We rode on several rides, ate lots of Churros and enjoyed a nice dinner at the Blue Bayou.
The next morning, my boyfriend and I headed out early for a few days of snowboarding in Big Bear. We had to call off our trip early when I took a bad fall off a rail and nailed my head on the snow- causing me to chip half of my front tooth! It was quite uncomfortable – I will spare you the photos. After being cleared of serious injury in first aid, we headed to a local dentist with whom, I pleaded to fix my tooth before they closed for Christmas. He graciously fixed me up and I am praying that a root canal is not in my future.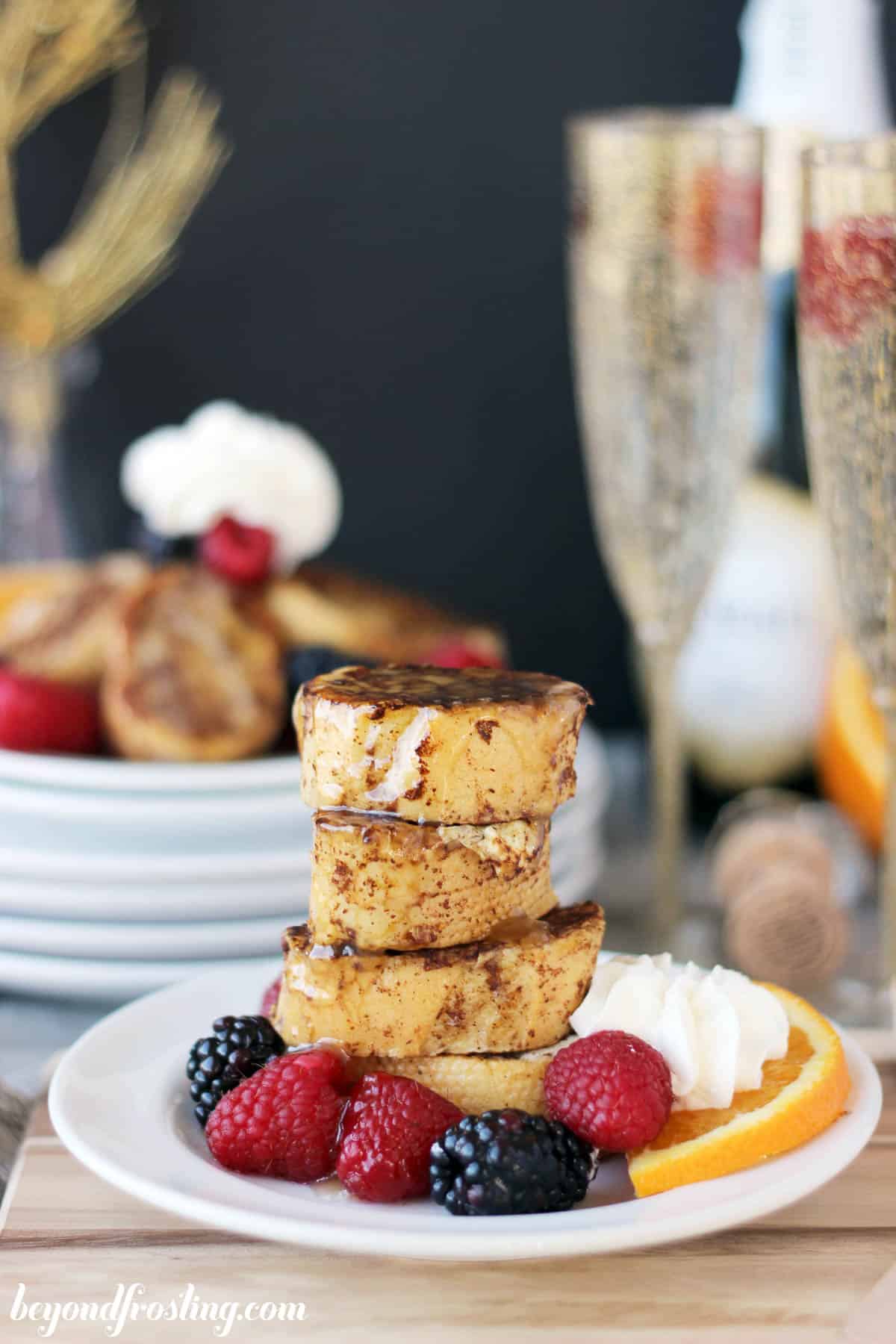 Christmas day was off to a great start. I got up early to make my great grandmother's cinnamon rolls. We enjoyed a quite morning exchanging gifts and I drank a few mimosas. I
was so pleasantly surprised to receive a new glass-mixing bowl for my stand mixer along with a few other new gadgets! Unfortunately, towards the mid-morning, my boyfriend started feeling ill and ended up with some sort of food poisoning that knocked him out for the rest of the day. Thankfully it has worn itself out of his system today. We have been lying low together.
Anyway, we have the rest of the week, until January 2nd off before we have to go back to work. That hopefully means I will be coming up with lots of new recipes to start you off in January!!!
But first, let's start with this Mimosa French Toast!! I spent a better part of Christmas day flipping through my dozens of magazines and pulling inspiration. I saw an orange marmalade French toast sandwich that inspired me to make this recipe, just in time for New Years!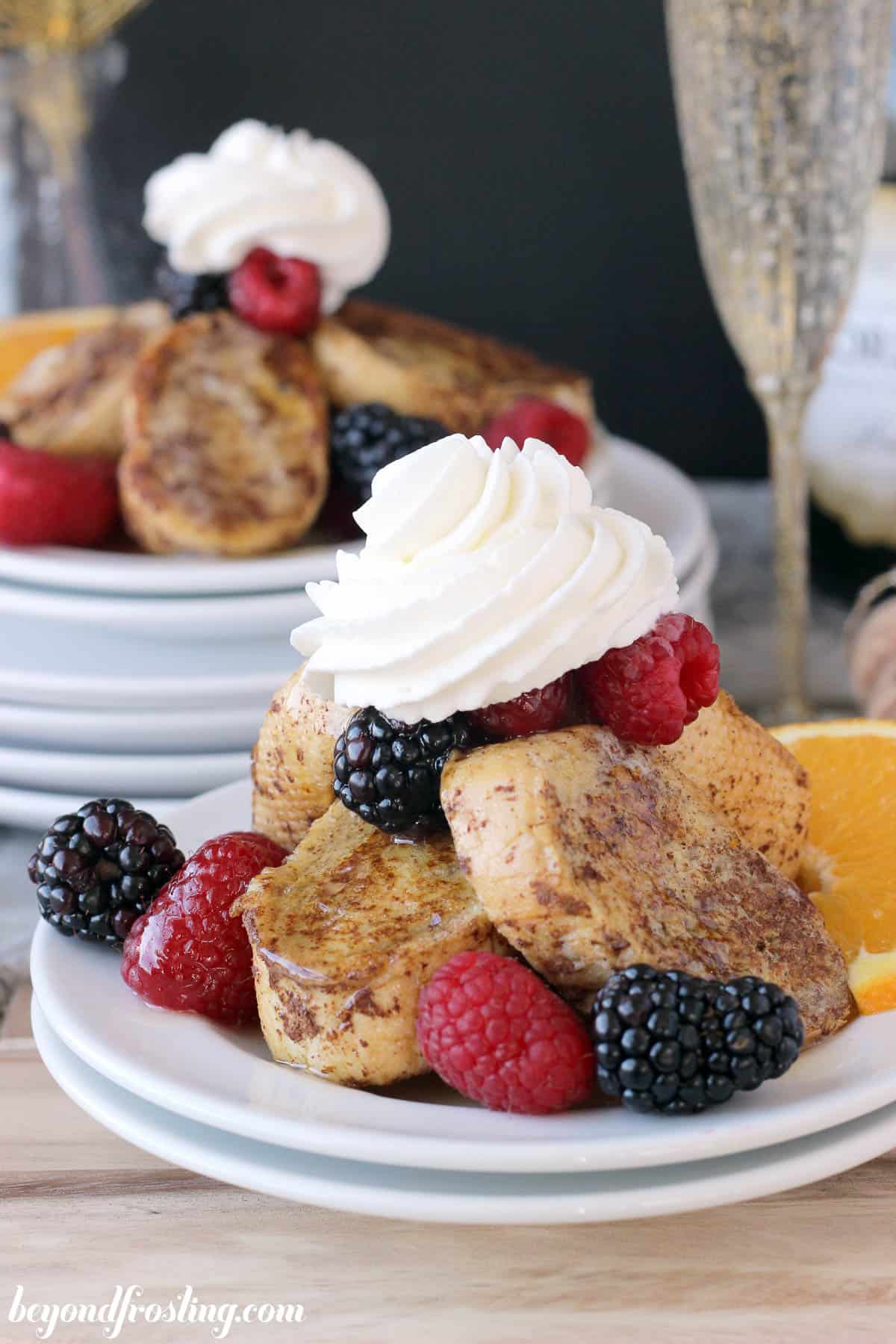 This Mimosa French Toast uses a batter infused with fresh-squeezed orange juice and orange zest. The berries are soaked in champagne- I don't think I can ever eat plain raspberries again! There is no maple syrup necessary for this, because it is covered in a champagne glaze and topped with fresh whipped cream.
The whipped cream is optional of course, but always a nice touch for me. You can sprinkle with powered sugar instead if you like. Perhaps my most favorite part (besides the soaked berries) is the mini bites of French toast; I used a fresh baguette loaf for the bread. This recipe is enough to serve 4 people- I got about 25 mini piece of French toast from the loaf. I am not afraid to admit I ate an entire plate to myself when I was done shooting. It is the best thing to happen to breakfast since Cinnamon Toast Crunch.
Print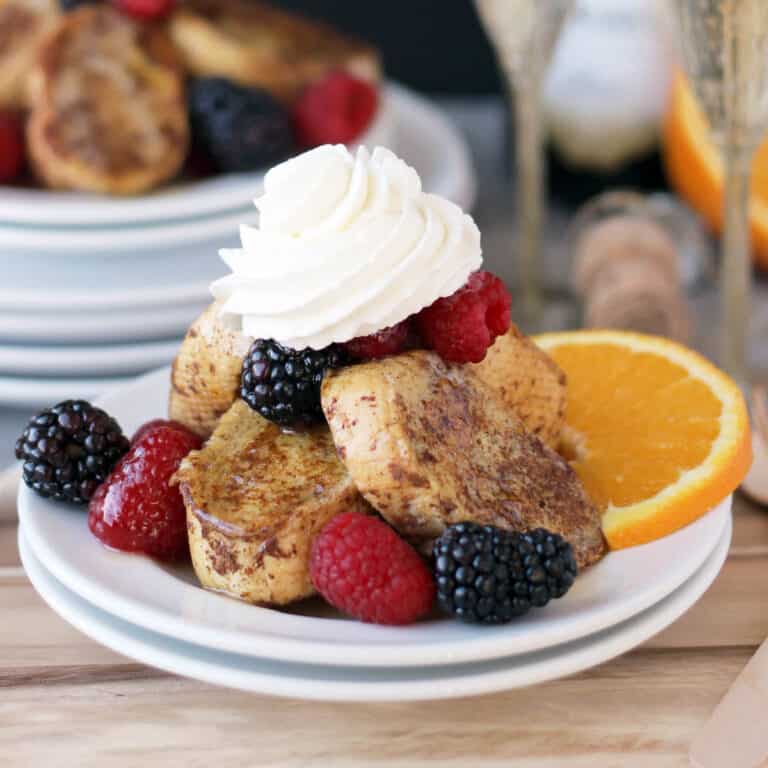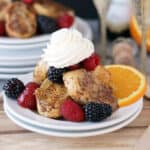 Mimosa French Toast
Author:

Prep Time:

15 minutes

Cook Time:

2 minutes

Total Time:

17 minutes

Yield:

4 servings
Description
This delicious french toast recipe is perfect for a weekend breakfast or brunch. But what makes it special is the addition of orange juice and champagne, giving it a delightful mimosa flavor!
Ingredients
For the Berries
3

C Mixed berries

1

C Champagne
For the whipped cream (optional)
1

C Heavy whipping cream

2 tbsp

Powdered sugar
For the French Toast
1

Large Baguette loaf

4

Large eggs, scrambled

1/4

C Milk

2 tsp

Cinnamon

1/4 tsp

Nutmeg (optional)
Zest from

1

large orange
Juice from

1

large orange
For the syrup
1/4

C Butter, melted

2 tbsp

Water

1/2

C Sugar

1/4

C Champagne

1 tbsp

Orange juice
Instructions
Prepare the berries by soaking them in Champagne for about 30 minutes. Combine fruit and champagne in a deep dish and set aside.
Prepare the whipped cream by combining heavy whipping cream and powdered sugar in your mixing bowl. Beat on high speed until stiff peaks form, about 3-4 minutes. Set whipped cream in the fridge until ready.
To prepare the French toast, slice the baguette into 1" slices.
Combine eggs, milk, cinnamon, nutmeg, orange zest and orange juice in a medium sized bowl. Soak bread for a few minutes on each side.
Preheat pan on medium-high heat. Lightly spray with cooking spray. Place soaked bread into pan and cook for about 1 minute on each side until slightly brown. Remove bread from pan and set aside until all bread is cooked.
To prepare the syrup, melt butter in a saucepan over medium-high heat. Add water and sugar and whisk to combine. Boil on medium high for 5 minutes until bubbling and thick, stir occasionally to prevent from burning.
Remove the syrup from heat and stir in champagne and orange juice. You can use the champagne that the berries are soaking in!
To assemble the French toast, drain the liquid from the berries. Place French toast on plate and sprinkle with champagne soaked berries. Graciously drizzle with glaze. Top with whipped cream or sprinkle with powdered sugar if desired. Serve warm.
Category:

Breakfast

Method:

Stovetop

Cuisine:

American
Keywords: best french toast, homemade french toast, brunch ideas