This post may contain affiliate sales links. Please see my full disclosure policy for details
My family has been making these soft and fluffy Overnight Cinnamon Rolls for at least 4 generations! They're guaranteed to be the best homemade cinnamon rolls you've ever had.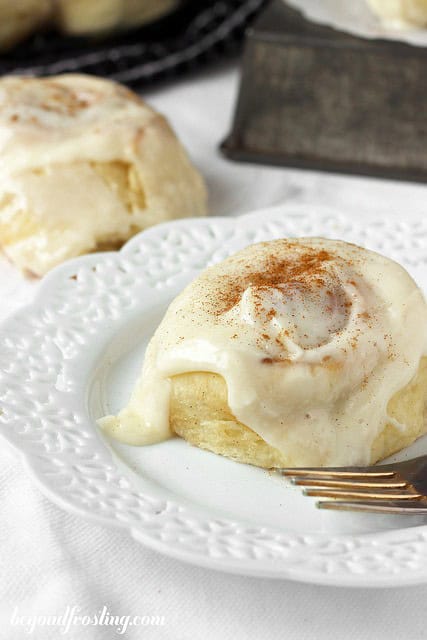 Fluffy Cinnamon Rolls Made From Scratch
I've been waiting for quite some time to share this recipe with you. I couldn't just share these overnight cinnamon rolls at just any old time. I saved them for a special occasion. These rolls make an appearance in our house for occasions like Christmas, birthdays, and Valentine's day. This weekend we have both a birthday and Valentine's day.
This is not just any ordinary Cinnamon Roll recipe. These are Mamagirl Overnight Cinnamon Rolls. I am at least the fourth generation to be baking these cinnamon rolls.
Mamagirl, my great grandmother was from the south, Alabama to be specific. She passed this recipe to my grandmother, Edwina who taught my mom, who taught me. If it has lasted this long, you know it much be good!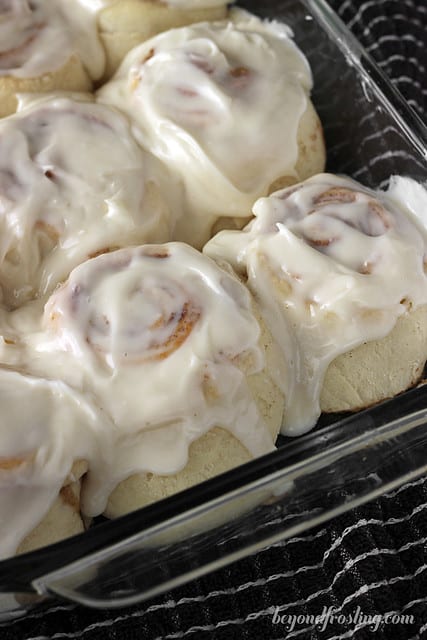 Every major holiday my mom makes Mamagirl Rolls, which are served with dinner. So we started doubling the recipe and using the leftover dough to make cinnamon rolls the next morning.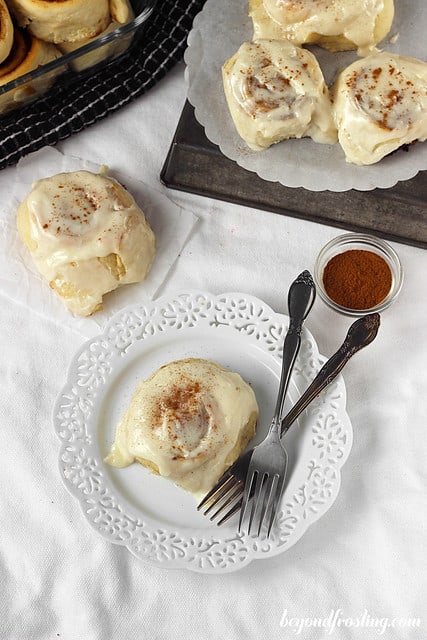 My husband LOVES cinnamon rolls, specifically Cinnabon. So during our first Christmas together, I wanted to share my family tradition with him- Mamagirl Rolls on Christmas morning. I've made them every Christmas since we started dating, and a few Valentine's days too.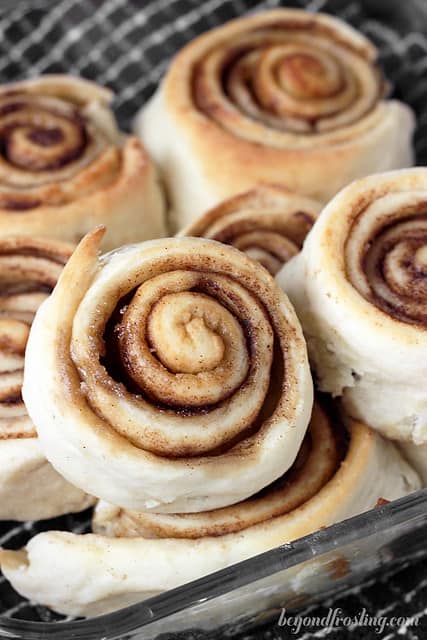 When I made this batch of rolls, I specifically searched for a copy-cat recipe for Cinnabon icing. Their recipe is a cream cheese icing with a touch of lemon. The recipe I used was from The Slow Roasted Italian. We loved it! I frosted these cinnamon rolls as soon as they came out of the oven so that the frosting has time to melt over the hot rolls.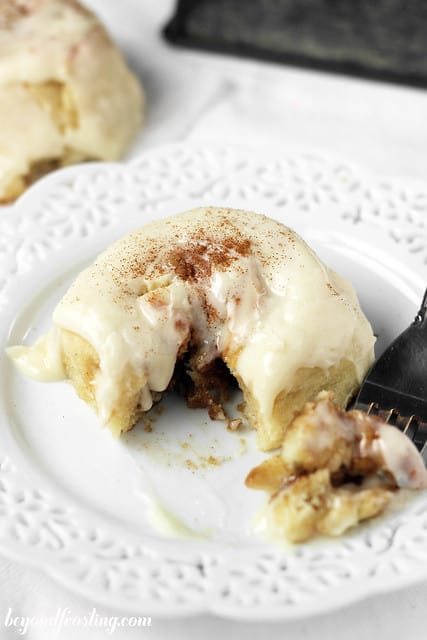 Tips & Tricks for Making These Cinnamon Rolls
Now don't be intimated by the time and steps involved in these rolls. I always prepare them the night before because they take about 6 hours in total and I am too impatient to wait. Let's walk through a few key points.
These rolls need to rise for a total of 4 hours before the dough is refrigerated. The first rise is an hour and the second rise is 3 hours.
The third rise is right before baking- which is an hour.
If you live in a cold temperature, I suggest to turn on the oven until it reaches 100°F and then turn it off. When you place the dough in the oven, leave the door open for the first several minutes. This provides a warm place for the yeast to expand.
I provided suggested temperatures in the recipe. I have found that it is most successful when I use a candy thermometer to ensure that I don't kill the yeast. If your milk mixture or water is to hot, it the yeast will not expand.
After the second rise, the dough should be refrigerated overnight. Mamagirl's original recipe only called for the dough to be refrigerated. We determined this was because it would be easier to roll out the dough if it was cold.
The recipe I provided is a HALF batch, which is enough for 4-6 people. I usually double the batch. You can save the dough and make two batches.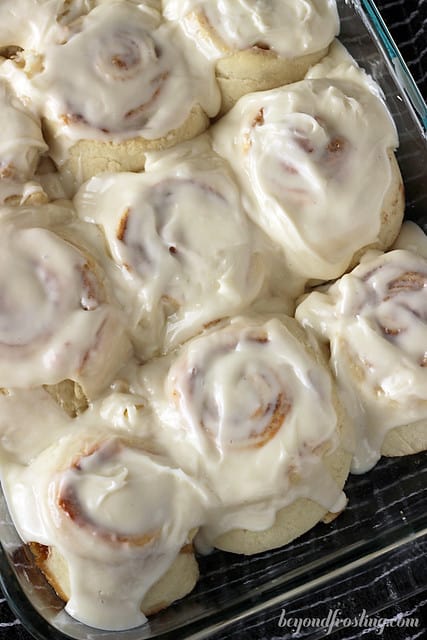 I think Mamagirl would be so proud of me for carrying on her tradition. It is just so satisfying to see these beautiful rolls come out of the oven and be slathered with icing. They don't last long!
Print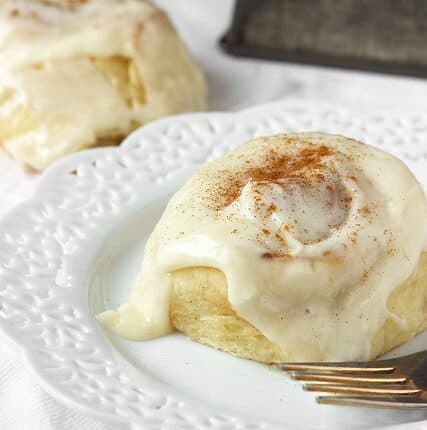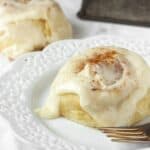 Overnight Cinnamon Rolls
Author:

Prep Time:

6 hours

Cook Time:

12-15 minutes

Total Time:

47 minute

Yield:

12
Description
My family has been making these soft and fluffy Overnight Cinnamon Rolls for at least 4 generations! They're guaranteed to be the best homemade cinnamon rolls you've ever had.
Ingredients
For the First Rise
1 cup

milk (whole milk preferred)

½ cup

Crisco shortening

¼ cup

granulated sugar

¼ cup

lukewarm water (100-110°F)

1/4 teaspoon

granulated sugar

1 tablespoon

active dry yeast or

1

package of active dry yeast

1 ½ cup

all-purpose flour, sifted
For the Second Rise
1 ½ cup

all-purpose flour, sifted

1/2 teaspoon

baking soda

1/2 teaspoon

baking powder

1/2 teaspoon

salt
For Assembly
3 tablespoons

butter, melted

2/3 cup

light brown sugar

1

–

2

tablespoons cinnamon
For icing ingredients, I use this one.
Instructions
In a small saucepan, heat the milk over medium heat just until it starts to boil. Remove from heat and stir in shortening and sugar until both are dissolved. Remove from oven and allow to cool until mixture reaches about 110°F of less.
Microwave water for 10-15 seconds until it reaches 100-110°F. Stir the sugar and yeast into the water and allow the yeast to activate until bubbly and frothy, about 8-10 minutes. Stir into the milk mixture once it has cooled.
In a medium-sized bowl, combine the flour with the milk mixture. Whisk until the mixture is combined, it will be a thick liquid consistency. Cover with a wet towel or plastic wrap and place in a warm place for 1 hour to rise.
Second rise. Combine 1 1/2 cups flour, baking soda, baking powder and salt. Stir into the dough mixture. All the flour should be combined together. If the dough seems dry, you may start to gently knead the dough in the bowl until it picks up all the flour. If the dough is wet, add additional flour 1 tablespoon at a time. Continue until the dough comes together in one ball and does not stick to the bowl.
Turn the dough out onto a lightly floured surface and knead the mixture gently until the dough is soft and pliable in one consistent ball.
Return to the mixing bowl, cover again with plastic wrap and put in a warm place for at least three hours. The dough should double in size.
Keep covered and refrigerate the dough overnight.
Assembly. Remove dough from refrigerator and turn onto a gently floured surface.
Roll dough out until 1/4-1/2" thick. Melt butter and brush over dough. Sprinkle with brown sugar and cinnamon.
Roll dough into a log. Cut roll 1-1.5" thick and place in a greased 9"x13" baking pan. Cover with paper towels and let rise for 1 hour before baking.
Bake at 425°F for about 10-12 minutes. While the rolls are still warm, spread the icing on.
Notes
You can use unsalted butter in place of shortening
You can cut out and freeze rolls in a pan for up to a week.
I have found that it is most successful when I use a candy thermometer to ensure that I don't kill the yeast.
To help the dough rise, turn on the oven light and place the dough inside the oven with the door closed, leaving the light on. Another tip I use is to run the dryer for about 1 minute and stop. Place the dough inside the dryer and close the dough.
The morning rise could take longer than an hour depending. You want to rolls to dough in size.
Category:

Breakfast

Method:

Oven

Cuisine:

American
Keywords: cinnamon rolls homemade, overnight cinnamon roll, how make cinnamon rolls
More Must-Make Cinnamon Treats